Last Updated on March 7, 2023 by gregor
As someone who has lived in Vienna for several years, I have come across some of the unique and unusual things to do in the city. In this blog post, I will share my personal experiences and guide you through the best things to do in Vienna that you may not find in a typical guidebook.
Unique and unusual things to do in Vienna
Visit the Central Cemetery
The Central Cemetery may not be on the top of your list when visiting Vienna, but it's a unique and peaceful place to visit. The cemetery is the final resting place of many famous Viennese figures, such as Beethoven, Brahms, and Schubert. You can wander around the cemetery for hours, admiring the graves and the stunning mausoleums. The cemetery is also home to a variety of wildlife, such as rabbits and deer, making it a unique and peaceful spot to escape the city's hustle and bustle.
Read more: THE VIENNA CENTRAL CEMETERY – ZENTRALFRIEDHOF IN VIENNA FAMOUS GRAVES
 Explore Vienna's Street Art Scene
Vienna's street art scene is something that often goes unnoticed, but it's definitely worth exploring. The city has a thriving urban art scene, and you can find amazing street art in many neighborhoods, such as the 7th and 15th districts. You can even take a guided street art tour, which will show you some of the best graffiti and murals in the city.
Book your Tickets to the Street Art Guided Tour here: (Click Image below!!)
Take a Food Tour in Vienna
If you enjoy trying new and delicious foods, then taking a food tour in Vienna should be at the top of your list. Known for its incredible culinary scene, Vienna offers a variety of food tours that allow you to taste some of the city's most famous dishes. From hearty schnitzel to sweet pastries, there is something for every foodie to enjoy. Not only will you get to sample some of the best food in Vienna, but you will also learn about the city's culture and history through its cuisine. These tours often take you to off-the-beaten-path restaurants and cafes, giving you a unique and authentic experience. Whether you are a seasoned foodie or simply looking to try something new, a food tour in Vienna is an unforgettable experience.
Read more and Book a Food Tour in Vienna: 15 BEST FOOD TOURS IN VIENNA, AUSTRIA – UPDATED 2023
Visit the Vienna Spanish riding school
If you are a horse lover, the Vienna Spanish Riding School is a must-visit destination.
Established in the 16th century, this stunning institution is the world's oldest riding academy. Its iconic white horses, known as the Lipizzaners, are renowned for their high-level dressage performances. Watching these majestic animals, with their flowing manes and tails, performing elegant movements to the sound of classical music, is a breathtaking sight. The riders, too, are world-class, and their skills demonstrate a deep connection with their animals.
Visitors can take a guided tour of the school, which includes a visit to the stables where the horses are housed and trained. Alternatively, reserve a seat to watch one of the regular morning exercises or performances.
Check availability and Book your Entry Ticket or Guided Tour:
Visit Vienna Sigmund Freud Museum
If you are ever in Vienna, a must-visit destination would be the Sigmund Freud Museum. The museum is located in the former apartment of Sigmund Freud, and it is full of interesting exhibits that give a glimpse into the life of the pioneering psychoanalyst. Visitors can see Freud's original psychoanalytic couch, as well as personal items like his household furniture, book collection, and clothing. The museum also offers guided tours and hosts various events throughout the year. For anyone interested in psychology, the Sigmund Freud Museum is an intriguing place to explore and learn more about the man who revolutionized the field.
Eat a Wiener Schnitzel in Vienna
No trip to Vienna is complete without trying a Wiener Schnitzel. This classic Austrian dish is made with breaded and fried veal and is typically served with a side of potato salad. You can find this dish in many restaurants throughout the city.
Read more: WHERE TO EAT THE BEST WIENER SCHNITZEL IN VIENNA (RESTAURANT TIPS + PRICES!)
Visit the Austrian National Library
Vienna also has several stunning libraries, including the Austrian National Library, which is one of the largest and most beautiful libraries in the world. The library houses over 7.4 million books, including many rare and valuable works, and its stunning baroque architecture is a sight to behold.
Read more and Entry Information: Austrin National Library
Take Day trips from Vienna
If you have more time in Vienna, there are plenty of day trips you can take to nearby towns and cities. Some popular options include visiting the picturesque town of Melk, located in the Wachau Valley, or taking a trip to the beautiful city of Salzburg, the birthplace of Mozart.
Read more: BEST DAY TRIPS FROM VIENNA, AUSTRIA
Visit the Vienna zoo
The Vienna Zoo is one of the oldest and most beautiful zoos in the world. The zoo is home to a variety of animals, including pandas, tigers, and elephants.
Read more and Tickets Vienna Zoo Schönbrunn
Explore Vienna – Take a Vienna walking tour
If you're looking for a unique way to explore the city, a Vienna walking tour is a great option. There are many different walking tours available, including themed tours that focus on Viennese architecture, history, or food. A walking tour is a great way to see the city from a different perspective and learn about its hidden gems and local secrets.
Read more: A COMPREHENSIVE GUIDE TO VIENNA SIGHTSEEING TOURS
Discover Vienna's Secret Gardens
Vienna has many beautiful parks, but it also has a few hidden gardens that are off the beaten path. One such garden is the Volksgarten, which is located behind the Imperial Palace. The garden is home to a stunning rose garden and a beautiful fountain. You can also find a few hidden benches and paths that will make you feel like you've discovered a secret garden.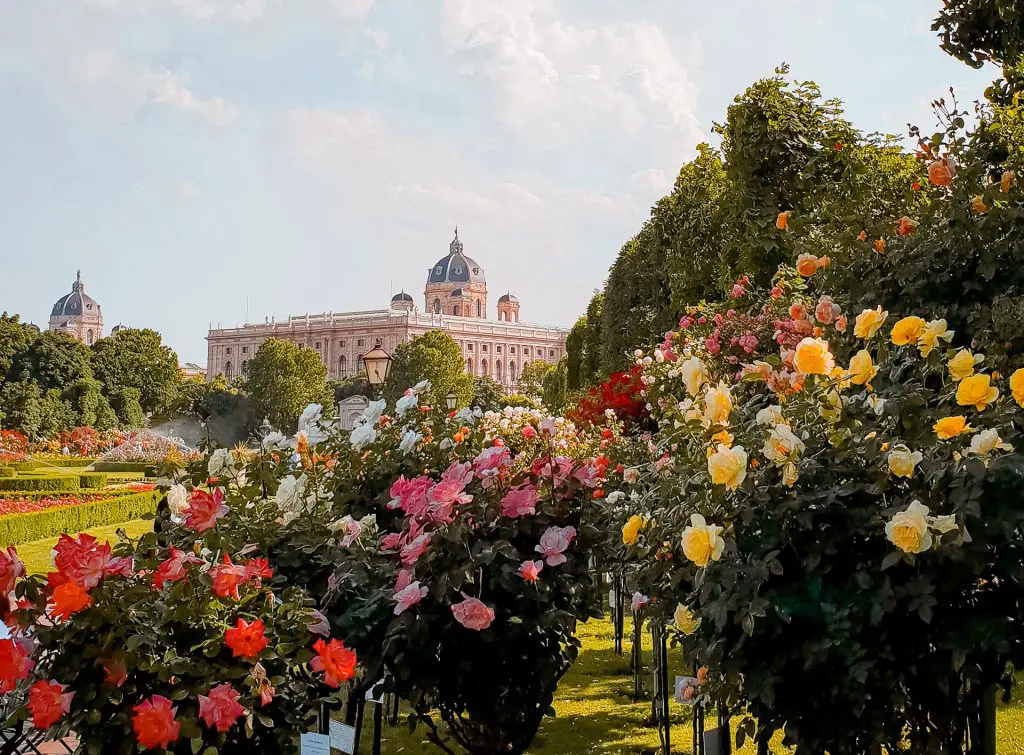 Go for a Swim in the Danube
The Danube river is one of the most iconic landmarks in Vienna, but did you know that you can also swim in it? The Danube has several designated swimming areas that are perfect for a refreshing dip on a hot summer day. One such area is the Donauinsel, which is a man-made island that offers a range of water sports, including swimming, kayaking, and windsurfing.
Take a Ride on the Ferris Wheel at Prater Park
The Prater Park is a popular destination for tourists, but the Ferris Wheel is often overlooked. The Ferris Wheel, also known as the Wiener Riesenrad, is one of the oldest Ferris Wheels in the world and has been a part of Vienna's skyline since 1897. A ride on the Ferris Wheel will give you stunning views of the city, and you can even book a private cabin with champagne for a romantic experience.
 If you are visiting Vienna, be sure to add the Riesenrad to your list of must-see attractions! What is the entrance fee to the Riesenrad Vienna ferris wheel. approx. 13.50 euros per trip. Book your tickets here: Vienna: Skip-the-Line Giant Ferris Wheel Ride
Visit the Third Man Museum
The Third Man Museum is a unique museum that tells the story of the iconic film "The Third Man," which was filmed in Vienna in 1948. The museum is dedicated to the film's director, Carol Reed, and the writer, Graham Greene, and showcases memorabilia, photographs, and even a reconstruction of Harry Lime's apartment. If you're a fan of the film, this museum is a must-visit.
Read more about the Third Man Museum in Vienna
Experience Viennese Wine Culture
Vienna is known for its wine, and there are many wine taverns, also known as Heuriger, throughout the city. These taverns offer locally produced wine and traditional Austrian cuisine. One of the best places to experience Viennese wine culture is in the Grinzing district, where you can wander through the vineyards and enjoy a glass of wine in a traditional Viennese Heuriger.
Read more: 20 BEST WINE TASTING IN VIENNA + WINE TASTING TOURS
Take a Walk Through Vienna's Naschmarkt
Vienna's Naschmarkt is one of the city's oldest and most popular markets. It's a vibrant and bustling place where you can find everything from fresh produce to exotic spices and specialty foods. The market is also home to several cafés and restaurants, where you can sample some of Vienna's best street food.
Read more: NASCHMARKT VIENNA GUIDE – MOST POPULAR VIENNESE FOOD MARKET
Discover Vienna's Underground Tunnels
Vienna has an extensive network of underground tunnels that were built during World War II to protect civilians during air raids. Today, many of these tunnels have been repurposed and are open to the public. One such tunnel is the Flakturm, which was a massive anti-aircraft tower that now houses a climbing wall and a museum.
Visit the Old Town of Vienna
A visit to the Old Town of Vienna is a must for anyone interested in experiencing the rich cultural history of this stunning European city. Here, you will find an extraordinary blend of architectural styles, including Romanesque, Gothic, Baroque, and Art Nouveau. Take a stroll along the cobbled streets and discover hidden courtyards and quaint alleyways. The highlight of a visit to the Old Town is undoubtedly the impressive St. Stephen's Cathedral, with its intricate spires and decorative details. Other highlights include the Hofburg Palace, the Spanish Riding School, and the Vienna State Opera. Be sure to stop at a traditional coffee-house for a melange and a slice of Sacher Torte to truly immerse yourself in Viennese culture.
Read more: VIENNA OLD HISTORIC STREETS IN THE OLD TOWN CITY CENTRE, AUSTRIA
Visit the Hundertwasserhaus
The Hundertwasserhaus is one of Vienna's most unique and colorful buildings. It was designed by the Austrian artist Friedensreich Hundertwasser, who believed that buildings should be works of art. The building is covered in colorful tiles and features undulating lines and irregular shapes. You can take a guided tour of the building or simply admire it from the outside.
Book Your Entry Ticket here:
Take a Dip in Vienna's Hotel Spas
Vienna is home to several Day and Hotel SPAs, where you can relax and unwind. It's a great way to escape the city's cold winter weather and indulge in some pampering.
Read more: BEST DAY AND HOTEL SPAS IN VIENNA – VIENNA SPA GUIDE
Explore Vienna's Vintage Shops & Markets
Vienna has a thriving vintage scene, and there are many shops throughout the city where you can find unique and one-of-a-kind items. One such shop is Vintage Flo, which specializes in vintage clothing and accessories from the 1920s to the 1980s. The shop also has a cozy cafe where you can enjoy a cup of coffee and a slice of cake.
Read more: Vienna's vintage and second-hand shops make fashionable trips through time a possibility.
Conclusion
In conclusion, Vienna is a city full of surprises and unique experiences waiting to be discovered. From exploring underground tunnels to swimming in the Danube and discovering hidden gardens, there are plenty of unusual things to do in Vienna that will make your trip unforgettable. So next time you're in Vienna, be sure to venture off the beaten path and discover the city's hidden gems.
Frequently Asked Questions
What is unique about Vienna Austria??
Vienna, the capital city of Austria, is famous for its art, culture, music, and rich history. The city has a unique charm and sophistication that is hard to find in any other European city. It is home to several iconic landmarks like the Schönbrunn Palace, the Vienna State Opera, and the Hofburg Palace. Vienna is also famous for its coffee culture and its delicious pastries, which are best enjoyed in the city's traditional coffeehouses. The city is also known for its love of music, with many famous classical musicians like Mozart, Beethoven, and Strauss having lived and performed in Vienna. The city's architecture is a blend of several styles, including Gothic, Baroque, and Art Nouveau, which are visible in buildings like St. Stephen's Cathedral and the Secession Building. Overall, Vienna's unique blend of art, culture, music, and architecture make it an unforgettable destination for tourists from all over the world.
See also these related Articles about visiting Vienna
PRACTICAL TIPS FOR VISITING VIENNA
WHEN IS THE BEST TIME TO VISIT VIENNA, AUSTRIA
HOW MANY DAYS DO YOU NEED TO VISIT VIENNA?
ONE DAY IN VIENNA I THE PERFECT 1 DAY ITINERARY
TWO DAYS IN VIENNA I THE PERFECT 2 DAY ITINERARY
3 DAYS IN VIENNA ITINERARY FOR FIRST TIME VISITORS FOOD, TIPS (INCL. VIDEO) AUSTRIA
4 DAYS IN VIENNA – BEST VIENNA TRAVEL ITINERARY
TOP THINGS VIENNA IS FAMOUS AND KNOWN FOR
THE BEST 12 MUSEUMS YOU NEED TO VISIT IN VIENNA, AUSTRIA TRAVEL GUIDE (UPDATE 2022)
VIENNA – BEST THINGS TO DO IN SUMMER
VIENNA SOLO TRAVELER TIPS – SOLO TRAVEL GUIDE VIENNA, AUSTRIA
THE BEST THINGS TO DO IN VIENNA WITH KIDS – FAMILY HOLIDAYS IN AUSTRIA
BEST ROMANTIC THINGS TO DO IN VIENNA, (FOR COUPLES)
BEST WAYS TO GET FROM VIENNA AIRPORT TO THE CITY CENTER
TOP 5 VIENNA PICNIC SPOTS WITH A WONDERFUL VIEW