Last Updated on September 2, 2023 by gregor
Have you ever thought about traveling to Vienna with your family? If so, then it's definitely important to start out with the right travel plan in place – which is where our experts can help!
With this thought in mind, today, we're looking at some of the key things you should know when planning your family holidays in Vienna. Hopefully, these 16 Kids' activities in Vienna will help you keep everyone happy, and you'll soon be able to make memories that will surely last a lifetime!
Planning Your Vienna Family Holidays: The Best Things to Do in Vienna with Kids
The Best Things to Do In Vienna with Kids
If you've been planning your holidays, there are countless amazing things to see and do in Vienna, Austria. However, if the kids are coming along for the journey, it's important to plan plenty of things to do for them, as well.
Because, after all, visiting some of the most breathtaking Vienna tourist attractions may not always enthrall the little ones quite as much as the rest of the family.
With a well-planned schedule, you'll still be able to see a lot of these amazing sights during your stay in Vienna.
TOP TIP: Rent Your Kids Essentials in Vienna!
It's important to consider your mode of transportation when exploring Vienna with your children. A full day of sightseeing can be tiring for kids, particularly toddlers and smaller kids. To ensure their comfort, bringing a stroller is advisable, providing them with a resting option whenever necessary. For added convenience, you have the option to rent various kid-friendly equipment from Toddle.
What is Toddle and how you can use it? Toddle is a specialized rental company in Vienna. With Toddle you can rent a stroller, baby shoulder carrier, scooter, and other refurbished baby gear. Thanks to Toddle, enjoying Vienna with your kids has never been this hassle-free and enjoyable.
For more information and rental possibilities please take a look at the Toddle Website: www.toddle.at
#1 Children's Zoom Museum
(Zoom Kindemuseum) If your little ones are creative, a visit to the Zoom Children's Museum might be ideal.
Offering numerous amazing creative classes and activities for children, this museum might be less appealing to the adults at the party but will undeniably attract younger audiences.
Bonus: Your children can take their masterpieces home with them once the day is up, giving them something to cherish for a lifetime from your Vienna holiday.
Highlights: (sorted by Children's age)
Ocean (0-6 years)
Studio (3-12 years)
Hands-on Exhibition (6-12 years),
Animated Film Studio (8-14 years)
Address:  ZOOM Children's Museum
1070 Vienna, Museumsplatz 1
Opening Hours: Core opening times are 9.45 am to 4.00 pm daily; the museum is closed on Mondays, 24-26th December, 31st December, 1st January;
Tickets: EUR 5 to 7
More Information and Entry Tickets: ZOOM Museum Website
Top Tip: Please be aware that there is high demand, so booking tickets in advance is highly recommended.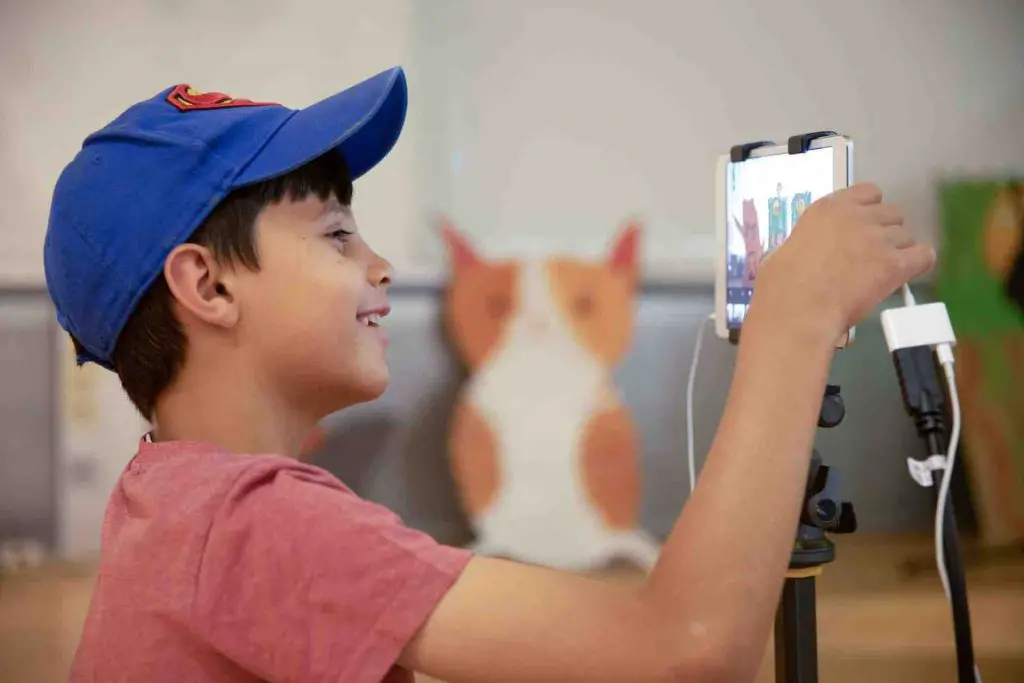 #2 Discover the Dinosaurs at the Viennese Natural History Museum
Did you know that it's not only the UK that has a Natural History Museum? In fact, many countries around the world have such museums, but the Viennese Natural History Museum really blows it out of the water for the kids with the massive collection of dinosaurs and taxidermied animals.
Highlight: The meteorite hall. Here, your children will be amazed by the world's largest collection of meteorites
Address: Naturhistorisches Museum Wien
 Burgring 7, 1010 Wien, Austria
#3 House of Sea – Haus des Meeres – See the Sharks!
Did you know that there are sharks in Vienna? If you think we're joking – okay, we kind of are.
Highlights: The breathtaking Haus des Meeres public aquarium offers countless exceptional opportunities to marvel at the wonders of aquatic life, which includes the potential to see countless breathtaking sharks and numerous other incredible species, such as poisonous snakes, crocodiles, boa constrictors, sea turtles, and so much more! In short, there's truly something for all the family!
Address: Fritz-Grünbaum-Platz 1, 1060 Wien
Opening Times: Daily from 9 am – 6 pm / Thursday until 9 pm.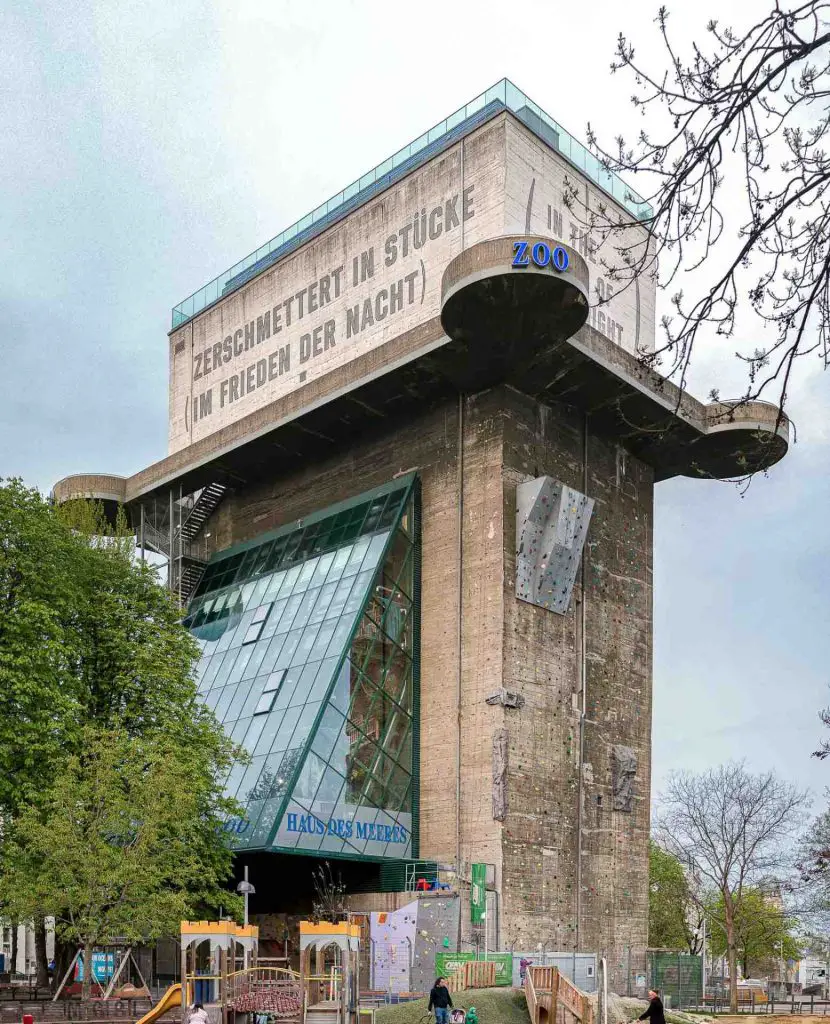 #4 Vienna Museum of Technology – visit the Mini Explore Exhibition
The Tech Museum in Vienna is full of excellent exhibitions and amazing activities for the whole family. This includes some genuinely amazing special effects exhibitions that bring the magic of cinema to life in front of you.
Highlights for Kids: 
Mini Explore Exhibition: The new interactive exhibition for families with children from age 3 stimulates the joy of experimentation and activity because the versatile and artistic adventure playground holds numerous stations in store for curious explorers!
Address: Mariahilfer Str. 212, 1140 Wien, Austria
#5 The Butterfly House – Discover Nature's Beauty
The Butterfly House in the heart of Vienna, known as the Schmetterling Haus, is a perfect destination to head to if you've been looking to show your little ones some of the incredible delights of the natural world! Though it's not necessarily big, the expansive collection of breathtaking butterflies within the Butterfly House is undeniably a great place to visit for children of any age.
Address: Hofburg, 1010 Wien, Austria
Opening Times: Summer (April – October): Monday – Friday  10.00 – 16.45 / Sat, Sun & Holidays:  10.00 – 18.15
Winter (November – March): Monday – Sunday (incl. Holidays):  10.00 – 15.45
#6 Schönbrunn Palace – Become a Prince or Princess
Undeniably one of the best things to see and do in the very heart of Vienna, Austria, your little one can become a prince or princess for the day at a real-life palace!
The Schonbrunn Palace is renowned for putting on events for families, and the ability to dress up as royalty and decorate the breathtaking imperial dining table is something that will surely enrapture their imagination.
Plus, they'll learn about the Habsburg family's life along the way, making it a great learning opportunity.
Here is a quick Travel Guide to Schönbrunn Palace in Vienna
A QUICK TRAVEL GUIDE TO VIENNA'S SCHÖNBRUNN PALACE, VIENNA AUSTRIA
#7 Visit Vienna Christmas Market at the Vienna City Hall
Okay, so this amazing opportunity is only something you'll be able to make the most of during the festive months.
However, the Christmas Market on Rathausplatz offers a vast amount of opportunities, and there's so much to love about this incredible experience.
Top Tip: It's always important to consider that the Christmas Market can be pretty busy, sometimes. So, be sure to keep a close eye on your kids at all times during this, as chances are they could get incredibly excited by all of the amazing sights and sounds at the Christmas Market.
More about the Vienna Christmas Market (Full Christmas Market Guide + Food Guide)
VIENNA TOP 10 CHRISTMAS MARKET GUIDE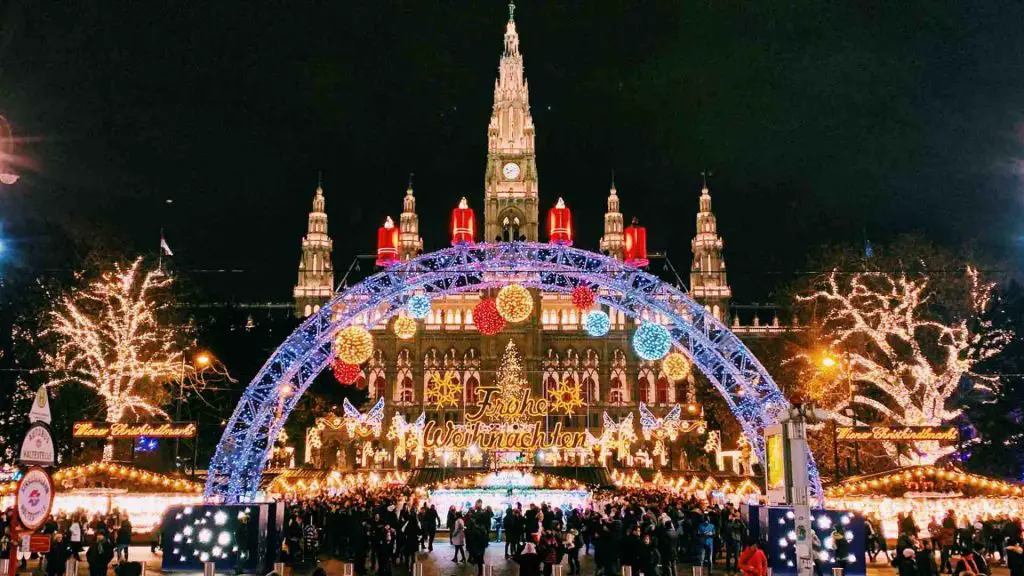 #8 Delight Yourself with Delicious Viennese Gelato
It might not be what Austria is best known for, but delicious Viennese gelato could be the perfect sweet, cooling treat for those hot days while you're away.
Luckily, Vienna has countless exceptional gelaterias, such as the highly-rated Zazoni & Zazoni Gelateria, which offer countless delicious flavors that are sure to impress even the fussiest of travelers!
Read more about the Best Ice Cream in Vienna on my Blog here:
https://www.theviennablog.com/2022/06/07/best-ice-cream-parlors-vienna-austria-2/
#9 Tiergarten Schönbrunn – Vienna Zoo
The Schönbrunn Zoo is a must-see, especially if you're visiting Vienna with kids.
Highlights: More than 750 animal species live here, some of which are highly endangered. (Pandas, Koalas, Siberian tigers, hippos, and many more species)
Address: Schönbrunner Schloßstraße 47, 1130 Wien, Austria.
Zoo Opening hours:
daily, 09:00 – 17:30 (varies depending on the season)
Regular Entry ticket: €24
Children (6-18):  €14
Book your tickets here: Vienna: Skip-the-line Tickets for Schönbrunn Zoo
Google Maps | Official website
If you're looking for a great day out in Vienna with the kids, a visit to the Tiergarten Schoenbrunn is absolutely on the cards!
#10 Giant Ferris Wheel – Visit the Prater Amusement Park
If your little ones love the adrenaline rush, a visit to the Prater Amusement Park is something you absolutely cannot miss out on!
This excellent theme park is located in the heart of Vienna and is an amazing destination that's not to be missed out on.
Even better yet, the park has free entry admission, which means you won't need to worry about paying for a ticket that's not used; simply choose the most appropriate booths and rides for your little ones at the time!
Highlights: With a whopping 200+ booths on offer, this prestigious theme park is something that really takes the concept of great family activity in Vienna to the next level
Top Tip: Vienna's Giant Ferris Wheel
Just as the London Eye is renowned for its magical sights out over the city, the Giant Ferris Wheel is absolutely a destination that's well worth visiting in its own right. While it's located within the Prater theme park, we really think this attraction deserves its very own spot, since it's one of Vienna's most well-loved and best-known locations.
Address: 1020 Vienna, Austria
Opening Times: Free entry 24 / 7, all year round. However, individual attractions may have different opening hours and fees.
#11 Kids will love The Circus and Clown Museum in Vienna
Then this museum is perfect for families. You'll get to see all the inner workings of a circus, and be shown around a museum full of props and clown-based fun.
Highlight: Your kids get to dress up and learn how to be a clown. Overall, it's great and enjoyable for your children
Address: Ilgpl. 7, 1020 Wien, Austria
#12 View the City by Horse Carriage – Wiener Fiaker
If you have a horse lover in your family, a city tour by carriage might just be the ideal way to give them an unforgettable experience! Undoubtedly, a carriage ride tour around this breathtaking city, taking in the beautiful sights and architecture, is something even young children can enjoy.
Highlights:
A carriage ride around Vienna during your holiday will usually be steady, gentle, and peaceful, making it an excellent option to consider if you've been looking for ways to take the pressure off tired little legs!
The elegant carriages are a symbol of the city itself. They are lined with plush seats and the coachmen wear period costumes, making the ride through Vienna very authentic.
Top Tip: The Fiaker rides usually start at St. Stephen's Cathedral or at Michaelerplatz, where you can choose between shorter and longer routes.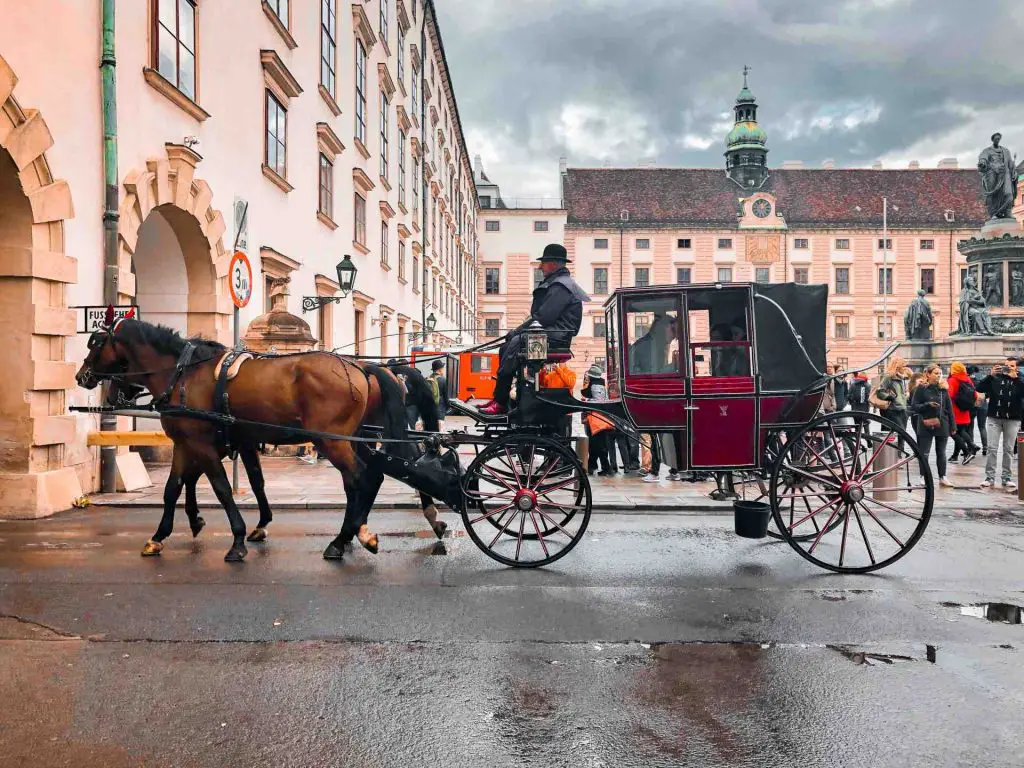 #13 Stop at the Spanish Riding School

at the Hofburg Palace

If your little ones loved a carriage ride around Vienna, they'll absolutely adore the chance to see the breathtaking performances and stunning horses of the Spanish Riding School.

Naturally, the Spanish Riding School is only open for children over the age of four – screaming babies and flighty horses aren't a good mix! – but if you're planning Vienna holidays for older toddlers and children, this could definitely be a trip you'll never forget.

Top Tip: However, it's one of the most popular destinations in Vienna and can book up exceptionally quickly, so it's definitely something you will want to book in advance.

Address: Michaelerplatz 1, 1010 Wien, Austria

The school opens at 10 am, and can even watch teen boys take on rides, and on Sunday there is a service as well.

Book your tickets here: Performance Of The Lipizzans At Spanish Riding School

Another option is to book the Vienna Spanish Riding School Guided Tour.  You will enjoy a look behind the scenes of the Spanish Riding School on this guided tour. Admire the stunning architecture of the centuries-old institution.
#14 Haus der Musik – House of Music
If your little ones are passionate about music and writing their own performances and songs, then a trip to the iconic Haus der Musik is definitely an option to consider.
Highlights:
The amazing Haus der Musik offers countless amazing family-friendly activities, such as a virtual orchestra that your little one will be able to lead completely on their own – a great way to keep them busy.
Plus, there are also numerous interactive opportunities throughout the Haus der Musik to help inspire new musical talent, making it a highly attractive and appealing destination for any music lover.
Address: Seilerstätte 30, 1010 Wien, Austria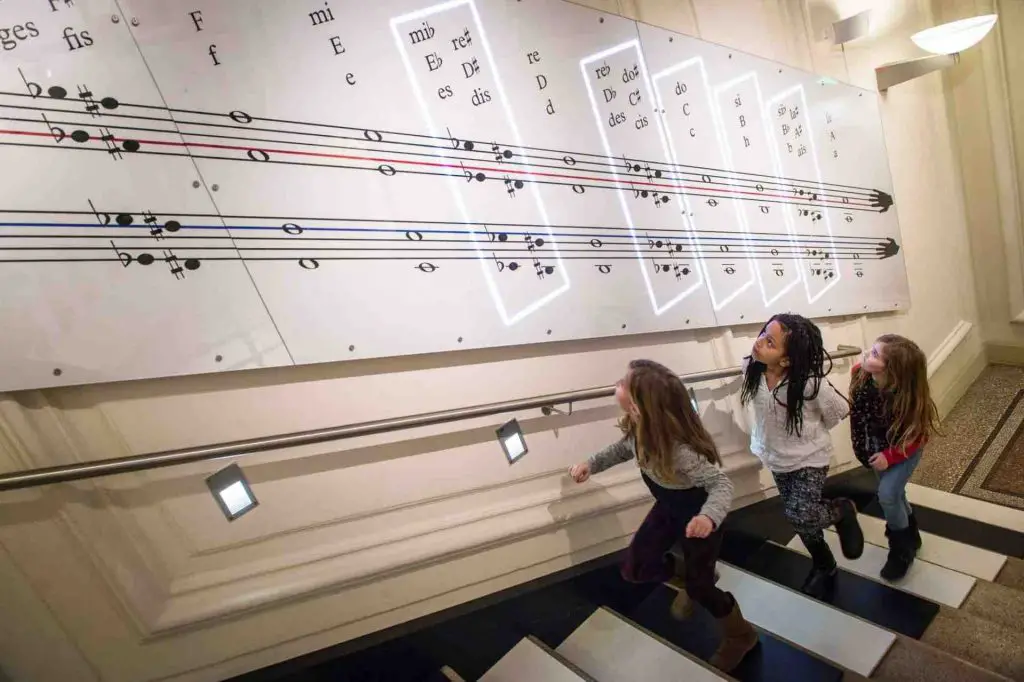 #15 Vienna Opera for Kids
Vienna Opera House makes sure your kids can enjoy some of the most beautifully put-together pieces. These are designed keeping kids in mind and help offer parents a way to introduce their little ones to opera.
The performances usually last an hour and are adaptations of bespoken or classical operas written for children.
Address: Wiener Staatsoper GmbH, Opernring 2, 1010 Vienna
Opening Times: Check the website for up-to-date performances.
Book your Vienna Opera House tickets here: Operas for Children at the Vienna State Opera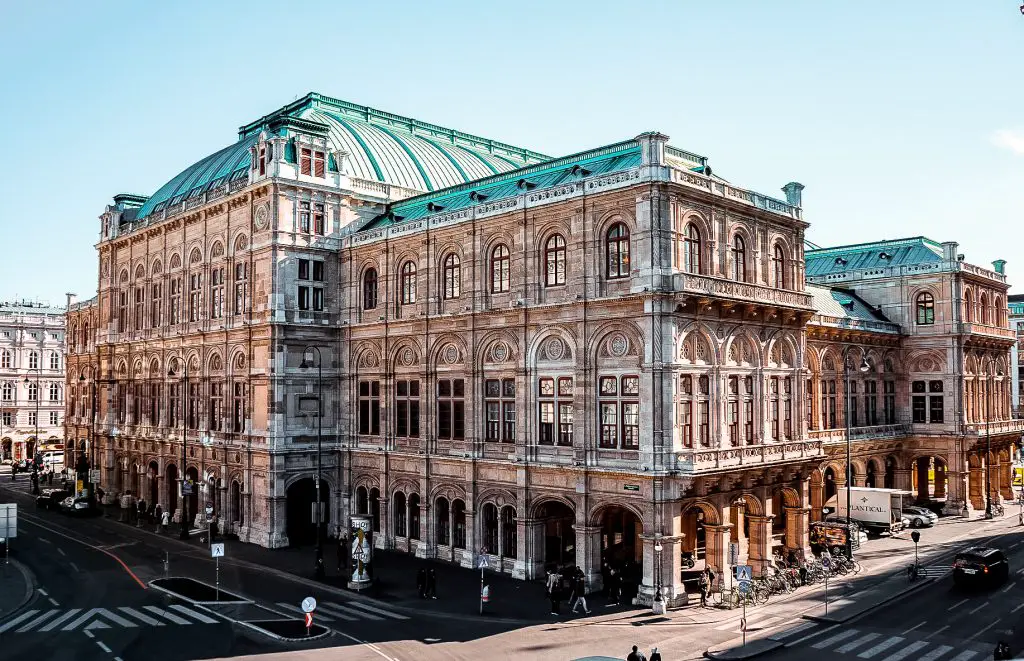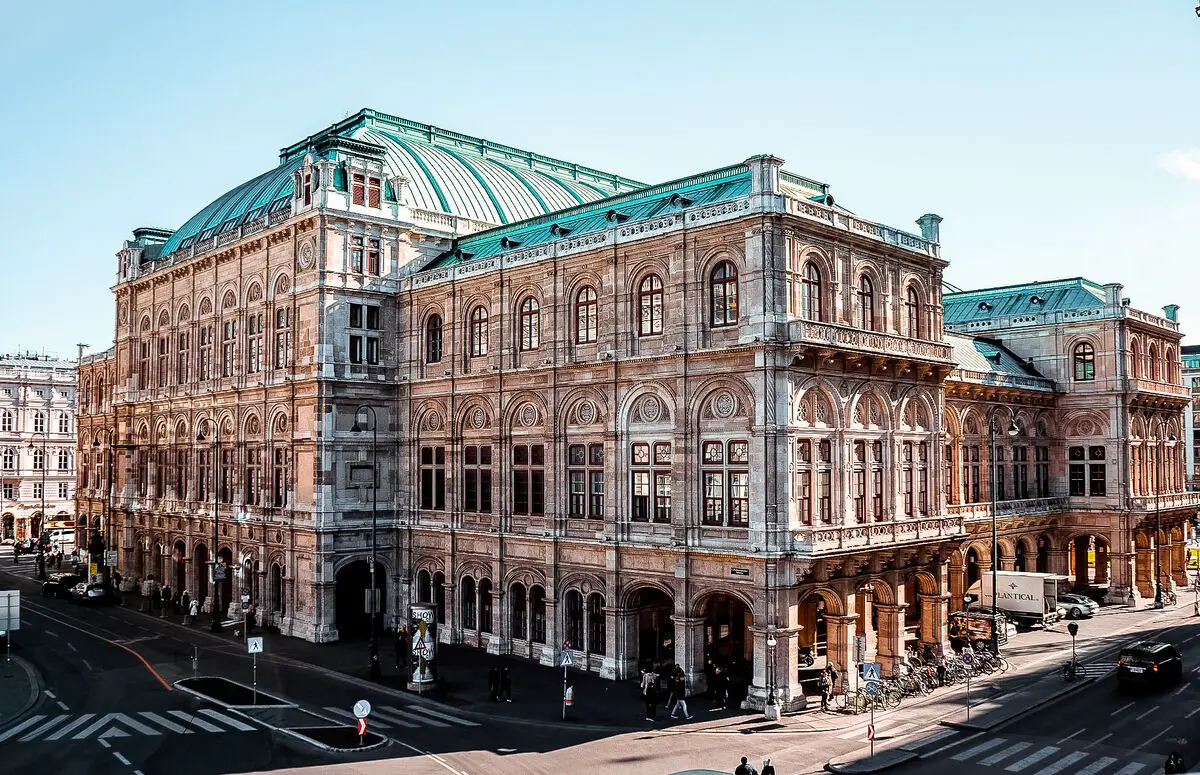 #16 Take a Vienna Time Travel History Tour
Did you know that you can actually get your little ones excited about learning about the amazing and rich history of Vienna by bringing them along for a Time Travel Vienna tour?
The Time Travel History Tour implements cutting-edge virtual reality to really bring things to life; as such, it's potentially unlike anything your little one will have experienced before.
This amazing and innovative feature helps make it a great option to consider if you've been looking for new ways to keep them engaged and active. It'll help encourage them to learn more during the holiday, too, so it's really a win-win destination to visit.
Website & Tickets: https://www.timetravel-vienna.at/en/
Address: Time Travel Vienna
Habsburgergasse 10A
1010 Vienna
Opening Hours:
Daily from 9:30 – 19:00
Tour starts every 20 minutes
(´00, ´20, ´40)
We ask you to arrive 15 minutes before the Tour start
Duration: about 50 minutes
Last admission: at 19:00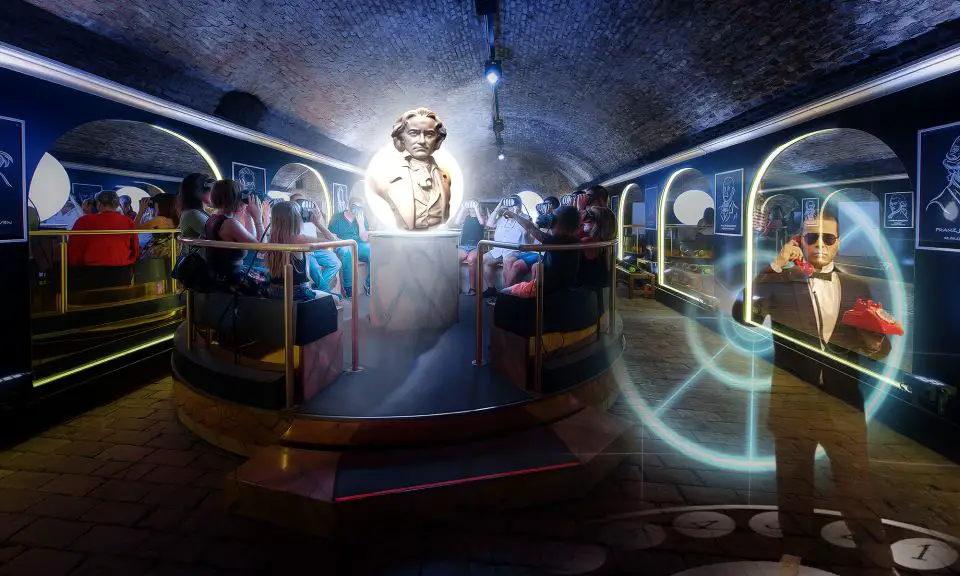 #17 Head Up Danube Tower – Donauturm
Before we go any further, we should first point out here that you'll absolutely want to check that your little ones aren't likely to be afraid of heights before booking the Danube tower!
Highlight: However, if you'd love the chance to see some truly breathtaking Viennese views, and your little ones are mature and brave enough to see the sights, you'll be in for a real treat when you scale the Danube tower. Indeed, not only is it Vienna's highest tower, but it's also the tallest building in all of Austria.
Top Tip: Don't worry if trekking isn't your thing – there's an elevator that heads right to the top. Plus, it's the perfect location to see all of the amazing things to do in Vienna – you'll feel like you can see all of Austria from the top.
How do I get to the Donauturm?
Option 1: Subway – Take the U1 line to the Alte Donau station or the U6 line to the Neue Donau station.
Option 2: Subway & bus line 20A
Take the U1 line to the VIC/Kaisermühlen station or to the Alte Donau station or the U6 line to the Neue Donau station. From both stations, you can take the bus line 20A to the station Donauturm.
What is the entrance fee to the Donauturm in Vienna?
The entrance fee to the Donauturm is starting from Euro 16.-
Book your Tickets here: Vienna: Skip-the-Line Entrance Ticket to the Danube Tower
What are the Opening Hours of the Donauturm
Monday to Sunday: 10.00 a.m. until 11.30 p.m.
Last Ascent 11.00 p.m. / Last Descent 11.15 p.m.
Due to weather conditions, the opening hours may change at short notice.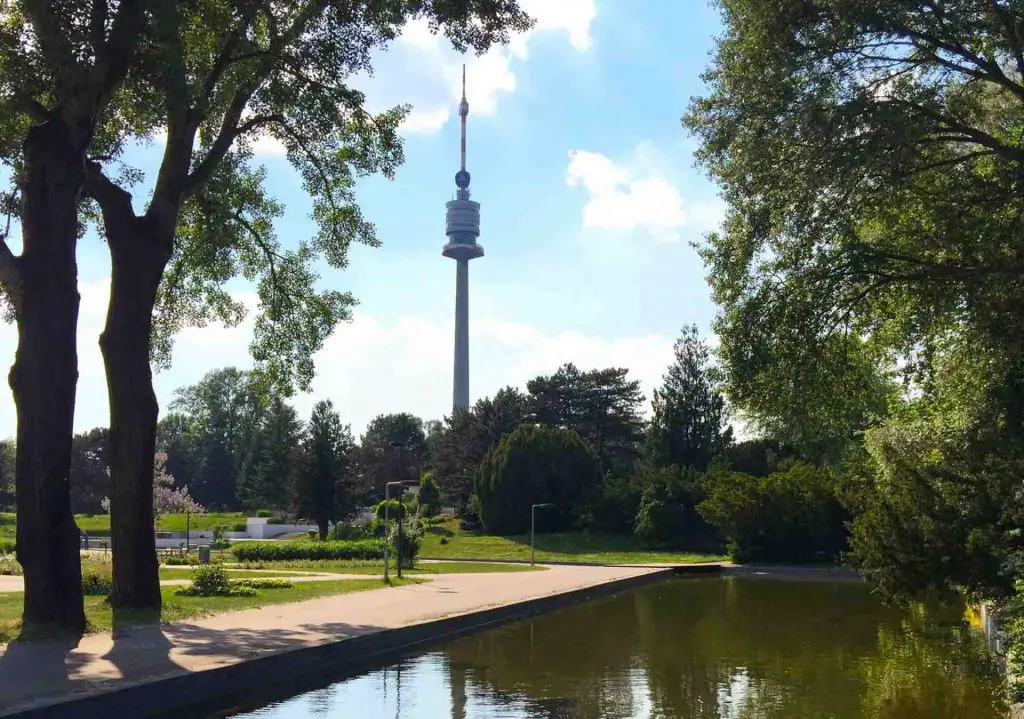 #18 Visit the City Cent

er of Vienna

No trip to Vienna would be complete without visiting the iconic and majestic city center! Now, this might be one activity that's a little less enthralling for the kids at the party. With that being said, you really won't want to miss out on the chance to marvel at all of the astounding Viennese culture and architectural feats.

After all, a holiday to Vienna is a truly amazing opportunity, but it's important to consider everyone while on holiday.

So, treat yourself a little too – and don't worry! There are countless great shops and opportunities to see around the city center that should help keep the kids engaged during your time there.

If you ask us, it's undeniably a must-do activity in Vienna, Austria on your next holidays – don't leave Vienna without taking in the sights of the city center first!

VIENNA – TOP THINGS TO SEE AND DO IN 4 HOURS IN VIENNA, AUSTRIA (UPDATE 2022)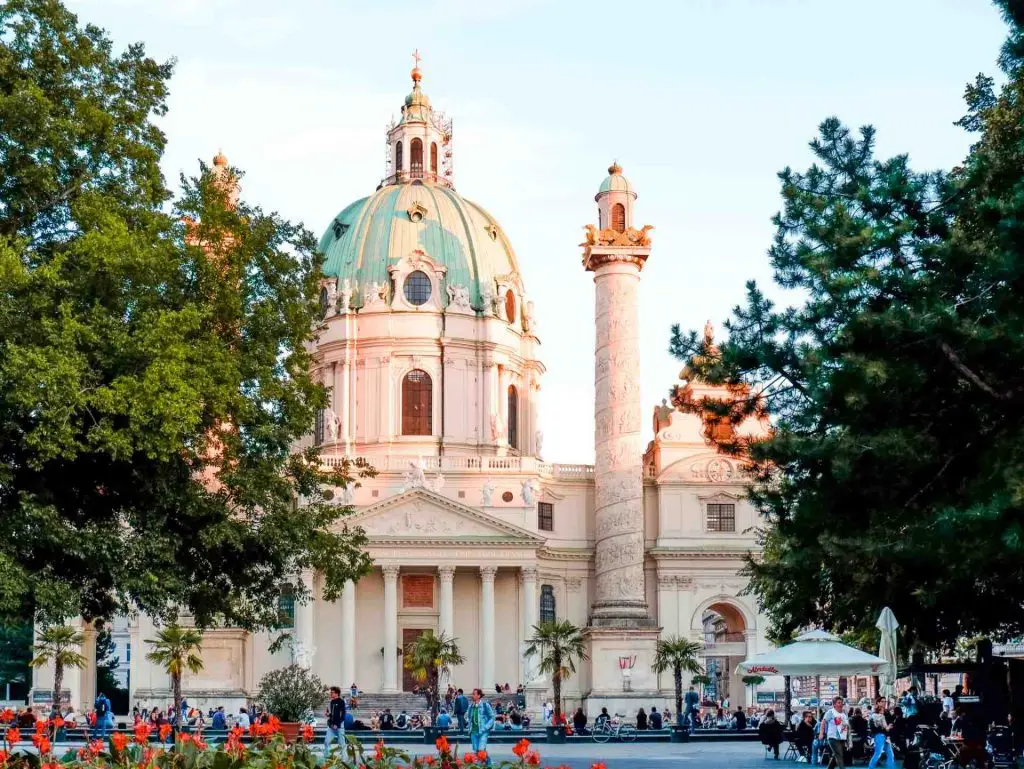 Planning your Austria Family Holidays – Be Sure to Book In Advance!
At this point, we've outlined some of the sixteen best things to see and do in Vienna, Austria, with the kids.
However, this could all be ruined still if you arrive at your chosen destination late and without the necessary plans in place! With this in mind, don't put your perfect Vienna holiday at risk – you know the kids will never let you live it down, after all!
Instead, wherever possible, try to book attractions in advance.
Even if it's something that you can book once you arrive, booking in advance can be a good way to fast-track your time there and bypass the queues, helping ensure you don't end up missing out on all of the amazing sights and opportunities.
Plus, certain activities – such as the Zoom Children's Museum – are often highly popular destinations both for those on a Vienna holiday and the local residents. As such, they often get booked up incredibly quickly, so it's potentially important to book these in advance to ensure it goes to plan!
Simple Tips to Keep Your Next Vienna Holiday on Track
At this point, we've outlined some of the most amazing opportunities and Vienna tourist attractions that will undoubtedly make your family holidays all the more memorable. However, even with the best plans in place, things can unfortunately still go wrong. We've only got to think about those temper tantrums in the middle of a busy public area to know just how badly wrong things can go when bringing kids along for the holiday!
But that shouldn't mean you can't still enjoy the holiday of a lifetime. With this thought in mind, we recommend considering the following extra-simple tips to keep your next Vienna holiday on track. By making a few simple changes, you'll keep all the family happy, and ensure you can visit every one of these amazing attractions in peace.
Look Out for Toilets As You Go
Let's face it – one of the most frustrating lines to hear as a parent has to be dreaded: "I need the toilet!" Of course, this usually seems to happen right when you're in the middle of a crowded and bustling space where you know for a fact you won't be able to leave for another 30 minutes at best! With this thought in mind, try to keep an eye out for toilets continually during your exploration of Vienna's incredible sights and attractions.
Encourage your child to go to the toilet, even if they don't think they need to, to reduce the risk of being caught out. And, wherever possible, try to work out an escape plan – so, if you need to run quickly to the toilet with them, it won't be an impossible sprint.
Bring a Few Surprise Snacks With You
Kids can easily get fidgety and antsy. And, if it's not because they need the toilet, another exceptionally common issue is that the hunger pangs have struck! As such, we recommend keeping a few healthy but tasty snacks and drinks with you as you wander around Vienna; this help satisfy your little one's cravings for super tasty treats until you can get to your next meal. Hopefully, these may also help stop them from grumbling, so you can all enjoy the holiday a little more!
Don't Stay Too Long in One Area
There's so much to see and do in Vienna – and while your ideal holidays might be spending all day at the museum, your children probably won't want to. In short, kids get bored very quickly. As such, when planning some of the best things to see and do in Vienna, Austria, don't stay too long in one place. Your little ones will often be much easier to engage if they're always kept active. They'll probably sleep better that night, too, if they've been on the go all day!
Keep moving and seeing new things to ensure your little ones are always engaged with the trip, rather than allowing them to get bored (which will only usually result in cheeky behavior!)
Try to choose activities that are relatively close to one another, too. This simple change definitely helps cut down on the amount of travel time. With fuel prices only getting higher, that's always a win. Plus, you'll reduce the chances of facing that inevitable question: "Are we there yet?"
Add in Some Surprises
If you really want to keep your kids on their toes and excited about what the holiday will bring next, don't tell them about everything they'll be seeing – for example, keep the "big event" quiet, but let them know there's something big coming up.
There's nothing quite like the excitement little kids will feel while anticipating a big surprise or exciting event, so this will definitely keep them engaged with the holiday – even during the duller moments, such as while traveling. Just remember to balance the number of activities your kids know about with the number of surprises, so they never quite know what's around the corner.
Final Thoughts

on Kids in Vienna

If you've been planning a new holiday to Vienna, it's well worth visiting some of the best tourist attractions and things to do in the area.

Of course, creating a fun family holiday comes with new challenges and requirements compared to a typical holiday, and keeping the kids happy may not always be quite as easy as keeping adult guests entertained.

Still, with today's top destination ideas, you'll hopefully be able to make your next family vacation in Austria the best it can possibly be. But remember, be sure to involve your kids in the discussions to make sure there's plenty for them to see and do, as well.

So hope you could benefit from this list of the great things you could do in Vienna with your Kids. Let me know in the comments below if you discover anything I can add to the list. Many thanks!
Is Vienna kid friendly?
Vienna has a lot to offer for kids like the Zoom Museum, the Prater Amusement Park, Schönbrunn Zoo, Kids Opera, and Spanish Horse Riding School. Kids will love Viennese food like Sacher Torte and Wiener Schnitzel.
Best Family-Friendly Hotels in Vienna
If you're looking for a family-friendly hotel in Vienna, look no further than the Best Western Hotel Wien West. This hotel offers a variety of amenities that are perfect for families, including a children's play area, babysitting services, and a kids' menu. Additionally, the rooms are spacious and comfortable, making it easy to relax after a long day of sightseeing.
Here is a Selection of the Best Family-Friends Hotels in Vienna (Based on real Family Traveler recommendations)
Kid-friendly food in Vienna
Try taking them to one of the famous Viennese Coffee Houses in Vienna. Children will love the Viennese cakes and pastries. Like the world-famous Sacher Cake
BEST COFFEEHOUSES IN THE CITY CENTER OF VIENNA, AUSTRIA
PS: If your kids prefer Fast Food, Vienna has plenty of McDonald's, Burger Kings, and similar Burger restaurants. 😉
Top Tip:
Try a Wiener Schnitzel. Most Viennese Restaurants also have "Kinderschnitzel" smaller Schnitzel portions available for kids. (with fries)
WHERE TO EAT THE BEST WIENER SCHNITZEL IN VIENNA (RESTAURANT TIPS + PRICES!)
The main supermarkets also tend to have takeaway sections with sandwiches, or you can simply ask them to make up a filled cheese or ham roll at the delicatessen counters.
WHEN IS THE BEST TIME TO VISIT VIENNA?
Please read my Blog Post here:
https://www.theviennablog.com/2022/07/05/when-is-the-best-time-to-visit-vienna/