Last Updated on February 6, 2023 by gregor
In this guide, we'll take a look at some of the best sausages that Vienna has to offer and where you can eat them
Vienna has a love for food like many other cities, but it offers a great deal more than Viennese coffee and Sacher cake. It is time to forget fancy clothes, opera houses, and restaurants, and enjoy a delicious sausage at the Viennese Würstelstand.
Without further ado let us dive into the most important things you need to know about Viennese Sausages
What is a Würstelstand (Sausage Stand)?
Wurstelstand translated to English means "Sausage booth", giving the space a remarkably accurate description. These are snack bars that sell a wide range of drinks and ready-to-eat sausages. Offering directly to the sausage culture in Vienna, it fits in perfectly. 
These stands are commonly found outside subway stations, and tram stops. Offering the everyday commuter and tourists a taste of the best sausages Vienna has to offer.
Viennese sausages are not served in a single manner but come in a wide variety of ways. Make sure you can choose the one that works best for your taste. You can order a plain sausage, or one served with a slice of bread or a Semmel (bread roll). Offering you the iconic hot dog style topped with mustard and ketchup, or something raw and insanely juicy.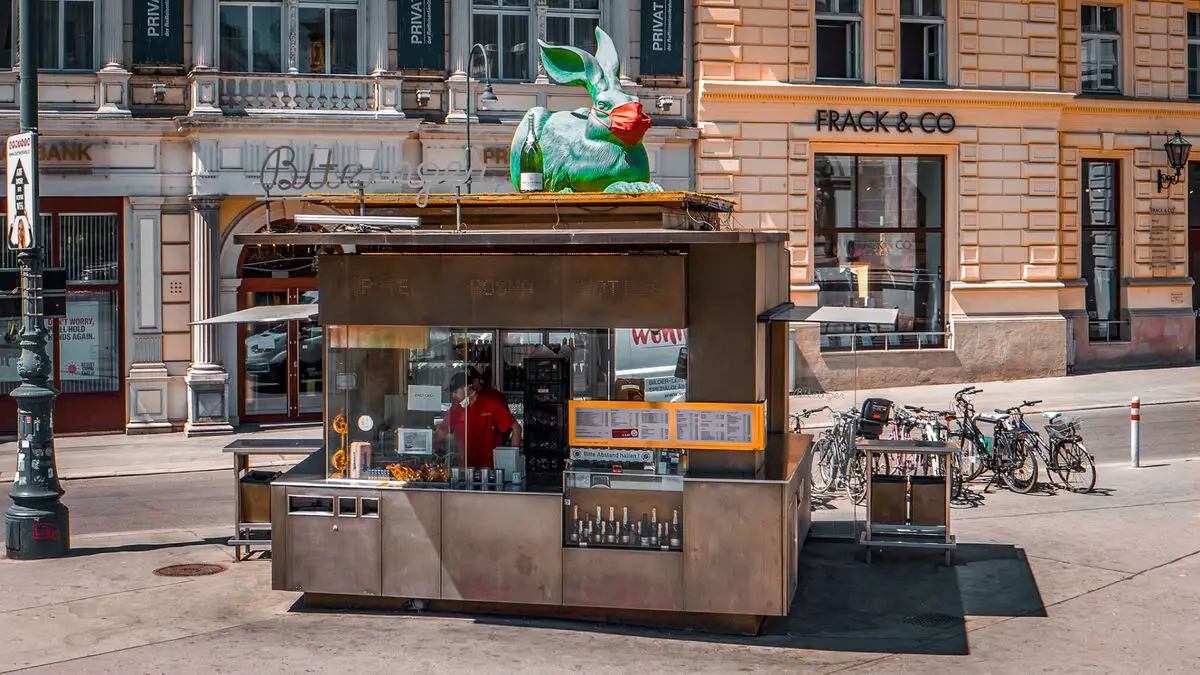 Main Types of Sausages in Vienna
Viennese sausages are made in four different types. This means you can choose any one of the four, that are commonly made using beef, pork, or chicken.
To help you understand we have listed down the four main types of Vienna Sausages:
Frankfurter, Wiener Würstchen or Sacher Würstel
The classic Vienna sausage, also known as Frankfurters, Wiener Würstchen, and Sacher Würstchen is commonly cooked in broth or water.
Served on a roll with mustard and ketchup it is a Hot Dog, it is a common favorite of the locals. Offering everyone a quick and delicious snack that keeps them going for hours.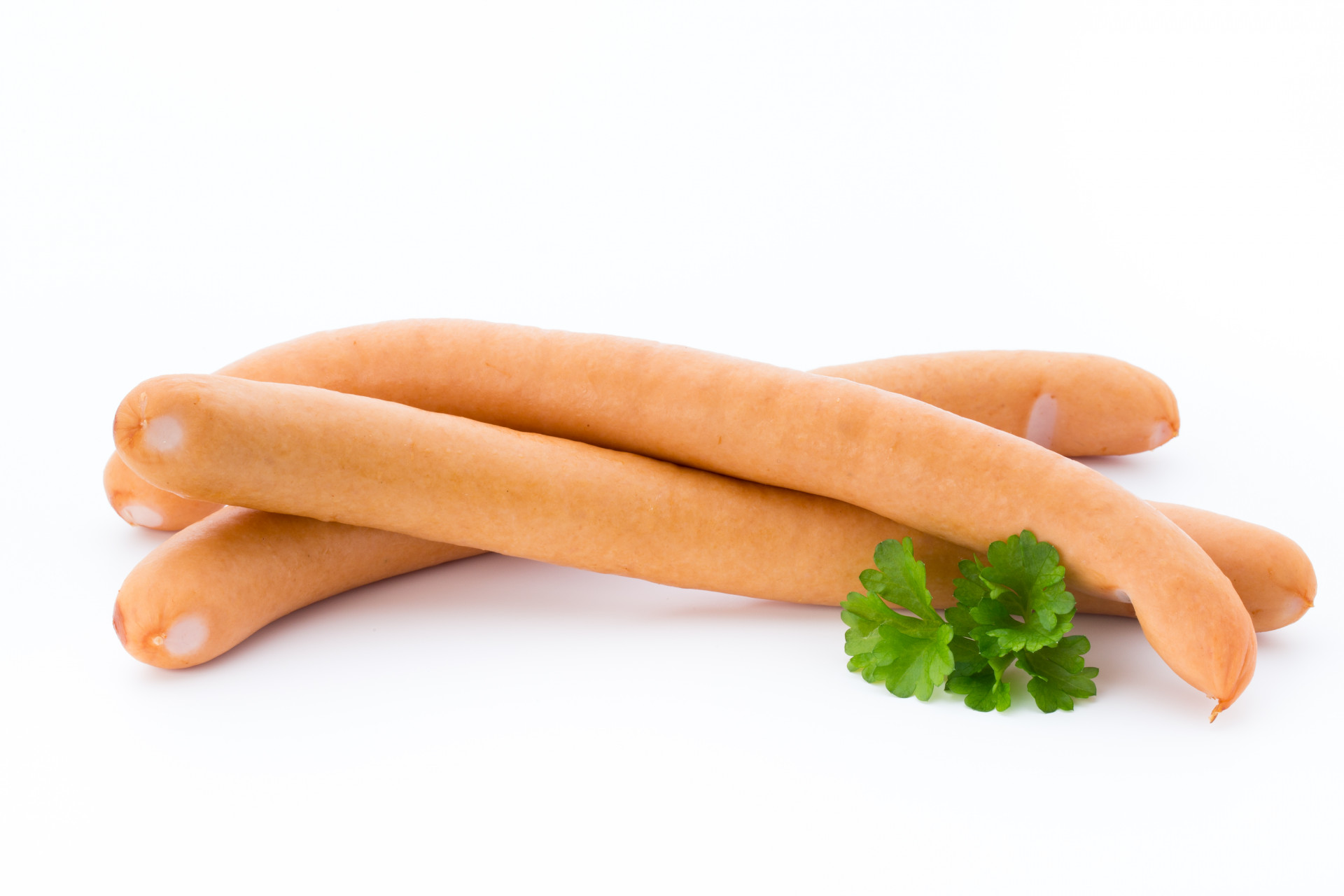 Bratwurst
A lightly spiced fried sausage that is commonly eaten on BBQs. This Viennese sausage is a wonderful delight that comes packed with flavors and a little heat.
Packing a great deal of these sauces can easily the length and width of your forearm. This means you can have your hands full with a Bratwurst. 
Käsekrainer
This coarser sausage comes with touches of cheese that are fried to perfection. Once the cheese melts it starts to ooze out and form a cheese crust, creating a mind-blowing taste that keeps on giving. Moreover, the sausage comes pre-cut, so you can easily enjoy a delicious cut, rather than battling with oozing hot cheese. 
Debreziner
While the sausage may be spelled a few different ways but packs the same delicious flavor. Lightly smoked the sausages come with reddish meat, and paprika to give them a little heat. Definitely, the spiciest of them all it originated in Hungary but now is an Austrian legacy.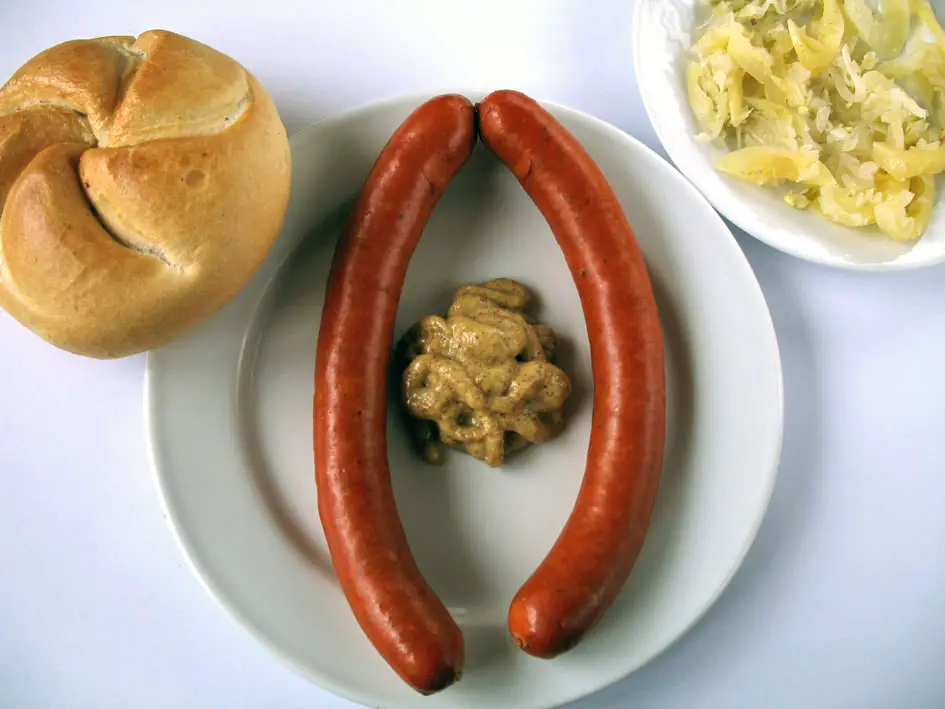 Apart from the four classics, you will find a few more options available. Every one of which offers a slightly different taste, but is considered to be equally amazing.
These include but are not limited to the:
Sacherwürstel
Grillwurst
Currywurst
Waldviertler
Klobasse
Burenwurst
Sausage Toppings
No sausage in the world is complete without a condiment, and when in Vienna you can easily pick from a wide range. Layering on one, two, or even four toppings to create a flavor that works best for your taste. To help you get started we have listed down the top condiments and other sausage toppings used in Vienna. 
Senf – mustard

Ketchup

Kren – horseradish

Gurkerl / Essiggurke – gherkin

Pfefferoni – a chili pepper (but not usually too spicy)

Brot – a slice of bread (dark)

Semmel – bread roll (white)

Pommes – fries
Top Vienna Sausage Stands
While Wieners, Bosna, and Kasekrainer are the archetype of Austrian cuisine, they are not the only options. Dotted around the city you will find a high number of small and underrated Wurstelstand kiosks that offer some of the best sausages in Vienna. 
Offering a wide variety, some of them even offer sausages with a little twist.
Here is a quick guide to help you find the top sausage stands in Vienna.
The Bitzinger Sausage Stands
A remarkable sausage chain that is open almost 24 hours a day, offering some of the finest snacks at any time your mood strikes. They are affordable and filling, meaning you will be able to enjoy a quick bite without worrying about your budget.
More importantly, the stand offers a wide range of options when it comes to sausages, and during peak hours you might find a long waiting line. Even tho, you might have to wait for a little, the sausages they have to offer will be well beyond your expectations. One that will have you standing in line on a daily basis. 
Adress: 1010. In front of the Albertina Museum (Albertina Platz)
https://www.bitzinger-wien.at/
Kaiserzeit Sausage Stand
What makes the Kaiserzeit sausage stand standout is their option to build your own Bratwurst. This means you can choose from the range of toppings they have to offer such as bacon, cheese, or Sauerkraut. Moreover, they offer servings such as the Coney island hot dog with an onion and meat sauce. One that is highly recommended for all meat lovers, and probably their best sellers. Paired with the condiments of your choice that are available on tap. Most of which include mustard, ketchup, curry, and others.
Adress: Augartenbrücke, 1020 Vienna
Website: http://www.kaiserzeit.wien/de/home/
Würstelstand am Hohen Markt
The crowd that this little stall attracts speaks volumes of what it has to offer. Especially when looking to grab a bit on the weekends you mind finding yourself waiting for a while. However, once you get a taste you will understand the importance of waiting your turn. The stand offers the classic Grillwurst set in a soft baguette, dipped in horseradish sauce, and pairs perfectly with a chilled Austrian beer. 
Adress: Hoher Markt 8, 1010 Vienna
Wurstelstand Leo
Chopped in bite-sized pieces these sausage chunks come topped with your favorite condiments. Offers you a slightly more desirable way to enjoy a sausage, where you can easily use a disposable toothpick to maneuver each piece. However, there are classics to choose from, such as the Kasekrainer which comes with hidden hints of cheese. Bringing you a pleasant splash of cheese every now and then. All of which can be sided with potato chips, salad, gherkins, and any sauce you desire. 
Adress: Döblinger Gürtel 2, 1190 Vienna
Website: https://wuerstelstandleo.at/
Zum Goldenen Würstel
Do not walk away from its lackluster appearance, as the amount of flavor these sausages carry is insane. Located in the center of town the stand offers you a filling, delicious, warm, and completely authentic Austrian snack at an inexpensive price. Paired with wine or beer you can enjoy a beautiful piece of sausage in the way you like. Choosing from the range of selections, you can pick a sausage setting that matches your taste. Offering you a well-rounded Austrian experience in the middle of a street. 
Adress: Spiegelgasse 1. 1010 Vienna
Conclusion
With these in mind, you are free to explore the sausage culture in Vienna, there is no doubt that every single place offering you a sausage will have something spectacular to offer. However, every single experience is based on your personal taste, and we suggest you research a little before you set on your sausage journey. The more you know about the sausage you are consuming, the more taste it will pack. 
The first thing you need to consider is the meat, the second is its preparation, the third is its base, the fourth is the topping, the fifth is its side, and the last but not the least is the drink you wish to pair with your sausage. Keeping in mind that every single element you choose can help you create a spectacular eating experience.
MAP of the BEST Würstelstand in Vienna
Viennese Food Guide  – What Food to Eat in Vienna?
Austria was once in the center of the Habsburg Empire, which covered everything from Russia to France. This is why Austria has embraced many ethnic dishes when it comes to cuisines. The range of dishes from all across Europe showcases Vienna's multicultural influence. For instance, the coffee-drinking tradition was brought to Vienna by the Turkish Army. Similarly, there are a number of other dishes that have been brought in from all around Europe that is today a huge part of the Viennese food culture. The Viennese dishes are packed with local flavors, yet offer a great twist when it comes to taste.
The next time you are in Vienna, we suggest you try out some of the ultimate top ten Viennese Foods we have listed down, otherwise, you will be missing out on a complete experience. These dishes are what make the city all the more special.
VIENNA FOOD GUIDE – TRADITIONAL VIENNESE FOOD YOU MUST EAT IN VIENNA, AUSTRIA (UPDATE 2022)
VIENNA'S BEST ROOFTOP PATIOS AND VIEWPOINTS YOU NEED TO VISIT – UPDATE 2022