Last Updated on May 8, 2023 by gregor
If you're planning a trip to Austria, you might be wondering how to make the most of your time there. Luckily, we've put together a one-week Austria itinerary that will help you make the most of your time in this beautiful country in the heart of Europe.
Austria is a country that has something for everyone. Whether you're looking to explore its stunning scenery, experience its rich culture, or simply relax in its cosmopolitan cities, you'll be able to find it all here.
So, without further ado, here's our one-week Austria itinerary
7 Day Austria Itinerary
Day 1: Arrive in Vienna
Start your day in the city by checking into your hotel and getting settled. Then, head out to explore the city town center. Begin with a walk around the historic center, taking in sights like the Vienna State Opera House, and the Hofburg.
Next, stop for a traditional Austrian lunch at a Viennese café. In the afternoon, you can take a bus and visit some of Vienna's world-famous museums, such as the Belvedere Palace or the Albertina Museum.
Vienna is famous for Classical Music Concerts. Read more and book your Classical Concert Tickets in Vienna here: 👉 13 BEST CLASSICAL CONCERTS IN VIENNA 2023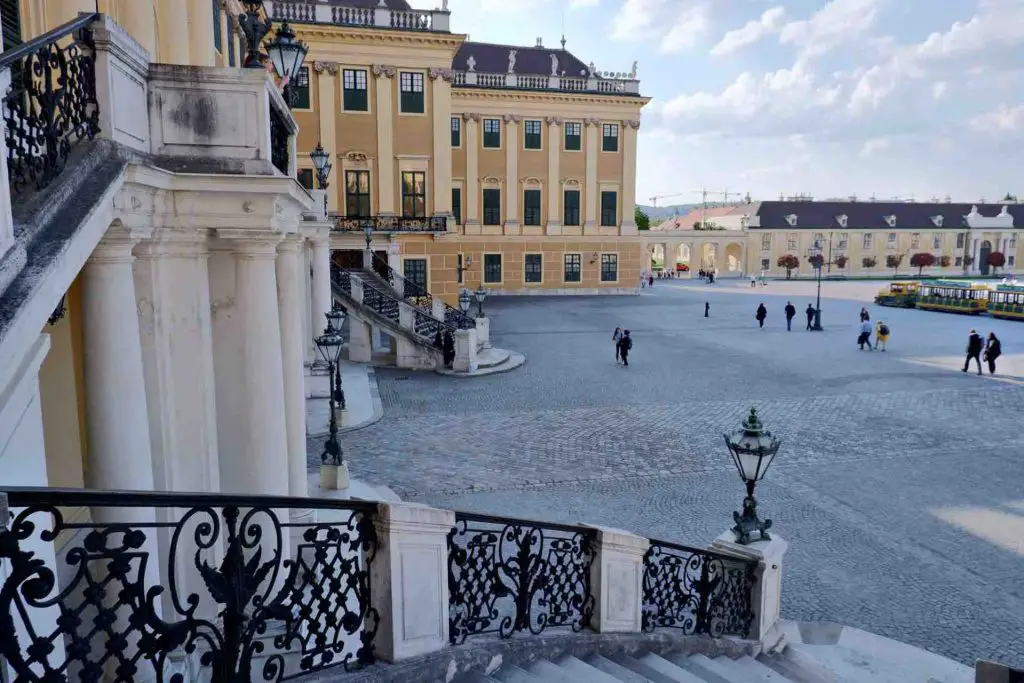 Day 2: Take a day trip to Salzburg
On day 2 of your Austria itinerary, consider taking a day trip to the city of Salzburg, Austria. This charming city is only a short drive from Vienna city and is full of things to see and do. Start your day by exploring the historic old town, which is a UNESCO World Heritage Site. Be sure to visit famous landmarks like the Hohensalzburg Fortress and the Mirabell Palace. After lunch, take a stroll through the Salzburg Museum or visit one of the many art galleries in the city or countryside. End your day with a delicious dinner at a local restaurant. (Fun fact: Wolfgang Amadeus Mozart was born in Salzburg). Please see also Ultimate Salzburg Travel Guide with Sound of Music Location Tips
25 BEST THINGS TO DO IN SALZBURG AUSTRIA
Classical music Concerts and Festivals in Salzburg Austria are a must-see for any music enthusiast. Salzburg boasts some of the Best Classical music Concerts and Festivals
More Info and Book your Classical Concert Ticket in Salzburg here 👇
BEST CLASSICAL MUSIC CONCERTS AND FESTIVALS IN SALZBURG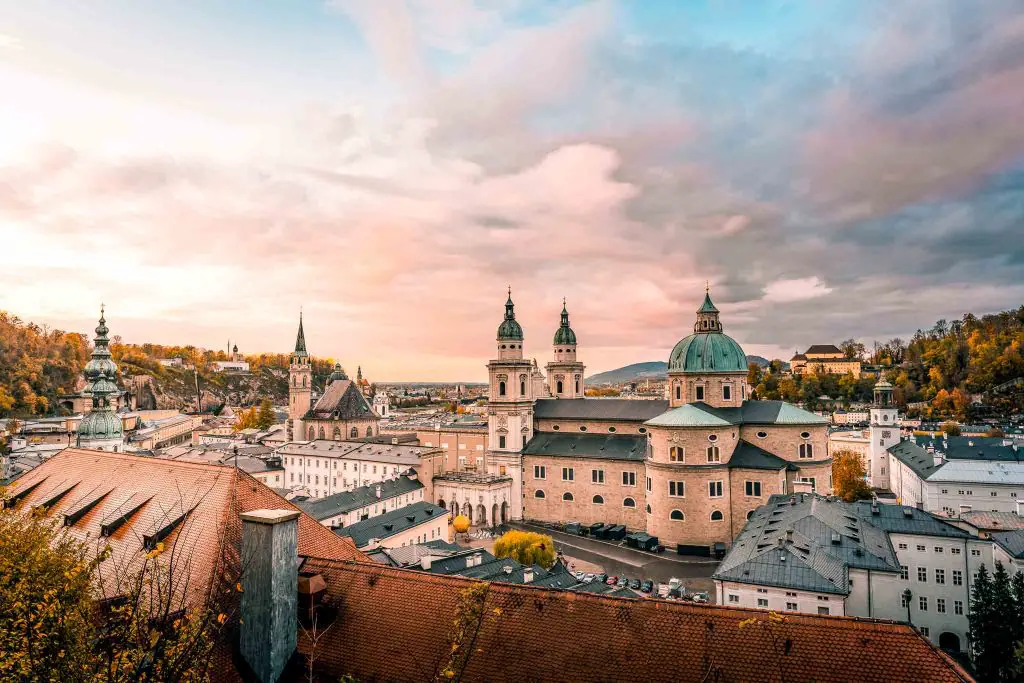 Day 3: Day Trip to Hallstatt
If you have time, you can also consider a short trip to the charming lakeside town of Hallstatt. Be sure to spend your day exploring the old town, visit the Hallstatt Bone House, and take a cable car ride up to the Salzwelten salt mines.
As night falls, enjoy a leisurely dinner at a restaurant with views of the city. Then, take a stroll through the atmospheric streets of the old city that are within walking distance from your hotel before turning in for the night. Please read also The Top Things to Do and See in Hallstatt, Complete Hallstatt Travel Guide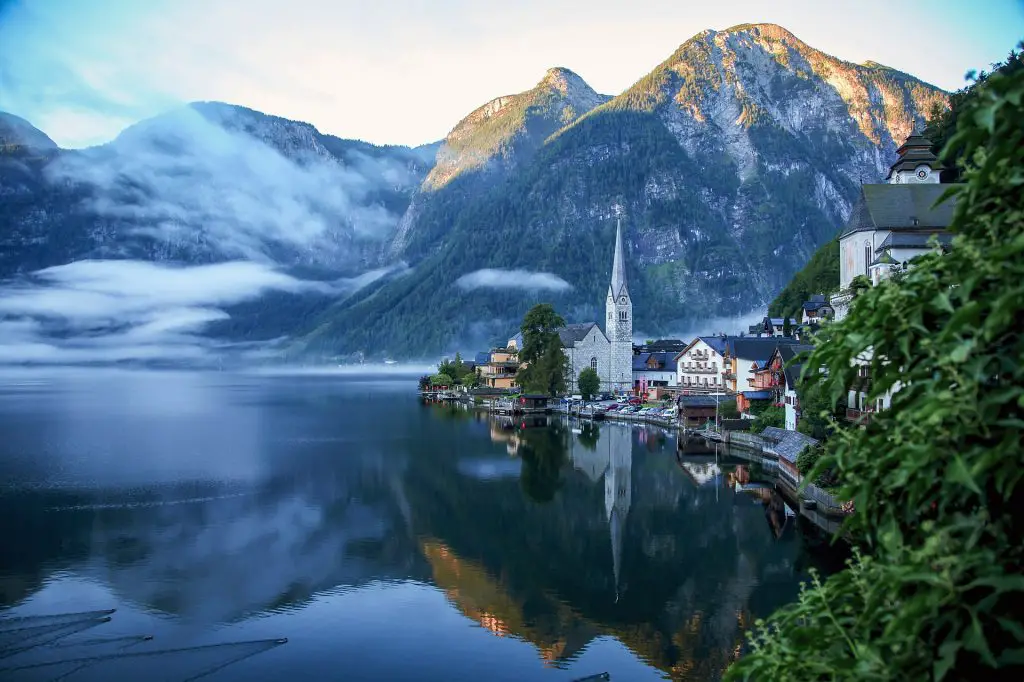 Day 4: Explore Innsbruck, Tyrol
Day 4 in Innsbruck starts with a visit to the Goldenes Dachl, a gilded roof on top of a Renaissance-era building. Then, stroll through the old town to see the historic sights, such as the Helblinghaus, and the Maria-Theresien-Strasse. For lunch, stop at one of the many cafes or restaurants in Innsbruck. In the afternoon, visit the Ambras Castle, a former imperial residence with a museum inside. Finally, end the day with a cable car ride up to Nordkette mountain for panoramic views of Innsbruck and the surrounding area.
Read more: 👉 16 BEST THINGS TO DO IN INNSBRUCK, AUSTRIA – TOP INNSBRUCK ATTRACTIONS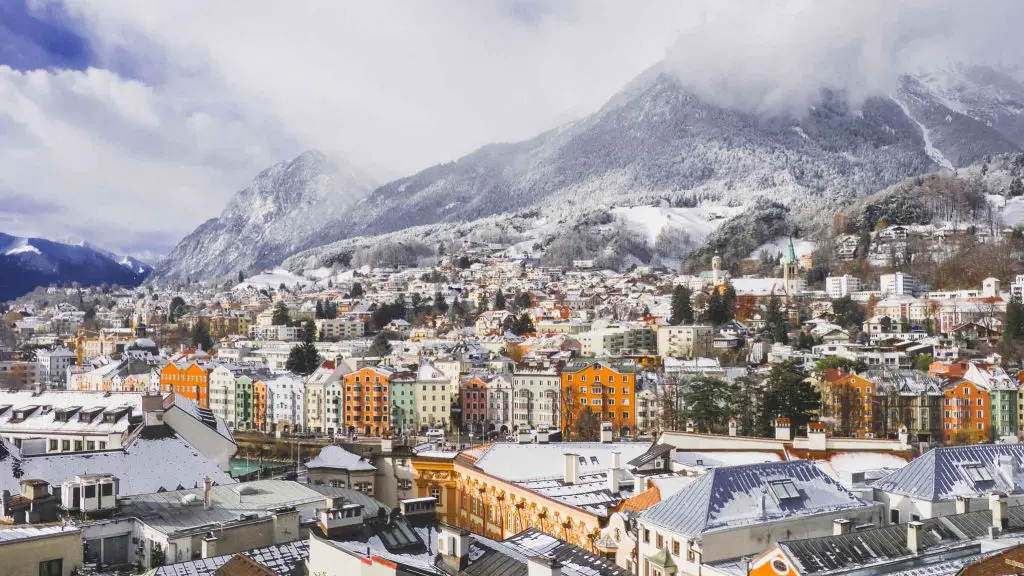 Day 5: Explore Bregenz, Vorarlberg
On the fifth day of your Austria itinerary, you will explore the town of Bregenz, the capital of Vorarlberg. This charming town is situated on the shores of Lake Constance and is known for its beautiful scenery and lively atmosphere. There are plenty of things to see and do in Bregenz, so you will definitely not be bored. Some of the highlights include the Bregenz Festival, which is a world-renowned music and arts festival, and the Bregenz Christmas Market, which is one of the most festive and popular markets in all of Austria.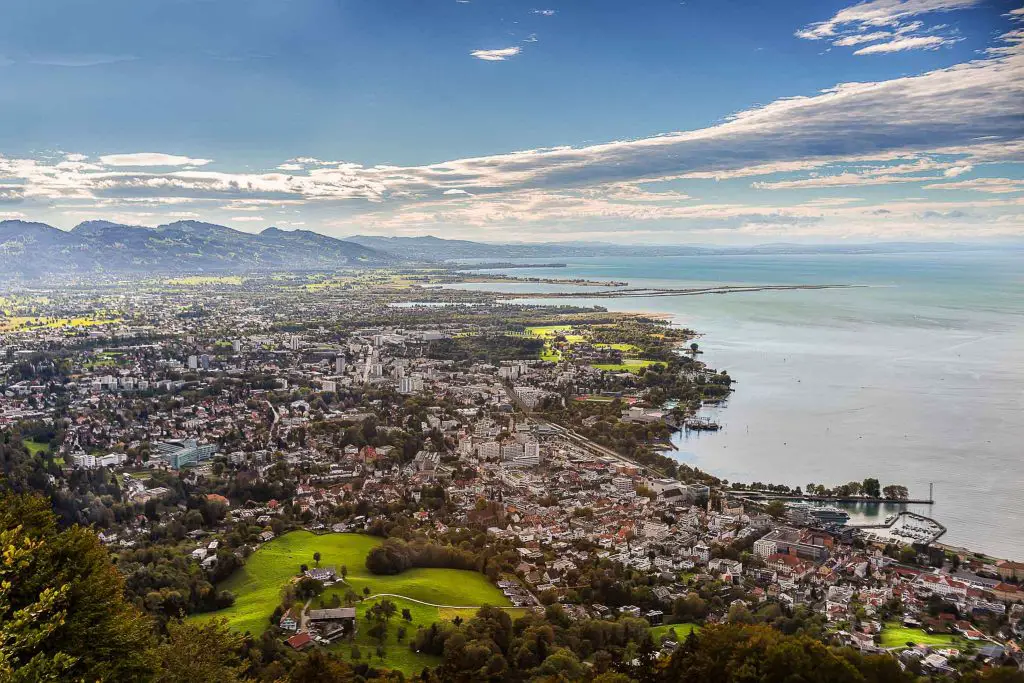 Day 6: Grossglockner high alpine road
On the sixth day of your Austria itinerary, you will take a drive on the Grossglockner high alpine road. This road is one of the most scenics in Austria and will take you past the country's highest mountain, the Grossglockner. The drive will take you through Hohe Tauern National Park, and you will have the opportunity to stop at several lookout points along the way.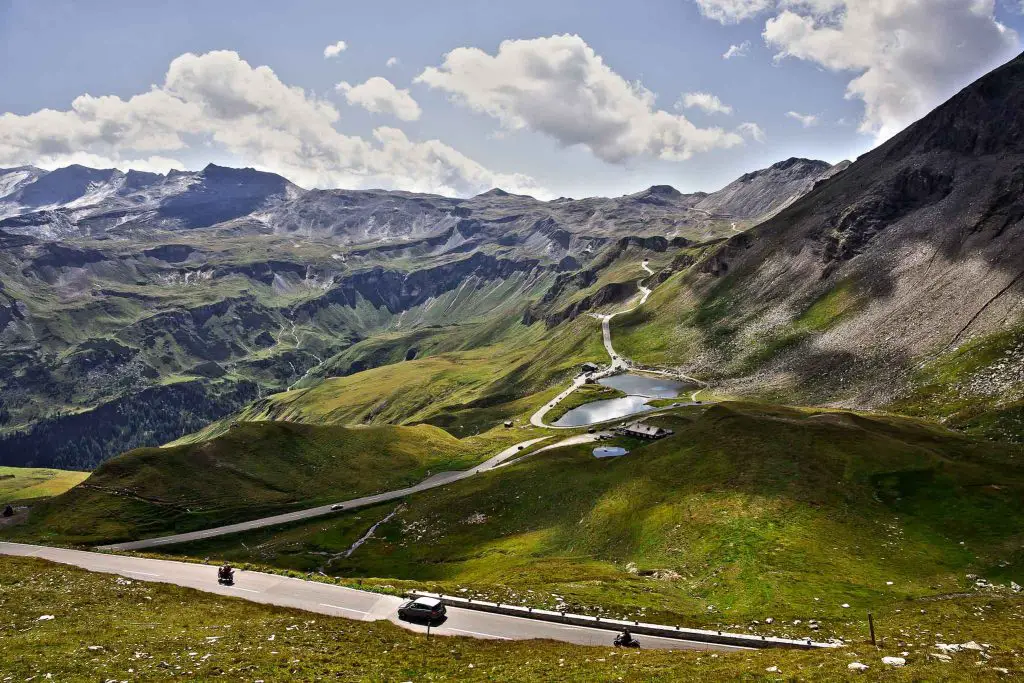 Day 7: Zillertal Alps
The Zillertal Alps is a mountain range located in the western part of Austria. It is one of the largest mountain ranges in the country and is a popular destination for both tourists and locals. There are many activities to do in the Zillertal Alps, such as hiking, climbing, skiing, and snowboarding. There are also many different restaurants and cafes located in the mountain range.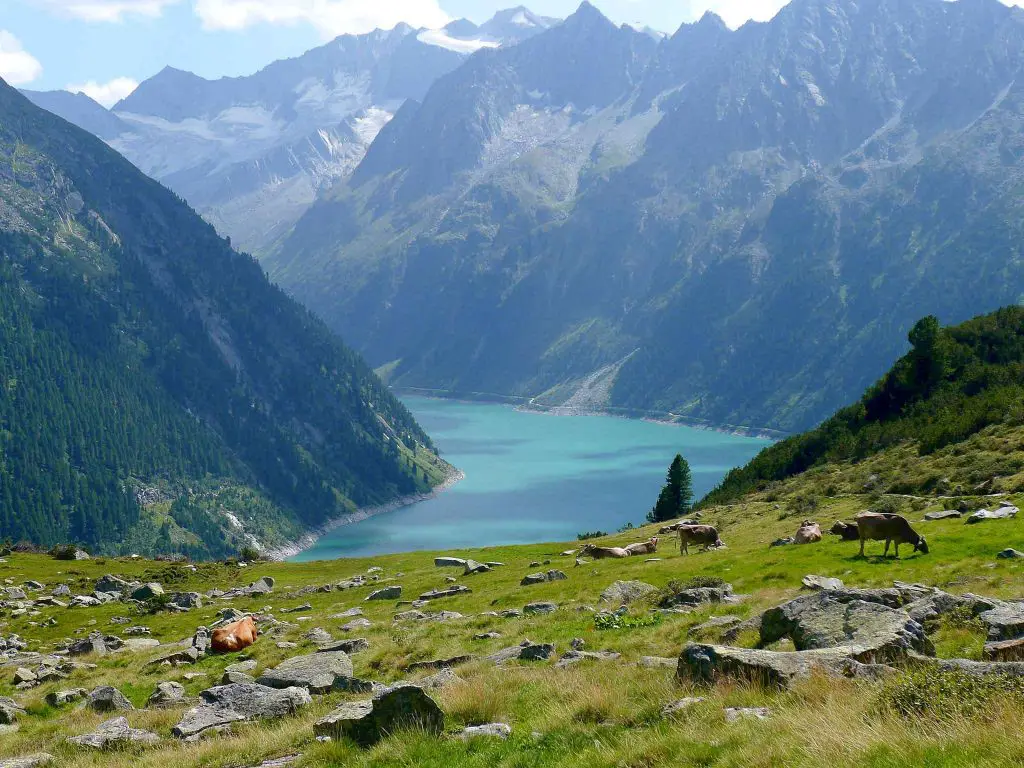 Planning a trip to Austria & looking for information?
Planning a trip to Austria? Then you have come to the right place. Touring Austria can be daunting, but with the right information, it can be a breeze. Here are a few things to keep in mind when planning your trip:
When to go: The best time to visit Austria is during the shoulder seasons of spring and fall. The weather is milder and the crowds are thinner.
What to pack: Be sure to pack comfortable shoes and layers, as the weather can change throughout the day.
What to see: Vienna is a must-see when visiting Austria. Be sure to check out the Hofburg Palace, St. Stephen's Cathedral, and the Schönbrunn Palace.
What to eat: Austria is known for its delicious pastries, so be sure to indulge in some Sachertorte or Apfelstrudel while you're there. VIENNA FOOD GUIDE – TRADITIONAL VIENNESE FOOD YOU MUST EAT IN VIENNA, AUSTRIA (UPDATE 2023)
A Must-Do is a Food Tour in Vienna.
Read more here: 👉 15 BEST FOOD TOURS IN VIENNA, AUSTRIA – UPDATED 2023
Plan your Trip to Austria?
Best Travel Tips for Your Austria Itinerary
Are you planning a trip to Austria? If so, congratulations! Austria is a beautiful country with plenty to see and do. Here are a few tips to help you plan the perfect Austria itinerary:
1. Don't try to see everything. Austria is a large country and it would be impossible to see everything in one trip. Instead, focus on one or two regions that interest you the most.
2. Do your research. Before you start planning your trip, take some time to research Austria and figure out what you want to see and do. This will help you narrow down your list of must-see attractions.
3. Plan your transportation in advance. Austria has an excellent public transportation system, but it can be confusing to figure out if you're not familiar with it. Plan your transportation before you arrive so you know how to get around.
4. Pack for all seasons. Austria has a continental climate, which means that the weather can vary significantly from one region to another. Pack for all seasons so you're prepared for whatever the weather may bring.
WHAT TO WEAR WHEN VISITING VIENNA, AUSTRIA
5. Be prepared for crowds. Austria is a popular tourist destination, meaning some attractions can get quite crowded. If you're not a fan of crowds, try to visit during the off-season or avoid the busiest times of the day.
6. Learn some German. Although English is widely spoken in Austria, learning some basic German will make your trip more enjoyable. It will also come in handy if you find yourself in a less touristy area.
7. Don't forget your camera. Austria is home to some of the most beautiful scenery in Europe. Make sure you bring your camera so you can capture all the amazing views.
8. Budget for souvenirs. Austria has plenty of souvenirs to choose from, so make sure you budget for them in advance. You'll find everything from traditional Austrian handicrafts to delicious chocolates and sweets.
WHAT TO BUY IN VIENNA: BEST 15 SOUVENIRS FROM VIENNA
9. Enjoy the food. Austrian cuisine is delicious, so make sure you take advantage of it. Indulge in some of the country's famous dishes, such as Wiener schnitzel and Apfelstrudel.
10. Have fun! Austria is a beautiful country with plenty to see and do. Relax and enjoy your trip.
Top Tip: Vienna Pass. Read more: 👉 VIENNA PASS REVIEW 2023 – IS THE VIENNA PASS WORTH IT? – AN INSIDERS REVIEW
Plan your Trip to Austria?
Frequently Asked Questions
Where to stay in Vienna?
When planning a trip to Vienna, one of the first decisions you'll need to make is where to stay. Vienna is a large city with many different neighborhood districts, each with its own unique atmosphere. 
The first step in choosing the best neighborhood for your stay is to decide what kind of experience you're looking for. Are you interested in historical sights, museums, and classical music? If so, you'll want to stay in the Innere Stadt, the city's historic center. This is also the most popular tourist area, so it's a great place to people-watch and soak up the Viennese atmosphere. 
If you're looking for a more modern vibe, with plenty of shopping and nightlife, then you'll want to stay in the Josefstadt neighborhood. This area is also convenient if you're planning on doing business in Vienna, as it's close to many of the city's corporate headquarters. 
For a more residential feel, consider staying in Wieden, which is very close to the Innere Stadt. This neighborhood has a lot of great restaurants and cafes, as well as a lively nightlife scene. 
No matter what your interests are, you're sure to find the perfect neighborhood for your stay in Vienna.
How to get around Vienna?
There are a few ways to get around Vienna:
On foot: Vienna is a very walkable city and is easy to navigate. There are plenty of sidewalks and crosswalks, and the streets are well-marked.
By public transportation: Vienna has an excellent public transportation system, with buses, trams, and trains all run by the Vienna Transport Authority (Wiener Linien). Tickets can be purchased at any of the many ticket machines located around the city, and day passes are also available.
By taxi: Taxis are readily available in Vienna and can be hailed on the street or ordered by phone. Prices are reasonable, and most taxis accept credit cards.
By bicycle: Vienna is a great city for cycling, with plenty of dedicated bike lanes and paths. You can rent a bike from one of the many bike-sharing stations around the city, or bring your own.
What to See in Vienna – The Must-Do's
There's so much to see in Vienna that it can be difficult to know where to start. But whether you're interested in history, art, music, or just want to enjoy the city's unique atmosphere, these are the must-dos when visiting Vienna.
1. Tour the Ringstrasse
The Ringstrasse is Vienna's grand boulevard, built in the 1860s to replace the city's medieval walls. It's lined with impressive buildings, monuments, and parks, and is the best way to get an overview of the city. Start at the Hofburg Palace and make your way around the 3.2-kilometer (2-mile) loop.
2. Visit Schönbrunn Palace
This former imperial summer Schönbrunn Palace residence is one of Vienna's most popular attractions. Take a guided tour of the opulent staterooms, stroll through the gardens, and visit the world's oldest zoo, located on the palace grounds.
3. See the Lipizzaner Stallions
The Spanish Riding School is world-famous for its Lipizzaner stallions, and a performance by these beautiful horses is a must-see when in Vienna. The school offers several different types of shows, so you can choose the one that best suits your interests.SPANISH RIDING SCHOOL IN VIENNA – SIGHTSEEING INFO AND TIPS
4. View the art at the Belvedere
The Belvedere is a former palace that now houses two museums: the Upper Belvedere, with its extensive art collection, and the Lower Belvedere, with its baroque gardens. Make sure to see the Klimt paintings on display at the Upper Belvedere – they're some of the most famous works by the artist. VIENNA BELVEDERE PALACES AND BELVEDERE MUSEUMS, ULTIMATE VISITOR GUIDE
5. Listen to a concert at the Vienna State Opera
Opera is an important part of Vienna's culture, and attending a performance at the magnificent Vienna State Opera House is an experience you won't forget. Even if you're not an opera fan, the building itself is worth a visit.
13 BEST CLASSICAL CONCERTS IN VIENNA
6. Take a ride on the Ferris wheel
For stunning views of Vienna, hop on the Riesenrad, the city's giant Ferris wheel. It's located in the Prater, a large public park that's also home to a number of other attractions, including an amusement park and a museum.
7. See the Habsburgs' crown jewels (Schatzkammer)
The Imperial Treasury, located in the Hofburg Palace, houses the Habsburgs' impressive collection of crown jewels. The collection includes the Imperial Crown of Austria, as well as the crowns of several other Austrian emperors.IMPERIAL TREASURY VIENNA, SIGHTSEEING INFO AND TIPS (KAISERLICHE SCHATZKAMMER WIEN)
8. Walk through the Wienerwald
The Wienerwald, or Vienna Woods, is a large forest that surrounds the city. It's a great place to escape the hustle and bustle of the city and enjoy some fresh air. There are numerous hiking and biking trails to explore, and you'll find several restaurants and cafes dotted around the forest.
9. Shop at the Naschmarkt
This famous Vienna Naschmarkt is the best place in the city to find fresh produce, as well as international foods and spices. It's also a great place to grab a bite to eat, as there are numerous stalls and cafes offering a variety of cuisines.
10. Learn about Vienna's history at the Hofburg Palace
The Hofburg Palace is the former imperial palace of the Habsburg dynasty and is now home to several museums. If you're interested in learning about Vienna's imperial past, this is the place to go. You can also take a guided tour of the palace grounds.
THE HOFBURG IMPERIAL PALACE COMPLEX IN VIENNA, AUSTRIA
THE EMPRESS SISI MUSEUM IN THE HOFBURG IN VIENNA
How many days should I stay in Vienna?
Most people suggest staying in Vienna for at least 3-4 days to get a good feel for the city. However, if you are short on time, 2 days is also enough to see the main sights.
What to see in Austria in 5 days?
If you're looking to explore Austria in just five days, you'll want to make sure to hit some of the country's most iconic spots.
In Vienna, be sure to stroll through the Ringstrasse, visit the grand Schönbrunn Palace, and get a taste of the city's famous coffee culture.
In Salzburg, you can't miss a visit to the Hohensalzburg Fortress and a tour of the old town.
In Innsbruck, you'll want to see the Golden Roof and the Imperial Palace and don't forget to go for a ride on the Nordkettenbahnen cable cars for some incredible views. 16 BEST THINGS TO DO IN INNSBRUCK, AUSTRIA – TOP INNSBRUCK ATTRACTIONS
And of course, no trip to Austria would be complete without a stop in the picturesque town of Hallstatt to see the Hallstatt Lake and the Dachstein Mountains.
Is hiking strenuous?
Yes, hiking can be strenuous in Vienna depending on the terrain and the person's level of fitness.
Renting a Car in Vienna
Renting a car in Vienna is a great way to see the city and its surrounding areas. There are many different companies that offer rental cars, and the prices vary depending on the type of car you rent and the length of time you need it. Most rental companies will require that you have a valid driver's license and a credit card.
Plan your Trip to Vienna?
What do waltzes, the Habsburgs, the Sound of Music, Mozart, mountains for days, schnitzel, and dumplings all have in common?
All of these things have something to do with Austria. The waltz is a popular dance that originated in Austria, the Habsburgs were a powerful Austrian family, the Sound of Music is set in Austria, Mozart was an Austrian composer, and the Alps are a mountain range in Austria. Schnitzel and dumplings are both popular Austrian foods.
More Things to Do in Vienna
The city's museums are some of the best in the world, and there are plenty of them to choose from. The Kunsthistorisches Museum is a must-see for art lovers, while the Natural History Museum is perfect for those interested in science. If you're looking for something a bit more quirky, the Vienna ZOO is one of the oldest and most famous in Europe, and the Vienna Museum of Military History is a must-see for history buffs.
Read more: 👉 All About Visiting Museums in Vienna
If you're looking to do some shopping, Vienna has plenty to offer, from high-end designer stores to quaint local shops. The Vienna Christmas markets are also not to be missed – they're some of the best in the world!
Read more: 👉 BEST VIENNA CHRISTMAS MARKETS GUIDE + MAP (UPDATE 2022)
And of course, no visit to Vienna would be complete without trying some of the Viennese Food like the famous pastries. The Sachertorte is a must, but don't forget to also try the Apfelstrudel and the Kaiserschmarrn.
Conclusion
After spending a week in Austria, you will have experienced some of the best the country offers. From the picturesque city of Vienna to the stunning mountain scenery of the Alps, Austria is a country that has something for everyone. If you are looking for a week-long trip that is full of adventure, culture, and relaxation, then a trip to Austria is a perfect choice.
Related Articles
35 BEST THINGS TO DO IN LOWER AUSTRIA, TOP ATTRACTIONS
25 BEST THINGS TO DO IN CARINTHIA, AUSTRIA, TOP ATTRACTIONS
25 BEST THINGS TO DO IN STYRIA, AUSTRIA TOP ATTRACTIONS, BEST PLACES TO VISIT 2023
BEST THINGS TO DO IN BURGENLAND, AUSTRIA, TOP ATTRACTIONS
BEST THINGS TO DO IN TYROL, AUSTRIA – BEST ATTRACTIONS IN TIROL
TOP 10 THINGS TO SEE AND DO IN HALLSTATT IN 2022, AUSTRIA
https://www.theviennablog.com/2022/11/12/best-photo-locations-in-austria-most-beautiful-places-in-austria/