Last Updated on August 22, 2022 by gregor
Have you ever wondered about where to live in Vienna? Moving to Vienna can often seem like a challenge; however, it shouldn't necessarily have to be this way.
With this thought in mind, today, we're looking at some of the best Vienna locations and uncovering some of the key factors that make life in Vienna so idyllic.
After all, more and more people are making a move to Vienna; hence, knowing about the best places and areas to stay in Vienna is more important than ever. Luckily, we've covered all of this and more so you can find where to live in Vienna and ensure your move is the best it can be.
MAP of Vienna Districts – Where to live in Vienna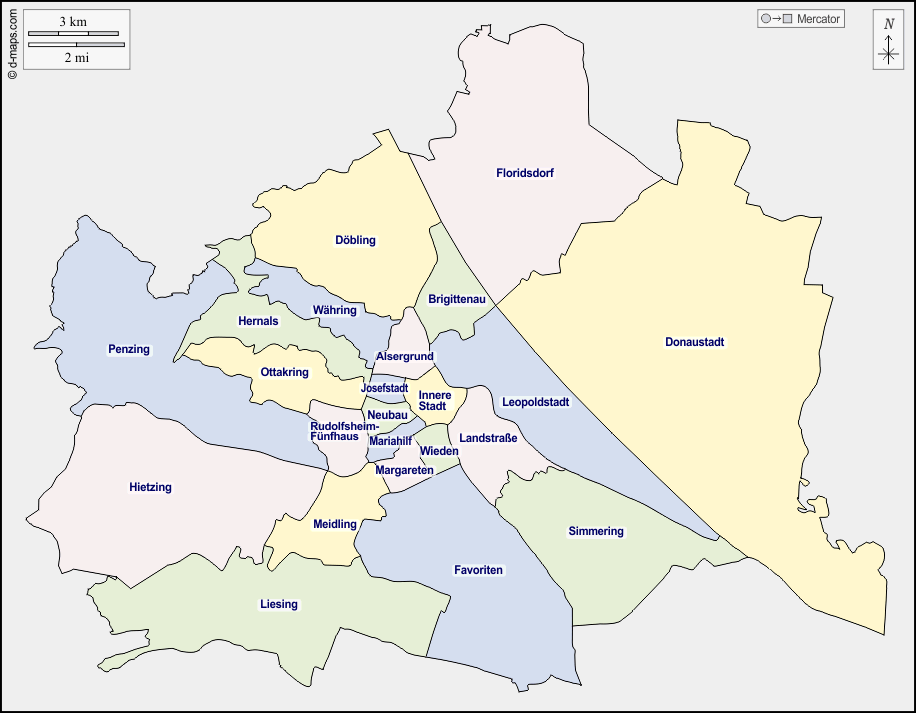 Why Life in Vienna's Most Gorgeous Locations is So Magnificent
Before going any further, the first thing we need to consider regarding the best places to stay in Vienna after your move is why this gorgeous region is so amazing. There's a lot to love about living in Vienna, of course. However, some of the most notable reasons why people choose to live in Vienna include the following:
With truly stunning and majestic architecture, Vienna is undeniably one of the most beautiful cities in the world. Its gorgeous buildings ensure that a home in Vienna will be perfect no matter your style preference.
Vienna might be your perfect destination if you're looking to move to a safe and comfortable region. The city's incredibly low crime rate ensures residents feel safe rather than worrying about their safety all the time (as can be common in other capital cities).
When it comes to getting around, Vienna has some of the best public transport connections between districts and locations. As such, while choosing the right Vienna locations initially is important, you can always visit the other regions easily once you've moved!
One of the most striking features of life in Vienna is that everything is so green – despite being in the middle of Austria's capital city! This amazing commitment to the environment makes living in Vienna heavenly.
Vienna is often considered the world's most livable city. As such, if you love the bustle of city life but still want to enjoy the finer things, Vienna might be just the city for you.
The features above are just a handful of the reasons why you might want to live in Vienna.
However, all Vienna locations are different, which can make it a little hard to choose the best area to stay in Vienna. With this thought in mind, we recommend you consider the above points when assessing each region. Choose the points most important for you to help inform your final decision.
Factors to Consider When Choosing the Best Places to Stay in Vienna
When choosing the best places to stay and live in Vienna for you, several factors may influence your decision in particular. Some of the key features we'd recommend you look out for regarding your move to Vienna include:
Price: Not every location in Vienna is priced equally. You can be much more generous with your spending if you have a lavish budget. However, if your budget is a little more restricted, it's important to look for Viennese districts that are affordable for you.
Architecture: We already mentioned Vienna's stunning architecture. However, it's worth reiterating here. When considering different Vienna locations, always consider the architecture of the region and – specifically – the design of the local homes to see if these match your personal preferences.
Access: Getting around Vienna is exceptionally easy, thanks to the region's great public transport links. However, not every district is quite as well serviced by public transport as others. With this thought in mind, we would strongly recommend looking at local public transport links if you don't intend to rely on your vehicle regularly.
Amenities: When moving to any new area, it's important to consider the local amenities Every family requires different amenities, of course; for example, a young couple might be looking for excellent entertainment, nightlife, and shopping opportunities, while a family with children might prioritize education. Of course, there are no set rules for what you might require, so it's worth making a list of your needs first to help inform the decision.
These are just a few of the factors we recommend considering when moving to Vienna. But, of course, even different districts will have different local amenities, so it's important to consider your chosen apartment or property to ensure it's the right option for you. In short: you want a property you fall in love with immediately!
Which District in Vienna is Best?
Thus far, we've been looking at some of the key things you should know about moving to Vienna. But which district is the best one for your move? Well, as we've already pointed out, there's no perfect solution.
With this in mind, while we can make some suggestions about the best districts, we recommend you do some digging to ensure you've chosen the best places to stay in Vienna. If you're not quite sure, visiting your chosen region in person – for example, on a short break – could help you decide if it's the right option for you.
The Best Vienna Locations for Price
For most of us, our budgets are among the most influential factors in our final decisions. With this thought in mind, when considering the best Vienna locations, it's vital to look at the price of properties and living. But remember: Vienna, even in the outer regions, is still one of the European Union's wealthiest cities, and so you should prepare for price tags that align with that status.
Generally speaking, if your most important metric is price, you'll likely want to consider one of the outer districts of Vienna. Central districts – such as Vienna's District 1 – are exorbitantly expensive, and this can make them far less suitable for many home buyers.
Overall, perhaps one of the most affordable districts in Vienna is Favoriten, which tends to balance affordability with a truly stunning location. Favoriten – District 10 – is highly multicultural and offers a massive amount of open, green space, making it highly appreciated for its beauty and relaxing nature. Notably, Favoriten is often considered one of the main residential districts in Vienna, and with more affordable price tags than many other regions, it's easy to see why.
Other popular choices for excellent value for money properties in Vienna include:
Leopoldstadt / District 2
Florisdorf / District 21
Brigittenanau / District 20
Penzing / District 14
Liesing / District 23
Simmering / District 11
Donaustadt / District 22
Of course, as with any location, each district has high and low-value properties alike. Leopoldstadt perhaps expresses this most evidently of all. Despite being in the center of Vienna, plenty of stunning properties are available here that aren't extortionate. However, these are mainly clustered around the outer borders of Leopoldstadt; inner border properties are more likely to begin creeping up to the €1 million mark.
Meanwhile, outer districts such as Donaustadt are incredibly affordable across the board. In these areas, most properties tend to cost around €450,000 to €600,000 to buy.
However, the price of houses in most Viennese districts is set to increase over the coming years, so if you're planning to make a move, it may be worth considering this sooner rather than later. In fact, between 2020 and 2021 alone, house prices jumped by around €50,000. Meanwhile, in the more expensive regions of Vienna, prices hiked by up to half a million!
The Best Vienna Districts for Access
Another common factor you may want to consider as part of your decision on where to move to Vienna is access. Whether you're the sort of person who likes to stay busy and see everything there is to offer, or if you have a job role lined up but don't want to live in the area (perhaps for cost reasons), knowing which districts have the best connections is crucial. Fortunately, there are several Viennese districts that can offer excellent access into and out of the area.
Of course, District 1 itself undoubtedly has the best connections around Vienna, owing to its perfectly central position. As such, you can get almost anywhere from this breathtaking, high-class region – but you will need to have the cash to burn to begin with.
If you don't have millions to spend, however, you can still enjoy excellent connections around Vienna and further afield with several other districts. Favoriten is a close second, and other excellent districts for connectivity include:
Rudolfsheim-Funfhaus / District 15
Marareten / District 5
Alsergrund / District 9
Meidling / District 12
Ottakring / District 16
Overall, public transport tends to be most reliable within Districts two to nine; if you don't drive personally or prefer using public transport for cost purposes, you may want to focus your search around these.
As such, Marareten and Alsergund could definitely be great options to consider here. However, if you're not quite sure, why not visit Vienna and test out the roads in a real-world application to ensure you'll be comfortable driving around your new district?
The Best Vienna Districts for Local Sights and Activities
There's so much to see and do around Vienna, but it's often not easy to determine where to move. As part of your decision, though, we'd advise you to consider the local sights and activities. Whether it's a night out at a high-class restaurant, time in stunning green spaces, visiting art museums, and so much more, there's a lot to see in the region.
Fortunately, we've outlined some of the main things to see; hopefully, this might help you find the region that's ideal for you.
Mariahilf – Amazing retail and shopping opportunities
Währing – Excellent outdoor environments with ample green space
Margareten – Phenomenal dining opportunities and art-deco style
Döbling – Stunning winemaking experiences and breathtaking landscape
Donaustadt – Riverside views and bordering the iconic national park
Neubau – Numerous local galleries and museums to visit
Leopoldstadt – Views over the River Danube and local parklands
These are just some of the local sights that you'll be able to enjoy after making a move to Vienna. As such, they're highly worth considering – however, don't be afraid to hop between districts from time to time to make the most of every opportunity available to you!
The Best Vienna Locations for Quality of Life
At this point, we've outlined some of the best districts (potentially) for value, access, and activities. However, which districts can provide Viennese residents the best value for money? Well, this question will always be subjective.
However, after taking the previous points into consideration and with a little extra consideration, it's safe to say that some of the best all-round districts may include Landstraße and Wieden; these two regions are highly popular for their more laid-back, family-friendly living, high quality of life, and excellent local opportunities.
Meidling is also popular for its quality of life, and its excellent transport links help make traveling much easier. Overall, Leopoldstadt is also an excellent destination in this regard, offering good value properties while still providing stunning views over the local parklands.
Of course, what you're looking for from your new life in Vienna will vary from person to person. So, if you're not sure these picks would be the ideal Vienna locations for you, we'd recommend that you visit them in person. This is one of the simplest ways to find the best area to stay in Vienna for your tastes.
Still, feel free to start with today's recommendations if you're unsure of where to begin!
Final Thoughts
If you have been planning to start a new life in Vienna, it's essential to consider some of the best places to stay in Vienna before making your move. After all, while life in Vienna is amazing, every one of its stunning locations is slightly different. As such, you'll need to consider carefully which Vienna district best matches your needs when planning your move to ensure it's the ideal thing for you.
Have you been planning a move to Vienna?
Have you made a move and are already enjoying the delights that life in Vienna can offer?
Let us know your thoughts about where to live in Vienna and its best locations – we'd love to hear from you!
More Information about Vienna:
10 Reasons Vienna is Named The City With The Highest Quality of Life, Wien, Austria