Last Updated on June 25, 2022 by gregor
In this blog, I share all the most beautiful places to visit in Italy. spots together with a bunch of useful Travel tips.
Italy is an incredible country, often overshadowed by other European countries. Various spots in Italy need more promotion. I decided to create a Blog about the best spots in Italy. A guide for travel geeks to get around the country and enjoy the beautiful cities, buildings, streets, and unique architecture. This will be a Blog blog post dedicated to the best spots in Italy.
This Travel Guide to the best Italy travel spots will walk you through the various local areas but also highlight the most iconic places and buildings you cannot miss when you are in Italy. Enjoy with me some of the most beautiful places to visit in Italy
Only Italy can offer you places such as the icy Alps, glacial lakes, turquoise grooves, and fiery craters.
Making it the ideal place to see and do. Italy offers everything from the colors of Venice, the splendor of Rome, the beautiful art in Florence, to the gorgeous homes in Puglia. The country is packed with delights and can leave you confused about what to see first. To help you out we have listed down the ultimate top 10 places to visit in Italy.
Italy – Ultimate 10 most beautiful places to visit now
MAP of the most beautiful places to visit in ITALY
About Italy
Italy is home to some of the world's largest works of architecture, art, and gastronomy. The place holds the ability to inspire you like no other place around the world. It is the base of the Roman Empire and the Renaissance birthplace. There are endless things to do and visit in Italy. In fact, it holds the most UNESCO World Heritage sites, so here you can easily take a walk down history.
Italy's beauty extends beyond gorgeous wardrobe collections, spectacular galleries, and dining rooms. Moreover, it is known for its natural sites and breathtaking views.
Amalfi Coast
The Amalfi Coast offers beautiful views, which captivate you for days to come. The Tyrrhenian Sea offers a gorgeous view that keeps on getting better with time. It is the perfect place to spend a nice quiet day on a balcony. They offer a number of boat trips, chic hotels, and beautiful sites.
Main attractions
One of the main attractions of Amalfi Coast after the gorgeous blue sea are the stacked hotels on the cliff. Overall the coast offers a lively atmosphere, and great food and wine.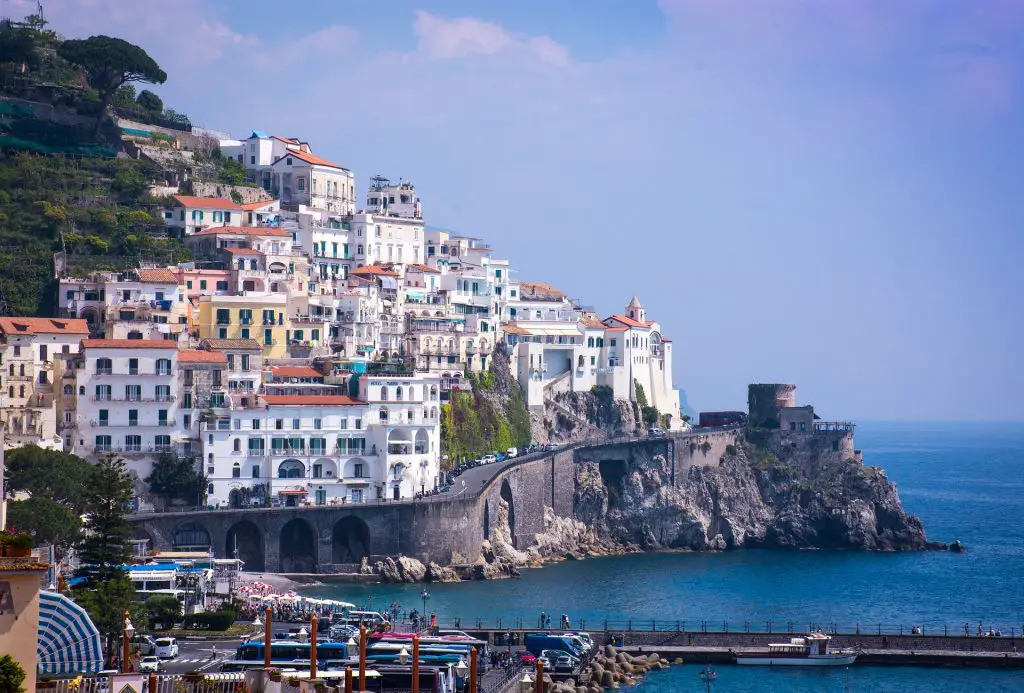 Florence
The birthplace of the Renaissance and a city of marvelous wonders. From the moment you step into the city, it will start drawing you closer. The city is packed with art and architecture that offers great inspiration to local and international artists.
Florence is home to some of the most famous and spectacular churches and museums, that are packed with tourists around the year.
However, no matter how the weather condition might be, you will be able to enjoy the sights and the arts in a different setting. Once you have covered all the historical sites, you can check out the shopping scenes Florence has to offer, along with restaurants, and some of the best bars in Italy.

Lake Como 
Italian lakes have attracted visitors from Roman times. One of the top-rated ones in Lake Como which offers great charm, and character. It is the perfect romantic escape where you can rent a boat, and just spend the day charmed by the beautiful scenery, and your partner's company.
There are a number of gorgeous resorts around the lake that offer a number of activities. If you are looking for a quiet, romantic place to spend some alone time with your love, then Lake Como offers great views, hotels, restaurants, and cafes, that serve fresh and authentic local food and wines.
Matera
Is known as the town of rock churches, caves, and grotto's that have been beautifully transformed into hotels. Apart from that, the town has been listed as a UNESCO World Heritage site, which offers a great overall experience.
The place offers a number of authentic cuisine experiences and fine wines that are made using historic and rare grape varieties from the Basilicata region. So if you are looking for a low-key experience,
Matera should be on your "must-visit list".
Milan
The city that is known as a central hub for fashion has so much more to offer than just top fashion brands. As it holds spectacular art, Opera houses, and offers a rich slice of culture.
Here you will be able to enjoy great fashion, opera, food, and an experience like no other. As Milan is home to some of the best collections of Renaissance art.
Moreover, you will be able to find art from some of the world's leading artists. The city is like a dream, that keeps on giving no matter which direction you look, and is a heaven for shopping lovers.
Sardinia
If you are looking for a unique experience, then Sardinia is known to offer something remarkable. Only here will you be able to find everything from snow-white beaches, near alpine forests, to wildlife oddities.
When talking about food Sardinia offers a range of takes on Italian pasta and serves local wines, and local cheeses. No matter what you pick to compare, Sardinia is not like any other Italian city.
The place offers some of the most mesmerizing beaches in the world. In addition, the island offers a history that dates back 7000 years.
Explore its capital city, Cagliari, and you will find a number of great pieces of history and art. Furthermore, the city hosts some of the most beautiful festivals, so if you are around you should take out time to visit and experience them like no other.
Sicily
What makes Sicily special is the amazing variety that this island has to offer. Only in Sicily will you be able to find everything from the fascinating baroque towns, smoldering Etna, to gorgeous Roman and Greek ruins.
You will have to explore the entire island, as the sites are spread across the land.
However, there is one single road that links all the villages and the cities altogether, and if you stick to it, you will be able to visit them all. Palermo, the capital city, is a great walk and offers great views, shopping, art, history, food, and wine.

Tuscany
The region holds everything that defines Italy from start to finish. Tuscany is the perfect place that holds all that you are looking for on a trip to Italy.
Starting from gorgeous landscapes, perfect art, mouthwatering cuisines, breathtaking architecture, the perfect weather,
Tuscany is one of the few places in the world that is hard to describe but just know when the sun goes down you will be dazzled by the golden lights. In addition, only in Tuscany will you find the rich offerings of the many picturesque villages scattered around the region, making your visit and stay even more spectacular.
Rome
The Capital of Italy is just a place to must-see when visiting Italy. Rome is home to numerical architectural masterpieces and culture on display.
Ancient ruins such as the Forum and the Colosseum evoke the power of the former Roman Empire. Vatican City, the headquarters of the Roman Catholic Church, has St. Peter's Basilica and the Vatican Museums, which house masterpieces such as Michelangelo's Sistine Chapel frescoes.
Venice
If there is one place on earth that constantly offers a romantic vibe, allure, and will never disappoint you it's Venice. As the place is not just the city of love, it's the city of sighs. No matter where you look, you will find endless beauty and art. The city offers a great vibe and offers a unique experience that is hard to find anywhere else.
There are endless architecture, bars, restaurants, and gorgeous hotels that will take your breath away. You can spend your days drifting around in a Gondola, and spend your nights enjoying a hot and delicious pizza while you watch a row of singing Gondolieri pass you by. In addition, there is a lot to explore, and there are sites that will simply leave you speechless.
The 20 regions of Italy feel more like independent states, as each one offers something unique and more. Each region has its own traditions, food preferences, architectural style, and dialects.
So when you start to plan your trip to Italy make sure you try to check off as many places as we have listed down, so you can get the complete Italian experience from various regions.
Here you can travel around by bus, train, or even take a domestic flight. But if you are looking to cherish every waking moment, then we suggest you take a train ride.
With endless beautiful views, that will allow you to see the transition from one region to the other. There might not be much that meets the eye, but after a few days you will be dipped completely in the beauty and history Italy has to offer.
Italy holds some of the greatest artistic treasures, that will completely enchant you. You might feel envious, but there is no way you will not fall madly in love with every bit the country has to offer.
For more about Italy see these Blog Posts of beautiful cities in Italy
Naples, Italy, Ultimate Travel Guide – Top things to See and Do in Napoli
5 Top travel inspirations for your wonderful journey to Italy
Save
Save
Save