Last Updated on May 8, 2023 by gregor
Vienna, the alluring capital of Austria, is a city that can be visited at any time of the year. Whether you're in the mood for a winter getaway to explore the festive markets or searching for a summer break to catch a glimpse of the many great sites like Schönbrunn Palace, regardless of when you visit, you're in for a trip of a lifetime.
But the question is, When is the best time to visit Vienna? Some will argue about the off-season, while others will insist it's the end of the summer. Well, today we're going to break it down and find out when you really should visit Vienna.
WINTER IN VIENNA (Mid-November to January)
The winter season is one of the most popular times of the year to go to Vienna.
A lot of people travel to the city for the Viennese Christmas markets to get ready for the holiday season ahead. I mean, it's the only time of year you're going to get to see them.
Winter is a magical period in Vienna; wooden chalets pop up on every corner with their vendors selling all sorts of festive bits and treats, crystal lights ignite the metropolis, and children's hymn carols all through the night.
While it may appear to be all roses in the garden when visiting Vienna in the winter, be aware that it can get very cold. Temperatures tend to drop below minus 5, and snow does end up falling throughout each of the months.
Since winter is one of the best seasons to visit Vienna, this means that a lot of people tend to flock here. With there being a lot of people, this reduces the chances of being able to get accommodation in the right area meaning you may have to suffer from staying a little bit away from all of the action, and then the knock-on effect of that is that if there's a room available to stay in, it's usually crazy expensive.
Pros Of Traveling To Vienna Mid November To January
The Christmas markets are open
There's a great atmosphere around the city
You get to experience a different side of Vienna
SNOW (If that's your thing of course)
Cons Of Holidaying In Vienna Mid November To January
Can be hard to find accommodation close to the main center as demand is higher
Some areas of the city can get quite crowded
You may struggle to get availability at some indoor attractions and in some restaurants
Prices usually increase because there's a spike in demand
It gets extremely cold which can be a make or break for some people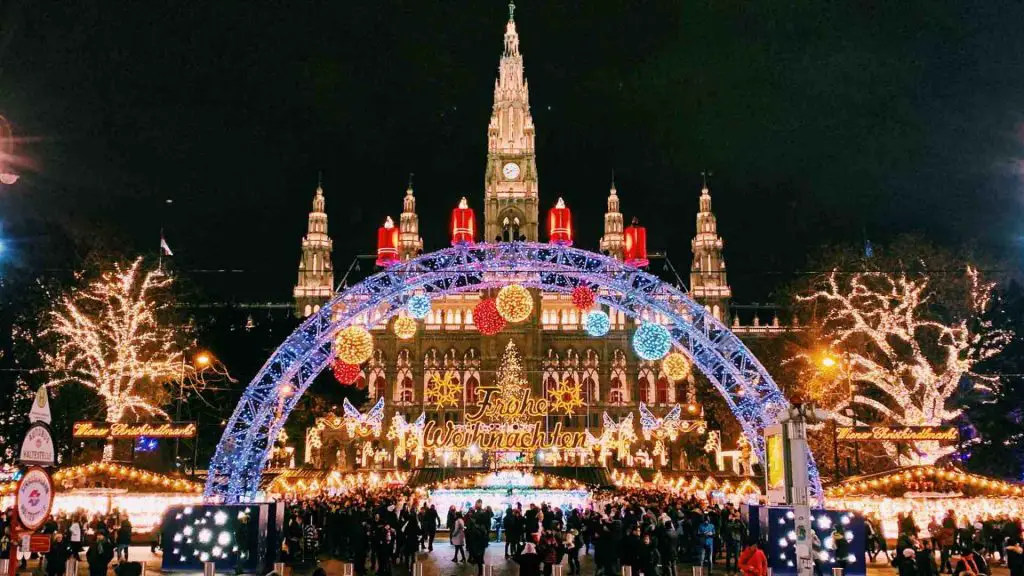 Plan your Trip to Vienna?
SPRING IN VIENNA –

The Off-Season (February To May)
Next up, we have the off-season, also referred to as spring, in Vienna from February right through to May, some pretty exciting months to visit if you're not too picky about the weather and want to save yourself some cash.
These months generally see fewer tourists flowing through the Austrian capital. There's no real explanation for it; people generally don't travel as much during these months as it's just after the holidays and the weather is still quite cold, but sure, at least you'll be able to enjoy a coffee in peace in the world-renowned Café Central. It's a great opportunity to have the place to yourself.
When not as many people head to see Vienna, demand is lower, so you're bound to bag yourself a bargain or two. This is the perfect chance for you to stay in that expensive hotel you've always wanted to stay in for an affordable price. Who knows, you may even find yourself in the lap of luxury at the Ritz Carlton Vienna.
This could be the best season to visit Vienna for couples looking for a romantic getaway since Valentine's Day falls on the 14th of February. Spoiling your significant other with a trip to one of Europe's most popular cities will surely score you some brownie points.
For beer lovers, something special happens in the city during the month of May that you don't want to miss out on. The Craft Beer Fest takes place over the course of a couple of days. It's a showcase of all the craft beers on the scene during that time. Besides the drinking aspect of the festival, it's quite an educational event with all the top brewers displaying how their beverages are being created for you to consume. From all-time favorites that locals rave about to new emerging talents on the market, beer enthusiasts will be spoiled for choice if they decide to visit Vienna in May.
BEST THINGS TO DO IN VIENNA IN MAY 2023
Pros Of Visiting Vienna From February To May
It's more affordable than if you were to visit in other seasons
There are quite a few bargains waiting to be snapped up
You'll save yourself some money on things like accommodation, attractions, etc
The city will be yours all to yourself
Cons Of Visiting Vienna From February To May
The weather is going to be unpredictable
There might not be as much life around the city as there would be if you visited during other seasons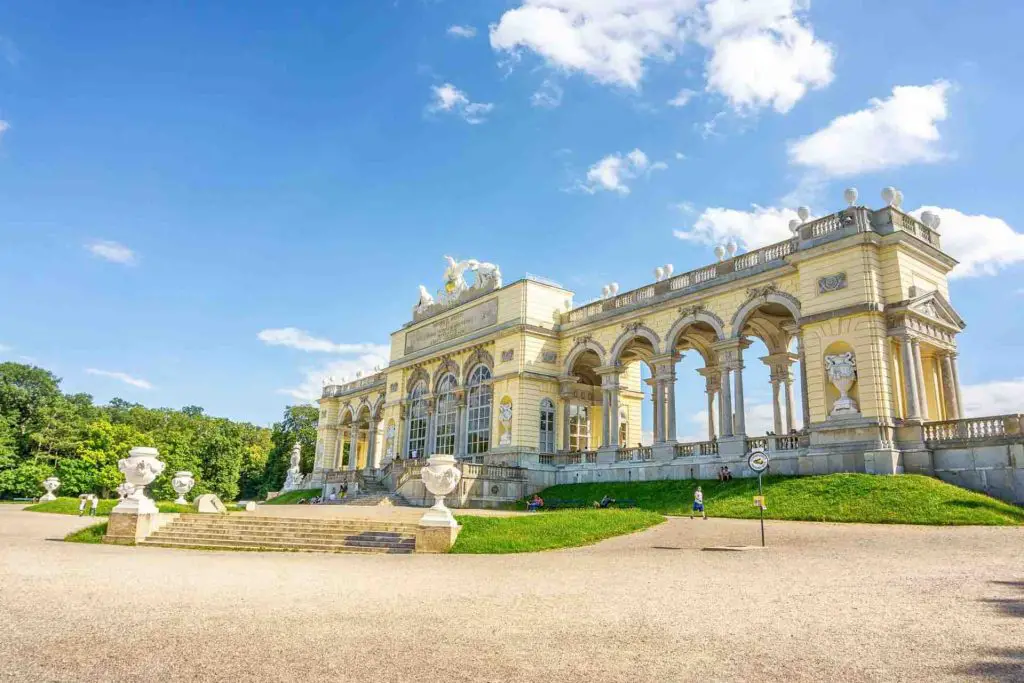 SUMMER IN VIENNA – The Busiest Season(June To August)
The sun is shining, temperatures are rising, people are finishing up work so they can get their summer getaways in, and the interraillers are out in force. Although a lot of people maintain that the summer months are some of the best for visiting Vienna, other people tend to avoid the city at all costs. Let's take a look at some of the reasons you'd be for it or against it.
There's no doubt that the weather is great in Vienna during the summer; it is central Europe, after all. You can't beat a good ole Viennese picnic in Burggarten on a Saturday afternoon with the sun splitting the sky.
A lot of people are traveling during the summer months. Whether it's a family of five on their weekend getaway or an interrailler ticking off the capital cities like there's no tomorrow, your name, there are all types of travelers in Vienna in the high season. It's not just Vienna, it's Europe in general. This may be a reason to postpone your must-see trip to a later date.
As a result of the increase in tourism in the summer, a lot of the locals get the heck out of the capital to head off to surrounding countries or up towards the Alps for some hiking. This can be discouraging for tourists who want to interact with locals to get a sense of how they live their lives. Who knows, you may be able to find one to initiate a conversation at one of the Lidos.
Hotel prices can go to extortionate highs, especially if you've got an expensive taste. Even if you check out a bed in a hostel, it's not cheap. Once there's a demand, there will be a rise in price.
Away from the negativity, you've got some unbelievable festivals that pop up in Vienna in the summer, which might make it a nice time to visit. Keep an eye out for the likes of the Vienna Festwochen, which is an art festival that will truly blow you away. If you're one with a creative eye, you don't want to miss it.
If you've visited Vienna before, you'll know there's a massive emphasis on flowers. When the summer hits, it gets even more extreme. Some say the people in charge even go overboard sometimes, but all in all, they make one of Europe's prettiest cities ten times prettier.
Pros Of Visiting Vienna From June To August
It's the best season in terms of weather
There are some wonderful festivals that happen
Cons Of Heading To Vienna From June To August
Everything is more expensive
A lot of people are traveling throughout Austria in general
Can be hard to find availability in the major tourist attractions
You may find it a bit more difficult to communicate with locals because they'll have probably gone on holiday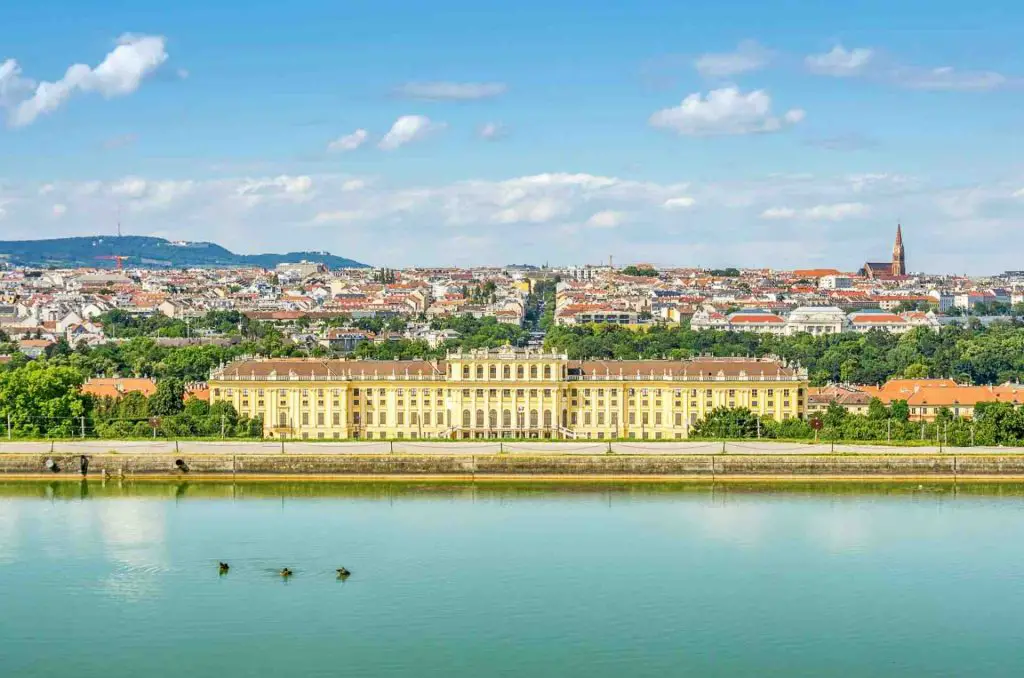 AUTUMN IN VIENNA – The Shoulder Season (September To Mid-November)
Pretty much similar to the off-season is the shoulder season, which is known as autumn and runs from September through to mid-November. This could be the best time to go and see Vienna, as there are a lot of opportunities for you to get some nice deals whilst avoiding the crowds.
The hotels are trying to get some cash flow after the busy summer season, so the special deals will be there.
While the weather won't be as pleasant as in the midsummer months, you've still got a great chance of catching some rays, especially if you visit at the beginning of the shoulder season. Another reason why you should visit Vienna then.
Visiting during the shoulder season will allow you to explore the city at ease without having to worry about the summer crowds. The backpackers will hopefully be back in college by then.
Like in the other seasons, some cool festivals pop up. One you should definitely take a look at is Waves Festival Vienna It usually happens in September with a whole load of musical talents that specialize in all sorts of genres, like rock, clubbing, and much more.
Those looking to catch a concert at the Vienna Opera House might want to consider visiting the city during the shoulder season. It's common for them to sell out, but if you were to chase a ticket for a show in the shoulder season, you'd have more of a chance of getting one.
Pros Of Going To See Vienna From September To Mid November
It's quite an affordable time to travel
You might get some nice weather if you go at the beginning of September
Any tourist attraction you want to do can be done without worrying if it will be sold out
Availability in nice hotels is simple to come by
There are fewer crowds around the city and at tourist attractions
Cons Of Taking A Trip To Vienna From September To Mid November
It's possible for the weather to be bad
Some tourist attractions might be closed because there's not enough demand
The days are shorter, so it gets dark earlier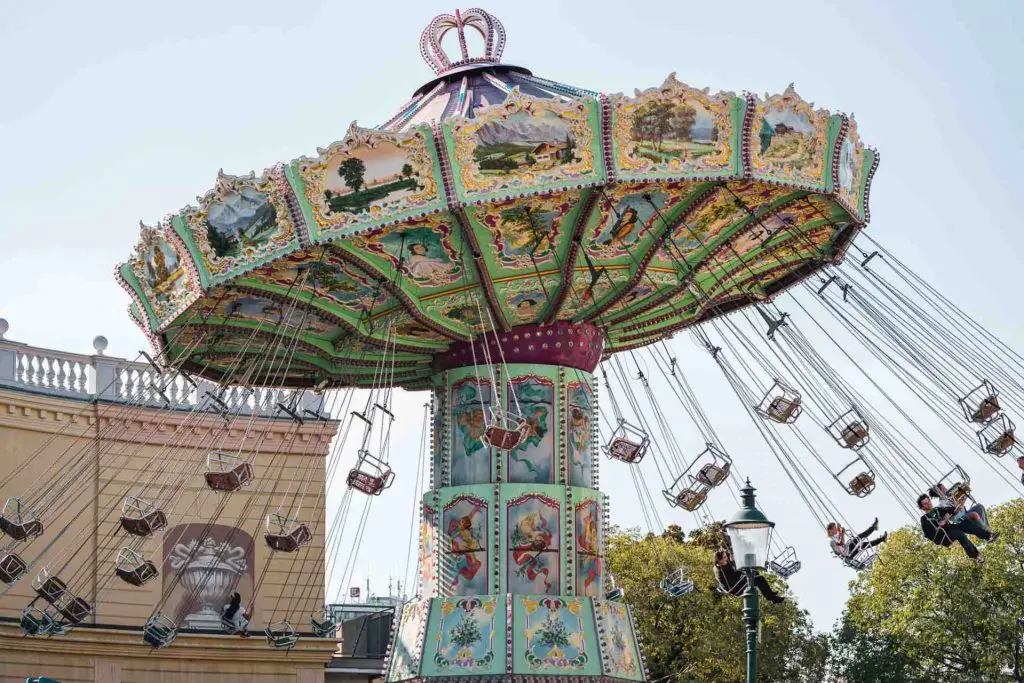 Plan your Trip to Vienna?
What is the weather in Vienna, Austria
The weather in Vienna is extremely variable, with all four seasons being represented. The average high in July is 86 degrees Fahrenheit (30 degrees Celsius), while the average low in January is 27 degrees Fahrenheit (-3 degrees Celsius). However, temperatures can and do fluctuate outside of these averages.
Precipitation is also common throughout the year, with an annual rainfall of 43 inches (1.09 m). Snowfall is also common in winter, so pack your boots! Overall, the best time to visit Vienna would be during the shoulder seasons of spring and fall, when the weather is milder and there are fewer tourists.
WHAT TO WEAR WHEN VISITING VIENNA, AUSTRIA
WHAT IS THE VERDICT? When Is The Best Time To Visit Vienna?
After completing a full breakdown of each season, we can clearly see that each season has its pros and cons.
In terms of affordability and value for money
The off-season and shoulder season hit the ball out of the park. Yeah, the weather is unpredictable, but if you're willing to just bite your tongue and roll with it, you can save a substantial amount of money compared to if you were planning on visiting during busy periods.
HOW TO SAVE MONEY AND TIME VISITING VIENNA
VIENNA'S PUBLIC TRANSPORTATION SYSTEM – GETTING AROUND IN VIENNA
HOW MANY DAYS DO YOU NEED TO VISIT VIENNA?
When it comes to the weather
It's clear that summer is the winner. Nothing is guaranteed, of course, but more than likely, if you head off for a couple of days in the summer, you'll get one brilliant day of sun (hopefully).
For those who travel to see the major sites
It might be worth your while to travel to Vienna in either the off-season or shoulder season. It's less crowded and the prices are usually reduced. The only potential drawback could be if a tourist attraction closes for renovations since it's not as busy.
Then you have the person who wants to get into the festive spirit
Obviously, then, you're going to want to save your trip to Vienna for the winter period, as it's clearly the best time to visit. Just remember that the Christmas markets usually start in mid-November and run until the end of December.
Taking everything into consideration, our recommendation for the best month to visit Vienna would have to be September. Anybody who wishes to travel at that time is more than likely going to get the weather. Prices will be dropping, so there's a good chance you'll be able to take advantage of a special offer or two. The crowds will have dispersed, giving you some peace and quiet. And like all of the other seasons, you'll get to see a good festival.
FREQUENTLY ASKED QUESTIONS about When to visit Vienna
When is the Best month to visit Vienna?
Our recommendation for the best month to visit Vienna would have to be September
What is the hottest month in Austria?
In July it can get up to 35 Degrees Celcius
When is the Coldest month in Austria?
The coldest month of the year in Vienna is January, with an average low of 27°F and a high of 37°F.
When is the best time to visit Vienna for the Christmas markets
The best time to visit Vienna for the Christmas markets is from Mid November to late December. The market dates vary from year to year, but they typically start on the Friday before Thanksgiving and run through December 23rd.
Vienna's Christmas markets are some of the most popular in Europe, attracting more than two million visitors each year. The main market is located in front of the City Hall (Rathaus), but there are also smaller markets scattered throughout the city center.
Does it snow at Christmas in Vienna?
Yes. this time the chance to get snow in Vienna is very high. So you can enjoy White Christmas in Vienna
Yes, most of the Viennese people speak English. But inside the 1st District, restaurants and hospitality people speak very well English.
If you are wondering how many days in Vienna you need, 
three days is adequate to see the whole city. 
 Three days in Vienna will allow you to get to the top attractions at a reasonable pace and maybe give you a chance to soak in some of the many cultural activities like visiting
 Vienna's Museums
.