Last Updated on April 24, 2023 by gregor
If you are a solo traveler and wish to visit Vienna, the capital of Austria, you should definitely give it a go. For your convenience, keep reading these solo travel tips when you plan to travel solo to Vienna. This Vienna Solo Travel Guide will help you to explore Vienna the ultimate way as Vienna is undoubtedly an ideal destination for solo female Travellers, as Vienna is one of the safest cities in Europe to travel to. 
Essential Information to Know Before Travel Alone to Vienna
Before any Solo trip, it is always good to have some essential information. Check out this list to be prepared for your trip to Vienna:
Austria Currency: Euro(€)
Language Spoken: German
Voltage: 230V
Power sockets: Type F
As seen above, Austria uses the Euro therefore, if you need to change currency, be aware of the exchange rates. 
The official language in Austria is German, and even though most people can communicate in English, it is always useful to learn a few words or phrases. Some of them are danke, meaning thank you, and bitte, meaning you're welcome or please. 
Another useful tip is that in Austria, the standard voltage is 230V while the power sockets are Type F, so be sure to have the right travel adaptor. 
Plan your Trip to Vienna?
Solo Travel Tips for Vienna, Austria
When to visit Vienna
Vienna is a stunning city at any time of the year. Vienna will give you an excellent experience, whether you prefer winter or summer ambiance. It is a city boasting several events and gorgeous scenery throughout all four seasons. 
Vienna in Wintertime
However, it is undeniable that Vienna is gorgeous during winter. Also, if you are traveling alone, you might find it easier to visit Vienna during the months of winter. It is less crowded, and also you might get cheaper tickets.
Furthermore, Vienna in winter is truly magical. The snowy atmosphere and the wintery decorations make the city even more special. Also, during Christmas time, the city is filled with Christmas Markets selling hot chocolate, traditional Viennese food, and Christmassy souvenirs. 
Vienna in Summertime
Still, if you are looking for a summer holiday, the best time to visit Vienna is in early June. The weather is warm yet cool enough to walk easily around the city. Furthermore, there are many activities you can experience outdoors you wouldn't have the chance to try in winter. However, be aware that during summer the city is always crowded with tourists.
Read more on this Blogpost: WHEN IS THE BEST TIME TO VISIT VIENNA
Where to stay in Vienna as a Solo Traveler
A major concern for many solo travelers when on the road is where to stay. Luckily, Vienna has many great accommodations for every taste and preference. Naturally, the Old Town City Center is a lovely area to stay while traveling since it is also close to every tourist attraction. However, it is also quite expensive, meaning you will need a higher budget. 
Nevertheless, Vienna has an excellent transportation network, such as the underground, so even if you stay further from the city center, you can still go around easily. Some of the best areas to stay for reasonably priced accommodation are Districts 2 and 9.
Still undoubtedly, the best accommodation when traveling alone is hostels. Not only are they cheap, but they are also a fantastic way to meet other travelers and even locals. Also, sometimes, hostels can introduce you to budget-friendly activities and tours such as walking tours or pub crawls. 
How many days do you need to visit Vienna?
If you are wondering how many days in Vienna you need, three days is adequate to see the whole city.  Three days in Vienna will allow you to get to the top attractions at a reasonable pace and maybe give you a chance to soak in some of the many cultural activities
To really make the most of your time on your solo trip to Vienna, it's best to follow detailed Vienna itineraries, like the ones mentioned in this Blog. 
HOW MANY DAYS DO YOU NEED TO VISIT VIENNA?
You'll learn about all the best places to visit in Vienna, ensuring you don't feel like you've missed anything and by the end of this guide, you'll know what to do in Vienna in 1 – 2 or 3 days to be fully prepared for what is sure to be a great trip.
Going around Travel Solo in Vienna
Walking City Tours
Like many cities in Europe, Vienna is a very walkable city. And frankly, that is the best way to go around as a solo traveler. Most attractions in the city center are within walking distance of each other. So you can easily enjoy walking alone on the beautiful streets of Vienna and admiring stunning historical landmarks and museums. 
VIENNA CITY WALKS – 11 SIGHTSEEING ROUTES (FREE VIDEO TOUR GUIDES)
Public Transport – Vienna City Card
Taking public transportation is the most convenient method to get around Vienna (Euro 8.- for a 24-hour ticket).
A Vienna City Card, which permits unlimited use of the city's metro, tram, and bus lines, can be purchased in advance.
Vienna City Cards are available for 1, 2, or 3 consecutive days, and prices range from 24 hours for Euro 17, to 3 days of use + airport transfer for Euro 46.-.
The Vienna City Card also offers discounts at over 210 major attractions, making it an excellent value.
Bicycle –  Rent a Bike in Vienna
The city center of Vienna, and the majority of tourist attractions, are reachable by bicycle.
WienMobil Rad is the most popular bike-sharing service in Vienna.
Simply register online, find a terminal and scan the QRCode to unlock a bike. 
Detailed Information on How to Rent a bike in Vienna on my Blog:
BIKE RENTAL IN VIENNA – EVERYTHING YOU NEED TO KNOW – WIENMOBIL RAD (VIDEO TOUR)
There is also the very popular Classic Vienna: 3-Hour Guided Bike Tour available to book in advance.
Hop On Hop Off Bus in Vienna
The City Card provides access to standard buses throughout Vienna. There is, of course, the well-known Vienna Hop-on Hop-off Sightseeing Bus.
This Hop On Hop Off bus allows you to hop on and off at many locations throughout the city, including the Museums of the Hofburg, the House of Music, and the Schönbrunn Palace.
This choice is always popular amongst travelers, and it is a great way to see many of Vienna's famous attractions.
Vienna Guided Tours
There are some amazing tours available to book in advance on Get Your Guide for people who are short on time or prefer everything to be organized for them. There's much to do in the Austrian capital, from food tours to river cruises and bar crawls!
What to do in Vienna as a Solo Traveler
Before going on a solo trip, it is natural to wonder whether you might feel bored or if you end up sticking out like a sore thumb. Thankfully, Vienna has many great things to do alone that you will never get bored with. From museums to cafes to operas and amusement parks. Also, it is a city where people commonly travel alone. So, it is easy to blend in with the crowd.
As already mentioned, there are many things to do. However, there are just some things that you shouldn't miss. Let's see them all by dividing them into three categories, museums, and cultural and historical sites. 
Vienna Museums
With more than a hundred museums, you could say Vienna is the city of museums. Of course, it is impossible to visit all of them, so here are the top three you should visit while solo traveling around the city. 
Leopold Museum: showcases art by several Austrian artists, including Gustav Klimt, Koloman Moser, Richard Gerstl, and Oskar Kokoschka. They also have the biggest collection of Egon Schiele's self-portraits and work in expressionism. Skip-the-Line Tickets to Leopold Museum
MUMOK: focuses on 20th-century modern and contemporary art, pop art, and Vienna Actionism
The Albertina Museum Wien: has over 65,000 drawings and prints as part of its permanent exhibit.
Read more about the Best Museums in Vienna
THE BEST 12 MUSEUMS YOU NEED TO VISIT IN VIENNA, AUSTRIA TRAVEL GUIDE (UPDATE 2022)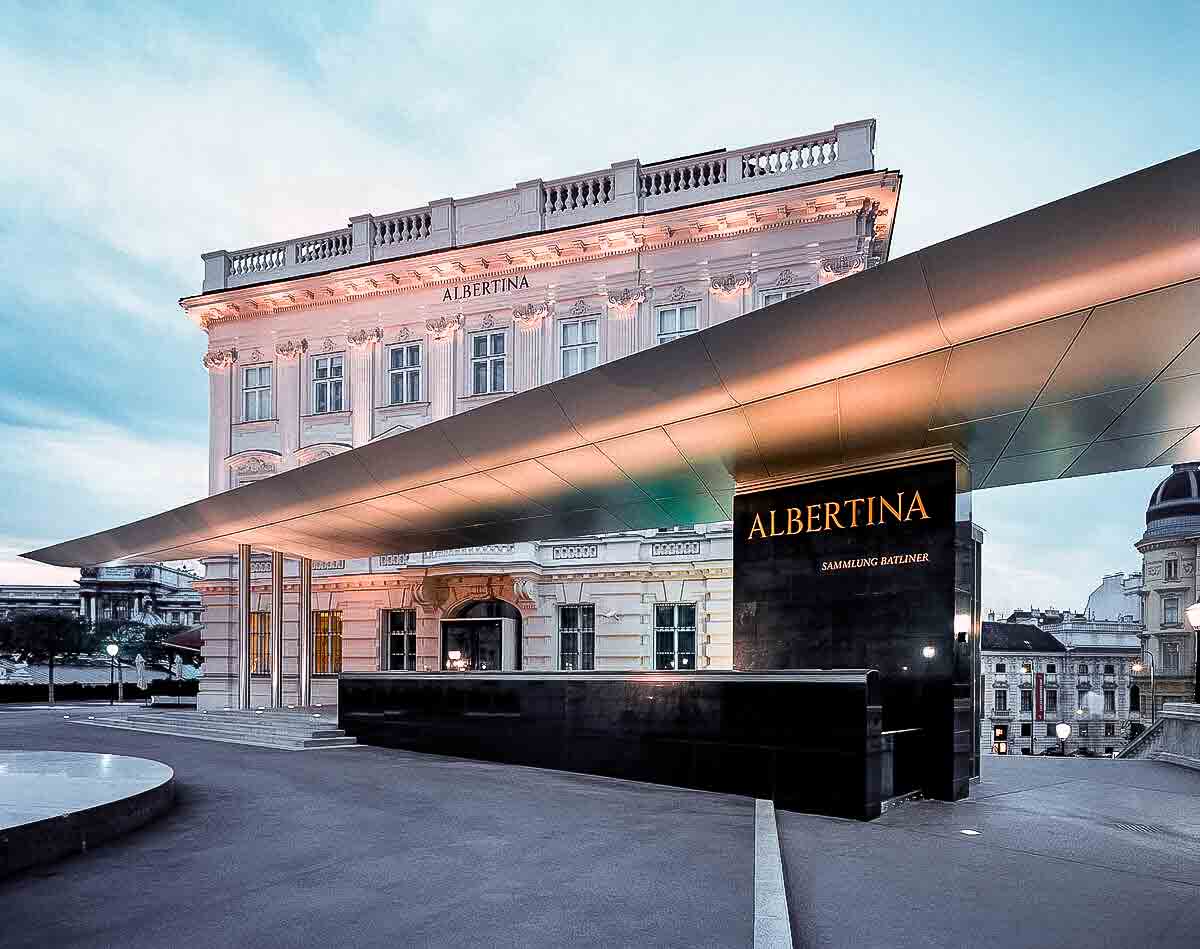 Cultural and Historical Sites in Vienna
Vienna is undoubtedly one of the most important cities in Europe regarding history, culture, and art. After all, it was home to one of the biggest empires in Europe. Therefore, a trip to Vienna wouldn't be the same without seeing a few important historical sites. Here are some of the best places to visit as a solo traveler.
Schönbrunn Palace and Gardens: the summer residence of Habsburg emperors featuring Baroque architecture and beautifully manicured gardens. A QUICK TRAVEL GUIDE TO VIENNA'S SCHÖNBRUNN PALACE, VIENNA AUSTRIA
Belvedere Palace: home to Austria's most famous painting, Gustav Klimt's "The Kiss," and Vienna's largest medieval art collection. Book your Belvedere Tour: Belvedere Tour Vienna
Stephansdom: the most famous cathedral in all of Vienna. It is gothic-style and in the heart of the city.
Hundertwasser House: Friedensreich Hundertwassers' most famous designs. Marvel at the colorful facade with plants growing out of windows and large trees inside the rooms. The KunstHausWien, a museum designed by Friedensreich Hundertwasser, is also worth a visit. The museum is home to the only permanent exhibition of Hundertwasser's work in the world.

Vienna State Opera: The state opera is a wonder that only a few get to experience. This is why we suggest you plan your trip in a way that allows you to enjoy a concert. When planning a stop you can check with the local opera house and make sure you are able to enjoy some of the greatest. Vienna State Opera Skip The Line Tour Ticket
Top Tip: One way to familiarize yourself with Vienna's buildings and learn a bit of history is to take a walking tour. They are the perfect way to learn about a new city as well as bond with other travelers. 
VIENNA CITY WALKS – 11 SIGHTSEEING ROUTES (FREE VIDEO TOUR GUIDES)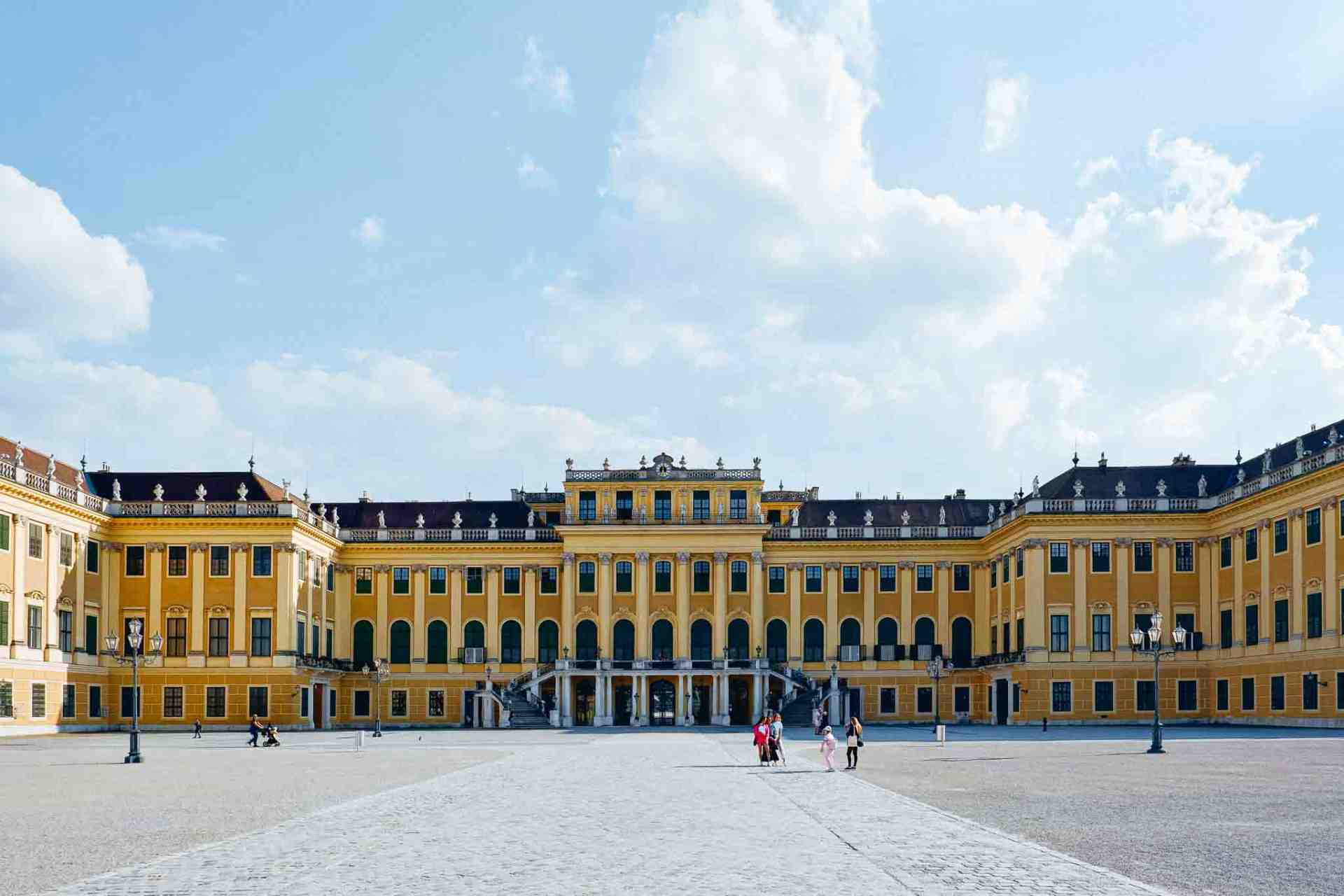 Plan your Trip to Vienna?
What to eat in Vienna – Viennese Food Guide
Wiener Schnitzel (Vienneses Schnitzel)
Most people, when thinking about Austrian food, think of the Viennese Schnitzel. And indeed, it is the most famous traditional Austrian dish. However, there are many others you should try. Generally, Austrian cuisine is a fusion of German and Slavic cuisines. It is hearty, wholesome, and filling. 
However, today Vienna is a multicultural city, so even locals don't usually stick to eating only Viennese food. Around the city, you will find various international restaurants. Thus, whether you're craving Italian, Chinese, or Japanese cuisine, you will surely find it.
WHERE TO EAT THE BEST WIENER SCHNITZEL IN VIENNA (RESTAURANT TIPS + PRICES!)
Vienna Coffee Houses
An interesting point in Austria's culinary scene is the longevity of the cafe culture. It dates back a few hundred years and is part of UNESCO as an intangible cultural heritage.
Today, in Vienna's cafes, you can also order typical Viennese coffee and a slice of Viennese cake. Furthermore, in some old Viennese coffee houses, you can still see the original and traditional decor.
For more information about the Viennese Coffee Houses please read this blog post:
BEST COFFEEHOUSES IN THE CITY CENTER OF VIENNA, AUSTRIA
Understandably, sometimes eating alone is often awkward. The first time you go on solo travel, it will feel weird to eat alone. But it is only a misconception. In many cases, people have their lunch or dinner alone.
Still, if you find it difficult, there are many ways to ease any awkwardness. For instance, bring a book, a journal, or another quiet activity to enjoy while having lunch, dinner, or coffee. Otherwise, go for a quick meal from a food stall at the many markets around Vienna. 
Vienna Heuriger (Wine Taverns)
BEST HEURIGER IN VIENNA – COMPLETE GUIDE TO THE WINE TAVERNS IN VIENNA
Best 15 Food Tours in Vienna
15 BEST FOOD TOURS IN VIENNA, AUSTRIA – UPDATED 2022/23
What to pack for your solo travel to Vienna
Vienna has four seasons, so in winter you will definitely get cold, and in summer you will feel warm. However, it is always good to be prepared for harsh weather. For instance, no matter what season you decide to visit Vienna, choose to bring a raincoat and a warm jacket or jumper in case of rain or wind. After all, even in summer, some nights are quite chilly. 
Casual Clothes
When traveling alone, you won't need too many fancy clothes. In fact, if you are staying at a hostel, it is better to have casual clothes that are comfortable to hang out at the hostel with other travelers. Also, if you are planning to tour Vienna by walking, make sure to bring comfy shoes for strolling around the city for hours. 
Essential Things to pack
Other essential things you should pack are gadgets that will make your trip easier and more fun. For instance, it is always good to have a universal adaptor, especially if you are from countries with 3-ended plugs. Also, bring with you a power bank, so your phone never gives up on you while outdoors. Furthermore, when in a new place, we all love capturing our best moments, so make sure to bring your camera or a tripod in case you want to create some vlogs.
Lastly, don't forget to print out any tickets you have booked. Of course, you can still have them on your phone, but sometimes it is handier to have them on paper. 
Vienna Safety Tips for Solo Travelers
Generally, Vienna is a very destination for all solo travelers. It is considered one of the safest cities in Europe to visit. In fact, according to statistics, Vienna has very low criminality, and even if the city is overcrowded, you can feel relaxed. It is that kind of city where you don't need to keep looking behind your shoulder, thinking someone will rob you.
Still, it is always good to be cautious, especially in a foreign country. Watch your pockets and always keep your bag with you. If you are on public transport, have your bag on your front and be cautious of your surroundings. If you need to take a long-distance train, try to not fall asleep and at night time, avoid empty streets.
Last but not least, the best way to avoid any issues is to not dress too fancy and try to blend with the crowd. It's the best way to avoid pocket pickers.
Practical Tips for visiting Vienna
The overwhelming amount of things on offer can be a real challenge for Solo Travelers. That's why everyone needs some practical tips for visiting Vienna and how to avoid mistakes in Vienna.
Read more on the Blog Post: PRACTICAL TIPS FOR VISITING VIENNA
Conclusion
Vienna is undoubtedly a fantastic solo travel destination.
First of all, Vienna is one of the safest cities for solo traveling, even for female travelers. Thus, you won't have to constantly worry over your safety and belongings.
Additionally, Vienna has a great public transport network meaning you can explore every part of the city without any worries. 
If anyone worries about language barriers, almost everyone in Vienna speaks English and even other languages since it is a multicultural city.
Furthermore, thanks to that in Vienna you will be pleased to see the various cultures mingling together to create beautiful art and food! And speaking of art, Vienna is the city of museums and palaces. So, as a solo traveler, there are many things to see and do. There is no way you will ever get bored. Because Vienna IS undoubtedly one of the best cities for solo traveling.
Frequently Asked Questions for Solo Travelers
Is Vienna safe at the night for Solo Travelers?
Vienna is definitely one of the safest cities in the world. The subway is "full" at night on weekends. If I don't like the atmosphere in one carriage, I just get off and get into the next one. According to statistics, there were 203,000 reported cases in 2021 (Hamburg 228,000). Nothing has ever happened to me over the years. 
Where is it dangerous in Vienna for Solo Travelers?
Around 18,000 criminal offenses were reported in the district of Favoriten in Vienna in 2020. This made Favoriten the district with the most crimes (10th district); On the other hand, there were the fewest in Josefstadt  (8th district) with around 2,400.
Is it safe to walk at night in Vienna for Solo Travelers?
Yes, it's safe to walk around after dark. While most shops are closed you will find plenty of cafes and bars open. It's a lovely area to see at night. 
Plan your Trip to Vienna?
Why You Should Listen to Me? 
I was born and live in Vienna my whole life. (Not like other "Travel Bloggers & Travel Websites" who pretend to know Vienna just for visiting 1 or 2 times). I live and work in the City Center of Vienna and get seen and tried most of the things I recommend,  but I have also seen several things you should definitely avoid (making a few mistakes on my way too).
I am very confident to give you the best Vienna travel tips that will help you have a fantastic holiday in Vienna