Last Updated on February 6, 2023 by gregor
In this blog, I share all the Best Day Spas and Hotel Spas in Vienna. All you need is one day off and you can start your mini-relaxation holiday. A secret recipe for Vienna connoisseurs: plan a luxurious beauty break between sightseeing, luxury shopping, and trendy bars. As oases of tranquility in the heart of the city of Vienna, day spas offer relaxation for your body and soul. This Vienna Spa Guide provides you with all Highlights, Contact Details, and useful Links. 
Vienna Spa Guide – Best Day and Hotel SPAs in Vienna
Hotel Ritz-Carlton Vienna Spa
Luxurious and individual treatments – this is where the day spa of the Ritz-Carlton Hotel comes in, and luxury has its price here too. Award-winning cosmetics from western Austria ( Susanne Kaufmann) are used for the treatments and the location in the Ritz-Carlton also offers some visual charms.
Also included in the four-hour day spa pampering program are a steam bath, pool, and sauna. You can relax here at the highest level.
Highlights
A separate wellness area for women and men, each with a sauna, steam bath, and heated relaxation loungers
18-meter-long indoor pool with underwater music
private spa suite with an exclusive Jacuzzi bathtub
Contact Details
Address: Ritz-Carlton Vienna Stubenring 1, 1010 Vienna
Phone tel:+43 1 906 169 406
Email:

[email protected]

Opening Hours:  Mo – So, 10:00 – 20:00 (Pool 06:00 to 24:00)
Admission: €45 for 4 hours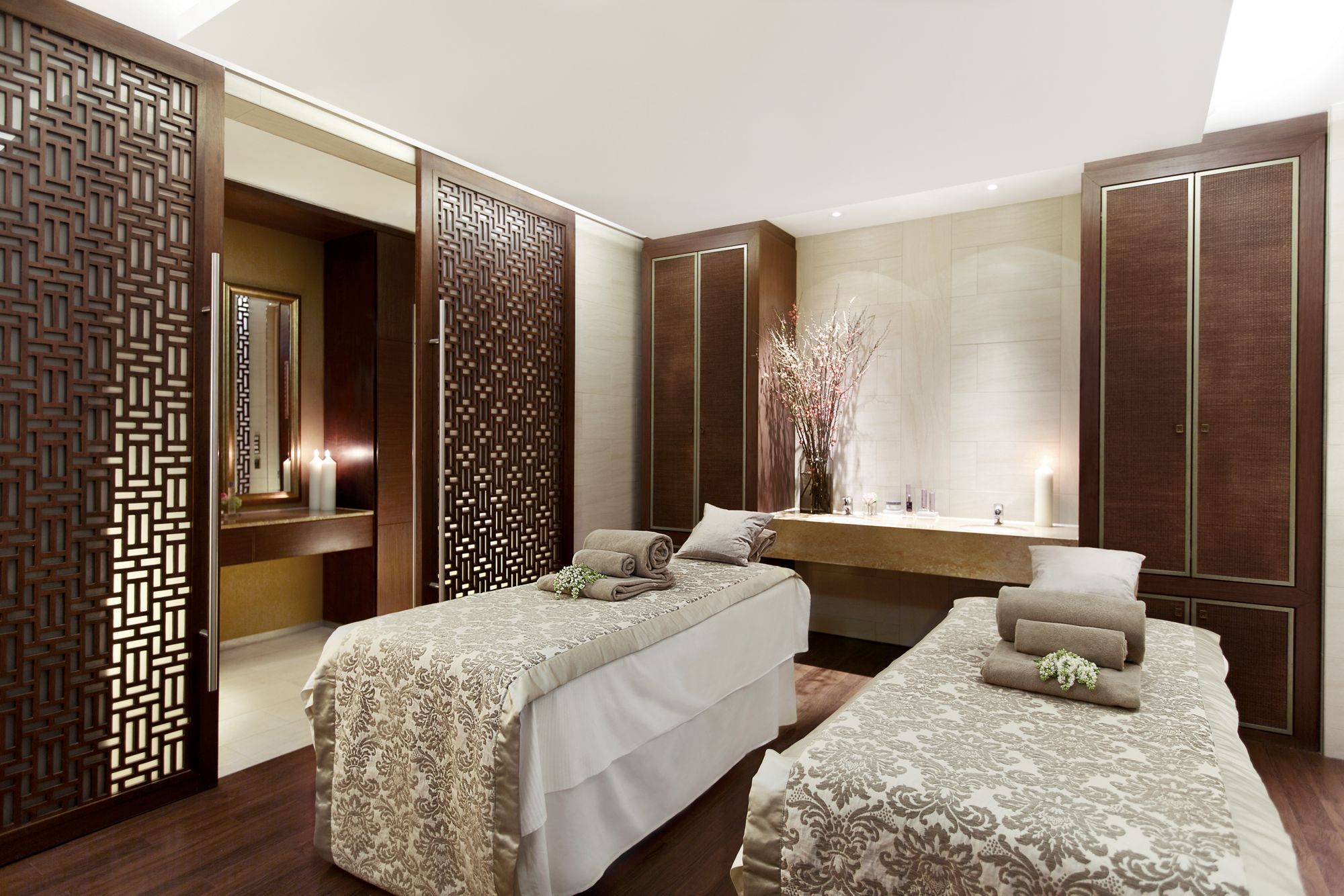 Spa Hotel Park Hyatt Vienna: Arany Spa 
Arany means "gold" in Hungarian – and the name is part of the Arany Spa at Park Hyatt. In this oasis of well-being, high-quality luxury materials such as gemstones, mother-of-pearl, and, of course, gold have been processed – since elements such as the valuable precious metal have always been associated with strong emotions.
This day spa also offers traditional and extraordinary treatments such as the new Venus Shell massage, which takes you into a mystical world for a (half) day and lets you forget your every day worries.
Highlights
The beautiful Spa area in the Vault rooms of a former bank building in the middle of the city.
Arany Spa Gym is equipped with Techno Gym's latest state-of-the-art "Artis Collection"
Exclusive Rossano Ferretti Hairspa
Twinity Suite also offers the opportunity to experience a treatment for two and unwind together
Contact Details
Address: Park Hyatt Am Hof 2, 1010 Vienna
Phone tel:+43 1 906 169 406
Opening Hours:  Mo – So, 10:00 – 20:00 (Pool 06:00 to 24:00)
Admission: €45 for 4 hours
Hotel Kempinski Spa "The Spa"
One of the top spa hotels in Vienna, where you can enjoy pure relaxing moments with the best luxury spa. Kempinski The Spa is a journey inspired by the European cycle of the four seasons. The professional spa team provides treatments dedicated to each season to both invoke and restore the body's natural equilibrium.
Highlights
the hydro booster facial
Barbor – Exclusive Cosmetics
Contact Details
Address: Palais Hansen Kempinski Wien, 1010 Vienna
Phone tel: +43 1 236 1000 8090
Email:

[email protected]

Opening Hours:  Mo – So, 10:00 – 21:00
Hotel and Day Spa SO Vienna S/O Spa
The prevailing motto in the SO Spa is "Fast Living – Slow Aging". This wellness oasis for hotel guests as well as day guests extends over 750 square meters. The range of treatments is inspired by a three-course menu and therefore there are wellness-related starters, main courses, and desserts. It's not just these options for treatments that are fancy, but also the phenomenal view. 
Highlights
Pure relaxation above the rooftops of Vienna.

range of treatments is inspired by a three-course menu

over 750 square meters
Contact Details
 Hotel Marriott Vienna  The Golden Tree Day Spa
The Marriott Hotel's Golden Tree Day Spa is a true oasis of well-being, offering over 600 square meters of fitness and health services. The fitness area is available 24/7. If you prefer to take it easy, treat yourself to a wonderful massage. Perfect for all those who are looking for relaxation and sporty variety.
Highlights
World's best Deep Tissue Massage
24-Kara Echtgoldbehandlung & Massage
The magical Manuka honey massage
Contact Details
Hotel Sans Souci Day Spa
There is a lot on offer in the Day Spa of the Sans Souci Hotel: the entrance fee includes the use of the saunas and the hotel pools, as well as the use of the fitness area. One of the special features of this hotel spa is the indoor sunbathing area. Treat yourself to a few hours in this paradise and you will feel reborn.
Highlights
450 square meters of spa space
bathrobes, slippers, hand towels, bath towels, and exclusive skin care products are at your disposal during your visit.
Contact Details
Vienna Day Spa – The Asiawan Day Spa 
The Asiawan Day Spa is located near Stephansplatz, in the heart of the city. Here you dive into the world of luxury spas. There are numerous treatment options available to you. Try the hammam, for example. This is a special water treatment consisting of a Baldi black soap scrub followed by a Rassoul clay body mask. Dreams of oriental Morocco are guaranteed to be included in the price.
Highlights
Hamam (Pure Orienal, Grand Balinese Hamam, Siamese Hamam)
Various Treatment Packages Golden Triangle Experience,…
Aisawan Signature Massage, Four Hand Massage, Balinese Massage, Lava Hot Stone Massage
Contact Details
Vienna Day Spa – The Dhevari Spa 
In the middle of the 9th district is the Dhevari Spa, which is also known as an Asian luxury spa. It combines the best of Eastern and Western treatments, making a visit particularly exciting. In addition to numerous massages, peelings, and body wraps, there are also packages for couples. The special extra of this day spa is probably the possibility to celebrate parties here – be it private or business, this spa is prepared for different kinds of celebrations.
Highlights
Special Birthday & Spa Party Offers (website for more details)
Contact Details
Vienna Day Spa – Aux Gazelles
Not exactly cheap, but super central and in a noble ambiance with a tea room and adjacent restaurant. The best way to really pamper yourself is in the oriental steam bath with water jets and body scrub for €45. Also good: During the weekdays from 4-6 p.m. you can let yourself be washed clean and then end the evening with a three-course menu in the restaurant.
Highlights
Bazaar: Interieur Boutique and Liquor Store
Hamam Spa + Hammam Priveee (Private Spa Area for rent)
Designed for a variety of Events (up to 500 People)
Have also a Spa in Marrakech
Contact Details
Frequently Asked Questions
Is a Spa Day worth it?
Spa breaks work wonders for both your mind and body. Advantages, depending on what treatments you get, include detoxing, relieving general aches and pains, improving your health and fitness through diet and exercise, and maybe even losing a bit of weight.
How can I maximize the benefits of my Day Spa experience?
Get a good night's sleep, nourish your body with nutrient-dense foods, and stay hydrated.
Is a reservation for the Day Spa necessary?
Yes, most of the Day Spas in Vienna require a reservation in advance. Reservation can be done via eMail order phone
Do the Vienna SPAs offer Private Spas?
Yes, most of the SPAs in Vienna offer private Spa. Please refer to the Spa Website and book in well in advance is recommended
Should I use the Sauna before or after my massage?
Utilizing the sauna both before and after your massage offers benefits. Using the sauna before will help to initiate muscle relaxation so that you can get the most from your massage. While using the sauna afterward will extend your treatment further.
You are usually naked in Austrian saunas. Bikinis and swimming costumes are tolerated. You sit on a big towel and you make sure your feet are on it too. If you are a bit shy or find being naked uncomfortable, you can always wear a towel.
Best Spa and Wellness in Vienna – Google Maps
Please click here to get a bigger view of the MAP
Visit: Vienna Luxury Travel – A Complete Guide
Go to: Luxury Shopping in Vienna (Stores, Map and Video Guide)
This concludes our Vienna Spa Guide. Hope you enjoy your stay in Vienna