Last Updated on January 24, 2023 by gregor
Vienna, the capital of Austria, is usually recognized for its daytime tourist attractions such as the Schönbrunn Palace or its quaint coffee shops serving up the finest cups of coffee that are hard to beat. But when anybody speaks of the Austrian capital city, there's not much mention of activities to do in the evening. But there are also plenty of things to do in Vienna at night.
Lately, we've been getting the same question sent to our inbox by multiple viewers of our website: "What are the best things to do in Vienna at night?" Well, we're here to give you the answers, so you'll be able to fill your nightly schedule when you are visiting Vienna.
Let's get straight into it.
Catch A Opera At The Vienna Opera House
The Wiener Staatsoper, also known as the Vienna Opera House, has been entertaining opera enthusiasts on a nightly basis since the year 1869.
The opera house itself is one of the world's leading ones, offering 350 performances of 60 unique styles of opera every single season. Night after night, state-of-the-art performers put on a show alongside a highly skilled orchestra for over 1700 paying customers.
Shows run throughout the year on certain days of the week. There's an availability calendar on the Wiener Staatsoper's website where you can see every show date, which is ideal for planning.
Tickets can be purchased online in advance, but they also sell them on the night of the show and can be purchased for an affordable price. But be warned, they may sell out before if the demand is high.
For more information about the Vienna Opera House please read this blog post:
ULTIMATE GUIDE VISITING THE VIENNA OPERA HOUSE, AUSTRIA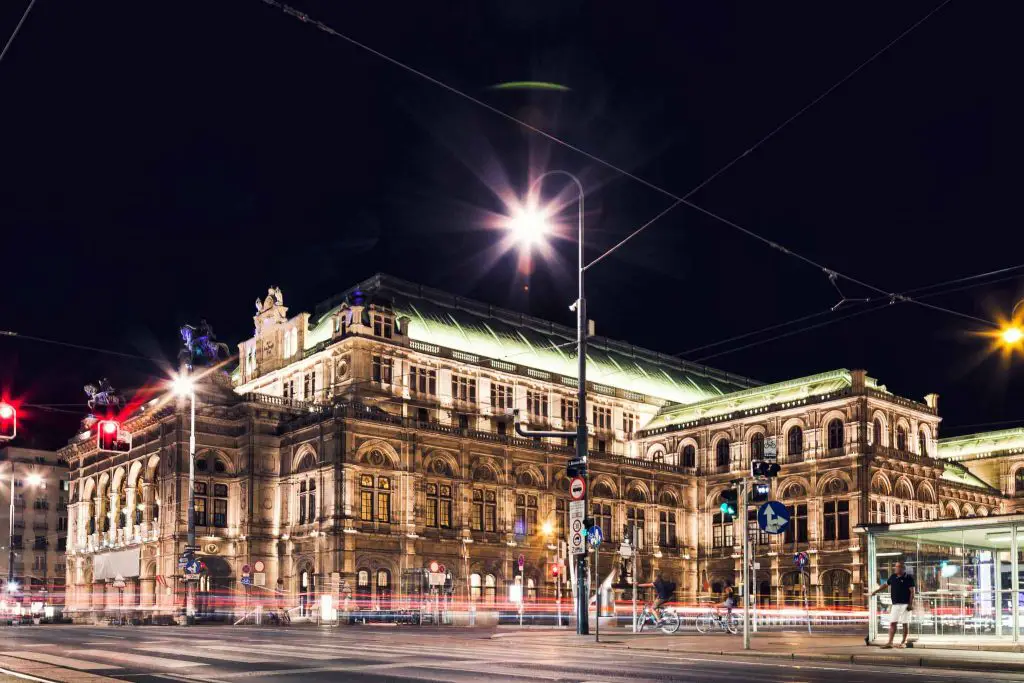 Famous State Opera in Vienna Austria at night
Grab A Coffee At Vienna's Most Popular Coffee shop, Café Central.
Cafe Central is arguably one of Vienna's most sought-after places to enjoy an evening coffee in Vienna. I mean, come on, grabbing a roasted cuppa in any city is one of the best things to do.
Located in a palatial mansion house, Cafe Central was once a place where only intellectuals and poets consumed their coffee. Some of the most well-known names that pulled up a seat on the premises include Adolf Loos and Sigmund Freud.
When it comes to what's on offer on the inside, Cafe Central boasts a large selection of luscious Vienesse delights, resinous coffee specialties, and traditional dishes that are only known to the locals of Vienna.
Once you've placed your order, kick back and relax, and enjoy the cafe's architectural design. It's amazing how the owners have preserved the work, as it dates back to the year 1876 and still looks as good as new.
For more information about the Viennese Coffee Houses please read this blog post:
BEST COFFEEHOUSES IN THE CITY CENTER OF VIENNA, AUSTRIA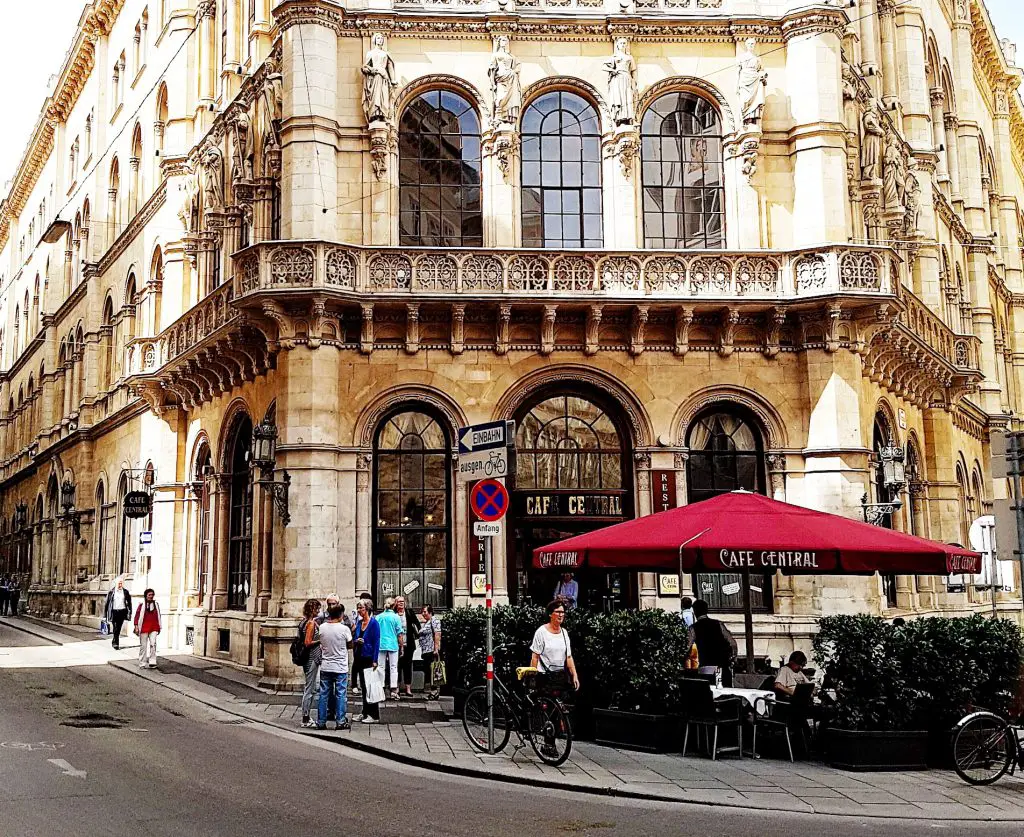 TopCoffeehousesViennaCafeCentral_theviennablog
Get In Touch With Your Inner Child At Prater Vienna
For a unique form of entertainment, visit Prater Theme Park. It's an amusement park that opens until 12 am and is a super fun thing to do in Vienna at night.
The theme park is rammed with high-speed roller coasters, amusements that will test your nerves, and a Ferris wheel that will give you a view of the city from above. There's something for people of all ages whether you're a fully grown adult who loves to feel like a child again from time to time or a young kid looking to persuade your parents to get on something with you.
Plan your visit to Prater accordingly as some rides may be closed during the low season due to the fact that there isn't that much of a demand. In the peak season, you might have the opposite problem, as the park gets pretty hectic as tourists and locals are battling it out to get a place on the night ride.
What makes this nighttime activity in Vienna even better is that it's completely free to enter and you only have to pay for the amusements that you'd like to get on.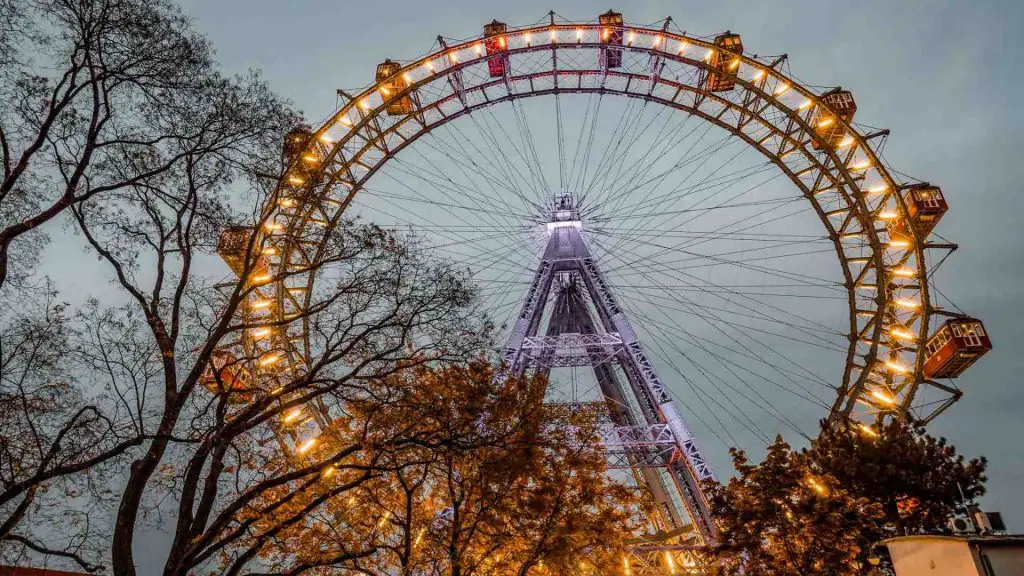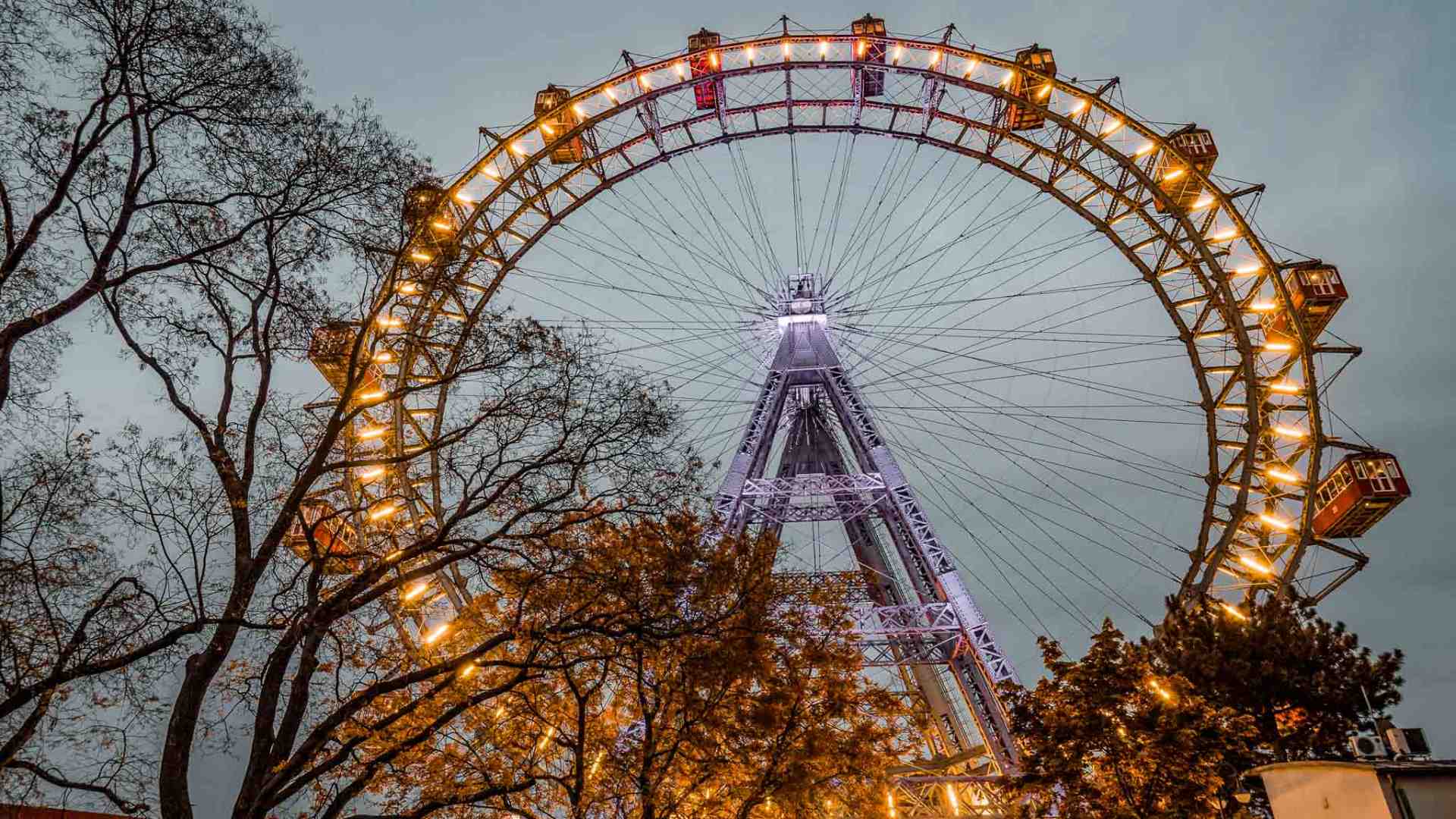 Let The Schönbrunn Palace Blow You Away In The Dark
If you're looking to do some sightseeing at night in Vienna, a walk through the grounds of Schönbrunn Palace is the perfect place to do it.
The Schönbrunn Palace is a Baroque complex that the Habsburgs have owned since 1569. Emperor Ferdinand II's wife decided to build a palace on the grounds in the year 1642 and called it "Schönbrunn". As you can tell, that's where the name came from. Over the years, the site has been conserved, and at present, it has received status as a UNESCO World Heritage Site.
Stroll around the area and admire the unique construction. Don't worry if it's dark; you'll still be able to see it. There are tonnes of lights shining from the ground that make it visible. Some people have suggested that it's even more stunning at night. You should go and see it for yourself.
Important Information!
The gates to the grounds of this must-see landmark in Vienna are open until 9pm sharp. Make sure you don't get locked in.
For more information about the Schönbrunn Palace in Vienna please read this blog post:
A QUICK TRAVEL GUIDE TO VIENNA'S SCHÖNBRUNN PALACE, VIENNA AUSTRIA
Enjoy A Meal At The Top Of The Danube Tower
One of the top things to do in Vienna at night is enjoy a tasty meal of your choice at the very top of the Danube Tower.
The popular Viennese landmark brings visitors 150 meters into the air, where they can experience a 360-degree panoramic view of the entire city of Vienna. The view is absolutely incredible. If you're one that's afraid of heights, it's probably best you sit this one out because it's not for the faint-hearted.
Those looking to take it up a notch can head up an extra 20 meters to the Turm restaurant, which offers all sorts of traditional Austrian meals straight from the country's cuisine, along with some deliciously flavored wine made straight from the fields of Austria. You'll certainly be enjoying your dinner with a view.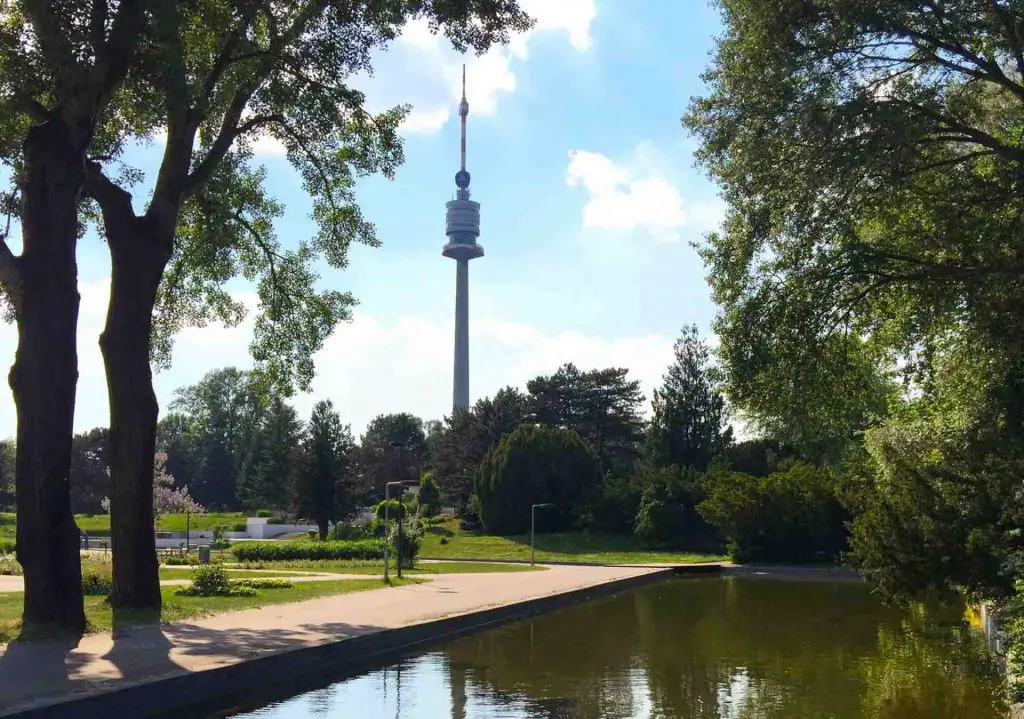 You'll find the Danube Tower in the heart of Vienna's largest park, the Danube Park. After you've enjoyed your meal, a romantic walk around the park is something you should do with your significant other.
Watch A Movie At The Film Casino
One of the cool things you can do in Vienna has a unique cinema experience that you would only be able to find back in the 1950's.
The Film Casino offers film lovers a place that resembles an old theatre where they can watch their favorite classical movies. It was actually an old theatre built in 1911, but someone decided to keep its old charm and renovate it into what is now a cinema with a twist.
As you enter the screens, you'll notice that the interior design has a vintage style to it and creates that feeling of being back in the 90s.
There are all sorts of movies on show at the Film Casino. Some old classics that your parents would have watched growing up, and then you have the newbies that are blockbusters in the United States.
The Film Casino is the perfect place to go in Vienna at night to escape the bustling city life.
Immerse Yourself In Vienna's Nightlife
The nightlife scene in Vienna is never really spoken about. To be honest, I think it's quite underrated. While it's not as hectic as Prague, there are still lots of cool clubs and bars where you can enjoy a fruity daiquiri or two.
There is an abundance of clubs scattered all over Vienna. From venues blaring the latest techno hits to cheesy hideouts where the DJ has ABBA on repeat.
Some of the best nightclubs in Vienna include :
 Albertina Passage (Club O)
Celeste
Young & Wild Vienna
Chic & Cool
Austria is known for its tasty beers, and boy there are a lot of bars in Vienna serving them. Throughout the city, you'll find some great locations where you can enjoy a chilled pint. Some of them include :
Kleinod
Josef Cocktail Bar
Krypt
D-bar
Blaue Bar
It's worth noting that drinking in public is perfectly legal in Vienna. It's quite common for somebody to just crack a beer in public without being looked at like they have five heads. So if you're one for setting up shop in a nice little park for the evening and want to enjoy a beer, go for it.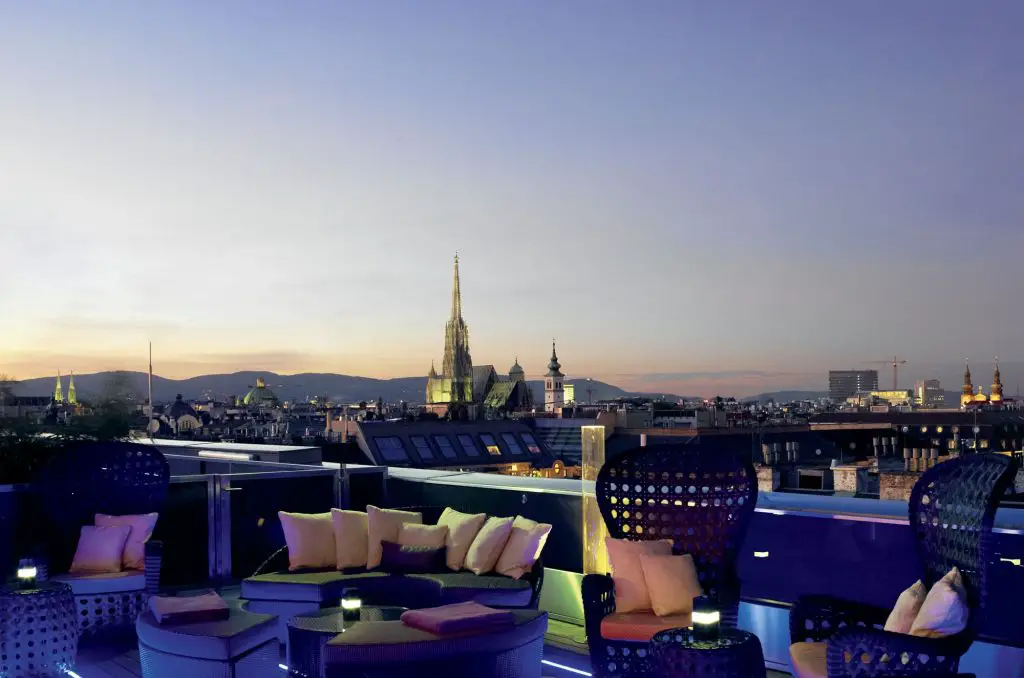 The Ritz-Carlton Vienna, Atmosphere Bar
Admire The Hofburg Imperial Palace
A must-see thing in Vienna at night is the Hofburg Imperial Palace. It's one of the biggest palace complexes in the whole world and one of the top sights in the capital.
The Hofburg Palace was where the Habsburg family ruled their empire from. It was originally a castle that dates back to the 13th century and became a place where the imperial empire enforced its rules on the population. Today, it's where the president of Austria's office is.
There are a couple of museums inside the Hofburg, including the Imperial Apartments, the Sisi Museum, and the Silver Collection. All of which can sadly only be accessed during the day the time.
A walk by this must-visit place of interest in the dark is something you have to do before leaving Vienna. This way, you'll be able to escape the crowds and tour groups that usually block the views when it's bright out.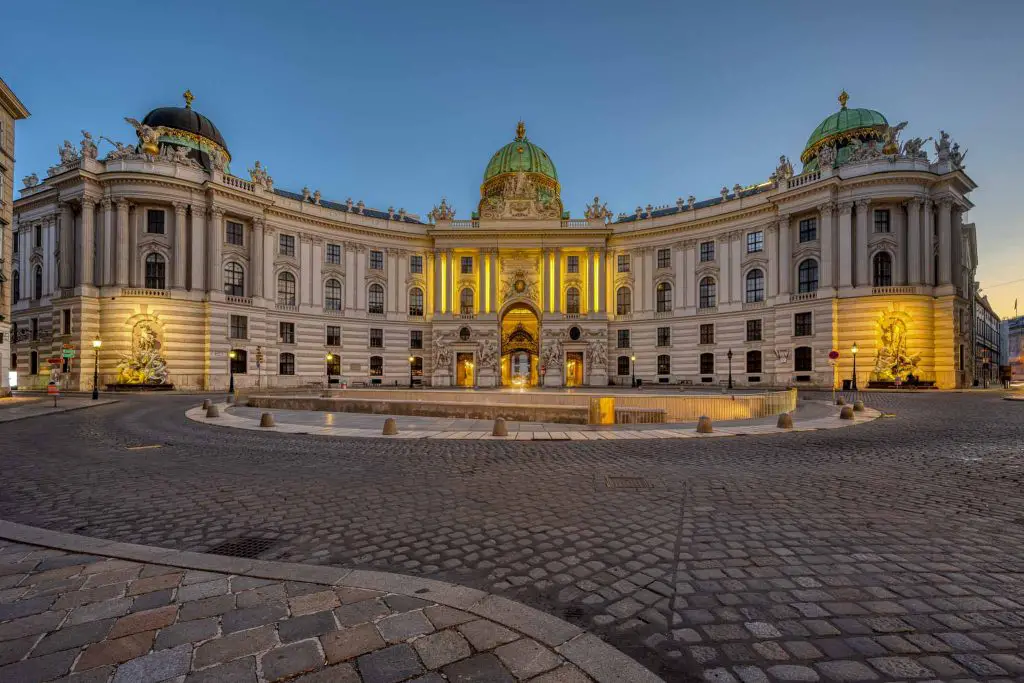 Devour Late Night Food At One Of Vienna's Great Restaurants
Enjoying the culinary delights is one of the best parts of a trip to any city. The cuisine of Vienna is deliciously diverse and can be enjoyed in many eateries across the metropolis.
When choosing where to eat your dinner in Vienna, you won't struggle to find somewhere regardless of your tastes. From crimson Weiner Schnitzel served at a contemporary tavern to tender Tafelspitz at a Michelin Star restaurant, whatever you're in the mood for, it can be found.
After you've decided what you want, next up you need somewhere to eat. These are our recommendations.
Pramerl And The Wolf
Restaurant And Bar Motto
Tian Bistro Am Spittelberg
Neni AM Naschmarkt
Mama Liu And Sons
Eating times in Vienna vary. While the Viennese aren't on the scale of the Italians, who eat super late, they don't eat that early. 7 pm is a usual time for most locals to eat, so to have the place to yourself, it's best you head out around 9 pm to avoid the busyness of dinner time.
For more information about the Best Viennese Food Guide please read this blog post:
VIENNA FOOD GUIDE – TRADITIONAL VIENNESE FOOD YOU MUST EAT IN VIENNA, AUSTRIA (UPDATE 2022)
Scratch Your Head At The Hundertwasserhaus
Those who only have one night in Vienna need to see the Hundertwasserhaus before they depart. You've probably seen pictures of this weirdly designed building before. Still, to this day, it leaves people who have never seen it before scratching their heads, wondering what the heck is this thing.
There's actually no real significance to the Hundertwasserhaus. It's just an apartment block that was designed by the artist Friedensreich Hundertwasser. What catches most people's attention is the random colors that are splashed all over the building. These come from the residents who call the place home. They have the freedom to choose the color of their own facade. Funnily enough, most of the occupants of these apartments are artists and intellectuals, so Friedensreich Hundertwasser would be happy with the legacy that he left behind.
Unfortunately, the inside of the apartment blocks cant be accessed because it's a private residence, but they can be admired from the outside. This area gets really busy during the daytime with tourists, so leaving it until it gets dark to go there is a safe bet.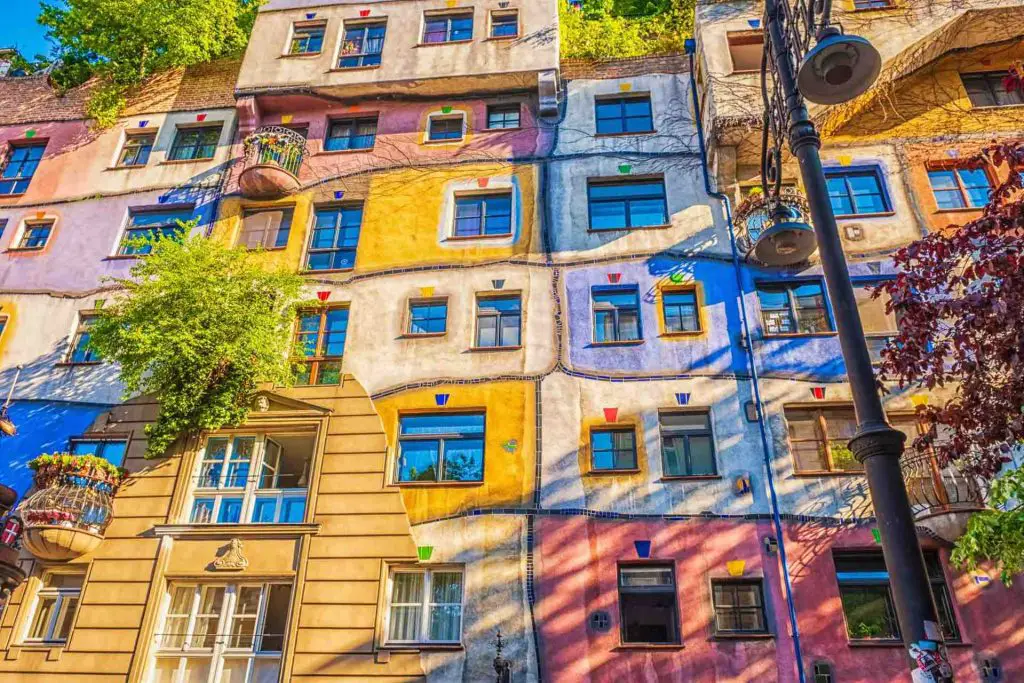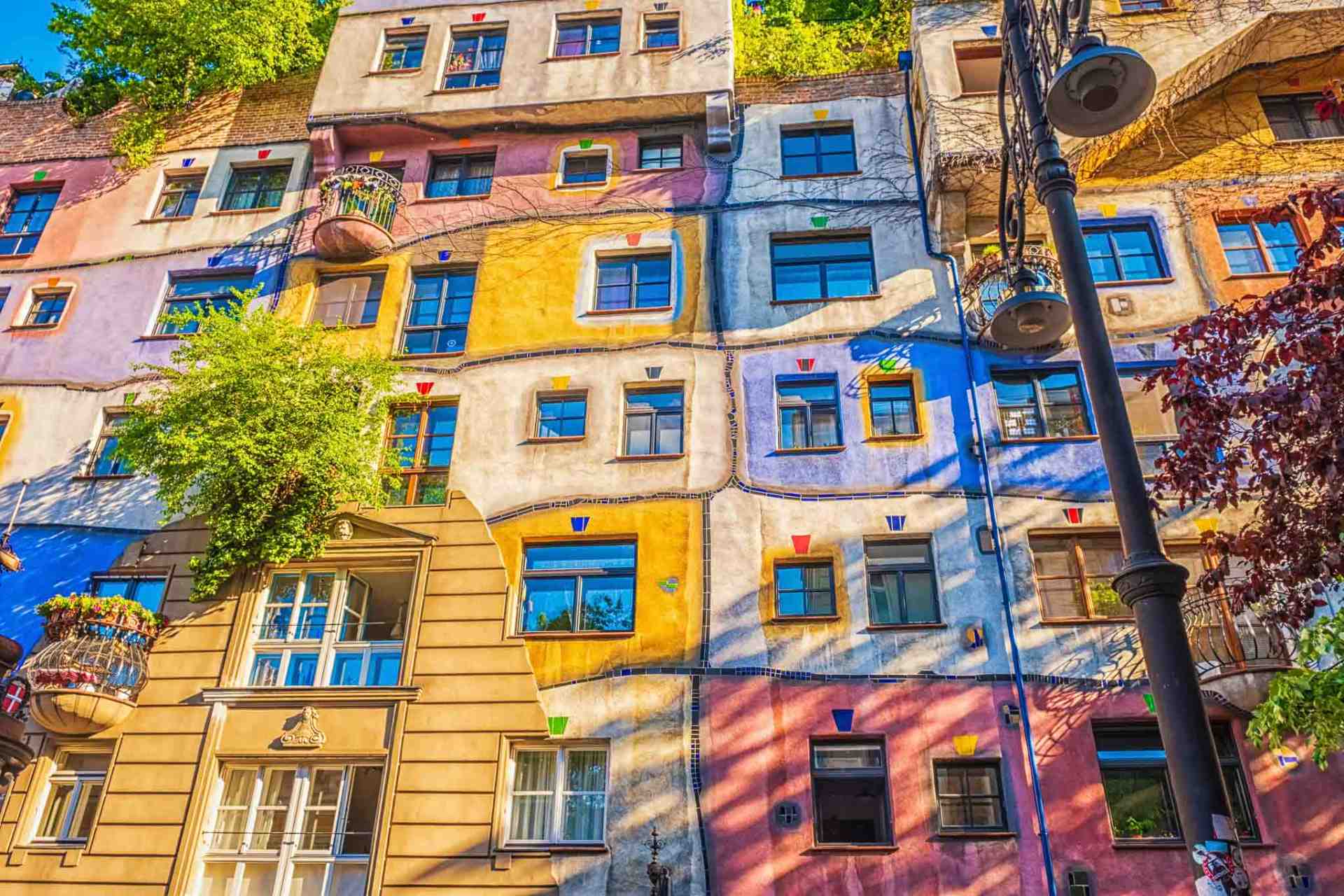 Other Places To Go At Night In Vienna
Sadly, we couldn't fit everything into this list. There are some other must-do things in Vienna that we haven't mentioned that you should check out when you're visiting.
Here they are:
Pay your respects at the Judenplatz Holocaust Memorial
Take a walk by the Franciscan Church of St Jerome
Purchase yourself some tickets for a show at the Burgtheater – Austria's National Theatre
Go and see the City Hall of Vienna in the Historic Centre
Stop outside St. Stephen's Cathedral to have a look
Waste your money at Casino Royale
Get yourself on to a nighttime walking tour that brings you all over the city to see the main sights in the dark
Enjoy a heavy night out in Vienna's nightlife district Schwedenplatz
Frequently Asked Questions
Is Vienna safe at night?
Vienna is definitely one of the safest cities in the world. The subway is "full" at night on weekends. If I don't like the atmosphere in one carriage, I just get off and get into the next one. According to statistics, there were 203,000 reported cases in 2021 (Hamburg 228,000). Nothing has ever happened to me over the years. 
Where is it dangerous in Vienna?
Around 18,000 criminal offenses were reported in the district of Favoriten in Vienna in 2020. This made Favoriten the district with the most crimes (10th district); On the other hand, there were the fewest in Josefstadt  (8th district) with around 2,400.
Is it safe to walk at night in Vienna?
Yes, it's safe to walk around after dark. While most shops are closed you will find plenty of cafés and bars open. It's a lovely area to see at night.