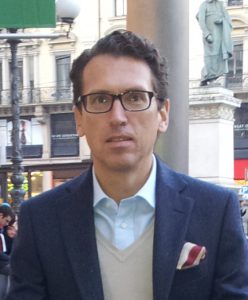 Greg was born and raised in Vienna, where he studied Marketing and Communications. He works as European Marketing Leader in a global IT Company and freelances in blogging and photography on the side. Inspired by his parents both fine art jewellery designers he learned the crafting and composition of fine jewellery.
PHOTOGRAPHIC STYLE
Gregor's background in design and crafting fine-art  jewellery shaped his photographic style.
"Taking pictures for me is a creative act like designing a jewellery piece – taking care of composition, structures, colors and harmony.  As to him, many basic rules of photography like leading lines, framing, and golden rule applies also to jewellery designing. It is both a reflection on art, culture, and nature, inspired by beauty and taste. Besides the aesthetics for Greg often breaking the rule is when it starts to get interesting.
HOBBY
Gregor lives in Vienna spends his free time with his family, biking, visiting museums and organizing photo walks in Vienna. Recently lead a Charity Photo Exhibition for Medicines without Borders.
ABOUT THE THEVIENNABLOG
Theviennablog is about your Travel and Lifestyle inspiration. I would love to connect with you sharing my passion for travel and photography. Since published theviennablog has been featured in various online and offline publications, newspapers and magazines like recently on prestigious Brit+Co Online magazine.  I have the honor to be Brand Ambassador for Samsung Mobile and Ritz Carlton hotels. Theviennablog also collaborates with major brands like Audi, L'Oreal, FlyDubai, Uber, Adobe and is often invited by Tourism Boards to share his experience on the blog.
Please subscribe now here  theviennablog  for your inspiration. Thank you!
You can also find theviennablog on
Instagram: @gregsideris
Facebook: gregorsideris  
Facebook: theviennablog
Twitter: @gregorsideris
Twitter:@theviennablog
Contact: gregor.sideris@gmail.com
Interested in Collaboration. Get the MediaKit by sending eMail to gregor.sideris@gmail.com
Save