Last Updated on March 16, 2023 by gregor
So here's a complete two-day Vienna itinerary, for those looking to do Vienna in two days.
When you are ready to explore Vienna in two days you need to decide how you want to get around the city. In this blog post, we give you a perfect answer on: How can I spend 48 hours in Vienna? 
Two Days in Vienna I The Perfect 2-Day Itinerary
There are 4 Ways to get around Vienna.
By Public Transport – Vienna City Card
Taking public transportation is the most convenient method to get around Vienna (Euro 8.- for a 24-hour ticket).
A Vienna City Card, which permits unlimited use of the city's metro, tram, and bus lines, can be purchased in advance.
Vienna City Cards are available for 1, 2, or 3 consecutive days, and prices range from 24 hours for Euro 17 to 3 days of use + airport transfer for Euro 46.-.
The Vienna City Card also offers discounts at over 210 major attractions, making it an excellent value.
The city center of Vienna, and the majority of tourist attractions, are reachable by bicycle.
WienMobil Rad is the most popular bike-sharing service in Vienna.
Simply register online, find a terminal, and scan the QR code to unlock a bike. 
Detailed Information on How to Rent a bike in Vienna on my Blog:
BIKE RENTAL IN VIENNA – EVERYTHING YOU NEED TO KNOW – WIENMOBIL RAD (VIDEO TOUR)
There is also the very popular Classic Vienna: 3-Hour Guided Bike Tour available to book in advance.
By Hop On Hop Off Bus
The City Card provides access to standard buses throughout Vienna. There is, of course, the well-known Vienna Hop-on Hop-off Sightseeing Bus.
This Hop On Hop Off bus allows you to hop on and off at many locations throughout the city, including the Museums of the Hofburg, the House of Music, and the Schönbrunn Palace.
This choice is always popular amongst travelers, and it is a great way to see many of Vienna's famous attractions.
By Guided Tour
There are some amazing tours available to book in advance on Get Your Guide for people who are short on time or prefer everything to be organized for them.
There's much to do in the Austrian capital, from food tours to river cruises and bar crawls!
Start with a Traditional Viennese Cafe visit.
The most famous cafe in Vienna is Cafe Central, a few steps away from the St. Stephens Cathedral.
My favorite, however, is Cafe Pruckel, close to the Stadtpark and next to the U3 Stubentor subway station. 
For other Cafe House recommendations, please read my Blog Post:
BEST COFFEEHOUSES IN THE CITY CENTER OF VIENNA, AUSTRIA
Stephansplatz is the central square that sits right in the heart of Vienna.
Easily accessible from anywhere around the capital, simply jump on the underground and head to Stephansplatz Station.
The square is named after St. Stephen's Cathedral, Watching over the city for more than 300 years, the cathedral is an iconic landmark. The stunning gates date back to the 13th century and are said to be the oldest part of the cathedral. The cathedral was named after St. Stephen, the first martyr of Christendom, and is the burial place of the Founder, Duke Rudolph, and other members of the Habsburg family. 
Additionally, the cathedral is home to the largest bell known as the Boomer Bell, and the red-marble sepulcher. Whereas the south tower offers you a complete view of the city. 
You'll likely see a few Fiaker rides available in the Old Town. A FIAKER is a form of a hackney coach, a horse-drawn four-wheeled carriage for hire.
As well as the cathedral in Stephansplatz, you can find plenty of shopping, bars, and cafes – so it's an easy way to kill a couple of hours in the city.
Here is a great spot to grab a bite to eat and refuel on your Two Days in Vienna itinerary.
Set in the old town, the palace is one of the best places to spend your first day. However, when you have only two days at hand, we suggest you head over there early in the morning and take in as much as possible. 
Dripping with luxury and style the palace represents the Habsburg Dynasty in every way. A place where you are dazzled just walking towards the establishment, which will continue as you walk through the place. Just thinking about all the history can take you back in time, covered over 59 acres the Hofburg Palace offers eighteen group buildings, twenty courtyards, and around twenty-six hundred rooms.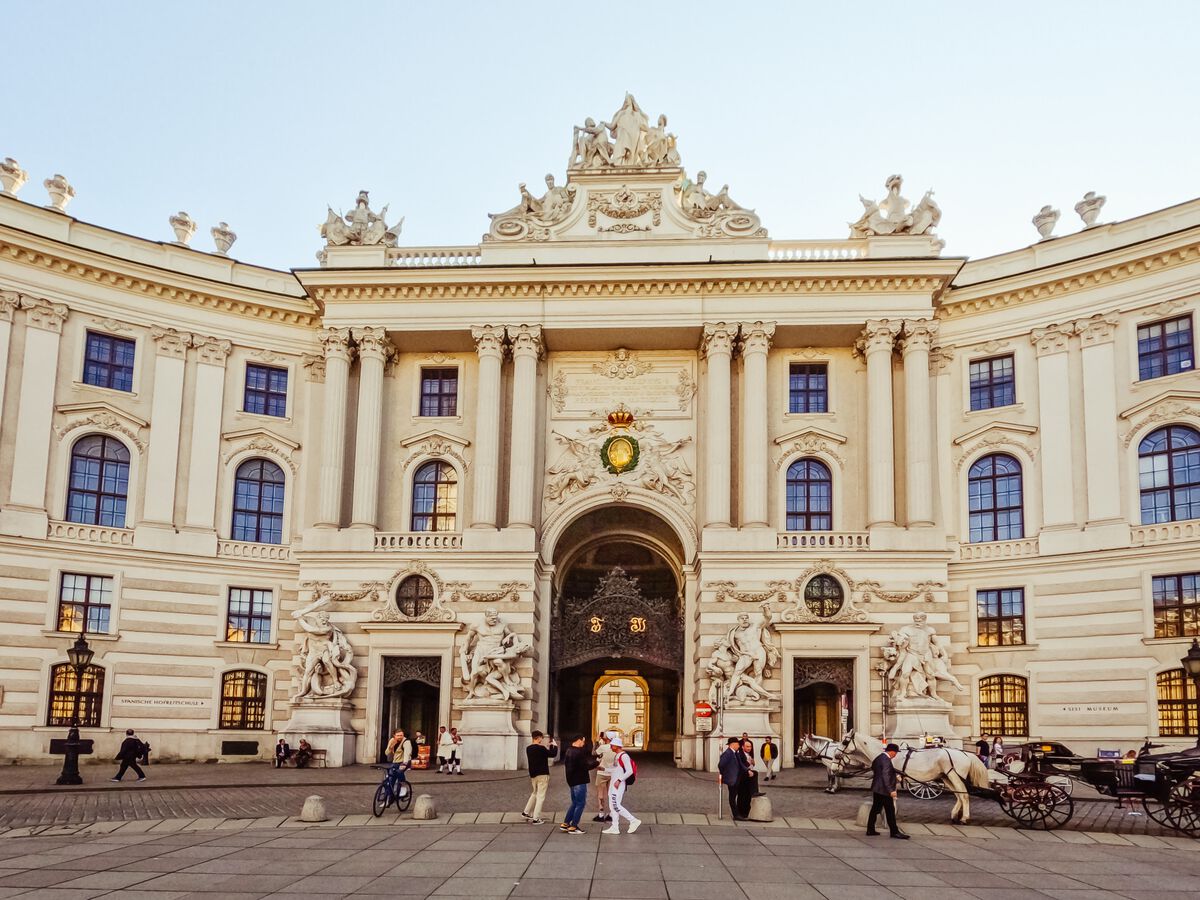 Museumsquartier
From Stephansplatz jump back on the underground, and it's an easy 2-stop ride on the U3 line to Volkstheater Station. This will lead you out into Museumsquartier.
The Museumsquartier in Vienna is one of the largest districts for contemporary art and culture in the world.
The district is spread over 90,000 square meters, so there's certainly plenty to see.
There are a few options for tours such as the 1–Hour MuseumsQuartier Guided Site Tour or you could book your Skip-the-Line Tickets to Leopold Museum tickets in advance.
From music and fashion to theatre and dance, it doesn't end there. Photography, street art, and fine art make this place creative heaven.
However, if you're not much of a museum fan or short on time, then you could possibly drop this spot from your two days in Vienna itinerary.
If you do try and squeeze it into your Vienna in a day trip, it's probably best to pre-arrange which parts of Museumsquartier you'd like to see specifics.
There a several Food markets in Vienna, but this is by far my favorite spot you must explore on the two days in Vienna itinerary. Probably due to the sheer amount of food on offer!
Naschmarkt is the most popular market in Vienna! And it's just a 10-minute walk from the Vienna Opera House.
It offers all of the best foods and local products, including some that aren't found anywhere else in the city or even the country.
At the market, there's a lot to see, eat, and drink. It not only caters to locals who need to finish their weekly grocery shopping, but it also draws visitors from all over the world.
Tourists come to the Naschmarkt to soak up the ambiance, hear the noises of an Austrian market, and buy cheap refreshments.
If you're searching for a low-cost, well-respected guided tour of Naschmarkt, go no further than the Naschmarkt Food Tasting Tour.
Otherwise, there is a full 4-hour food-tasting tour of Vienna available here, which provides a more comprehensive understanding of Austrian cuisine. A coffee shop, a traditional market, a bakery, and an artisan chocolate shop are all on the itinerary. While sampling cheese, sausages, wine, and a variety of other Austrian goodies.
Exotic fruits, colorful food, cheese, and hummus, as well as a variety of local spices, abound in the market.
If you're visiting Vienna in a day, then you have to visit the Naschmarkt.
For more information, please read my blog post:
NASCHMARKT VIENNA GUIDE – MOST POPULAR VIENNESE FOOD MARKET(+VIDEO TOUR)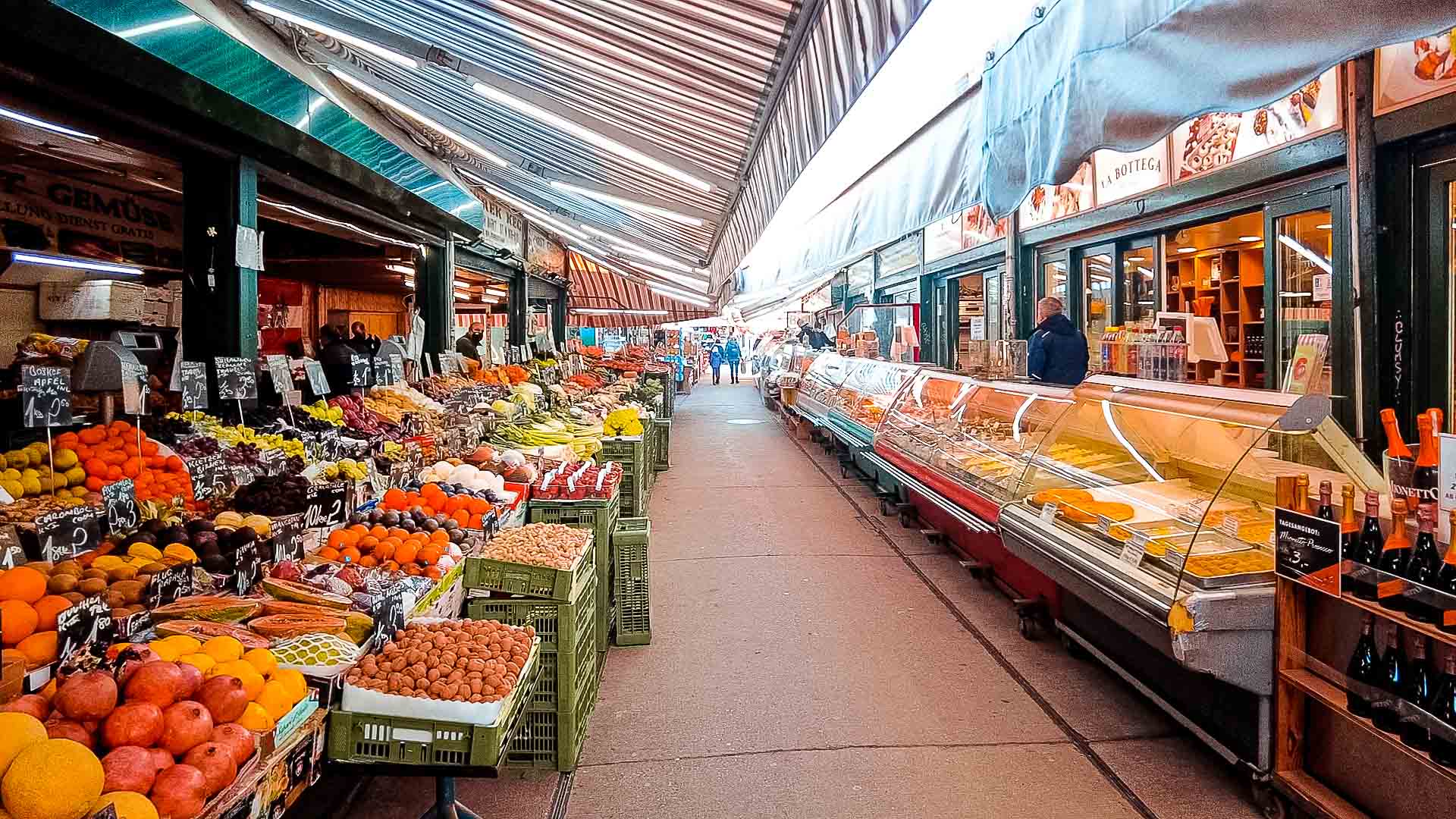 Hundertwasser Haus
The Hundertwasser House area, which is only a 15-minute walk from the City Center is one of our top recommendations for a day trip to Vienna.
Its brightly colored architecture, designed by Friedensreich Hundertwasser, attracts visitors from all walks of life.
Because people live in the Hundertwasser House, you can only see the building from the outside. They are not allowed to decorate their apartment, so you can only see it from the outside.
The Hundertwasser House is a green oasis in the center of the city, with all the trees that flourish among the balconies and terraces.
In the other direction from the Hundertwasser House, the same artist built his own shopping mall out of a tire factory. It also has a bar and a few stores. All in the style of Hundertwasser.
The KunstHausWien, a museum designed by Friedensreich Hundertwasser, is also worth a visit. The museum is home to the only permanent exhibition of Hundertwasser's work in the world.
Before continuing on to the next item on your two-day in Vienna itinerary, explore the area and pick up some unique gifts.
The Hundertwasser House is a must-see! If you're planning to Vienna in two days, don't miss this one.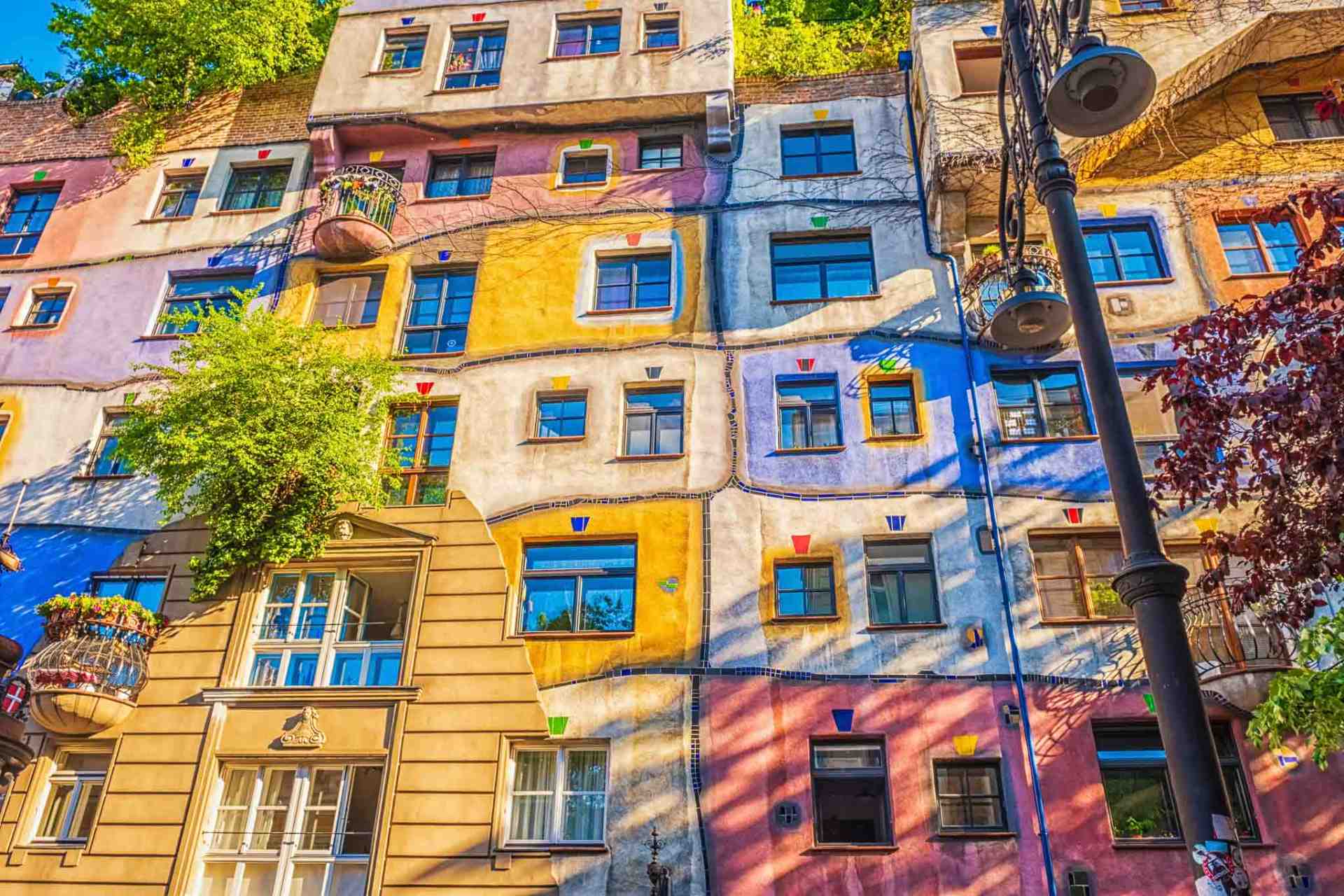 Eat a Wiener Schnitzel
Now that you are in the local mood, it's time to start eating like a local as well. Forget fancy restaurants and three-course meals. It is time to get down to business and start eating like the locals. Wiener schnitzel is not just a classic, it is a way of life. One that you can easily fall in love with, no matter where you are.
Traditionally a Wiener Schnitzel is made using veal, but with the passage of time, it's now made using different types of meats as well. While almost every restaurant serves a wiener schnitzel, there are many that focus solely on serving one or a few different types of wiener schnitzel. To a point where you can choose from the type of meat, cooking technique, condiments, and even the side.
That does not mean you can just grab one anywhere, it's best to do your research beforehand and choose a place that matches your taste and budget. Make sure you can enjoy the most out of everything this world has to offer.
VIENNA FOOD GUIDE – TRADITIONAL VIENNESE FOOD YOU MUST EAT IN VIENNA, AUSTRIA (UPDATE 2022)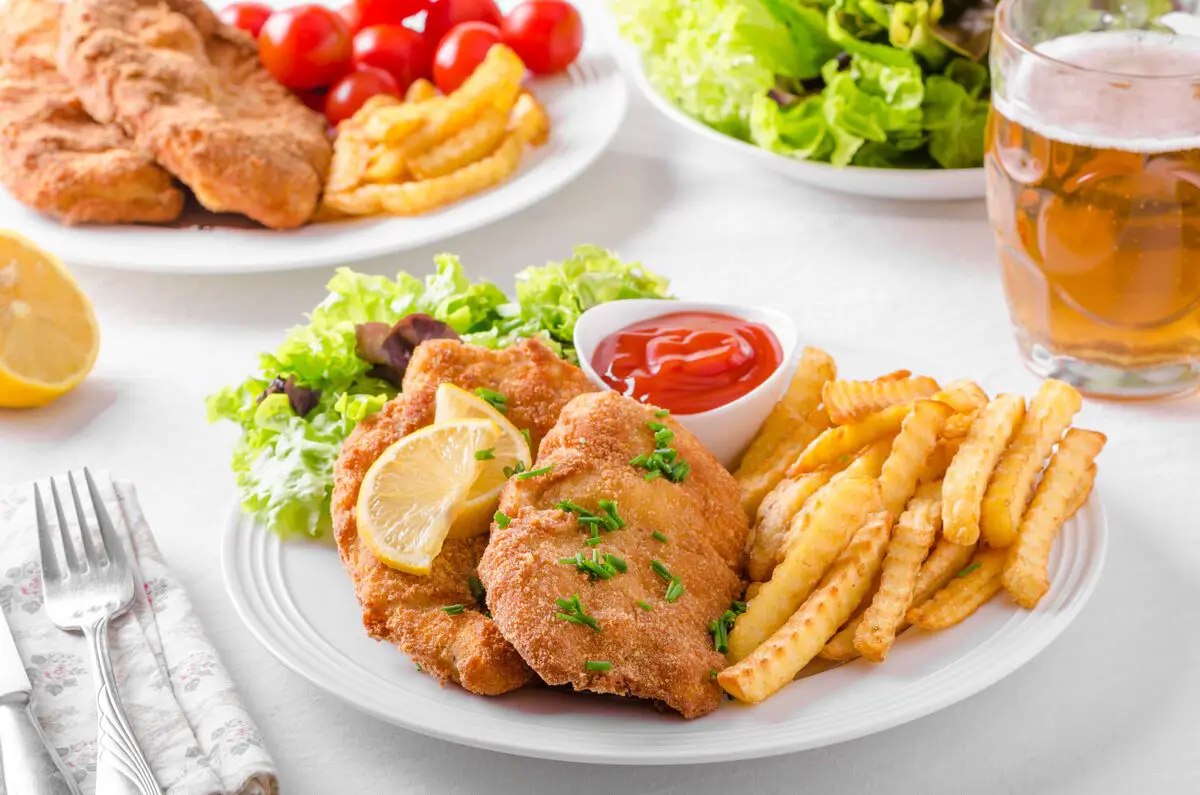 Schönbrunn Palace
The first stop on the two-day Vienna itinerary is one you save the best for the morning.
Schonbrunn Palace was the Habsburg emperor's major summer residence, and it is today, possibly the most photographed building in the country.
The palace gardens are now a beautifully symmetrical public park that attracts tourists and joggers on a frequent basis.
The interior has been turned into a massive museum filled with history and tales from the past.
You do have to pay to enter and you can book your Schönbrunn Palace & Gardens: Skip-the-Line Guided Tour here.
Otherwise, there are plenty of tours online such as this one, which guarantees a delightful taste of Vienna's cultural landmarks, taking in the Opera and many other attractions by bus, then skip the line for a special tour of the glorious Schönbrunn Palace.
The Schönbrunn Palace's opening hours are daily 6.30am – 7pm.
Schonbrunn Palace is a great way to end your trip to Vienna, so make sure to include it in your one-day in Vienna itinerary..
Book your Schonbrunn Palace Tours: Schonbrunn Palace: Top Tours & Activities
For more information, please read this blog post:
A QUICK TRAVEL GUIDE TO VIENNA'S SCHÖNBRUNN PALACE, VIENNA AUSTRIA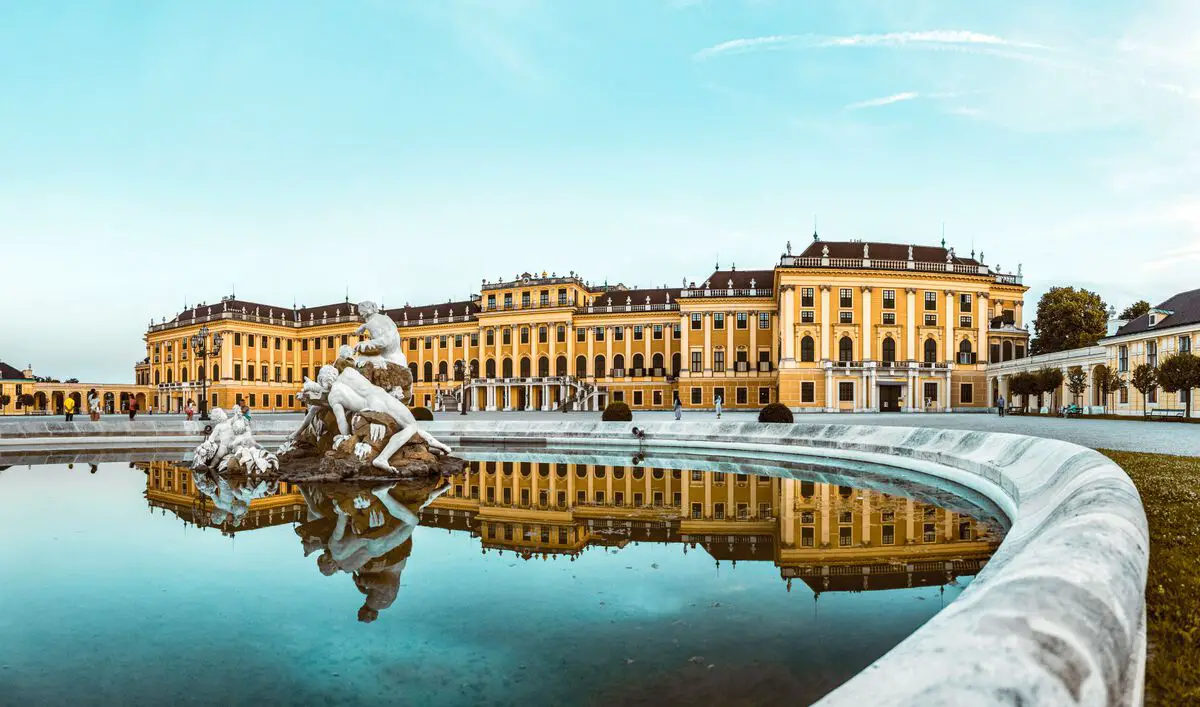 While the Belvedere palace is one of the top wonders of Vienna, if you are stretched for time we suggest you make a quick stop at the Belvedere museum. A place where you will be able to find 150 sacred medieval art pieces, Gustav Klimt paintings, sculptures, fountains, cascades, and so much more. If you have time we suggest you take on the temporary exhibit as well.
Book your Belvedere Tour: Belvedere Tour Vienna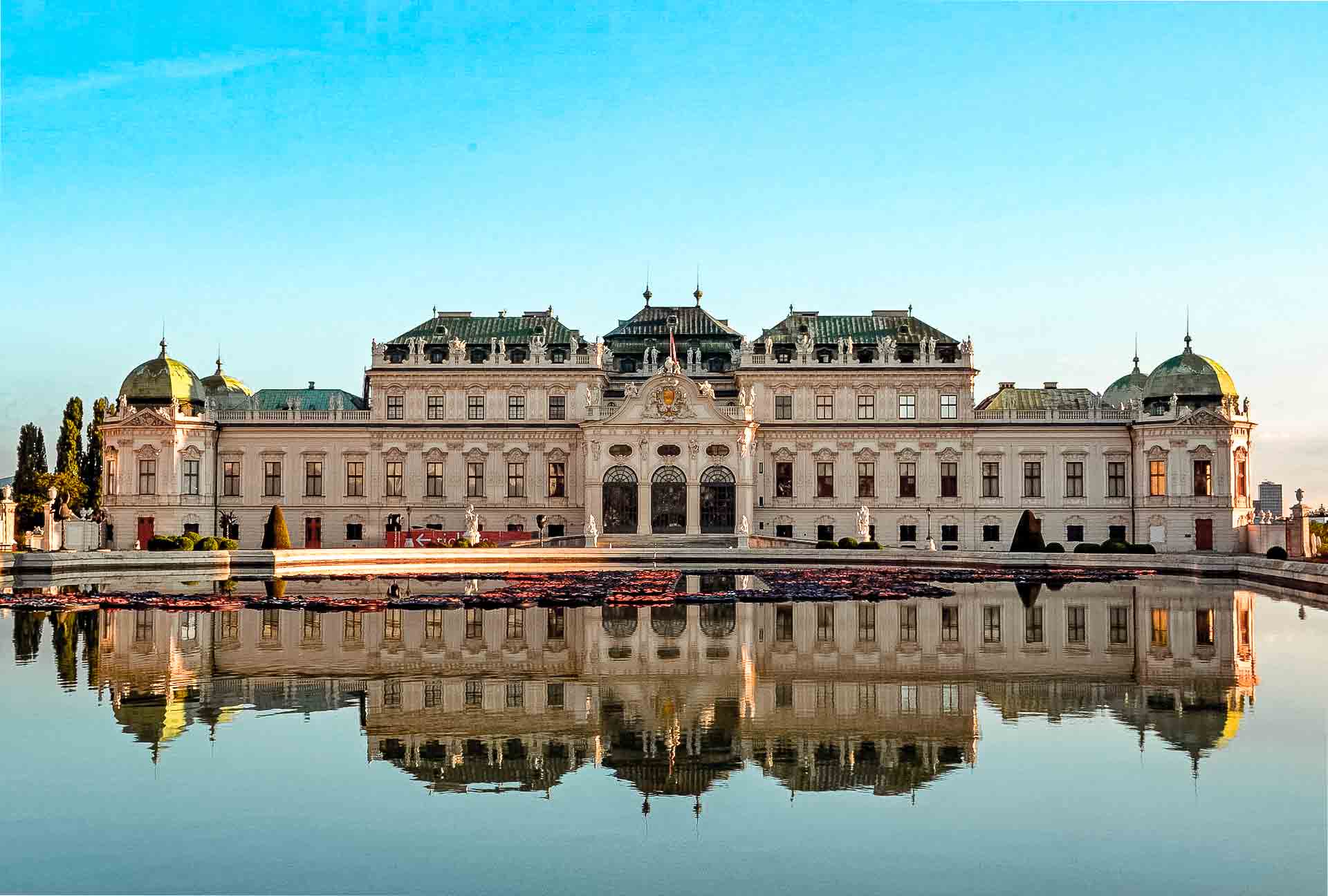 Inner City Center Lunch
At lunchtime, we suggest you stay put in the inner city and grab a bite at one of the local cafes or restaurants. The best part about the inner city is that you will find endless options based on your taste and budget, making sure you don't skip a meal. However, if you are not in the mood for a full lunch, you can at least grab a cup of coffee and a delicious treat to go with it. 
VIENNA FOOD GUIDE – TRADITIONAL VIENNESE FOOD YOU MUST EAT IN VIENNA, AUSTRIA (UPDATE 2022)
Maria Theresien Platz
The largest public square was built to honor the Hapsburg Empress Maria Theresa. There is a statue of the Empress that is considered to be one of the most important monuments of its time. The statue took 13 years in the making, is 19 meters high, and is surrounded by four horseman statues to amplify the impact. Just walking toward the setting you will be able to take in its gorgeous craftsmanship. 
A UNESCO World Cultural Heritage Site is called the legacy of Maria Theresa. Celebrating her stories of tact and grit is a marvelous wonder. The way she reformed the schools, handled state affairs, and took care of her 16 children is marvelous. 
St Charles's Church
Karlskirche dates back to the middle ages and is one of its kind. Featuring a beautiful green-colored dome the church offers intricate details on the inside. Offers you a breathtakingly beautiful high altar, side altars, phenomenal religious artwork, and remarkable frescos. 
Book your Guided Tour for the St. Charles Church in Vienna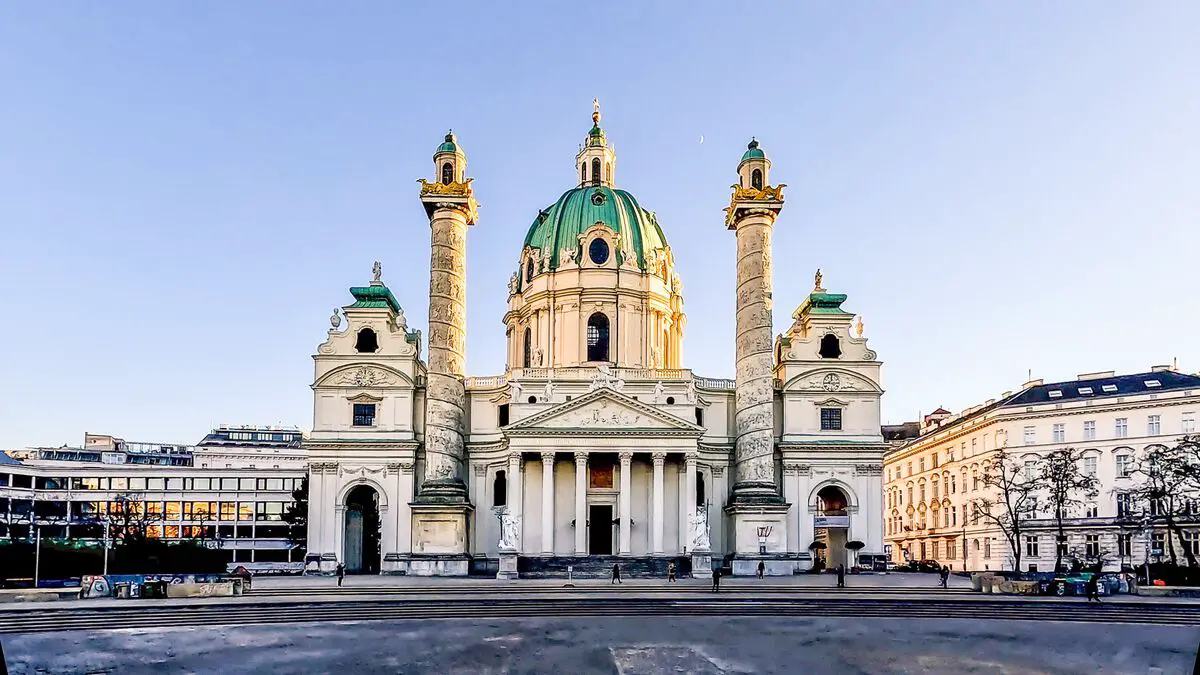 The Graben – Luxury Shopping Mile in Vienna
An upscale and tending street that is lined with numerous shops and cafes. Set in the heart of the city, the Graben, Vienna dates back to the time of the old Roamans. Making it a historical landmark that comes with a Viennese twist. 
Amidst the shops, you will find a plague column that dates back to the 17th century and is constructed using marble. Creating a unique structure that allows the marketplace to stand out from the rest. Paired with beautiful window displays and both local and international designers, you are in for a treat. 
Wiener Prater – Ferris Wheel
Prater is located about 15 minutes away from the city center and is one of the best amusement parks in Vienna. While it offers you a great deal, one of the iconic symbols of Prater park is its Wiener Riesenrad Ferris Wheel. 
Book your Ferries Wheel Skip the Line Ticket
Finally, a place where you can indulge in some comfort food, relax and enjoy every moment of your life. A necessary addition for those who are looking to blow off steam.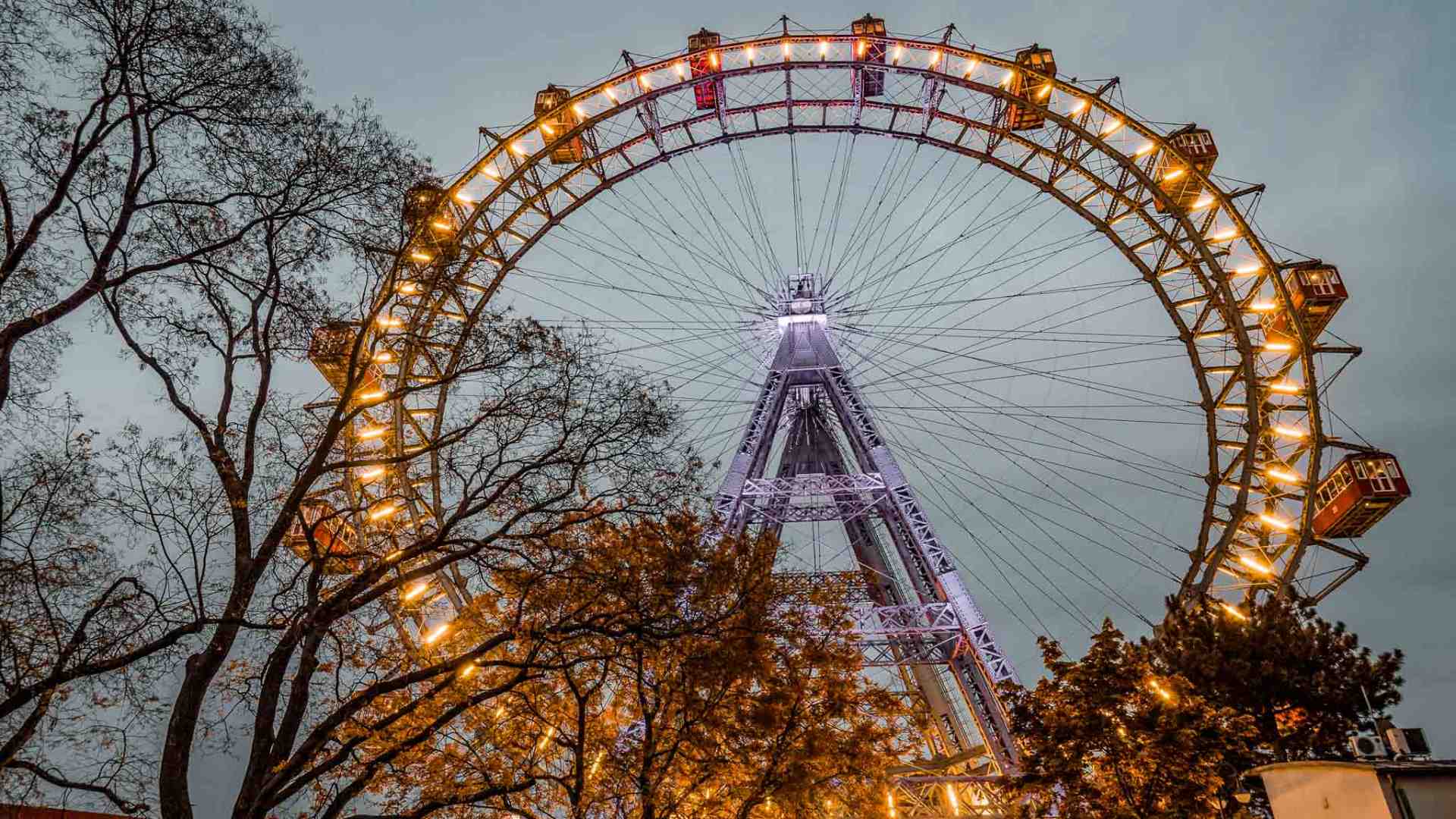 Visit a Rooftop Bar in Vienna
When it comes to Best Rooftop Views in Vienna and mesmerizing panoramic views, then Vienna has a great selection to offer. No matter if you are viewing Vienna from the top of a hotel, or an open patio of a restaurant, you will be able to take breathtaking views. If you are in Vienna just here for two days, then you must witness these amazing views. It will be cruel to leave without at least trying one of the best rooftops, patios, and viewpoints that Vienna has to offer.
Keep on reading, as this post contains all the viewpoints I have enjoyed myself, and feel free to share them with others.
More suggestions for a one-day visit to Vienna Itinerary
The state opera is a wonder that only a few get to experience. This is why we suggest you plan your trip in a way that allows you to enjoy a concert. When planning a stop you can check with the local opera house and make sure you are able to enjoy some of the greatest. 
Vienna State Opera Skip The Line Tour Ticket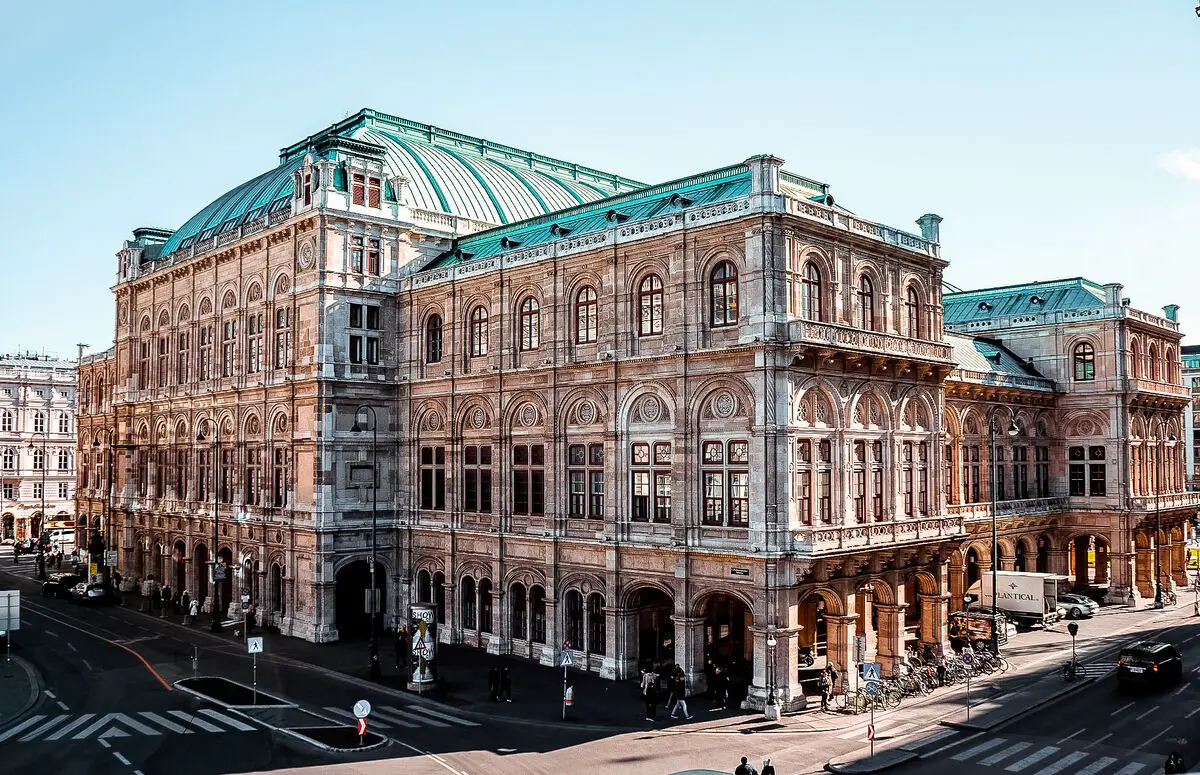 Time for some museums. Vienna has a huge range of museums covering nearly every niche, so do feel free to swap different museums into this itinerary depending on your interests.
Please check out this Blog Post.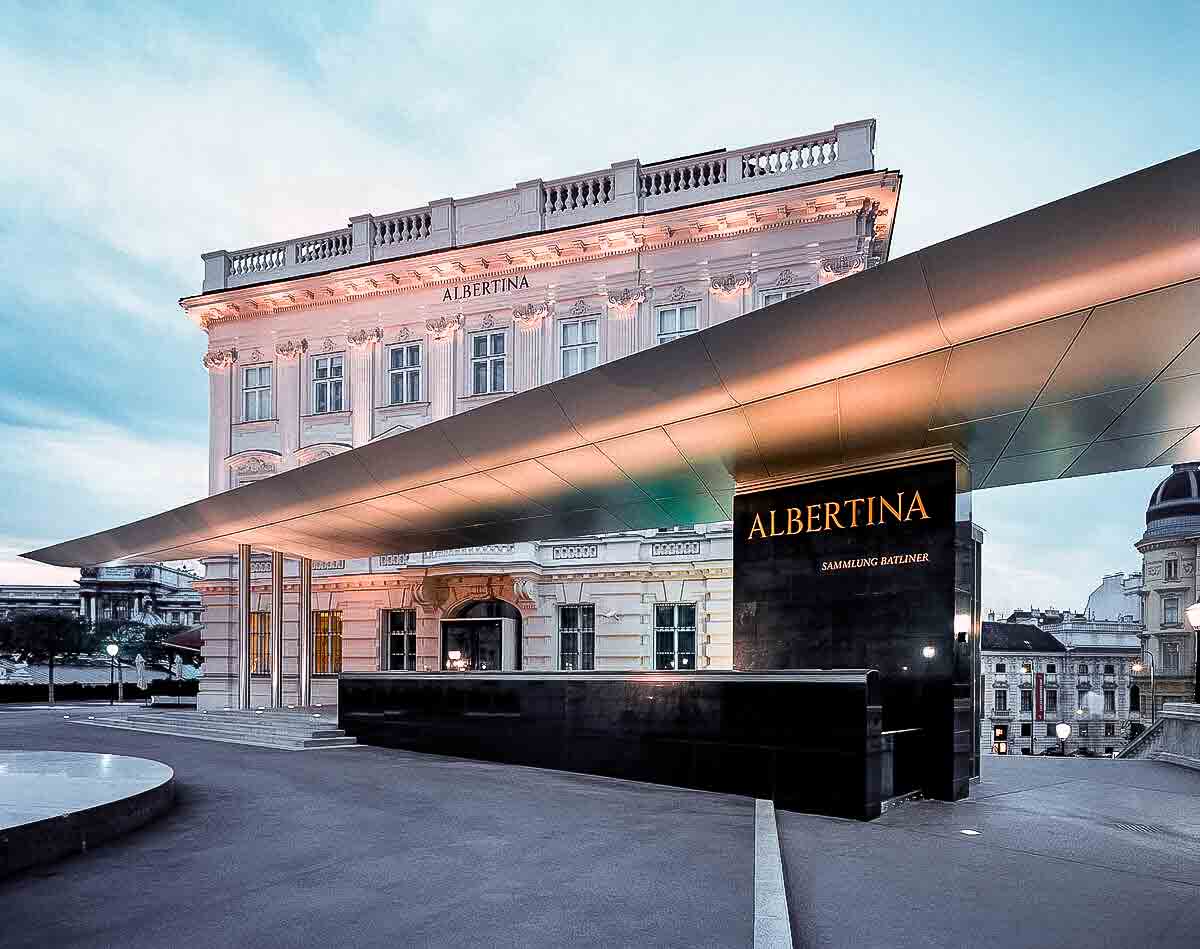 Two Days in Vienna Itinerary Overview
Day 1

Visit Viennese Coffee House

St. Stephen's Cathedral

Hofburg Palace

Museumsquartier

Naschmarkt

Hundertwasserhaus

Eat a Wiener Schnitzel

Day 2:

 

Schönbrunn Palace, 

Belvedere Palace & Museum

Inner City – City Center – Lunch

Wiener Prater – Ferris Wheel

Rooftop Bar
How much spending money do I need for Two days in Vienna?
How much money will you need for your trip to Vienna? You should plan to spend around €120 ($120) per day on your vacation in Vienna, which is the average daily price based on the expenses of other visitors.  Past travelers have spent, on average, €27 ($28) on meals for one day and €15 ($16) on local transportation.
What is the best time of year to visit Vienna?
The best time to visit Vienna is from April to May or September to October. The mild weather in spring and fall brings mild crowds. Most visitors aim to enjoy the warm, sunny weather that Vienna experiences in the summer months. Between June and August, you can expect the city to fill up and room rates to skyrocket.
What is the best time of year to visit Vienna?
The best time to visit Vienna is from April to May or September to October. The mild weather in spring and fall brings mild crowds. Most visitors aim to enjoy the warm, sunny weather that Vienna experiences in the summer months. Between June and August, you can expect the city to fill up and room rates to skyrocket.
Is Vienna Austria worth visiting?
The capital of Austria, Vienna is the kind of classic tourist destination that impresses visitors with its attractions, atmosphere, and culture. Once the heart of an empire, Vienna's elegance, and grandeur easily delight visitors with romantic notions of what Europe is like.
Are 2 days enough for Vienna?
Is 2 Days in Vienna enough time? Vienna is a city you can stay in for several weeks and still not visit all the museums and many attractions the city has to offer. In 2 days in Vienna, you can get a good overview of what the city is famous for and enjoy some of its main sights.
While we have offered you an overall guide, we suggest you tweak the plan based on the season. For instance, if you are in Vienna during the holiday season you cannot miss out on the Christmas Market.
ULTIMATE VIENNA CHRISTMAS MARKET FOOD GUIDE, VIENNA – AUSTRIA
Similarly, when you come to Vienna in the spring season you have to take on a hiking challenge. 
SPRING IN VIENNA TOP 10 THINGS TO DO IN VIENNA, AUSTRIA
15 Best Food Tours in Vienna
15 BEST FOOD TOURS IN VIENNA, AUSTRIA – UPDATED 2022/23
Planning ahead can help you make the most of your two days in Vienna. You don't have to plan everything down to the dot, but getting a general idea of what interests you and how to manage your time can help you squeeze in another worthy stop.
*) Disclaimer: This blog post includes affiliate Links