Last Updated on January 29, 2023 by gregor
Grado, Italy is a picturesque seaside town that offers plenty of activities for tourists. From its sandy beaches and crystal-clear waters to its charming streets and historical attractions, there is much to see and do in Grado.
Here are the Top Things To Do in Grado
Grado is a charming medieval town located on the Adriatic Sea in northeastern Italy. The town is built on a small island and is connected to the mainland by a bridge. Grado's narrow streets and colorful buildings are well-preserved and attract tourists from all over the world. The town is also home to an old Benedictine monastery, which is now a museum, and a beautiful cathedral. In addition, Grado has several restaurants and bars that offer excellent food and wine.
Walk along the promenade of Grado that hugs the Adriatic Sea
Grado is located in the Veneto region of northeastern Italy. The town hugs the Adriatic Sea and is known for its long promenade that offers stunning views of the sea and the nearby islands. Grado is a popular tourist destination, especially in the summer when locals and visitors can enjoy the beach, restaurants, bars, and shops.
Visit the ancient Basilica of Sant'Eufemia, which is one of the oldest churches in Italy.
The Basilica of Sant'Eufemia is one of the oldest churches in Italy, and it's well worth a visit if you're in the area. The church was built in the 10th century, and it has been renovated and updated over the years, but many of its original features are still intact. The basilica is located in a quiet park, and it's a beautiful place to spend an hour or two. There are several interesting exhibits inside, including a collection of Byzantine art and some ancient Roman mosaics.
Explore the Venetian Style architecture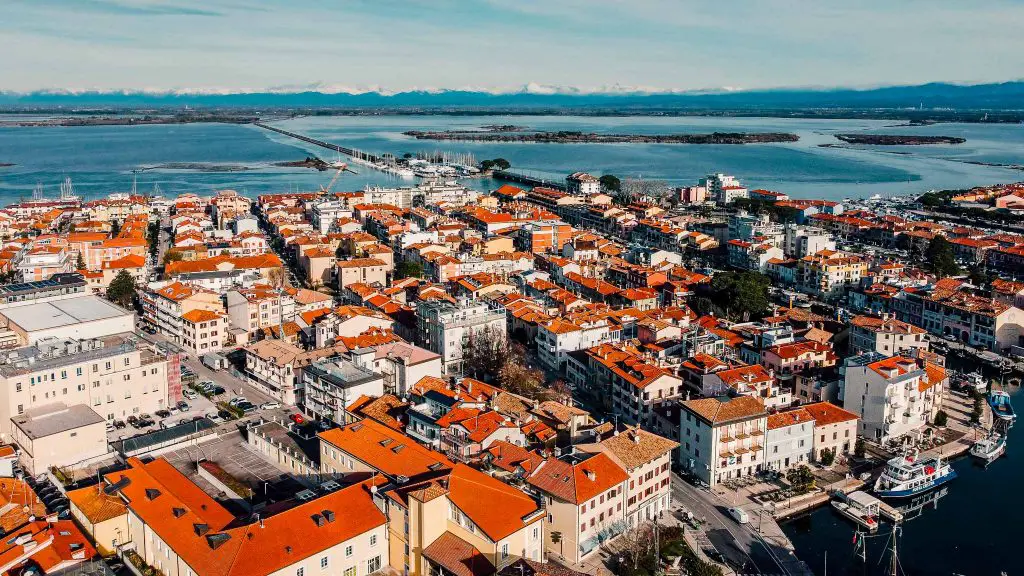 The narrow streets and canals of Grado make you feel like you've stepped back in time to Venice. Filled with historic buildings, they're perfect for wandering along and admiring their beauty. Here is my WALKING TOUR VIDEO of GRADO in Italy.
Play Golf at the Grado Golf Club
Adress: Via Monfalcone 27
34073 Grado (GO) | Italy
IT01110240312
Website: GOLFGRADO.COM
Enjoy a day at the beaches in Grado
The Adriatic Sea provides the perfect backdrop for a day at the beach in Grado. This small town on the northeastern coast of Italy is home to some of the country's most beautiful beaches. With crystal-clear water and miles of white sand, Grado is a popular destination for vacationers and locals alike. There are several beaches to choose from, each with its own unique personality.
The sandy beaches of Grado face south, which also gives Grado the nickname "Sun Island".
The main beach – Spiaggia Principale – is three kilometers long.
Following the main beach is "Al Bosco", a stretch of beach that you can use without paying.
Then there is the Grado Pinetta beach section. Between the last two beaches is the dog beach Snoopy.
Incidentally, there is also an area on the main beach where dog owners are welcome. The section is called Lido di Fido.
In the western part of the island is the Costa Azzurra beach. Access to this beach is free, but a part is used by bathing establishments.
Whether you're looking for a quiet spot to relax or want to take part in some of the activities offered, Grado's beaches have something for everyone.
Sail into the Lagoon of Grado
If you are on holiday in Grado, you must also take the time to immerse yourself in the Grado Lagoon – in the truest sense of the word. The Grado Lagoon is a unique set of canals, islands, marshes, bodies of water, and sandbanks between land and sea.
There are around a hundred different large and small islands, which the Gradese call "mota". The most famous is to the east of the lagoon: the island of Barbana is an ancient Marian shrine that you can visit.
Ships depart from the port several times a day. The "mota" Safon is also exciting: Pier Paolo Pasolini shot parts of his film "Medea" here with Maria Callas exactly 50 years ago. The anniversary will be celebrated this summer, so a cinematic boat tour entitled "I Luoghi di Medea" departs twice a month on Thursdays.
Taste the Italian Food specialties of Grado
One of Grado's biggest surprises is found in restaurants. Because unlike in many other bathing resorts, fries are red and white, and döner kebab and schnitzel are rather rare. The city has an extremely high culinary level and prefers to serve what the Adriatic has to offer.
Local Fish specialty dishes
Fish dishes are on every menu, and the many pasta variations mostly revolve around fish and seafood. It's almost impossible not to eat well in Grado. The most famous local specialty is the "Borate alla grades".
Once known as the staple of poor fishermen, the fish dish is now a specialty made with halibut, polenta, vinegar, pepper, and garlic.  "Spaghetti ai Frutti di Mare" or "Vongole", various mussel dishes, are also very typical.
For example, the Trattoria de Toni (Piazza Duca Dastan 37), which is located in the middle of the narrow streets of the old town, is an insider tip. It is one of those establishments that have joined the "I ristornier del Centrum" association. The members undertake to pass on the culinary tradition of the city from generation to generation.
Italian Ice Cream
Tip: Italy without ice cream is impossible, which is why Grado naturally has plenty of ice cream parlors. One that is particularly exciting is La Gioiosa (Viale Dante Alighieri 44). Many local ingredients are used in the different types of ice cream: Friulian milk and whipped cream, organic eggs, and regional fruits, for example, strawberries from Fossalon or lemons from Sicily.
Conclusion
there are plenty of things to do in Grado, Italy. From sightseeing to swimming, there is something for everyone. Be sure to check out the old city center and the many churches, and enjoy a day at the beach. Whether you're visiting for a day or a week, Grado is definitely worth a visit!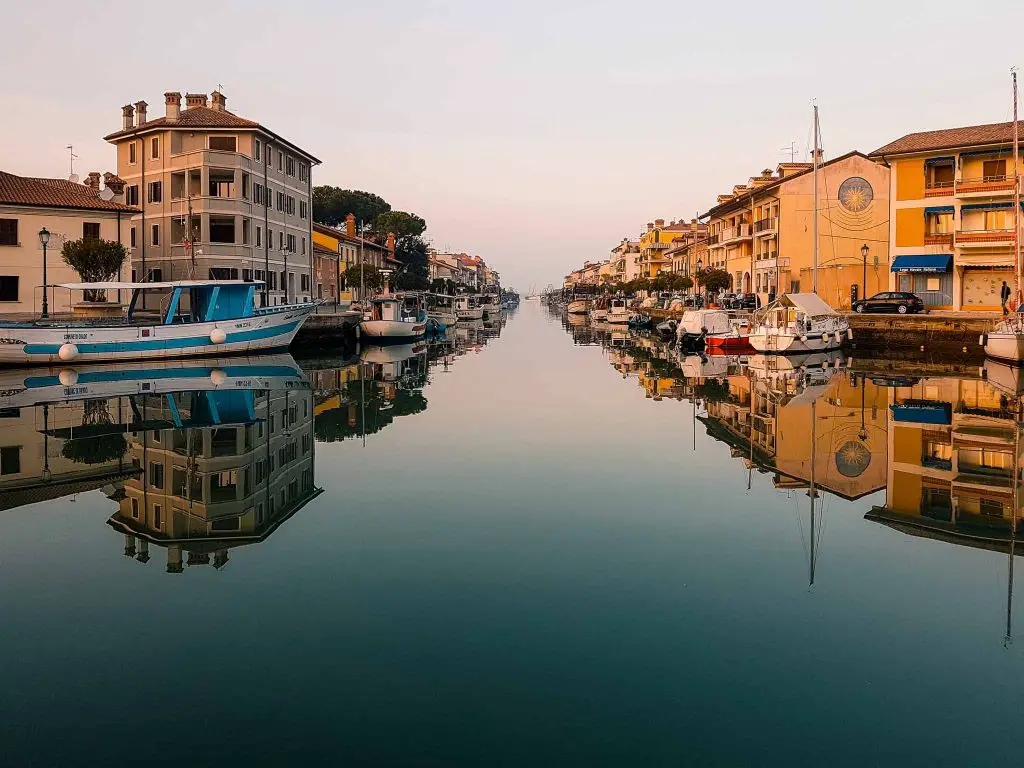 FAQs
Where is Grado Italy?
Grado, Italy is located on the Adriatic Sea in the Veneto region. It is a small town with a population of about 8000 people. Grado is a popular tourist destination with beautiful beaches and rich history. The town is known for its salt production, and there are still active salt pans in the area. Grado is also home to an ancient Benedictine monastery, which is now a part of the University of Padua.
What is the weather like in Grado?
The weather in Grado is mild and humid. Spring and autumn are the best seasons to visit, as summers can be quite hot and winters can be quite cold.
The average temperature in spring is about 16 degrees Celsius (61 degrees Fahrenheit), while the average temperature in autumn is about 20 degrees Celsius (68 degrees Fahrenheit). July is the warmest month with an average temperature of about 27 degrees Celsius (81 degrees Fahrenheit), while January is the coldest month with an average temperature of about 5 degrees Celsius (41 degrees Fahrenheit). Grado experiences a fair amount of rainfall, with October being the wettest month and February being the driest.
What is the currency in Grado?
The currency in Grado, Italy is the Euro.
What language do they speak in Grado?
The official language in Grado is Italian, but English and German are also widely spoken.
Where to Stay in Grado?
How to get to Grado Italy?
1. If you're looking to find your way to Grado Italy, there are a few things you need to know before beginning your journey. The first step is to determine which airport you will be flying into. There are two airports that service the Grado area- Trieste Airport and Venice Marco Polo Airport.
2. Once you have decided on an airport, you will need to find out what transportation is available from there to Grado. Trieste Airport offers bus transportation, while Venice Marco Polo Airport offers a variety of transportation options, including bus, taxi, train, and water taxi.
3. The next step is to choose which type of transportation is best for you. If you are looking for a budget-friendly option, the bus may be the way to go.
What is Grado Italy known for?
Grado, Italy is a small town located on the Adriatic Sea. It is known for its beautiful beaches, olive groves, and wine production. Grado is also home to a number of historical sites, including the Basilica di Sant'Eufemia and the Torre dell'Orologio.
Are there supermarkets & Restaurants in Grado?
The island is serviced by two supermarkets and numerous restaurants. There are also a number of bars, ranging from the traditional "Ristorante al lido" to more sophisticated establishments.