Last Updated on November 21, 2022 by gregor
If you're looking to explore everything Vienna has to offer, this is the travel itinerary for you. Vienna, the capital of Austria, is a world-class city with many UNESCO World Heritage Sites. For four days, you'll get to experience the best of what the city has to offer, from its world-renowned museums to its stunning architecture. You'll also get to enjoy some of the city's unique food and drink options.
With this itinerary, you'll be able to see all that Vienna has to offer and create lasting memories. I'll tell you everything you need to know so you can plan your 4-day trip to Vienna, Austria.
When is the Best time to visit Vienna?
There is no definitive answer to this question as it depends on what you are looking to get out of your trip. If you are interested in experiencing the city's rich cultural history, then the best time to visit Vienna would be during the spring or autumn months. However, if you are more interested in enjoying the city's nightlife and attractions, then summer would be a better time to visit. Ultimately, it all comes down to what you want to experience during your stay in Vienna. Detailed Review
What to Know Before Visiting Vienna
Vienna is a beautiful city with a lot to offer visitors. Here are a few things to keep in mind before your trip:
Vienna is known for its classical music and opera. If you're interested in seeing a performance, be sure to check schedules in advance and book tickets ahead of time.
The city is also home to many museums, including the famous Kunsthistorisches Museum. Again, it's a good idea to check opening times and buy tickets in advance to avoid queues.
Vienna is quite a large city, so it's best to plan your sightseeing in advance. That way, you can make the most of your time and see all the attractions that interest you.
Finally, remember that Austria uses the Euro as its currency. Make sure you have enough cash on hand or access to ATM machines before arriving in Vienna.
4-Day Vienna Itinerary – Summary
Here's what you'll see in four days in Vienna:
Day 1: Vienna State Opera, Burggarten, the Butterfly House, Hofburg Palace, Spanish Riding School, Albertina Museum, Cafe Central
Day 2: Schönbrunn Palace, Schönbrunn Palm House, Naschmarkt, Spittelberg, Eat Schnitzel & Sacher Torte
Day 3: Prater and Ferries Wheel, Hundertwasserhaus, Belvedere Palace & Belvedere Museum, St. Charles Church
Day 4: St. Stephen's Cathedral, Mozart House, City Hall and Parliament, Volksgarten, Maria-Theresien-Platz, and its museums, Kunsthistorisches Museum, MuseumQuartier.
MAP of 4-Day Vienna Itinerary
Vienna, one of the best places to visit in Austria, is where you can find incredible historical landmarks and architecture, world-class museums, amazing coffee, and drool-worthy cakes, all wrapped up in a classic European vibe.
I have embedded below the Top Things to do in Vienna that you can follow for your Vienna 4 Days Itinerary. Venice is large, but all its main attractions are located near Venice St. Stephens Cathedral. On this Map, let's start at the city center and proceed to all the main attractions!
I added all the best sights of Vienna as well as restaurants, bars, and Cafes to check out.
Well, there's a lot more to this city, but those are some of the things that you absolutely must experience while in Vienna, and here's the itinerary that will help you do exactly that.
VIENNA IN 4 DAYS – DAY 1
Vienna State Opera House
One of the finest operas in Europe, the Vienna Opera House is known for its first-class ballet and opera performances. Along with stunning Renaissance architecture that builds the perfect mood as you walk past some of the greatest artistic works in the world. 
If you want to see a concert, you can purchase your tickets on the opera's official website.
You can also take a guided tour and get to know the building's history and how the opera house works behind the scenes.
Address: Wiener Staatsoper GmbH, Opernring 2, 1010 Wien
T +43 1 514 44-2250
How to reach the Vienna State Opera by public transport?
Underground: U1, U2, U4 – Stop at KARLSPLATZ
Book your Ticket here: Vienna State Opera Skip The Line Tour Ticket
I do have a full Visitors Guide about the Vienna State Opera so if you head over to my article you will get to know all the essentials, like Opening Hours, How to buy Tickets, and the Vienna Opera Ball which takes place once a year.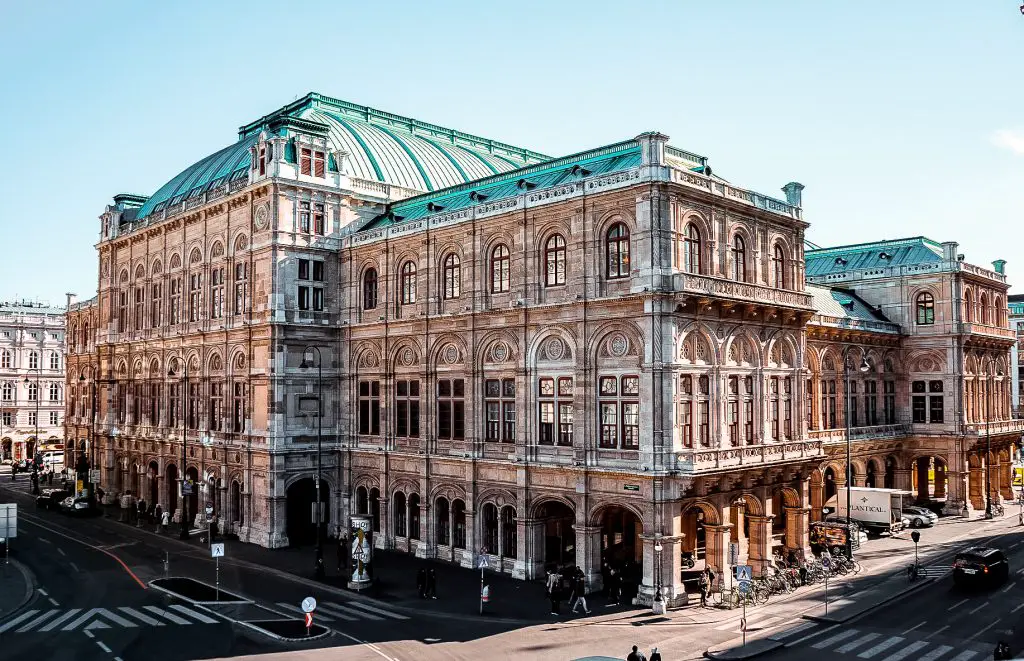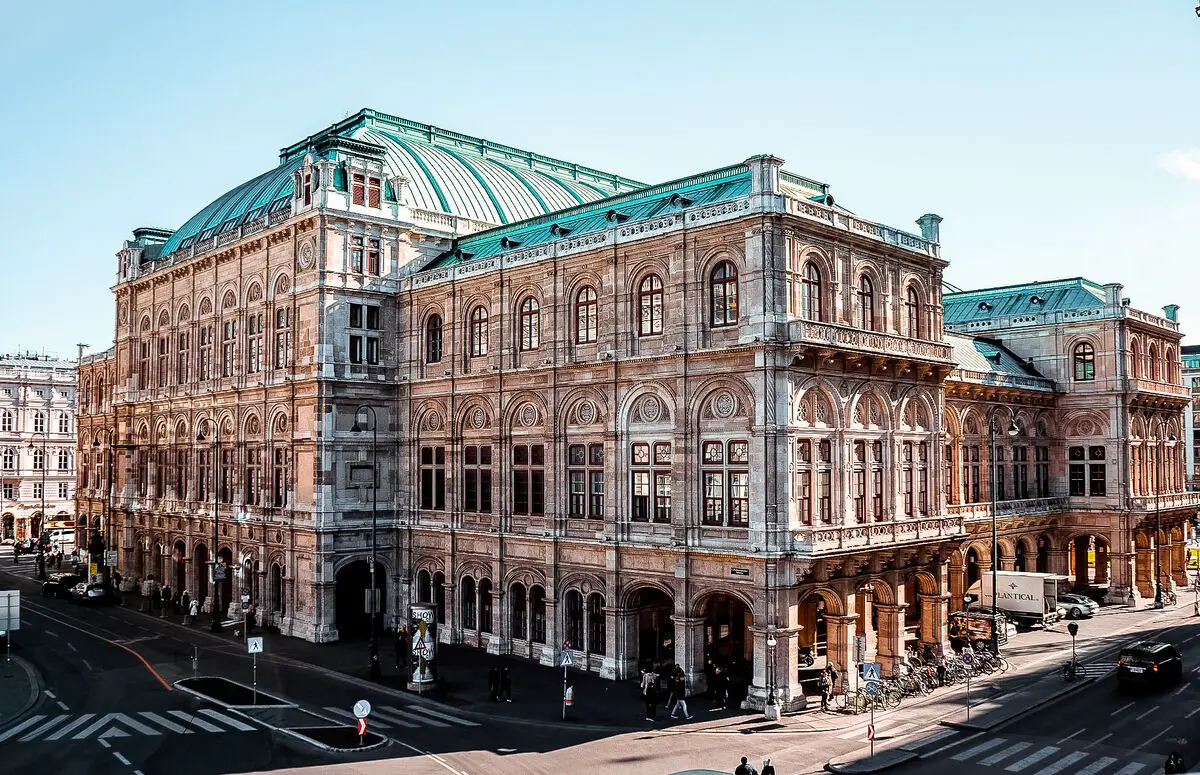 Burggarten – Public Park Vienna
The Burggarten is a public park in central Vienna, Austria. The park is located on the grounds of the Hofburg Palace and was created in 1820 at the request of Emperor Franz Joseph I. of the famous Habsburg dynasty. The park's notable features include its manicured gardens, its statues, and sculptures. I am living close I love Vienna's Burggarten. Although it's not a big park, it seemed super charming to me.
The Butterfly House (Schmetterlinghaus)
If you walk over to Burggarten, you'll find a unique and interesting attraction that will make you feel like you're not in the middle of an Austrian city anymore.
The Butterfly House is a haven for hundreds of butterflies, where they can fly freely in a rainforest environment that has been created just for them. This is the place to come to learn about the different kinds of butterflies and their life cycle.
Address: Hofburg, 1010 Wien, Austria
Opening Times: Summer (April – October): Monday – Friday 10.00 – 16.45 / Sat, Sun & Holidays: 10.00 – 18.15
Winter (November – March): Monday – Sunday (incl. Holidays): 10.00 – 15.45
The Vienna City Card offers a 14% discount on tickets to this attraction.
Hofburg Palace
The Hofburg Palace was once a royal residence and seat of government but is now a large palace complex that contains museums (such as the Sisi Museum and The Imperial Treasury), the Spanish Riding School, and other well-known landmarks in Vienna. How long you spend here will depend on your interests. You can explore the complex for free, or visit one or more museums.
If you do plan to visit some museums, you can skip the lines by purchasing your tickets to the Imperial Treasury.
The Vienna City Card offers a 7% discount on tickets to the Sisi Museum and Imperial Treasury. The Vienna Pass allows you to visit them for free.
The Spanish Riding School
You will absolutely adore the chance to see the breathtaking performances and stunning horses of the Spanish Riding School.
Top Tip: However, it's one of the most popular destinations in Vienna and can book up exceptionally quickly, so it's definitely something you will want to book in advance.
Address: Michaelerplatz 1, 1010 Wien, Austria
The school opens at 10 am, and can even watch teen boys take on rides, and on Sunday there is a service as well.
Book your tickets here: Performance Of The Lipizzans At Spanish Riding School
Another option is to book the Vienna Spanish Riding School Guided Tour. You will enjoy a look behind the scenes of the Spanish Riding School on this guided tour. Admire the stunning architecture of the centuries-old institution.
Coffee & Cake – Viennese Coffe Houses
One of the best things to do in Vienna is to drink a cup of coffee and eat cake.
There are many Viennese coffee houses to choose from, making it difficult to decide which ones to visit (even if you have 4 days in Vienna and can go to multiple places).
I would, however, make sure to visit Cafe Central (Herrengasse 14) and K & K Hofzuckerbäkerei Demel (Kohlmarkt 14). It's not just the amazing coffee and cakes but it's the entire atmosphere that feels elegant, sophisticated, and inviting all at the same time.
For the Viennese cakes and pastries, I would advise the famous Sacher Cake at Cafe Central and the Kaiserschmarrn (Austrian shredded pancake) at the Demel.
Albertina Museum
Since I wanted to include my Top recommendation on my itinerary, the Albertina Museum seemed perfect. The Albertina Museum Wien houses one of the largest and most important collections of old master prints and drawings in the world. The Albertina Vienna collection includes works by Albrecht Dürer, Rembrandt, Raphael, Titian, and many other artists. The Albertina Vienna museum also has a rich collection of modern art, which includes works by Pablo Picasso, Salvador Dalí, and others.
I do have a full Visitors Guide about the Albertina Museum so if you head over to my article you will get to know all the essentials, like Opening Hours and How to buy Tickets.
Did you know that there are over 100 museums in Vienna? That's pretty amazing!
As there are many Viennese Museums to choose from, making it difficult to decide which ones to visit (even if you have 4 days in Vienna and can go to multiple places, I have compiled a List of the Top 12 Museums in Vienna.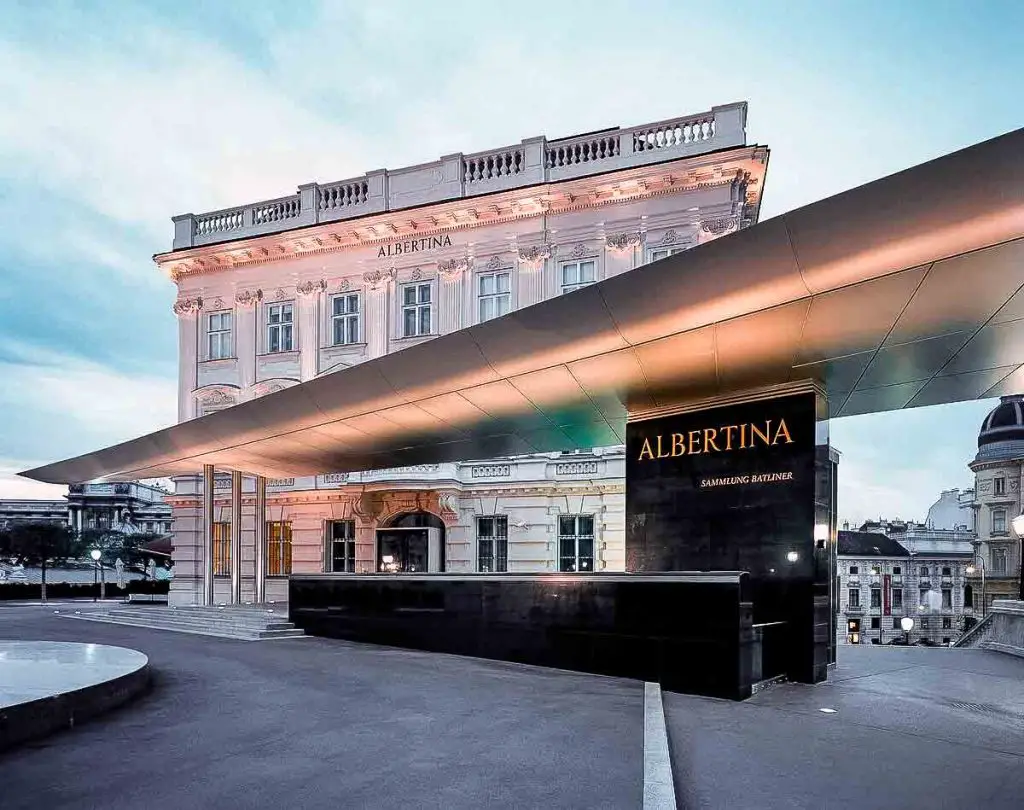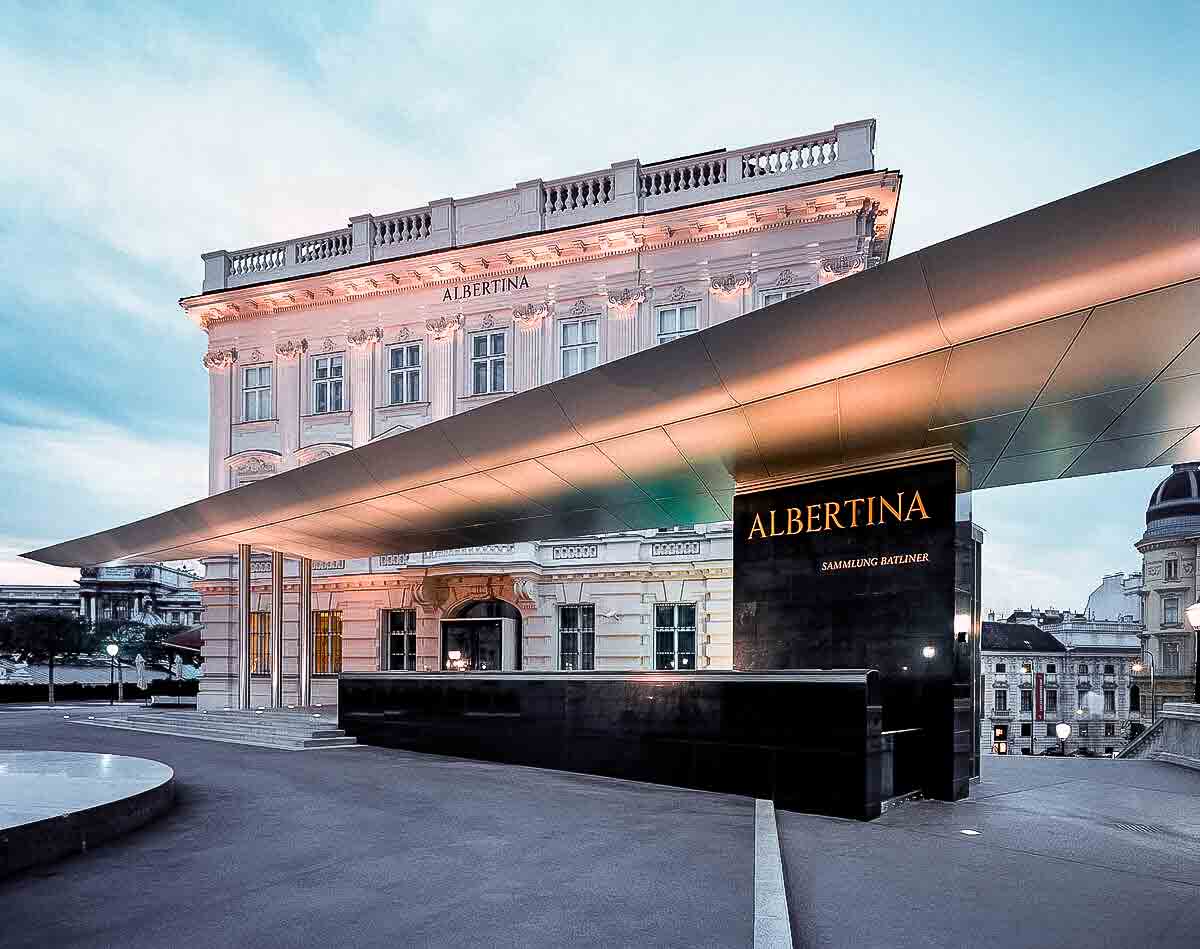 VIENNA IN 4 DAYS – DAY 2
Schönbrunn Palace and Gardens
The Schönbrunn Palace is a beautiful baroque royal residence and a UNESCO World Heritage Site. It has a long history dating back to the middle ages. It was not only a residence of emperors and empresses but also hosted important events and conferences. Famous people like six-year-old Mozart and Napoleon have been its guests.
The palace is one of Vienna's most visited attractions, so if you want to take a tour inside it, you can book a guided tour in advance and skip the lines.
Touring the Schönbrunn Gardens is free of charge, and you can easily spend a couple of hours wandering around the gardens.
There are also several other attractions that you can visit (for which there is an admission fee):
The historic Cafe Gloriette: Located on top of a hill, facing the beautiful gardens.
The Imperial Carriage Museum (you can get your ticket in advance here).
The Orangery Garden.
The Maze garden.
The Palm House.
The Privy Garden.
The Vienna City Card offers a 7%-20% discount on tickets to the palace, maze garden, Cafe Gloriette, Imperial Carriage Museum, and Palm House.
The Vienna Pass offers free entrance to the palace, maze garden, and Imperial Carriage Museum.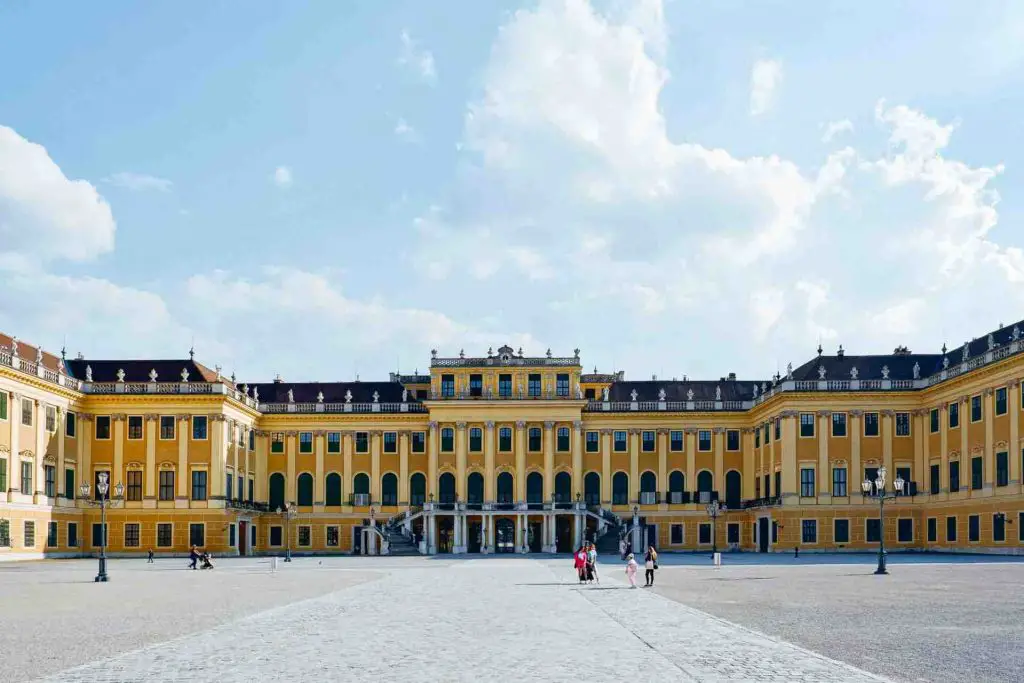 Schönbrunn Palm House
The Schönbrunn Palm House is a botanical garden located in Vienna, Austria. The garden was established in 1882 and is home to over 4,000 species of plants. The Palm House is one of the most popular tourist attractions in Vienna and is open year-round.
Naschmarkt in Vienna
The Naschmarkt in Vienna is the most famous food market in Vienna, Austria. It is located between the Wienzeile and the Karlsplatz. The market is over six hundred years old and is one of the most popular tourist attractions in Vienna. There are over one hundred stalls selling a variety of goods, including fruits, vegetables, meat, fish, and cheese. The market is also home to a number of restaurants and cafes.
It offers a wide range of culinary delights, from Viennese to Indian, from Vietnamese to Italian. The Naschmarkt Wien has become a meeting place for young and old. The flea market on Saturday is already a cult.
I do have a full Visitors Guide about the Naschmarkt in Vienna so if you head over to my article you will get to know all the essentials, like Naschmarkt Opening Hours or Best Restaurants and Food-Stand recommendations
If you want, you can also take a guided food tour of the Naschmarkt.
Spittelberg Quarter
Located in the 7th district of Vienna with charming little lanes and well-preserved beautiful Biedermeier houses. Just enjoy the romantic, fascinating atmosphere of historical cobble-stoned streets of the Spittelberg Quarter.
Romanticism and Biedermeier at the "Berg"
Despite its small size, this area is full of cafes, restaurants, and bars. Its charming streets make it the perfect place to spend an afternoon or evening.
If you're planning a pre-Christmas visit, don't miss Spittelberg's Christmas market which is super cozy and inviting.
Location: 1070 Vienna, Between Breite Gasse and Sigmundsgasse.
VIENNA IN 4 DAYS – DAY 3
Wiener Prater – Visit the Prater Theme Park
If you love the adrenaline rush, a visit to the Prater Theme Park is something you absolutely cannot miss out on!
This excellent theme park is located in the heart of Vienna and is an amazing destination that's not to be missed out on.
Even better yet, the park has free entry admission, which means you won't need to worry about paying for a ticket that's not used; simply choose the most appropriate booths and rides for your little ones at the time!
Highlights: With a whopping 200+ booths on offer, this prestigious theme park is something that really takes the concept of great family activity in Vienna to the next level
Top Tip: Vienna's Giant Ferris Wheel
Just as the London Eye is renowned for its magical sights out over the city, the Giant Ferris Wheel is absolutely a destination that's well worth visiting in its own right. While it's located within the Prater theme park, we really think this attraction deserves its very own spot, since it's one of Vienna's most well-loved and best-known locations. (book your Skip the Line Tickets here)
Address: 1020 Vienna, Austria
Opening Times: Free entry 24 / 7, all year round. However, individual attractions may have different opening hours and fees.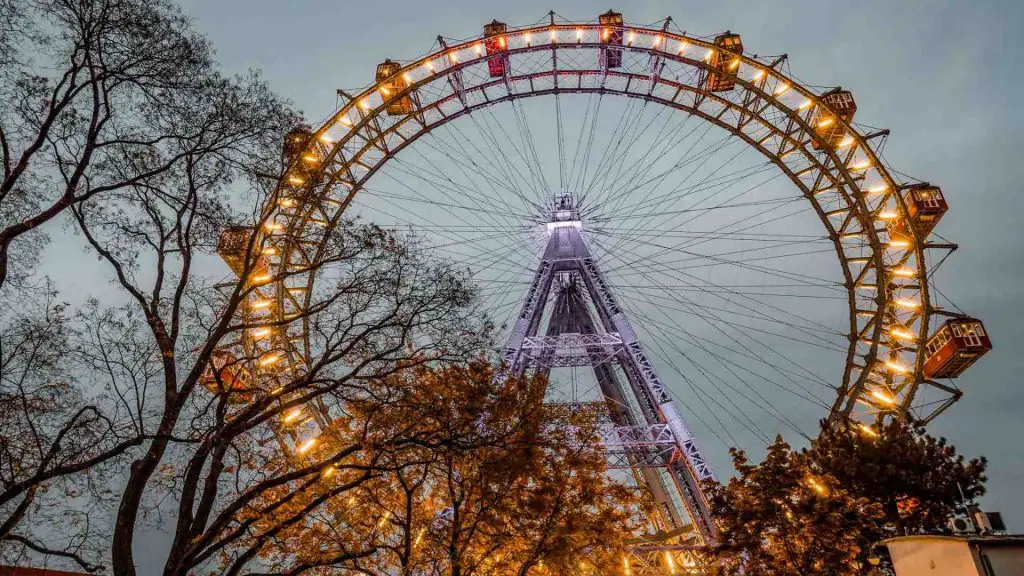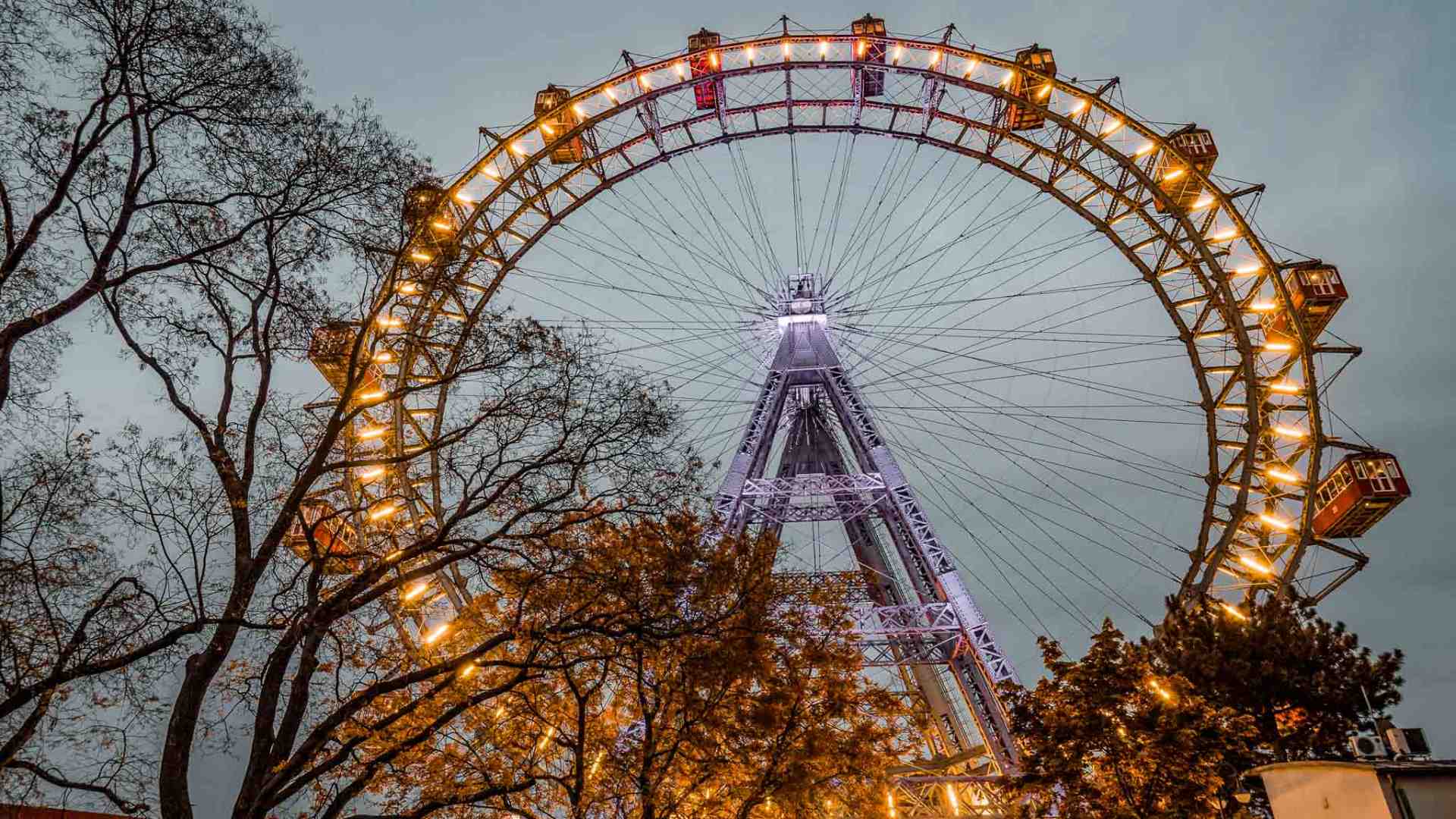 Hundertwasserhouse
The artist Friedensreich Hundertwasser was very active in many areas. In architecture, he was considered a rebel. His vision was free architecture for everyone, without norms, specifications, and straight lines. He realized this vision by helping to design various buildings. One of his first and most important projects was the Hunderwasserhaus, the residential building of the municipality of Vienna on the corner of Löwengasse and Kegelgasse.
If you are a fan of extraordinary architecture and like buildings in the style of Antoni Gaudi, you should not miss the Hundertwasserhaus, this colorful highlight in Vienna.
The KunstHausWien, a museum designed by Friedensreich Hundertwasser, is also worth a visit. The museum is home to the only permanent exhibition of Hundertwasser's work in the world. The artist also designed the charming Hundertwasser Village, a small shopping center next to the Hundertwasserhaus. It has a cafe and stores selling all kinds of Hundertwasser-style products.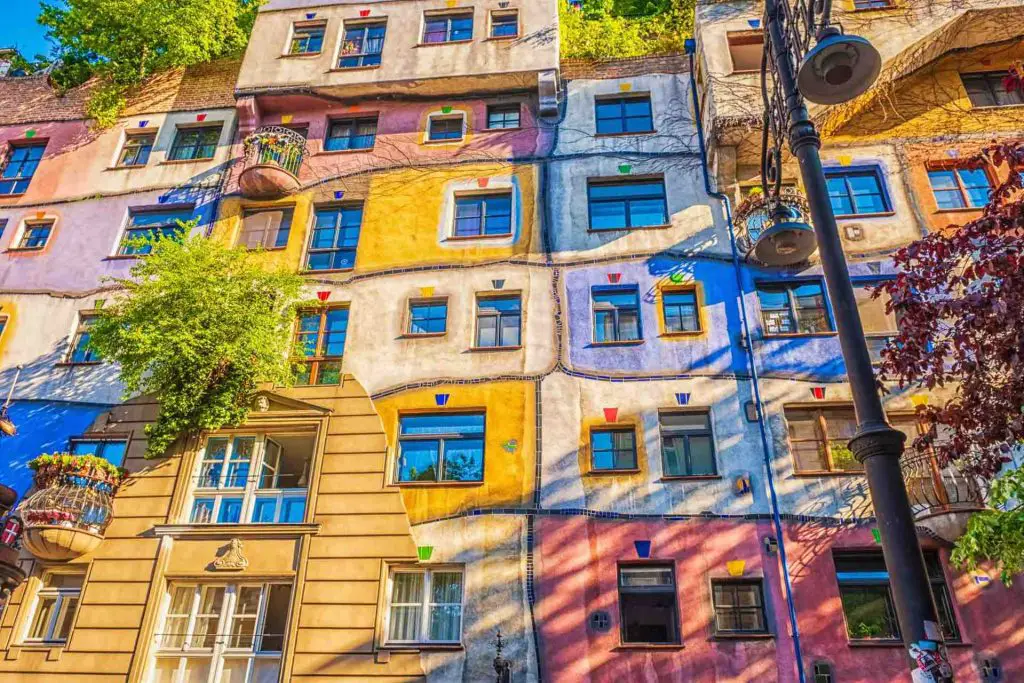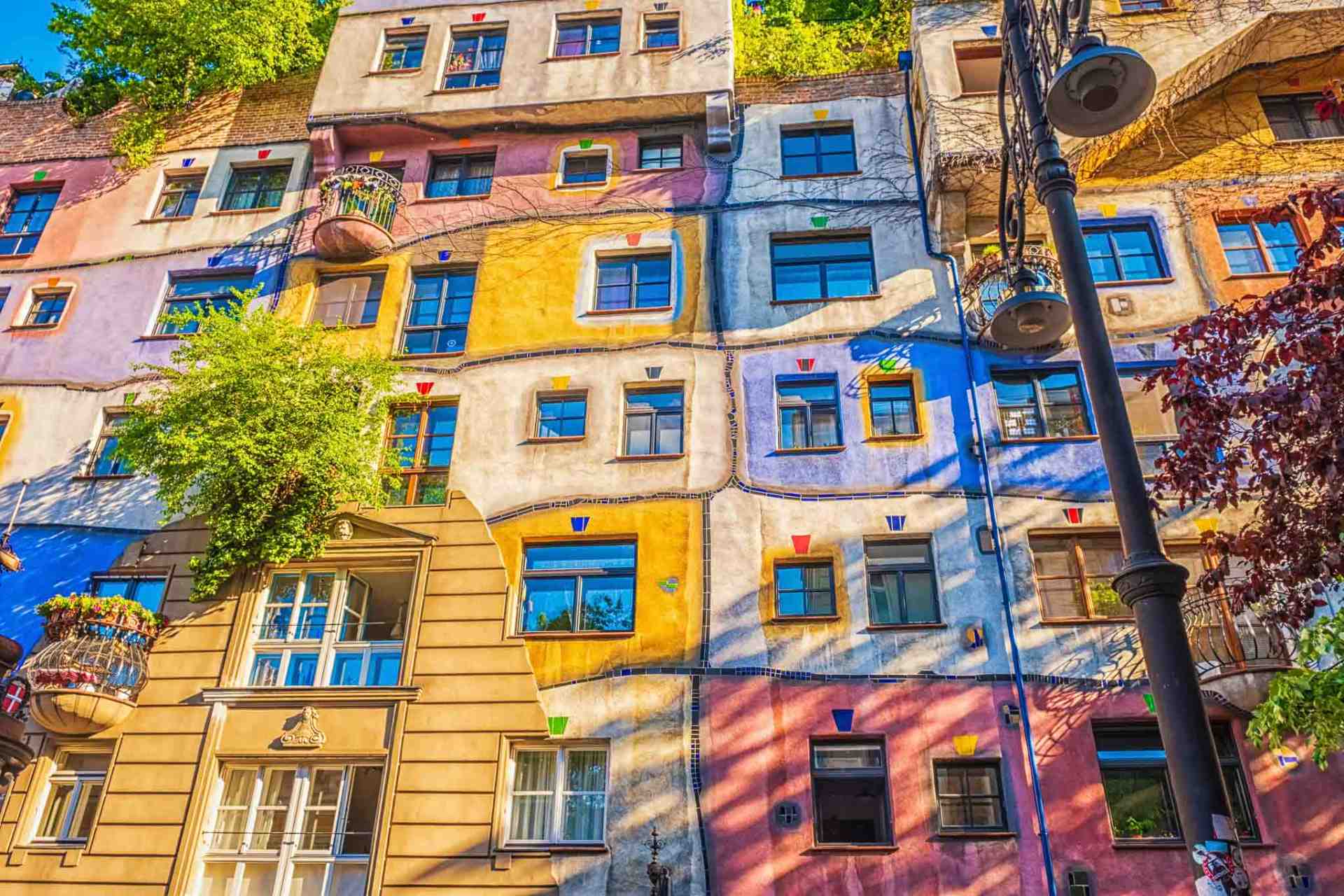 Belvedere Palace
 The second palace you need to see is the Upper Belvedere, it is a grand place and said to be the most visited tourist spot in Vienna. Built back in 1712-23, by Johann Lucas von Hildebrandt. This masterpiece is considered to be one of his best works. While the place served as a summer home to Prince Eugene of Savoy, it is now open for everyone to explore. Said to be one of Europe's most important museums, it has a great deal to offer. One that is sure to take hours of your day. 
Book your ticket here: Entrance Tickets for Belvedere
Ending The Day – Once you have had dinner we suggest you take in the city as much as you can. You can either walk around or grab a ride. As nothing is more magical than taking in Vienna at night. If you don't mind walking more, you can take on a two-hour nighttime walking tour to hear stories about Vienna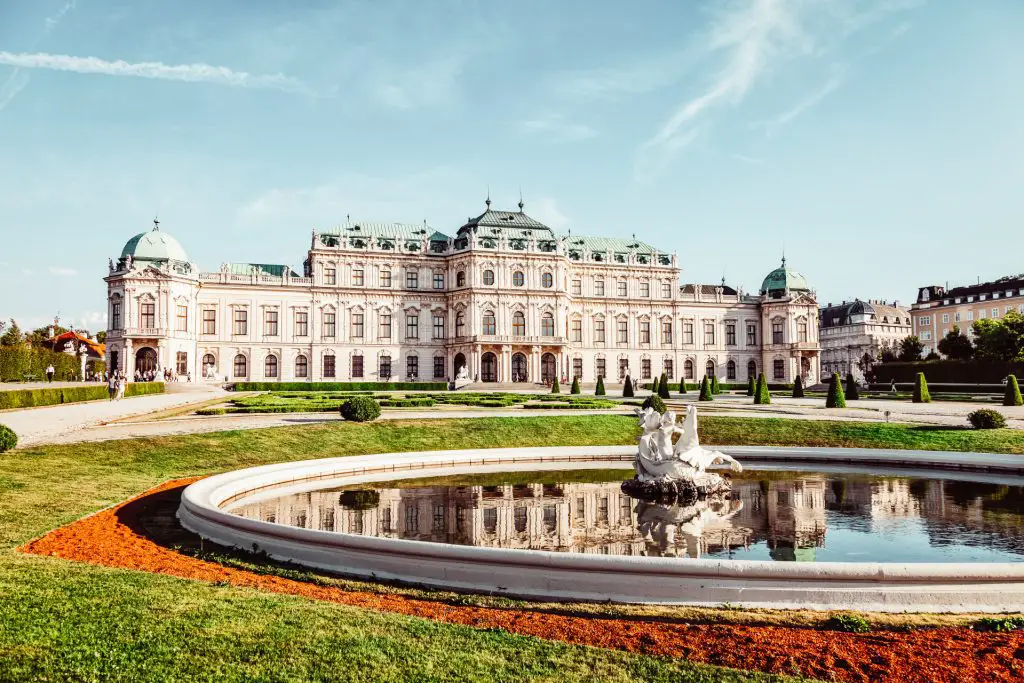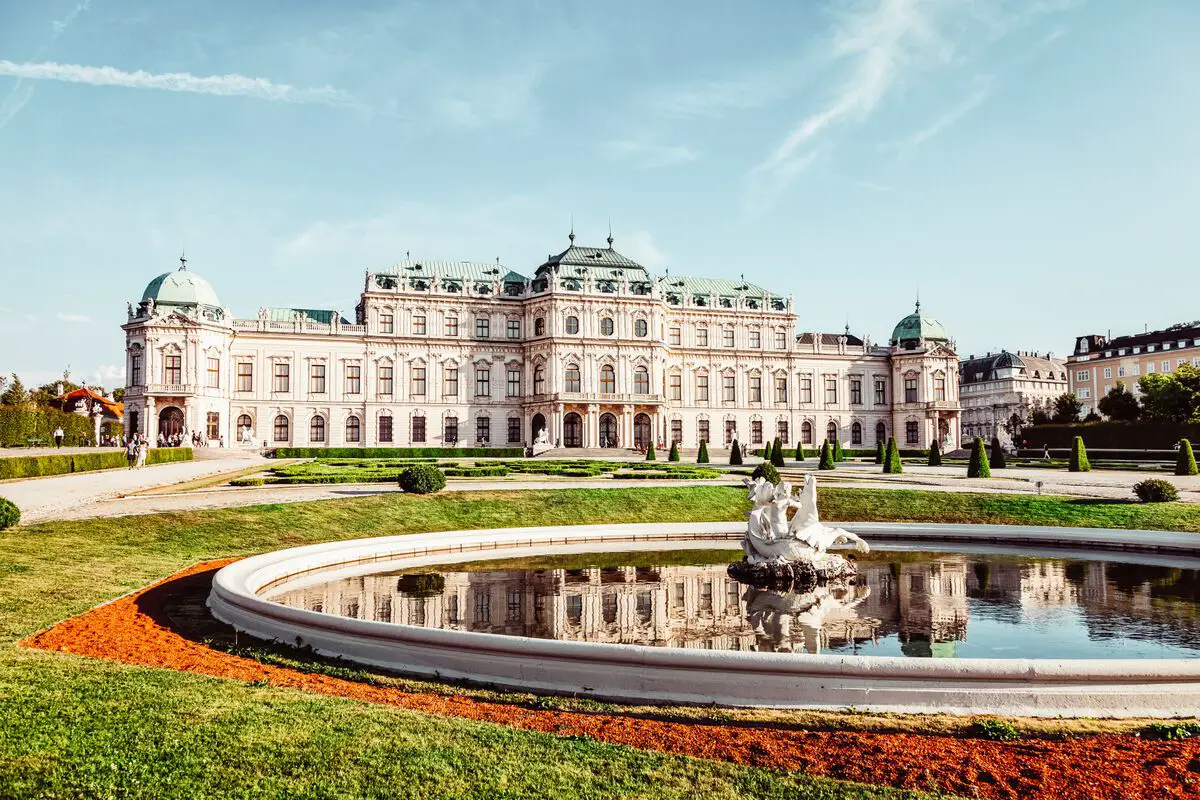 St. Charles Church – Karlskirche
Built back in 1737, this freestanding column St. Charles Church is a stunning sight to see. One that is known to hold some of the best concerts, and offers a full panoramic view of the city. However, if you are not in the mood for a concert or a view we suggest you talk to the Naschmarkt, which is filled with exotic and traditional foods. A market is a great place for any foodie.
Book your tickets here: 3-Hour Churches of Vienna Private Tour
*) Visit 5 of Vienna's stunning churches on this 3-hour private tour. Follow your guide on a special route to see architectural masterpieces and learn the history of the city's famed churches. Enter St. Stephen's Cathedral, Votivkirche, and more.
VIENNA IN 4 DAYS – DAY 4
St. Stephen's Cathedral
What to see in Vienna in 4 days – St. Stephen's Cathedral
Just a short walk away you will find the stunning St. Stephen's Cathedral. It is one of the most famous landmarks in Austria, one that you cannot miss. Showing a breathtakingly beautiful sight, it is set up with a vibrant multicolored tiled roof, that will take your breath away. Head on inside, as both towers are open to the public and can even be climbed for a fee. While the south tower offers the best view, we suggest you pick the one you like. 
Book your tickets here: Secrets of the St. Stephan's Cathedral
Mozart House Vienna
Located on Domgasse Street, Mozart's house is one of the most celebrated places in Vienna. Called the Mozarthaus, it is the only Mozart apartment in Vienna. Mozart lived there for approximately 3 years and produced some of his best work while living there. The space offers you a full view of his 18th Century work and touches on his personal life.
Book your Ticket here: Tickets for the Mozarthaus Vienna with Audio Guide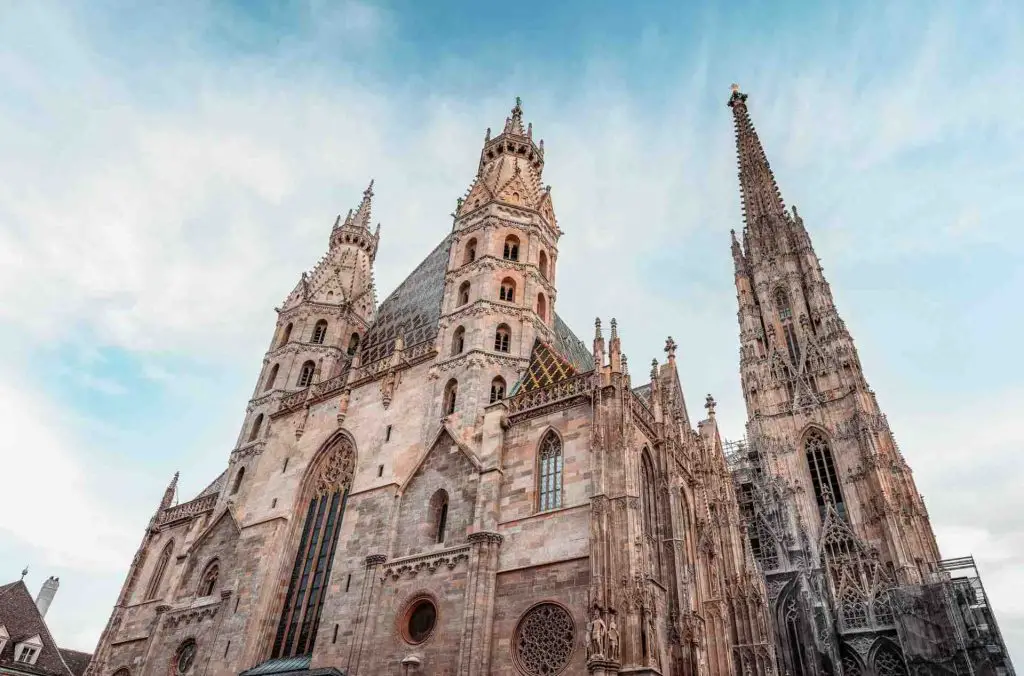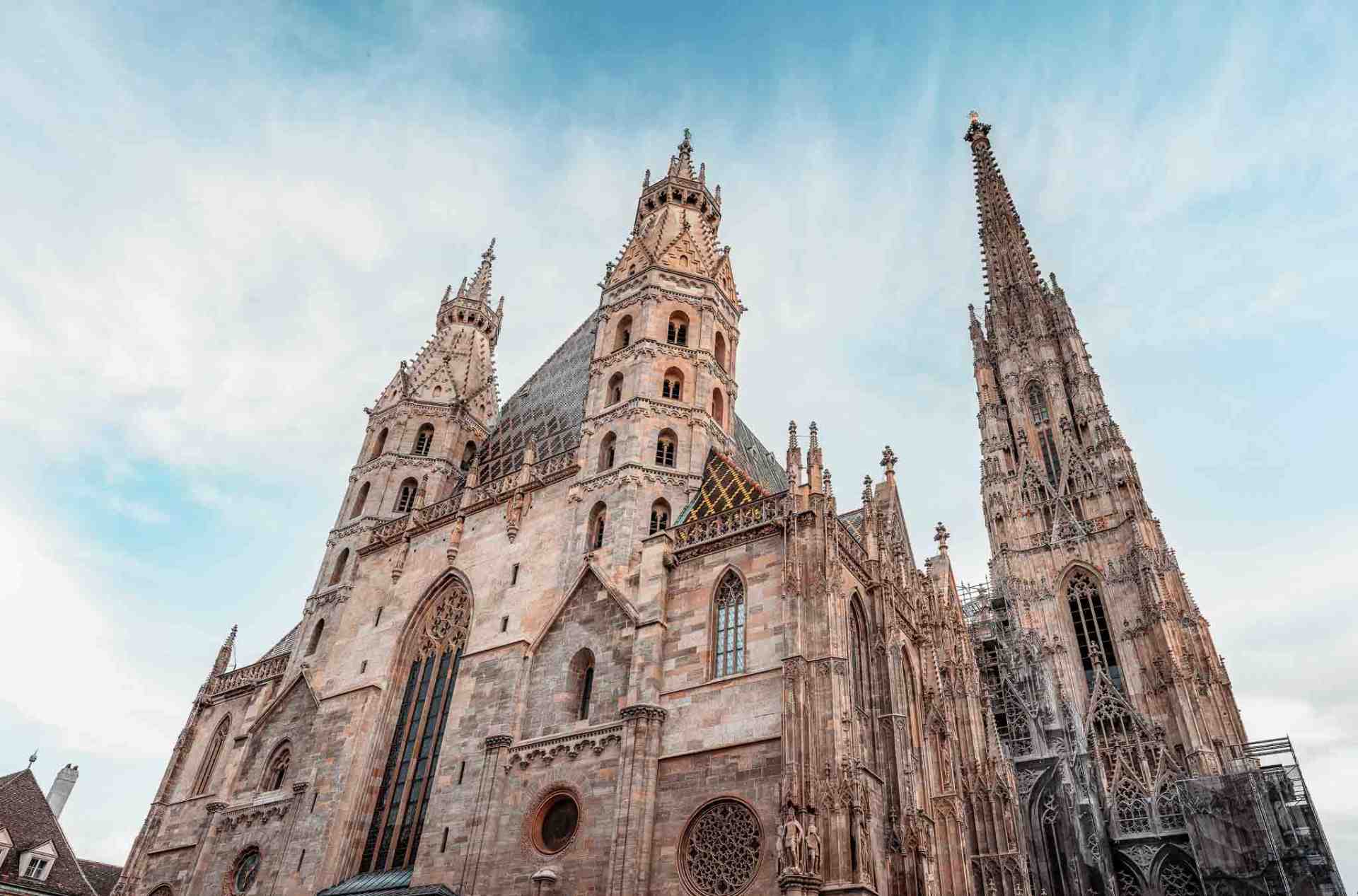 Visit the City Centre (Old Town)
No trip to Vienna would be complete without visiting the iconic and majestic city center! Now, this might be one activity that's a little less enthralling for the kids at the party. With that being said, you really won't want to miss out on the chance to marvel at all of the astounding Viennese culture and architectural feats.
After all, a holiday to Vienna is a truly amazing opportunity, but it's important to consider everyone while on holiday.
So, treat yourself a little too – and don't worry! There are countless great shops and opportunities to see around the city center that should help keep the kids engaged during your time there.
If you ask us, it's undeniable a must-do activity in Vienna, Austria on your next holidays – don't leave Vienna without taking in the sights of the city center first!
VIENNA – TOP THINGS TO SEE AND DO IN 4 HOURS IN VIENNA, AUSTRIA (UPDATE 2022)
City Hall and the Austrian Parliament
Vienna's City Hall is one of the most beautiful I've seen. Its Gothic style makes it look like a cathedral rather than a city hall, and that's what makes it unique.
Apart from its stunning exterior facade, you can take a free guided tour inside the building on certain days of the week.
In winter, the city hall square hosts the biggest Christmas market in Vienna, and parts of it turn into a giant ice skating rink.
Not too far from City Hall, you can see Vienna's Parliament which is one of the most important landmarks in the city.
Vienna City Hall
 The 19th-century Rathaus is designed by Friedrich von Schmidt, making it a monumental and stunning sight you cannot miss. If you book in advance you can enjoy a complete guided tour. 
Book your tickets here: Traditional Dinner Show at the Wiener Rathauskeller
*) Experience the Austrian Dinner Show and enjoy the best regional delicacies along with popular melodies in the vaults of the famous Vienna City Hall.
Volksgarten
Volksgarten is a beautiful park that would be perfect for taking a break from sightseeing. It has a few buildings, monuments, fountains, and about 4,000 rose bushes. If you're not visiting during springtime, there will be a lot fewer roses, but this park is still a stunning spot you must see in Vienna.
Maria-Theresien Platz and its Museums
Maria-Theresien-Platz sits between two very significant museums: the Natural History Museum and the Art History Museum.
The two buildings were constructed during the 19th century and, upon close inspection, you would notice that they are identical.
Another thing you can see in the square is Maria Theresa Monument honoring Empress Maria Theresa.
Tip: Skip the lines by buying tickets online to the Art History Museum (Kunsthistorisches Museum) only, or combo tickets with the Leopold Museum or the Imperial Treasury.
The Vienna City Card offers a discount on tickets to the museums. The Vienna Pass allows you to visit them for free.
Museumsquartier
The MuseumQuartier in Vienna has become a hub for a culture where you can find all kinds of museums (including the famous Leopold Museum – performances, shops, cafes, and restaurants in the same area.
The complex's programs and events are always changing, so be sure to check the official website for updates.
4 Days in Vienna Travel Itinerary – Conclusion
Are 4 days in Vienna enough:
In my opinion, this 4 days Vienna itinerary provides enough time to explore most that this city has to offer. Vienna is a beautiful city with a lot of history and culture, and there is so much to see and do. If you plan to spend more time I would suggest spending at least a week in Vienna so that you have enough time to really enjoy everything that the city has to offer.
Getting around:  Vienna's public transportation system is excellent. There are plenty of U-Bahn (Metro) and tram stations in the city so you can get around easily.
Where to eat: So if you're looking for recommendations for restaurants in Vienna, check out this guide
Solo travel: If you're traveling alone: Here is the Blog Post about Vienna Solo Traveler Tips – Top Things to Do and See
Other things I would you can do in Vienna
Well, it's impossible to do and see everything in Vienna in four days, so here are a few more experiences you need to do:
You can also take a City Highlights walking tour of Vienna that includes many of the landmarks mentioned on this itinerary.
FREQUENTLY ASKED QUESTIONS
How many days in Vienna do you need?
To get the full Vienna experience, plan to spend at least four days in the city. Visit top museums, take a tour of the historic center, enjoy a classical concert or opera, and sample the city's famous coffee and pastries.
What you need to know before traveling to Vienna Austria
Before any trip, it is always good to have some essential information. Check out these tips to be prepared for your trip to Vienna:
Currency: Euro(€)
Language: German
Voltage: 230V
Power sockets: Type F
As seen above, Austria uses the Euro therefore, if you need to change currency, be aware of the exchange rates.
The official language in Austria is German, and even though most people can communicate in English, it is always useful to learn a few words or phrases. Some of them are danke, meaning thank you, and bitte, meaning you're welcome or please.
Another useful tip is that in Austria, the standard voltage is 230V while the power sockets are Type F, so be sure to have the right travel adaptor.
Austria entry requirements
Austria is part of the European Union (EU) and the Schengen area. 
Non-EU travelers can only stay in the Schengen region for up to 90 days within a period of 180 days. And you will need a valid passport for at least 3 months after the date you intend to leave the EU country and it must be issued within the last 10 years. 
Check if you need to apply for a Schengen visa from an Austrian consulate or embassy and apply for a visa before you leave your home country.
How to get around Vienna
Metro in Vienna (U-Bahn) is very easy and safe to use. It might be slightly intimidating at first due to the huge amount of different lines, but once you figure it out you'll use it all the time.
Keep your Vienna metro ticket until you've exited the metro system at your final destination because the police might be checking your tickets inside the station.
Where to buy a Public Transportation ticket in Vienna
there are ticket machines at most underground stations
Tobacconists also sell tickets
On board the tram at an increased rate of EUR 2.60 per ticket
Buy tickets online: Wiener Linien Online Shop
On many Metro lines, the doors to the train do not open unless you press a button or lift a handle. Remember it if you don't want to miss your station or look funny.
My tip: While taxis in Vienna are expensive, Uber & Bolt are definitely affordable and I recommend doing it at least once so you can see Viennaian streets during your ride. Just don't try to take it to the airport as it would take longer than the train and cost you 5 times as much… on top of getting stuck in traffic for a very long time.
Where to Stay for 4 nights in Vienna
If you prefer finding accommodation in the city center itself (which is pricier), check out the highly-rated Boutique Hotel Das Tigra (mid-range) or Boutiquehotel Das Tyrol and Hotel Kaiserhof Wien for something more upscale.
Where to eat in Vienna Austria
Some of the places below which I can highly recommend (as a local).
Vienna Heuriger (Wine Taverns)
If you are visiting Vienna you definitely need to visit a Heuriger (=wine taverns). Here is a complete guide to the Best Heuriger in Vienna, so you can taste the sweet life of the Viennese and enjoy some wine tasting in Vienna.
BEST HEURIGER IN VIENNA – COMPLETE GUIDE TO THE WINE TAVERNS IN VIENNA
Wiener Schnitzel
Wiener Schnitzel is said to be one of the best food items Vienna has to offer. Here is All the information on where you can get the best Wiener Schnitzel in Vienna.
WHERE TO EAT THE BEST WIENER SCHNITZEL IN VIENNA (RESTAURANT TIPS + PRICES!)
Best Breakfast and Best Brunch in Vienna
Viennese are fond of big breakfasts, they make sure they start the day right with Viennese Coffee and freshly baked Semmeln or Kipferl. If a pastry and coffee don't suffice, pop into one of the many cafés and bars that serve up a vast array of delicious breakfast options, from traditional Viennese pastries to bacon, eggs, bagels, and fruit smoothies.
THE BEST BREAKFAST BRUNCH SPOTS IN VIENNA, WIEN AUSTRIA UPDATE 2022
Wiener Würstelstand – Viennese Sausages
Wurstelstand translated to English means "Sausage booth", giving the space a remarkably accurate description. These are snack bars that sell a wide range of drinks and ready-to-eat sausages. Offering directly to the sausage culture in Vienna, it fits in perfectly. 
These stands are commonly found outside subway stations, and tram stops. Offering the everyday commuter and tourists a taste of the best sausage Vienna has to offer.
ULTIMATE GUIDE TO VIENNESE SAUSAGES IN VIENNA AND WÜRSTELSTAND LOCATIONS, AUSTRIA
The Viennese café culture
Viennese Cafe Tradition dates back a few hundred years. It is a very social and relaxing activity for locals in which many people order typical Viennese coffee and a slice of Viennese cake as well. Because of the popularity of coffee culture, many old Viennese coffee houses are still around and even with the original and traditional decor.
BEST COFFEEHOUSES IN THE CITY CENTER OF VIENNA, AUSTRIA
What to eat in Vienna Austria
Typical Viennese Cuisine
Austria was once in the center of the Habsburg Empire, which covered everything from Russia to France. This is why Austria has embraced many ethnic dishes when it comes to cuisines. The range of dishes from all across Europe showcases Vienna's multicultural influence. For instance, the coffee-drinking tradition was brought to Vienna by the Turkish Army. Similarly, there are a number of other dishes that have been brought in from all around Europe that is today a huge part of the Viennese food culture. The Viennese dishes are packed with local flavors, yet offer a great twist when it comes to taste.
The next time you are in Vienna, we suggest you try out some of the ultimate top ten Viennese Foods we have listed down, otherwise, you will be missing out on a complete experience.
These are the Ultimate 10 Viennese Foods to Taste
Sachertorte – the most famous Austrian cake which is a chocolate cake with thin layers of apricot jam
Apfelstrudel –  a classic Austrian dessert, apple strudel made with thin pastry, stuffed with apples, cinnamon, breadcrumbs, and raisins
Kaiserschmarrn – a Viennese delicacy where cut pancake is served in a pan with stewed plums and apple puree
Palatschinken – a thin pancake with apricot jam
Buchteln – Are sweet yeast rolls packed with a hidden treasure
Punschkrapfen – Is a punch cake, that features a gorgeous hot pink crumb cake filled with, apricot jam, nougat chocolate, and soaked in rum
Wiener Schnitzel – a premium cut of veal cutlet, breaded and fried in butter
Tafelspitz – This is a national dish consisting of a whole tailpiece of beef cooked in a broth with root vegetables, sliced and served usually with apple or breadcrumbs, baked potatoes or potato marrows as well as a dill-cream sauce.
Goulash – originated from Hungary, stewed beef cooked in a thick gravy of paprika and garlic
Vienna Sausages – different types can be purchased as street food
You have to try some of the typical Viennese food: (More Viennese Cuisine Details)
15 BEST FOOD TOURS IN VIENNA, AUSTRIA – UPDATED 2022/23
Is Vienna a safe city?
Vienna is one of the safest cities in the world, which makes Austria one of the best solo destinations for solo travelers.
Solo Travel to Vienna Tips
Vienna is a great place to travel solo, as you can people-watch and appreciate everything in a different way than you would with your partner. You can also easily meet people in Vienna too as there are many solo travelers in the city and many families as well – my kids have a blast every time they go!
Here is the Blog Post about Vienna Solo Traveler Tips – Top Things to Do and See
How to save money when traveling to Vienna?
To save money when traveling to Vienna, consider staying in a hostel or Airbnb, taking public transportation, and eating at budget-friendly restaurants. Additionally, visit free attractions such as parks and museums, and take advantage of discounts for students and seniors.
By following these tips, you can experience all that Vienna has to offer without breaking the bank.
VIENNA BUDGET TRAVEL GUIDE, FREE THINGS TO DO IN VIENNA, AUSTRIA IN 2022
BEST THINGS TO DO IN VIENNA ON A BUDGET
VIENNA – TOP FREE MUSEUMS AND THEATERS TO DO ON A BUDGET
What to do in Vienna in Winter and Christmas Time?
Wintertime in Vienna is a magical experience that has made weekend gateways in the city popular, especially just before Christmas. Families, couples, and solo travelers arrive in Vienna from all over Austria and the world to visit the many Christmas markets with their Christmas ornaments and seasonal food and beverage.
Here is a complete Guide: Your Vienna winter itinerary of things to do in Vienna in December, and things to do at Christmas time. This is a full Christmas guide to Vienna including Viennese Christmas Markets recommendations and a Christmas food guide
Best Day Trips from Vienna
Whatever your reason for wanting a day trip just outside of Vienna, we can assure you that there are numerous hidden gems and villages clustered along with the capital that can be explored or enjoyed during a one-day trip.
Whether you plan to travel alone, with friends, or with family, these day-trip destinations will have something for everyone to enjoy.
My Vienna Travel Video Guides