Last Updated on April 24, 2023 by gregor
 Vienna is the cultural capital of Europe, and a visit to the Vienna Opera Houses is a must for any traveler.
Established in the late 19th century, these opera houses are renowned for their impressive performances of both classical and contemporary works.
From the iconic Staatsoper to the more intimate Volksoper, these venues offer an unforgettable glimpse into the history and culture of this stunning city. Explore the numerous attractions that each Vienna Opera House has to offer, from guided tours to spectacular performances. For a truly memorable evening in Vienna, consider attending one of the many operas in Vienna. Immerse yourself in timeless music as you enjoy a night at one of these remarkable venues!
One of the finest operas in Europe, the Vienna Opera House is known for its first-class ballet and opera performances. Along with stunning Renaissance architecture that builds the perfect mood as you walk past some of the greatest artistic works in the world. 
Guide to Vienna Opera Houses, Opera in Vienna Tips, Tickets 
How many Opera Houses are there in Vienna?
There are three other Vienna opera houses that you should know about. Vienna State Opera. Vienna Opera Theater an der Wien Volksoper Vienna Chamber Opera. The Vienna State Opera House represents the city's main opera house.
Vienna State Opera House
The Vienna Opera House was one of the first major buildings as part of the Ringstrasse project. While the building was constructed, it did not officially open to the public until 1869 – and played Mozart on the premiere night. Since then the Vienna opera house has gained endless love, all thanks to the artistic influence it has had on the world. 
Wiener Staatsoper GmbH Opernring 2, 1010 Wien T +43 1 514 44-2250 M [email protected] W wiener-staatsoper.at
How to reach the Vienna State Opera by public transport?
Underground: U1, U2, U4 – Stop at KARLSPLATZ
Book your Ticket here: Vienna State Opera Skip The Line Tour Ticket
The Vienna State opera house suffered a great deal during WWII, most of the workers were pushed out by the Nazis. However, the biggest devastation was the bombing during the process. Fortunately, a decade later the opera house was restored with a new auditorium, and the latest technology, and was all set to create a symbol of the new life.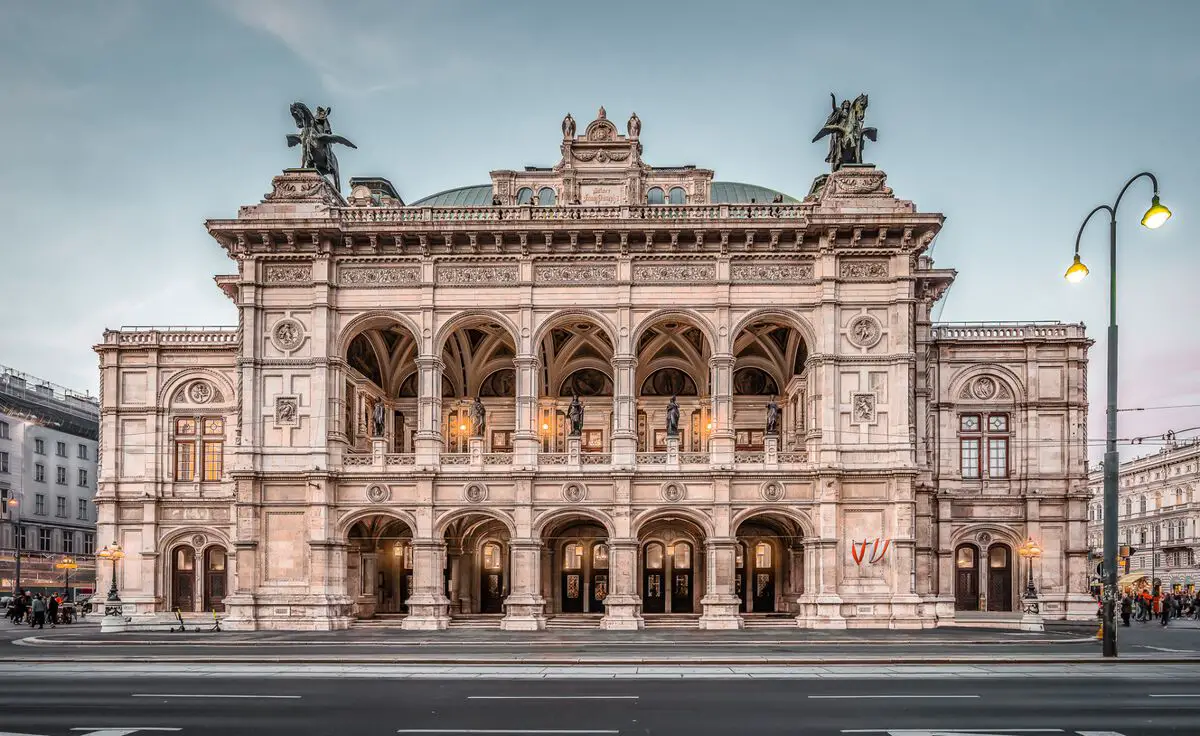 Today, the Vienna opera house offers a fantastic opera orchestra. Most of the members of the orchestra belong to the Vienna Philharmonic orchestra and offer regular performances. Additionally, you can easily find famous musicians such as Dimitri, Edita Gruberova, Anna Netrebko, and others performing on stage.  Electronic Translators  For those of you, who do not speak German there is an electronic translator on your seat that offers English, Italian, French, Japanese, and Russian subtitles.   
How to Book Tickets at the Vienna Opera House?
Booking at Vienna Opera House Tickets
 The Vienna Opera house features 50 operas and 20 ballet performances per season. Most of which are held between 1st September, to 30th June. Top Tip! Book your Vienna Opera tickets in advance!! While it might seem a little far, know that these tickets sell faster than other tickets. There is a good chance you will be put on hold, or not be able to come off the waiting list. This is why we suggest you plan in advance, making sure you do not miss an opportunity when in Vienna.
Book your Vienna Opera Tickets here: Vienna Opera Tickets  
Vienna Opera – Schedule
Here you will find all information about the new season & the schedule for the entire season. The Vienna State Opera is one of the internationally most important opera houses in the world. Vienna Opera Schedule
Is there a dress code for the Vienna Opera house?
Well, there is no official Vienna Staatsoper dress code on What to wear at the opera. We highly recommend for men take black-tie dresses when they visit the Vienna Opera house. Also, a dark suit is acceptable. Women can choose long or short elegant gowns, but a long dress is considered more formal. No-Go dress for the opera: Jeans, sneakers, and a T-Shirt.  
How big is the Vienna Opera House?
The auditorium of the Vienna State Opera has 1709 seats and 567 standing places. The stage space is almost twice as large, making the Vienna State Opera home to one of the largest stages in the world.  
Who owns the Vienna State Opera House?
The Vienna State Opera is the name given to that important opera house that is run by the public sector.    
What is the Vienna Opera Ball?
Vienna Opera Ball – Once every year the opera house rips off all the seats, and stalls and replaces them with an elegant dance floor. Creating a large ballroom that can easily hold thousands of people. Making it one of the few opera houses in the world that encourages others to take part in the action. Creating a magical setting they open their floor to anyone who is looking for a wonderful night. One of the top socialite events that are filled with gorgeous individuals. However, scoring a ticket is not an easy undertaking, and comes with the pressure to dress up like a royal. If you are up to the challenge the opera house promises to offer you an experience you will never forget. 
Where can I buy tickets for the Vienna Opera Ball?
Book your Opera Ball tickets here: VIENNA OPERA BALL TICKETS & INFO  
Vienna Opera ball attracts more than thousands of visitors on a yearly basis. Along with another batch of thousands that enjoys their shows online. So no matter where in the world you may be, you can easily catch your favorite show via live streaming. However, the live streaming is not free and is only handed out to those who have purchased a ticket in advance.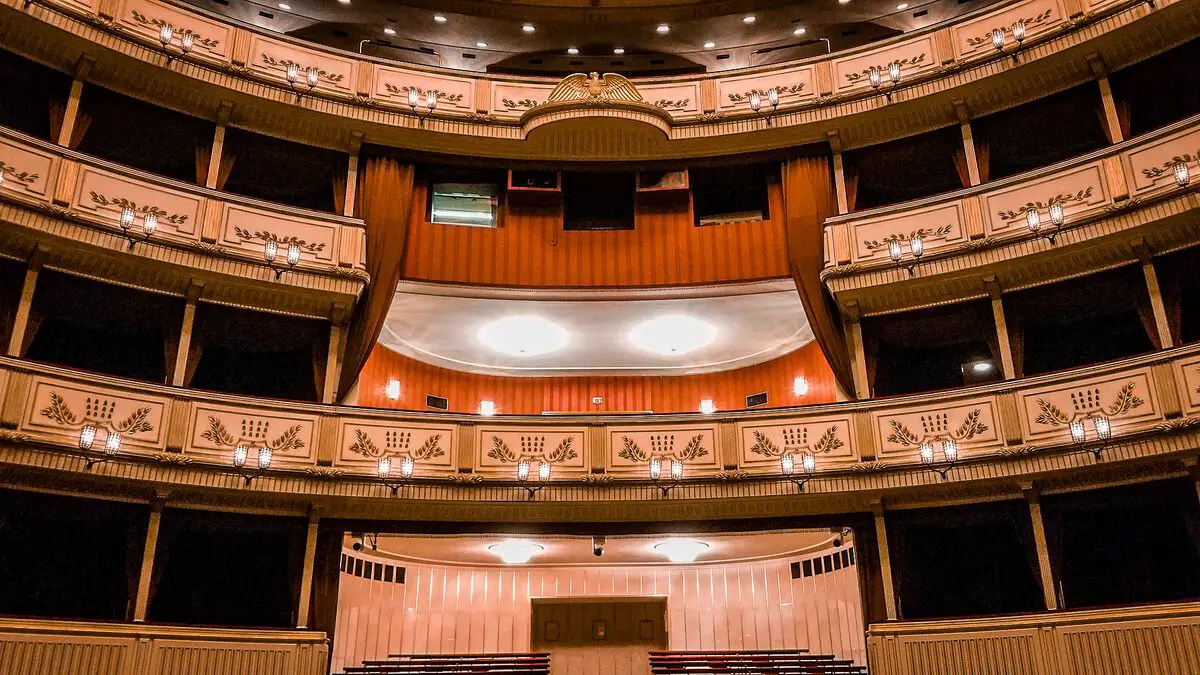 Theater An Der Wien
Vienna's newest opera house, which was once one of Vienna's oldest theaters. The building was constructed back in 1801 and, 250 years later in 2006, it was designed as a modern-day opera house. While it may be new in comparison to the other two, it offers unique features that the old opera houses lack. In simple words, the Theatre An Der Wien brings you performances throughout the year. While the opera stage runs from July to August, the rest of the year covers extra opera niches such as concerts and dance performances. Secondly, being a newly renovated opera house, it offers state-of-the-art technology that adds to your overall experience. All the while offering you older-age charm.  Lastly, the theatre produces and stages a great number of modern operas and other classical operas with a modern twist. All the while offering you a taste of the rare baroque operas. Moreover, the opera house believes in maintaining the same cast, so you will be sure of what to expect from each performance. The ballets and concerts are also set in a way that does not require a translator. As they are focused on offering an experience you can feel without being held back by the language barrier. 
Theater an der Wien – Das Opernhaus Adress
Linke Wienzeile 6, A-1060 Wien
phone: +43 1 58830–1010
Fax: +43 1 58830-991010
  Book your Tickets here: Theater an der Wien  
Volksoper Vienna
The opera house is set to take on a lighter note and focus on bringing the funny side of life. Unlike other opera houses, the Volksoper Vienna takes a unique route, offering some light-hearted fun that can be enjoyed by locals and visitors.  The place is the ideal choice for those who love musicals and comedies. Each show brings you endless laughter, charming costumes, and a relatable storyline. Creating one of a kind opera experience that you will simply love. 
Volksoper Vienna Adress
Währinger Strasse 78, 1090 Vienna
Information: +43/1/514 44-3670
Public transport: underground line U6, trams 40, 41, 42, bus 40A Stop: "Währinger Strasse / Volksoper"
Book your Tickets here: Volksoper Wien  
Wiener Kammeroper (Vienna Chamber Opera)
While being regarded as the fourth opera house in Vienna, the Wiener Kammeroper has the same case as the Theatre An Der Wien. However, it brings you smaller productions with a handful of orchestral players and singers. Think of it like a small basement theatre, where you can enjoy some great works such as Faust.  Vienna Chamber Opera Address
Fleischmarkt 24 1010 Vienna
Book your Tickets here: Wiener Kammeroper  
Opera for Children in Vienna
Vienna Opera House makes sure your kids can enjoy some of the most beautifully put-together pieces. These are designed keeping kids in mind and help offer parents a way to introduce their little ones to opera. The performances usually last an hour and are adaptations of bespoken or classical operas written for children. 
Book your Vienna Opera House tickets here: Operas for Children at the Vienna State Opera  
Mozart Operas
Mozart is one of the most celebrated artists of Vienna, and one of the many that has helped Vienna gain its Music capital title. So there is no surprise that the Vienna Opera House offers many Mozart-related programs. Most of which are inspired by the 22 pieces he composed in his day, along with others that complement his tune. 
Book your tickets here: Mozart in Vienna Tickets
In the spring and summer seasons, you will find Mozart's work being showcased in all the opera houses. Open for the locals and visitors to take a step back in time, and enjoy some of the most iconic works such as The Magic Flute Opera, Cosi Fan Tutte, Don Giovanni, and Idomeneo.
Top Tip: To ensure you catch the right one, we suggest you plan your trip in advance and enjoy one of the most magical nights of your life.   Vienna is one of the few places in the world that offers you a chance to enjoy concerts by renowned Soloists and singers. Set in a stunning space that comes together with the performance to create a magical experience. People from all around the world travel to Vienna to catch an opera performance live in action. Changing their lives, and sending them out the door with an experience like no other.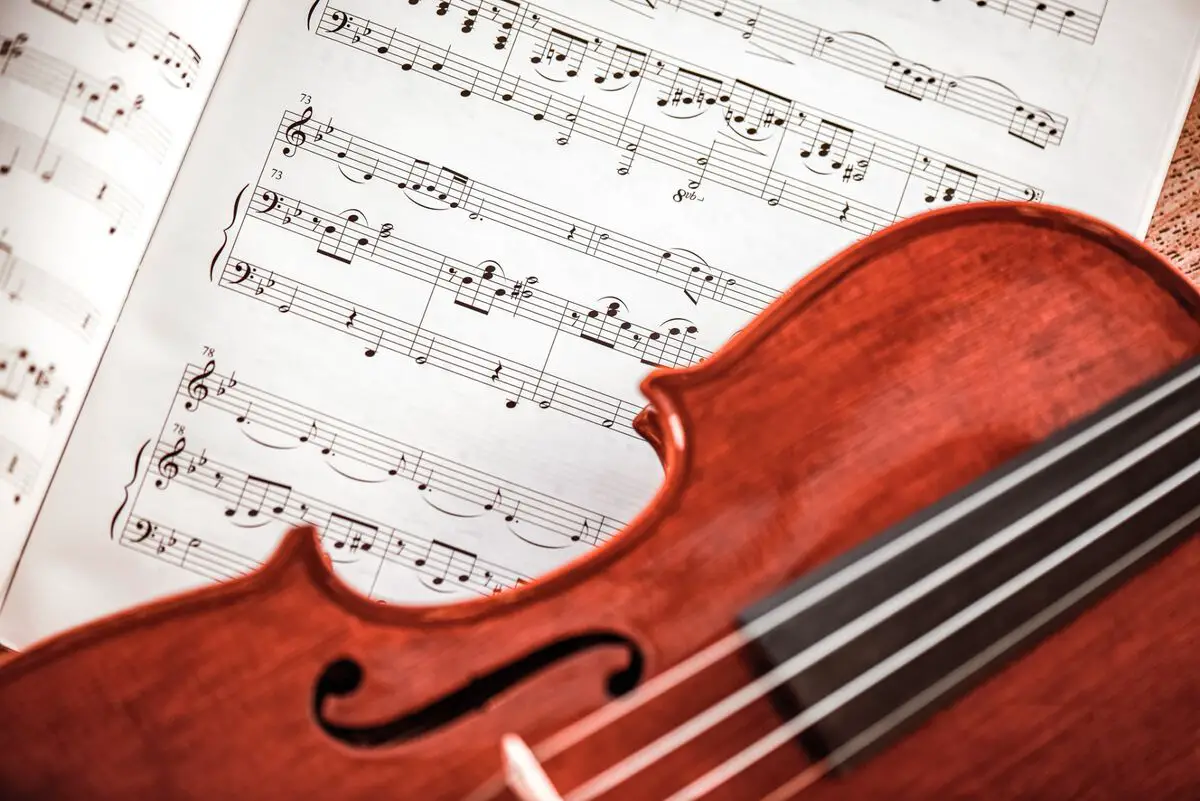 Plan your Trip to Vienna?