Last Updated on October 19, 2023 by gregor

In this blog post, we've got your Vienna winter itinerary all sorted out. We will guide you through the best things to do in Vienna during December, right in the heart of the holiday season. Get ready for a full-blown Christmas experience, as we delve into the enchanting Christmas markets, sharing recommendations for those must-visit spots.
And of course, no winter adventure is complete without savoring the delightful Christmas food that Vienna has to offer. Whether you're a family, a couple, or a solo traveler, Vienna's wintertime magic beckons, drawing visitors from Austria and around the world to enjoy the festive atmosphere, ornate decorations, and seasonal delights
10 Things To Do in Christmas and Winter Time
Christmas Lights in Vienna
Vienna's main streets and pedestrian zones are decorated with beautiful and colorful lights, and the stores display wonderful Christmas exhibits thus creating the perfect atmosphere for the most romantic moments.
The cozy cafés, bars, and restaurants enhance this idyllic Christmas feeling.
Ending your night by taking a city tour in one of the famous horse-drawn carriages, will be the ultimate final touch for your winter city getaway.
For a bit more "Joie de vivre", visiting one of the many balls of Vienna can be the experience of a lifetime, catapulting you into a world of sublime music, wonderful dances, and lots of fun.
Keep reading and we will share our top wintertime tips for Vienna.
Enjoy the Winter weather and snow
Winters in Vienna are cold and sometimes even snowy. December is a little warmer with an average of over 0 Celsius while January and February are the coldest and snowiest months with temperatures below 0 degrees Celsius.
With adequate clothing, you can enjoy the Viennese winter despite the snow and the cold. Remember to bring along waterproof shoes. But you can also buy local products in case of surprisingly cold weather.
Christmas markets are full of sellers with authentic woolen products. Austrian gloves and hats are a must-have to keep you warm but also are trendy souvenirs.
Unfortunately, the snowfall in Vienna diminishes year by year and Viennese are always praying for at least a white Christmas, during the holiday season. But don't worry! Even if the capital is not covered with a white carpet of snow, you can still enjoy the ice skating ring of the city, where people skate and dance to the music of Strauss and other classical music.
Vienna Christmas Markets
Christmas time is busy in Vienna and its popularity keeps rising among weekend tourists. This old tradition from the Middle Ages is changing to a more modern one and the markets are growing but without losing their cozy and romantic touch. Vienna's Christmas markets are open from mid-November until Christmas and some of them even until New Year's Eve, offering articles for the famous Silvesterpfad party in the whole city.
These markets will charm you with their small wooden huts, traditional handcrafts, modern souvenirs, Christmas music, colorful lights, sparkling decorations, and of course local delicious food.
We recommend visiting a few different markets because they all have their own vibe. The bigger ones in the city center are usually taken over by tourists while smaller ones are mainly visited by locals. This way you can also compare the prices and products before doing your souvenir and Christmas shopping.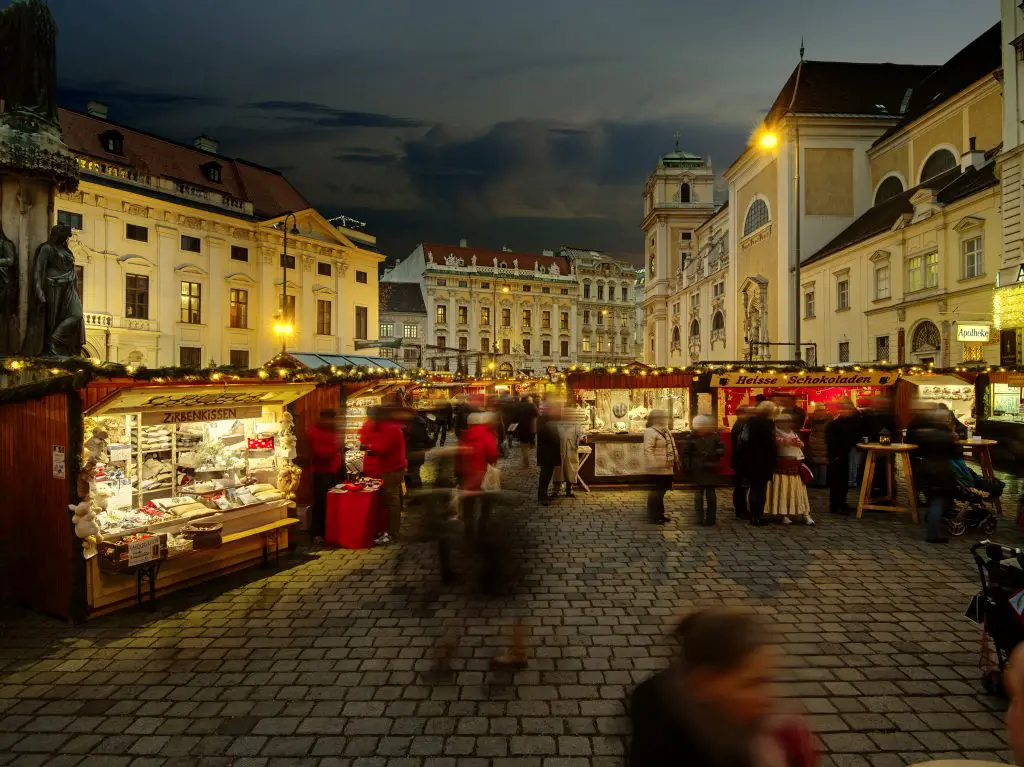 What to eat in Vienna at the Christmas Markets?
Click here to read about my top pics for edible delights to taste at this year's Christmas markets:
ULTIMATE VIENNA CHRISTMAS MARKET FOOD GUIDE, VIENNA – AUSTRIA
Wiener Christkindlmarkt am Rathausplatz
The Wiener Christkindlmarkt am Rathausplatz is one of the over 20 official Christmas markets in Vienna. It's also called the Viennese Christmas Market and Vienna Christmas World. It is located in front of the Vienna City Hall.
If you only have time for one market, do visit the Wiener Christkindlmarkt with its around 150 sales stands offering Christmas gifts and tree decorations, crafts, culinary delights, sweets, and warm drinks.
The trees in the Rathauspark shine in festive splendor.
Visitors can glide over skating rings across two large ice surfaces and numerous paths through the park. In addition, there is also the possibility of curling. The children's world offers a carousel, a reindeer carriage, a mini train as well as the Post office for the Letters to Santa.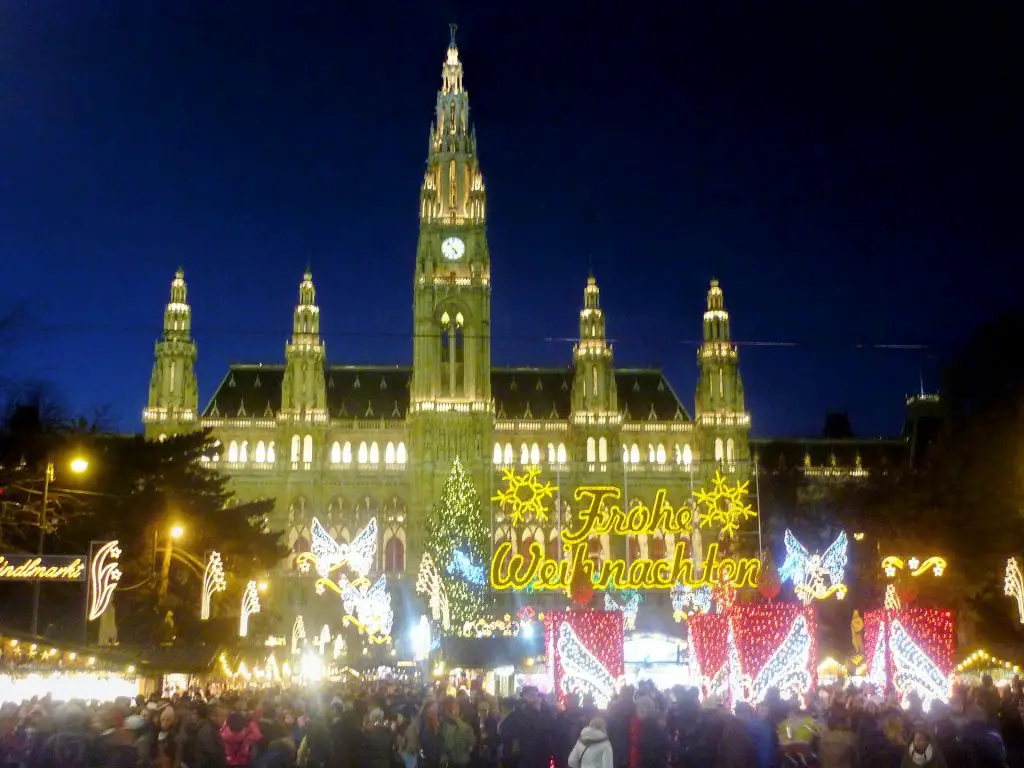 Winter Market & Ferris Wheel
If you prefer visiting Vienna after Christmas Eve, the famous Winter Market in the Prater Garden offers an exciting program under the motto "Prater Rocks!"
They are open from mid-November till the first week of January. Thursdays, Fridays, and Saturdays they have live music performances from gospel to soul to pop and while you are at the Winter Market, you can admire the entire park and the city of Vienna from the famous Ferris Wheel. It's one of the best-known landmarks of Vienna.
Book your tickets here: Vienna: Skip-the-Line Giant Ferris Wheel Ride
Candlelight dinner package: If you desire to spend a romantic evening high above the roofs of Vienna, the Vienna Giant Ferris Wheel will be perfect for you – a romantic candlelight dinner package for two! For further information regarding menu composition, service, prices, and booking modalities of a banquet in the Vienna Giant Ferris Wheel please refer to the Vienna Giant Ferris Wheel candlelight dinner booking.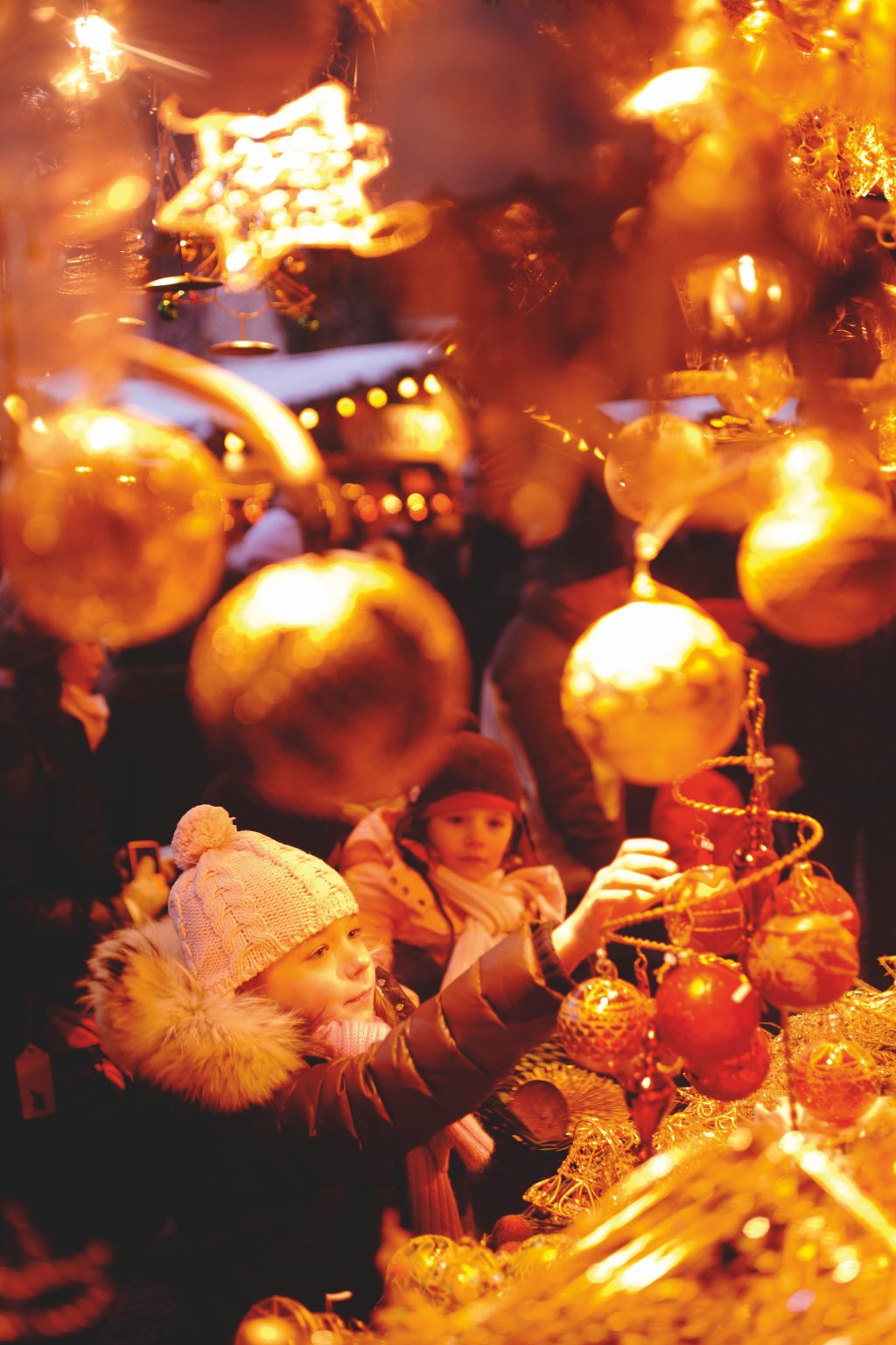 Christmas and New Year's market in Schönbrunn Palace
Vienna has held a Christmas market in the Schönbrunn Palace since 1993 and every year, about one million people visit the Palace to experience the real Christmas market atmosphere.
About 80 booths, colorful decorations, and quality products make it an interesting Viennese attraction you shouldn't skip. However, Schönbrunn Palace has found its way on our list of the things to do in Vienna in the wintertime because of its New Year's market.
After Christmas, the market changes to the New Year's market, which then closes on the first day of next year. New Year's market offers the same sellers as the Christmas market, but also many events like daily jazz performances. This is the perfect place to spend New Year's Eve in Vienna.
More about the Christmas market in Schönbrunn Palace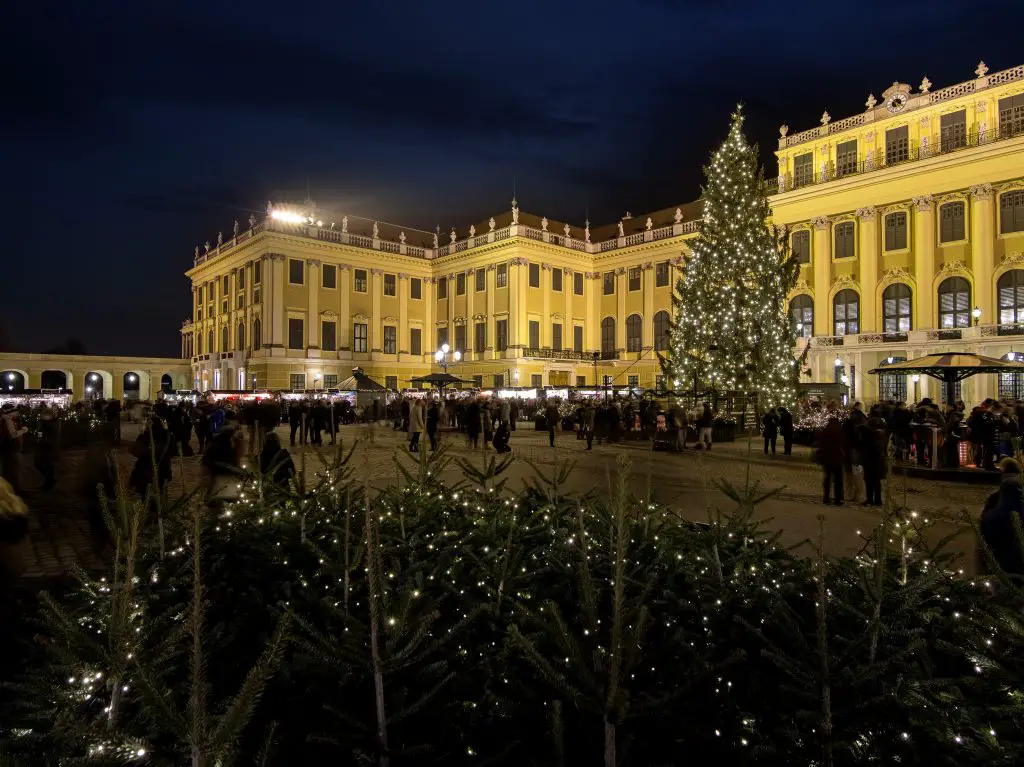 Vienna's Breweries
Vienna is the city of breweries and despite the cold, you should try some good craft beers. Going to bars or a tour around breweries will give you a chance to warm up after spending the day outside enjoying other attractions.
Because the beers on menus are changing and are a little different depending on the place you visit, drinking beer in Vienna isn't just a normal night of drinking but more of an interesting experience.
Go drinking to experience part of Viennese culture!
More about the brewery in Ottakring
Imperial Butterfly House
Walking around in the cold weather is not always pleasant, so it's good to have a few warmer attractions in mind. The Imperial Butterfly House, located in Burggarten park offers the perfect environment for cold feet, and stepping inside this glass dome gives you the feeling of having a wonderful summer day at a constant 26°C degree.
The Imperial Butterfly House is a good opportunity to take a small break while wandering around Vienna. You can sit down, enjoy the warm, humid temperature, and watch the marvelous multicolored butterflies fly freely around the trees.  If you are lucky, one of them may even land on you. Just stay put and wait while admiring the beauty around you with its ponds, waterfalls, and plants giving you the full tropical jungle feeling.
more about the Butterfly house
Neujahrskonzert (New Year's Concert)



Neujahrskonzert (New Year's Concert) is a Viennese yearly tradition, given by the famous Vienna Philharmonic on the morning of New Year's Day. If you are a friend of classical music, this is an event you should experience at least once in your lifetime as it is one of the most important and prominent classical concerts in the whole world.
Each year, a celebrated conductor is chosen to orchestrate the concert. The music played is mainly from Austrian composers and the live performance is broadcast over 90 countries and followed by more than 50 million TV viewers.
The first New Year's concert was held on 31 December 1939 but in 1941 and every year since then, it has been held on the First of January.  The Vienna Philharmonic presents a cheerful and at the same time reflective program from the rich repertoire of the Strauss dynasty and its contemporaries.
How to get tickets for the New Year's Concert
Due to the high demand, some tickets are raffled so that music lovers from all over the world have the same chance to acquire these highly coveted tickets, this is done at the beginning of the previous year exclusively through the website of the Vienna Philharmonic. So if you plan to visit Vienna only next winter, you have a chance between 2 January and 28 February of next year to enlist yourself and possibly win some tickets to this epic event.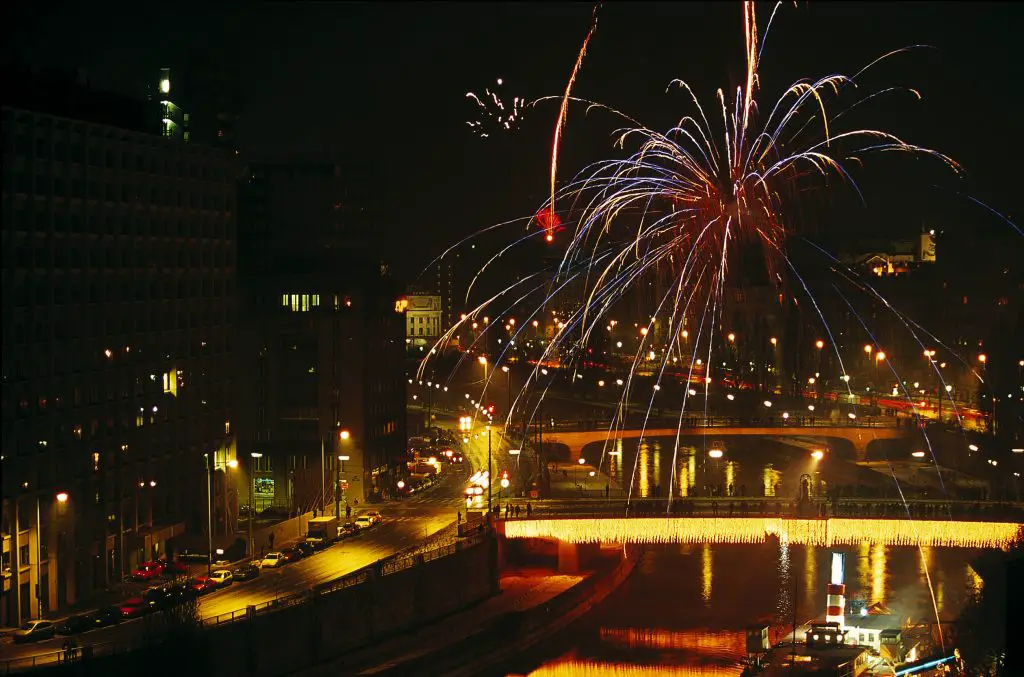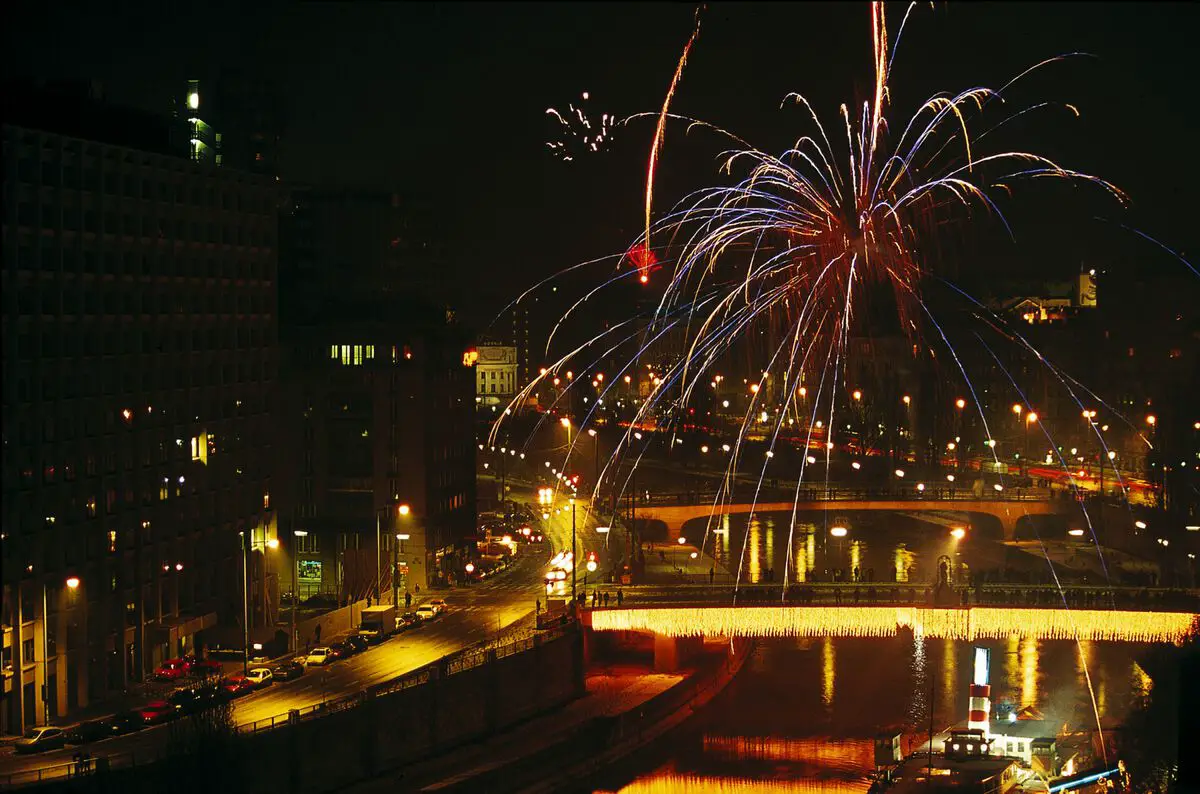 Wiener Opernball – Vienna Opera Ball



The Vienna Opera Ball is the annual social event in Vienna. The tradition of the ball goes back to the times when the aristocracy and heads of state gathered to escape the gloomy aftermaths of the Napoleonic wars. The first ball took place in 1877 but only in 1935 it was named the "Opera Ball".
More than 5000 participants attend this event, including many important celebrities from all over the world and the Austrian political elite.  Each year 150 young couples from different Dancing schools open the ball to several classical pieces like the elegant polonaise, but the last dance of the debutantes is always the Blue Danube waltz, after which the floor is open to all guests.
The ball takes place on Thursday before Ash Wednesday and the Vienna National Opera is transformed into a beautifully decorated dance palace with various rooms and lounges with different types of music and dance. Until 6am, the rich and the beautiful, dressed up just like princes and princesses can enjoy the catering, freshen up at the hairdresser and even use the in-house tailor in case of emergencies.
At the Ball, you can also enjoy different high-class performances by famous opera singers and the Vienna Ballet dancers.
Dress Code for the Vienna Opera Ball
The dress code is very strict so if you happened to get your hands on some tickets and you have nothing adequate to wear, no worries, you can rent evening gowns and tuxedos for this event or any other ball you wish to attend.
Tickets and Information (CLICK)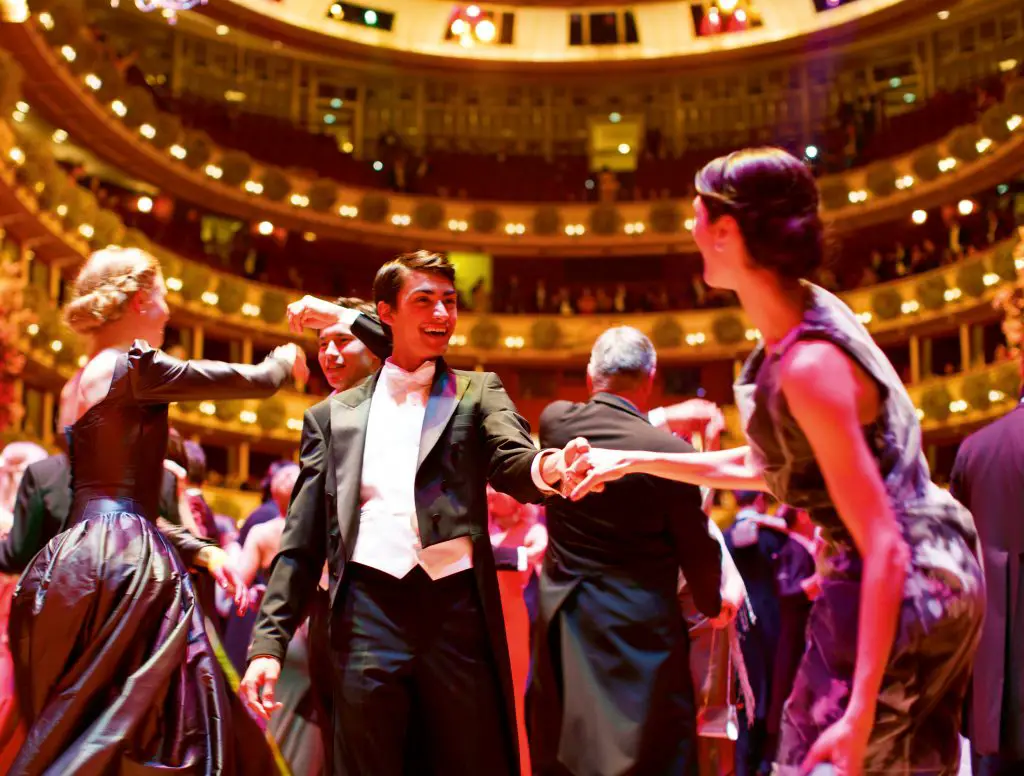 Wiener Eistraum – Ice Skating



Ice skating is one of the must-do things to try in wintertime.  From January to March, this Vienna's Ice Dream turns the park and plaza in front of the City Hall into a huge ice skating ring covering an area of 8,500m2.  Thousands of tourists and locals gather there to skate and have fun with their friends and families.
It's also the ideal location for dating, so be prepared to see a lot of handholding sweethearts dancing to the sound of Strauss and diverse popular music hits.
Rent Skates 
If you have no adequate shoes and still would like to enjoy a few hours of exercise, you can rent skates on the site in any size or style and store your belongings in the available lockers so you can enjoy this winter wonderland fully.
On weekdays during January beginners and kids can skate for free in a separate area. So if you have never tried it before, this would be your chance.  Winding through the romantic ring can be tiring, so you can restore your strength at the outdoor booths with warming drinks and food. And even if you don't skate, it is still a magical and fun activity to do especially on a sunny winter day.
Tickets and opening hours (CLICK)
Vienna offers much more than those few activities listed above. No matter your preferences, there will always be something for you to experience as Vienna will charm you with its idyllic atmosphere whenever you decide to plan your trip.
Most romantic things to do in Vienna at Christmas time?
A complete guide to the most romantic things to do in Vienna (+ a horse carriage ride, Schönbrunn Palace, and dancing the Waltz in Vienna).
What to wear in Vienna in Winter?
Winter is the coldest season in Vienna, so you have better be ready and bring some warm clothes and shoes. After a few hours outside you will be happy to enter a museum, café, or back at the Hotel
How to get around Vienna at Christmas time?
There are 4 Ways to get around Vienna at Christmas time
By Public Transport – Vienna City Card
Taking public transportation is the most convenient method to get around Vienna (Euro 8.- for a 24-hour ticket).
A Vienna City Card, which permits unlimited use of the city's metro, tram, and bus lines, can be purchased in advance.
Vienna City Cards are available for 1, 2, or 3 consecutive days, and prices range from 24 hours for Euro 17, to 3 days of use + airport transfer for Euro 46.-.
The Vienna City Card also offers discounts at over 210 major attractions, making it an excellent value.
By Bicycle –  Rent a Bike in Vienna
The city center of Vienna, and the majority of tourist attractions, are reachable by bicycle.
WienMobil Rad is the most popular bike-sharing service in Vienna.
Simply register online, find a terminal and scan the QRCode to unlock a bike.
Detailed Information on How to Rent a bike in Vienna on my Blog:
BIKE RENTAL IN VIENNA – EVERYTHING YOU NEED TO KNOW – WIENMOBIL RAD (VIDEO TOUR)
There is also the very popular Classic Vienna: 3-Hour Guided Bike Tour available to book in advance.
By Hop On Hop Off Bus
The City Card provides access to standard buses throughout Vienna. There is, of course, the well-known Vienna Hop-on Hop-off Sightseeing Bus.
This Hop On Hop Off bus allows you to hop on and off at many locations throughout the city, including the Museums of the Hofburg, the House of Music, and the Schönbrunn Palace.
This choice is always popular amongst travelers, and it is a great way to see many of Vienna's famous attractions.
By Guided Tour
There are some amazing tours available to book in advance on Get Your Guide for people who are short on time or prefer everything to be organized for them.
There's much to do in the Austrian capital, from food tours to river cruises and bar crawls!
Where to go in Vienna in Wintertime
TheViennaBlog has thoroughly studied all the wonderful attractions but also hidden secrets to uncover in Vienna. Click the links below to get to the information:
More Vienna Winter snow photography inspirations of Vienna. Check my blog post here,.
Useful Vienna Travel Information
St. Stephens Cathedral Vienna, snow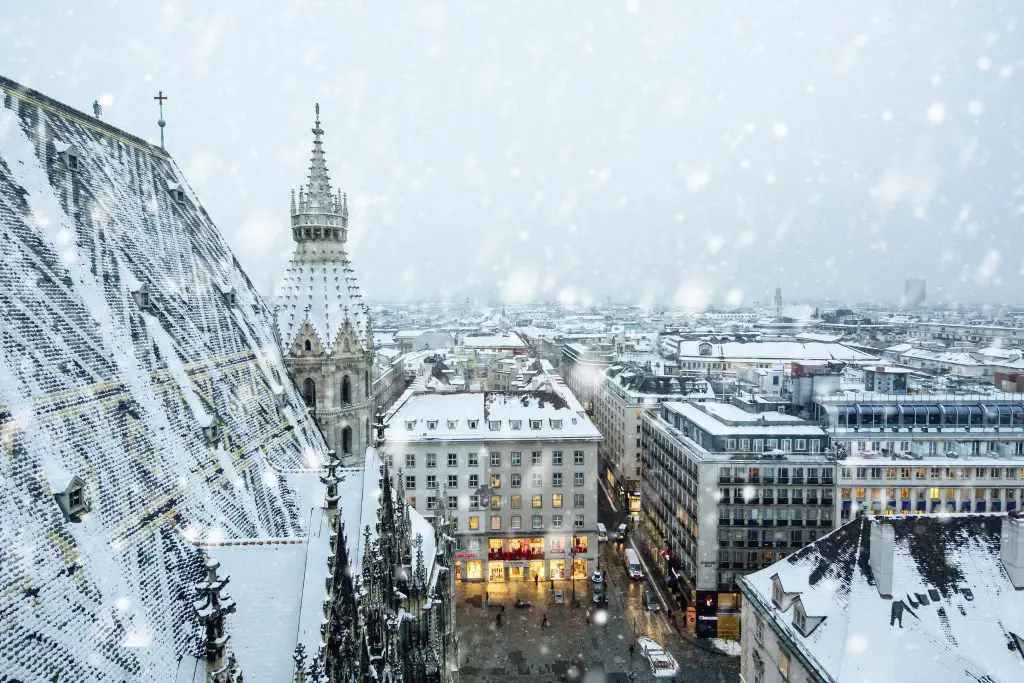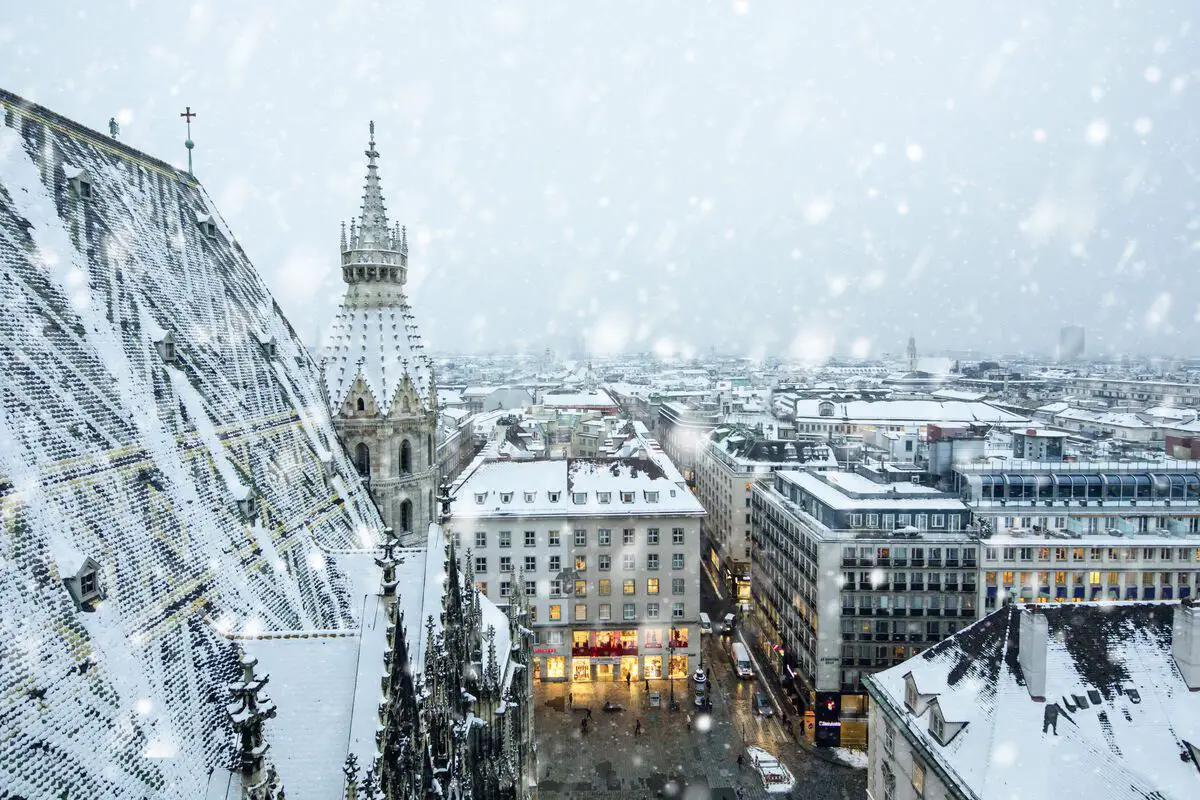 Goldenes Quartier, Vienna snow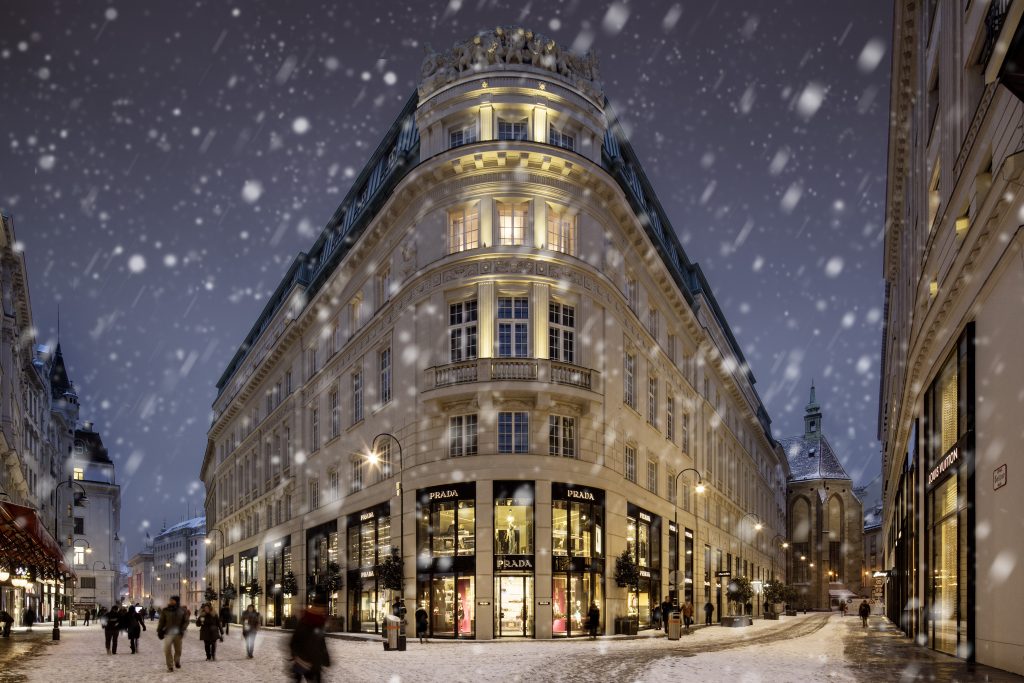 Stadtpark, Vienna, Johann Strauß Denkmal, snow
Albertinaplatz and Vienna State Opera in the back, snow
Belvedere Palace & Museum, Vienna snow
Schönbrunn Palace, Vienna snow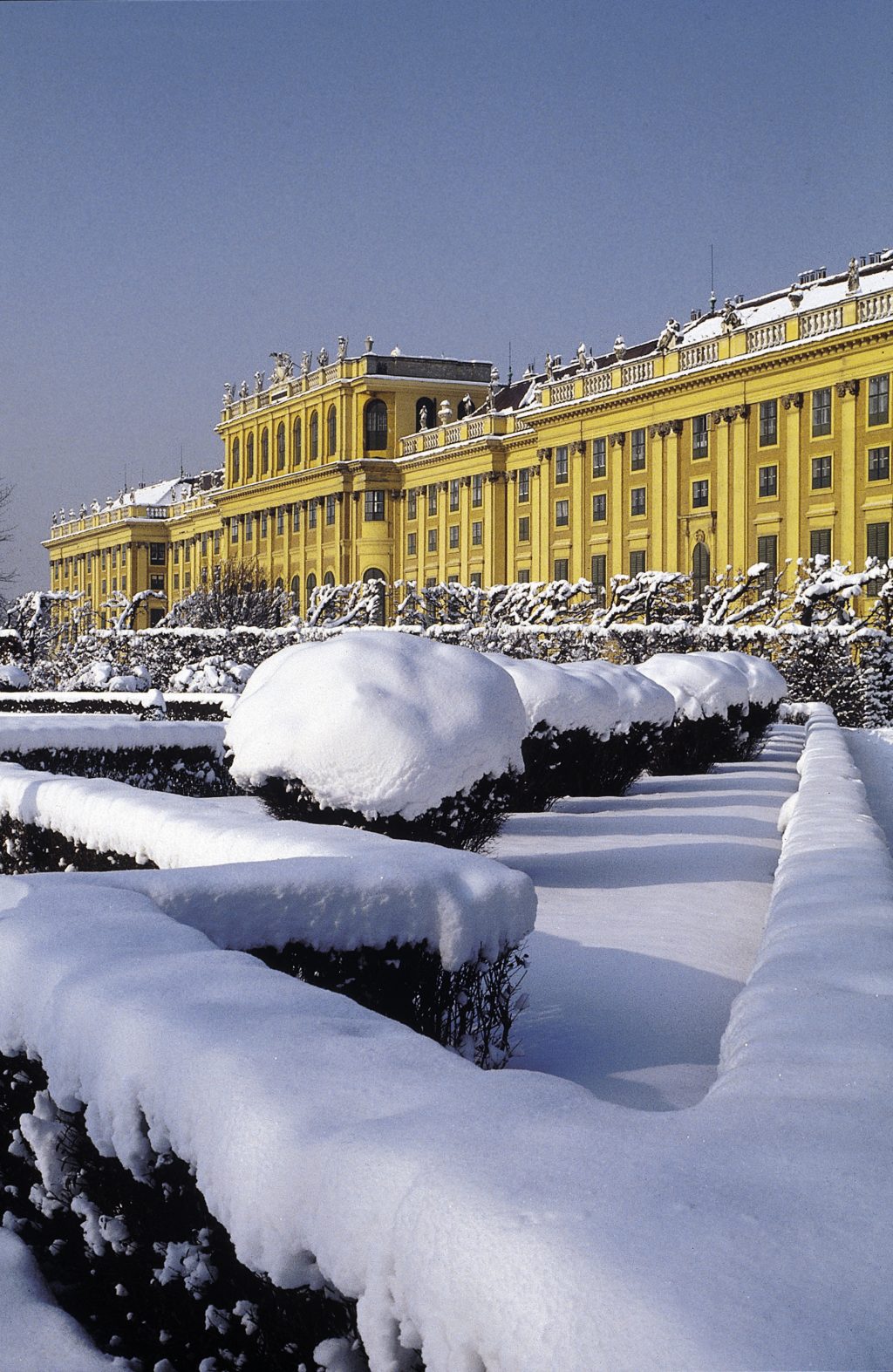 Schönbrunn Palace Gardens, Vienna, snow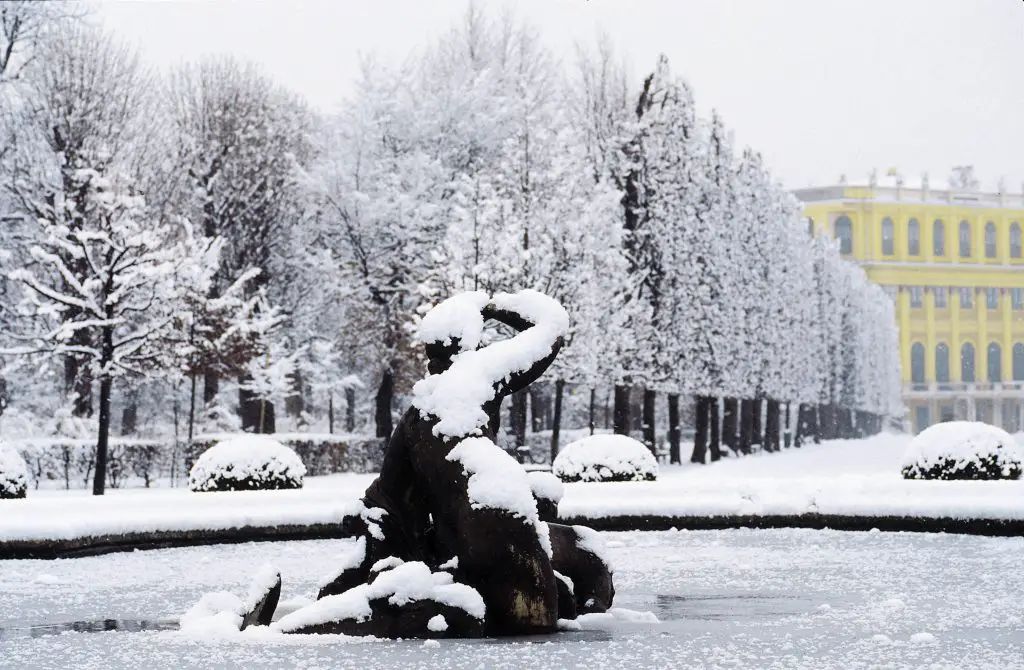 All Picture Credits, Vienna Tourist Boards.
Save
Save
Save
Save
Save
Save
Save
Save
Save
Save