Last Updated on April 24, 2023 by gregor
Spending a pleasant or eventful Sunday in Vienna is really only up to you. Although most of the shops in Vienna are closed on Sunday, Vienna offers an enormous number of leisure activities, from water sports to art and culture to top gastronomy. We have put together some ideas for the things to do in Vienna on a Sunday.
What to do in Vienna on Sundays
Sightseeing in Vienna on Sundays
Most top attractions and sights are open on Sundays and holidays. Here is a list of things to see and do in Vienna on Sundays.
Schönbrunn Palace & Gardens
Schonbrunn Palace was the Habsburg emperor's major summer residence, and it is today, possibly the most photographed building in the country.
The palace gardens are now a beautifully symmetrical public park that attracts tourists and joggers on a frequent basis.
The interior has been turned into a massive museum filled with history and tales from the past.
You do have to pay to enter and you can book your Schönbrunn Palace & Gardens: Skip-the-Line Guided Tour here.
Otherwise, there are plenty of tours online such as this one, which guarantees a delightful taste of Vienna's cultural landmarks, taking in the Opera and many other attractions by bus, then skip the line for a special tour of the glorious Schönbrunn Palace.
The Schönbrunn Palace's opening hours are daily 6.30am – 7pm.
Schonbrunn Palace is a great way to end your trip to Vienna, so make sure to include it in your one-day in Vienna itinerary..
Book your Schonbrunn Palace Tours: Schonbrunn Palace: Top Tours & Activities
For more information, please read this blog post:
A QUICK TRAVEL GUIDE TO VIENNA'S SCHÖNBRUNN PALACE, VIENNA AUSTRIA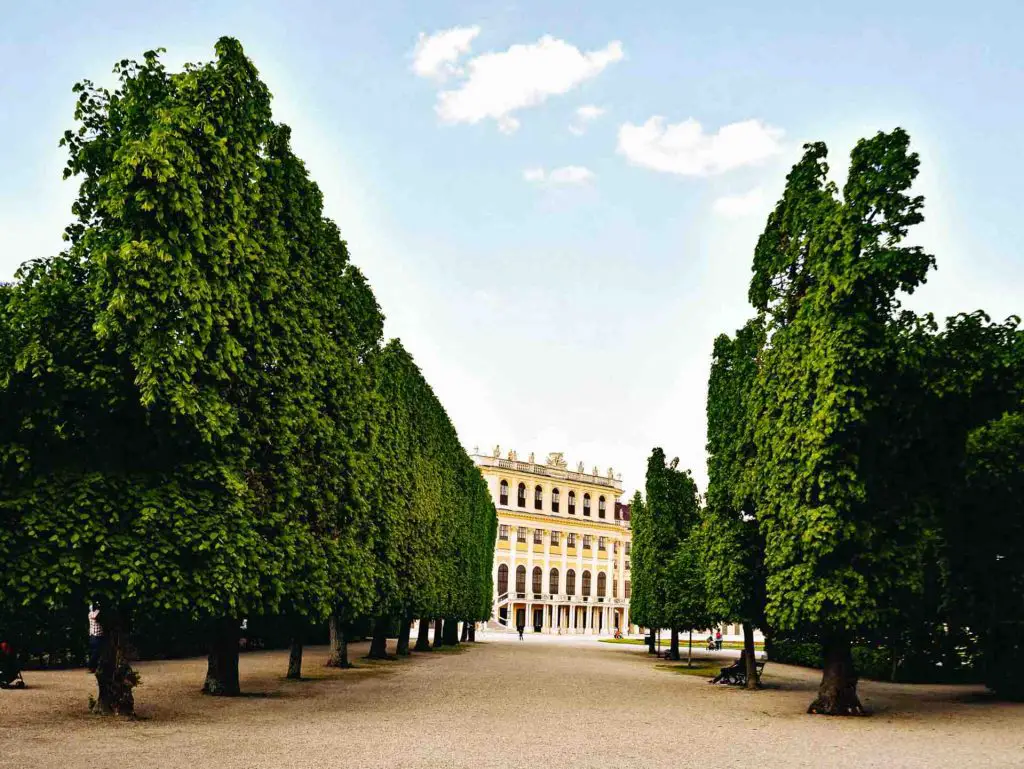 Visit the Vienna Zoo at Schönbrunn and skip the ticket line to the oldest Baroque zoo in the world. See animals from all over the world, including two giant pandas. Great for families with kids
More Information and Book your Tickets: Skip-the-line Tickets for Schönbrunn Zoo
Palais Liechtenstein Garden Palace
The Liechtenstein Palace is located in the 9th district of Vienna, at Fürstengasse 1 between Liechtensteinstrasse and Porzellangasse. A perfect spot to visit on Sundays in Vienna
More Information and Video Guide on this Blog: Palais Liechtenstein Garden Palace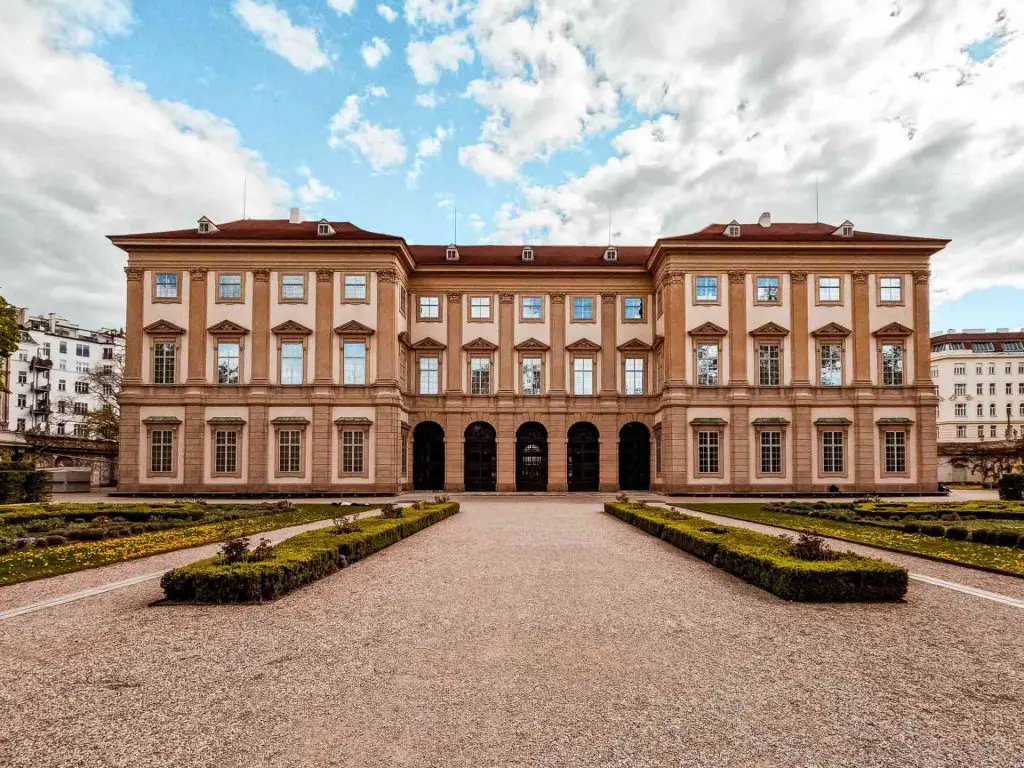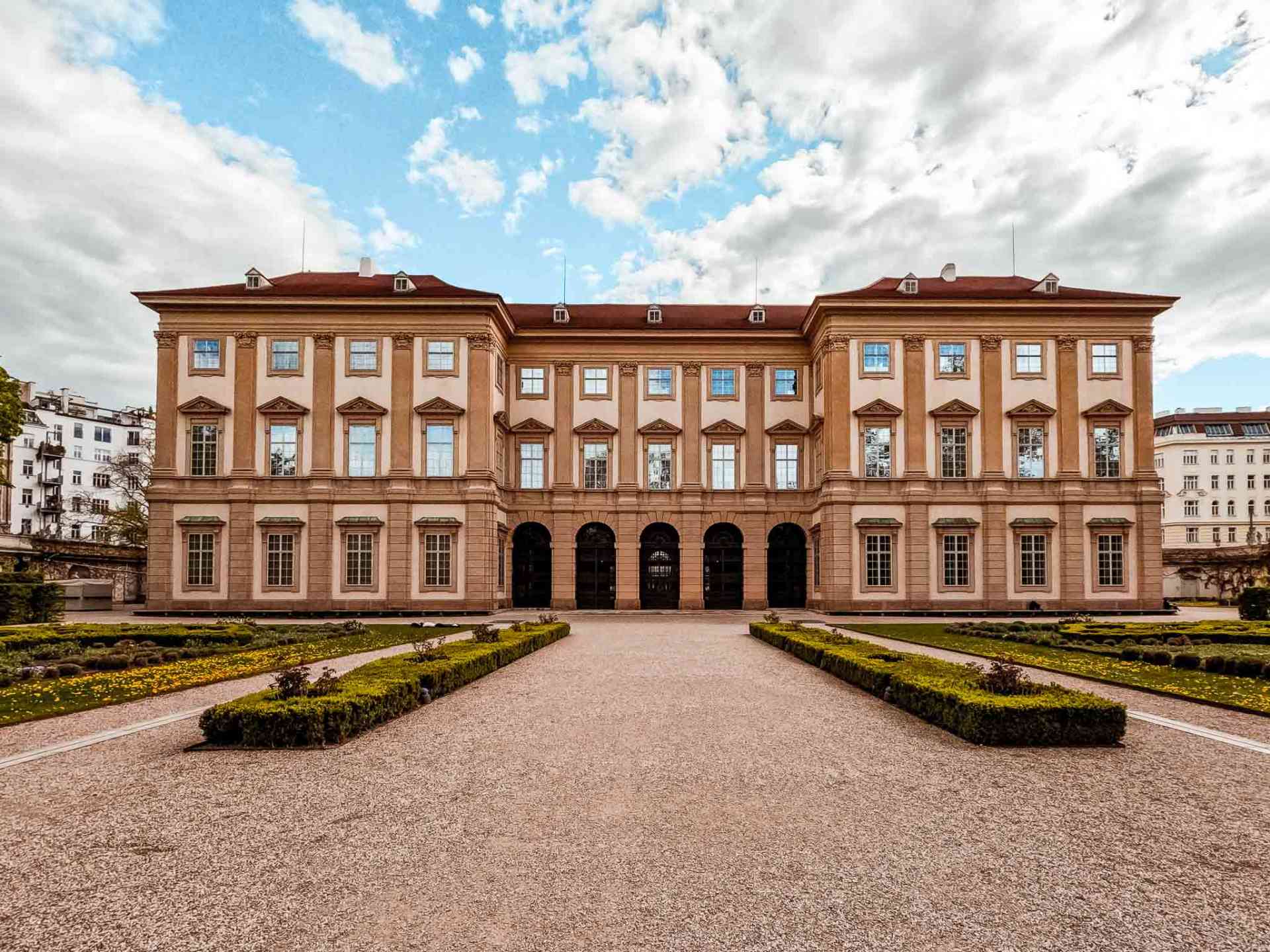 Learn about the amazing life of Empress Sisi of the Hapsburg monarchy on a guided walking tour of Vienna. Discover some of her favorite shops and visit the former Imperial Apartments.
More Information and Book your Tickets: Empress Sisi Walking Tour & Imperial Apartments
While the Belvedere palace is one of the top wonders of Vienna, if you are stretched for time we suggest you make a quick stop at the Belvedere museum. A place where you will be able to find 150 sacred medieval art pieces, Gustav Klimt paintings, sculptures, fountains, cascades, and so much more. If you have time we suggest you take on the temporary exhibit as well.
Book your Belvedere Tour: Belvedere Tour Vienna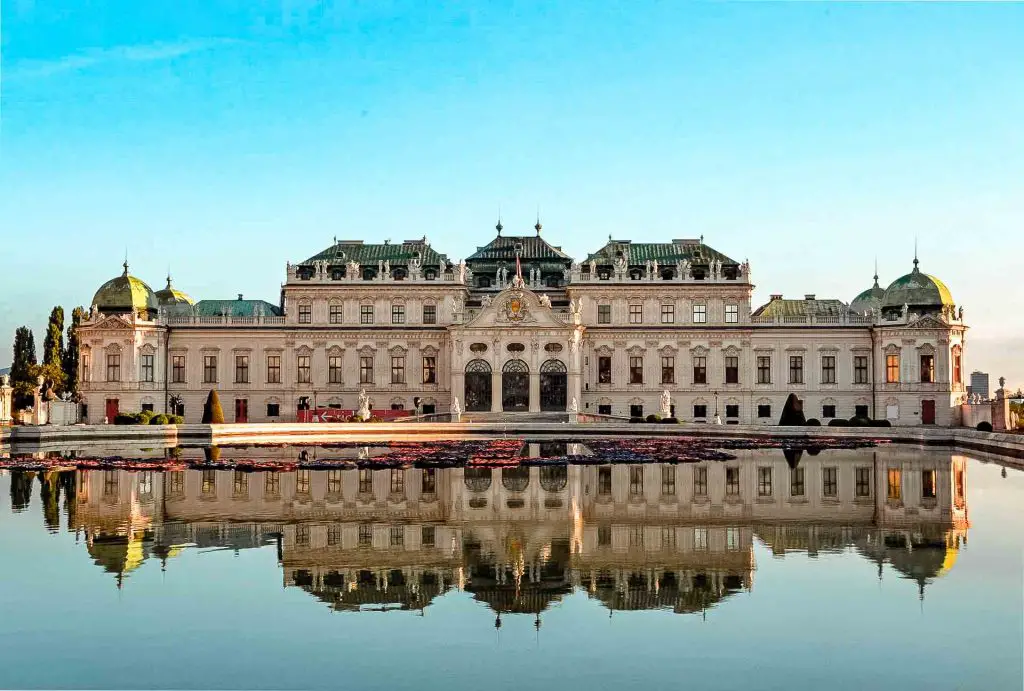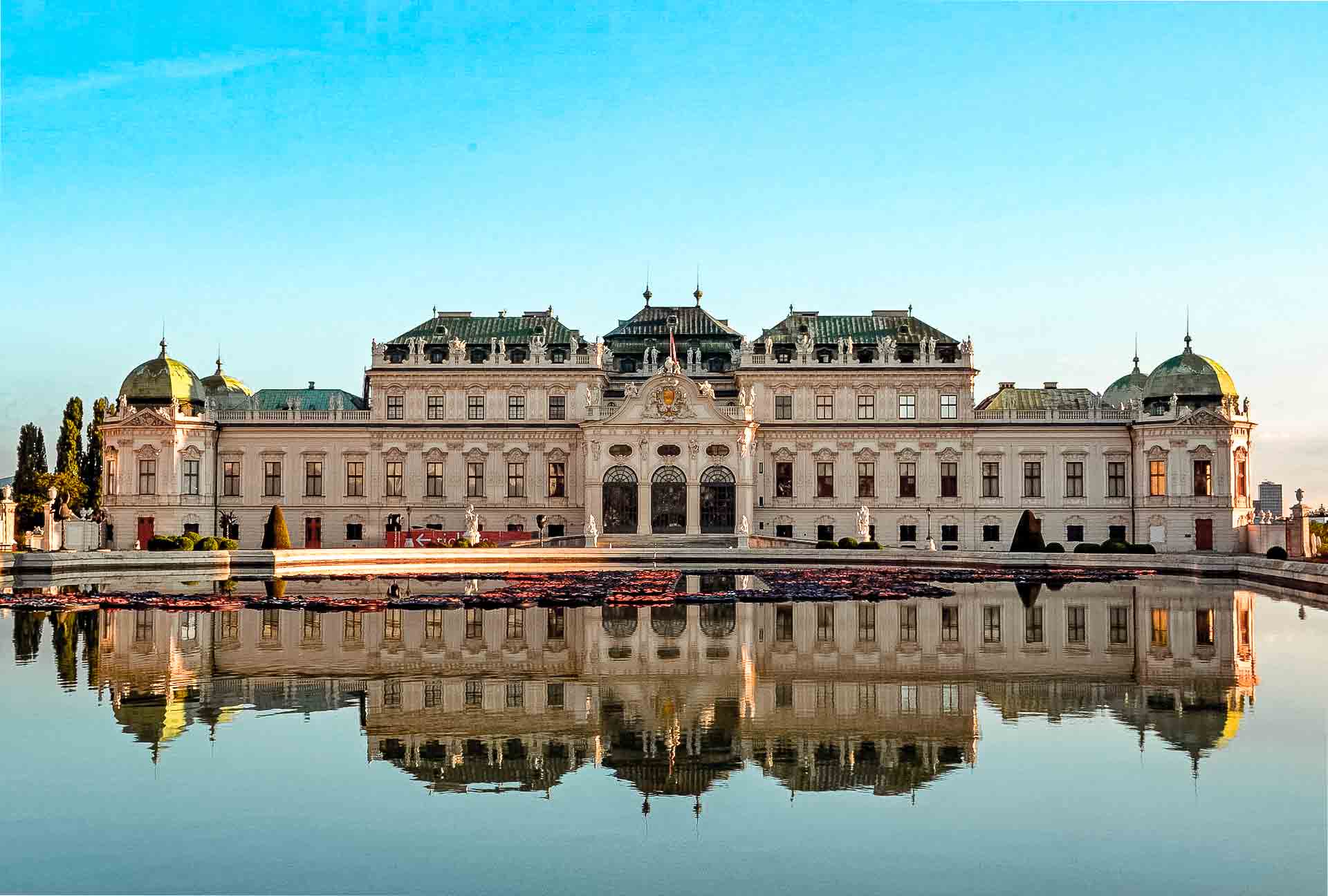 St Peter's Church
Peterskirche dates back to the middle ages and is one of a kind. Featuring a beautiful green-colored dome the church offers intricate details on the inside. Offers you a breathtakingly beautiful high altar, side altars, phenomenal religious artwork, and remarkable frescos.
Book your Guided Tour for the St. Peters Church in Vienna
View Prices and Reviews
St. Stephen's Cathedral
The Cathedral of St. Stephen is one of the most important churches in Austria. It is the seat of the Archbishop of Vienna, the head of the Roman Catholic Church in Austria. The cathedral is also one of the most important pilgrimage sites in Austria. Every year, hundreds of thousands of pilgrims visit the cathedral to see the relics of Saint Stephen, the first Christian martyr.
The Cathedral of St. Stephen is also one of the most popular tourist attractions in Vienna. The cathedral is open to the public and there is no admission fee. Visitors can explore the cathedral's interior, climb the 343 steps to the top of the south tower, and enjoy the stunning views of Vienna from the tower's viewing platform.
The entrance fee to the Stephansdom is free
Visit a concert at the Stephansdom Church
Book your Tickets here: Vienna: Classical Concert at St. Stephen's Cathedral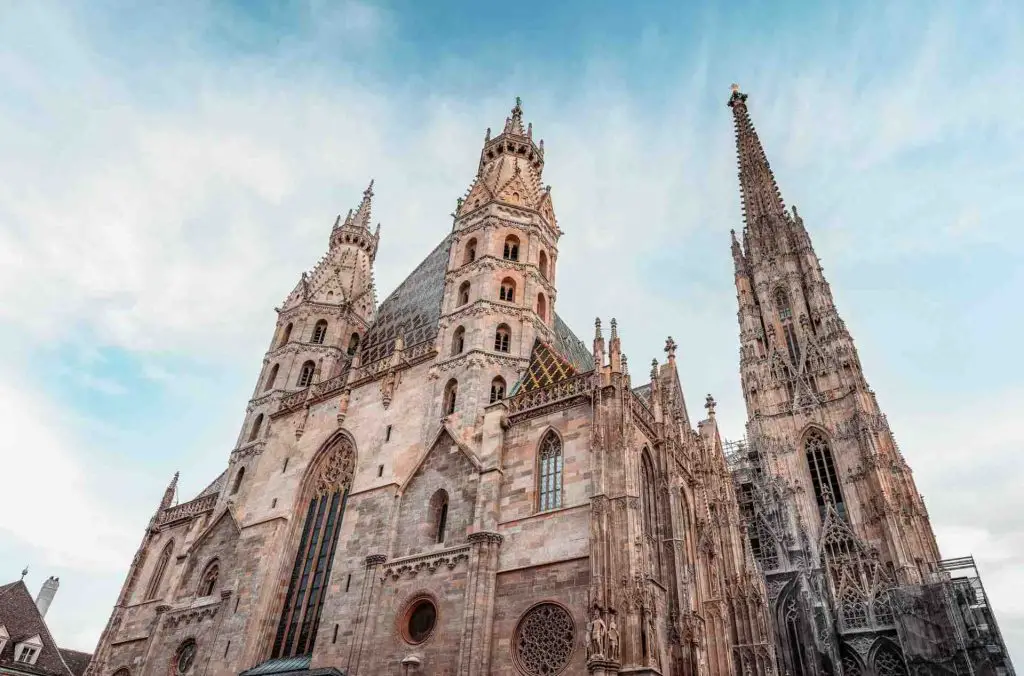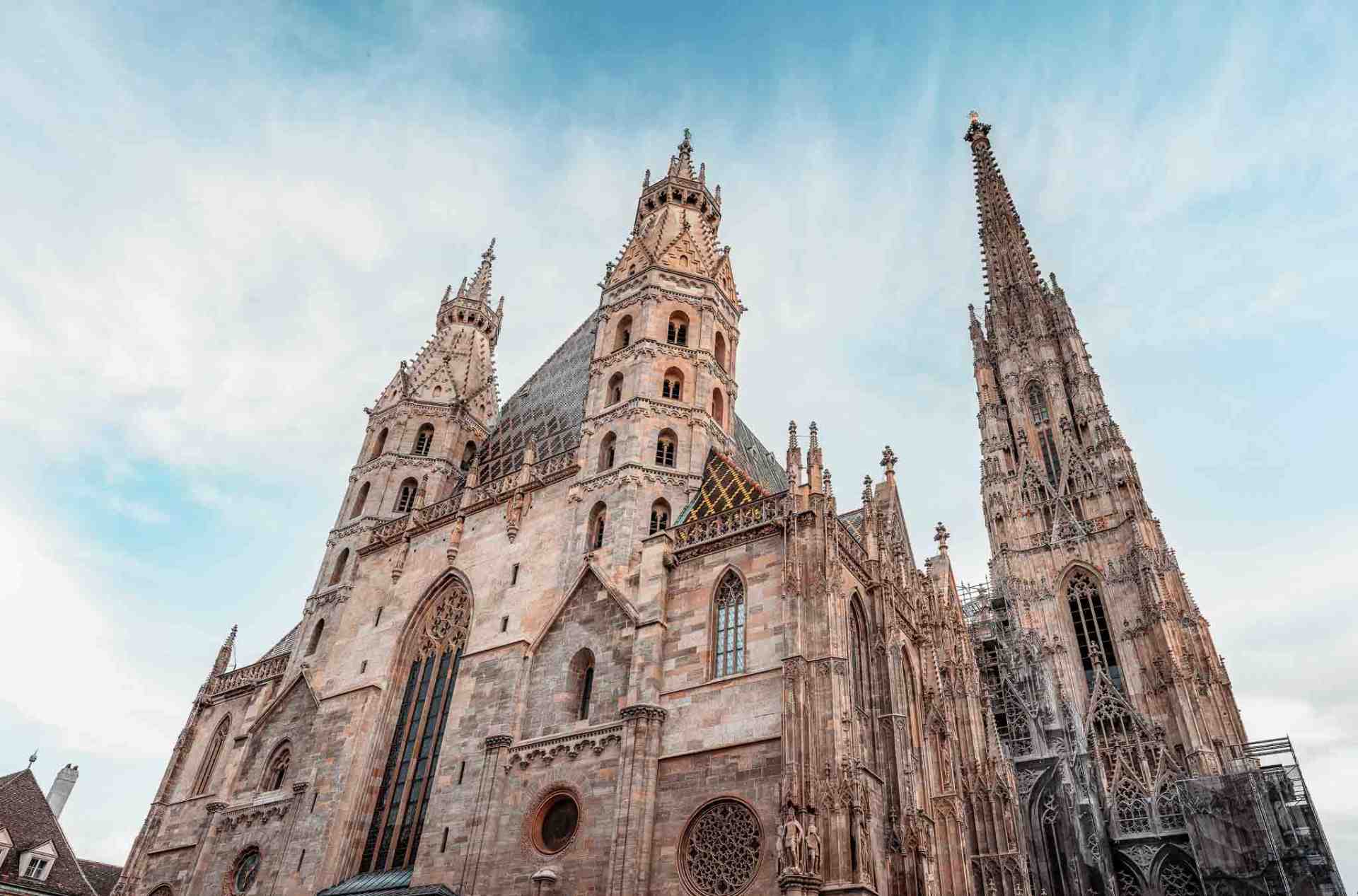 Ride the Giant Ferries Wheel
The Riesenrad is located in the Prater, a large public park in Vienna that is home to many other attractions, including an amusement park, a zoo, and a botanical garden. The Riesenrad is open year-round, but hours vary depending on the season. The Riesenrad is one of Vienna's most popular tourist attractions, and it is easy to see why. The giant Ferris wheel offers stunning views of the city, and it is a great place to enjoy a ride with family and friends.
If you are visiting Vienna, be sure to add the Riesenrad to your list of must-see attractions!
What is the entrance fee to the Riesenrad Vienna
ferris wheel. approx. 13.50 euros per trip.
Book your tickets here: Vienna: Skip-the-Line Giant Ferris Wheel Ride

Vienna State Opera
The state opera is a wonder that only a few get to experience. This is why we suggest you plan your trip in a way that allows you to enjoy a concert. When planning a stop you can check with the local opera house and make sure you are able to enjoy some of the greatest.
Vienna State Opera Skip The Line Tour Ticket-guided tours on Sundays usually run from 10am until 4pm. Please check the official website of the Vienna State Opera for any changes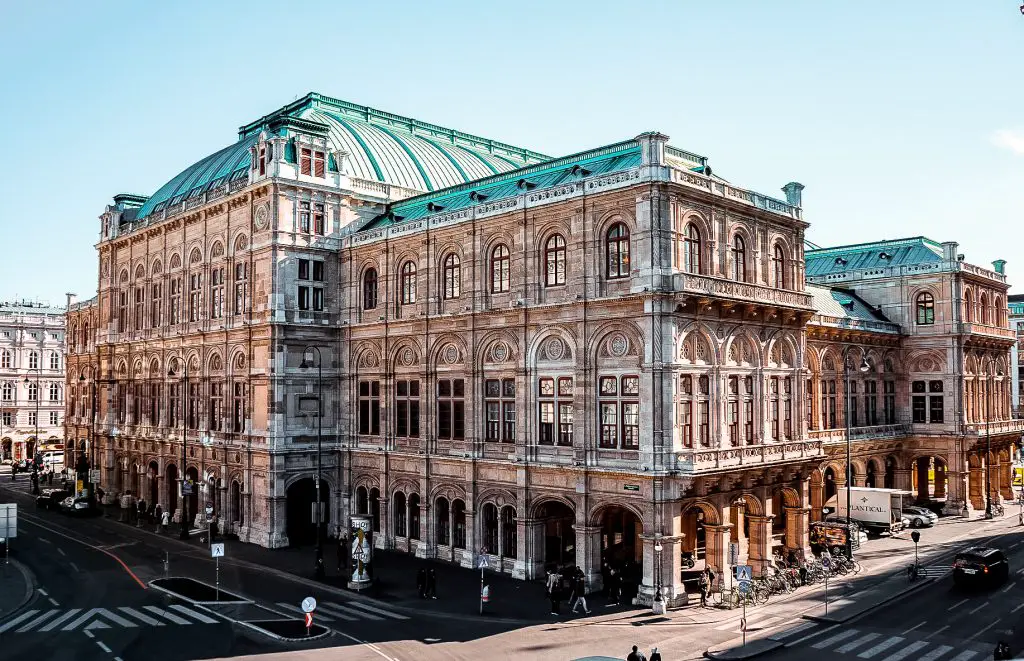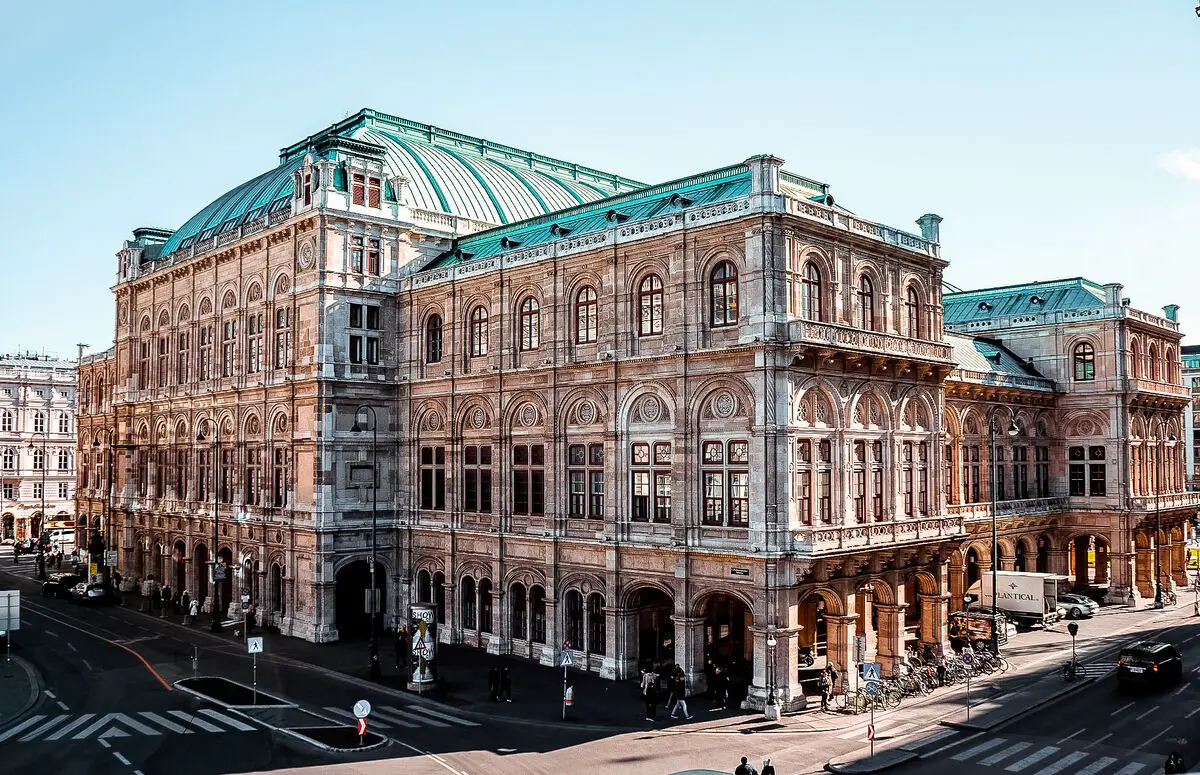 Visit a Museum in Vienna
Time for some museums. Vienna has a huge range of museums covering nearly every niche, so do feel free to swap different museums into this itinerary depending on your interests.
Please check out this Blog Post.
The BEST 12 Museums you need to visit in Vienna, Austria – Vienna Museum Guide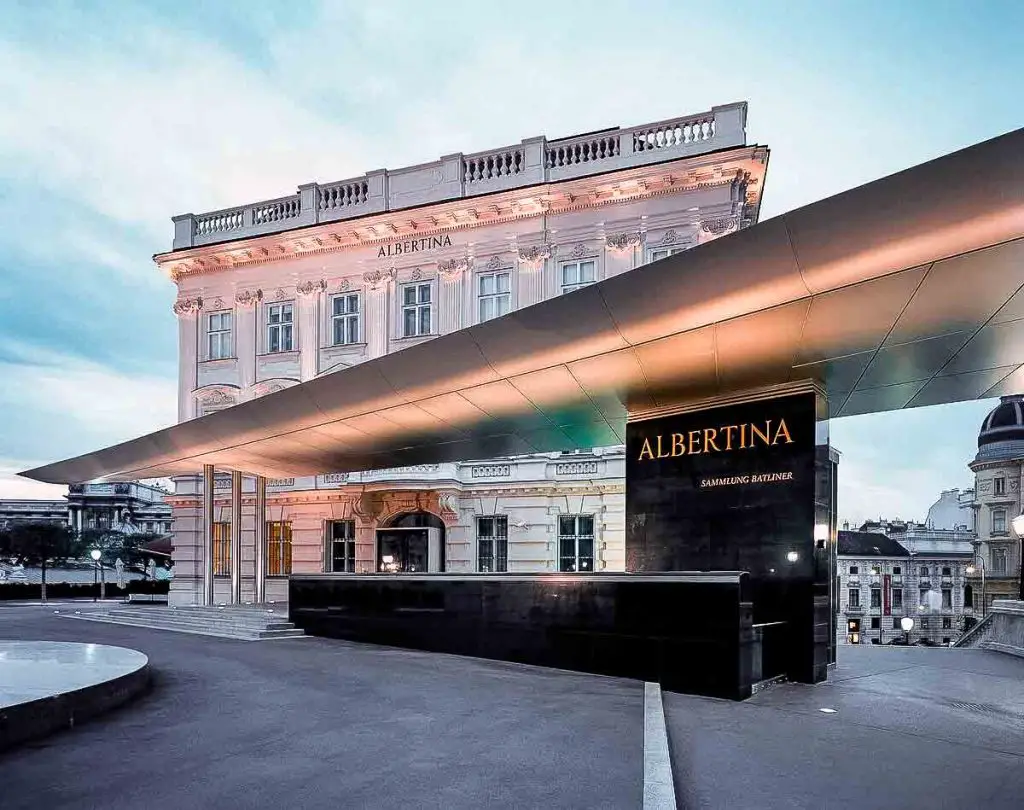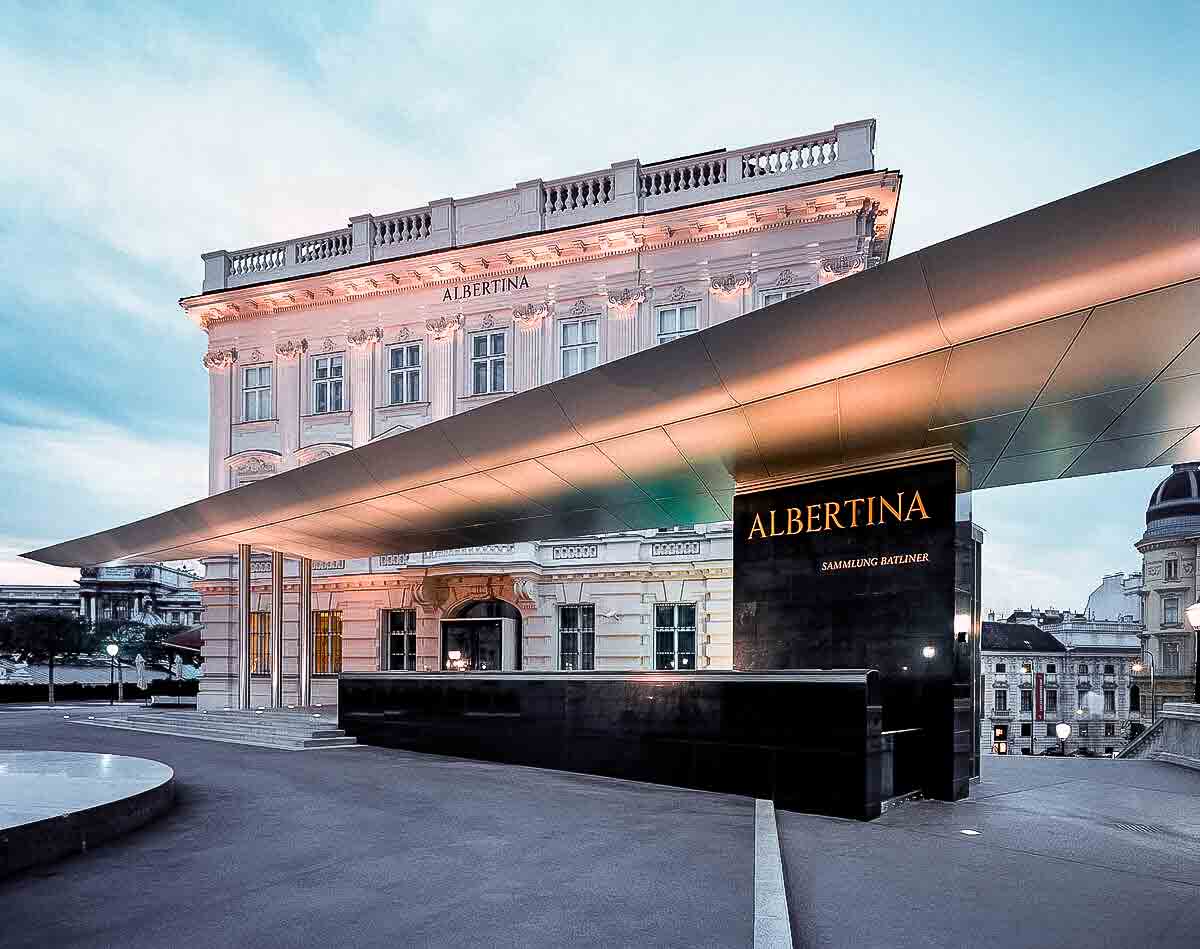 Visit a Traditional Viennese Cafe
The most famous cafe in Vienna is Cafe Central, a few steps away from the St. Stephens Cathedral.
My favorite, however, is Cafe Pruckel, close to the Stadtpark and next to the U3 Stubentor subway station. 
For other Cafe House recommendations in Vienna, please read my Blog Post:
BEST COFFEEHOUSES IN THE CITY CENTER OF VIENNA, AUSTRIA
Breakfast Brunch in Vienna on Sundays 
Having breakfast at home is nice, but sometimes you want to get out on a Sunday. The Viennese coffee house culture is very diverse, from romantic cafés to hipster cafés, everyone can find the right feel-good environment in Vienna. In many cafés, you can have a very good breakfast, and in many places, brunch buffets are also offered on Sundays.
We have collected for you our top places to have the Best Breakfast and Best Brunch in Vienna
THE BEST BREAKFAST BRUNCH SPOTS IN VIENNA, WIEN AUSTRIA UPDATE 2022
Walk or picnic in the Public Parks of Vienna
Vienna offers many different options for relaxing hours, a walk, or a successful picnic in the countryside. If you don't feel like putting your own picnic basket together, you can order a lavishly filled basket in the La Crêperie restaurant, in the Palais Coburg, or at the Kierlinger wine tavern.
Here are some of the most beautiful squares and parks for a relaxing Sunday in Vienna:
Burggarten, 1010 Vienna

Volksgarten, 1010 Vienna

Palais Coburg, 1010 Vienna

Augarten, 1020 Vienna

Prater, 1020 Vienna

Sigmund Freud Park, 1090 Vienna

Kurpark Oberlaa, 1100 Vienna

Lainzer Tiergarten, 1130 Vienna

Gloriette, 1130 Vienna

Wilhelminenberg, 1160 Vienna

Panoramic garden Villa Aurora/Wilhelminenberg, 1160 Vienna

Schwarzenberg Park, 1170 Vienna

Am Himmel, 1190 Vienna

Cobenzl, 1190 Vienna

Setagaya Park, 1190 Vienna

Türkenschanzpark, 1190 Vienna

Danube Island, 1210/1220 Vienna

Old Danube (e.g. Kaiserwasser), 1220 Vienna

Donaupark, 1220 Vienna
Are you looking for the Top Picnic Spots in Vienna.. combined with a wonderful view? Then please read on we have some great locations for you spotted in Vienna:
TOP 5 VIENNA PICNIC SPOTS WITH A WONDERFUL VIEW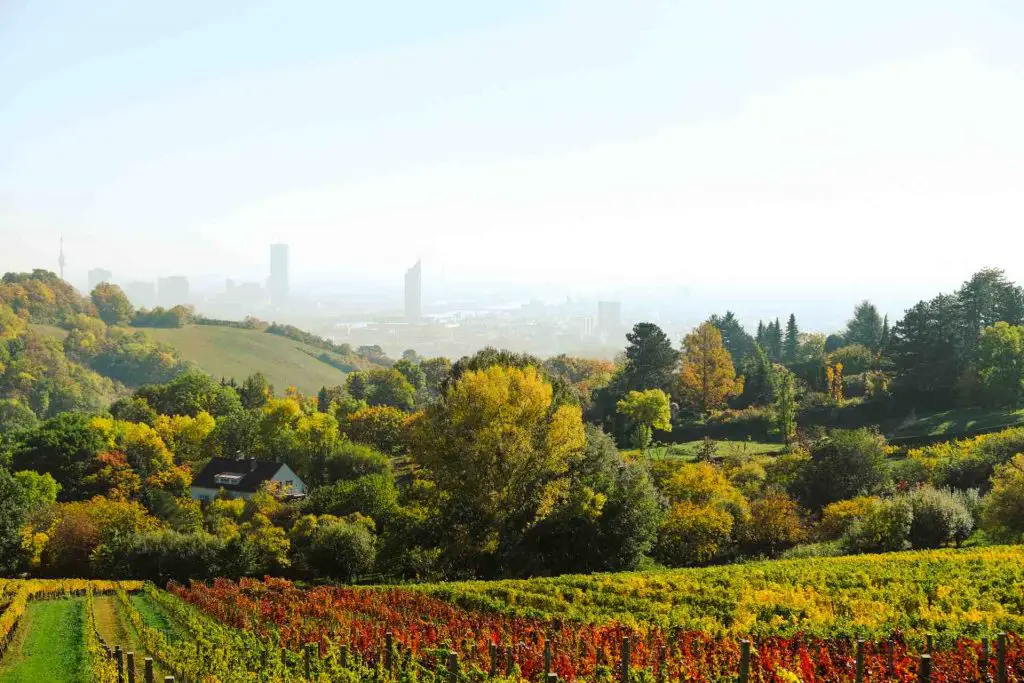 Visit a Traditional Heuriger in Vienna
Take a hike towards Kahlenberg or Cobenzl. There are various traditional Austrian Heurige (wine taverns serving delicious Austrian specialties and local wine) in case you opt in for a lunch break. 
Read more here:
BEST HEURIGER IN VIENNA – COMPLETE GUIDE TO THE WINE TAVERNS IN VIENNA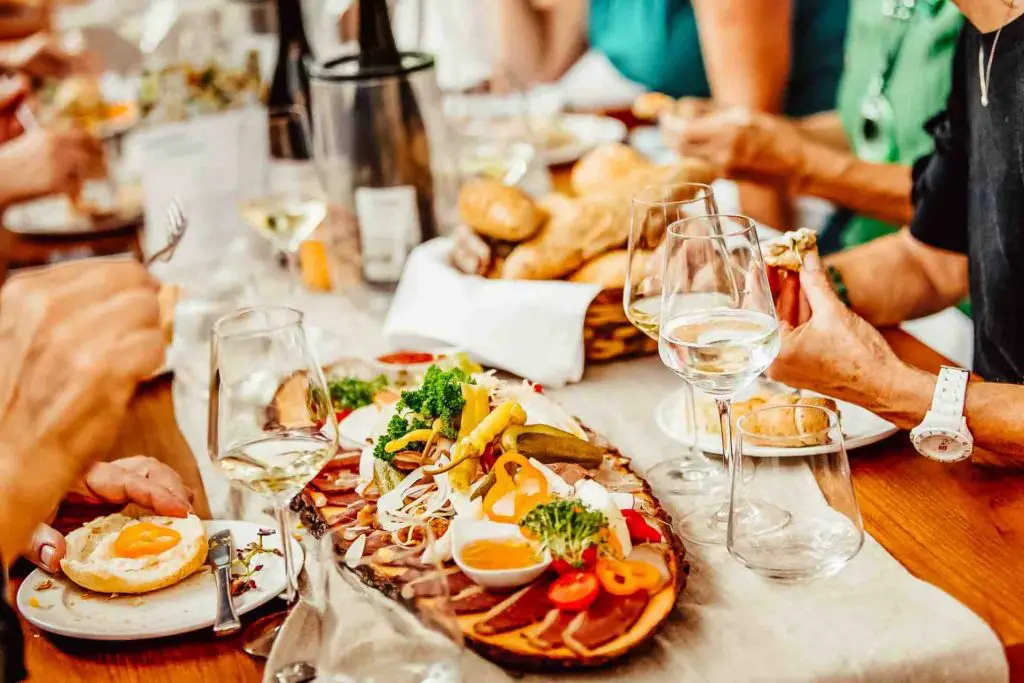 Bike tour on the Danube Canal
The seventeen-kilometer cycle path leads from the Nussdorf weir to the port of Vienna. You cycle right through the city and can admire not only the inner-city nature but also many works of art and graffiti. 
In addition, the various locations along the route provide for physical well-being, such as the Taste! FoodMarket with a roof terrace or the "Neni am Wasser" with delicious Israeli food. If you don't have your own bike, you can also rent a bike:
Detailed Information on How to Rent a bike in Vienna on my Blog:
BIKE RENTAL IN VIENNA – EVERYTHING YOU NEED TO KNOW – WIENMOBIL RAD (VIDEO TOUR)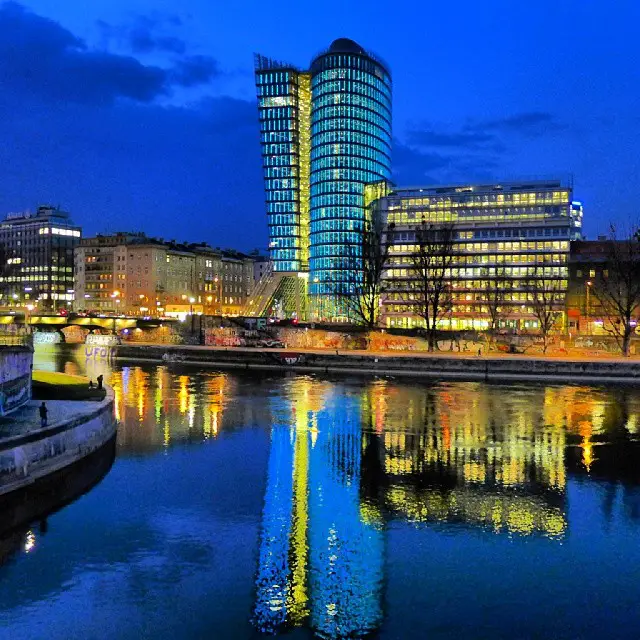 Relax on Sunday in Vienna in a Spa or Hamam
Saunas, floating, sound baths, massages, or beauty treatments – Sunday is ideal for a relaxation and well-being program thermal baths around Vienna are ideal for this, as are spas or hammams, which are open on Sundays in Vienna. We have selected the best for you:
Aisawan Boutique Spa, 1010 Vienna

Sans Souci Spa, 1070 Vienna

Sacher Spa, 1010, Vienna

Schoenbrunner Bad, 1130 Vienna

Mon Corps Haman, 1040 Vienna

So SPA by Sofitel Vienna Stephansdom, 1020 Vienna

Shofah Spa, 1090 Vienna

Dhevari Spa, 1090 Vienna

Sino Spa, 1040 Vienna

Baramee Nuad Thai Spa, 1150 Vienna

Time Out Spa – Floating Relaxation, 1060 Vienna
Explore Vienna on a Hop-On-Hop-Off Bus
Another option to explore the city without being on your feet all day is a Hop-On Hop-Off Bus
This Hop On Hop Off bus allows you to hop on and off at many locations throughout the city, including the Museums of the Hofburg, the House of Music, and the Schönbrunn Palace.
This choice is always popular amongst travelers, and it is a great way to see many of Vienna's famous attractions.
Whatever your reason for wanting a day trip just outside of Vienna on Sunday, we can assure you that there are numerous hidden gems and villages clustered along with the capital that can be explored or enjoyed during a one-day trip.
Read more here:
TOP 10 – DAY TRIPS FROM VIENNA, AUSTRIA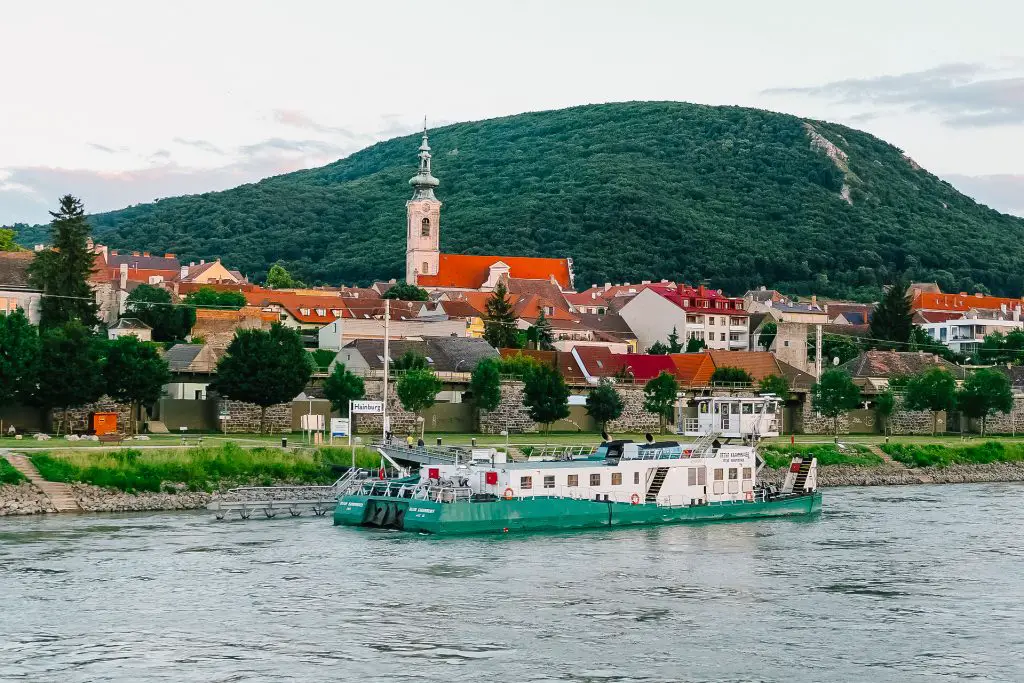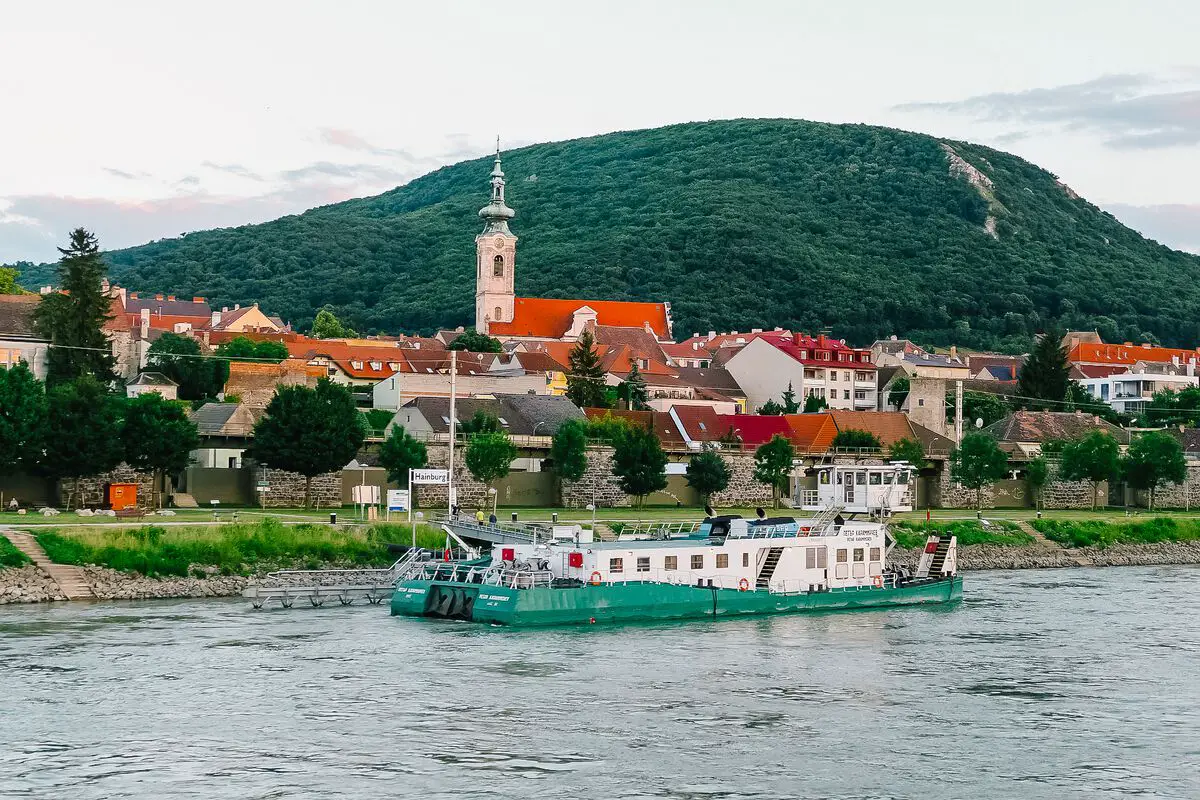 If you still haven't found your activity on a Sunday in Vienna, you can hop on a boat for a day trip to Bratislava. Check out the schedule here. – Twin City Liner
Free Things to do in Vienna on Sundays
Rathaus Film Festival
There is no reason why you should only dream of catching one of the greatest in a surreal setting when you can head over to the Rathaus Film Festival and enjoy it all. The festival offers movies, music, operas, and a range of classical and hard rock performances that you will simply love. All of that is free of cost, and the only thing you are required to pay for is the food and drinks you consume from the stalls. All you have to do is make sure you set your vacation at the perfect time, so you can take in an experience that lasts you a lifetime. 
How to get to the Rathausplatz
Tram: Lines 1, D,  71, U2Z:, Rathausplatz / Burgtheater stop, Line 2: Parliament
Here you will find all Information about the Rathaus Film Festival in Vienna: Rathaus Film Festival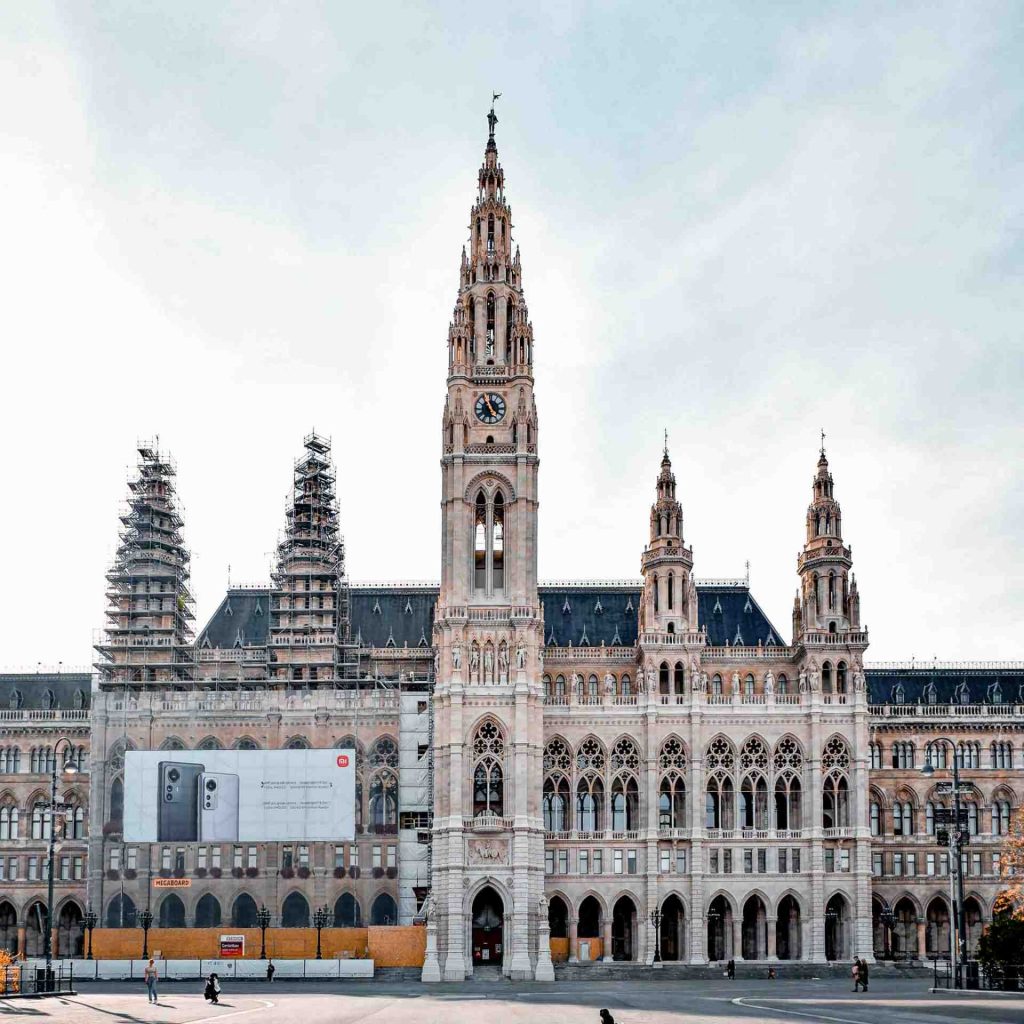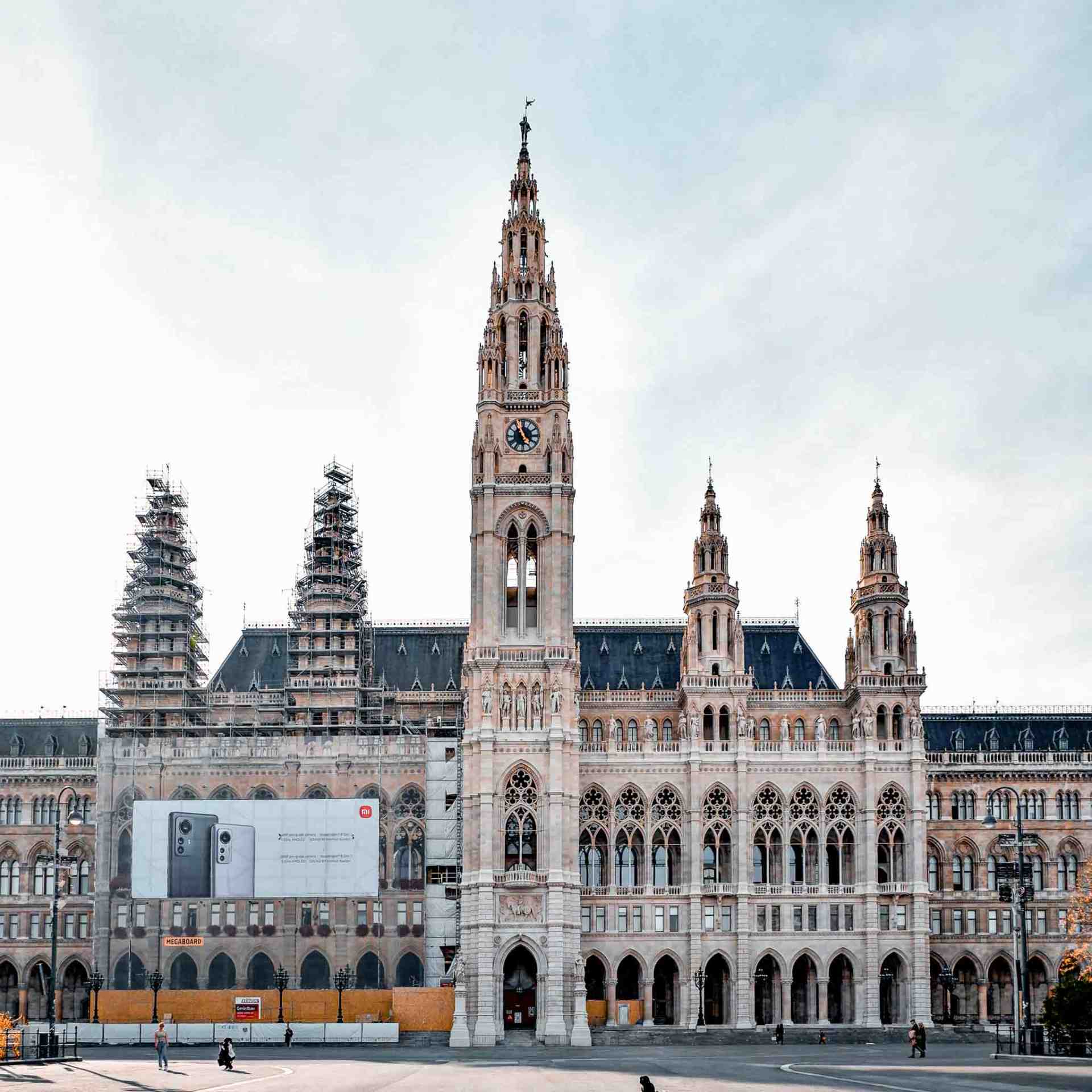 Belvedere Gardens
The 18th-century palace gardens offer you lush and endless greenery, with an upper and lower Belvedere. Linked through the baroque gardens that are set in an iconic French style by Andre le Notre. The entire space is filled with a staggering design, offering you elegant pools, sculptures, fountains, cascades, steps, and so much more. All that with a gallery that is ready to blow you away, all of that without any cost. 
Danube Island
Commonly referred to as the Donauinsel, the island is commonly seen chiefly to reinforce local flood protection. However, the place has a marvelous host of accessible sports and other facilities you can enjoy. Moreover, those who do not have a dime to spend can enjoy the day sunbathing on the beach, walking, roller skating, cycling, or even running around taking it all in at the same time. As the island offers a different side of Vienna, one that takes you away from the ancient city, to the modern world. Offering you the other side of the coin. 
Stadwanderungen – Hiking in Vienna
A trip to the Vienna Woods recharges your batteries at any time of the year. The city hiking trails in Vienna are very well signposted and easily accessible by public transport. The tours last between 2.5 and 5 hours and are therefore ideal for a short trip on a Sunday in Vienna.
Here you will find an overview of all city hiking trails in Vienna – Kahlenberg, Leopoldsberg, Jubilee Tower, and many more.
Frequent-Asked Questions about Vienna Sunday?
Are things open in Vienna on Sundays?
Why do shops close on Sunday in Vienna?
In the Christian-dominated Bible Belt area, most shops stay closed on Sundays due to severe pressure from conservative Christians claiming Sunday as a day for worship only.
Which museums in Vienna are free on Sunday?
Free for all on the 1st Sunday of every month: Wien Museum Karlsplatz, Roman Museum, Collection of Clocks and Watches, Wien Museum Hermesvilla in the Lainz Game Reserve, and the Museum of Military History.
Are Vienna museums open Sunday?
Yes, Opening Hours: Tuesday to Sunday and public holidays 10 am to 6 pm; free entry for all each first Sunday of the month;
Where can I buy food in Vienna on Sunday?
In Vienna, the stores are closed on Sundays and Holidays but don't worry there are places open for those who have not managed to do grocery shopping during the week. Please note what you may purchase on these days is limited by law.
Shops in major railway stations and airports are allowed to open on Sundays but have to limit their supplies. The following shops are usually open on Sundays and public holidays, too:
Billa Praterstern Bahnhof Wien Nord, Praterstern, 1020 Wien 6.00-22.00
Billa Franz-Josef- Bahnhof Julius Tandler Platz 3, 1090 Wien 6.00-22.00
Merkur mini-markt Bahnhof City Wien Westbahnhof 1150 Wien, 9:00-21:00
SPAR Pronto Wien Mitte, Landstraßer Hauptstraße, 1030 Wien, 6:00 – 23:00
Billa Airport Wien-Schwechat, Schwechat, 6.30-22.00
The OKAYs in the various stations are like an enhanced 7-11. They have a little bit of a lot of things-breads, drinks, cheeses, vegetables, eggs, candies, chips, etc. For those who are out of something desperately needed, they're great.
A little SPAR in the General Hospital is also open daily:
SPAR im AKH, Währinger Gürtel 18-20, 1090 Wien 09:00 – 19:00
Our Tip: On Sundays, the queues can be long in these shops and we recommend that you simply take a longer waiting time into account or simply get up a little earlier to avoid the rush
Four Ways to get around Vienna on Sundays
By Public Transport – Vienna City Card
Taking public transportation is the most convenient method to get around Vienna (Euro 8.- for a 24-hour ticket).
A Vienna City Card, which permits unlimited use of the city's metro, tram, and bus lines, can be purchased in advance.
Vienna City Cards are available for 1, 2, or 3 consecutive days, and prices range from 24 hours for Euro 17, to 3 days of use + airport transfer for Euro 46.-.
The Vienna City Card also offers discounts at over 210 major attractions, making it an excellent value.
By Bicycle –  Rent a Bike in Vienna
The city center of Vienna, and the majority of tourist attractions, are reachable by bicycle.
WienMobil Rad is the most popular bike-sharing service in Vienna.
Simply register online, find a terminal and scan the QRCode to unlock a bike.
Detailed Information on How to Rent a bike in Vienna on my Blog:
BIKE RENTAL IN VIENNA – EVERYTHING YOU NEED TO KNOW – WIENMOBIL RAD (VIDEO TOUR)
There is also the very popular Classic Vienna: 3-Hour Guided Bike Tour available to book in advance.
By Hop On Hop Off Bus
The City Card provides access to standard buses throughout Vienna. There is, of course, the well-known Vienna Hop-on Hop-off Sightseeing Bus.
This Hop On Hop Off bus allows you to hop on and off at many locations throughout the city, including the Museums of the Hofburg, the House of Music, and the Schönbrunn Palace.
This choice is always popular amongst travelers, and it is a great way to see many of Vienna's famous attractions.
By Guided Tour
There are some amazing tours available to book in advance on Get Your Guide for people who are short on time or prefer everything to be organized for them.
There's much to do in the Austrian capital, from food tours to river cruises and bar crawls!
Best Guided Tours in Vienna –  A Comprehensive Guide
15 BEST FOOD TOURS IN VIENNA, AUSTRIA – UPDATED 2022/23
Plan your Trip to Vienna?