Edible Delights: Top Foods to Treat Yourself to at This Year's Christmas Markets
It feels as though it was only yesterday that the Christmas markets (Christkindlmärkte) flung open their gates, turned on their cheerful lights and welcomed the crowds to join in the merriment. With that uncanny aroma of mulled wine wafting through the air, you knew it was officially the start of the holiday season.
Christmas markets are a hit with the tourists and locals alike, so you are bound to see either group soaking in the festive atmosphere, chattering away with friends and family over a cup of fruity punch, shopping in the small artisan booths or gorging on the culinary treats. For others, simply visiting the Christmas markets is enough to lift their spirits. Whatever your reason for being there, you are bound to find something to enjoy.
If you this is your first time in Vienna during the holidays, check out our Christmas Market Guide
With a couple of more weeks to go until Christmas, when the markets will welcome visitors for the last time this year, we would like to suggest a list of edible delights, that you can taste at the Christmas markets this year. If the mulled wine was not enough of an incentive to visit at least one, then we hope these goodies are.
Here are our top pics for edible delights to taste at this year's Christmas markets:
Raclette
This is a tangy Swiss cheese that is usually melted with a heated stone (back in the day, it used to be with an open flame). In the Viennese Christmas markets, expect to wait in line for it, because it is an extremely popular treat. The Raclette is used to smother and give a flavorful punch to an open sandwich that usually is topped with cheese, to which one can add ham, onions, ham, bacon and other ingredients depending on the stand. Once the cheese is melted over it, you can choose from additional toppings, like onions, peppers or paprika. Enjoy it straight away, before the cheese goes cold and becomes a bit more chewy. Anything upwards of 4 Euro and under 6,5, is a reasonable amount you can expect to pay for this cheesy delight.
Soup in bread
On a cold winter evening, what could be more satisfying than the heat of a thick soup surrounded by the fluffiness of freshly baked bread, which soaks it up, so you can enjoy breaking up the crust after you're done with your soup serving? Whether it is creamy garlic soup or goulash soup, it will definitely warm you up and keep you full. Expect the bill for this one to be between 5.5 and 6,8 Euro.
Potato spirals
We do not refer to those perfect-looking potato skewers which are usually baked. There are spiralized potatoes where the skin is removed, they are cut using a spiralizer and then deep fried. Served with salt in a paper cone, it is a simple, yet delicious crispy treat. The good part is it will not see you back more than 5 Euro and considering the serving size, they are ideal to share with your friends.
Baked potato
There is something odd about the markets that lack a stand where you can buy a hot potato, fresh out of the oven. It is simple, filling and takes us back to easy childhood dinners. Almost in all markets, you have the choice of several toppings from the classic sour cream with chives, some cheese and ham, bacon or even smoked salmon. Depending on the size of the potatoes used and your choice of topping, expect to budget in anything between 6 to 10 Euro.
Pulled pork
More of a grill staple than associated with Christmas, it is a welcome addition that stands out. Not your every stand at the markets, a very tasty portion of pulled pork sandwiched between warm crispy buns and drenched in a delicious sauce is what you can get at the Spittelberg market. The stand is nestled somewhere close to the ATM, it's rather small, so careful not to miss it. If you wish to enjoy the pulled pork sandwich as a stand-alone meal, be prepared to spend above 10 Euro and to wait a few minutes until your sandwich is put together.
Arancina
This tasty Sicilian specialty is not to be found in all the markets, nor is it usually associated with Christmas. However, on the outskirts of the market at the Maria-Theresien-Platz, close to the entrance to the Natural History Museum, this one booth offering them stood out so we decided to have a go. The arancina is a stuffed rice ball (or cone), coated slightly in bread crumbs and deep fried. The available fillings consist of beef Bolognese, eggplant, pistachios, ham, spinach or mushrooms. They are served warm and will quickly fill you up. Best of all, they are reasonably priced, at exactly 3,8 Euro per piece, regardless of filling.
If you this is your first time in Vienna during the holidays, check out our Christmas Market Guide
Kartoffelpuffer (potato pancake)
A definite winter staple in Vienna when it comes to street food, you are likely to find this delightful potato patty served at the same stands as chestnuts or baked potatoes, over a coal stove. These stands are scattered throughout Vienna, so you will be able to enjoy the Puffer even after the holiday season. If that is the case, why is this listed here? Because normally it is baked in coal stoves. At the Stephansplatz Market, not only you will find a super crispy Puffer once it comes out of the fryer, but you also have a hearty selection of toppings. You can choose the classic, consisting of garlic sauce and salt, you can have the Wildsau (the wild sow), which is a strange name to give to a Puffer topped with sour cream and smoked ham, or the Greek one, which comes with a topping of spinach and shepherd's cheese. More so, you can taste tangy and sweet if you go for the topping with apple purée (Apfelmus). Because it depends on location and on the way it is prepared, the price will range from 1,8 Euro for the baked one to about 4,8 Euro for the deep-fried crispy patty.
Bonus tip: All the markets host at least one stand where you can enjoy freshly made sausages, either with a slice of bread and some sauce, potatoes, pickled veggies and so on. There are many types of sausages you can sample from, combined with different side dishes, so the price range will differ greatly. For example, at the Belvedere market, a Käsekrainer with sauce and a slice of bread will cost 5 Euro.
We did not forget about the sweets and baked goods, of which there is no shortage at the Christmas markets. So here goes:
Roasted almonds
Here is another one of the busy stands, because the sweet smell of candied nuts is so inviting, it's hard to say 'no, thank you'. This is an easy treat, in which almonds are roasted with sugar and cinnamon. Snacking and ambling about the market is sure to be made easy with this yummy treat, which will usually cost an average of 4 Euro per serving.
Sweet pretzels
I like the pretzel stands at the Christmas markets, they keep things simple. Almost inevitably, here you will find both a savory and sweet option of the same product. However, since one would be hard-pressed to find the sweet one anywhere else outside the festive season, they are deserving of an inclusion. There are three types of sweet pretzel to sample from, namely with apple and cinnamon, with chocolate and with marzipan. The dough of the apple pretzel is twisted with the cinnamon and the apple puree, so that the sweet-sour flavor is consistent all over. The chocolate and the marzipan pretzels are lightly glazed. They will usually charge you around 3,5 Euro for a sweet pretzel. We particularly enjoyed the ones at the Belvedere Christmas market.
Bauernkrapfen (Farmer's Doughnuts)
Not to worry, Krapfen (Austrian doughnuts) will still be around in supermarkets and bakeries. The Farmer's Doughnut is a slightly oversized variant of the same deep-fried dough, sprinkled with confectioner's sugar, but it is topped in the middle with raspberry jam and has no filling, staying fluffy as you bite down to the middle. One piece will usually be around 3,5 to 4 Euro, depending where you get it from. It is available at most stands offering sweet baked goods, however for the authentic Bauernkrapfe, head down to the stand either at Karlsplatz or Spittelberg, which offer them freshly made.
If you this is your first time in Vienna during the holidays, check out our Christmas Market Guide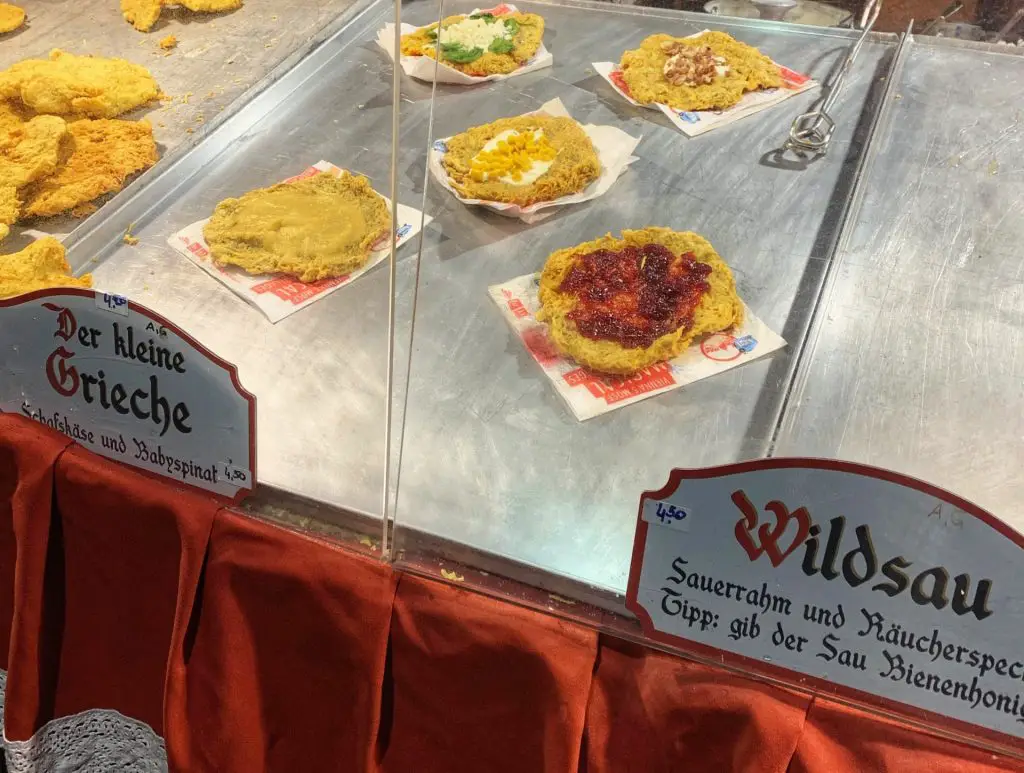 Nussknacker (Nutcracker)
A definite eye-catcher, this is an interesting cupcake. A rich speculoos (Spekulatius) cream swirls atop the base of gingerbread and is sprinkled with coarsely chopped nuts. It feels somewhat decadent, but the price is fair at 3,9 Euro. The one we tasted was at a stand close to the NHM, at the Maria-Theresien-Platz market, where you can also enjoy a small assortment of hot chocolate and eggnog.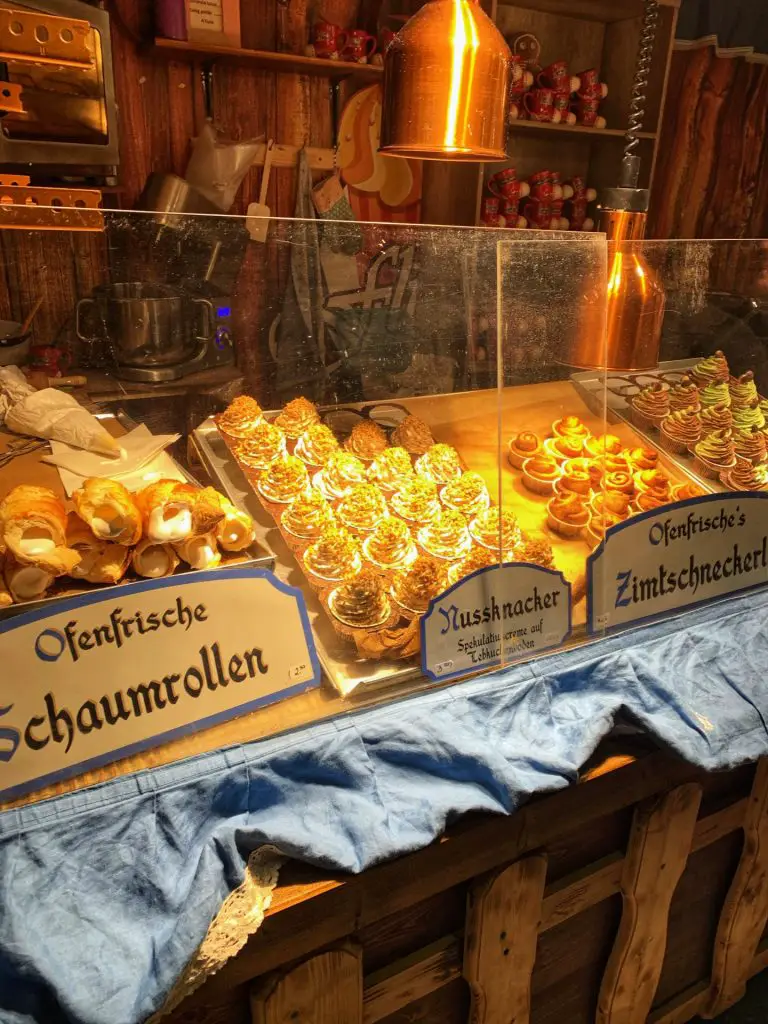 Baumkuchen (Chimney cake)
Also known as Kürtőskalács is a spit cake which originated from the Hungarian community in Transylvania. The dough is wrapped around a wooden spit and heated in an electric oven or over a grill. It is coated with a powdery mix of cinnamon, sugar and walnuts, creating a crispy topping, with a soft thin layer on the hollow inside. A medium piece will cost you around 5 Euro and it's great for sharing with friends, as the dough is easy to pick and pull.
Bonus tip: If you favor organic ingredients, your best bet is the Christmas Market at Karlsplatz. It is also ideal if you wish to bring your children along, as there are some activities and plenty treats for the little ones too.
If you this is your first time in Vienna during the holidays, check out our Christmas Market Guide
We hope you enjoyed this selection of foods and desserts, but if you feel we missed something, let us know in your comments. And we sincerely apologize in advance if following up on these suggestions are in any way shape or form tampering with your fitness resolutions. We trust our readers will exercise moderation when tasting the goodies at the Christmas markets.
On that note, we wish you an enjoyable time at the Christmas markets, good cheer and happy holidays!!!!