Last Updated on February 17, 2023 by gregor
Vienna is renowned for many things – its stunning architecture, rich history, famous composers, and art, but there is one aspect that is often overlooked – the coffee house culture. Viennese Coffee houses have been a part of the Viennese culture for centuries, and they have become an integral part of the city's social life. As someone who has lived in Vienna for several years, I can attest to the importance of the city's coffee house culture.
In this post, I will dive into the history of Viennese coffee houses, the various types of coffee houses, and the unique experience they offer to both locals and visitors alike.
The Origins of the Viennese Coffee House Culture
The story of Viennese coffee houses dates back to the 17th century. According to legend, the first coffee house in Vienna was opened by an Armenian merchant named Johannes Diodato. Diodato was granted the sole right to serve coffee in Vienna after saving the city from a Turkish siege. The coffee house he opened was located on the Graben, one of the city's main streets, and it quickly became a popular meeting place for the city's intellectuals and artists. The Viennese coffee house culture was born.
Over the years, coffee houses became an important part of Viennese life. They were not only a place to drink coffee but also a place to read newspapers, socialize, and exchange ideas. Many famous writers and artists, such as Gustav Klimt, Sigmund Freud, and Stefan Zweig, spent hours in coffee houses, discussing their work and sharing their ideas with other patrons. Today, coffee houses continue to be an important part of Viennese culture.
The Different Types of Viennese Coffee Houses
There are several types of coffee houses in Vienna, each with its own unique atmosphere and character. Some are more traditional, while others are more modern. Here are some of the most popular types:
Traditional Viennese Coffee Houses 
Traditional coffee houses are the heart and soul of Viennese coffee house culture. They have been around for centuries and are known for their elegant decor, marble tabletops, and waiters in bow ties. Traditional coffee houses are a great place to go if you want to experience the old-world charm of Vienna.
Contemporary Viennese Coffee Houses 
Contemporary coffee houses offer a more modern take on the Viennese coffee house. They are known for their sleek design, trendy atmosphere, and innovative coffee creations. If you're looking for something more modern, contemporary coffee houses are the way to go.
Viennese Cafe-Konditorei 
– Cafe-Konditorei is a type of coffee house that specializes in cakes and pastries. They offer a wide range of delicious sweets, from traditional Viennese pastries like Apfelstrudel and Sachertorte to more modern creations. Cafe-Konditorei is the perfect place to go if you have a sweet tooth.
Read here before visiting the Best Coffee Houses in Vienna
BEST COFFEEHOUSES IN THE CITY CENTER OF VIENNA, AUSTRIA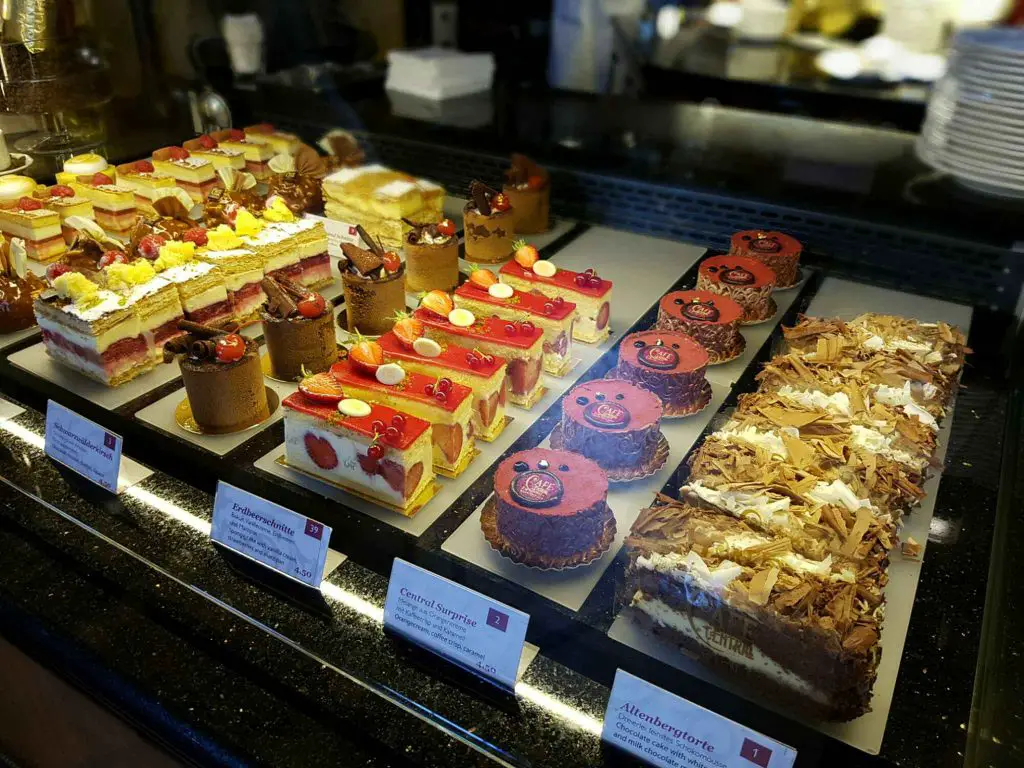 The Unique Experience of Viennese Coffee Houses
What makes Viennese coffee houses so special? It's not just the coffee, although that is undoubtedly excellent.
Viennese Coffee House Ambience
It's the whole experience – the ambiance, the decor, the service, and the sense of history. When you step into a Viennese coffee house, you feel like you're stepping back in time. The waiters are dressed in traditional attire, the decor is elegant and sophisticated, and the atmosphere is calm and relaxed. It's the perfect place to escape the hustle and bustle of the city and take a moment to unwind.
Excellent Service
In addition to the ambiance, Viennese coffee houses are known for their excellent service. The waiters are attentive and friendly, and they take pride in providing a high level of service to their customers. Whether you're a regular or a first-time visitor, you'll be treated with the same level of hospitality and care.
A variety of Coffee Drinks are available
One of the unique aspects of Viennese coffee houses is the wide variety of coffee drinks that are available. From classic coffee drinks like the Melange (similar to a cappuccino) and Einspänner (black coffee with whipped cream) to more unique creations like the Mozartkaffee (coffee with chocolate and cream), there's something for everyone. And if coffee isn't your thing, many coffee houses also offer a wide selection of teas, hot chocolate, and other beverages.
Cultural Institutions
Another aspect that sets Viennese coffee houses apart is their role as cultural institutions. They have long been gathering places for artists, writers, musicians, and intellectuals, and many have hosted readings, concerts, and other cultural events throughout the years. Some coffee houses even have their own in-house newspapers and magazines, providing a platform for local writers and artists to showcase their work.
Living in Vienna, I have had the pleasure of visiting many different coffee houses, each with its own unique character and charm. Some of my favorites include Café Central, which is known for its stunning architecture and elegant decor, and Cafe Hawelka, a traditional coffee house that has been a local institution for over 80 years. But no matter which coffee house you visit, you are sure to have a unique and memorable experience.
Tips for visiting Vienna Coffee houses
If you are visiting Vienna and want to experience the coffee house culture, there are a few tips to keep in mind. 
First, be prepared to take your time. Viennese coffee houses are not a place to grab a quick cup of coffee and go – they are a place to sit, relax, and enjoy the ambiance. It's common to spend an hour or more in a coffee house, reading a newspaper or chatting with friends.
Secondly, be prepared to pay a little more for your coffee than you would at a regular café. Viennese coffee houses are not the cheapest places to grab a cup of coffee, but they offer an experience that is well worth the extra cost.
Read here before visiting the Best Coffee Houses in Vienna
BEST COFFEEHOUSES IN THE CITY CENTER OF VIENNA, AUSTRIA
My Conclusion
In conclusion, the Viennese coffee house culture is a unique and fascinating part of Vienna's history and identity. Whether you're a coffee lover, a history buff, or just looking for a relaxing place to unwind, a visit to a Viennese coffee house is an essential part of any trip to Vienna. With their elegant decor, excellent service, and a wide variety of drinks, Viennese coffee houses offer an experience that you won't find anywhere else in the world. So sit back, relax, and enjoy a cup of coffee in one of Vienna's many beautiful coffee houses – you won't be disappointed.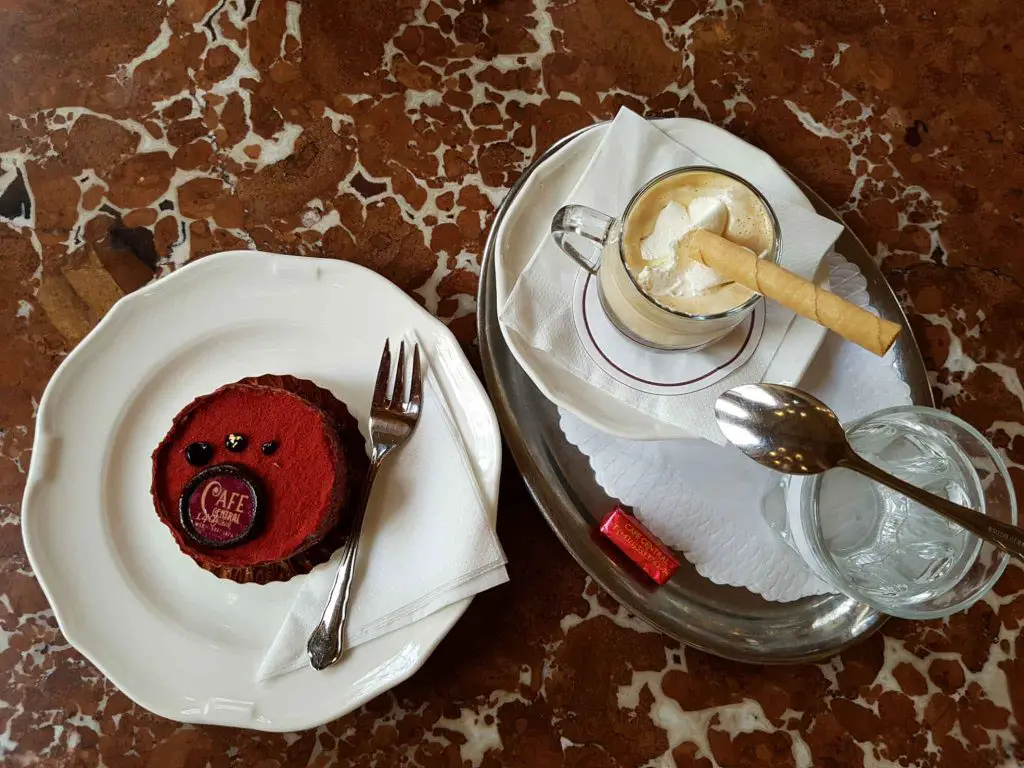 Viennese Coffee house culture – Why is Vienna famous for Coffee? Summary
The answer lies in a combination of factors, including the quality of beans used to make Austrian coffee, the unique brewing methods employed by Viennese baristas, and the relaxed atmosphere found inside traditional Viennese cafés. The city also boasts numerous independent cafés which offer specialty coffees made with carefully sourced beans from around the world. From classic espressos to creative caffeinated concoctions, there is something for everyone in Vienna's diverse and vibrant coffee house culture.