Last Updated on May 18, 2023 by gregor
There are many spots that are perfect for weekend breaks in Vienna.  In my weekend day trips from Vienna list, I have included only locations that are an hour away from Vienna, some quite famous, and others – unexpected hidden gems I am certain you will love.
Here are our top five weekend getaways from Vienna
The majestic Wachau Valley is a highly recommended weekend trip from Vienna, as it encompasses not only an area of breathtakingly picturesque landscapes but also a significant cultural heritage.
UNESCO List of World Heritage Sites
Having been inscribed in the UNESCO List of World Heritage Sites the Wachau Valley is a romantic landscape north of Vienna in Lower Austria, winding along the beautiful blue Danube, from Krems to Melk.
Things to see in the Wachau Valley – Highlights
It is strewn with ruins, castles, and imposing monasteries, watching for centuries over quaint villages that seem frozen in time.
Wachau Valley Wine
Wine connoisseurs can enjoy the famous and prized Grüner Veltliners and Rieslings at the Wachau Heuriger, while foodies would appreciate the syrups, jams, and other delicious desserts made with the locally famous Wachau apricots.
What is the best way to explore the Wachau Valley?
The Wachau Valley is best explored, in our opinion, over the course of a weekend, especially for those whose romantic imagination is incensed by ruins and gazing longingly towards faraway hills through the concave curvature of their Riesling glass.
Wachau Valley by Car or Bike
Exploring by car or bike or a combination of both means that you can adjust the pace and the length of stay in each of the attractions, towns, and villages along the way, in addition to enjoying a scenic drive along the Danube.
🚘 Rent a car on Rentalcars
Wachau Valley by Public Transportation
However, those who wish to explore the area with public transportation or other means of getting around should not feel discouraged, as there are a few options that would pique their interest.
🚂 🚌 ✈️ Best prices for Train, Buses, Cars, Ferries, and flights Omio
Railway Connection from Vienna to Wachau Valley
It is important to highlight that there is no direct train connection from Vienna to the Wachau Valley. Take the rail from Wien Westbahnhof to Melk and then take the Bus to Willendorf/Wachau Valley
🚂 🚌 ✈️ Best prices for Train, Buses, Cars, Ferries, and flights Omio
Take a day ship cruise along the Danube to the Wachau Valley
Another worthwhile way to explore the region is by water, to be more specific, by embarking on a day cruise along the Danube. There are various packages you can opt for, as well as various routes, each meant to allow you to stop and explore a location of your interest.
If river journeys are too tedious for you (and the passage through the Greifenstein floodgates alone takes about half an hour), you might enjoy a train ride. Not just the ride on the S40 to Krems, but a special scenic train, the Wachaubahn, with wide windows and a place for bikes, seemingly gliding between the town of Krems and Emmersdorf, an enchanting village across the imposing Melk Abbey.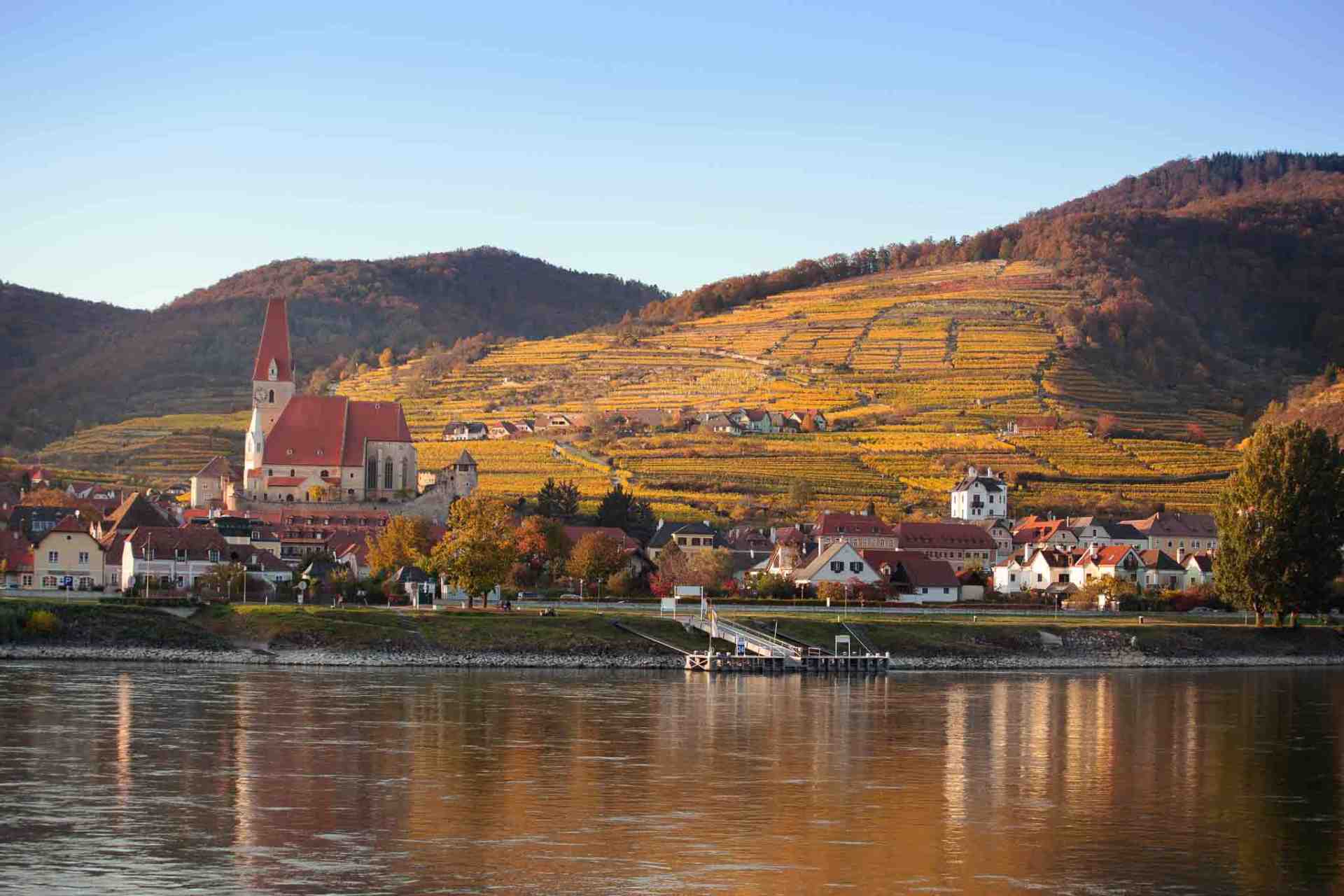 What makes the Wachau Valley worthy of exploration
Let's start with the two major towns.
Krems City
Krems is a wonderful place to start your journey, as its attractions alone will keep you photographing for hours. Whether you are wandering around the Old Town, window-shopping, or visiting the art galleries and museums, there are plenty of options for enjoyment, relaxation, or promenade while enjoying a change of scene.
Top Tip: We also recommend that for a weekend getaway, you consider finding overnight accommodation in Krems, as all means of transportation in the Wachau tend to lead back here.
🏨 Find the perfect accommodation on Booking.com
Melk City
On the other side of the Wachau Valley, rests the beautiful town of Melk, with the bright yellow walls of the Benedictine Abbey of an eponymous name greeting travelers from its hilltop from miles away.
The Abbey of Melk is worth taking a few hours to explore, as visitors would love its gardens, the imposing library, and learning about its ten centuries' worth of history.
At the bottom of the hill, lies the old quarter of Melk, still retaining a Renaissance flair.
In fact, the oldest building in Melk, Haus am Stein, dates back to the 15th century. Or take a picture of the Sterngasse, which is the oldest lane in Melk, having served long ago as the main street.
Vestiges of the former city gates can still be spotted and photographed while strolling around and keeping an eye out for details might lead you to some very intriguing street corners and gardens that seem as though they belong to a different era.
Schallaburg Castle
If you still wish to linger in that Renaissance atmosphere or you simply are eager to explore more history, head over to the nearby town of Schollach, where you can visit the Renaissance castle of Schallaburg and its Mannerist-style gardens.
OPENING HOURS
from April 9th to November 6th
Monday to Friday, 9 a.m. to 5 p.m.
Saturday & Sunday, 9 a.m. to 6 p.m.
Public holidays, 9 a.m. to 6 p.m.
Admission until 1 hour before total closing time
Dürnstein Village
The Village Dürnstein, famed for the hilltop castle Ruin of Dürnstein, which once served as King Richard the Lionheart's prison, as well as for its vineyards, can either be your stop along the scenic train ride or your river cruise.
Either way, stretching your legs in this romantic village with its winding narrow alleys, welcoming shops, and flowers on every windowsill, can make for a beautiful way to spend an afternoon.
Up for a challenge? Hike all the way up to the castle ruins and enjoy a wonderful view over the valley, with photos being a must if you find yourself here.
Spitz Village
Another beautiful village, but perhaps with less notoriety than Dürnstein, is Spitz an der Donau. With cobbled streets, free from the busy steps of tourists, it delights with the same scenery and another incredible attraction, the imposing ruins of the Hinterhaus Fortress, said to be haunted by the ghost of Heinrich des Eisernen's first wife, Adelheid. The 13th-century Niederhaus Castle, as well as the late Gothic Church, are two other landmarks that can be admired and photographed in this village.
How can I reach Dürnstein and Spitz?
Both Dürnstein and Spitz can be reached by train, buses from either Krems or Melk, as well as by cruise ships, that stop on their shores.
From the top of the Dürnstein Castle, a particular landmark might catch your eye, as it appears like a white fortification crowning a forested hilltop.
🚘 Rent a car on Rentalcars
Göttweig Abbey
It is not a castle, but the imposing Göttweig Abbey, which would also be worth a visit.
Göttweig is a Benedictine monastery dating back to the 11th century but owing its current magnificent grounds to a grand scale restoration after the initial abbey was burnt down.
The Baroque influences can be admired in the Abbey church, the tapestry room, and the beautiful imperial staircase with its frescoes. Its library contains over 150,000 books and manuscripts, in addition to other collections of immense cultural value.
With public transportation, it is accessible by rail from Melk or Krems, with trains stopping at Fürth-Göttweig Bahnhof, from where there is a fair bit of walking to the Abbey.
Schönbühel Castle
Going up against the Danube stream, right before reaching Melk, you would do best to make sure you are on the western side of the valley, to stop at the fairytale-like Schönbühel Castle or at the medieval castle ruins of Aggstein, a castle that was famed for being able to withstand direct assaults and with its fair share of legends from times long gone.
Have we piqued your interest in the Wachau Valley? When are you planning your visit to this incredible World Heritage Site?
Many ex-pats find the craze for the Neusiedler See a bit strange but it is definitely one of the most recommended weekend breaks from Vienna. After all, from the pictures, it gives the impression of a lake amid flat grasslands. This is a gross oversimplification, and it is difficult to explain the charisma of the Neusiedler See in Burgenland, but we will do our best and encourage you to see for yourself what all the fuss is about.
Neusiedler See Location
Neusiedler See is a 315 km2 lake, for the most part on Austrian territory with about a quarter of that in Hungary, with a depth not exceeding 1,8 meters.
Surrounded by reeds, it is a habitat for wildlife, that attracts birdwatchers and biologists, making it a perfect family destination, where your children can learn in a fun way about the flora and fauna of this beautiful and tranquil place, while you enjoy the refreshing water.
If you are not very inclined towards studiousness, you will enjoy the hiking and walking trails around the lake, as well as the biking trails, of which there are fifteen.
Aquatic activities
And of course, you can enjoy aquatic activities, such as swimming and frolicking in the water, or you can try your hand at windsurfing and rowing.
St. Martins Therme & Lodge
For spa and relaxation lovers, the famous St. Martins Therme & Lodge is a 15-minute drive away from Podersdorf am See, offering spa treatments, relaxation experiences, family activities, paddle-boarding, as well as birdwatching and group safaris. So, whether you go alone, take a few friends, your partner, or your family, you are bound to find something to suit your lifestyle and vacation plans.
Burgenland Top Restaurant Tips
How do I get to the Neusiedler See from Vienna?
Neusiedler See is most practically reached by car, especially if you plan to move around.
Public Transportation:  you can take a regional train from the Central Train Station to Neusiedl am See – the journey takes only forty minutes from Vienna.
🚘 Rent a car on Rentalcars
🚂 🚌 ✈️ Best prices for Train, Buses, Cars, Ferries, and flights Omio
The two villages here are so close to one another, that you would be hard-pressed to tell where one ends and the other begins.
How do I get to Mödling and Maria Enzersdorf?
We added them together, as they are both a stone-throw away from Vienna, meaning a short drive (under half an hour) or a short ride on the regional train or S-Bahn. They are also part of the locally designated "Speckgürtel" ("Bacon Belt"), an area of affluent and quaint villages clustered along the eastern and south-eastern edges of Vienna, which remind of picture-perfect postcards.
🚘 Rent a car on Rentalcars
🚂 🚌 ✈️ Best prices for Train, Buses, Cars, Ferries, and flights Omio
Highlights
In addition to the beautiful architecture and well-preserved buildings, the area can easily rival Wachau in terms of castle ruins scattered about and breathtaking views.
The forested hills south of Mödling and the Föhrenberge Natural Park are a piece of heaven for nature lovers and they have numerous shaded trails that you can follow, such as Eichkogel, Prießnitztal and Breite Föhre, which connect to other routes all the way to Pfaffstätten near Baden Bei Wien.
You can take pictures of the green vistas surrounding you from the Wilhelmswarte and Kaiser-Jubiläums-Warte observation decks.
Sparbach Valley
However, the truly romantic trail of medieval ruins starts at Sparbach Valley, a small village a few minutes drive away east of Maria Enzersdorf, where an entire day can be dedicated to the eponymous natural park, where you can see the castle ruins Johannstein and Köhlerhaus, detouring all the way to the next village, where the Castle Wildegg still stands and is available for renting, operating frequently as a camp for youths during summer months.
Outside of Mödling, you can wander around the forest until you reach the Hussars' Temple or the castle ruins Mödling, from where you have a perfect view of the valley below.
Burg Liechtenstein
In Maria Enzersdorf, you can enjoy a walk on the grounds of the Burg Liechtenstein, a well-preserved medieval castle dating back to the 12th century. You can even participate in one of the guided tours and learn more about the history of the castle and the lives of the nobility of the time. The highlight of the tour is the view you get from the Gothic balcony, overlooking the area and providing you with inspiration for your next hiking adventure, the Amphitheater ruins, and the Roman Wall, while from the other side, you could catch a glimpse of the nearby Rauchkogel ruins.
Hinterbrühl Seegrotte
The Hinterbrühl Seegrotte, an underground system of caves underneath a gypsum mine, flooded in 1912 with crystal clear waters, creating an underground lake. It has been open to visitors since the 1930s, the lake is 60 meters below ground, and pumps are used to keep the water levels down. A scene from the film The Three Musketeers (1993) was shot here and the prop, a gondola, can still be seen today afloat in the grotto. Hopefully, it will be available for visits soon and you can enjoy a tour of the underground lake.
Accommodation and dining options are plentiful, even in the middle of the forest.  This is an area worth exploring over a weekend in Vienna!
Laa an der Thaya
On the less famous side of our getaways, we thought to suggest a destination that not many Viennese are likely to flock to, but which still promises a pleasant and quiet weekend experience. Located in the Mistelbach district, near the border with the Czech Republic, Laa an der Thaya is a quaint small town with a lot of history to uncover and spa experiences to spoil your senses.
The Laa Castle (Burg Laa) is one of the town's top attractions, which started out existence as a tower that used to guard a water barrier. The tower still stands today in the northern corner of the castle surrounded by the fortified walls added later. It has undergone renovation and is open to the public.
Further attractions include the Town Hall, built-in at the end of the 19th century to celebrate Emperor Franz Josef's 50th rulership jubilee, as well as the old Town Hall building, which dates back to the 13th century.
Once you are done exploring this quiet town, invite your senses into a world of relaxation and spend the remainder of the time in the Therme Laa.
You can choose to stay at the Hotel Silent Spa to round up your experience, but it is not a must. Pools, saunas, massages, and other therapeutic services can be booked and enjoyed.
Laa an der Thaya is one hour away from Vienna by car, give or take a few minutes, depending on your speed and traffic. If you don't want to worry about driving, you will be happy to know that regional trains depart Floridsdorf Bahnhof hourly towards this small town and that the journey only takes about one hour.
Semmering Mountain Paradise
On cold clear winter days, its snowy peaks stand somewhat defiantly towards the eastern horizon, reminding the onlooker to finally book that long-awaited ski vacation. In summer, it's not the most sought-after destination, even though originally during the 19th century, it was a summer resort for the Viennese high society.
The Semmering is one of the Top Weekend Trips from Vienna.
Semmering Hiking
Semmering offers an ideal blend of relaxation, culture, and sporty activity. There are many accommodation options available and the hiking trails can range from easy to moderate. Be sure to make your way up to the observation deck "Dr. Erwin Pöll Milenniumswarte" or the terrace of the Liechtensteinhaus restaurant for the breathtaking views of the mountain and neighboring valleys.
Semmering Rail Walk
For those up for an interesting challenge, they can try the Semmering Rail Walk, which moves along the rail tracks from Semmering all the way to Gloggnitz, meaning 23 kilometers – there are stops in between, from where you can catch the train back to Semmering if you get tired. Doing the entire route will earn some of your bragging rights to your friends, and you will be rewarded with the most stunning landscapes.
For those sporty among you who prefer to cycle rather than trek, Semmering has the perfect offer – the Bikepark Zauberberg. With a total distance of about 18 kilometers, the trails provide entertainment to all age groups and to all levels of experience. Bring your mountain bike along and put it to the test.
If you want to sprinkle in a bit of relaxation and culture to the mix, consider visiting the Südbahnhotel, the Silbererschlössl, or the Adlitzgraben Viaduct, and top the evening off with a cultural event at the Sübbahnhotel.
Semmeringbahn (Historic Semmering Railway)
Naturally, you can easily reach the Semmering by car in about an hour, depending on traffic, yet those who plan to travel light, they may wish to consider skipping the car and taking the train along the Semmeringbahn instead.
A heritage route considered the world's first mountain railway, it has been in operation since the middle of the 19th century, and it is now part of the UNESCO World Heritage site.
Trains depart from Hauptbahnhof (Central Station) – have your cameras ready as you approach the area and capture the beauty of the mountains from the train!
MAP – Weekend Getaways from Vienna
Here is a Tourist Map of the weekend Getaways from Vienna
Use this GOOGLE MAP to plan your weekend trips from Vienna. I added all the best sights and Top things to do.
Enjoy your holidays!
Let us know in the comments which of these weekend break Vienna destinations you are inspired to explore or which other places close to Vienna are worth a weekend visit.
We take this opportunity to wish you all a wonderful summer and to enjoy your vacations, whichever destination you may have chosen!
Photo Credit: Unsplash
Plan your Trip to Vienna?
FAQS
How do I spend a weekend in Austria?
Austria is a beautiful country with a rich history and culture offering many options for a weekend getaway. Here are some suggestions for how you can spend a weekend in Austria:
Explore Vienna: Vienna is Austria's capital city and offers many cultural experiences. You can visit museums, take a walk in the famous Schönbrunn Palace gardens listen to classical music or try some of the famous Viennese cuisines.
Visit Salzburg: Salzburg is a picturesque city famous for being the birthplace of Mozart and the setting for "The Sound of Music" movie. You can visit Mozart's birthplace, explore the historic old town, or take a stroll through the Mirabell Palace gardens.
Skiing in the Alps: If you are visiting during the winter months you can hit the slopes and go skiing or snowboarding in the Austrian Alps. There are many ski resorts in Austria such as St. Anton, Kitzbühel, and Zell am See.
Visit Innsbruck: Innsbruck is a city located in the heart of the Austrian Alps offering stunning mountain views and a vibrant city atmosphere. You can visit the Golden Roof an iconic landmark of the city, or take a cable car up to the top of the Nordkette mountain range.
Relax in a spa: Austria is known for its spa culture and there are many spas and wellness centers throughout the country where you can relax and unwind. Some popular spa destinations include Baden, Bad Gastein and Bad Ischl.
Visit the Wachau Valley: The Wachau Valley is a scenic region along the Danube River, known for its picturesque vineyards and historic towns. You can take a boat tour along the river, visit the Melk Abbey, or sample some of the region's famous wines.
These are just a few ideas for how you can spend a weekend in Austria. With so much to see and do, you are sure to find something that interests you.