Last Updated on October 14, 2022 by gregor
Which highlight you absolutely should not miss in Vienna, the capital of Austria – here is all of that in ten convincing reasons to visit Vienna. And if you are sure that your next city trip destination is Vienna, you should read our Ultimate Vienna City Break Travel Guide (Click)
Here are the 10 reasons to Visit Vienna
1. Vienna, The most beautiful city in the heart of Europe
Due to its central location in Europe, Vienna is a very popular destination for visitors from all over the world. With more than 1.9 million inhabitants, Vienna is the most populous city in Austria and the second-largest city in the German-speaking area behind Berlin. According to the "Innovation Cities Global Index", Vienna is after London and San Francisco as one of the most innovative cities in the world.
2. Vienna combines nature and city living
Aside from the urban capital flair, Vienna offers countless parks and recreational areas where you can enjoy some peace and quiet. More than half of the metropolitan area is made up of green spaces. 280 imperial parks and gardens enrich the cityscape. In spring, 400 species of rose bloom in the Volksgarten alone. The nearby recreation areas of Prater, Vienna Woods, and Lobau invite visitors to go on walks, day trips, hikes, and bicycle tours. Vienna has a total of 2,000 parks. Learn more about the Green Vienna here (Click)
3. Vienna's imperial architecture
Vienna's beautiful city center and historical buildings are some of the city's prime sights, with magnificent architecture that leaves visitors in awe. From Art Nouveau to Gothic and Baroque as well as the famous "Ringstraßenstil", Vienna serves it all.
4. Classical Music in the spotlight

– Vienna State Opera

Vienna is the world capital of music because nowhere else was home to more famous composers than here. Classical music is the heart of our music history and the work of great composers such as Wolfgang Amadeus Mozart, Ludwig van Beethoven, and Franz Schubert is still showcased on many stages throughout the city. Today the Viennese Philharmonic, the ensemble of the Viennese State Opera, and the Vienna Symphonic Orchestra contribute to this very important part of our culture.
5. Viennese Museums
Vienna has over 100 museums – major collections of global caliber and bizarre little ones. Visit them, look at them, marvel at them. An important part of our culture is the historical inner city, with some of its imperial buildings that can still be visited today. Among these are many museums with collections of world-famous artists, such as the "Kunsthistorisches Museum" or the Albertina. Find out the reason why you should visit the Albertina Museum. (Click)
6. Viennese coffee house culture

– The Sachertorte

Vienna has a long tradition of coffee-house culture, and you will encounter Viennese elegant coffee houses in their most traditional form.
Here is the Ultimate List of Best Coffeehouses in Vienna City Center including short descriptions, opening hours, directions, and web links – enjoy this Viennese institution. (Click)

https://www.theviennablog.com/2017/06/06/best-coffeehouses-city-center-vienna-austria/
7. The largest university town in the German-speaking area
Education is very important to us. The variety of educational opportunities and the courses of study is very appreciated nationally as well as internationally wide. Vienna has nine universities, four universities of applied sciences, and further private universities.
8. Viennese Imperial flair is in the air
Explore Vienna's most beautiful squares while sitting on a horse-drawn carriage, which is called "Fiaker" in Vienna. After that, enjoy a walk through the avenues of the parks at Schönbrunn Palace, where Emperor Franz and his Empress Sisi once resided. The castle itself impresses with splendid staterooms and offers an insight into the former imperial living rooms. Behind the castle on a small hill, lies the "Gloriette", which can be reached by a short walk. The little effort uphill will be rewarded as soon as you reach the top and have a stunning view over the city.
More about Vienna Top photography Locations,… (Click)
9. Traditional Viennese cuisine
From the typical "Beisl" with hearty cuisine to the luxurious gourmet restaurants, Vienna offers a mixture of local and international tastes. As the only city in the world, we are the namesake of our own eating style, the "Viennese cuisine". Even if you are vegan you can choose from a variety of restaurants. Here is the Ultimate List of the Best Vegan restaurants in Vienna. (CLICK) If you need a healthy dinner or just a fast snack here you find the right restaurant in Vienna
10. Vienna is the city with the highest quality of living in the world
For the eighth time in a row, Vienna has been awarded as the city with the highest quality of living. Vienna provides a huge educational offer, and has a well-developed public transport system, which its inhabitants can use for €1 per day, and we feel more than safe here in the heart of Europe. We Viennese love our city and are happy about every guest who shares this joy with us.
Useful Travel Information about Vienna
You might also enjoy:
PRACTICAL TIPS FOR VISITING VIENNA
WHEN IS THE BEST TIME TO VISIT VIENNA, AUSTRIA
HOW MANY DAYS DO YOU NEED TO VISIT VIENNA?
ONE DAY IN VIENNA I THE PERFECT 1 DAY ITINERARY
TWO DAYS IN VIENNA I THE PERFECT 2 DAY ITINERARY
3 DAYS IN VIENNA ITINERARY FOR FIRST TIME VISITORS FOOD, TIPS (INCL. VIDEO) AUSTRIA
4 DAYS IN VIENNA – BEST VIENNA TRAVEL ITINERARY
TOP THINGS VIENNA IS FAMOUS AND KNOWN FOR
THE BEST 12 MUSEUMS YOU NEED TO VISIT IN VIENNA, AUSTRIA TRAVEL GUIDE (UPDATE 2022)
VIENNA – BEST THINGS TO DO IN SUMMER
VIENNA SOLO TRAVELER TIPS – SOLO TRAVEL GUIDE VIENNA, AUSTRIA
THE BEST THINGS TO DO IN VIENNA WITH KIDS – FAMILY HOLIDAYS IN AUSTRIA
BEST ROMANTIC THINGS TO DO IN VIENNA, (FOR COUPLES)
BEST WAYS TO GET FROM VIENNA AIRPORT TO THE CITY CENTER
TOP 5 VIENNA PICNIC SPOTS WITH A WONDERFUL VIEW
VIENNA ULTIMATE TOP 50 BUCKET LIST – THINGS TO DO
Where to go in Vienna?
The Vienna Blog has thoroughly studied all the attractions but also hidden secrets to uncover in Vienna. (Click the Links below to get to the information)
Here is the Vienna Ultimate Top 50 Bucket List
Here is the Best of Vienna in 4 hours
Here is the Best of Vienna in 4 hours (Summer Edition)
Here are the Best 5 things to do in Vienna the most liveable city in the world
Here are the Vienna Old Streets in Historic Center
Here is the Spittelberg Village in Vienna
PIN IT on PINTEREST!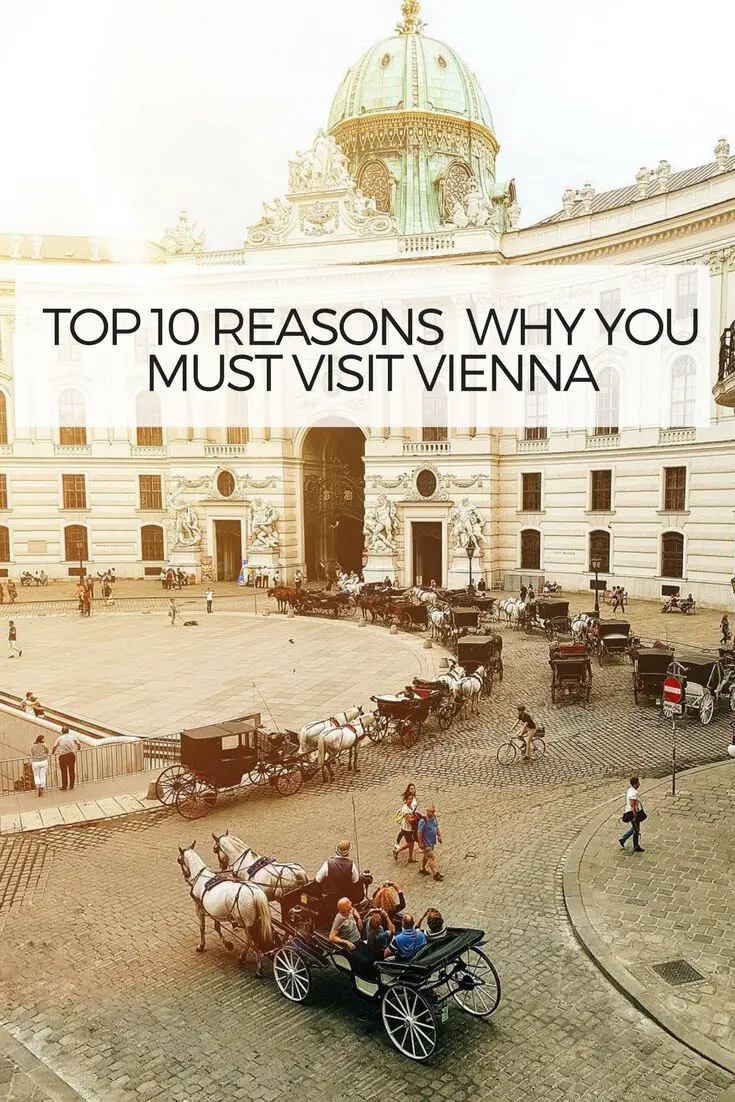 These 10 reasons will convince you to come to Vienna!
Save
Save