Last Updated on April 24, 2023 by gregor
There are many reasons why visiting Vienna is a good idea. It's a city of culture, romance, art, and history, Even if you visit several times, there's always something new to see and do in Vienna. There are plenty of things to love about Vienna.
If you plan your very first visit to Vienna, please check out these Blogposts about the top things to see and the best places to stay.
Vienna offers some of the finest goodies you can treat yourself to—from Viennese chocolate, Sacher cake, and Augarten porcelain to antiques, and everything in between.
Here are 15 things to buy in Vienna that will not only serve as souvenirs from your trip but that you'll keep going back for again and again. (There are 15 great things to buy in Vienna as souvenirs from your trip, or just to have on hand for yourself!)
15 Best Souvenirs to Buy in Vienna, Austria
Sacher Torte – Best Souvenir in Vienna
If you're a tourist in Vienna, you can easily partake in the local coffee culture by simply going into one of the city's many great cafes and ordering a specialty coffee cup like Wiener Melange (a coffee drink similar to a Cappuccino, but topped with whipped cream instead of milk foam) along with a slice of traditional Viennese cake called Sacher Torte.
The Sacher Torte is a well-known Vienna cake, made with chocolate cake layers, apricot preserves, and a lustrous chocolate-glaze finish.
Where to find it
If you want to take one home, Café Sacher Wien (Address: Philharmoniker Str. 4, 1010 Vienna, Austria/Hours: 8AM–8PM) is the place to go. They sell Sacher Tortes and wraps, nicely packaged and perfect for gifts.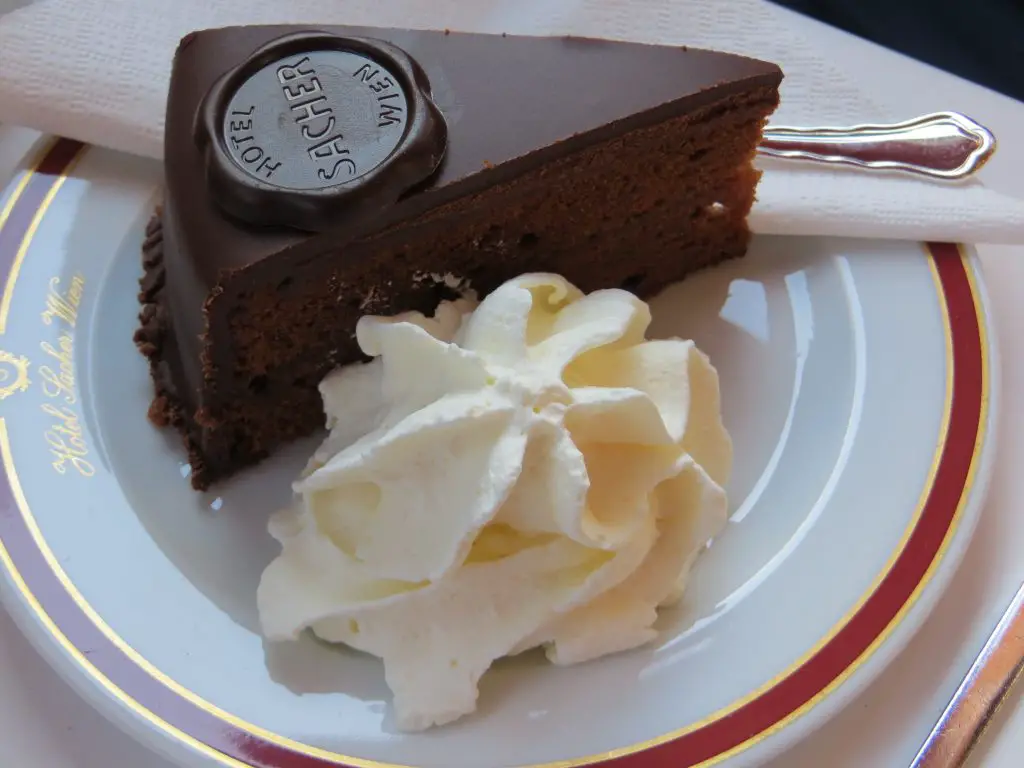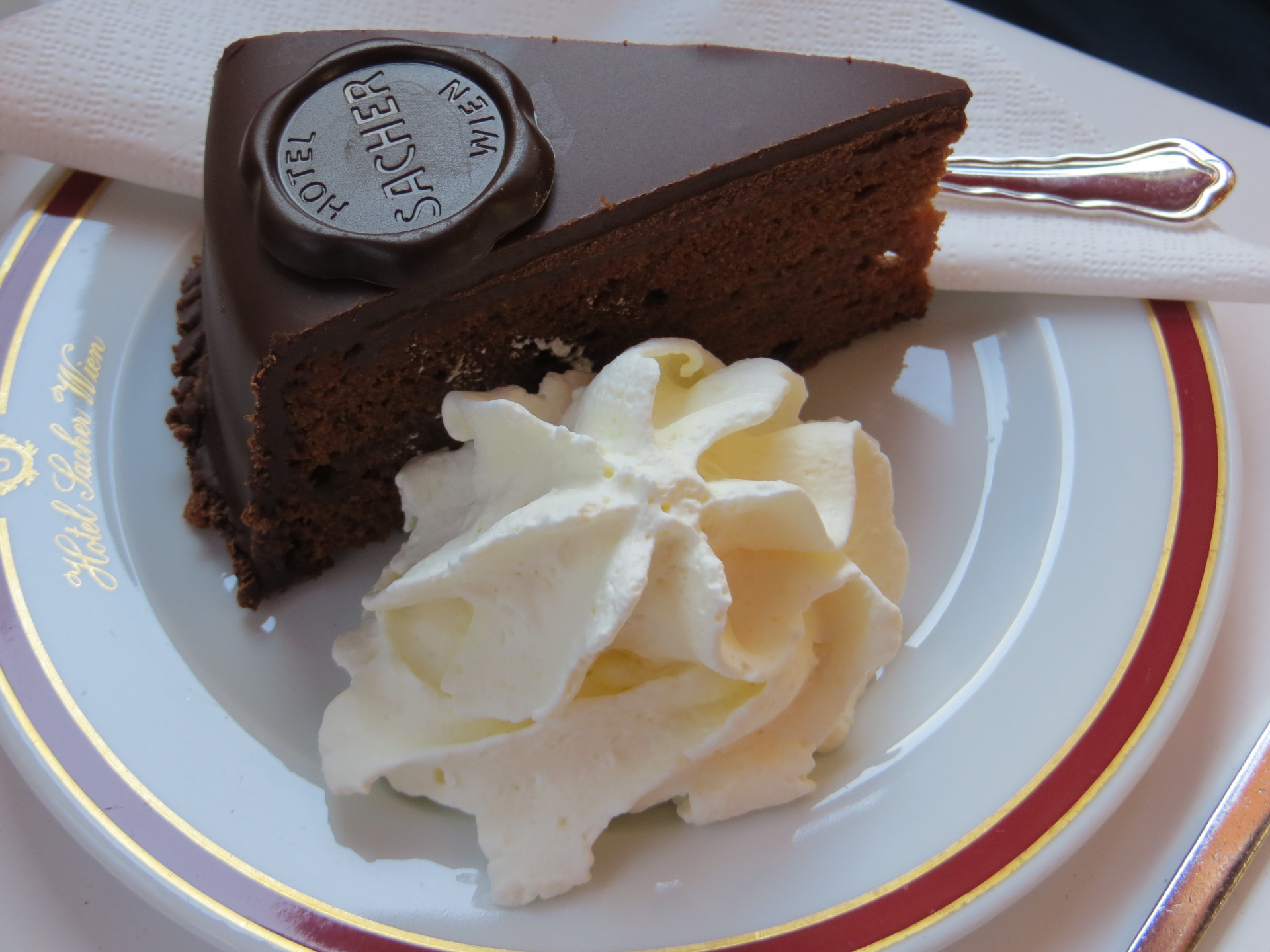 15 BEST FOOD TOURS IN VIENNA, AUSTRIA – UPDATED 2022/23
Swarovski Crystals – Must buy in Vienna
Swarovski's crystal products are a national treasure in Austria and world-renowned for their brilliance and popularity – second only to diamonds.
This luxury brand has been around for over 126 years and specializes in crystal products like charming jewelry, elegant watches, and sparkling crystal creations. The company's factory is located in Wattens and its typical product lines include everything from accessories and jewelry to gifts and interior decoration.
You can purchase these items from stores in Vienna:
SWAROVSKI Kristallwelten Store, Vienna (Address: Kärntner Str. 24, 1010 Vienna, Austria),
SWAROVSKI Vienna Kärntner Store (Address: Kärntner Str. 8, 1010 Vienna, Austria)
Or in the town of Wattens in Tyrol itself. (Swarovski Manufacturing Site and Exhibition)
Where to find it:
Swarovski Crystal Store
Kärntner Straße 24 1010 Vienna
Business hours:
Monday to Friday 9.00 – 21.00
Saturday 9.00 – 18.00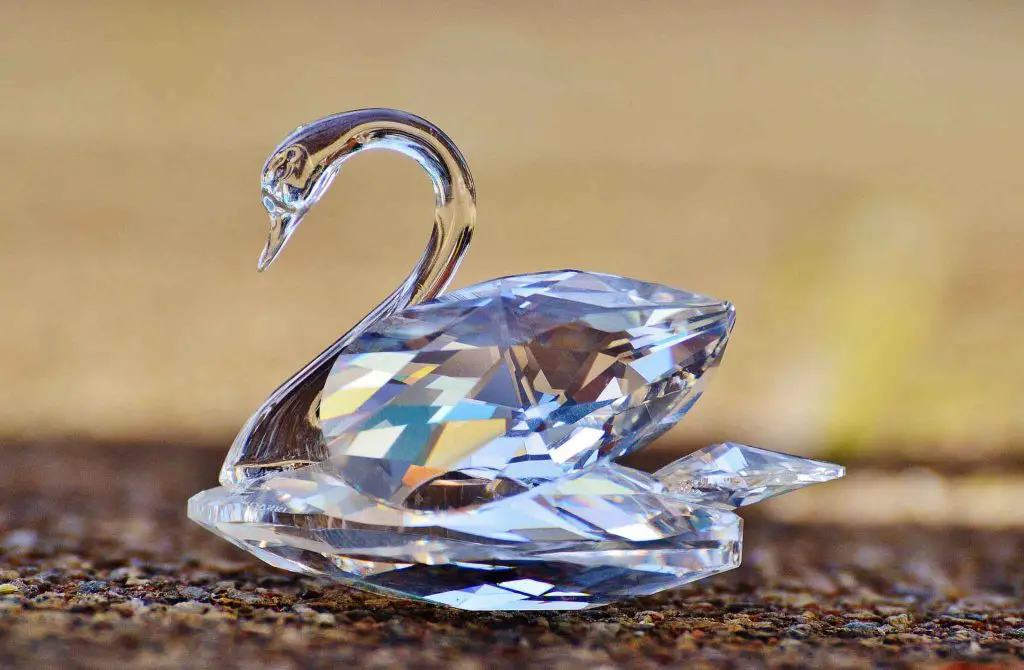 Augarten Porcelain – Viennese Souvenir.
Augarten Porcelain is a Viennese company that produces high-quality porcelainware. The company was founded in 1718 and is one of the oldest porcelain manufacturers in Europe. Augarten Porcelain is known for its beautiful designs, which are often inspired by Viennese culture and history. The company's products make great souvenirs for visitors to Vienna, and they can be found in many of the city's souvenir shops.
At the Viennese porcelain manufacturer at Augarten, you will find a perfect figurine to display at home or tableware for your next lovely dinner party. There are many themes that underline the diversity of the selection, but most of these themes concentrate on local life and icons from Vienna and Austria. For example, you may be interested in the 'Courbette' from the Spanish riding school series, made of 68 pieces in order to achieve the greatest degree of plasticity.
Where to find it:
Augarten Manufacturing Site (also has a Shop)
Obere Augartenstraße 1a 1020 Wien
Business hours:
Monday – Saturday 10:00-18:00 hrs.
Augarten Store City Center
Spiegelgasse 3, 1010
Business hours:
Monday – Saturday 10:00-18:00 hrs.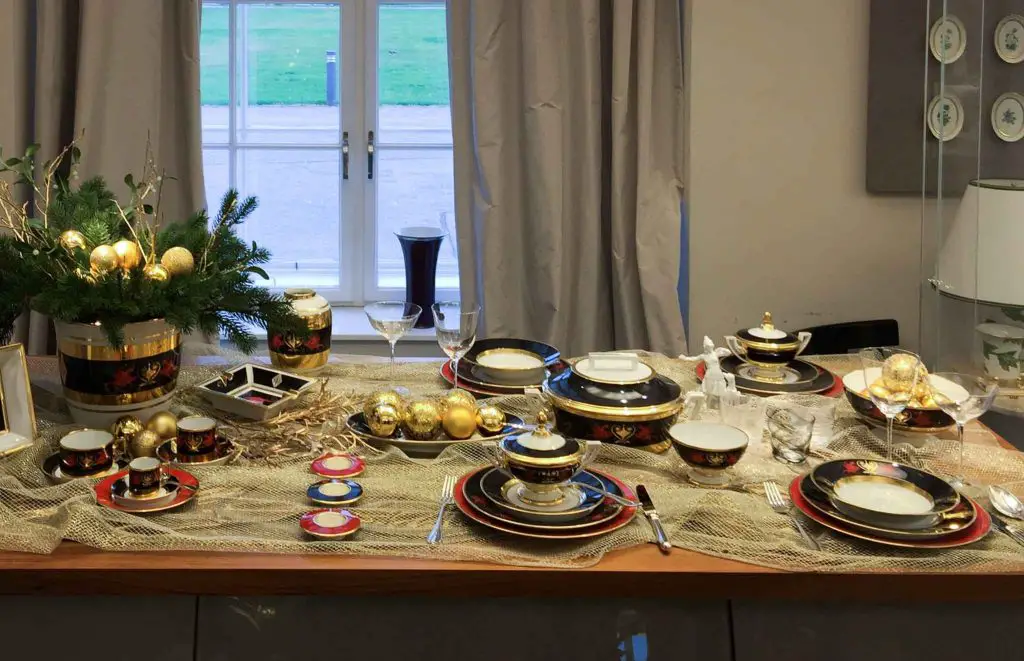 Snow Globe – Top Vienna Souvenir
If you're looking for a unique and beautiful snow globe souvenir from Vienna, look no further than the Snow Globe Vienna Souvenir. This snow globe features the stunning skyline of Vienna, complete with the city's iconic buildings and landmarks. Inside the globe is a delicate snow scene, making it the perfect memento of your trip to Vienna.
Original Viennese snow globe maker & snow globe museum
Where to find it
Schumann Gasse 87
1170 Vienna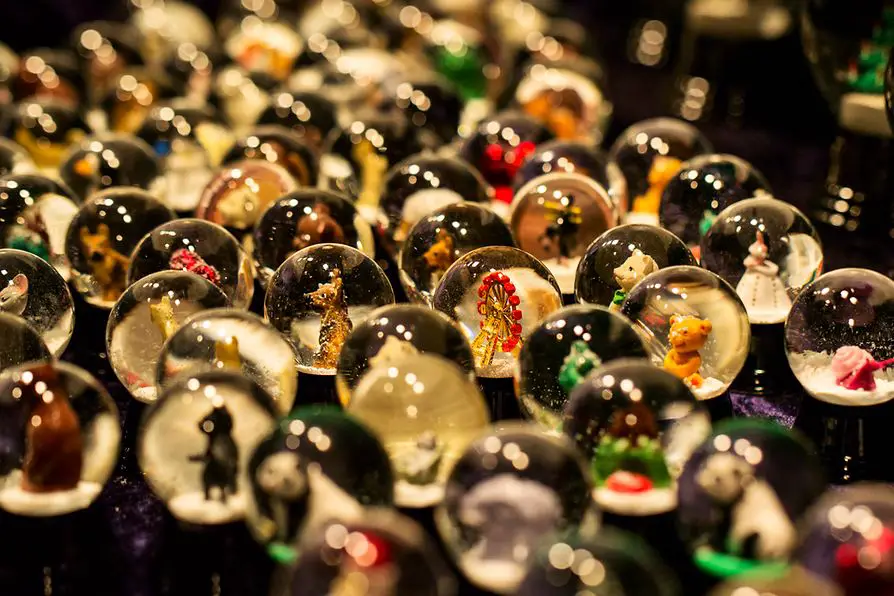 Lobmeyr Glassware – Viennese Souvenir.
Lobmeyr Glassware was founded in 1892 by Johann Lobmeyr in Vienna, Austria. The company is best known for its Viennese souvenir glassware, which includes a wide variety of items such as vases, bowls, glasses, and more. Lobmeyr glassware is known for its high quality and unique designs, which have made it a popular choice for both collectors and those looking for a special gift.
Where to find it:
A-1010 Vienna, Kärntnerstrasse 26
Manner Cookies Viennese Souvenir.
Manner cookies are a delicious treat that makes a great souvenir from Vienna. These cookies are made with wafers, chocolate, and hazelnut filling, and are a popular snack in Austria. Manner cookies are packaged in a variety of ways, including tins and boxes, making them a convenient souvenir for friends and family back home.
Where to find it
Manner Flagship Store Vienna
Stephansplatz 7 1010 Vienna
Mozart ball Chocolate (Mozartkugeln) Traditional Austrian souvenir
This ball-shaped chocolate has colorful pistachio, marzipan, and nougat filling, and is covered with dark chocolate. The packaging has an image of Mozart on the outside, making these chocolate candies a souvenir only available in Austria. The Mozartkugel has a history of more than a hundred years and is one of the most popular gifts in Vienna.
You can buy Mozartkugel Chocolate in nearly every Supermarket in Vienna.
Ludwig Reiter Leather Goods – Viennese Souvenir
Ludwig Reiter is a Viennese company that specializes in high-quality leather goods. The company was founded in 1885 by Ludwig Reiter, and it remains a family-owned business to this day. Ludwig Reiter's leather products are known for their durability and elegant designs, and they make an excellent souvenir for anyone visiting Vienna. The company's flagship store is located on the famous Kärntner Strasse in the heart of the city, and it is well worth a visit for anyone interested in purchasing a quality piece of Viennese craftsmanship.
Ludwig Reiter was founded as a family business in 1885. Their Goodyear welted shoes are made in the classical Viennese style. The majority of their flexibly-sewn shoes, books, and cases are manufactured in their Vienna factory, while a minority of products, designed in Vienna, are made in Italy, Hungary, and Slovakia. Some parts of the shoes are even made by hand.
Where to find it:
Ludwig Reiter
Mölkersteig 1
Business hours:
Monday – Friday 10:00-18:30 hrs.
Saturday 10:00-17:00 hrs.
Viennese Tee and Coffee Souvenirs
To recreate the Viennese tradition of intellectual discussion over a long afternoon tea or coffee, you must visit three Viennese institutions, namely Demmers Teahaus, Theehandlung Schönbichler, and Julius Meinl.
Demmers Teehaus
You can find an extraordinary selection of tea and coffee souvenirs at the Demmers Teehaus.
They sell varieties of black, chamomile, and peppermint tea in lightweight tin packages to delight in all manner of designs and styles, including the wonderful Viennese icons Gustav Klimt's "The Kiss", the famed Empress of Austria "Sisi", the unconventional Austrian Empress Elisabeth who died young at the hands of an Italian anarchist, etc. Or a tea package modeled after Joseph Haydn, called the Joseph Haydn Mischung Tea, priced at €8.50.
Where to find it:
Demmers
1010 Vienna – Mölker Bastei 5
Business hours:
Monday – Friday 09:00 – 18:00 hrs.
Saturday: 09:30 – 13:30 hrs.
Theehandlung Schönbichler
The tea shop Schönbichler in the 1st district of Vienna is a real traditional house. Founded in 1870 by Johann Baptist Schönbichler, the company offers – then as now – high-quality teas and the finest spirits from all over the world.
Where to find it:
Theehandlung Schönbichler
1010 Vienna – Wollzeile 4
Business hours:
Monday – Friday 09:00 – 18:00 hrs.
Saturday: 09:30 – 17:00 hrs.
Julius Meinl Vienna (Meinl am Graben)
If you're more of a coffee person, Julius Meinl is the place for you. For 150 years, Julius Meinl has been Central Europe's leading coffee company. A packet of Vienna-roasted beans from Costa Rica or Brazil will cost between €10.00 and €14.00.
Where to find it:
Julius Meinl
1010 Vienna – Wien Graben
https://www.meinlamgraben.eu/en/
Business hours:
Monday – Friday 08:00 – 19:30 hrs.
Saturday: 09:00 – 18:00 hrs.
BEST COFFEEHOUSES IN THE CITY CENTER OF VIENNA, AUSTRIA
Gustav Klimt Art
Gustav Klimt was an Austrian artist who was born in 1862 and died in 1918. He was a key representative of the Jugendstil painting style. This style emerged in the late 19th century. One of his most famous works is called "Der Kuss" which means "The Kiss" in English. Gustav Klimt once said that the only way to truly understand his art, and therefore himself, was to study his paintings. In Vienna, you can find a number of gift products bearing motifs of Gustav Klimt's art.
If you're looking for something special and unique, head to Oesterreichische Werkstaetten on Kärntner Straße 6. You'll find a variety of products inspired by Gustav Klimt's famous painting, "The Kiss."
Where to find it:
Österreicher Werkstätten
Kärntner Straße 6 1010 Wien
Business hours:
Monday – Friday 10:00 – 18:30 hrs.
What Nice little souvenirs can I buy in Vienna
When visiting Vienna, you have a wide range of potential souvenirs to choose from. The city is renowned for its beautiful and well-made trinkets and presents. Picking out an attractive and significant item bearing striking images of Austria, like jewelry, bangles, keychains, fridge magnets, T-shirts with Viennese Symbols printed on them, cups, beer mugs, etc. is a breeze for tourists.
A Viennese Antique for one of a kind souvenir
These treasures make perfect gifts for people who appreciate history and culture. You can find all sorts of antiques in Vienna, from furniture to jewelry to art. Each piece has its own story to tell. With a little bit of digging, you're sure to find an antique that will be cherished for years to come.
Where to find it
Naschmarkt Flea Market – Flohmarkt
Kettenbrückengasse
1060 Vienna
Opening: every Saturday from 06:30 to 14:00
Naschmarkt Food Market – What to buy
The Naschmarkt in Vienna is the most famous food market in Vienna, Austria. It is located between the Wienzeile and the Karlsplatz. The market is over six hundred years old and is one of the most popular tourist attractions in Vienna. There are over one hundred stalls selling a variety of goods, including fruits, vegetables, meat, fish, and cheese. The market is also home to a number of restaurants and cafes.
It offers a wide range of culinary delights, from Viennese to Indian, from Vietnamese to Italian. The Naschmarkt Wien has become a meeting place for young and old. The flea market on Saturday is already a cult.
Read more: NASCHMARKT VIENNA GUIDE – MOST POPULAR VIENNESE FOOD MARKET
Where to Shop in Vienna and What to Buy?
1. The Ringstrassen Galerien is a great place to shop for clothes in Vienna. With its many stores and wide range of products, you're sure to find what you're looking for.
2. Wien Mitte The Mall: Best shopping center in the City Center
3. The Goldenes Quartier: For luxurious premium and flagship stores
4. Kohlmarkt: For stunning luxury goods and jewelry
5. Graben: Modern luxury shopping street in Vienna 
6. Mariahilferstrasse: Cool Hipster shops and Fashion Street 
7. SCS Shopping Center Sued: Leisure & Shopping 
9. Naschmarkt: This market is very diverse and has many different cultures represented.
10. Kärntnerstrasse: Shoppers paradise, luxury Brand stores
Shopping Areas in Vienna
The best areas for shopping in Vienna are the following:
Kohlmarkt is one of the most important shopping streets in the city, with high-end stores carrying world-famous brands. You'll find upscale brands like Gucci, Dolce and Gabbana, Ferragamo, and luxury items from prestigious firms such as Tiffany and Cartier.
On Mariahilferstrasse, you'll find all the familiar, big-name fashion brands like H&M, Mango, and Zara that you can find in most European cities. This is a great place to take a leisurely stroll while enjoying the charming Viennese atmosphere, and stop for coffee at one of the many cafés along the way.
Naschmarkt is the most important street food market in Vienna. You can also sample local street food from the many countries in the area.
The shops originating from the historical Wiener Werkstätte workshops are very popular with tourists. You can find all kinds of typical handmade crafts on Kärntnerstrasse.
Luxury Shopping in Vienna
Visiting Vienna offers you a variety of the Best places to shop for luxury brands. Luxury Shopping stores are located throughout the City Center of Vienna.
Please read more here: LUXURY SHOPPING IN VIENNA GUIDE (STORES, MAP AND VIDEO GUIDE)
Frequently Asked Questions
What are the opening hours for shops in Vienna?
Generally from about 09:00 am to 21:00 pm, but the shops are closed on Sundays and Holidays
Are shops closed on Sundays in Vienna?
Yes, In Vienna the stores are closed on Sundays and Holidays. 
What time do shops close in Vienna?
In general, shops cannot open before 6am or after 9pm (weekdays) or after 6pm (Saturdays), or a total of more than 72 hours of operation per week. Shops must also close on Sundays and most public holidays.
Why everything in Austria is closed on Sundays 
Sunday is seen as a holy day by much of the population, and the Austrian Church for long has protected the day's status as a "rest day". But that is not all. The idea that Sundays are not for shopping and that keeping shops closed is a way to preserve the Austrian quality of life is treasured in the alpine country.
What to do in Vienna on Sundays?
On Sundays, in Vienna, you can visit Museums, stroll through the public parks, and have Viennese Coffee at the famous Coffee houses. 
See also my Blog Post: What to do in Vienna on Sundays
Related Blog Posts
PRACTICAL TIPS FOR VISITING VIENNA
WHEN IS THE BEST TIME TO VISIT VIENNA, AUSTRIA
HOW MANY DAYS DO YOU NEED TO VISIT VIENNA?
THE BEST THINGS TO DO IN VIENNA WITH KIDS – FAMILY HOLIDAYS IN AUSTRIA
VIENNA SOLO TRAVELER TIPS – SOLO TRAVEL GUIDE VIENNA, AUSTRIA
BEST WAYS TO GET FROM VIENNA AIRPORT TO THE CITY CENTER
THE TOP AUTHENTIC VIENNESE EXPERIENCES YOU MUST ENJOY WHEN IN VIENNA, AUSTRIA
VIENNA BUDGET TRAVEL GUIDE, FREE THINGS TO DO IN VIENNA, AUSTRIA IN 2022
15 BEST FOOD TOURS IN VIENNA, AUSTRIA – UPDATED 2022/23
BEST LUXURY BOUTIQUE HOTELS IN VIENNA
Plan your Trip to Vienna?