Last Updated on March 13, 2023 by gregor
Whether you're aiming for a festive trip to Vienna in December, visiting Vienna Christmas markets, a romantic Valentine's Day trip to Vienna in February, or something in between, we recommend everyone who wants to visit Vienna consider staying open to bundling up and exploring Vienna in winter.
Here's why.
Top Reasons for visiting Vienna at Christmas and Wintertime
The Viennese Christmas markets are magical.
Christmas markets are a treat throughout Europe, but the ones that pop up all over Vienna in winter have a little something extra: great views of Vienna!
TOP 10 ULTIMATE MAGICAL CHRISTMAS TOWNS AND VILLAGES IN EUROPE
VIENNA TOP 10 CHRISTMAS MARKET GUIDE + MAP (UPDATE 2022)
Consider picking up Christmas gifts for your loved ones (and plenty of mulled wine and sweets for yourself, of course) within sight of classic Vienna sites like St. Stephen's Cathedral, Schönbrunn Palace, or the Belvedere Palace.
Want to mix it up? Head out to Christkindl Market to experience the biggest Christmas market in Vienna!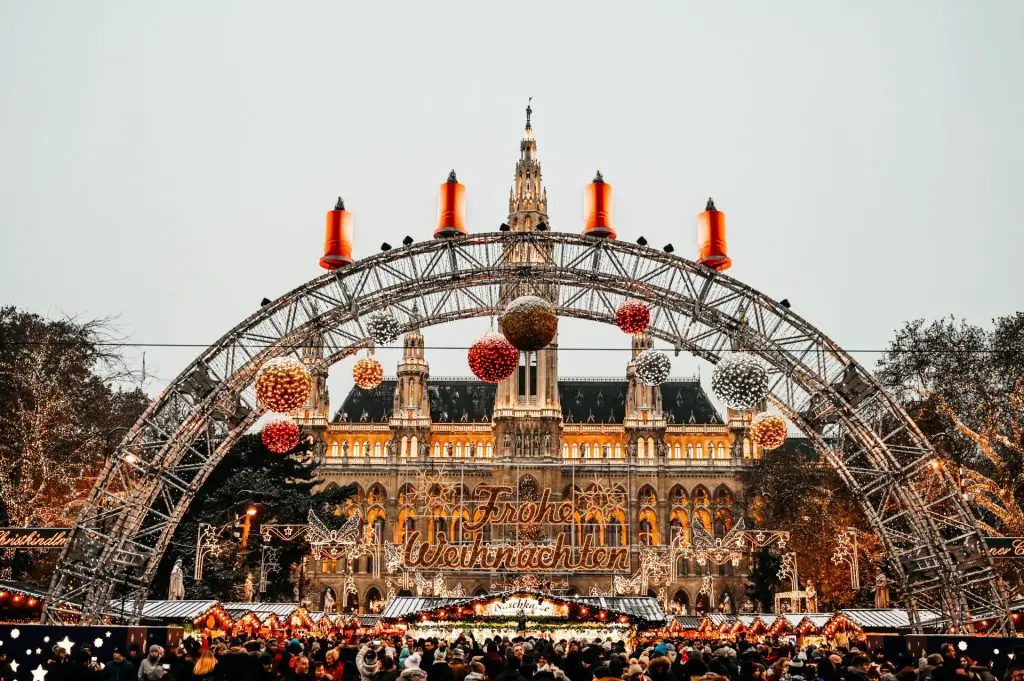 Ice skating in Vienna is a dream.
Ice skating is a classic Viennese winter tradition, and courts are set up all over Vienna–including at the Major house!
Read more: The Vienna Ice World is one of the biggest open-air artificial ice rinks in the world – and on no fewer than two levels!
There's no better city for museums than Vienna.
When visiting Vienna in the winter, there's no reason to feel guilty about missing out on sunshine and cherry blossoms by ducking into some of Vienna's truly spectacular museums.
The Albertina Museum and the Kunsthistorische Museum are the best known (and they are truly wonderful), but you can also consider checking out these BEST 12 MUSEUMS to visit in Vienna.
THE BEST 12 MUSEUMS YOU NEED TO VISIT IN VIENNA, AUSTRIA TRAVEL GUIDE (UPDATE 2022)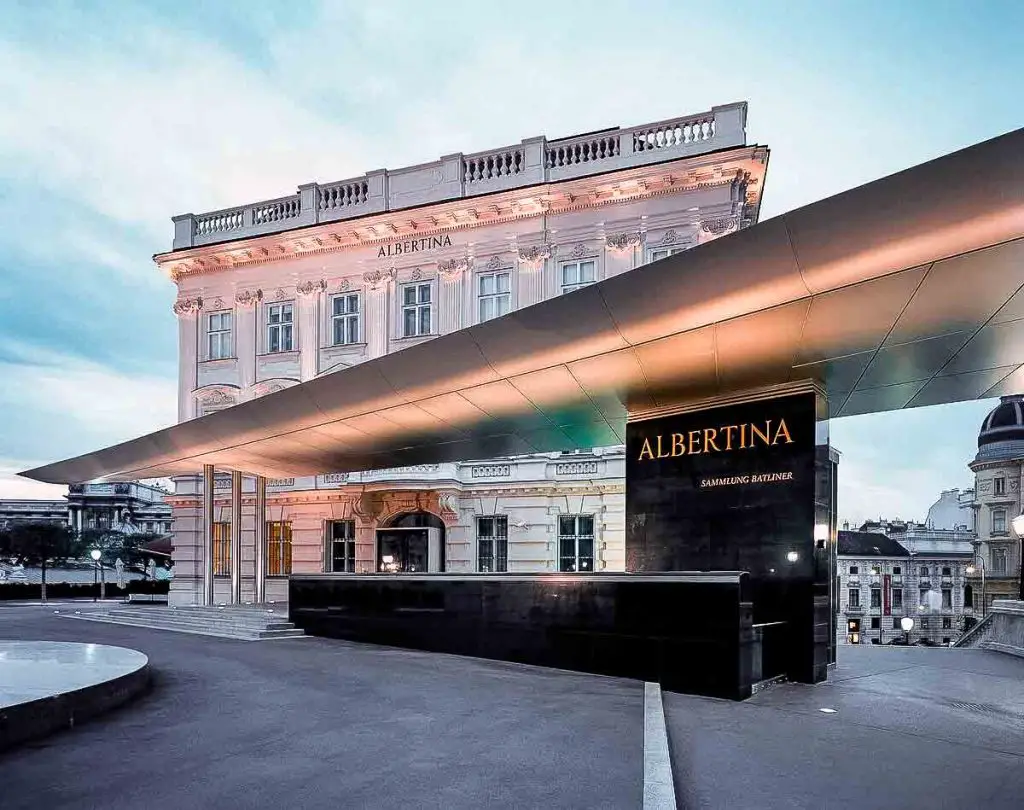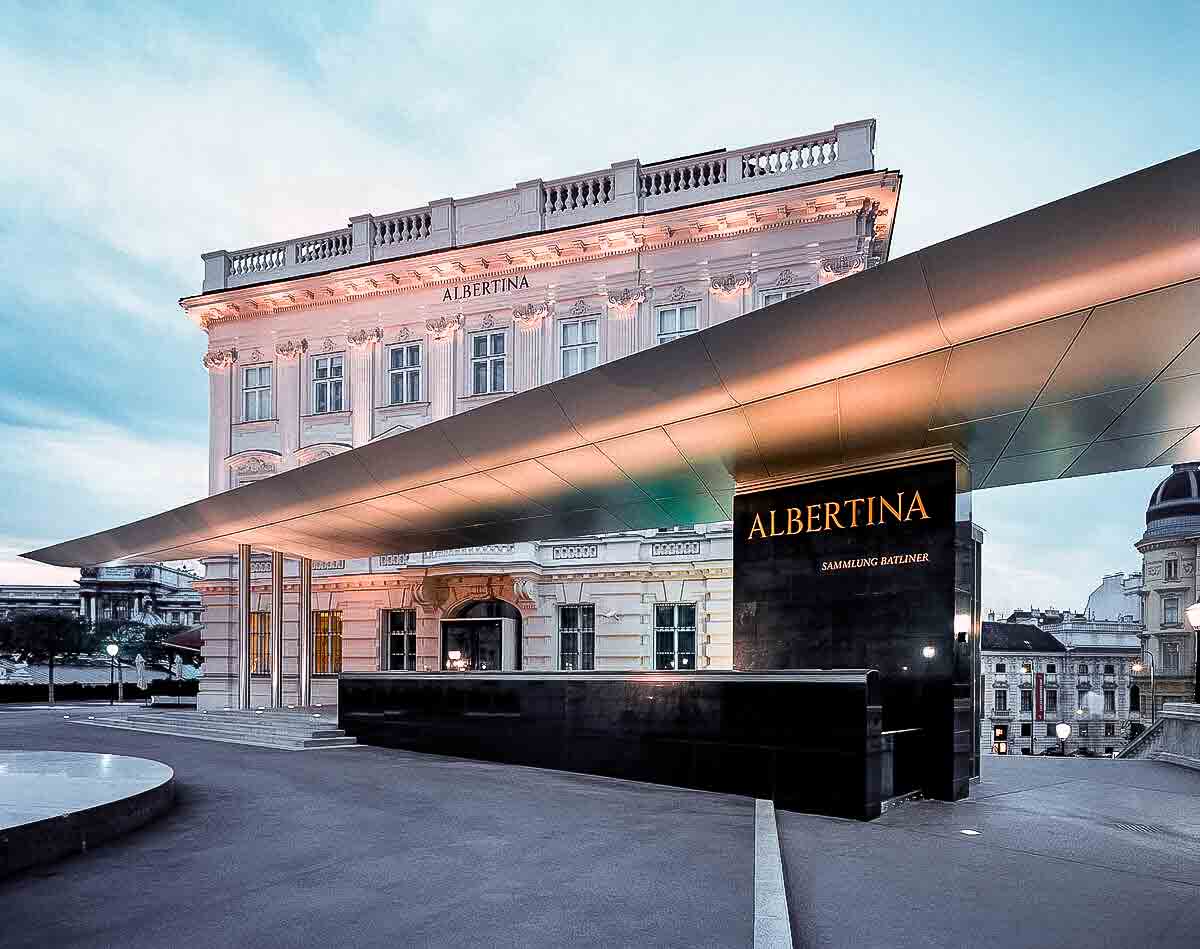 Cozying up at a café with traditional Viennese Coffee is a wonderful Viennese experience.
People-watching is an iconic Viennese tradition, and there's no cozier time to do it than during winter in Vienna!
Pick an adorable café (preferably with a large window), grab a Viennese Coffee and a Sacher Cake and enjoy watching the city go by.
BEST COFFEEHOUSES IN THE CITY CENTER OF VIENNA, AUSTRIA
It's the perfect time to learn to make a Viennese Strudel.
Winter in Vienna is the perfect time to duck inside for a Vienna Strudel cooking show!
Enjoy the impressive Strudel Show in the court bakery of the Café Residenz in Vienna. See how traditional Viennese apple strudel is made and enjoy tasting a warm, freshly baked piece of the popular delicacy at the end of the show.
Book your Vienna: Strudel Show with Tasting at Schönbrunn Palace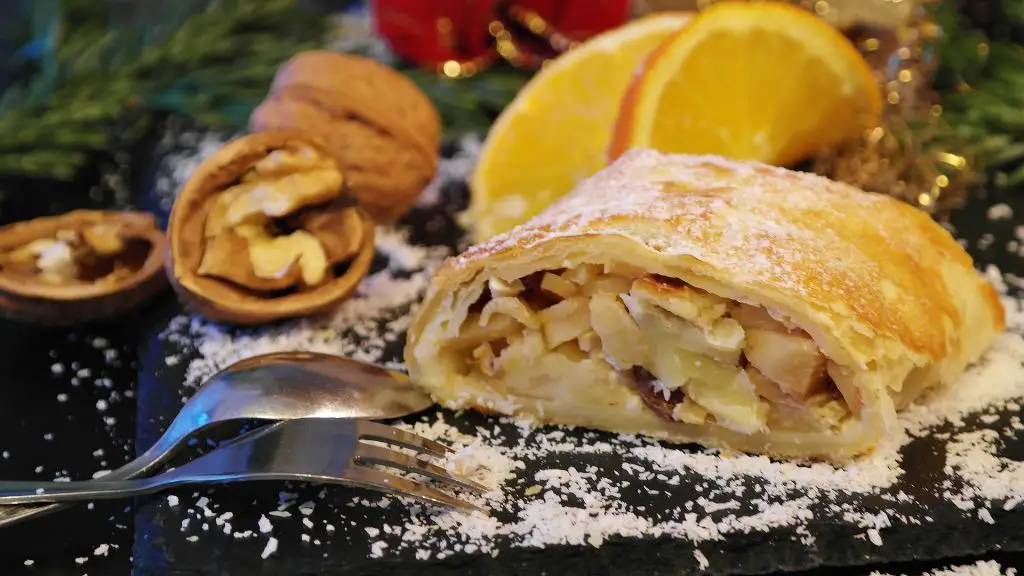 Visit the Vienna Opera house.
The winter is the height of Vienna's opera season, so there's no better time to book a ticket, get dressed up, and head out for a very classy night on the town.
One of the finest operas in Europe, the Vienna Opera House is known for its first-class ballet and opera performances. Along with stunning Renaissance architecture that builds the perfect mood as you walk past some of the greatest artistic works in the world. 
Read more: ULTIMATE GUIDE VISITING THE VIENNA OPERA HOUSE, AUSTRIA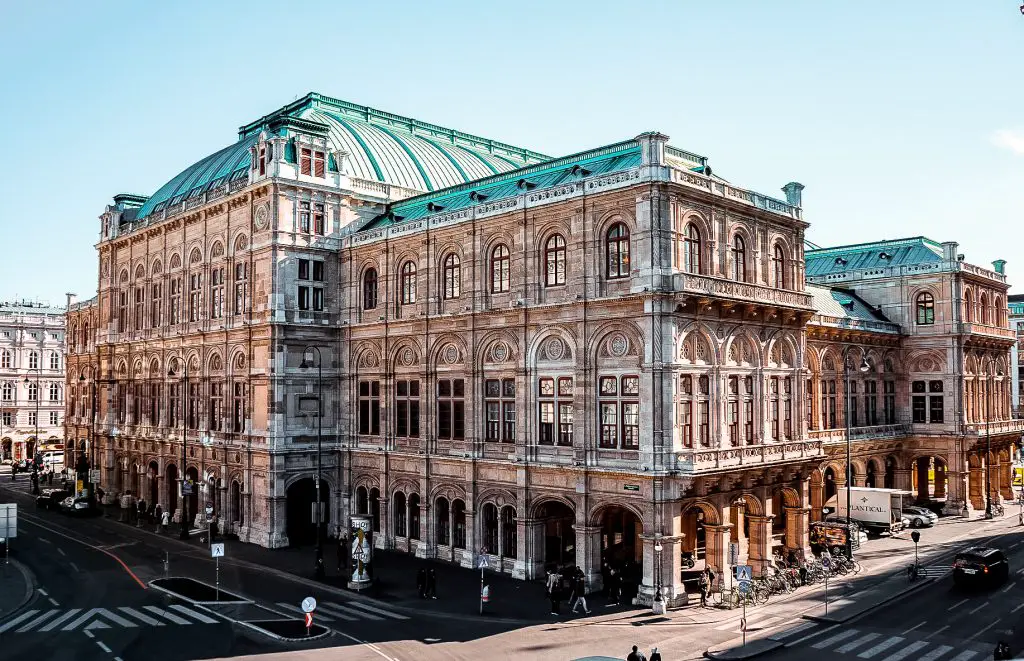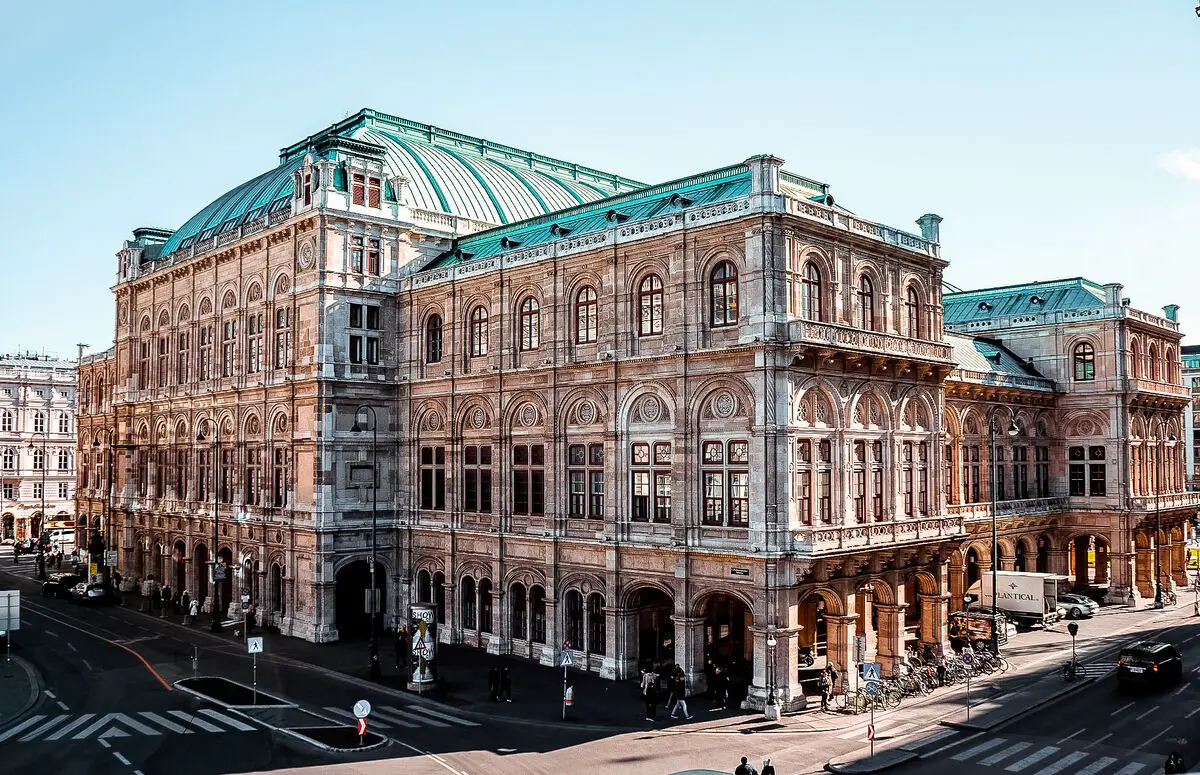 Vienna's City Center shops have epic Christmas decor.
Vienna's department stores may not be the first place that you think of when considering sightseeing, but the Christmas decor is impeccable!
If you only go to one place, be sure to stop by the City Center Graben, Kärntnerstrasse, and Kohlmarkt the Luxury stores put up stunning Christmas decorations each year!
LUXURY SHOPPING IN VIENNA GUIDE (STORES, MAP AND VIDEO GUIDE)
A long walk through the streets of Vienna is incredibly magical.
This may be true at any time of year, but there's just something extra special about the streets of Vienna in winter: the streets are a little emptier, the city a little quieter, and the air a little thinner.
It's peaceful, it's magical, it's romantic, and it's the quintessential Vienna experience–don't leave Vienna without at least one hour-long walk through the streets!
VIENNA CITY CENTER – SNOWFALL WALKING TOUR VIDEO WINTER IN AUSTRIA ASMR
Winter & Snow photography in Vienna
If you are thinking of traveling to Vienna in wintertime, here are 15 photos that might just make you book a flight to this amazing city! Vienna, the capital of Austria and one of the most elegant cities in Europe, is a must-visit any time of the year. Especially in the wintertime, the city offers many unique experiences such as magical Christmas markets and streetlights all over
Read more: ULTIMATE 15 WINTER PHOTOS MAKE YOU WANT TO TRAVEL TO VIENNA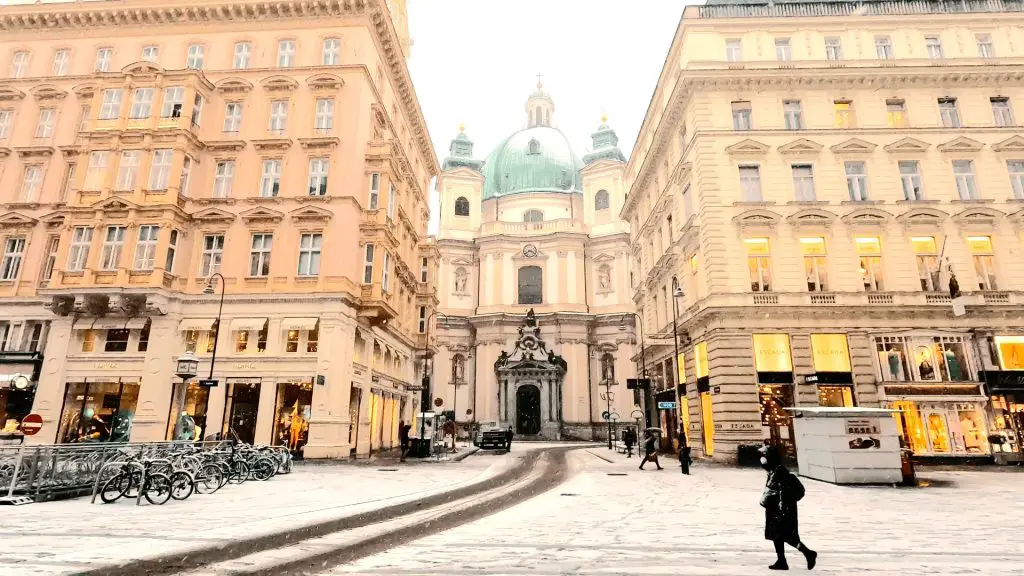 There are great travel deals during winter in Vienna.
After Christmas, you'll be able to find some of the best Vienna travel deals of the year during winter–especially on lodging and airfare.
Vienna's spas are happy to pamper you.
Vienna is a city of luxury, and what's more luxurious than a spa?
Pick a couple of treatments and a day to splurge, and you can have a truly Viennese experience without ever stepping a foot outside.
Read more: BEST DAY AND HOTEL SPAS IN VIENNA – VIENNA SPA GUIDE
You can eat your heart out in Vienna Sausages.
Viennese Sausages are the unofficial street food of Vienna and stand doling out Sausages in delicious varieties like the Käsekrainer and the Bratwurst and more dot dozens of street corners around the city.
Here is everything you always wanted to know about Viennese Sausages and where you can eat them. ULTIMATE GUIDE TO VIENNESE SAUSAGES IN VIENNA AND WÜRSTELSTAND LOCATIONS, AUSTRIA
Celebrating a holiday in Vienna is incredibly special.
With Christmas, New Year's, Valentine's Day, and the Ball season to name a few–winter in Vienna is bursting with holiday celebrations.
TOP THINGS TO KNOW ABOUT NEW YEAR'S IN VIENNA, AUSTRIA
NEW YEAR'S EVE IN VIENNA 2022 CELEBRATIONS
TOP TIPS FOR A MEMORABLE VALENTINE'S DAY IN VIENNA
Join in the fun and add an extra layer of excitement to your winter Vienna trip by planning it around a special holiday!
PRACTICAL TIPS FOR VISITING VIENNA
BEST WAYS TO GET FROM VIENNA AIRPORT TO THE CITY CENTER
ONE DAY IN VIENNA I THE PERFECT 1 DAY ITINERARY
THE TOP AUTHENTIC VIENNESE EXPERIENCES YOU MUST ENJOY WHEN IN VIENNA, AUSTRIA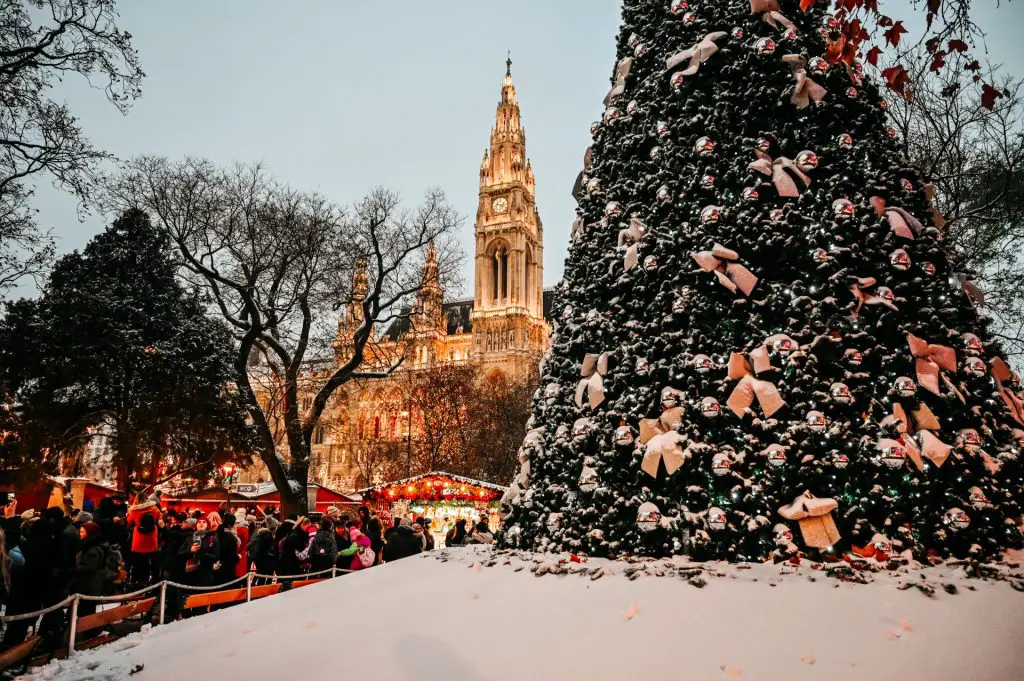 Where to eat in Vienna, Austria
Some of the places below which I can highly recommend (as a local).
Vienna Heuriger (Wine Taverns)
If you are visiting Vienna you definitely need to visit a Heuriger (=wine taverns). Here is a complete guide to the Best Heuriger in Vienna, so you can taste the sweet life of the Viennese and enjoy some wine tasting in Vienna.
BEST HEURIGER IN VIENNA – COMPLETE GUIDE TO THE WINE TAVERNS IN VIENNA
Wiener Schnitzel
Wiener Schnitzel is said to be one of the best food items Vienna has to offer. Here is All the information on where you can get the best Wiener Schnitzel in Vienna.
WHERE TO EAT THE BEST WIENER SCHNITZEL IN VIENNA (RESTAURANT TIPS + PRICES!)
Best Breakfast and Best Brunch in Vienna
Viennese are fond of big breakfasts, they make sure they start the day right with Viennese Coffee and freshly baked Semmeln or Kipferl. If a pastry and coffee don't suffice, pop into one of the many cafés and bars that serve up a vast array of delicious breakfast options, from traditional Viennese pastries to bacon, eggs, bagels, and fruit smoothies.
THE BEST BREAKFAST BRUNCH SPOTS IN VIENNA, WIEN AUSTRIA UPDATE 2022
Wiener Würstelstand – Viennese Sausages
Wurstelstand translated to English means "Sausage booth", giving the space a remarkably accurate description. These are snack bars that sell a wide range of drinks and ready-to-eat sausages. Offering directly to the sausage culture in Vienna, it fits in perfectly. 
These stands are commonly found outside subway stations, and tram stops. Offering the everyday commuter and tourists a taste of the best sausage Vienna has to offer.
ULTIMATE GUIDE TO VIENNESE SAUSAGES IN VIENNA AND WÜRSTELSTAND LOCATIONS, AUSTRIA
The Viennese café culture
Viennese Cafe Tradition dates back a few hundred years. It is a very social and relaxing activity for locals in which many people order typical Viennese coffee and a slice of Viennese cake as well. Because of the popularity of coffee culture, many old Viennese coffee houses are still around and even with the original and traditional decor.
BEST COFFEEHOUSES IN THE CITY CENTER OF VIENNA, AUSTRIA
What to eat in Vienna, Austria
Typical Viennese Cuisine
Austria was once at the center of the Habsburg Empire, which covered everything from Russia to France. This is why Austria has embraced many ethnic dishes when it comes to cuisines. The range of dishes from all across Europe showcases Vienna's multicultural influence. For instance, the coffee-drinking tradition was brought to Vienna by the Turkish Army. Similarly, there are a number of other dishes that have been brought in from all around Europe that is today a huge part of the Viennese food culture. The Viennese dishes are packed with local flavors, yet offer a great twist when it comes to taste.
The next time you are in Vienna, we suggest you try out some of the ultimate top ten Viennese Foods we have listed down, otherwise, you will be missing out on a complete experience.
These are the Ultimate 10 Viennese Foods to Taste
Sachertorte – the most famous Austrian cake which is a chocolate cake with thin layers of apricot jam
Apfelstrudel –  a classic Austrian dessert, apple strudel made with thin pastry, stuffed with apples, cinnamon, breadcrumbs, and raisins
Kaiserschmarrn – a Viennese delicacy where cut pancake is served in a pan with stewed plums and apple puree
Palatschinken – a thin pancake with apricot jam
Buchteln – Are sweet yeast rolls packed with a hidden treasure
Punschkrapfen – Is a punch cake, that features a gorgeous hot pink crumb cake filled with, apricot jam, nougat chocolate, and soaked in rum
Wiener Schnitzel – a premium cut of veal cutlet, breaded and fried in butter
Tafelspitz – This is a national dish consisting of a whole tailpiece of beef cooked in a broth with root vegetables, sliced and served usually with apple or breadcrumbs, baked potatoes or potato marrows as well as a dill-cream sauce.
Goulash – originated from Hungary, stewed beef cooked in a thick gravy of paprika and garlic
Vienna Sausages – different types can be purchased as street food
You have to try some of the typical Viennese food: (More Viennese Cuisine Details)
Is Vienna a safe city?
Vienna is one of the safest cities in the world, which makes Austria one of the best solo destinations for solo travelers.
Solo Travel to Vienna Tips
Vienna is a great place to travel solo, as you can people-watch and appreciate everything in a different way than you would with your partner. You can also easily meet people in Vienna too as there are many solo travelers in the city and many families as well – my kids have a blast every time they go!
Here is the Blog Post about Vienna Solo Traveler Tips – Top Things to Do and See
How to save money when traveling to Vienna?
To save money when traveling to Vienna, consider staying in a hostel or Airbnb, taking public transportation, and eating at budget-friendly restaurants. Additionally, visit free attractions such as parks and museums, and take advantage of discounts for students and seniors.
By following these tips, you can experience all that Vienna has to offer without breaking the bank.
VIENNA BUDGET TRAVEL GUIDE, FREE THINGS TO DO IN VIENNA, AUSTRIA IN 2022
BEST THINGS TO DO IN VIENNA ON A BUDGET
VIENNA – TOP FREE MUSEUMS AND THEATERS TO DO ON A BUDGET
What to do in Vienna in Winter and Christmastime?
Wintertime in Vienna is a magical experience that has made weekend gateways in the city popular, especially just before Christmas. Families, couples, and solo travelers arrive in Vienna from all over Austria and the world to visit the many Christmas markets with their Christmas ornaments and seasonal food and beverage.
Here is a complete Guide: Your Vienna winter itinerary of things to do in Vienna in December, and things to do at Christmas time. This is a full Christmas guide to Vienna including Viennese Christmas Markets recommendations and a Christmas food guide
Best Day Trips from Vienna
Whatever your reason for wanting a day trip just outside of Vienna, we can assure you that there are numerous hidden gems and villages clustered along with the capital that can be explored or enjoyed during a one-day trip.
Whether you plan to travel alone, with friends, or with family, these day-trip destinations will have something for everyone to enjoy.
Is Christmas a good time to visit Vienna?
Does it snow in Vienna during Christmas?

What is the weather like in Vienna during Christmas?
Is everything closed on Christmas Day in Vienna?
Is it worth going to Vienna in winter?
What happens at Christmas in Vienna?
What should I wear to Vienna for Christmas?
My Vienna Travel Video Guides
Watch this playlist on YouTube
Related Vienna Posts
WHAT TO DO IN VIENNA ON SUNDAYS
VIENNA ULTIMATE TOP 50 BUCKET LIST –…
VIENNA TOP THINGS TO DO IN THE…
50 BEST INSTAGRAM SPOTS IN VIENNA, AUSTRIA
A QUICK TRAVEL GUIDE TO VIENNA'S SCHÖNBRUNN…
3 DAYS IN VIENNA ITINERARY FOR FIRST…
NASCHMARKT VIENNA GUIDE – MOST POPULAR VIENNESE…
15 BEST FOOD TOURS IN VIENNA, AUSTRIA – UPDATED 2022/23
POPULAR POSTS