If you are thinking of travelling to Vienna, here are 35 photos which might just make you book a flight to this amazing city! Vienna, the capital of Austria and one of the most elegant cities in Europe, is a must-visit any time of the year. Apart from art and architecture, the city offers many unique experiences, such as its traditional coffeehouse culture, magical Christmas markets and vineyard hopping in the city itself.
Where to go in Vienna?
TheViennaBlog has thoroughly studied all the attractions but also hidden secrets to uncover in Vienna. (Click Links below to get to the information)
Here is the Vienna Ultimate Top 50 Bucket List
Here is the Best of Vienna in 4 hours
Here is the Best of Vienna in 4 hours (Summer Edition)
Here are the Best 5 things to do in Vienna the most liveable city in the world
Here are the Vienna Old Streets in Historic Center
Here is the Spittelberg Village in Vienna
Belvedere Palace, 1030 Vienna
Make sure you also visit the museums. Also wonderful in Winter.
More Info BelvedereMuseum (Click)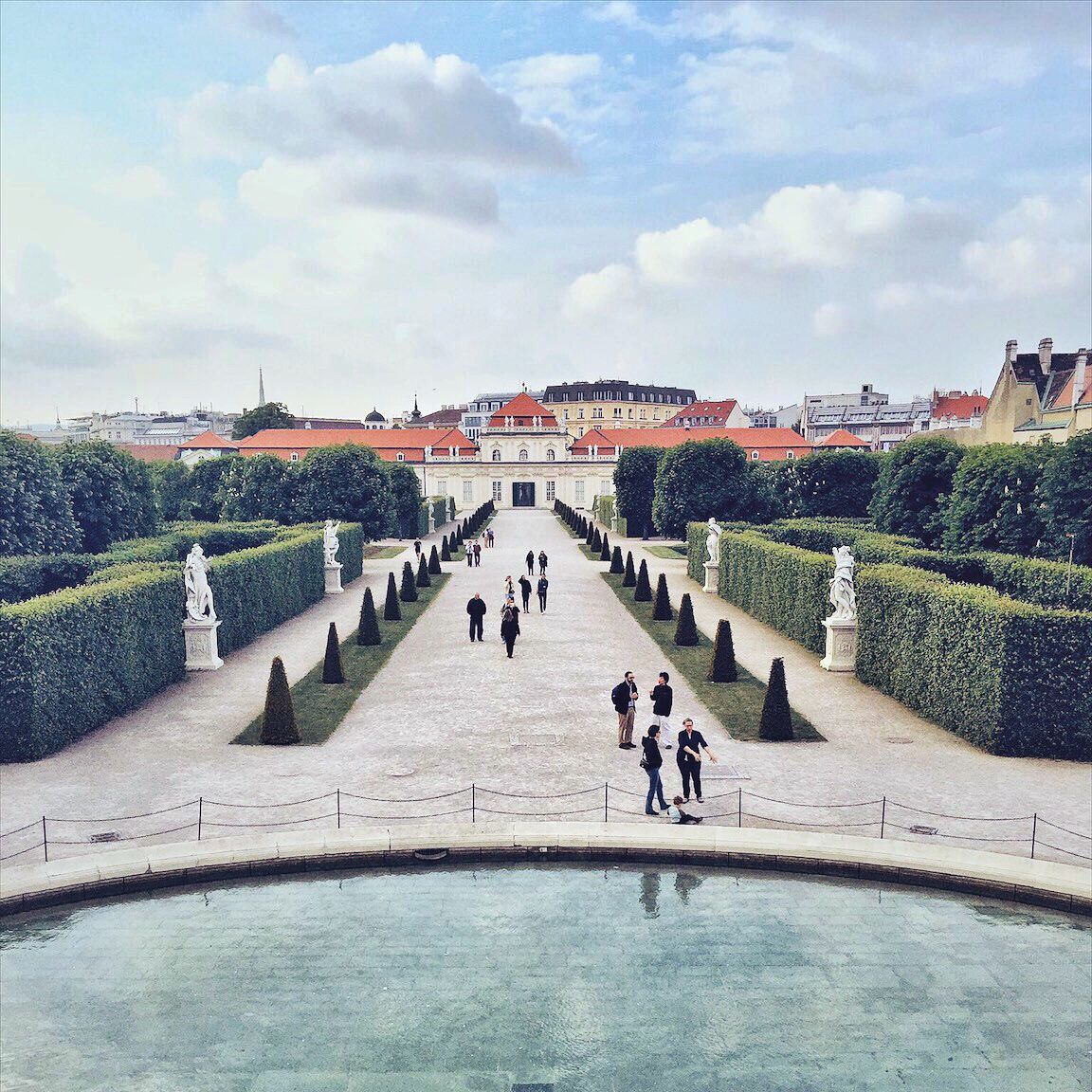 Votive Church, 1090 Vienna
Most impressive in spring as in front of the church there is a lovely park. Tip: Magnolia Tree (April-May)

Kunsthistorisches Museum, 1010 Vienna
Stunning architecture and amazing foyer with a cafe-restaurant.
More about the Kunsthistorische Museum Vienna (Click)

Theseustempel /Volksgarten, 1010 Vienna
Make sure you leverage good light in the golden hour, Beautiful roses.
Vienna Prater, 1020 Vienna
Vienna largest public park. (larger then the Central Park in New York City).
Stadtpark, 1010 Vienna
One of my favorite Public Parks in Vienna. Includes the Johann Strauss Denkmal and a nice lake in the middle with ducks. . Make sure you visit on the corner to the Ring the beautiful flower shop. Its my favorite in Vienna.
Augarten Park, 1020 Vienna
see my seperate Blog Post for more photos Vienna Augarten Baroque Park (Click) . Best in spring (blossoms) and autumn ….colorful leaves
Goldenes Quartier, 1010 Vienna
winter romance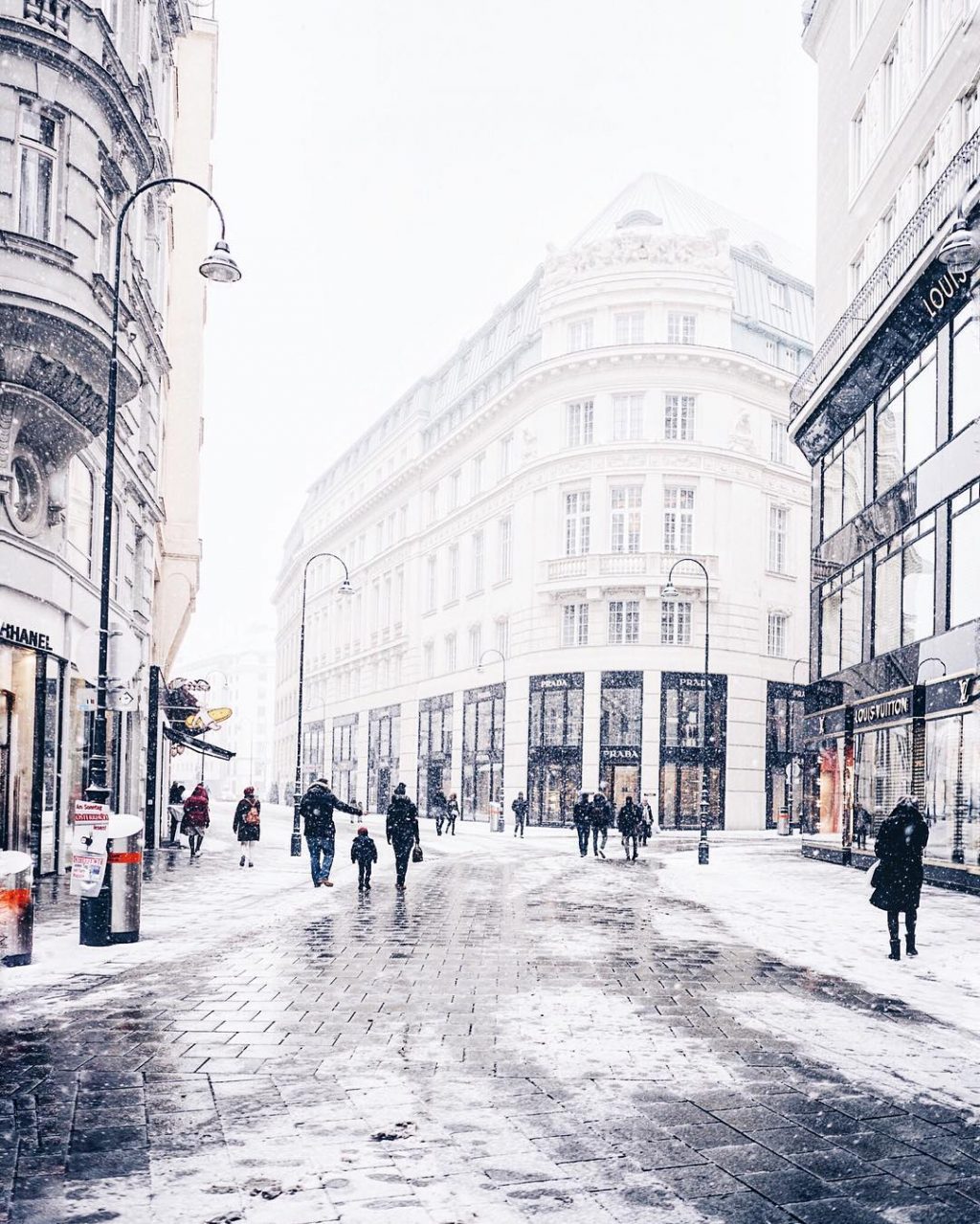 Franziskanerplatz, 1010 Vienna
Yes definitely a miust visit place for photography and Instagram lovers
 
Minoritenkirche, 1010 Vienna
Lovely Vienna city center square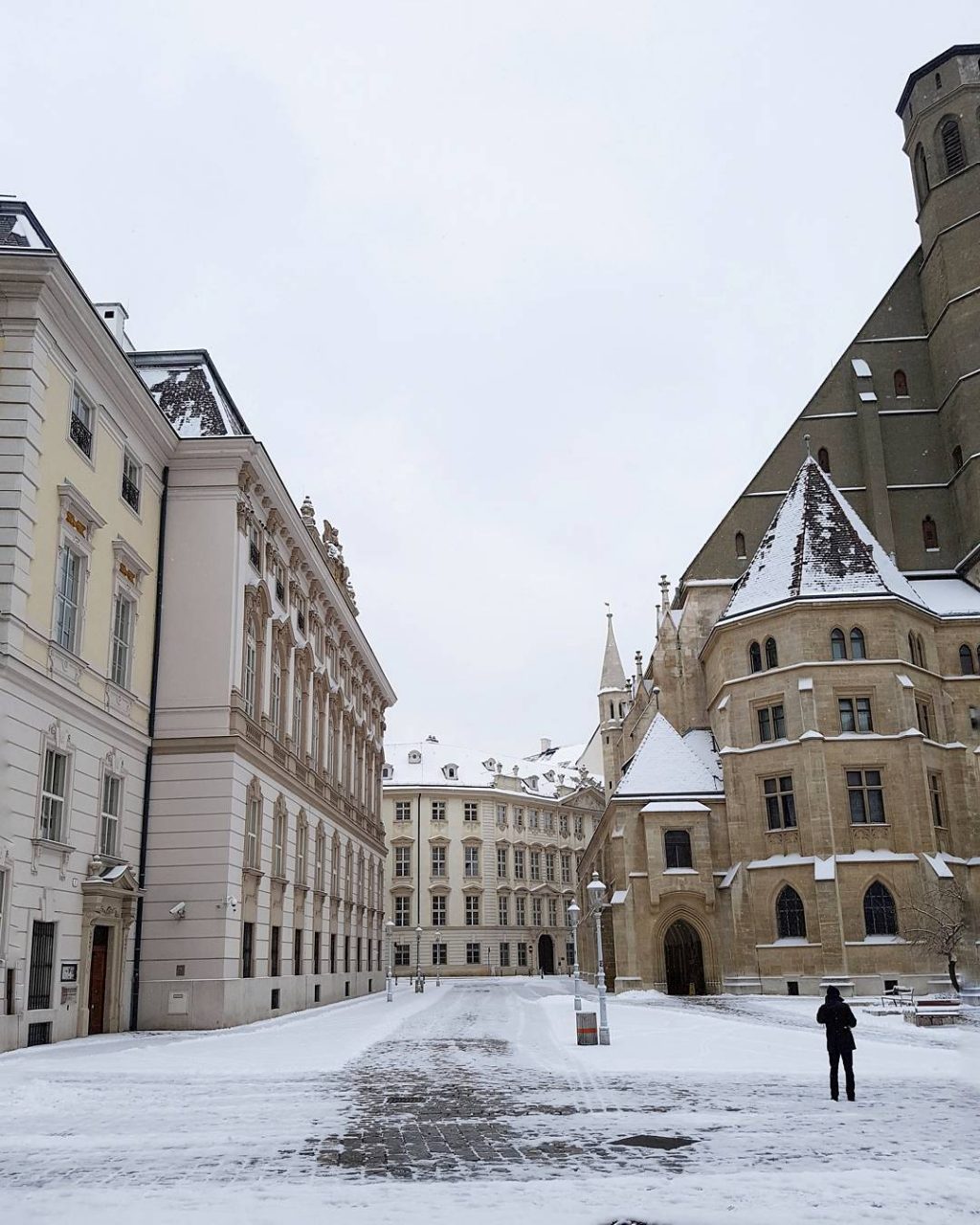 Herrengasse, 1010 Vienna
Newly renovated with perfect perspective view. Located here also the Cafe Central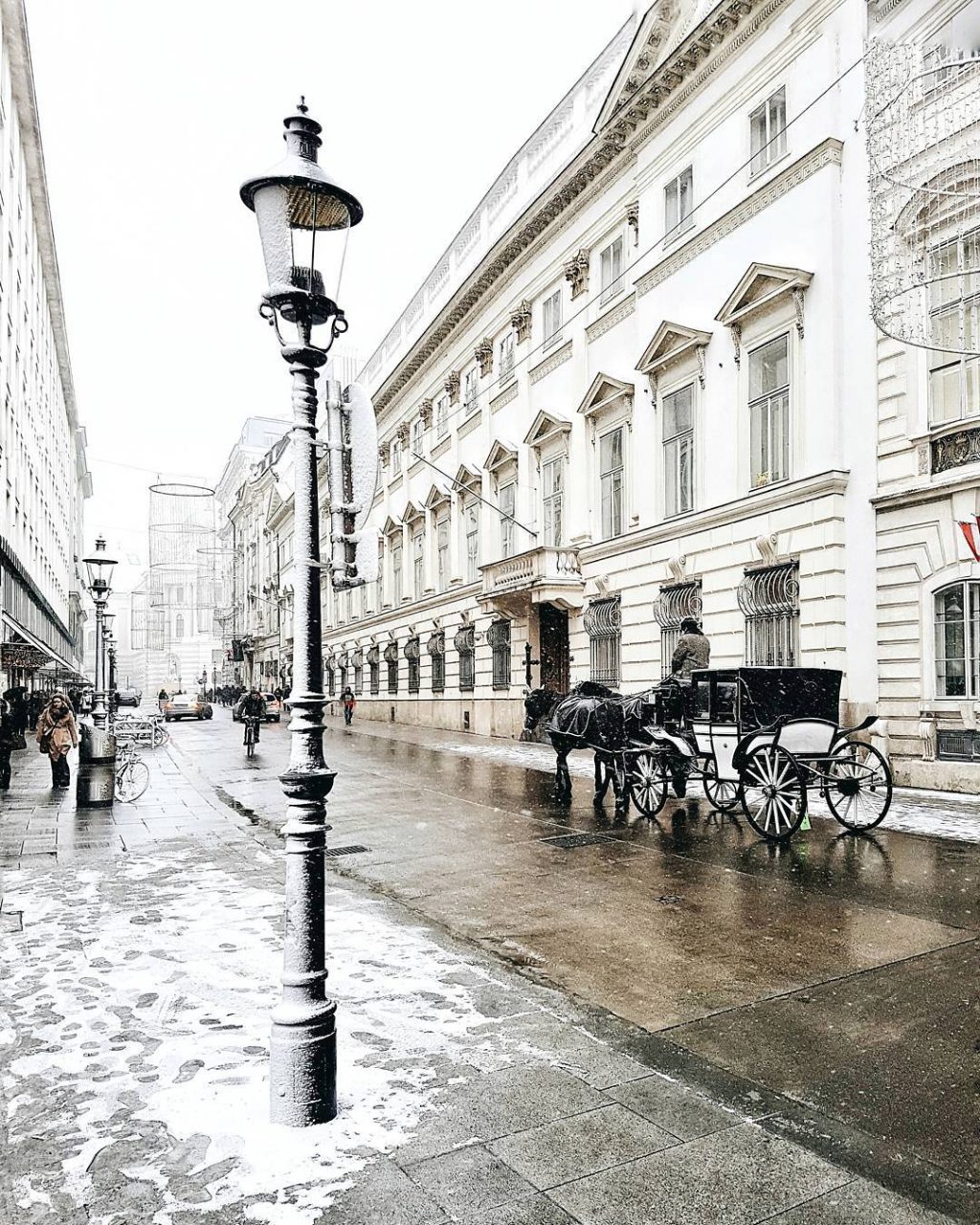 Graben Wien (Graben 30 Bar), 1010 Vienna
Head to the 2nd or 3rd floor of the bar to get perfect shot over the Vienna Graben
 
Judenplatz, 1010 Vienna
lovely old square in the city center
Cafe Sacher, 1010 Vienna
Opposite of the Vienna State Opera. Probably the most photographed cafe in Vienna. Head for the Cafe and order a Coffee and Sacher Cake for a perfect flately photo.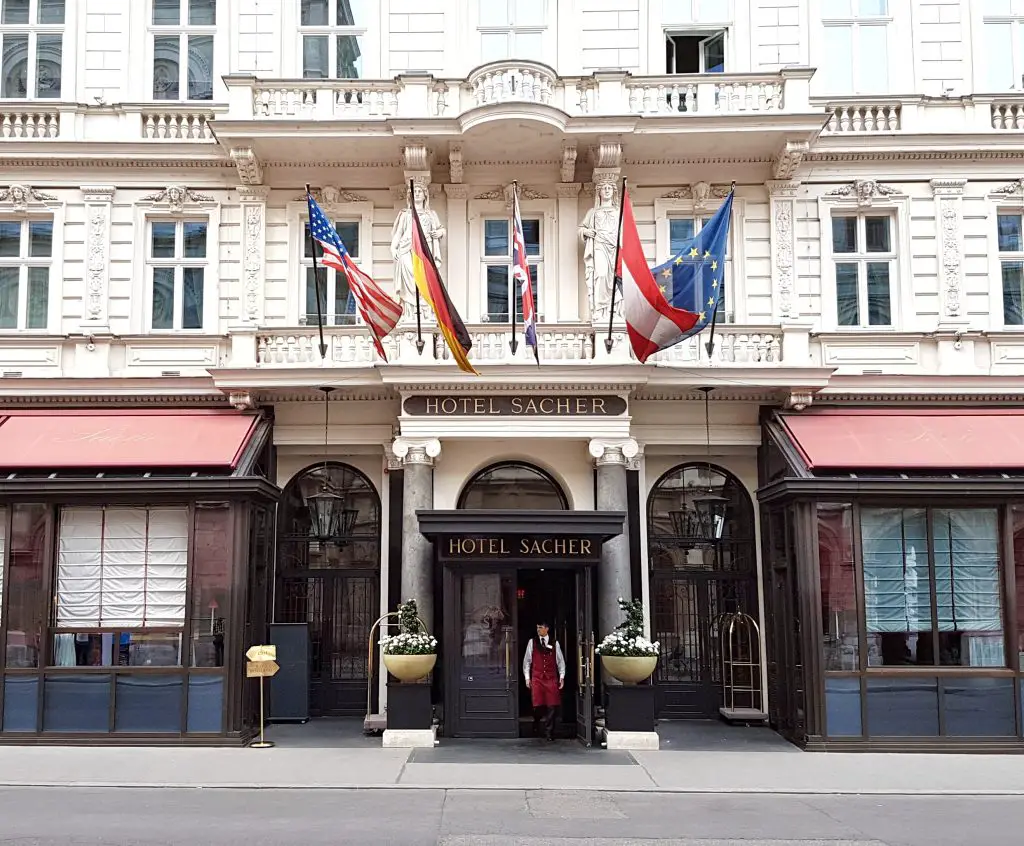 Erste Bank Building Graben (Summer Open Bar), 1010 Vienna
Bar opens 2017 in 1st July/ End of August for perfect view. Entrance Petersplatz 7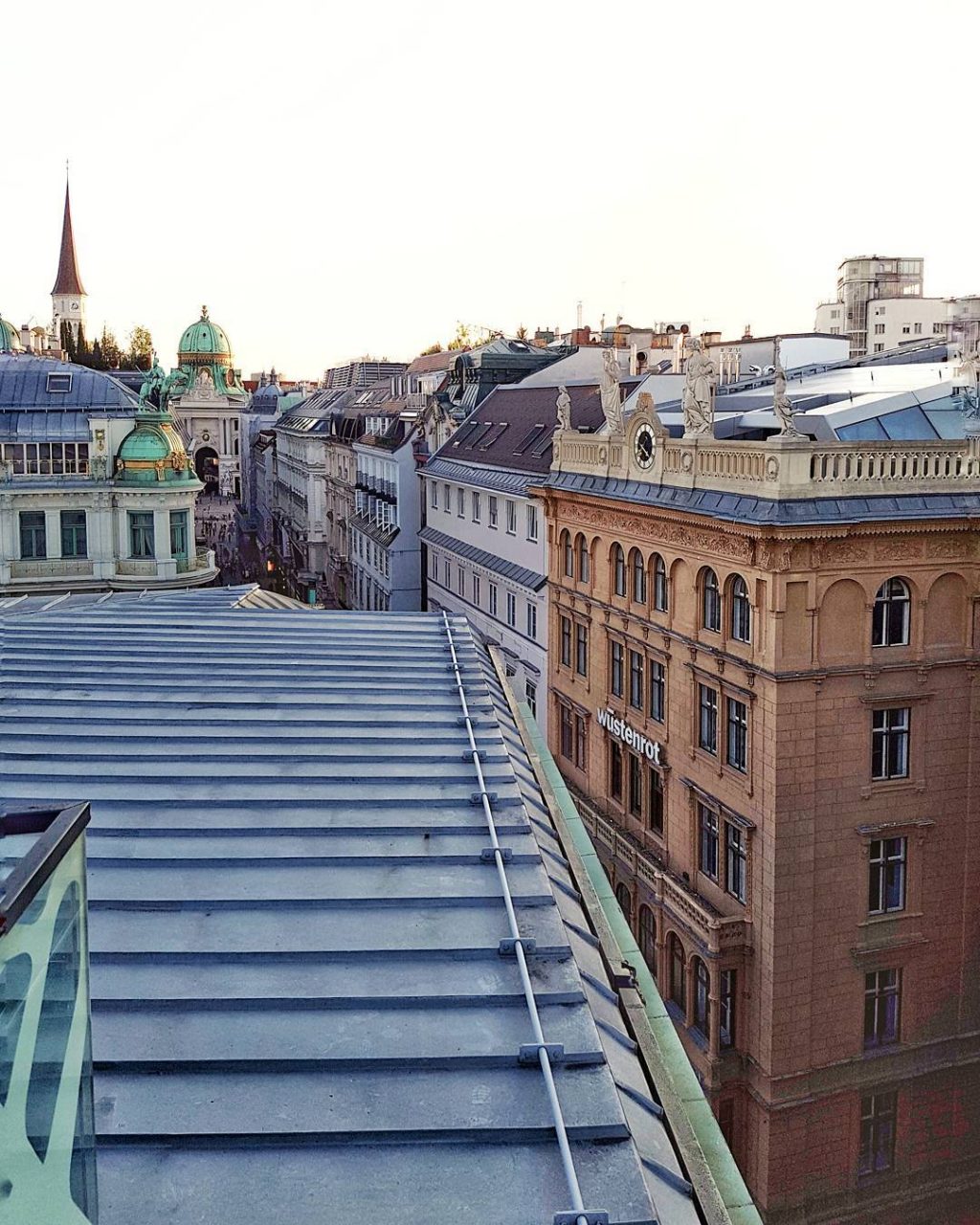 Palais Lichtenstein, 1090 Vienna
See here my Blog Post with photos on my BlogPost Palais Lichtenstein Vienna (Click)
Heiligenkreuzerhof, 1010 Vienna

Musikverein, 1010 Vienna
More about the Vienna Musikvereinssaal (Click)

Mölker Bastei, 1010 Vienna
Quarter Bastei is located behind the old walls opposite the University of Vienna. By passing trams on the ring. Here is the fortress, which the Austrian Emperor handed over the monastery of Melk Abbey. In one of the local houses Beethoven composed his works.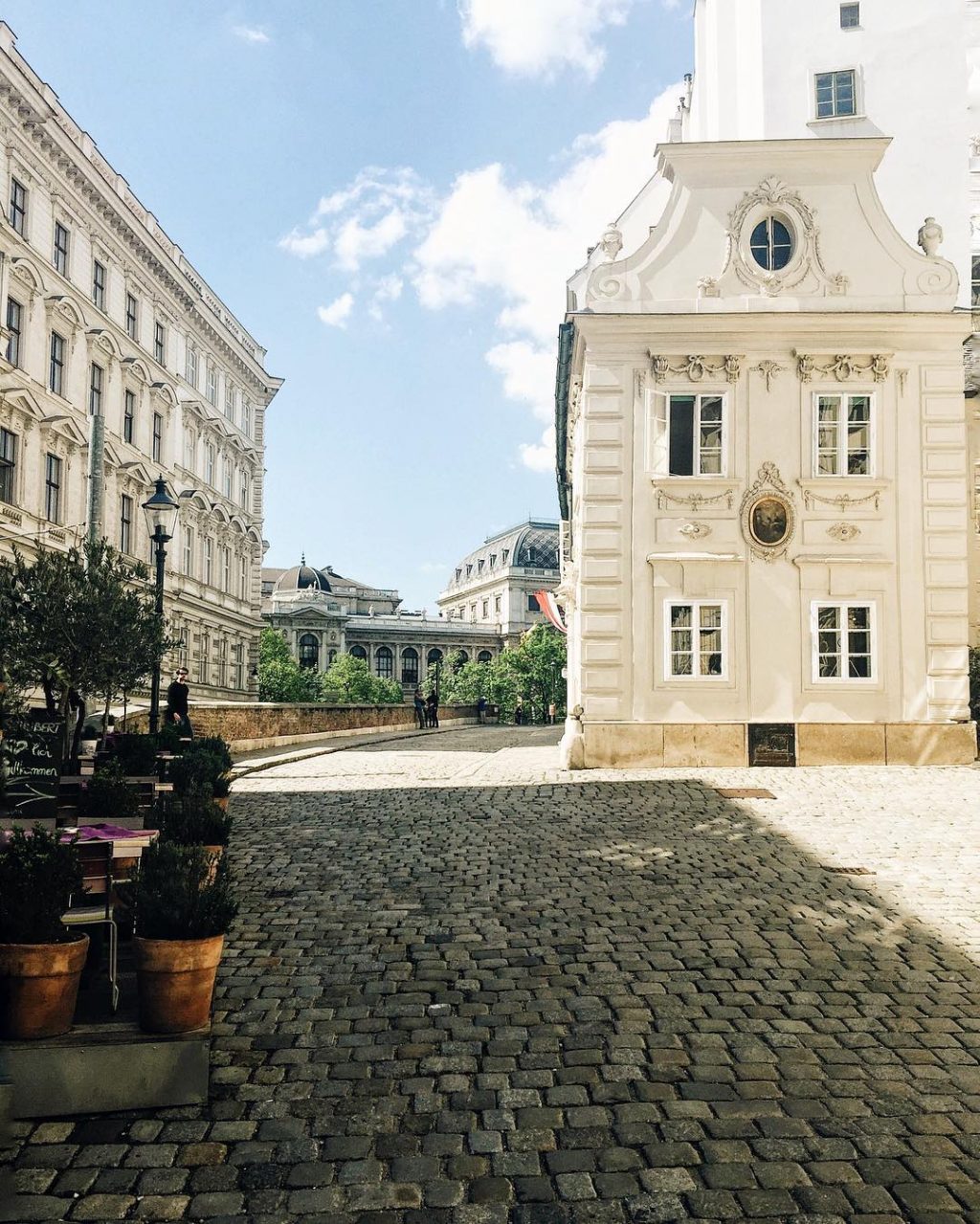 Zollamtssteg, 1010 Vienna

Griechengasse, 1010 Vienna
hidden gem in Vienna for street photography

Volksgarten, 1010 Vienna
Love this public Park, In May/June as the Rosegarden is in full blossoms. Over 400 rose brands make this place magical for flower lovers. (More on the Volksgarden/Rosegarden (Click)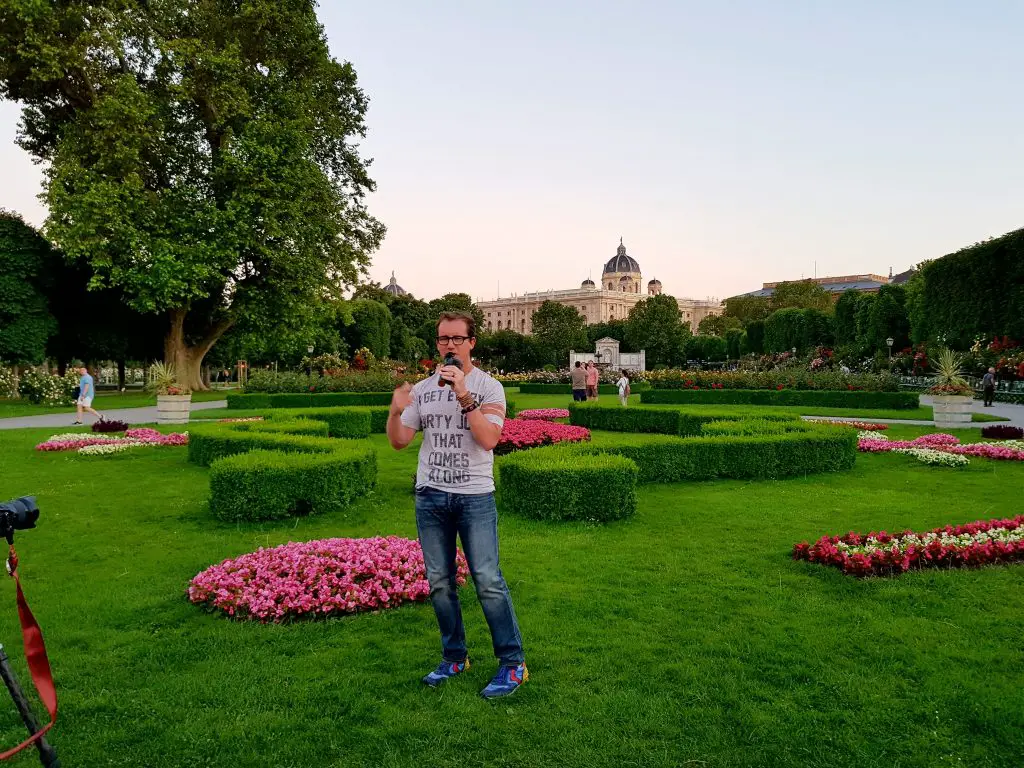 The Graben, 1010 Vienna
The Graben is one of the most elegant streets in Vienna.
Tip: see more photos on my Blog Post Vienna elegance at the Graben (Click)
University of Economics Vienna – Library & Learning Center, 1020 Vienna
Zaha Hadid Architects have won a competition to design a library and learning center for the University of Economics & Business in Vienna. For architecture photography lovers a must visit the place. The whole Campus consists of 8 buildings each designed by a different architect. For the Library make sure you  capture photos from outside and inside. (Definitely need a wide angle lens)
Find more about the architecture here
http://www.arcspace.com/features/zaha-hadid-architects/vienna-university-of-economics-library-and-learning-centre/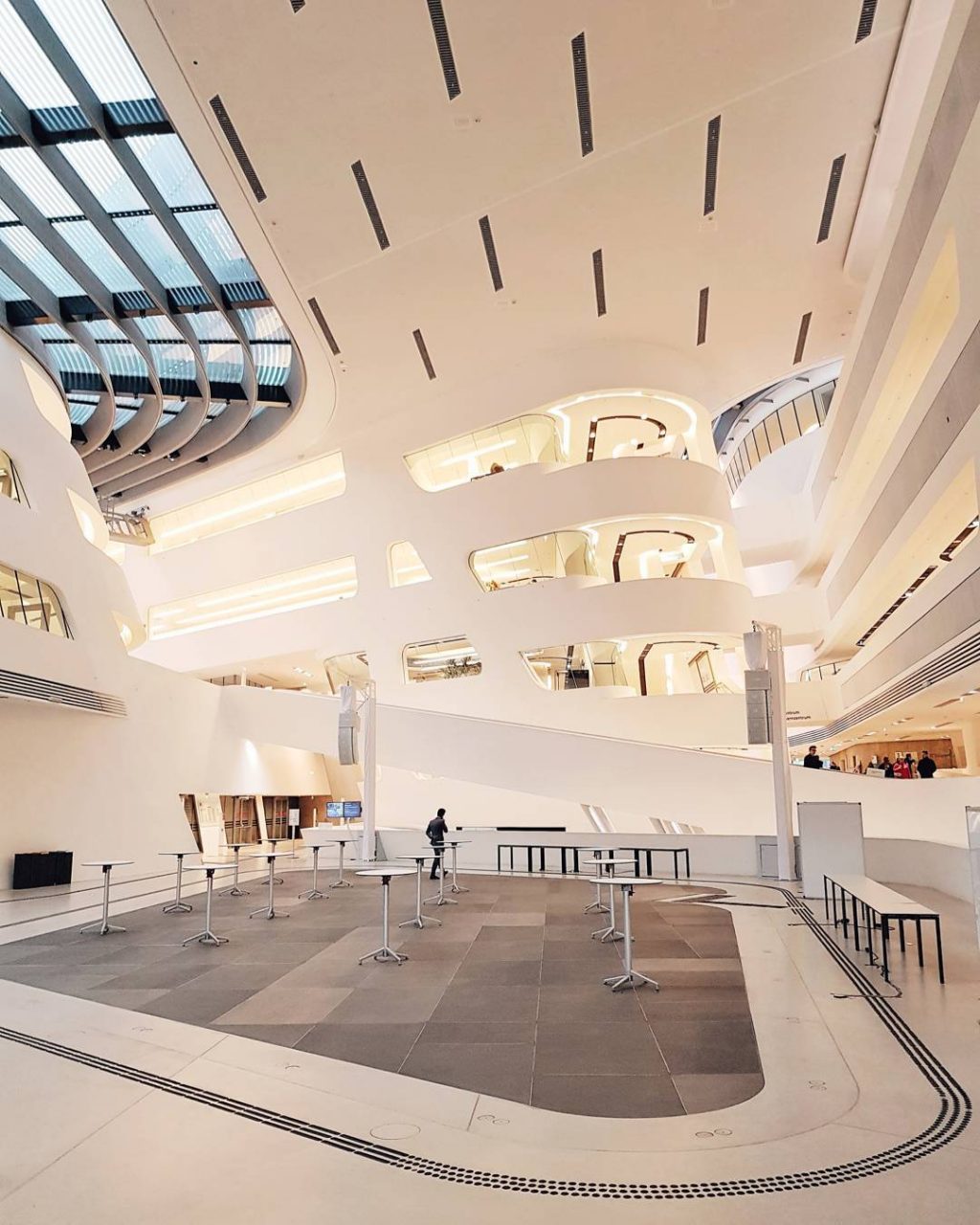 Vienna Burgtheater, 1010 Vienna
The beautiful facade, whose white marble has recently been cleaned, is adorned with statues of famous writers like Goethe and Schiller and allegoric figures depicting love and hatred.
Inside, the Burgtheater provides a festive atmosphere for great cultural events.
You might think taking a guided tour inside to take photos, I did it and it is highly recommended.
https://www.wien.info/en/sightseeing/tours-guides/burgtheater-tours

Vienna Old Streets, 1010 Vienna
Some other nice streets and squares around inner city include: Minoritenplatz, Judenplatz and Kurentgasse. I think if you are after Viennese street scenes you won't have trouble finding them by wandering around the inner city.
Please see also my Blog Post for more photos Vienna Old Streets (Click)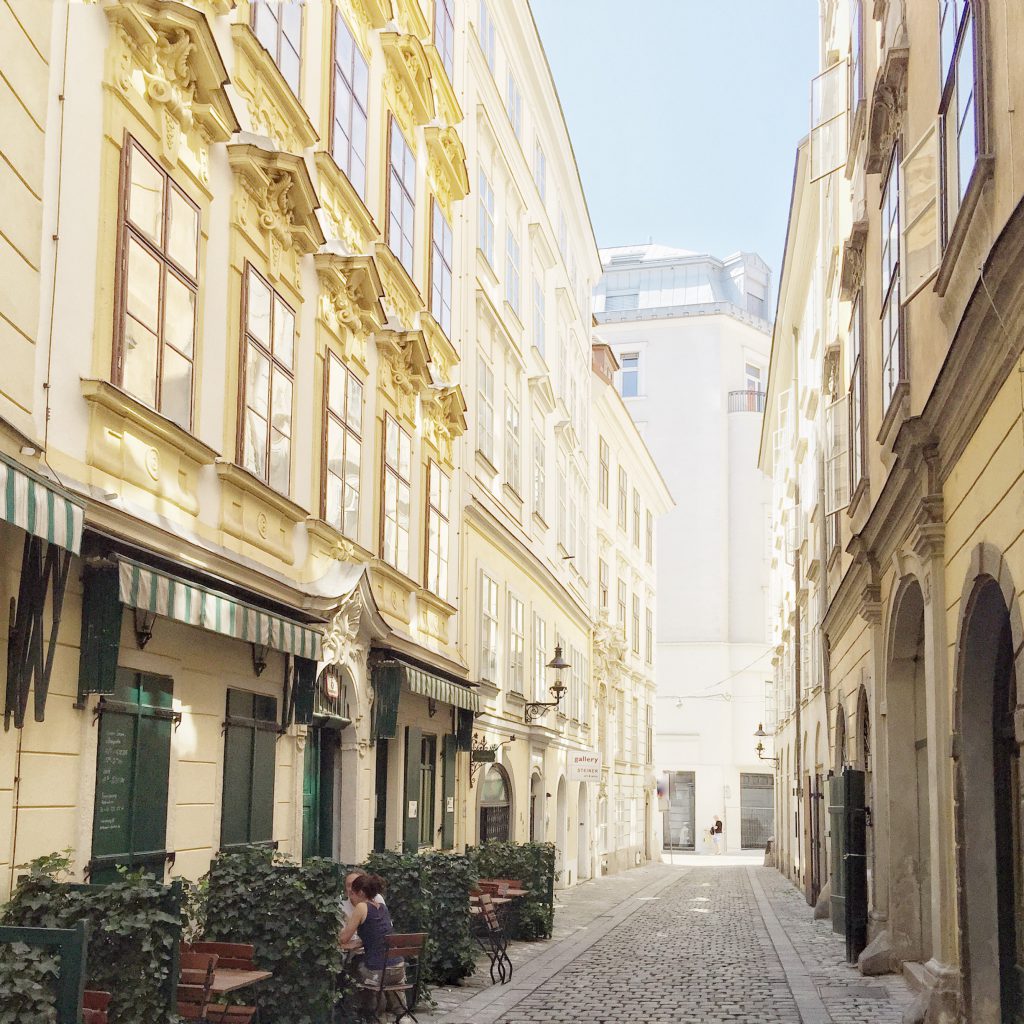 Spittelberg Village Vienna, 1070 Vienna
This is one of my favourite streets in the city with fantastic baroque architecture and cobbled streets. See also my Blog post for more photos: Spittelberg Village in Vienna (Click)
St. Stephens Cathedral Towers, 1010 Vienna
The view from the Stephansdom Towers is a must for photography and Instagram. Up there you'll get far reaching views, especially from the South Tower.
Tip: Look for Guided – partially sunset- tours. (Click)

Café Central, 1010 Vienna
One of Vienna's most beautiful coffeehouses is Café Central.
See also my Blogpsot about the " Best Coffeehouses in Vienna" (Click)
Vienna Kohlmarkt, 1010 Vienna
Another fantastic street is the Kohlmarkt which leads from the Graben towards the Hofburg Palace. Towards the end closest to the Hofburg is another nice coffeehouse called Demel. This is similar to Cafe Central with a wonderful Viennese design (although it looks very different).
Vienna State Opera, 1010 Vienna
The Vienna State Opera architecture is very impressive.
Tip: . Best good spot is near the entrance to the Albertina museum which is located on the other side.
Vienna State Opera – Inside, 1010 Vienna
One of the famous spots is on the main staircase as you go in the front entrance.
Tip: The Staatsoper offers tours of the inside which provides the perfect opportunity for some interior shots. See more photos on a special tour inside the Vienna Opera on my BlogPost Vienna State Opera (Click)
Austrian National Library, 1010 Vienna
This library definitely isn't the easiest for Instagram as it's so wide. At night it gets light up and also look nice.
Tip: If you happen to be in the city just after rain, then you might find puddles such as below where you may get perfect reflections. This makes it a lot easier to take a picture that is square or portrait (landscape crops aren't that great for Instagram). You could also try using a wide angle lens and then take pictures closer to the building.
Austrian National Library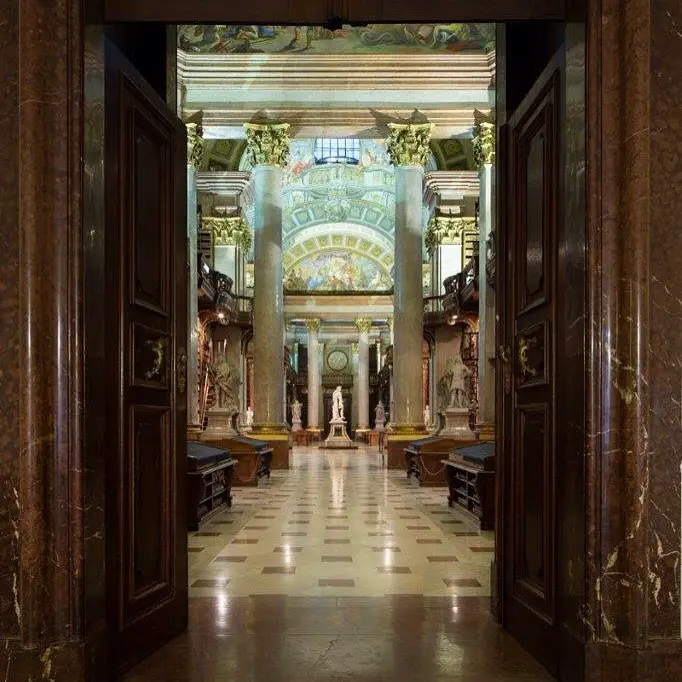 Palace of Justice, 1010 Vienna
The interior of the Palace of Justice is almost a hidden gem. The main attraction in this building is the floor and architecture in the main hall towards the entrance. Head up the stairs and then go towards the back for a high perspective.
Another good spot is to head up the elevator to the top floor and visit the Justizcafe which has an outside patio overlooking the city.

Photo Credit: Irina HP
University of Vienna, 1010 Vienna
Magnificent staircases and corridors which make for great photographs. Fantastic Library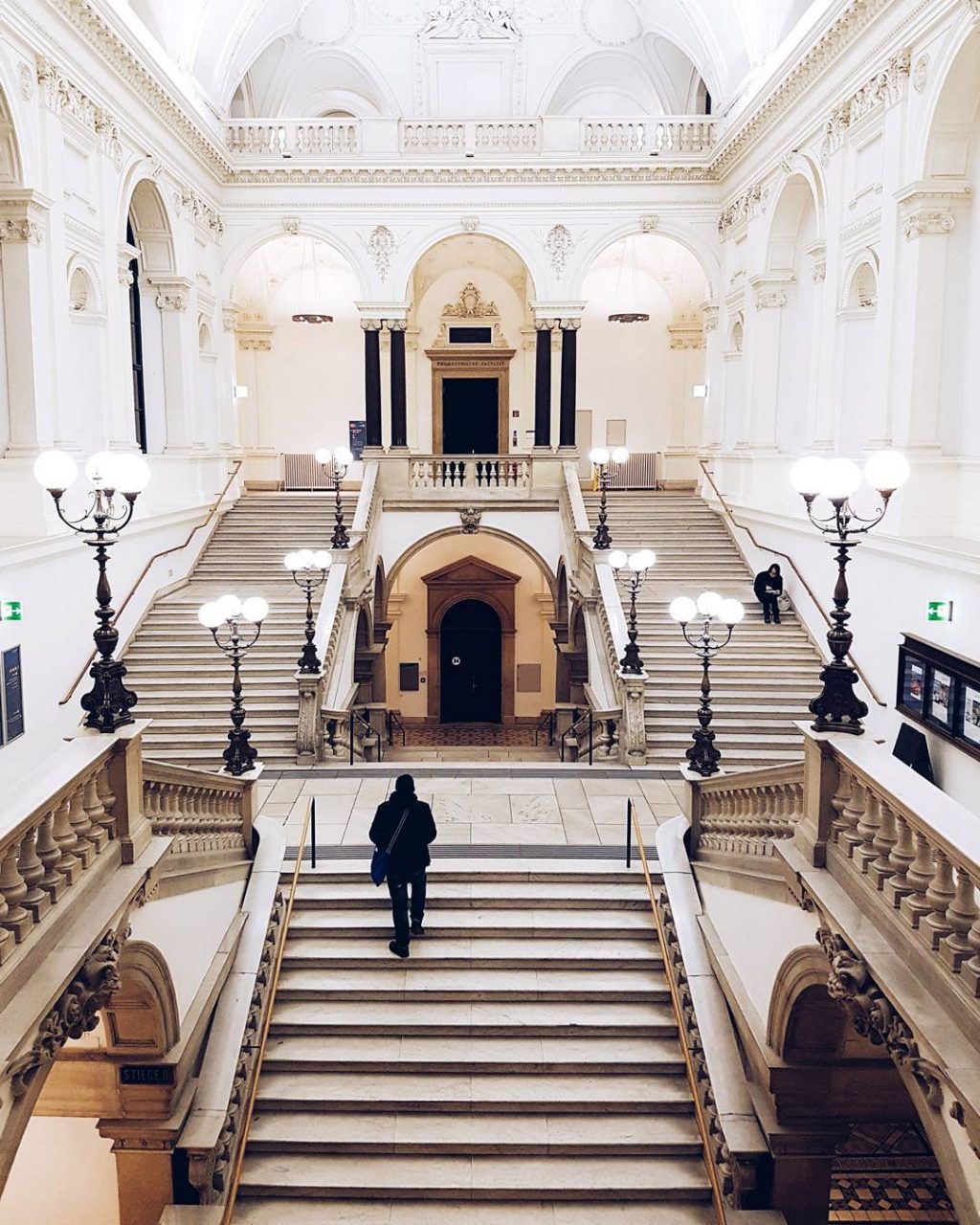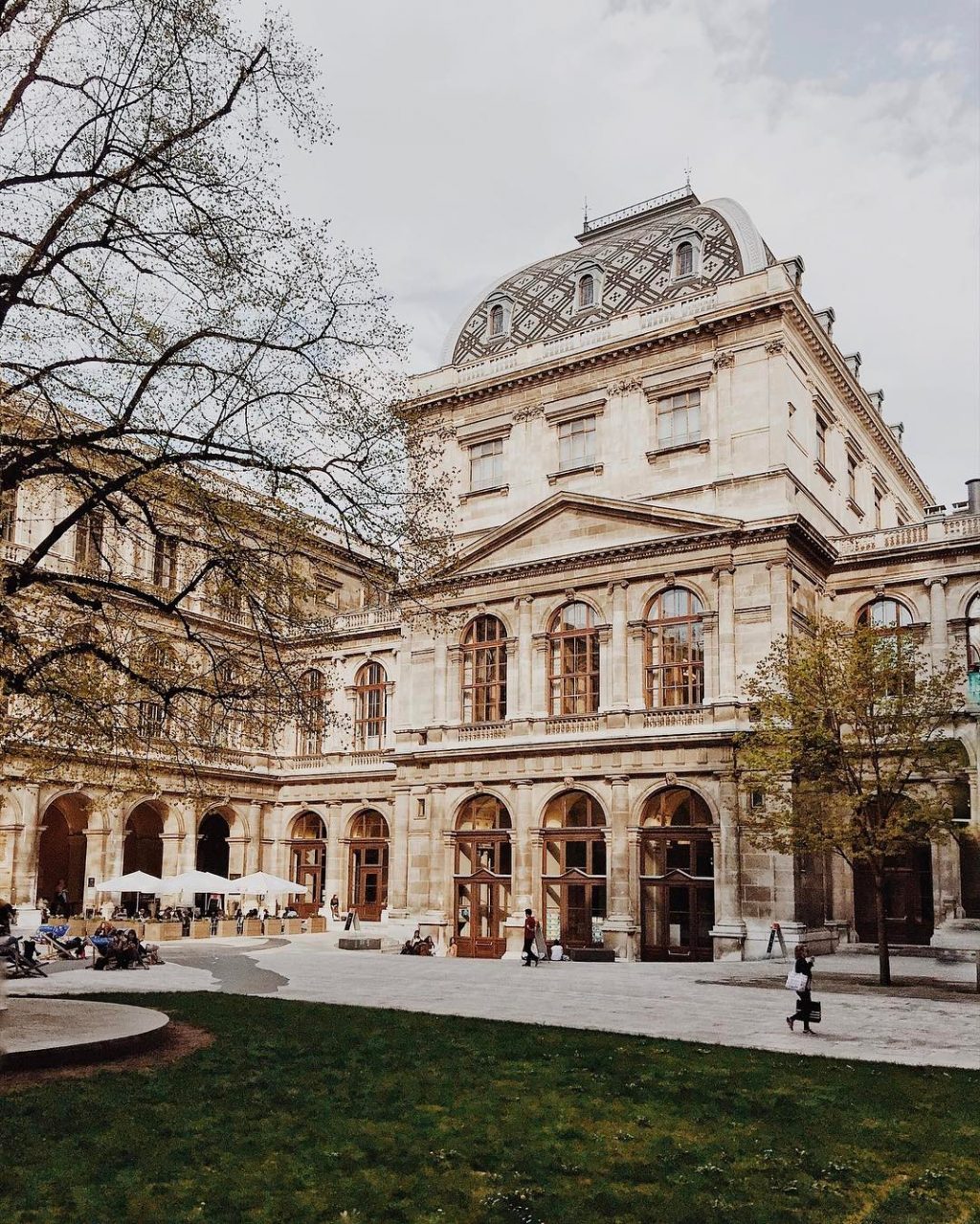 Hotel Imperial Vienna, 1010 Vienna
Pop into the restaurant or Cafee to get some nice shot. Wonderful Interieur and staircase with Photo of Emperor Franz Josef
For more photos go to my Blog post Hotel Imperial Vienna (Click)
MuseumsQuartier, 1070 Vienna
MuseumsQuartier is a cool place hang out.(more so in the spring and summer). Love the colorful benches there.
Tip: Leverage the reflections of the water (spring/summer)
More about the Museums Quartier Vienna (Click)
Schönbrunn Palace, 1130 Vienna – TOP Wedding Photography Spot
towards the right and left hand side of the gardens are some awesome tunnels for photography . Best in Spring (Blossoms) and Automn (colorful leaves). Also winter shots are perfect. Make sure you are there early in the morning to get moody shots. More on Schönbrunn (Click)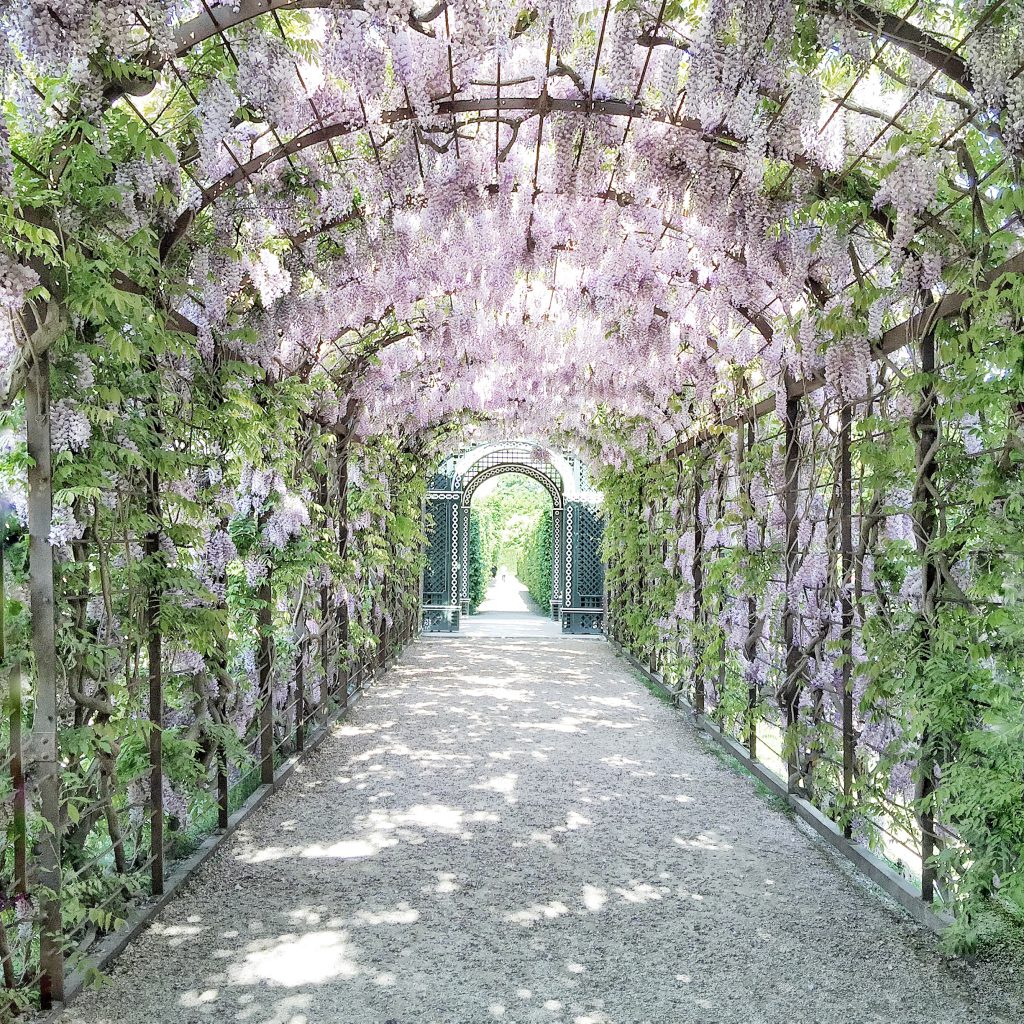 St. Peters Church /Graben, 1010 Vienna
Very impressive church along the Graben. Also take pictures from Inside!

Capturing Fiakers Horce carriage, 1010 Vienna
Best spot is the Michaelerplatz and the Heldenplatz, but you find Fiakers all over the Vienna city Center.
Christmas markets, 1010 Vienna
Vienna totally embraces in the Christmas spirit. Although you will find decorations all throughout the city, here are some of the best spots to find lights and decorations.
Here is my Blog Sport of my Favorite Christmans Market at the Michaelerplatz. (Click)
Find here a overview about all Christmasmarkets in Vienna.
Heldenplatz /Hofburg, 1010 Vienna
The center of Imperial Vienna. More aout the Hofburg in Vienna (Click)
Austrian Parliament, 1010 Vienna

The Ritz-Carlton Vienna, Atmosphere Rooftop Bar, 1010 Vienna
One of my favorite Rooftop Bars with cool lounge atmosphere. 360 view all over Vienna make it a photographers paradise. The Bar opens from April to September usually at 16:00. Make sure you leverage the Golden sunset hour.
More info on my Blog Post "The Best Rooftop Bars with breathtaking views in Vienna" (Click)
Vienna City Hall, 1010 Vienna
Opposite to the Burgtheater one of the most impressive Buildings of Vienna.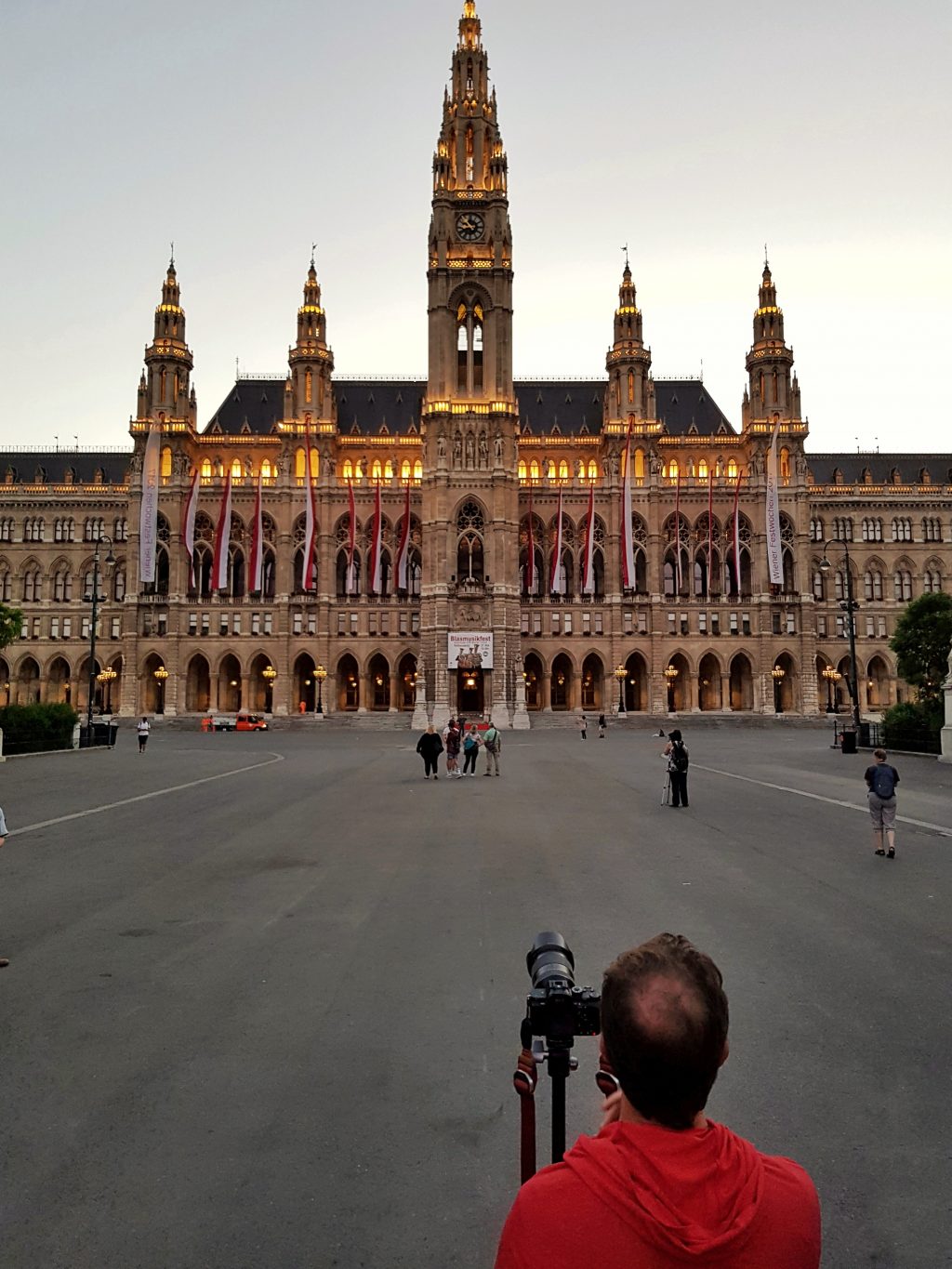 Albertina Square/Museum, 1010 Vienna
Perfect view to the Vienna Opera and Albertina Museum. Watch for glorious sunset photos to towards the Burggarten.
More on the AlbertinaMuseum (Click)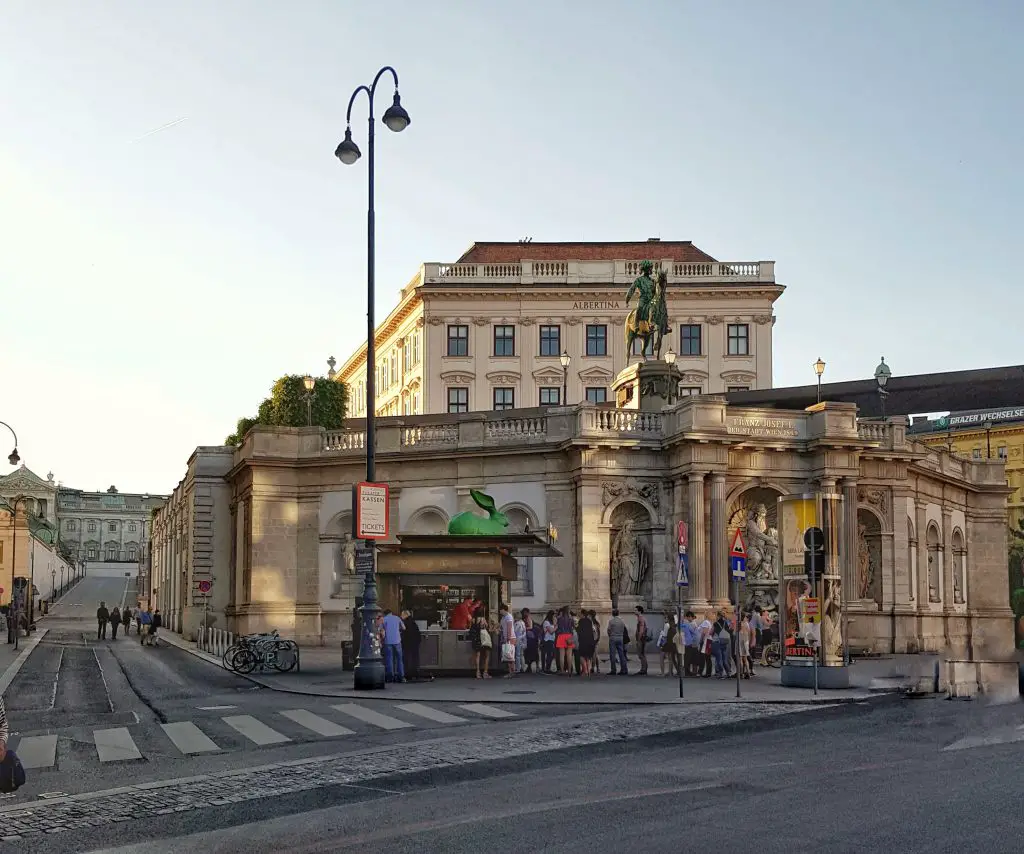 Burggarten, 1010 Vienna
Built from Imperior Franz Josef for his wife Sisi. One of my favorite Public Parks.
Weihburggasse 21, 1010 Vienna
One of the loveliest hidden Backyards in the city center of Vienna. See more photos on my Blog post Lovely Backyards in Vienna (Click)
Gloriette – Schloss Schönbrunn Palace, 1130 Vienna

Wiener Riesenrad Vienna Prater, 1020 Vienna
The Wiener Riesenrad is one of the oldest and largest ferris wheels.

Karlskirche, 1040 Vienna
nice reflections of the water in the front. (Spring- Automn)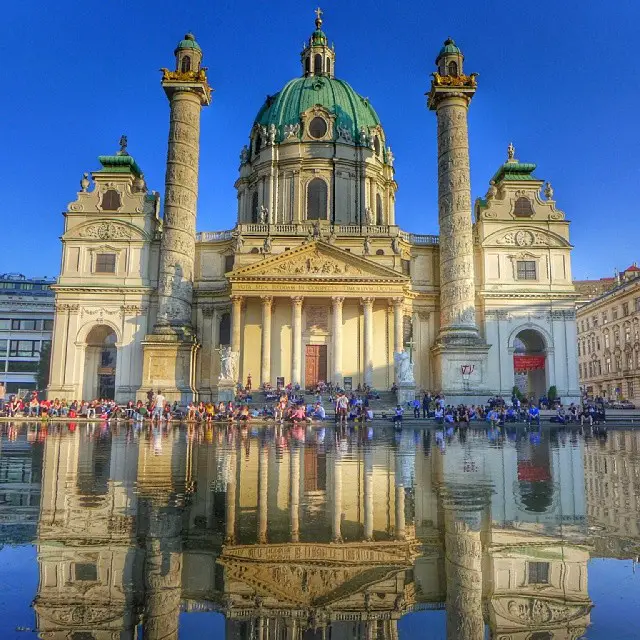 Hundertwasserhaus, 1030 Vienna
Very Colorful, located in the 3rd district.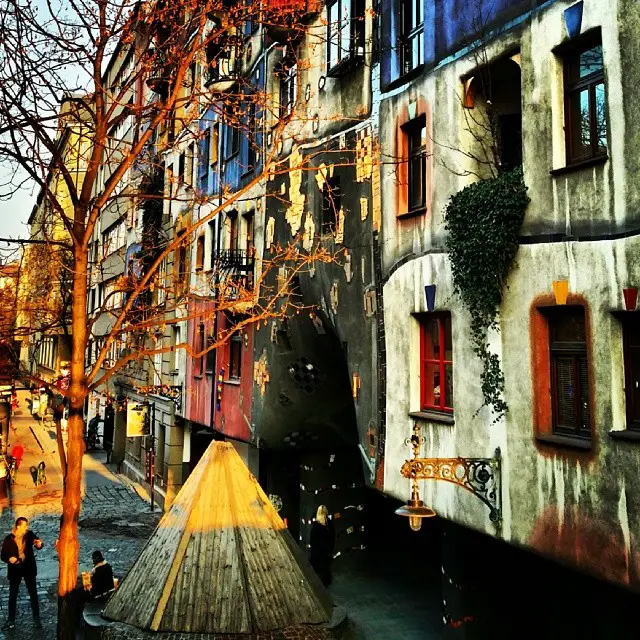 Belvedere Winterpalais, 1010 Vienna
More about the Belvedere Winter Palace (Click)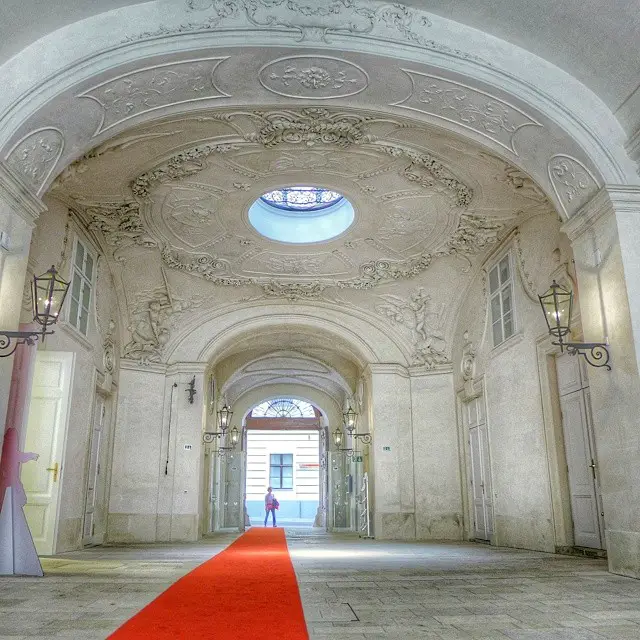 Palais Coburg, 1010 Vienna
Inside there is a nice patio with a coffee house. More about the Palais Coburg (Click)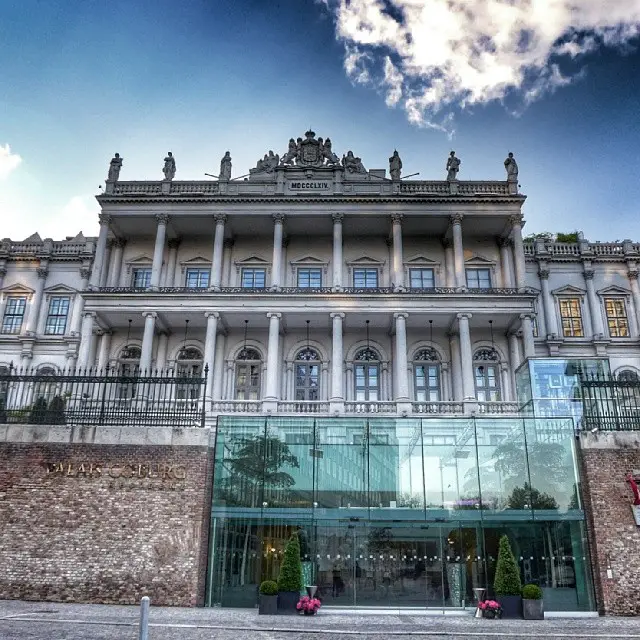 Check my Blog Post fore more Vienna photography "25 Vienna Instagramers to follow for inspiration" (Click)
PIN OT ON PINTEREST!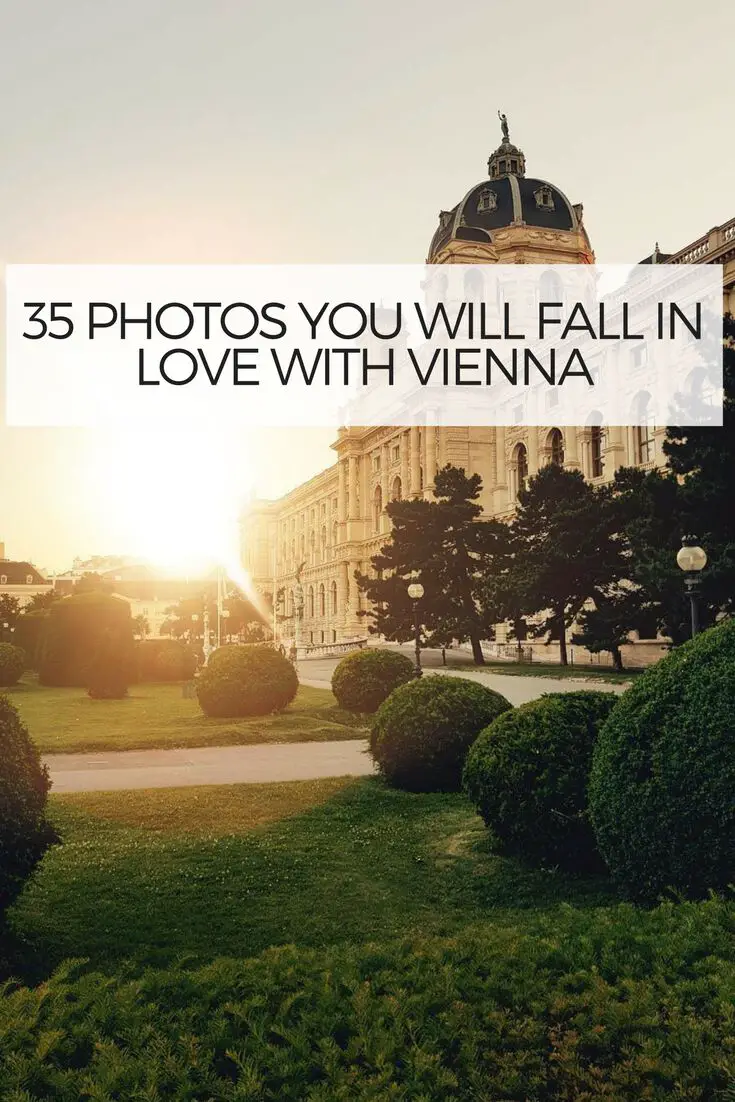 Follow us for updates
Did you like this post? You can receive new posts via BlogLovin' or via our mailing list.
Save
Save
Save
Save
Save
Save
Save
Save
Save
Save
Save
Save
Save
Save
Save
Save
Save
Save
Save
Save
Save
Save
Save
Save
Save
Save
Save