Last Updated on June 10, 2017 by gregor
Are you looking for a Vegan food in Vienna? Here is the Ultimate List of the Best Vegan restaurants in Vienna. If you need a healthy dinner or just a fast snack here you find the right restaurant in Vienna. We show you our favorites when it comes to vegan burgers, breakfast or cakes.
Swing Kitchen, 1070 Vienna
Swing Kitchen's industrial chic design and background music take you back to the swing era of the 1920s. It is a fast food restaurant where you find excellent vegetarian burgers accompanied by different side dishes, as a menu or solo. The burger buns are made of soy and wheat, and the vegetables and salads are from regional farmers. Their extraordinary selection of drinks, like the home-made cola, are made from Austrian products and round off the whole experience.
Opening hours: Mon-Sun 11am-10pm
Schottenfeldgasse 3, 1070 Wien, Vienna, Austria
Veggiezz, 1010 Vienna
On the menu are burgers with homemade fries, healthy bowls, wraps and even vegan steaks. The company currently has two vegan restaurants in Vienna.
Salzgries 9, 1010 Vienna
Alserbachstrasse 30, 1080 Vienna
Harvest Bistrot, 1020 Vienna
a vegetarian bistro, offers 'slow food served quickly'. The focus is on vegan meals, which are served at a buffet. In addition to this, guests can also choose from a tasty breakfast menu until 12, and great à la carte dishes throughout the afternoon. Guests can enjoy their meal outside, making the most of the beautiful view of the Karmelitermarkt and its church.
Opening hours: Mon-Fri 11am-11pm;Sat-Sun 10am-6pm
Karmeliterplatz 1, 1020 Vienna
Deli Bluem, 1010 Vienna
their mission is to use organic and plant-based foods in their menu.The ingredients are selected locally and seasonally, the dishes from soup to dessert are supposed to supply the body energy and important nutrients – and of course taste Start by choosing from their range of soups, and then try one of the many different main dishes, which should strengthen and balance your immune system. For drinks, Deli Bluem offers organic and fair trade fruit juices, coffee and tea, as well as beer from Austrian breweries.
Depending on the hunger you can choose large or small portions, who wants to take the food home or to the office.
Opening hours: Mon-Fri 8am-7pm; Sat-Sun 9am-6pm
Hamerlingplatz 2, 1080 Vienna
Simply Raw Bakery Bistro, 1010 Vienna
Raw and vegan are the sweet delights of the Simply Raw Bakery. Brownies, chocolates, cupcakes, and co. Not only look great but also taste really good. All ingredients are organic.
Drahtgasse 2, 1010 Vienna
https://www.simplyrawbakery.at/
NomNom Vegan Bakery, 1020 Vienna
The NomNom vegan bakery is the place you will be delighted. In the café's display case you will find brownies, cookies, cakes, punch holes and many other desserts without animal products. You can also order vegan tarts or participate in a baking course.
Lilienbrunngasse 5, 1020 Vienna
Dancing Shiva Superfood, 1070 Vienna
At Dancing Shiva Superfood, the restaurant that sells in the adjoining shop: Superfood from Acaibeeren to Spirulina algae, fruits, nuts and more. All dishes are vegan and are prepared according to the raw food principle, ie heated to no more than 42 ° C. Great: Breakfast is served daily until 3 pm, all meals are also to take away.
Neubaugasse 58, 1070 Vienna
Naturkost St. Josef, 1070 Vienna
Guests will find a new and varied (vegan or vegetarian) lunch, soup menu that is updated daily. In addition to this, you can select from a lot of salads, freshly squeezed juices, homemade ice teas, and desserts. The food shop leaves nothing to be desired, offering everything from fresh vegetables, cheese, bread, and chocolate, to basic products such as rice and noodles.
Opening hours: Mon-Fri 8am-5pm; Sat 8am-4pm
Zollergasse 26, 1070 Vienna
Homepage: n/a
Loving Hut, 1070 + 1100 Vienna
As the first vegan fast food restaurant in the city, the international chain Loving Hut has long since made a name for itself. There are crisp spring rolls, fresh soups, spicy salads and many Asian rice and noodle dishes with seitan, tofu, and soy products.
Neubaugürtel 38/5, 1070 Vienna
Favoritenstrasse 156, 1100 Vienna
Vegana Indiana, 1120 Vienna
This vegan restaurant in Vienna is also looking forward to an animal visit. Dogs are welcome in Vegana Indiana. For their owner is cooked without animal products and gluten-free, from the spinach truffle over soy briars to the vegan onion roast. Seasonal dishes complement the menu!
Schönbrunnerstrasse 235, 1120 Vienna
YAMM!, 1010 Vienna
International and local vegetarian & vegan dishes – contemporary setting with outdoor seats.
Universitätsring 10, 1010 Wien
www.yamm.at
Lebenbauer, 1010 Vienna
Offer to cook all dish vegan, great selection of dishes
Teinfaltstraße 3, 1010 Wien
www.lebenbauer.eu
Hollerei, 1150 Vienna
The restaurant Hollerei is situated just outside of the city-center but is easily reachable by public transport. It provides a relaxed ambiance, with a cozy wooden interior and a garden for beautiful summer days outside. Meals are influenced by Asian and Mediterranean cuisine and are presented in very creative manners.
Opening hours: Mon-Sat 11.30am-11pm; Sun 11.30am-3pm
Hollergasse 9, 1150 Vienna
Tian restaurant Vienna, 1010 Vienna
'Tian' means 'heaven',  in Chinese, and in French, it's the name of a vegetarian stew. These words describe Tian restaurant perfectly. All the meals are carefully prepared and are an experience for the taste buds and eyes. Guests are able to choose between four, six or eight-course menus, which utilize ingredients from the restaurant's own garden. The great selection of wines is perfect for wine lovers.
Opening hours: Tue-Sat 12am-12pm; the wine bar is open Tue-Sat 5-12pm
Himmelpfortgasse 23, 1010 Vienna
www.tian-vienna.com
Tian Bistro on Spittelberg
Schrankgasse 4, 1070 Vienna
www.tian-bistro.com/de/bistros/am-spittelberg
Tian Bistro at Kunsthaus Wien
Weißgerberlände 14, 1030 Vienna
www.tian-bistro.com/de/bistros/im-kunsthaus-wien
Macro 1, 1010 Vienna
The Makro1 is actually a vegetarian organic market but offers from Monday to Friday a vegan lunch. In the warm season, you can have dinner and soup in the beautiful restaurant or take away. The vegan restaurant is by the way well hidden: the entrance is in a courtyard, which is accessible through an insignificant entrance at the meat market.
Fleischmarkt 16, 1010 Vienna
www.makro1.at/
Konoi, 1040 Vienna
Hemp Milk Bar: The Konoi is a completely vegan offering – the café prepares beverages, smoothies, frozen desserts and breakfast bowls with homemade hemp milk from organic hemp seeds
Wiedner Hauptstrasse 34, 1040 Vienna
www.konoimilk.com
Delicious, 1060 Vienna
Small, vegan bistro, just a few meters from the Naschmarkt. All ingredients come from organic farming, some of the dishes are raw and delicious prepared with Superfood
Linke Wienzeile 22 GL 3, 1060 Vienna
www. delicious.or.at
Maran Vegan Bistro, 1060 Vienna
The vegan restaurant is part of the vegan supermarket Maran and offers daily breakfast, lunch, salads and flour dishes
Stumpergasse 57, 1060 Vienna
www.maranvegan.at/
Veganista, 1010 Vienna
Vegan ice is in demand – now there are four Veganista sites in the city, the varieties are changing regularly. Also good: The Ice Sandwich Inbetweeners! 4 shops in Vienna ->
www.veganista.at
The Vegetasia, 1030 Vienna
has been offering vegan cuisine since 1988, making it the first vegan restaurant in Austria. Lunch and dinner is all you can eat buffet!
Ungargasse 57. 1030 Vienna
www.vegetasia.at
Easy going Bakery, 1070 Vienna
When it comes to cupcakes, cinnamon rolls, cakes or cakes, the offer in this pastry shop is not 100%, but very often vegan – and additionally, lactose, gluten and/or soya-free, hot drinks are vegan cooked
Burggasse 20, 1070 Vienna
www.easygoingbakery.at
If you have any additional restaurant to mention please let me know in the comments below. Many thanks!
PIN IT if you like to share with your friends on Pinterest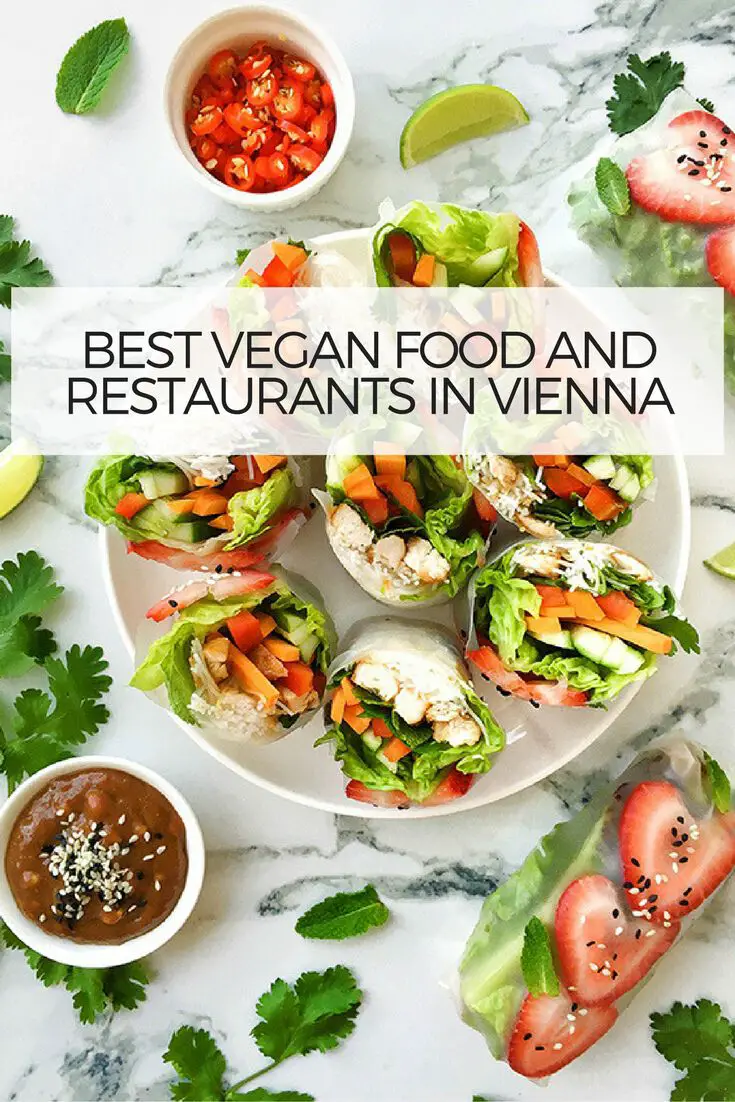 Photo Credits: Karen McLaren
Save
Save
Save
Save
Save
Save
Save
Save
Save
Save
Save