Last Updated on October 25, 2023 by gregor
As a travel journalist, I've had the privilege of visiting countless hotels and resorts around the world. However, few have left as lasting an impression as the Belchin Garden Spa Hotel in Bulgaria. Nestled on the outskirts of Belchin Banya, this hidden gem offers a serene escape from the hustle and bustle of everyday life. Join me on a journey through this remarkable destination as we explore its stunning location, welcoming lobby, comfortable rooms, world-class wellness facilities, delectable dining options, and a wide range of activities for both relaxation and adventure.
Discover the Tranquil Retreat of the Spa Hotel Belchin Garden in Bulgaria
The Location: A Slice of Bulgarian Paradise – The Belchin Garden Spa Hotel
Belchin Garden Spa Hotel is strategically situated on the outskirts of Belchin, a charming town in Bulgaria's Sofia Province. This prime location offers guests a picturesque setting with sweeping views of the Rila, Verila, and Plana Mountains. The moment you arrive, you'll be greeted by the tranquility of the surrounding nature, setting the stage for a truly rejuvenating experience.
The nearby landscape is a haven for outdoor enthusiasts. Guests can explore the lush forests, embark on scenic hikes, enjoy invigorating bike rides, go horseback riding, or even cast their lines for a day of fishing. The hotel's concierge can also arrange memorable excursions to the renowned Seven Rila Lakes, breathtaking flights over Iskar Lake, and horseback riding adventures in the region. Whether you're seeking relaxation or adventure, Belchin Garden Spa Hotel offers the perfect starting point for your Bulgarian escapades.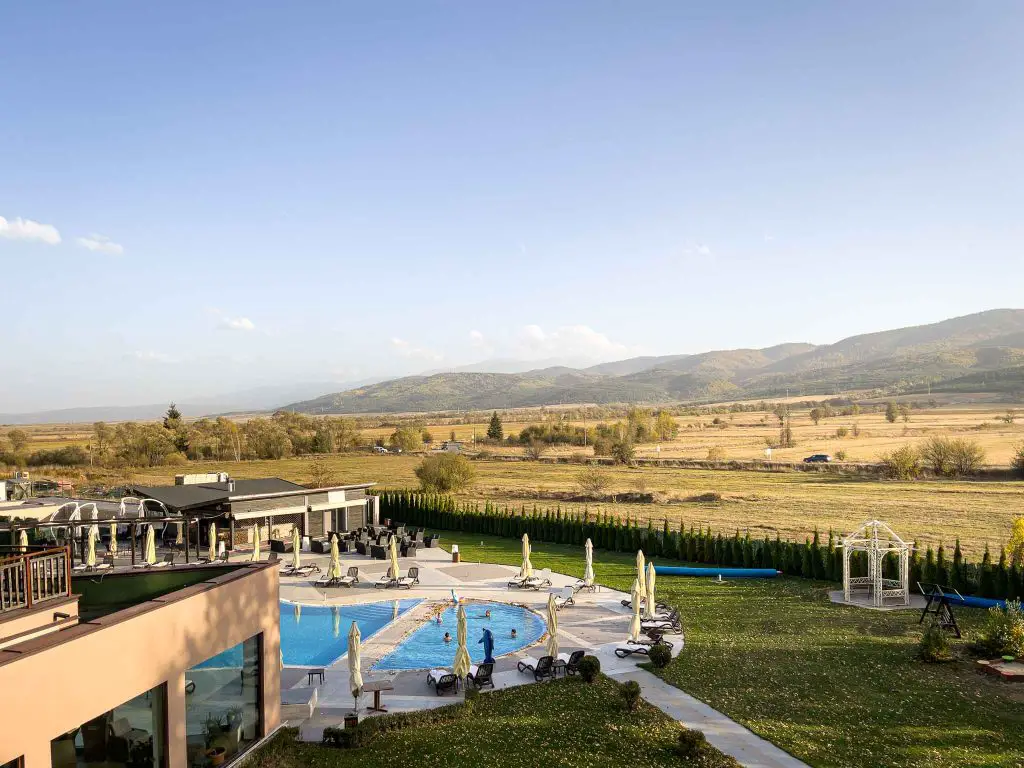 Lobby Welcome Entrance Experience: A Warm Embrace
Upon entering the hotel's lobby, you'll immediately feel welcomed by its inviting atmosphere. The lobby exudes a sense of comfort and elegance, with tasteful décor and cozy seating areas. It's the perfect place to unwind, read a book, or simply take in the soothing ambiance.
The friendly and attentive staff members are ready to assist you with any needs or questions you may have. Whether it's arranging a spa treatment, booking an excursion, or recommending local attractions, their commitment to exceptional service is evident from the moment you arrive.
The Rooms: Your Home Away from Home
Belchin Garden Spa Hotel boasts a variety of rooms that cater to the needs of every traveler. Each room is meticulously designed to provide both comfort and aesthetic pleasure. As you step into your room, you'll be greeted by modern amenities, including an LCD Kabel-TV, a well-stocked minibar, and a balcony offering breathtaking views of the surrounding mountains.
The spacious bathrooms are equipped with complimentary toiletries, plush bathrobes, and cozy slippers, ensuring that your stay is as relaxing as possible. Whether you choose a standard room or a luxurious suite, you can expect a restful night's sleep in the comfortable beds, complete with high-quality linens.
 The Wellness & Spa Area: Rejuvenate Your Body and Soul
One of the standout features of Belchin Garden Spa Hotel is its exceptional wellness and spa facilities. With a total of four indoor and outdoor pools filled with invigorating mineral water, guests can indulge in relaxation at every turn. The indoor pool, sauna, steam room, and fitness center are all available free of charge to hotel guests, ensuring that your wellness needs are well taken care of.
For those seeking a more indulgent experience, the spa offers a range of treatments, including massages and access to a solarium. It's the perfect opportunity to pamper yourself and escape the stresses of daily life. Whether you're looking for deep relaxation or a rejuvenating boost, the wellness facilities at Belchin Garden Spa Hotel have you covered.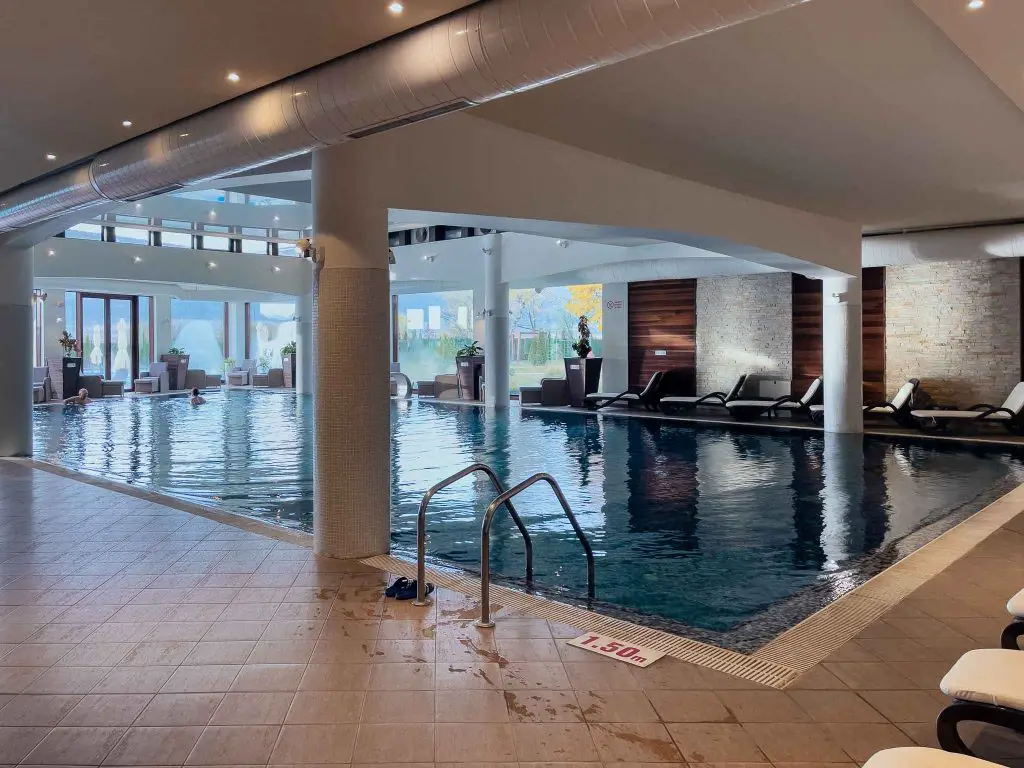 The Restaurants & Culinary Highlights: A Gastronomic Adventure
Culinary enthusiasts will be delighted by the dining options at Belchin Garden Spa Hotel. The on-site restaurant offers a diverse menu featuring both international and Bulgarian cuisine. What sets it apart is the enchanting garden terrace where you can savor your meals while surrounded by nature's beauty.
In addition to the main restaurant, the hotel boasts a lobby bar, a pool bar, and a Karaoke Bar for evening entertainment. If you prefer a more interactive dining experience, you can make use of the available grill facilities. Whether you're enjoying a leisurely breakfast, a casual lunch, or a romantic dinner, the culinary offerings at Belchin Garden Spa Hotel are sure to satisfy your palate.
 Breakfast: A Perfect Start to the Day
Begin your day with the exceptional breakfast offerings at Belchin Garden Spa Hotel. The breakfast spread is a feast for the senses, featuring a wide array of dishes to suit all tastes. From fresh fruits and pastries to savory Bulgarian specialties, you'll find something to tantalize your taste buds.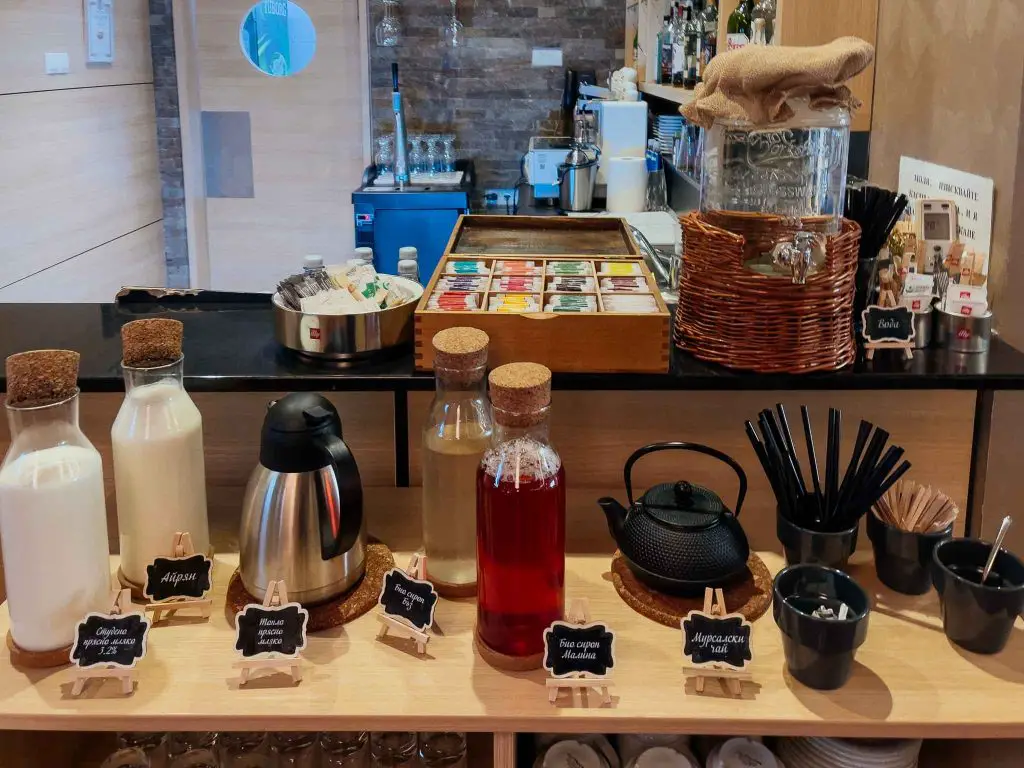 Dinner: A Culinary Extravaganza
The highlight of your culinary journey at Belchin Garden Spa Hotel is undoubtedly the dinner experience. The restaurant's menu is a testament to the chef's dedication to creating exquisite dishes. Whether you opt for international fare or traditional Bulgarian cuisine, every bite is a culinary masterpiece. Keep an eye out for themed or special dinner events that add an extra layer of excitement to your dining experience.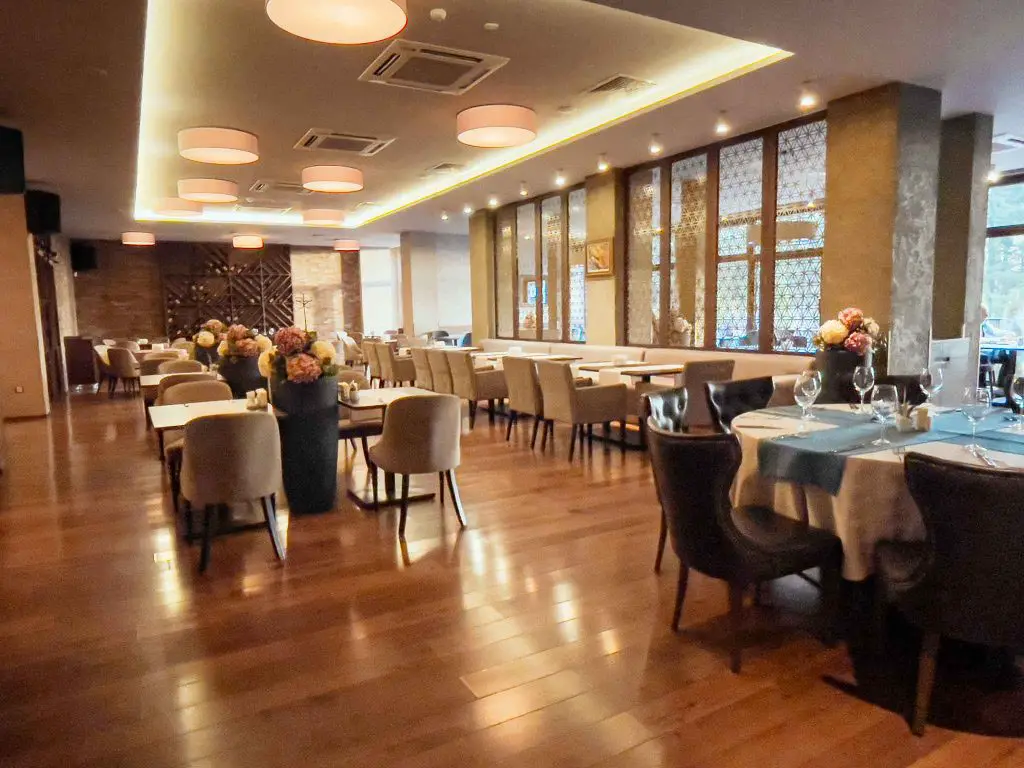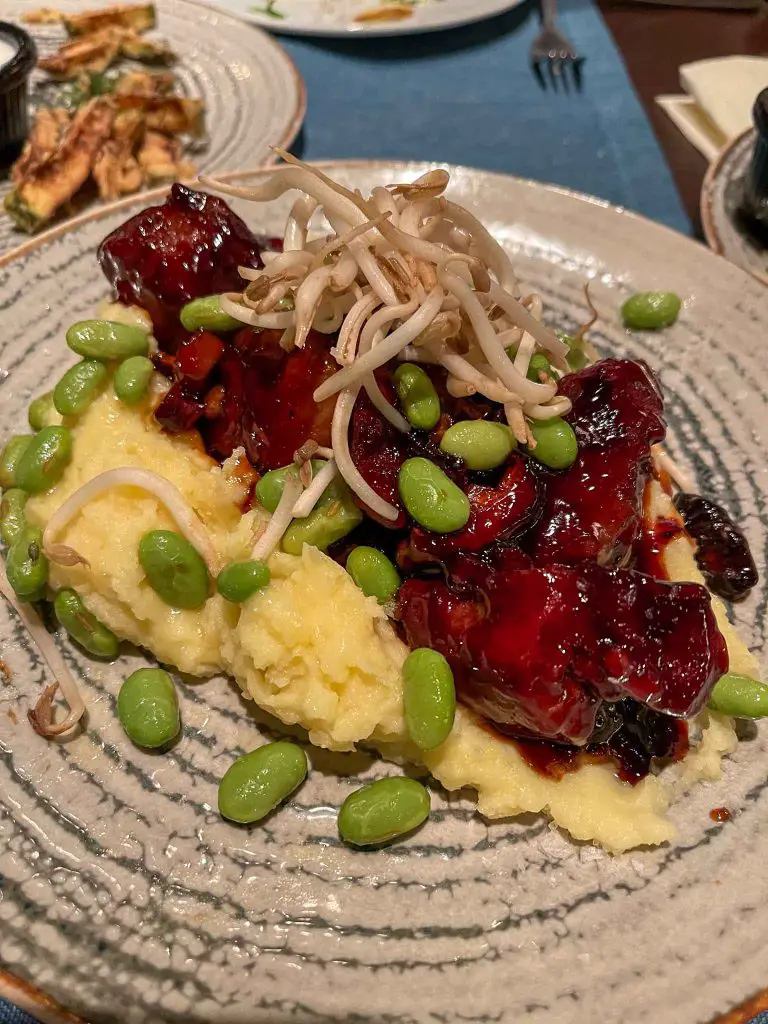 Sport & Fitness Facilities & Activities in Summer: Stay Active and Energized
Belchin Garden Spa Hotel offers a wide range of sports and fitness facilities to keep guests active and energized during their stay. Whether you're a sports enthusiast or simply looking to stay in shape, there's something for everyone. Engage in friendly matches of football, tennis, or volleyball, or explore the picturesque surroundings through activities like hiking, cycling, or even paintball.
Families traveling with children will appreciate the hotel's well-supervised playroom, allowing kids to have fun while parents enjoy some well-deserved relaxation. Plus, a complimentary babysitting service is available for added convenience.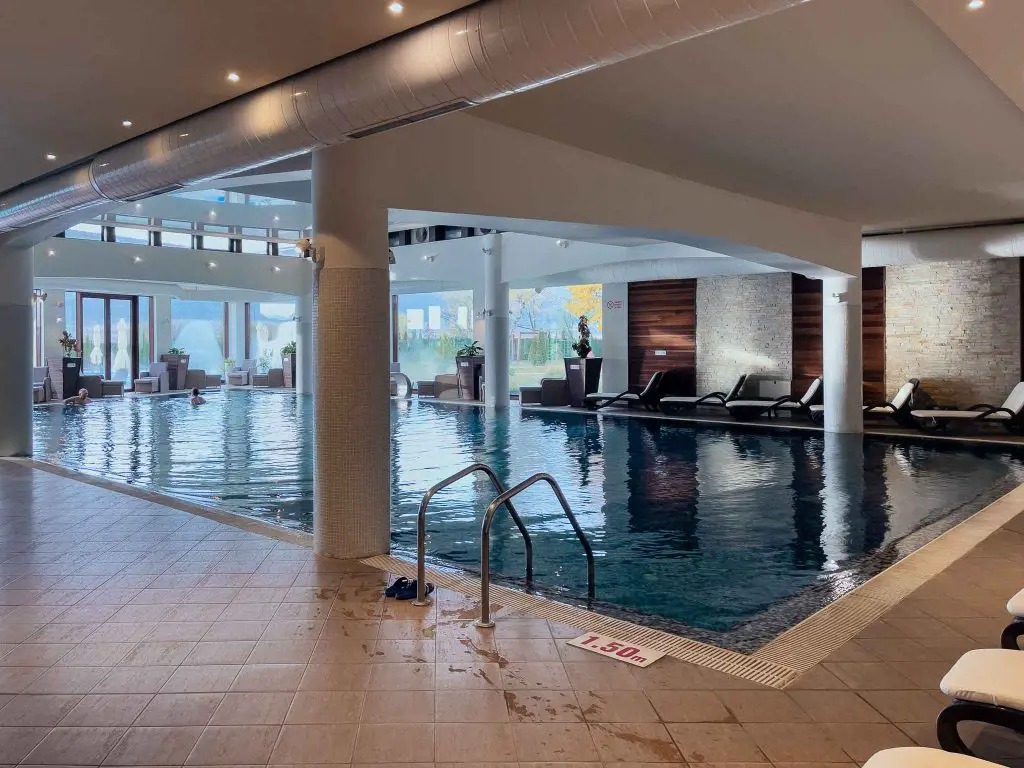 Things to Do Around the Hotel: Explore the Region's Wonders
While Belchin Garden Spa Hotel offers an abundance of on-site activities, there's also a world of exploration awaiting you in the surrounding region. Plan a day trip to the stunning Seven Rila Lakes, a group of glacial lakes tucked away in the Rila Mountains. The hotel's concierge can arrange this memorable adventure for you.
For a unique perspective of the area, consider taking a scenic flight over Iskar Lake, providing a bird's-eye view of the landscape. Horseback riding excursions in the region offer a wonderful opportunity to connect with nature and experience Bulgarian culture up close.
Should you wish to venture further, the vibrant city of Sofia is easily accessible for a day of sightseeing and shopping. Additionally, the renowned Borovets ski resort is just a short distance away, making Belchin Garden Spa Hotel a perfect year-round destination.
My Conclusion: A Tranquil Oasis
Your Journey Begins at the Belchin Garden Spa Hotel.
In conclusion, my visit to the Belchin Garden Spa Hotel was nothing short of enchanting. This tranquil oasis in Bulgaria offers an escape from the ordinary and an invitation to embrace wellness, adventure, and serenity. Whether you're planning a romantic getaway, a family vacation, or a solo retreat, Belchin Garden Spa Hotel beckons you to embark on a journey of relaxation and rejuvenation.
Your wellness retreat awaits amid the splendor of the Rila, Verila, and Plana Mountains. It's time to book your stay, recharge your spirit, and let the beauty of Bulgaria inspire you. Belchin Garden Spa Hotel is more than a destination; it's an experience that will leave an indelible mark on your heart and soul.
Contact Details and Bookings:
Email: [email protected]
phone: +359877200315
Photo Gallery of the Belchin Garden Spa Hotel
Frequently Asked Questions
 How do I get to Belchin Garden Spa Hotel from Sofia Airport?
Belchin Garden Spa Hotel is approximately a 1-hour drive from Sofia Airport. You can arrange for airport transportation through the hotel, or rent a car for added flexibility. The scenic drive to the hotel is quite beautiful, and you'll enjoy picturesque views along the way.
Are pets allowed at Belchin Garden Spa Hotel?
Yes, Belchin Garden Spa Hotel is pet-friendly. You can bring your furry companions along for your stay, but it's advisable to inform the hotel in advance to ensure they can accommodate your pets comfortably.
Is there a dress code for dining at the hotel's restaurant?
While there is no strict dress code, guests typically opt for smart-casual attire for dining in the hotel's restaurant. However, feel free to dress comfortably for breakfast and lunch.
 Can I book spa treatments in advance of my stay?
Yes, you can book spa treatments in advance of your stay to secure your preferred time slots. The hotel recommends making reservations for spa services, especially during peak seasons, to guarantee availability.
Are there vegetarian or vegan dining options at the hotel?
Yes, Belchin Garden Spa Hotel offers vegetarian and vegan dining options. The restaurant's menu is diverse, and the chefs can accommodate various dietary preferences and restrictions. Simply inform the staff of your nutritional needs, and they will be happy to assist you.
 Is there a minimum age requirement for the spa and wellness facilities?
The spa and wellness facilities at the hotel are generally open to guests of all ages. However, some treatments and areas may have age restrictions or require parental supervision for children. Be sure to check with the spa staff for specific guidelines.
Are there any special packages or promotions available at the hotel?
Belchin Garden Spa Hotel frequently offers special packages and promotions, such as spa packages, romantic getaways, and seasonal deals. It's a good idea to check the hotel's official website or contact their reservations team for the latest offers.
Is Wi-Fi available throughout the hotel?
Yes, complimentary Wi-Fi is available throughout Belchin Garden Spa Hotel, including in guest rooms, common areas, and the restaurant. You can stay connected and share your wonderful experiences with friends and family back home.
Are there facilities for business meetings or events?
The hotel offers facilities for business meetings, conferences, and events. There are conference rooms equipped with modern audiovisual equipment, making it an ideal venue for corporate gatherings and special occasions. Contact the hotel's event planning team for more information and availability.
 Can I arrange a surprise for a special occasion during my stay?
Absolutely! The hotel's attentive staff is happy to help you plan surprises for special occasions, such as birthdays, anniversaries, or romantic getaways. Whether it's arranging flowers, champagne, or a special dinner, they'll ensure your celebration is memorable. Please contact the hotel in advance to make arrangements.