Last Updated on November 7, 2023 by gregor
My Personal Dive into the Gloria Serenity Resort, Belek-Antalya
Amid the picturesque locales of Belek's pine-laden landscapes, the Gloria Serenity Resort is an emblem of luxe living and unparalleled relaxation. During a recent four-day sojourn to this Turkish paradise, I delved into every nook and corner, basking in opulent amenities and soaking in Mediterranean sunsets. If you're seeking a haven that combines nature's beauty with five-star services, Gloria Serenity Resort is your go-to destination.
Why Gloria Serenity Resort in Belek is a Must-Visit 
Flanked by the expansive Mediterranean coastline and ensconced in verdant Turkish forests, the resort presents the perfect blend of serenity and activity. Whether you're a wellness enthusiast, a gourmet traveler, or a leisure seeker, Gloria Serenity promises an experience to cherish.
First Impressions: The Grand Welcome
From the sweeping driveways to the grandiose lobby, every inch of the resort screams sophistication. Modern architectural prowess, complemented by elegant design aesthetics, ushers guests into a realm of luxury from the outset.
Stay in Opulence: Room and Suites Overview
During my visit, the Superior Room served as a lavish sanctuary. Spaciously laid out with plush furnishings, this abode boasts a panoramic garden view terrace, a state-of-the-art Jacuzzi, and an array of amenities that redefine comfort. Additionally, for those seeking an extra dash of luxury, the resort's suites and villas promise private pools, butler services, and unparalleled seclusion.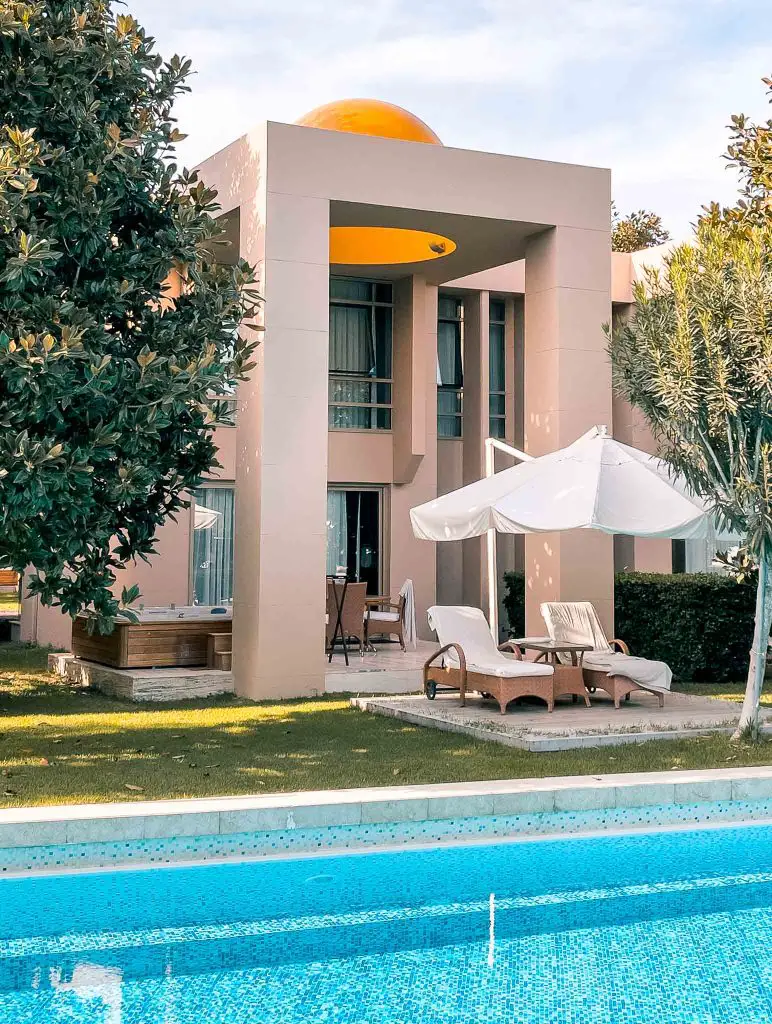 Serenity Spa: A Realm of Relaxation
At the heart of the resort is the **Serenity Spa**, aptly named for the peace and tranquility it offers. Stepping into the spa feels like entering a world of calm where time slows down and relaxation takes center stage.
Massage Services: From the deeply soothing Abhyanga Massage, employing Ayurvedic oils, to the invigorating Gloria Vitality Massage, the spa boasts a diverse menu of massages. My personal favorite was the Golf Massage, tailored for rejuvenating those muscles after a round on the greens.
Treatment Services: The spa caters to various skin needs with a comprehensive list of facial treatments. The anti-wrinkle skin care session left my skin feeling years younger, while the vitamin C care brought an undeniable glow.
Refreshment Services: The Spa Suite is a lavish treat, with its Jacuzzi, hammam, sauna, and spa bed. Post-treatment, I lounged at the Vitamin Bar, sipping on refreshing concoctions designed to replenish the body.
Culinary Adventures: Breakfast, Lunch, and Dining at Gloria Serenity:
My Gastronomic Journey through Gloria Serenity Resort, Belek Antalya
As a travel journalist, I've had the fortune of tasting my way through the world's finest dining experiences. Yet, few compare to the multisensory journey I embarked upon during my 5-day stay at the Gloria Serenity Resort in Belek, Antalya. From the robust flavors of Turkey to the delicate nuances of Japanese fare, each restaurant here is a universe of tastes unto itself.
Tetrasomia Main Restaurant: A Buffet of Delights
The resort's belief that dining transcends mere food consumption comes alive at the Tetrasomia Main Restaurant. Here, nature's bounty meets culinary innovation. Their ever-changing menu, influenced by global and local cuisines, caters to every gastronomic inclination. And for those nocturnal cravings or sudden hunger pangs? The Brasserie Restaurant has you covered around the clock.
Estela À la carte Restaurant: A Global Gourmet Experience
Open 24/7, Estela stands as a symbol of fine dining. Its luxurious backdrop amplifies the meticulous attention given to each dish, truly making every meal an occasion to remember. 
Fuego À la carte Restaurant: For the Carnivore Connoisseur 
Steak aficionados, this is your Mecca. Whether it's a classic cut or something avant-garde, Fuego's steaks are more than just dishes—they're experiences waiting to be savored.
Aka À la carte Restaurant: A Nipponese Narrative
For a delectable detour to the East, Aka promises authenticity with every bite. As a sushi lover myself, this restaurant was a personal highlight.
Chef À la carte Restaurant: Where Every Dish Tells a Story 
As the name suggests, the spotlight here is on the chef's culinary tales, shared through a menu that fuses tradition with innovation.
Kül À la carte Restaurant: Turkish Temptations 
No visit to Turkey is complete without diving deep into its culinary heritage. Kül offers just that, with a menu that's as rich in flavors as the country's history.
Le Jardin Au Printemps: Ode to the French Gourmet
Every dish at Le Jardin is poetry on a plate. The view of the pool simply adds to its ethereal charm, making the French dining experience even more memorable.
River Landing À la carte Restaurant: A Symphony of Seafood 
This riverside restaurant had me hooked, both with its serene views and its oceanic offerings. Each seafood dish here is a fresh catch in every sense.
La Trattoria Romana À la carte Restaurant: An Italian Idyl 
For a slice of Italy in the heart of Turkey, La Trattoria Romana doesn't disappoint. With its riverside terrace, it's the perfect spot to enjoy a plate of pasta as you listen to the whispering waters.
During my 5 days at the Gloria Serenity Resort, I dined, I discovered, and I was utterly delighted. This resort isn't just a stay—it's a sojourn for the soul and the stomach. For anyone looking to immerse themselves in a global gastronomic adventure without leaving the premises, Gloria Serenity Resort in Belek, Antalya is the place to be.
Fitness, Sports, and Outdoor Fun
Sport and Activities: Adventure Awaits
Beyond the spa, Gloria Serenity Resort ensures an active and exciting stay with its wide array of sports and activities.
Fit Gloria Program: Whether it's a game of tennis, an invigorating round of golf, or some spirited beach volleyball, the Fit Gloria program ensures you remain active and engaged. The watersports activities provided that adrenaline rush I crave, making my stay truly dynamic.
Game Center: A hub of joy, the Game Center proved to be a fantastic spot for mingling, fun, and some friendly competition.
Aquatic Delights: The resort's aquapark was a thrilling experience, while the Olivium Heated Outdoor Pool offered a serene alternative for a leisurely swim. With the pristine beach just steps away, sun, sand, and surf became my daily ritual.
Entertainment Offerings: Every evening at Gloria Serenity Resort brings a new adventure. The concerts and night events kept the energy buzzing, while daily events ensured there was never a dull moment.
Kids and Teens: The resort truly understands family needs. With specialized programs for youngsters, parents can rest assured knowing their children are having the time of their lives.
Gloria Serenity shines with its array of sports and fitness facilities. Fit Gloria, equipped with modern machines and fitness classes, ensures a comprehensive workout. For outdoor enthusiasts, water sports like parasailing and jet skiing promise adrenaline-fueled fun. The resort's tennis courts and expansive pools further add to the active vacation experience.
The Beach Experience
The private beach area of Gloria Serenity is where the golden beach meets azure waters. With dedicated pavilions and attentive butler service, lounging here with a cocktail in hand and the Mediterranean breeze for company is sheer bliss.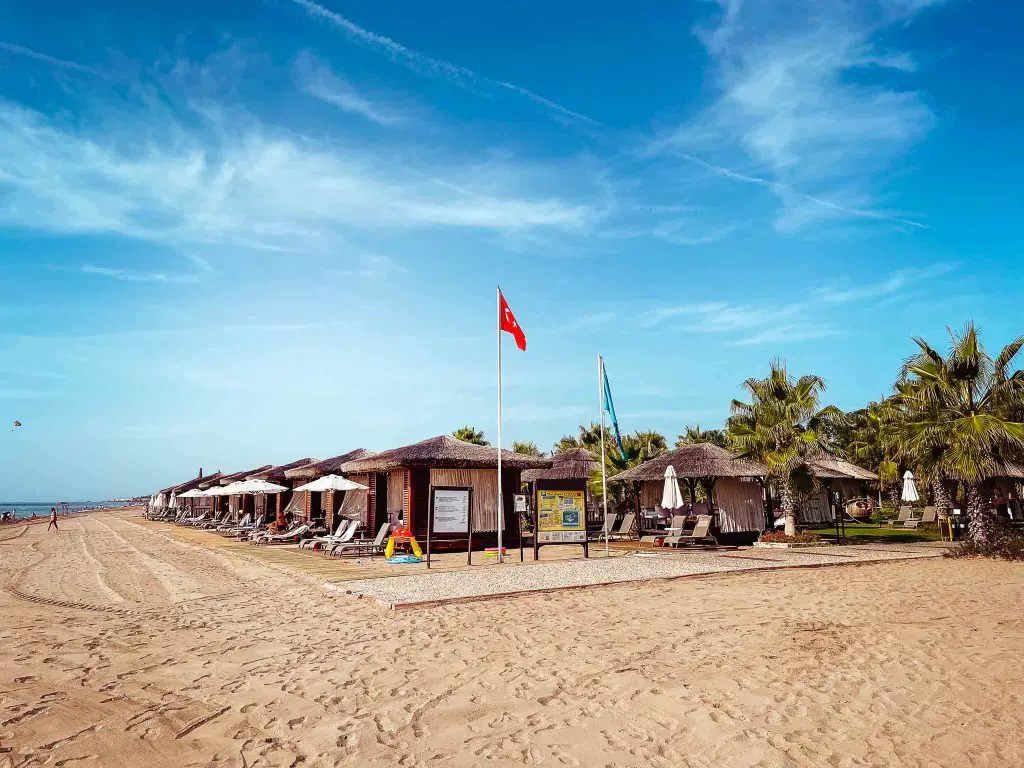 Golfing at Gloria Golf Resort
Even as a non-golfer, the sprawling golf courses of Gloria – Old, New, and Verde – beckoned. These courses, designed for all skill levels and set amidst picturesque landscapes, are a testament to the resort's commitment to offering diverse experiences.
Exploring Belek – Property Surroundings & Nearby Attractions
Venture out to explore Belek's treasures. From bustling local markets brimming with Turkish artifacts to historic sites echoing ancient tales, Belek adds local charm to the luxury resort experience.
My Conclusion of my Stay at Gloria Serenity Resort
The Gloria Serenity Resort is not just a holiday destination; it's an experience steeped in luxury and nature's embrace. For anyone yearning for a Turkish escape that promises both relaxation and recreation, this resort should top the list. From its gourmet restaurants to the pristine private beach, the spa retreat to the golf courses, every moment here is a tryst with indulgence. I left with a heart full of memories, vowing to return to this Mediterranean jewel. If opulence and tranquility are what you seek, book your next vacation at Gloria Serenity Resort, Belek, Turkey.
More Information and Booking:
https://www.gloria.com.tr/en/hotels/gloria-serenity-resort/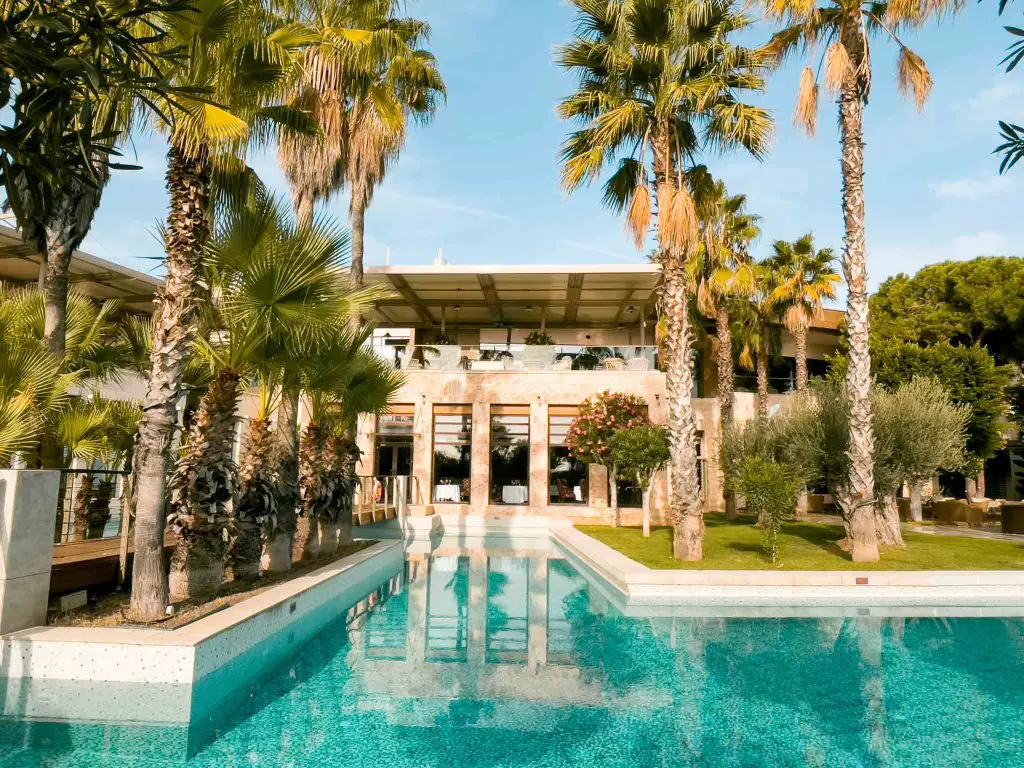 Video Tour of the Gloria Serenity Resort
Welcome to the Gloria Serenity Resort in Turkey, 🇹🇷 Top Luxury Resort in Belek, Antalya Join us on this captivating tour of the stunning facilities.
Frequently Asked Questions
Q: What is the price of a luxury nature retreat at Gloria Serenity Resort in Belek, Antalya?
A: The prices for a luxury nature retreat at Gloria Serenity Resort in Belek, Antalya are updated for 2023. You can find the updated prices on their official website or through online booking platforms.
Q: What are some of the resort facilities of Gloria Serenity?
A: Gloria Serenity Resort offers a range of resort facilities, including a fitness center, water park, indoor pool, and free WiFi throughout the property. There are also 6 restaurants available for guests to enjoy.
Q: What is the review score of Gloria Serenity Resort?
A: The review score of Gloria Serenity Resort is consistently high. Guests have praised the great facilities, excellent service, and beautiful surroundings of the resort.
Q: Are there any house rules at Gloria Serenity Resort?
A: Yes, there are certain house rules that guests are expected to follow during their stay at Gloria Serenity Resort. These rules ensure the comfort and safety of all guests and may include regulations regarding noise levels, smoking, and the use of facilities.
Q: What are the child policies at Gloria Serenity Resort?
A: Gloria Serenity Resort is a family-friendly resort and offers various child policies. Children of all ages are welcome, and there are dedicated areas and activities for younger guests.
Q: What is the fine print at Gloria Serenity Resort?
A: The fine print at Gloria Serenity Resort refers to the specific terms and conditions that apply to your booking. It may include details about cancellation policies, payment methods, and any additional charges or restrictions.
Q: Can I save time by booking in advance at Gloria Serenity Resort?
A: Yes, booking in advance can save you time and ensure you secure your desired accommodation at Gloria Serenity Resort. Popular resorts like Gloria Serenity can fill up quickly, especially during peak seasons, so it is recommended to make a reservation in advance.
Q: Are there any other hotels in Belek that offer similar facilities?
A: Yes, Belek is known for its wide range of luxury hotels and resorts. There are several other hotels in Belek that offer similar facilities and amenities to Gloria Serenity Resort. You can explore different options and compare prices to find the best fit for your preferences and budget.
Q: Are there any special deals or discounts available for Gloria Serenity Resort?
A: Gloria Serenity Resort may offer special deals and discounts from time to time. It is recommended to check their official website or reach out to their customer service for information about any ongoing promotions or discounts.
Q: What are the deluxe options available at Gloria Serenity Resort?
A: Gloria Serenity Resort offers deluxe accommodation options, including deluxe rooms, garden villas, and pool villas. These deluxe options provide enhanced features and amenities for a luxurious stay experience.
Addendum
Discovering Belek: A Guide to Nearby Attractions
Aspendos Theatre:
Nestled a mere stone's throw from the resort, the Aspendos Theatre is a historical masterpiece. This architectural wonder stands as one of the most immaculately preserved vestiges of Roman theatre architecture globally. For those who have an appetite for history, this ancient amphitheater is an unmissable site.
Perge Ancient City:
Step back in time by wandering through the remnants of Perge. This ancient city enchants visitors with its remarkably intact Roman baths, a majestic colonnaded street, and a grand stadium. Each relic narrates tales of bygone eras, offering history buffs an enthralling journey through time.
Belek Town Center: 
For a genuine taste of Turkish culture, a visit to Belek Town Center is in order. Lined with an array of shops, eateries, and quaint cafes, this vibrant hub is perfect for leisurely daytime meandering or an energetic evening escapade.
Troy Aqua and Dolphinarium:  
Crafting joyful memories for families, the Troy Aqua and Dolphinarium stand as an oasis of fun. From thrilling water slides to the mesmerizing wave pool, it's a water lover's paradise. Plus, the opportunity to witness dolphins and an array of marine creatures offers both entertainment and education.
Kursunlu Waterfall:
Escape to nature's embrace at Kursunlu Waterfall. Set within a scenic nature reserve, this cascading marvel offers a tranquil backdrop for hiking enthusiasts and those looking to enjoy a serene picnic amidst verdant settings.
Antalya Aquarium: 
A colossal marvel, the Antalya Aquarium ranks among the globe's grandest aquarium complexes. With its vast collection of marine species, it offers an underwater expedition, revealing the mysteries of the deep.
A Golfer's Paradise: 
Golf aficionados are in for a treat with a plethora of golf courses gracing the vicinity. Each course, designed with captivating landscapes and intriguing challenges, ensures a memorable teeing experience.
Embarking on these attractions ensures a rich exploration of Belek, blending historical grandeur, natural beauty, and modern-day amusement.
Plan your next escape now and relish in the opulence of the Gloria Serenity Resort, Belek-Antalya.