Last Updated on January 22, 2023 by gregor
Costa Navarino is a beautiful destination in Greece that is quickly becoming a popular tourist destination. W Costa Navarino Hotel is one of the newest and most luxurious hotels in the Region of Messinia, Greece.
BEST things to do in Costa Navarino – W Costa Navarino
The Location Region of Messinia, Greece – Lush natural backdrop location
The Costa Navarino is about 45 minutes by car west of Kalamata in the Messenia region. The former state, which was important in ancient times, lies in a river plain between different mountains (Tetrási in the north, the Kyparissia mountains in the west, and the Taygetos mountains in the east) and is therefore very rich in water and extremely fertile by Greek standards.
This is how the landscape is designed in the most varied shades of green. The endless hills to the right and left of the country roads are lined with densely overgrown orange and lemon groves, almond and fig trees, vines, and countless gnarled olive trees 
(Note: Greece is the third-largest olive oil producer in the world; the Kalamata olive is considered by connoisseurs to be the best in the World). And in the middle, like small splashes of color, there is always a small cluster of cypresses, which gives the region a touch of Tuscan flair.
It is not for nothing that Costa Navarino is considered one of the most original and breathtaking landscapes in the Mediterranean. A total of seven areas of the Messinia region have been declared EU nature reserves due to their incredible diversity of flora and fauna.
Costa Navarino History  – From Golf resort to premium holiday destination
Captain Vassilis Constantakopoulos recognized the potential of this stretch of coast with its numerous bays and lagoons with crystal-clear water, hidden waterfalls, sleepy villages, and cultural heritage early on. But the "Captain", needed a lot of patience: it would take about 30 years to acquire the coveted land from over 1,500 farmers in order to finally realize his vision of a sustainable holiday destination there.
W Costa Navarino – Experience
W Costa Navarino is the first W chain project in Greece. It is a place where freedom of expression and connection between all kinds of people is celebrated, along with respect and reverence for local identity and culture.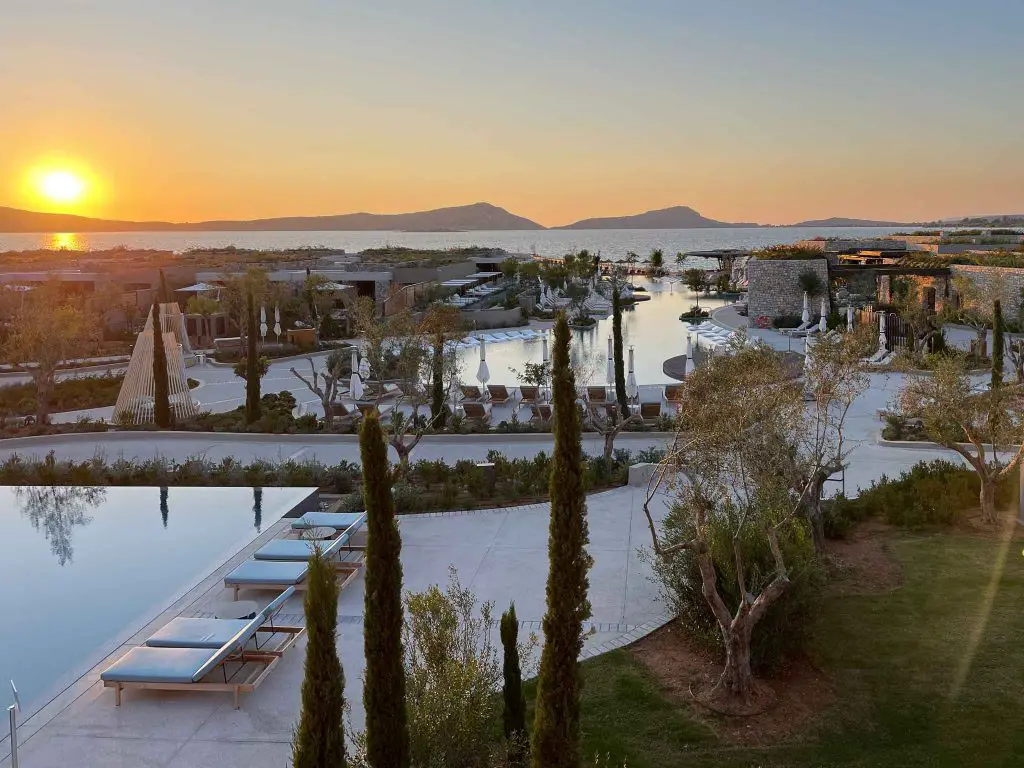 W Costa Navarino Rooms
W Costa Navarino offers
246 stylish rooms
2-bedroom suites
3-bedroom villas with individual panoramic pools located in Navarino Bay with stunning views of the Ionian Sea.
The rooms of the W Costa Navarino have a modern and elegant design. Many natural materials such as wood, stone, and reed were used here. The suites offer sufficient privacy with elegant stone walls on the sides of the terrace. All suites have access to the long curved shared pool. In the villas, you have your own infinity pool in your garden or a rooftop infinity pool on the roof of the villa.
Adults-Only Hotel
The adults-only hotel from 12 years and older opened in August 2022. As in all W Hotels, the atmosphere on the WET Deck, in the W Lounge, and in the all-day beach club Parelia with cocktail bar and DJs is chilled out with a relaxed holiday sound. ​​​​​​​
Architecture
Just a stone's throw away from the long white sandy beach, you'll see the design of the new resort, inspired by the traditional residential development of the area. Local natural materials such as stone, wood, and cane were used to construct the buildings.
Environmental Conscious / Sustainability
The ethos behind Costa Navarino was to create sustainable development on the unspoiled coast in Messinia, in the Peloponnese peninsula. This is apparent in the fact that more than 6,000 existing olive trees were replanted after the building had taken place, the golf courses are built over a geothermal installation and the plants throughout the resort are those native to the region; olive trees, rosemary, and lavender to name a few.
Art Curation /Collection at the W Costa Navarino
The hotel features contemporary architecture and design all over the place.
Activities, Gym, and Sports

A stay at the W Costa Navarino offers you a wide range of unique activities. In the vicinity, there are some historical sites and also picturesque nature that invites you to go on excursions. The W Costa Navarino itself offers you its own water sports center (which will open in 2023), a 24-hour gym, golf and tennis courses, and culinary experiences such as coffee roasting, olive oil production, or cooking classes.
Fully equipped gym open 24 hours
The Health Club: indoor and outdoor activities such as yoga, etc.
Free fitness classes
Pool: 25 meters long
Yachting and sailing
Tennis center with three tennis courts
Tennis 3 courses in W Costa Navarino and a total of 16 at the Navarino Dunes, with the Mouratoglou Tennis Center
Bike tours
Hiking excursions to historical monuments
W Costa Navarino Beach Restaurant Concept Newly defined
W Costa Navarino's restaurants and dining take a sophisticated yet playful approach, immersing guests in a fusion of music, food, and beach fun. The resort's dining options include 'Platía' – the modern take on a deli food market, 'Between' – the Sunset Bar, the brand's signature W Lounge, and 'Parelía' – the Beach Club and an upscale version of the classic Mediterranean beach bars.
Culinary Square
The Culinary Square is one of the highlights of the resort where 4 different outlets can be found – and mainly where breakfast is served
The Beach Club is one of the highlights of the resort, where guests will have the opportunity to enjoy the long, sandy beach while strolling through "Culinary Square," a fun on-site food market.
W Costa Navarino Restaurants
The W Costa Navarino offers three restaurants and two bars, with additional dining options. Enjoy Greek and international cuisine, fine snacks, diverse (local) wines, and exciting long drinks.
THE CULINARY SQUARE – 4 Outlets
mainly Breakfast is served
PARELIA – Restaurant/ Bar
Cocktails, Greek-Mediterranean cuisine
W LOUNGE
Coffee, tea, long drinks, and cocktails
AWAY Spa + ANAZOE Spa
AWAY Spa
Apart from the varied leisure activities of the resort (sometimes bike tours, kayaking, tennis, water sports, and cooking), the AWAY Spa invites you to review the varied experiences and simply let your soul dangle…
The AWAY Spa offers you exclusive wellness and beauty treatments. Many of the treatments are performed using indigenous elements such as cleansing olive leaves, citrus fruits, herbs, flowers, and sea salts. In addition, the spa has saunas and relaxation pools.
Location: at W Costa Navarino
Open: Every day: 10:00 AM-8:00 PM
Appointment required
Services, Treatments, and Amenities
Anazoe Spa
When staying at the W Costa Navarino, you also have access to the Anazoe Spa at the neighboring The Ramanos, a Luxury Collection Resort. The area of Anazoe Spa is 4000 square meters.
Relaxation massages
Medical massages
Lymphatic drainage
Scrubs
Sauna
Relaxation pool
Read more: Anazoe Spa Area
Costa Navarino Venues
But suppose you want even more options and choices. In that case, all the facilities of the sister hotels The Romanos, A Luxury Collection Resort, and The Westin Resort are 10 minutes away by car:
27 Restaurants
The wellness world of the Anazoe Spa
Four 18-hole signature golf courses ​​​​​​
Costa Navarino Golf
There are now four absolute top golf courses on the Costa Navarino, which were exclusively designed by well-known tour players such as Bernhard Langer and José Marίa Olazábal as well as the world-famous golf course architect Robert Trent Jones Jun. Designed to round off the extensive range of leisure activities for discerning international guests.
Read more: Costa Navarino Golf Courses (Click)
Plyos – Luxury vacation and authenticity
Only a few meters outside the hotel complex, one encounters the absolute originality of this essentially rural region. In a way, time seems to have stood still here. Even campers are allowed to set up their domicile in the first beach location…
The simple life of the locals offers a really great contrast to the luxury of the adjacent 5-star hotels and at the same time a wonderful opportunity to ground yourself a little. For this, it is enough if you get involved with the country and its people and stop off at the numerous traditional restaurants in the surrounding villages. You don't have to be afraid of the language barrier – English is now omnipresent here too.
Explorers should definitely take a trip to the nearby port town of Pylos
Top Tip: The Barbouni Restaurant
The Barbouni is located on the beach with stunning views of the beach and the surrounding areas. Recommended food:
Typical Greek lunch:
Taramasalata,
Tzatziki,
Greek salad
Calamari or fresh fish from the sea
Delicious dessert of lemon mille-feuille
Ouzo ice cream with berries
Location: The Dunes Beach, Costa Navarino
https://www.costanavarinorestaurants.com/restaurants
W Costa Navarino App
There is an App you can download for Costa Navarino, with comprehensive details of the restaurants, facilities, events, and a map.
Reservations are highly recommended for restaurants, bars, and lounges. You can book your table or order your meals digitally via the hotel's mobile app if you'd prefer.
https://apps.apple.com/gr/app/costa-navarino-greece/id1458397325
W Costa Navarino Contact Details
W Costa Navarino
Navarino Waterfront Costa Navarino, 240 01, Greece
Tel.: +30 2723 097600
Web: marriott.com 
For further information and booking: https://www.costanavarino.com/w-costa-navarino/
How do I get to W Costa Navarino?
Costa Navarino is easily accessible with direct flights to Kalamata International Airport from most European cities. It's a short drive from Kalamata International Airport to Costa Navarino and only 270 km to Athens. Also within 200km is the international port of Patras, with frequent ferry routes to Italy.
Transfer from/to Kalamata Airport to W Costa Navarino
(about a 60-minute drive)
Mercedes E Class max. 2 people or 2 adults and one child, 3 pieces of luggage | per car/way €160
Mercedes S-Class Limo max. 2 people or 2 adults and one child, 3 pieces of luggage | per car/way €330
Mercedes Vito max. 4 adults or 2 adults and 4 children, 5 pieces of luggage | per car/way €160
Mercedes Viano max. 4 adults or 2 adults and 4 children, 3 pieces of luggage | per car/way €210
Price changes during the year are possible.
W Costa Navarino Video