Last Updated on June 6, 2023 by gregor
In this blog post, I will guide you through the perfect 5-day Malaga itinerary for exploring this captivating city. From cultural landmarks to culinary delights, let's embark on an unforgettable journey in Malaga!
Welcome to Malaga, a vibrant city located in the heart of Spain's Costa del Sol. Whether you're a history enthusiast, a beach lover, or a foodie, Malaga has something to offer everyone.
Perfect 5 Days in Malaga itinerary, Costa del Sol, Southern Spain
Why Visit Malaga in Spain in Andalucia?
Rich history: Malaga boasts a fascinating history dating back to Roman times, evident in its architecture, museums, and ancient ruins.
Cultural hub: The birthplace of renowned artist Pablo Picasso, Malaga is a vibrant cultural center with numerous art galleries, festivals, and theaters.
Stunning beaches: The city's coastline stretches along the Mediterranean Sea, offering sun-soaked beaches and crystal-clear waters.
Gastronomic delights: Malaga's culinary scene is a paradise for food lovers, featuring traditional tapas, fresh seafood, and locally-produced wines.
Pleasant climate: With over 300 days of sunshine per year, Malaga enjoys a mild Mediterranean climate, making it an ideal year-round destination.
Where is Malaga Located?
Malaga is situated on the southern coast of Spain, within the autonomous community of Andalusia. It is nestled between the Mediterranean Sea to the south and the Montes de Malaga to the north.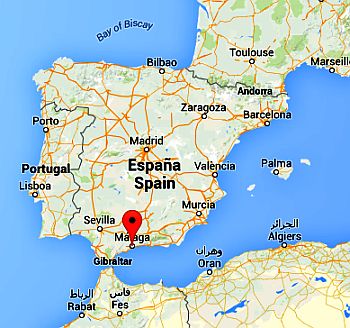 Plan your Trip to Malaga?
The Best Time to Visit Malaga
While Malaga can be visited year-round, the best time to explore the city is during the spring (April to June) and fall (September to October) seasons. The weather is pleasant, and you can avoid the intense summer heat and the crowds of tourists.
Tips for Visiting Malaga for 5 Days
Plan your itinerary: Research and create a detailed itinerary to make the most of your 5 days in Malaga.
Comfortable footwear: Malaga's attractions often involve walking, so wear comfortable shoes to explore the city comfortably.
Dress appropriately: Pack light clothing, sunscreen, and a hat to stay cool during the warm summer months.
Learn basic Spanish phrases: While many locals speak English, knowing a few basic Spanish phrases will enhance your experience and show respect for the local culture.
Stay hydrated: Carry a water bottle with you, especially during summer, to stay hydrated while exploring the city.
How to Get to Malaga
Malaga is well-connected and easily accessible via air, train, bus, and car. Malaga-Costa del Sol Airport serves both domestic and international flights. From the airport, you can reach the city center by train, bus, or taxi. The city is also well-connected to other Spanish cities by train and bus networks.
The Best Things To Do in Malaga in 5 Days
Read my Blog Post about the 25 Best Things to do in Malaga Spain: 👇
25 BEST THINGS TO DO IN MALAGA, SPAIN (COSTA DEL SOL) AN ULTIMATE TRAVEL GUIDE
Explore the Alcazaba
Start your day by visiting the Alcazaba, a stunning Moorish fortress with beautiful gardens and breathtaking views of the city.
Discover the Picasso Museum
Immerse yourself in the works of the legendary artist at the Picasso Museum, which houses an extensive collection of his masterpieces.
Wander through the historic center
Get lost in the charming streets of the historic center, known as the Casco Antiguo, and admire Renaissance architecture.
Visit the Cathedral of Malaga
Marvel at the grandeur of the Cathedral, also known as La Manquita, with its impressive Baroque and Renaissance design.
Relax on the beach
Spend some time unwinding on one of Malaga's stunning beaches, such as La Malagueta or Playa de Pedregalejo.
Indulge in local cuisine
Treat your taste buds to an authentic culinary experience by trying traditional tapas, fresh seafood, and sweet Malaga wine.
Ultimate 5 Days in Malaga Itinerary
Day 1: Arrival and Exploring the Historic Center
Morning: Arrive in Malaga and settle into your accommodation. Start your day by heading to the heart of the city, the historic center. Begin at the iconic Plaza de la Constitución, the main square lined with charming cafes and shops.
Take a leisurely stroll along the bustling pedestrian street, Calle Larios, known for its elegant architecture and high-end boutiques.
Make your way to the Malaga Cathedral, also known as La Marquita, with its unique blend of Renaissance and Baroque styles. Take the opportunity to climb to the top of the tower for panoramic views of the city.
Afternoon: Indulge in a delicious lunch at a local tapas bar. Sample a variety of traditional tapas such as jamón ibérico, Spanish omelette, and fried anchovies.
Explore the Alcazaba, a Moorish fortress built in the 11th century. Wander through its lush gardens, intricate arches, and enjoy stunning views of the city and the Mediterranean Sea.
Adjacent to the Alcazaba, visit the Roman Theatre, a well-preserved archaeological site from 1st century BC.
Evening: Immerse yourself in the vibrant atmosphere of the city's nightlife. Head to Plaza de la Merced, a lively square lined with bars and restaurants. Enjoy a refreshing drink and soak in the energetic ambiance.
Day 2: Picasso Museum and Beach Time
Morning: Start your day by visiting the Picasso Museum, located in the Palacios de Buenavista. Explore the extensive collection of Picasso's works, including paintings, sculptures, and ceramics.
Take a walk to the birthplace of Pablo Picasso, Casa Natal, and learn about the artist's early life and influences.
Afternoon: Head to La Malagueta Beach, one of Malaga's most popular beaches. Relax on the golden sands, take a refreshing dip in the Mediterranean Sea, or indulge in water sports activities.
Enjoy a leisurely lunch at one of the beachfront chiringuitos (beach bars) and savor fresh seafood dishes, such as grilled sardines and paella.
Evening: Take a stroll along the promenade and witness the beautiful sunset over the sea. Consider dining at a beachfront restaurant, where you can enjoy delicious seafood while listening to the sound of crashing waves.
Day 3: Day Trip to Ronda
Morning: Embark on a day trip to the enchanting town of Ronda, located about an hour and a half from Malaga. Admire the breathtaking views as you approach the town, which sits atop a dramatic gorge.
Explore the iconic Puente Nuevo, a bridge spanning the El Tajo gorge. Marvel at the stunning views and capture memorable photos.
Visit the Casa Don Bosco, a museum dedicated to the history and traditions of Ronda. Discover artifacts and exhibits showcasing the town's rich heritage.
Afternoon: Wander through the charming streets of Ronda's old town, known as La Ciudad. Explore the historic churches, traditional whitewashed houses, and beautiful plazas.
Indulge in a leisurely lunch at a local restaurant, savoring Andalusian cuisine and regional specialties.
Evening: Return to Malaga and relax in the city center. Visit one of the rooftop bars for panoramic views of the cityscape and enjoy a drink as you unwind.
Day 4: Cultural Immersion and Gardens
Morning: Start your day at the Malaga Botanical Garden, a peaceful oasis showcasing a wide variety of plant species. Take a leisurely stroll and appreciate the beauty of the gardens.
Visit the Automobile and Fashion Museum, which houses an impressive collection of vintage cars and exquisite fashion pieces from different eras.
Afternoon: Take a boat trip along the coast of Malaga, enjoying the scenic views of the Mediterranean Sea and the city's skyline.
Explore the trendy neighborhood of Soho, known for its vibrant street art scene. Admire the colorful murals and unique artistic expressions that adorn the walls.
Evening: Immerse yourself in the passionate world of flamenco by attending a live flamenco show. Experience the soulful music, passionate dancing, and intense emotions that define this traditional art form.
Day 5: History and Farewell
Morning: Visit the Roman Baths, located near the Roman Theatre. Explore the ancient ruins and learn about the bathing rituals of the Roman era.
Take a stroll along the charming pedestrian street, Calle Granada, lined with shops and cafes. Enjoy some last-minute shopping for souvenirs or local products.
Afternoon: Visit the Central Market, Mercado de Atarazanas, to experience the vibrant atmosphere and sample local produce. Taste fresh fruits, olives, and cheeses.
Enjoy a farewell dinner at a rooftop restaurant, savoring the delicious flavors of Andalusian cuisine while enjoying a stunning view of the city.
Evening: Take a final walk along the picturesque harbor, Puerto de Malaga, and soak in the last moments of your Malaga adventure.
Map of 5 Days in Malaga Itinerary
[Insert map of Malaga highlighting the key attractions and suggested itinerary]
Getting Around Malaga for 5 Days
Malaga has a well-connected public transportation system, including buses and a metro line, making it easy to navigate the city. Alternatively, you can explore the city on foot or rent a bicycle to enjoy a more leisurely pace.
🚘 Rent a car on Rentalcars
What to Eat in Malaga
Traditional tapas: Sample classic tapas dishes like boquerones en vinagre (anchovies in vinegar) and patatas bravas (fried potatoes with spicy tomato sauce).
Espetos de Sardinas: Grilled sardines on a skewer, a local specialty often enjoyed on the beach.
Gazpacho: Savor a refreshing bowl of cold tomato soup, perfect for hot summer days.
Malaga Wine: Don't miss the opportunity to taste the sweet Malaga wine, made from sun-dried grapes.
Where to Stay in Malaga for 5 Days
Malaga offers a wide range of accommodations to suit every budget and preference. For a luxurious stay, consider hotels in the historic center or along the beachfront. Budget travelers can find affordable hostels and guesthouses in the city center.
Book your stay in Malaga on Booking.com 👇
Is Malaga Cheap or Expensive?
Malaga is generally an affordable destination, especially when compared to other major cities in Spain. Prices for accommodations, dining, and attractions are reasonable, making it an ideal choice for budget-conscious travelers.
How Much Do I Need Per Day in Malaga?
On average, a budget traveler can expect to spend around €70-€100 per day in Malaga, including accommodation, meals, transportation, and attractions. Of course, this can vary depending on your preferences and spending habits.
Are 5 Days in Malaga Enough?
While 5 days in Malaga will allow you to explore the city's highlights and immerse yourself in its vibrant culture, there is always more to discover. If you have the opportunity, consider extending your stay to fully experience all that Malaga and its surrounding areas have to offer.
How Long Do You Need in Malaga?
A minimum of 3-4 days is recommended to explore the main attractions of Malaga. However, if you want to take day trips to nearby destinations or immerse yourself in the local culture, 5-7 days would be ideal.
If you Have One Day in Malaga
For a shorter stay, focus on the must-see attractions such as the Alcazaba, Picasso Museum, and the historic center. If you have more time, consider day trips to nearby destinations like Ronda or Granada to further enrich your experience.
Read more on my Blog Post: 👇
ONE DAY IN MALAGA ITINERARY: HOW TO SPEND THE PERFECT 24 HOURS IN MALAGA, COSTA DEL SOL, SOUTHERN SPAIN
Day Trips from Malaga
Ronda: Visit the iconic Puente Nuevo bridge and explore the stunning white-washed village perched on a cliff.
Granada: Discover the majestic Alhambra Palace and wander through the charming Albaicín neighborhood.
Nerja: Explore the famous Balcony of Europe and visit the stunning caves of Nerja.
Marbella: Enjoy the glitz and glamour of this luxurious coastal town, known for its upscale resorts and vibrant nightlife.
Read more Travel Information about Marbella: 👇
25 THINGS TO DO IN MARBELLA, SPAIN
3 DAYS IN MARBELLA – BEST 3-DAY MARBELLA ITINERARY
I always use GetYourGuide to book activities and attractions while traveling through Europe. You can search through over 50 Malaga DAY TRIPS on their website here 👇
🚘 Rent a car on Rentalcars
Best Malaga Tours
Tapas Tasting Tour: Join a guided tour to taste a variety of delicious tapas and learn about Malaga's culinary traditions.
Picasso Walking Tour: Embark on a guided tour to learn about Picasso's life and visit the places that influenced his art.
Bike Tour: Explore the city's main attractions and hidden gems on a guided bike tour.
Flamenco Show: Immerse yourself in the passionate world of flamenco with a live performance.
I always use GetYourGuide to book activities and attractions while traveling through Europe. You can search through over 250 Malaga attractions on their website here 👇
Should I Buy Travel Insurance for Malaga?
It is always recommended to purchase travel insurance before visiting any destination. Travel insurance provides coverage for medical emergencies, trip cancellations, and lost belongings, ensuring peace of mind during your trip.
| TOP TIP
✅ Don't forget to book insurance for the trip. It is easy to do online via Visitors Coverage.
Other 5 Days in a City Itineraries
Check out some more One Day Itineraries from the most popular cities in Europe! 👇
3 Mistakes I Made the First Time I Visited Malaga
Underestimating the heat: I didn't pack enough sunscreen and ended up with a sunburn. Make sure to protect yourself from the strong Mediterranean sun.
Not trying local specialties: I missed out on some amazing tapas dishes by sticking to familiar foods. Be adventurous and try the local cuisine.
Overpacking: I brought too many clothes and realized that Malaga is a relaxed and casual city. Pack light and leave room for souvenirs.
Extra Tips for Visiting Malaga in 5 Days
Take a siesta: Embrace the local culture and take a midday break to rest and recharge, especially during the hot summer months.
Visit the markets: Explore the Atarazanas Market and the Mercado de Salamanca to experience the vibrant atmosphere and taste fresh local produce.
Be mindful of siesta hours: Many shops and attractions may have limited hours during siesta time, usually from 2 pm to 5 pm. Plan your activities accordingly.
Conclusion of your 5 days in Southern Spain: Trip to Malaga
Malaga is a captivating city that offers a perfect blend of history, culture, and natural beauty. With its rich heritage, stunning beaches, and mouthwatering cuisine, Malaga is a destination that will leave a lasting impression. Follow this 5-day itinerary, immerse yourself in the local culture, and create memories that will stay with you long after you leave this enchanting city. Safe travels and enjoy your time in Malaga!
Plan your Trip to Malaga, Spain?