Last Updated on January 10, 2023 by gregor
With genuinely amazing connections, planning a day trip to Milan is absolutely a possibility. And while we'd recommend starting out as soon as possible to pack the most into your day, there are numerous amazing destinations you could visit. As such, we've outlined some of the most magical, breathtaking, and memorable sights and things to do in Milan as follows to help you find the ideal sights for your trip. 
After all, even a day trip to Milan can be transformed into a once-in-a-lifetime experience!
The Top 20 Things to Do in Milan – One Day Trip
Planning a day trip to Milan? If this is something you've always dreamed of, we strongly recommend considering some of the following eighteen activities to help make your visit even more magical. However, if you're looking to pack as many things to do in Milan as possible into your trip, we strongly recommend first considering how early you can get started and how you'll get from place to place. Try to streamline your visits to make the most of the opportunities!
#1 Watch the Sunrise Over the Duomo di Milano
While most of the activities and things to do in Milan can be done in any order, if you want to start your trip the right way, we strongly recommend that you head out and begin exploring as soon as possible. With this thought in mind, watching the sunrise over the breathtaking Duomo cathedral of Milan is a must.
This Duomo di Milano is a simply iconic and picturesque destination, and with the sunrise behind it, it suddenly becomes even more incredible. We definitely recommend taking a high-quality camera with you for the photo opportunities, too – you won't ever want to forget this cherished sight. And let's be honest; what could be more magical to start your day trip to Milan than this? If it's open, you could also pay a visit to the Museum of the Milan Cathedral at the same time!
Tip: Book your Miland Cathedral and Rooftop entry tickets early in advance. (Avoid the crowds by arriving before 08:00 am)
Duomo di Milano opening hours:
For visitors daily from 8:00 a.m. to 7:00 p.m
Last entry 6pm
Ascent to the Duomo di Milano terraces
Open daily 9:00 a.m. – 7:00 p.m. (seasonal changes are possible. In case of bad weather, the cathedral terraces may be closed) The ascent to the cathedral roof is possible at any time of the year.
Spiral Staircase: The staircase is outside the Duomo on the left, opposite the Rinascente department store
by lift: The lift is outside the cathedral on the left-hand side behind the cathedral. The lift only goes to a mezzanine floor, on the roof there are further narrow stairs.
Highlights of the Duomo du Milano terraces
On an area of 8,000 m² you can admire the 135 spiers of the cathedral up close.
A total of 3,400 statues are enthroned on the top of the cathedral. The Madonnina occupies the highest point of the cathedral; the 4.16 m tall golden statue at a height of 108.50 m shines in the sun, visible from afar.
The spikes (guglie) in the Gothic style were only added as a decorative element in the 17th and 18th centuries.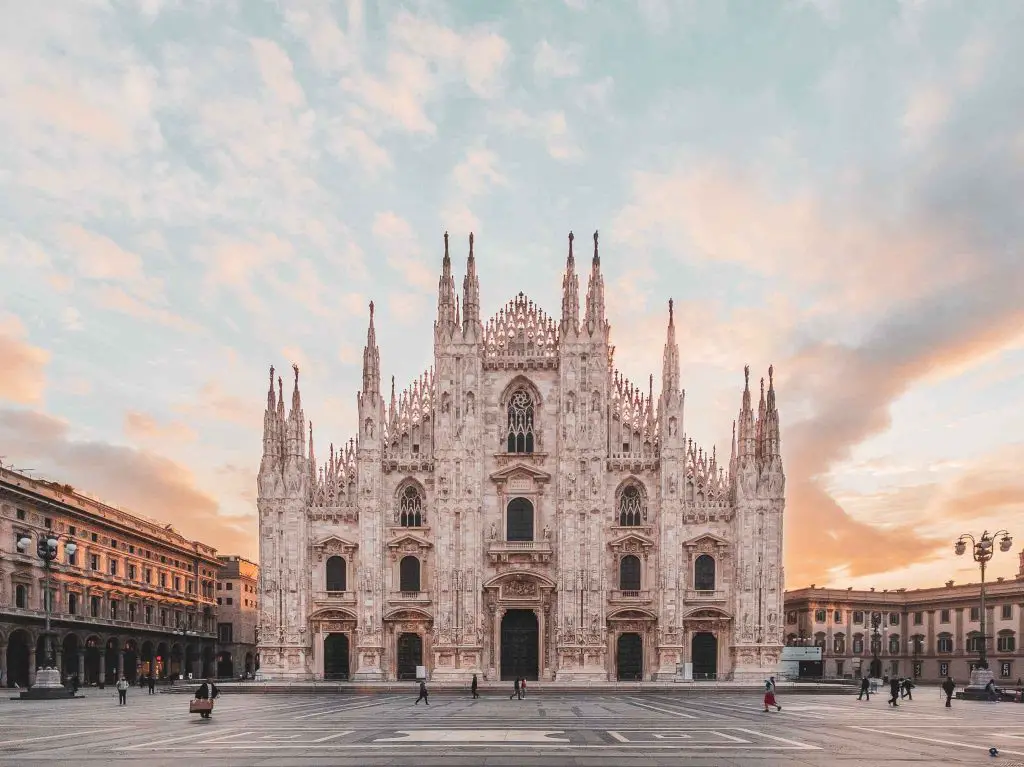 #2 Galleria Vittorio Emanuele II
The Galleria Vittorio Emanuele II is one of the world's oldest shopping malls, built in the 19th century. The mall is named after Victor Emmanuel II, the first king of Italy. The Galleria is a glass-roofed arcade that spans four stories and covers over 10 acres. It is home to high-end shops, cafes, and restaurants. The Galleria attracts over 24 million visitors each year.
If you are planning to do any luxury brand shopping this is the place to be. Gucci, Prada, Versace, and many other luxury brands have their stores here.
Top Tip: The historic Bar Camparino in Galleria is located at the entrance of the Vittorio Emanuele II gallery. Don't miss out on a typical Campari Soda when you visit Milan.
Insider Tip: The terraces of the Galleria Vittorio Emanuele
The roof terraces on the Vittorio Emanuele Gallery, which can be visited daily from 9:00 a.m. to 11:00 p.m. and from which you have a wonderful panorama over Milan. View Milan from the rooftop of the Galleria Vittorio Emanuele. Visit the terraces of the "Galleria Vittorio Emanuele in Milan", from the terrace the cathedral is right in front of you! The entrance is on Via Silvio Pellico, 2 corner of Duomo Square. Admission €12 p.p.
#3 View the Royal Palace
The Royal Palace (Palazzo Reale Milano) is located just opposite the Duomo di Milano and is absolutely a must-visit location as part of your day trip to Milan. It's also one of the most popular things to do in Milan – but be prepared to wait for a little unless you're visiting during the week, as queues can get long. Nevertheless, if you're the sort of person who loves seeing grand 18th Century Architecture, it's definitely an exceptional sight to behold.
The exhibitions are also incredibly affordable, which further adds to their appeal. Book an Online ticket as this will help speed up the entry process, so this could be worth considering if you want to pack more into your day trip to Milan.
Opening times
Tuesday – Sunday 10-19.30., Thursdays closing time at 22.30. (Closed on Mondays)
#4 Visit the Piazza Mercanti
This iconic old merchants' market has been transformed into a vibrant and bustling tourist destination, making it an excellent sight to stop off at during your trip to see some breathtaking ancient sights. This iconic square has been used for around a millennium for trading, with evidence dating back to the 13th century at least. The modern Merchants' Square also offers several excellent options for dining, so this is well worth considering for a late breakfast or early lunch if you're visiting after seeing the Duomo and the Royal Palace.
#5 Delight in the Bagatti Valsecchi Museum
Founded in the 19th century to preserve the history and treasures of Milan, this 16th-century townhouse is an exceptional destination for anyone looking to marvel at wonders from the old world.
Bagatti Valsecci Museum Tickets also come with a free audio guide to help you make the most of your adventures while exploring the museum, and the stunning collection of artifacts is simply breathtaking to view in person.
#6 Stop at the Pinacoteca di Brera Art Gallery
It's one of the world's most internationally renowned art museums, and for a good reason. Indeed, the stunning Pinacoteca di Brera art gallery offers an awe-inspiring collection of the most beautiful pieces of art and sculptures. As Milan's main public gallery, its collection includes a vast array of paintings from countless different civilizations. Its collection focuses heavily on ancient religious paintings; however, there is something stunning for everyone to see in this iconic gallery.
The Pinacoteca di Brera is open according to the following timetable:
• Tuesday – Wednesday – Thursday – Friday – Saturday – Sunday: 8.30am-7.15pm (last entrance at 6pm)
• Every third Thursday of the month: 8:30 a.m. to 10:20 p.m. (last admission at 9 p.m.)
Top Tip: Enjoy a 2 hour guided walking tour through Milan's premier art gallery, the Pinacoteca, and witness some of art history's most famous artworks. Follow this up with a fascinating walk through Milan's popular Brera district. More Information & Tickets
#7 Discover Sempione Park
Sempione Park is perfectly located in the very heart of the city, making it one of the best things to do in Milan for many people. Not only does it often hold attractions within its grounds alone, but the stunning sights, numerous shopping opportunities and cafes, and the laidback feel really make it a perfect place to stop for a rest in the middle of a busy day. Be sure to stop by the Arch of Peace during your time in the park to take in its sheer scale and beauty.
#8 Stop by the Castello Sforzesco
Top Tip: Visit the Castello Sfrozesco
Opening hours 
Castle Museums:  Opening hours Tuesday-Sunday 10.00-17.30 (Last ticket 16.30; Last admission 17.00).
Closed on Mondays, December 25th, January 1st, May 1st
#9 Travel at Milano Stazione Centrale
The Stazione Centrale is your obvious choice if you need to get around Milan quickly. But, even if you're staying on foot, we strongly recommend you pay a visit to the Milano Stazione Centrale because it really is an incredible sight. The Fascist-era design of the station stands out clearly from the more modern, contemporary design of the surrounding buildings, and this further makes the station an imposing sight.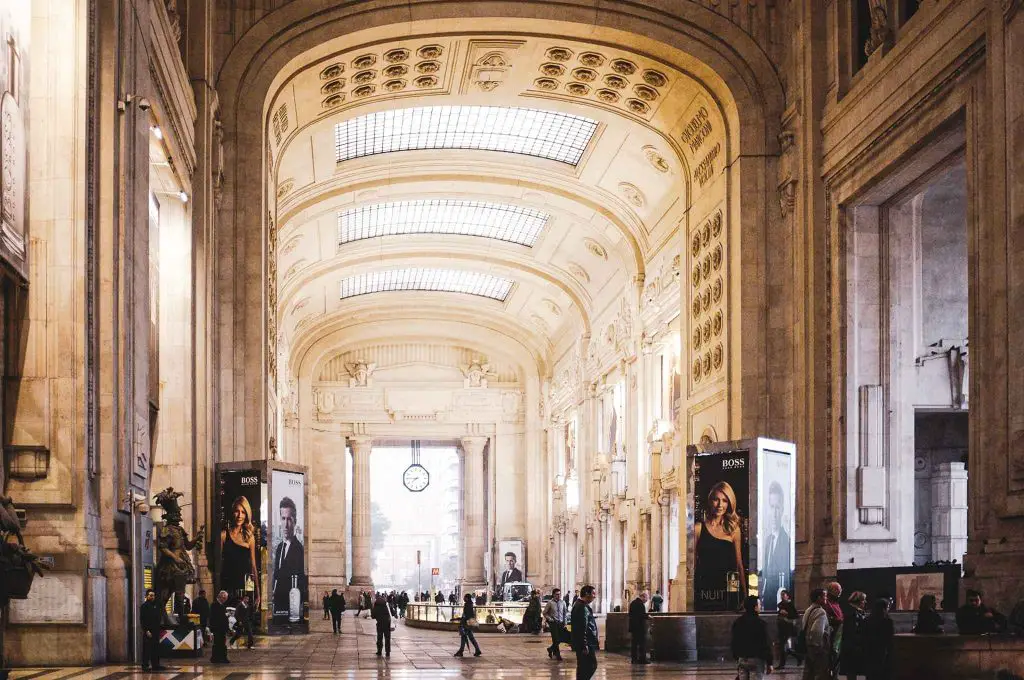 #10 Discover the Basilica San Lorenzo Maggiore
When we think of ancient churches, we think of breathtaking buildings from the Middle Ages. However, the incredible Basilica San Lorenzo Maggiore is in a class of its own and is Milan's oldest church. Not only is it a surprisingly tranquil rest stop in the center of Milan, but this amazing church was first constructed in the late fourth century, making it nearly 1700 years old!
It was actually the largest centrally-planned building of its time, further giving it an even more impressive resume accordingly. However, the church has suffered numerous devastating fires during its history, so there's a rather pleasant combination of styles that helps make it all the more memorable.
#11 Climb the Branca Tower
Originally, the Branca Tower was built for the Triennale in 1933; however, in the modern day, this incredible construction is ideally located for amazing panoramic views out over Milan itself. The waiting times can often fall at around an hour or so. However, if you have the time to spare while visiting Milan, it's well worth a visit for the incredible views it can offer.
Get your ticket to visit the Branca Tower and reach the highest point in Milan at Parco Sempione with a 1-minute elevator ride. Take in the fantastic views of the city.
#12 Take in Basilica di Sant'Ambrogio
It's not the oldest church on this list (quite), but this incredible Romanesque structure is a fascinating destination in its own right. It was actually commissioned around the same time as the Basilica San Lorenzo Maggiore in 379; however, construction work continued on the church for a long while after, and it was fully rebuilt in the 12th century to display its current architectural design.
The Basilica di Sant'Ambrogio houses numerous notable tombs, including that of Emperor Louis II and the bodies of three saints. These included Gervasus, Protasus, and Ambrose (the latter for whom the Basilica was named after).
Fascinatingly, two distinct holes can be seen in the marble column to the side of the church. These holes' exact cause is unknown, but local myths suggest the devil caused these. The story goes that he struck the column with his horns after failing to seduce St Ambrose. It's certainly a curious tale!
#13 Visit the Acquario Civico e Stazione Idrobiologica di Milano
If you're looking for things to do in Milan on your day trip with the family, a trip to the Milan Aquarium is definitely on the cards. It's a little way out of most sights, but if you can justify the excursion, we think it's well worth the time. In fact, it's actually Europe's third-oldest aquarium, and while it's small, it's nevertheless still an amazing destination for a quick visit.
Opening Hours
The Milan Aquarium is open to the public from Tuesday to Sunday from 10:00 to 17:30, last admission at 17:00 (with ticket). Closed on Mondays. Booking is not compulsory but strongly recommended to avoid waiting or the possibility of entry linked to the quota.
Tickets
Tickets can be purchased on https://museicivicimilano.vivaticket.it/  or on site on the opening days of the Aquarium based on the available capacity.
Full ticket € 5.00
Reduced ticket € 3.00
#14 Porta Nuova District in Milan
The Porta Nuova district is undeniably changing how we look at the world and features an incredible contemporary design rarely seen anywhere else. The buildings themselves are a refreshing break from the concrete of city living, looking almost like they're directly out of the jungle. It's futuristic, vibrant, and well worth a visit for a taste of something new in between visiting the ancient wonders of this delightful city.
Best to discover on a Guided Walking Tour. More Information and Tickets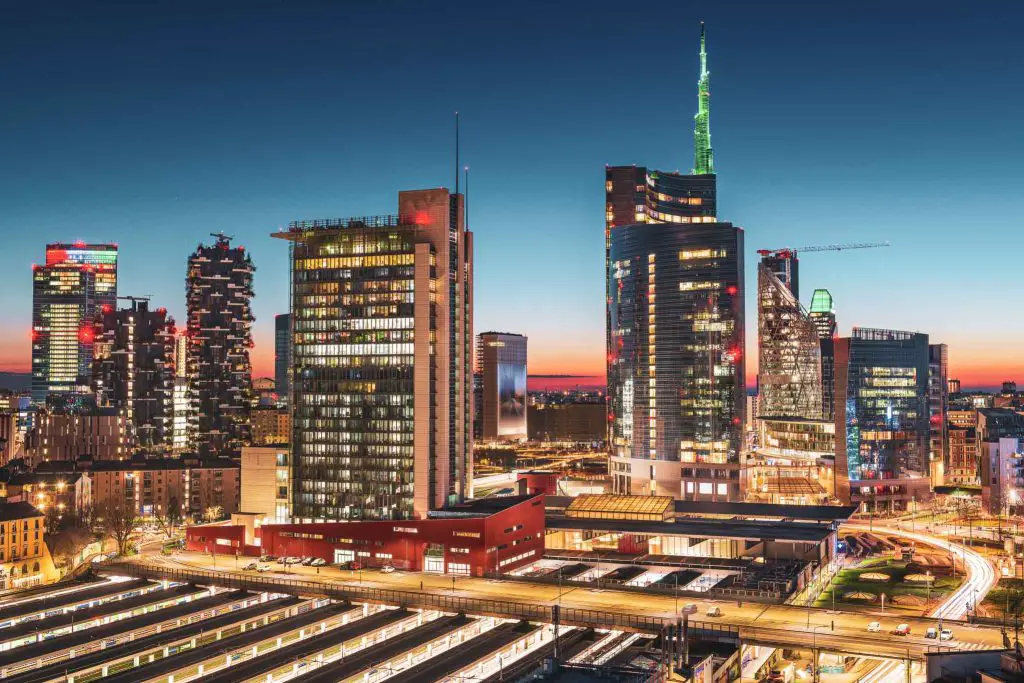 #15 Leonardo Da Vinci's Vineyard
We don't really need to explain what makes a visit to Leonardo Da Vinci's vineyard so iconic. The vineyard has worked tirelessly to restore the crops to their original 15th-century patterns, giving a feel for ancient life in Northern Italy. The vineyard also has its own on-site museum, further offering new opportunities to learn about its famous story.
#16 Palazzo Della Ragione
This stunning palace, which translates to the "Palace of Wisdom," is located right in the heart of Milan and was a major administrative office back in the day. Nowadays, however, it's an incredible sight to discover numerous exhibitions and ancient frescoes. During your visit, stop at the scrofa semilanuta bas relief sculpture, which has received a huge amount of controversy about its origins. Many people believe that the emblem dates to the earliest days of Milan, although evidence for this is unclear. It's certainly a hotly debated topic!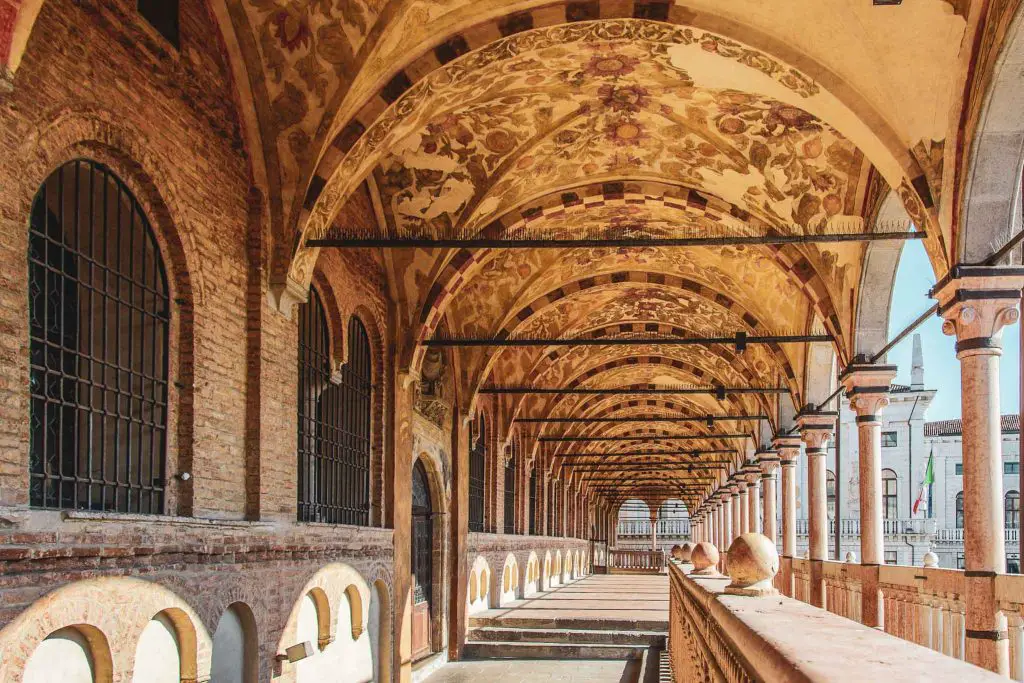 #17 Milan Natural History Museum
The Milan Natural History Museum is an obvious stop if you're a lover of natural history. Admittedly, it almost needs a day trip to Milan all for itself. Still, you can absolutely get around the museum in a few hours if you're relatively quick, making it one of the best things to do in Milan for a memorable visit. It's also moderately quiet compared to many other local destinations, which further adds to the appeal.
The Museum is open from Tuesday to Sunday 10 am-5.30pm, last admission 4.30pm. Closed on Mondays.
The Museum Library is open from Monday to Friday 10-12.30 and 13.30-17.00.
Check how to access
#18 Climb the Grattacielo Pirelli
As the sun begins to set for the evening, why not climb up the breathtaking Grattacielo Pirelli – an incredible 127m high skyscraper that offers some truly breathtaking views out over Milan in its entirety? Admittedly, the Grattacielo Pirelli isn't quite as tall as skyscrapers from many other big cities, but it really doesn't have to be; you'll still achieve exceptional views out over the city. The central viewing station is an excellent location to stand for the most amazing sights if you can get there; this is located on the 31st floor and directly looks out over the central station.
#19 Watch an Opera at the Teatro Alla Scala
Few things are more majestic, iconic, and moving than a live opera performance – and if this is something you've always wanted to see, we strongly recommend stopping at the Teatro Alla Scala Milano. Even if you're only visiting this beautiful building to marvel at the architecture, you'll be in for a treat. Tours are also offered around the Teatro Alla Scala, making it a great way to take in the sights. However, if you can find time to stay for a Oprea or Ballet (perhaps later in the day when other activities are closed), you'll make memories here that will undeniably last for a lifetime.
Top Tip: La Scala Theatre and Museum Skip-the-line Ticket Enjoy access to one of the most famous opera theatres in the world, along with its museum and temporary exhibitions.
#20 Navigli Canals of Milan
Navigli is part of historic Milan. In ancient times, The city was connected to canals, like Venice. Now, most of the canals are gone, but the Navigli remains a canal-based neighborhood. There are two major canals  Naviglio Pavese and Naviglio Grande. The Naviglio Grande's bridges welcome guests at dusk with a captivating view.
Top Tip: Navigli District Guided Canal Cruise Tour (Info and Booking)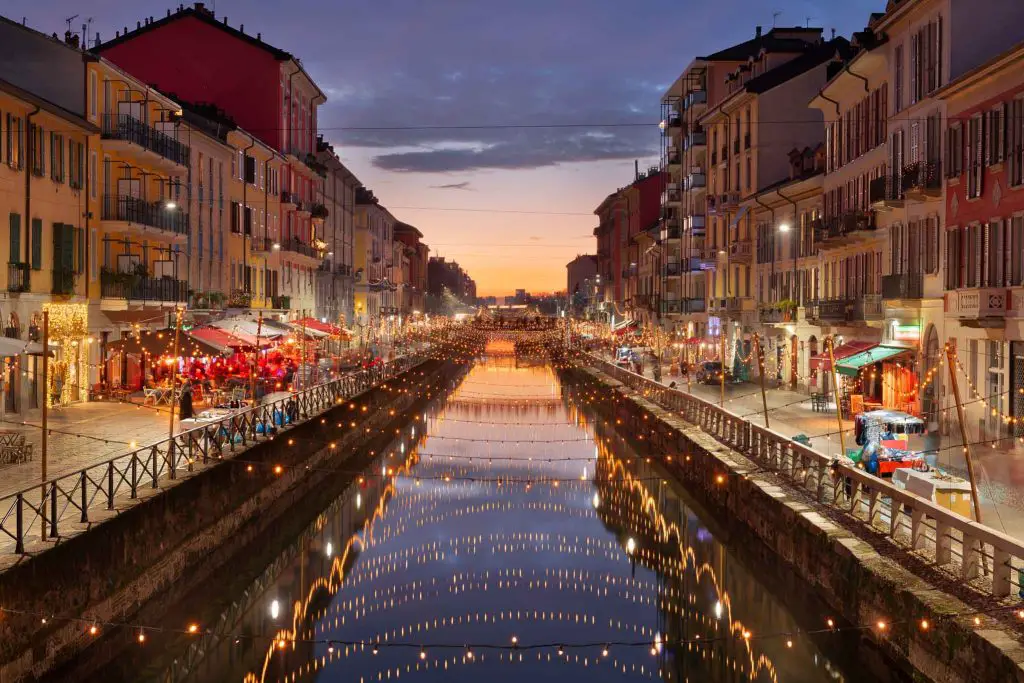 Final Thoughts
If you've been looking to find the most incredible things to do in Milan, there are countless amazing sights you can see. Of course, you'll struggle to fit all eighteen of today's suggestions into your day trip to Milan – but with a little clever planning, you should easily be able to pack in five to ten of these amazing destinations into your trip. Why not give it a try –  you might just be amazed by the number of memories you can make in a single 24-hour period!
Google Maps – One Day Trip to Milan Itinerary Map
I have embedded below a walking route you can follow for your One Day Trip to Milan itinerary. Milan is large, but all its main attractions are located near Piazza del Duomo. On this guided walking tour, let's start at the city center and proceed to all the main attractions!
I added all the best sights as well as restaurants and hotels to check out.
Bigger view of One Day Trip to Milan Click HERE
Frequently Asked Questions
Is one day in Milan enough?
If you're thinking of spending a day in Milan, you might be wondering if it's worth it. After all, there are so many other amazing places to see in Italy. But we're here to tell you that yes, one day in Milan is definitely enough!
This Milan travel itinerary is quite extensive, but it gives you an opportunity to see all there is to Milan in one day.
How to get around Milan in one day
The best way to get around Milan is by public transportation. The city has an efficient and reliable public transportation system that includes a metro, bus, and tram network. Visitors can purchase a day pass for unlimited travel on all three types of transport.
The Milan Metro is the easiest way to get around the city. It is fast, clean, and safe. The metro has four lines that cover most of the city's attractions.
Buses are another option for getting around Milan. They are not as fast as the metro but they are a good option for visitors who want to see more of the city. Trams are also a good option and they offer a unique way to see the city.
How to get to Milan city center from the airport
Milan's Linate Airport is just 7 kilometers from the city center, making it one of the most convenient airports to fly into if you're looking to explore the city in a short amount of time. There are several ways to get from the airport to the city center, including by bus, taxi, or train.
The cheapest option is to take the ATM City Bus 73, which departs from Terminal 1 every 15 minutes and only costs €1.50 for a single ticket. The ride into town takes about 30 minutes, dropping passengers off at Piazza San Babila in the heart of Milan.
If you're in a hurry, the best option is to take a taxi. A ride into town should cost between €20-30 and takes around 15-20 minutes depending on traffic.
Where to stay in Milan for one day
The best place to stay in Milan is definitely in the center of the city, near all the main attractions. The Duomo di Milano, Galleria Vittorio Emanuele II, and Teatro alla Scala are all within walking distance of each other, so you can easily hit up all the major sights without having to waste time on transportation. There are plenty of hotels and Airbnbs in this central area – just make sure to book ahead if you're visiting during peak tourist season!
Things to do in Milan
Day trip to Milan