Last Updated on May 23, 2023 by gregor
As a Travel Blogger who has been visiting Malaga many times, in this blog post, I will explore how to make the most of your one day in Malaga, providing valuable tips, a One Day in Malaga itinerary, and authentic recommendations for an unforgettable experience trip to Malaga, Costa del Sol, Spain.
Are you ready for a delightful Mediterranean adventure? Look no further than the enchanting city of Malaga! Nestled on the stunning coast of Spain's Andalusia region, Malaga offers a unique blend of rich history, vibrant culture, and breathtaking beauty. If you're wondering how to make the most of your one day in Malaga, you've come to the right place. 
Perfect One Day Itinerary in Málaga, Costa Del Sol, Southern Spain
Why Visit Malaga?
Rich cultural heritage: Malaga boasts a fascinating history dating back over 2,800 years, making it one of the oldest cities in the world.
Beaches and Mediterranean charm: With its sun-kissed beaches, crystal-clear waters, and idyllic coastal promenades, Malaga offers a perfect blend of relaxation and seaside beauty.
Picasso's birthplace: Malaga is the birthplace of the legendary artist Pablo Picasso, and you can explore his life and work in the Picasso Museum, among other cultural attractions.
Vibrant culinary scene: From traditional tapas to innovative gastronomic delights, Malaga offers a diverse range of mouthwatering culinary experiences.
Stunning architecture: The city showcases a mix of architectural styles, including Roman, Moorish, Renaissance, and Baroque, creating a visually captivating environment.
Where is Malaga Located?
Situated on the southern coast of Spain, Malaga is part of the Andalusia region. It is bordered by the Mediterranean Sea to the south and surrounded by the stunning mountains of the Axarquía to the north.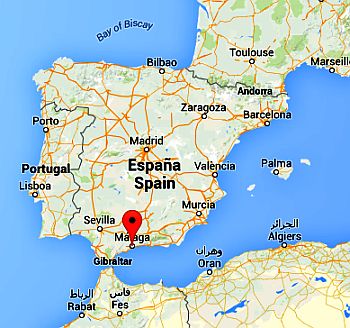 The Best Time to Visit Malaga
Malaga enjoys a Mediterranean climate, with mild winters and hot summers. The best time to visit is during the spring (April to June) and autumn (September to October) seasons when the temperatures are pleasant, and the city is less crowded. However, if you're a sunseeker and don't mind the higher temperatures, the summer months offer plenty of beach time and outdoor activities.
Tips for Visiting Malaga for One Day
Plan ahead: Research the top attractions and plan your itinerary accordingly to make the most of your limited time in Malaga.
Start early: Begin your day early to beat the crowds and make the most of your time exploring the city.
Wear comfortable shoes: Malaga's historic center is best explored on foot, so be sure to wear comfortable shoes to wander through its charming streets and alleys.
Stay hydrated: Carry a water bottle with you, especially during the warmer months, to stay refreshed throughout the day.
Embrace the siesta culture: Keep in mind that many shops and attractions may close for a few hours in the afternoon during the traditional siesta time. Plan your activities accordingly.
Respect local customs: Familiarize yourself with local customs and etiquette to ensure a respectful and enjoyable experience in Malaga.
Plan your Trip to Malaga?
How to Get to Malaga
Malaga has excellent transportation connections, making it easily accessible from both within Spain and internationally. The city is served by Malaga-Costa del Sol Airport (AGP), which has direct flights to major cities in Europe and other parts of the world. From the airport, you can reach the city center by train, bus, or taxi. Alternatively, if you're traveling within Spain, you can take advantage of the efficient train and bus networks.
The Best Things To Do in Malaga
Explore the Alcazaba and Gibralfaro Castle:
Begin your day by immersing yourself in Malaga's rich history. Start at the Alcazaba, a stunning Moorish fortress built in the 11th century. As you wander through its intricately designed gardens, courtyards, and ancient walls, you'll be transported back in time. Climb up to Gibralfaro Castle, perched on a hilltop, for panoramic views of the city and the Mediterranean Sea.
Read my Full Malaga Travel Guide of 25 Things to Do in Malaga, Spain: 👇
25 BEST THINGS TO DO IN MALAGA, SPAIN (COSTA DEL SOL) AN ULTIMATE TRAVEL GUIDE
Visit the Picasso Museum:
No trip to Malaga is complete without a visit to the Picasso Museum. Located in the heart of the city, this museum showcases an extensive collection of Picasso's works, providing insight into the artistic genius's life and evolution. From his early sketches to his famous masterpieces, you'll gain a deeper appreciation for the renowned artist's talent.
Stroll through the Old Town Historic Center: 
Take a leisurely walk through Malaga's charming historic center, known as the Casco Antiguo. Lose yourself in its narrow streets lined with colorful buildings, boutique shops, and cozy cafés. Don't miss the iconic Plaza de la Constitución, the main square of the city, where you can relax and soak up the lively atmosphere.
Visit the Malaga Cathedral:
Marvel at the grandeur of the Malaga Cathedral, also known as La Manquita (The One-Armed Lady), due to its unfinished south tower. This architectural masterpiece combines elements of Gothic, Renaissance, and Baroque styles. Step inside to admire its ornate interior and stunning stained glass windows.
Enjoy the Beaches:
After exploring the city's cultural treasures, head to one of Malaga's beautiful beaches to unwind and soak up the Mediterranean sun. La Malagueta Beach, located near the city center, offers golden sands, clear waters, and a vibrant beachfront atmosphere. Whether you prefer lounging on a sunbed, taking a refreshing dip, or indulging in water sports, there's something for everyone along the picturesque coastline.
25 BEST THINGS TO DO IN MALAGA, SPAIN (COSTA DEL SOL) AN ULTIMATE TRAVEL GUIDE
One Day in Malaga Itinerary – Detailed
Morning:
8:00 AM – Start your day bright and early by heading to the Alcazaba, a Moorish fortress that stands as a testament to Malaga's fascinating history. As you wander through its lush gardens, intricate archways, and beautiful courtyards, you'll be transported back in time. Climb up to Gibralfaro Castle, which is adjacent to the Alcazaba, and enjoy panoramic views of the city and the shimmering Mediterranean Sea.
10:00 AM – After exploring the Alcazaba and Gibralfaro Castle, make your way down to the city center. Take a leisurely stroll through the picturesque streets of the historic center, known as the Casco Antiguo. Admire the colorful buildings, charming squares, and lively atmosphere. Don't miss the iconic Plaza de la Constitución, the main square of the city, where you can grab a quick coffee and soak up the vibrant ambiance.
11:00 AM – Visit the Picasso Museum, located in the heart of Malaga. Immerse yourself in the world of one of the greatest artists of the 20th century, Pablo Picasso. Explore the museum's extensive collection of his works, ranging from paintings and sculptures to sketches and ceramics. Gain insight into Picasso's life and artistic evolution as you admire his masterpieces.
Afternoon:
1:00 PM – Treat yourself to a traditional Spanish lunch experience at one of the local tapas bars in the city center. Indulge in a variety of small plates, from mouthwatering jamón ibérico and Spanish omelet to grilled octopus and patatas bravas. Pair your tapas with a refreshing glass of local wine or a traditional sangria.
2:30 PM – Take a leisurely walk to the Malaga Cathedral, also known as La Manquita due to its unfinished south tower. Marvel at the grandeur of this architectural masterpiece, which combines elements of Gothic, Renaissance, and Baroque styles. Step inside the cathedral to admire its stunning interior and intricate stained glass windows.
3:30 PM – It's time to hit the beach and soak up the sun. Head to La Malagueta Beach, conveniently located near the city center. Feel the soft sand between your toes as you relax on a sunbed or take a refreshing dip in the crystal-clear waters of the Mediterranean Sea. Enjoy the vibrant beachfront atmosphere and savor the coastal beauty of Malaga.
Evening:
6:00 PM – As the sun starts to set, make your way to Muelle Uno, a modern waterfront promenade. Take a leisurely stroll along the marina, lined with shops, restaurants, and cafés. Admire the luxury yachts and enjoy the scenic views of the sea and the city's skyline. This is a perfect spot for a pre-dinner drink or a delightful ice cream treat.
7:30 PM – Indulge in a memorable dinner at one of the local seafood restaurants near the beach. Delight your taste buds with a variety of fresh seafood dishes, such as grilled fish, seafood paella, or marinated anchovies. Pair your meal with a glass of chilled local wine and savor the flavors of Andalusia
Night:
9:00 PM – After dinner, take a leisurely stroll along the promenade and enjoy the lively atmosphere of Malaga's nightlife. The city comes alive in the evening, with bustling bars, clubs, and live music venues. If you're in the mood for some authentic flamenco, find a traditional tablao where you can witness the passionate and rhythmic dance accompanied by soulful music.
10:30 PM – End your day with a visit to the iconic Malaga Ferris Wheel, known as the Noria Mirador Princess. This 70-meter-high Ferris wheel offers stunning panoramic views of the city, the coastline, and the illuminated skyline. Take a ride in one of the spacious cabins and enjoy the breathtaking vistas as the city lights twinkle below.
11:30 PM – If you still have some energy left, head to the vibrant Plaza de la Merced. This bustling square is filled with bars and cafes where you can join the locals and enjoy a late-night drink or two. Immerse yourself in the lively ambiance, engage in conversations with friendly locals, and soak up the authentic Malaga nightlife.
Map of One Day in Malaga Itinerary
To help you navigate your way through the city, here's a map outlining the suggested itinerary for one day in Malaga:
[Insert map image with highlighted locations and routes]
Getting Around Malaga for One Day
Malaga's city center is compact and easily walkable, allowing you to explore most of the attractions on foot. However, if you prefer a quicker mode of transportation, you can utilize the city's efficient public transportation system, including buses and taxis. Additionally, renting a bicycle is a popular and eco-friendly option for getting around the city, as Malaga offers well-marked cycling paths.
What to Eat in Malaga
When it comes to culinary delights, Malaga has a vibrant food scene that will tantalize your taste buds. Here are some must-try dishes and local specialties to savor during your one day in Malaga:
Espetos de Sardinas: Malaga is famous for its grilled sardines, known as espetos. These fresh fish skewers are cooked over an open fire, imparting a smoky flavor that perfectly complements the tender flesh.
Gazpacho: Cool off with a refreshing bowl of gazpacho, a chilled tomato soup blended with vegetables, garlic, and olive oil. This traditional Andalusian dish is ideal for hot summer days and showcases the region's flavors.
Porra Antequerana: Similar to gazpacho, porra antequerana is a creamy cold soup made with tomatoes, bread, olive oil, garlic, and peppers. It's typically served with garnishes like hard-boiled eggs and serrano ham.
Boquerones al Limón: Sample boquerones al limón, which are fresh anchovies marinated in lemon juice and olive oil. These tangy and flavorful bites are a popular tapas choice in Malaga.
Pescado Frito: Indulge in Pescado frito, a platter of lightly battered and deep-fried mixed fish. This dish allows you to savor a variety of local seafood, such as squid, shrimp, and white fish, all perfectly crispy and delicious.
Tapas: Malaga is known for its vibrant tapas culture, where you can enjoy a variety of small plates bursting with flavors. From traditional Spanish tapas like patatas bravas and croquetas to regional specialties like berenjenas con miel (fried eggplant with honey), there's no shortage of options to tantalize your palate.
I highly recommend this Wine and Tapas Tour! Book Now to reserve your seat!
Where to Stay in Malaga for One Night
For a one-night stay in Malaga, the city offers a wide range of accommodation options to suit every budget and preference. Here are a few recommended areas and hotels to consider:
Malaga Centro: Stay in the heart of the city's historic center to be within walking distance of major attractions and vibrant nightlife. Hotel Molina Lario and Room Mate Valeria are popular choices in this area.
La Malagueta: If you prefer to be close to the beach, consider La Malagueta neighborhood. This area offers stunning sea views and easy access to the sand and surf. AC Hotel Malaga Palacio and Hotel MS Maestranza are excellent options here.
El Palo: For a more relaxed and local experience, El Palo neighborhood is a great choice. It's known for its charming beachfront promenade, traditional seafood restaurants, and a laid-back atmosphere. Hotel Elcano and Hotel Las Vegas offer comfortable stays in this area.
Book your Stay in Malaga on Booking.com
Is Malaga Cheap or Expensive?
Malaga can be considered relatively affordable compared to other popular European cities. While prices can vary depending on the season and your choice of accommodation and dining options, overall, you can find a range of options to suit different budgets. Street food, tapas bars, and local markets offer affordable dining choices, and public transportation is reasonably priced. Additionally, free or low-cost attractions, such as walking tours and museums with discounted admission, allow you to explore Malaga without breaking the bank.
How Much Do I Need Per Day in Malaga?
On average, budget-conscious travelers can expect to spend around €100-€130 per day in Malaga, including accommodation, meals, transportation, and attractions. This estimate can vary depending on your personal preferences and spending habits. Keep in mind that opting for local and budget-friendly options, such as street food and free attractions, can help you stretch your budget further.
Is One Day in Malaga Enough?
While one day in Malaga will give you a taste of the city's highlights, it's always better to have more time to fully immerse yourself in its charms. However, if you're on a tight schedule or planning a day trip, you can still make the most of your limited time in Malaga by focusing on the key attractions and experiences.
How Long Do You Need in Malaga?
To truly explore and appreciate everything that Malaga has to offer, it is recommended to spend at least two to three days in the city. This will give you enough time to visit major landmarks, soak in the local atmosphere, and even take day trips to nearby attractions.
If You Have Two Days in Malaga or More
If you have two days or more to spend in Malaga, consider adding the following activities to your itinerary:
Visit the Roman Theatre: Explore the well-preserved Roman Theatre, which dates back to the 1st century BC. This archaeological site offers a glimpse into Malaga's ancient past.
Discover Malaga Park: Take a leisurely stroll through Malaga Park, a beautiful green oasis in the city. Admire the lush gardens, fountains, and sculptures while enjoying panoramic views of the Mediterranean Sea.
Explore the Automobile and Fashion Museum: Delve into the world of luxury cars and haute couture at the Automobile and Fashion Museum. This unique museum showcases a remarkable collection of classic cars and designer fashion pieces.
Venture to the Malaga Botanical Gardens: Escape the bustling city and immerse yourself in nature at the Malaga Botanical Gardens. Explore the diverse plant species, wander through peaceful trails, and enjoy breathtaking views of Malaga from the hillside.
Day Trips from Malaga
If you have additional time, consider taking day trips from Malaga to nearby attractions:
Ronda: Visit the picturesque town of Ronda, known for its stunning bridge, dramatic cliffs, and charming old town. Explore its rich history and enjoy breathtaking views of the surrounding countryside.
Nerja and the Caves of Nerja: Discover the coastal town of Nerja and its beautiful beaches. Don't miss the opportunity to visit the renowned Caves of Nerja, an impressive underground cavern system.
Marbella and Puerto Banus: Experience the glitz and glamour of the Costa del Sol by visiting Marbella and its luxurious marina, Puerto Banus. Enjoy upscale shopping, yacht-watching, and waterfront dining.
3 DAYS IN MARBELLA – BEST 3-DAY MARBELLA ITINERARY
25 THINGS TO DO IN MARBELLA, SPAIN
Best Malaga Tours
To enhance your Malaga experience, consider joining some of the best tours available:
Malaga Food Tour: Embark on a culinary adventure through Malaga's gastronomic delights, sampling local dishes and learning about the city's culinary traditions.
Malaga Bike Tour: Explore the city on two wheels with a guided bike tour. Pedal through the historic center, along the beach promenade, and discover hidden gems with the help of a knowledgeable guide.
Caminito del Rey: Take a thrilling day trip to the Caminito del Rey, a breathtaking walkway pinned to the side of a gorge. This exhilarating experience offers stunning views of the natural landscape.
I always use GetYourGuide to book activities and attractions while traveling through Europe. You can search through over 200 Malaga attractions on their website here 👇
Should I Buy Travel Insurance for Malaga?
It is always advisable to have travel insurance when visiting any destination, including Malaga. Travel insurance provides coverage for unexpected events such as trip cancellations, medical emergencies, and lost or stolen belongings. Make sure to review the policy details and choose the coverage that suits your needs.
| TOP TIP
✅ Don't forget to book insurance for the trip. It is easy to do online via Visitors Coverage.
Other One Day in a City Itineraries
If you enjoy exploring cities in a day, you might also be interested in our other "One Day in a City" itineraries.
Be sure to check out some more One Day Itineraries from the most popular cities in Europe!
3 Mistakes I Made the First Time I Visited Malaga…
Underestimating the Heat: Malaga's location on the Costa del Sol means it experiences hot summers. During my first visit, I didn't prepare adequately for the scorching temperatures. Make sure to bring sunscreen, a hat, and light clothing to stay comfortable and protected from the sun.
Skipping the Local Cuisine: On my initial trip, I stuck to familiar international food options and missed out on the delicious local cuisine. Malaga is a food lover's paradise, and I regret not indulging in traditional dishes like espetos de sardinas and gazpacho from the beginning. Don't make the same mistake – dive into the local gastronomy and savor the flavors of Malaga.
Overpacking for the Beach: Malaga's stunning beaches tempted me to bring all sorts of beach gear on my first visit. However, I soon realized that many beachfront establishments offer sunbed and umbrella rentals, making it unnecessary to carry bulky items. Traveling light is key, so pack only the essentials and take advantage of the convenient beach services available.
Tips for Visiting Malaga for One Day:
Wear comfortable shoes: Malaga is a walkable city, so be sure to wear comfortable footwear as you'll be exploring its streets and attractions on foot.
Stay hydrated: The weather in Malaga can get hot, especially during the summer months. Carry a bottle of water with you to stay hydrated throughout the day.
Plan your visits to attractions: To make the most of your limited time, check the opening hours of the attractions you plan to visit and prioritize the ones that interest you the most.
Embrace the local culture: Take the time to interact with the locals, try speaking a few basic Spanish phrases, and immerse yourself in the vibrant local culture.
Take breaks and relax: While it's tempting to see and do everything in one day, don't forget to take breaks and relax. Enjoy a leisurely meal, sip a coffee in a local café, or simply sit in a park and people-watch to soak up the atmosphere.
Use public transportation: Malaga has a reliable and efficient public transportation system, including buses and trains. Consider using public transport to get around the city quickly and conveniently.
Conclusion
Malaga is a captivating city that seamlessly blends history, culture, and beautiful beaches. Whether you have one day or more, you can make the most of your time by following this itinerary, exploring the must-see attractions, and indulging in the local cuisine. Remember to plan your trip according to the best time to visit, consider day trips to nearby destinations, and always have travel insurance for peace of mind. With careful planning and a sense of adventure, your one day in Malaga will be a memorable experience. So, get ready to immerse yourself in the rich heritage and vibrant atmosphere of this charming Andalusian city!