Last Updated on September 4, 2022 by gregor
This guide focuses on the best things to do in Bratislava in one Day. The One-Day Itinerary includes the must-see attractions when visiting Bratislava, the capital of Slovakia. Below you can find also a GOOGLE Map with all the sightseeing spots of Bratislava.
It takes just about an hour to travel from Vienna to Bratislava so this makes it easy to go for just a day or to spend a longer holiday in Slovakia. With its gorgeous hilltop castle, innovative museums, and historic center, it's an excellent spot for a day trip.
Day trip from Vienna to Bratislava – one-day itinerary
Is Bratislava worth visiting from Vienna?
The majority of people visit Bratislava as a day trip from Vienna, giving it just a brief look and focusing only on the major attractions of the Old Town. And while it's really lovely, with cobbled narrow streets and the castle towering above the city, most of the tourists are disappointed with Bratislava
Is one day enough for Bratislava?
Is one day in Bratislava enough? One day in Bratislava is completely enough to visit the castle and tour the most popular sites in the Old Town, including the Christmas market. In fact, the capital city of Slovakia is a great option for a day trip from Vienna. You can get there by train, bus or boat.
Is a day trip to Bratislava from Vienna worth it?
Trains from Vienna to Bratislava take just over 1 hour, this makes it easy to go for just a day, or to spend a longer holiday in Slovakia. With its gorgeous hilltop castle, innovative museums, and historic center, it's an excellent spot for a day trip.
Is there a direct train from Vienna to Bratislava?
There are 39 direct trains from Vienna to Bratislava each day. Though there may be fewer direct services available depending on your exact departure date.
Is one day in Bratislava enough?
Yes, it is! As with any major capital in Europe, you can easily spend 2 or 3 days in Bratislava, but if you have just one day, don't worry. You can definitely see all the major attractions in Bratislava in one day. I have some recommendations for the best tours in Bratislava below too.
Many visitors stop in Bratislava for one day as they are visiting Vienna (can't blame them – Vienna is epic) and of course, there are those who visit Budapest and Prague, both cities are around 4h by train away.
So let's get started.
This guide focuses on the best things to do in Bratislava, Slovakia. I included the must-see attractions when visiting Bratislava. Below you can find also a GOOGLE Map with all sightseeing spots.
Things to Do and See in Bratislava in One-Day
#1 Bratislava Castle
Without a doubt, one of the most iconic sights in Bratislava that you absolutely need to see during your trip is Bratislava castle. This simply breathtaking white and red design is a truly monumental sight in its own right; however, the castle's history is also exceptional. Its picturesque position also ensures that Bratislava castle overlooks some of the most breathtaking sights in the region. It's an exceptionally well-fortified building, and this amazing sight is one you will surely cherish for a lifetime.
#2 St Martin's Cathedral
If you love stunning architecture, a visit to St Martin's Cathedral is undeniably on the cards. This breathtaking gothic 15th-century cathedral has seen a huge wealth of history and exciting developments, over the years. With almost twenty members of the royal family of Bratislava being crowned in the Cathedral alone, it's undeniably a hugely historic location. Better yet, it's right by Bratislava castle itself, so you can easily combine the visits together to make the most of your time in Bratislava.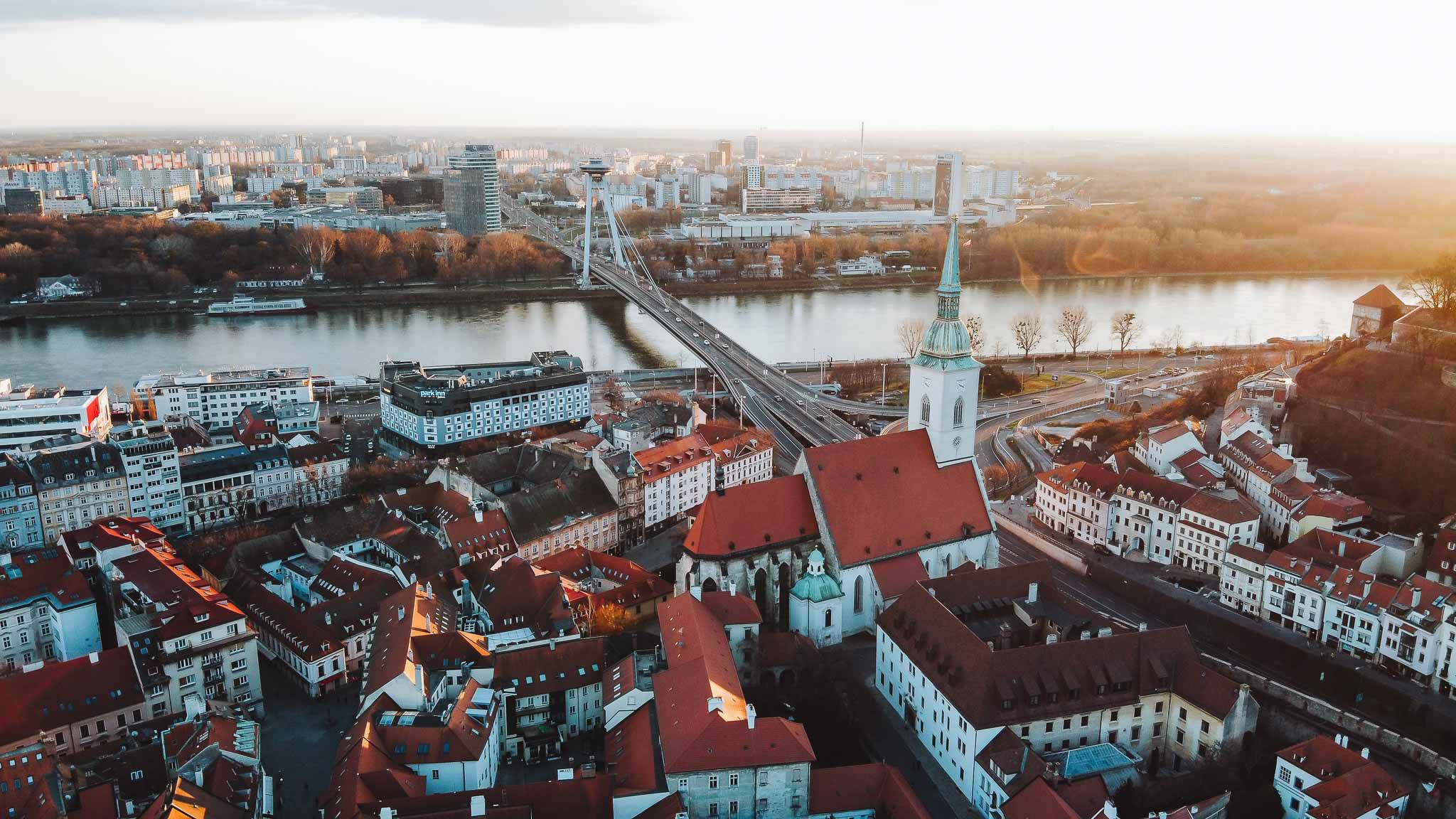 #3 Bratislava Centre
The historic center of Bratislava is truly an iconic and exceptionally memorable destination for anyone visiting this amazing country. There's a certain old-world magic about the region, with its brightly colored and breathtakingly designed buildings and architecture. Whether you're visiting for the shopping opportunities locally or just taking in the sights of this simply beautiful location, it's easy to lose a whole day exploring the historic city center alone. As such, try to ensure you've got plenty of time to immerse yourself in the beauty of the region; you'll be glad you did!
#4 St Elizabeth's Church
It's bright, bold, and hard to miss – the stunning St Elizabeth's Church, otherwise known as the Blue Church, is definitely worth a visit if you're in the old town of Bratislava. Indeed, St Elizabeth's Church is iconic both for its vibrantly blue exterior and stunning Disney-esque design, both of which give it certain magic and surreal feel accordingly.
#5 The Old Town Hall
There are countless stunning things to do and see in Bratislava, but few have quite the history of the amazing Old Town Hall on Hlavne Namestie. This incredible development comprises several ancient houses and palaces, including old houses palaces, a 16th-century courtyard, and a breathtaking 13th-century Tuscan gothic-style main tower. It might be a somewhat eclectic mix of styles. Still, these styles undeniably work excellently together to create an intriguing destination for any holiday.
#6 Slavin War Memorial
It's not a joyous visit, but if you've been looking for something truly meaningful during your trip, this could absolutely be one of the best things to do. Indeed, the Slavin War Memorial is dedicated to the Soviet troops who liberated Bratislava in 1945. The memorial itself was opened in 1960 and includes numerous stunning marble panels. It's undeniably a humbling experience to visit, and definitely worth stopping for if you ask us.
#7 Michael's Gate
Bratislava's Old Town area is packed with stunning historic sights and landmarks, and Michael's gate is just one such example. As the only surviving example of Bratislava's original four medieval gates, constructed in the early 1300s, Michael's Gate towers over the local area at roughly fifty meters in height. Its breathtaking modern design was realized fully in 1759, when a remodel of the gate helped give it its modern, breathtaking charm.
#8 Devin Castle and Wine Tour
If you've been looking for a way to spruce up your exploration of the breathtaking Devin Castle, why not add in a little wine-tasting session for the adults at your party? This simple option will allow you the chance to truly make the most of your time in the area, all the while allowing you to sample some of the most delicious wines in the region as well.
More Information and Book your Tickets here: From Bratislava: Devin Castle 3-Hour Private Guided Tour
#9 Slovak National Theater
Few things are more stereotypical than the Slovak National Theater, an almost magical neo-Renaissance opera house. Any visit to this breathtaking building is automatically astounding. Of course, there are countless stunning performances made in the theater, and these are well worth considering as part of your visit.
However, even if you only visit to view the stunning architecture, you'll be in for a treat. Few destinations are quite as stunning, making it a must for any visit to Bratislava.   
#10 Slovak National Gallery
The Slovak national gallery is a simply breathtaking collection of sights, located within a simply unforgettable 18th-century palace that's hard not to fall in love with. Though there are numerous changing exhibitions, you can always count on a gorgeous selection of things to see and do when visiting the Slovak National Gallery in Bratislava thanks to the wide collection of incredibly Baroque art and treasures, dating from the 13th to the 18th century.
In short, the gallery's collection offers just a little of everything. As such, if you're in the area, we highly recommend paying a visit to get a feel for Slovak culture accordingly.
#11 Explore by Segway
If you're keen to explore Bratislava but don't feel up to the rigors of walking for hours, why not hire a segway instead – the perfect, simple solution to help you get around the city, all the while making your visit so much more fun? This simple activity is the perfect way to pack more into your day. Plus, if you ask us, it's one of the best things to do in Bratislava in its own right too – so, join in with a segway tour of Bratislava if you're looking for something a little less taxing. After all, not everyone enjoys exploring the city by walking, and now, you don't have to!
More Information and Book your Tickets here: Bratislava: Riverside, Castle, or Complete City Segway Tours
Explore Bratislava on an eco-friendly Segway and enjoy a memorable, insightful, and entertaining tour of the city. Find out more about the city's history with an expert guide. Select from 3 different tour routes and discover Bratislava's highlights.
#12 Tour Bratislava by Speed Boat
If you're looking for exciting things to do in Bratislava, we strongly recommend considering a tour by speedboat. Exploring Bratislava by speedboat isn't necessarily a long event, but it's a memorable and iconic addition to your holiday that's sure to be amazing. Indeed, touring Bratislava by speedboat allows you to see this gorgeous city from a new and unparalleled angle. Exhilarating and exciting, it's easy to see why so many people adore this amazing activity.
More Information and Book your Tickets here: Bratislava by Private Speedboat
Sightseeing cruises on the river Danube give you the opportunity to enjoy the panorama of Bratislava right from the deck of a speedboat. Enjoy a great Bratislava boat trip and sail through the historical and modern parts of Bratislava.
#13 Galeria Nedbalka
If you've been looking for a breathtaking and somewhat off-the-beaten-track sight for your time in Bratislava, we strongly recommend giving the Galeria Nedbalka a try. This gorgeous art gallery is absolutely astounding, but it's often easy to misinterpret quite what it has to offer.
Indeed, with an exceptionally stylish and luxurious interior, packed with modern sculptures and paintings, it's a simply iconic location that's hard to ignore. All of the pieces featured in this breathtaking gallery help support the work and lives of countless amazing Slovak artists and sculptors.
More Information and Book your Ticket here: Bratislava: Nedbalka Gallery with Coffee and Cake Ticket
Visit the Nedbalka Gallery in Bratislava and admire the collection of Slovakian modern art. After the visit refresh yourself in the museum's cafeteria with coffee and cake included in the price.
#14 Try a Bratislava Post-Communism Tour
If you'd like to learn more about the post-communism era in Bratislava, a Post-Communism tour should definitely be on the cards. Not only is this one of the easiest ways to explore the beauty of Bratislava, but you'll learn loads about the region's history too. It's a simple way to enjoy the region's beauty, and so this could be well worth considering if you're trying to find the optimal experience.
More Information and Book your Tickets here: Bratislava: Soviet Era and Post-Communist Tour
Take a tour off the beaten track and see sites from Bratislava's Communist past as well as the newer face of the city. Travel in a legendary 1970-1990s Škoda car or a modern minivan for groups of 4 or more participants.
#15 Statues in the Old Town
There are quite a few statues in the city center of Bratislava. The most photographed of these is Cumil, at the junction of Laurinská and Panská Streets. In the main square beneath the Old Town Hall, there's a friendly Napoleonic soldier leaning over a bench, while on Sedlárska Street is Schone Naci. He represents Ignac Lamar, a Pressburg citizen in the 19th century who is said to have lost his mind because of unrequited love.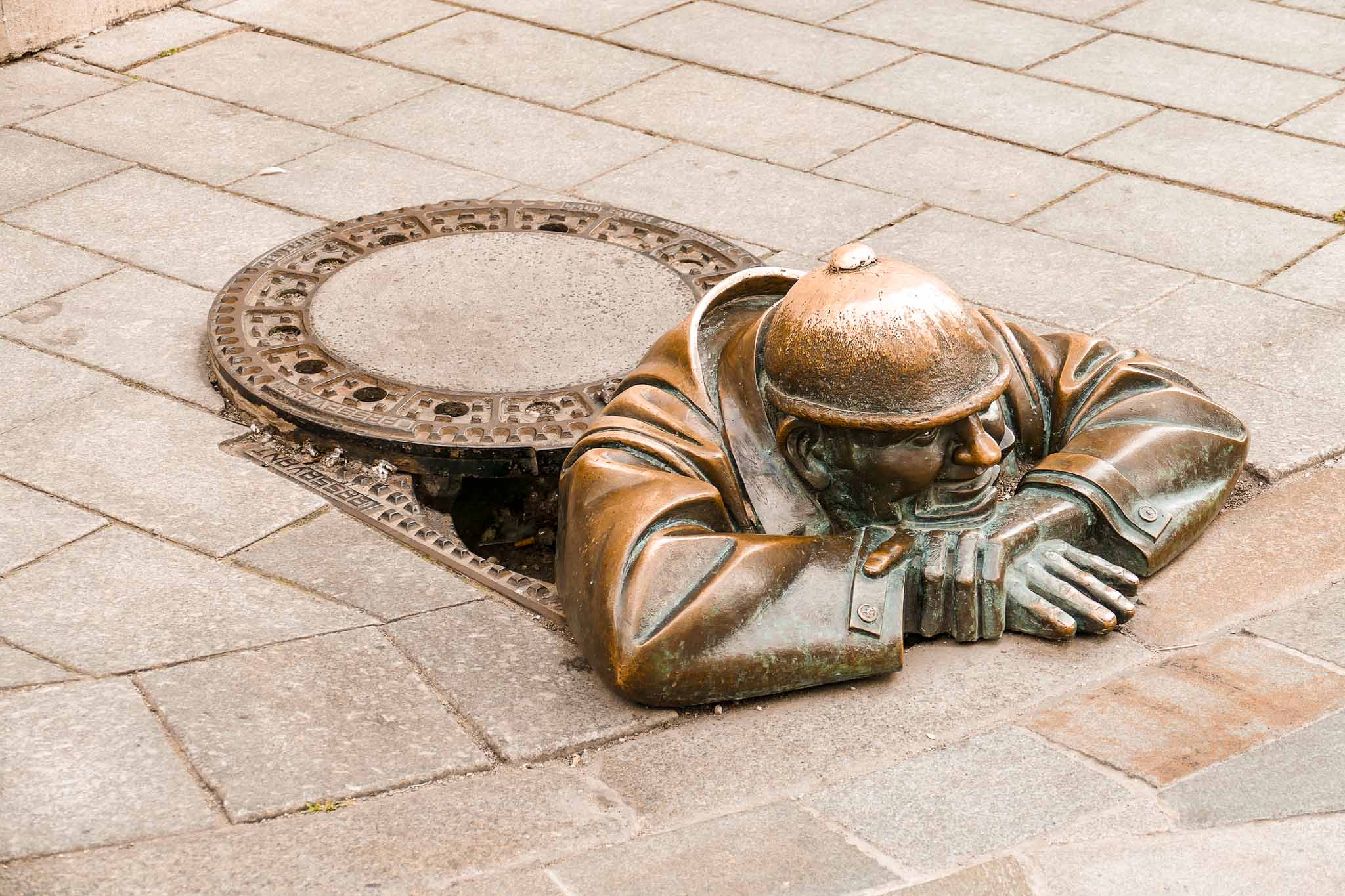 MAP of Top Things to do and See in Bratislava
For a Bigger view of the MAP Click here
Final Thoughts
If you've been planning a trip to Bratislava, there are numerous things you may need to consider. Luckily, finding the ideal solution for your trip doesn't have to be a major challenge, and there are plenty of options for amazing things to do in Bratislava. Hopefully, today's list may have inspired you with some new ideas for places to visit accordingly. After all, there are plenty of amazing options out there, and hopefully, you'll be able to enjoy the trip of life accordingly.
Frequently Asked Questions
How to get from Vienna to Bratislava 
By Bus
The buses leave either from the International Bus Terminal Erdberg or the Central Train and Bus Station (Hauptbahnhof). Buses run very regularly between Vienna and Bratislava, and you can get one pretty much every hour. There are a few bus companies operating between the two cities, the most popular being Flixbus and Slovak Lines.
Purchase a ticket online or get it from the bus driver (if there are free seats).
Ticket Prices vary between 5 and 10 euros one way.
Duration Vienna – Bratislava by Bus: 1 hour
By train
Every hour trains depart from Vienna Hauptbahnhof (Central Station) and arrive at Bratislava hl.st. (short for hlavná stanica, meaning Main Station). Vienna Hauptbahnhof is less than a 10-minute taxi ride from downtown Vienna, or you can get off at the Hauptbahnhof metro station (U1). 
Tickets: Tickets must be purchased prior to getting on the train and you can do this either at the machines or the ticket office. The price is usually about 10 euros one way.
TOP TIP
The Austrian train company ÖBB is having a great offer for 16 euros which covers your return train ticket and free use of public transport in Bratislava. To be bought at the OBB train ticket office.
Arrival at Bratislava train station
Once you arrive, the city center is about 20 minutes away on foot. Bratislava is situated in the far west of Slovakia, bordering both Austria and Hungary. As such, it's within easy reach of Budapest as well. 
By boat: 
The company Twin City Liner offers a great boat ride between Vienna and Bratislava, which is absolutely perfect for a day trip. The boat departs at 10:30 from Vienna (Schwedenplatz) and at 18:30 from Bratislava. It operates daily during the high season (from April to September) and on Fridays, Saturdays, and Sundays during the low season. You can see the full Twin City Liner Vienna to Bratislava schedule here.
The boat ride takes about 1 hour and costs 30-35 euros one way.
How long is the boat ride from Vienna to Bratislava?
The Vienna Bratislava ferry route connects Austria with Slovakia. The Twin City Liner operates up to 21 times each week with sailing durations from around 1 hour 30 minutes
How long do you need in Bratislava?
Two days is better if you want to have enough time to visit beyond the Old Town and go outside to the countryside, famous for its wine. Bratislava is a charming city, but with only a few main attractions it is possible to see the city in just one or two days. 
Is Bratislava a walkable city?
Bratislava is a very walkable city. All key points of interest and sightseeing spots are easily accessible on foot.
What currency is used in Bratislava,  Slovakia? 
The official currency in Bratislava, Slovakia is Euro (€).
The Euro is the official currency of 19 out of the 27 member states of the European Union. This group of states is known as the eurozone or, officially, the euro area, and includes about 340 million citizens as of 2019. The euro is divided into 100 cents. Wikipedia
Is English spoken in Bratislava?
Nearly everyone in the city center of Bratislava speaks some English language. Every waiter and nearly all shop assistants will speak English if you visit Bratislava or any of the larger towns.
What do they speak in Bratislava?
The official language in Slovakia and therefore also in Bratislava is Slovak. You may be wondering if there is any need to learn any Slovak before visiting Bratislava.
Can I drink tap water in Bratislava?
Is the tap water in Bratislava safe to drink? In a word, yes. The water flowing out of Bratislava's taps is fine to drink, although not if there is a cross sign above the tap.
Is Bratislava cheap for tourists?
In comparison to other European Cities, Bratislava is still significantly cheaper. In Bratislava, the prices can be similar to other cities, but the smaller cities the prices are lower.
Is Bratislava cheaper than Vienna?
Bratislava is about 20 % cheaper than Vienna.
How far apart are Vienna and Bratislava?
The distance between Vienna and Bratislava is only 79 km. About 45min by car from Vienna to Bratislava. 
Does Uber work in Bratislava?
Uber is available at Bratislava & Bratislava Airport.
What is the best month to go to Bratislava?
Spring can be the best time to visit when days are warm with pleasant, mild weather for most of May
The climate in Bratislava is continental, with short, fairly hot summers and chilly winters. The hottest months are July and August followed by June..
Is Bratislava Castle free?
It's free to walk through the grounds and admire the castle. You only pay to visit the exhibitions, but walking on the grounds was more than enough.
Most museums here do charge an entrance fee, of which the average cost about 4.- Euros. But, one of Bratislava's national treasures is free and open to the public every day except for holidays and Mondays. Bratislava Castle sits high on a hill.
How do I get to Bratislava Castle?
There is a possibility to access the castle via 3 gates: Sigmund gate – is considered to be the most complex and the most frequent one when accessing from old town to the south-eastern part of the castle complex. Follow the street "Židovská" & "Mikuláška" street, and then turn to the "Beblavého".So is Bratislava nice, and is Bratislava worth visiting? Absolutely! Bratislava is not on many travelers' radars, however, it definitely should be. It is a city filled with art, architecture, and history and surrounded by natural beauty.
Photo Gallery Bratislava
Bratislava Blue Church
Bratislava Old Town