Last Updated on May 8, 2023 by gregor
If you're looking to travel to Central Europe, but don't know where to start, this 10-day itinerary is perfect for you! Visit beautiful world-class cities like Prague, Vienna, and Budapest, and experience the best views and best places that the region has to offer.
10 days Central Europe itinerary 
Day 1: Arrive in Prague and explore the city center on foot.
After landing at Prague airport and collecting your luggage, it's time to start exploring this beautiful city! Consider renting a car. The best way to do this is on foot, so head into the city center and start taking in the sights. Some of the must-sees include the Old Town Square, the Charles Bridge, and the Astronomical Clock. If you're feeling up for it, you can even climb the tower of the Old Town Hall for some stunning views of the city. After a busy day of sightseeing, you can stroll around, and relax with a Czech Republic beer or some traditional Czech food.
More about Prague: 3 DAYS IN PRAGUE: THE PERFECT ITINERARY FOR FIRST-TIMERS
Plan your 10 Days Central Europe Round-Trip?
Day 2: Take a day trip to Český Krumlov, a UNESCO World Heritage Site.
Start your day with a delicious Czech breakfast of fresh bread, cheese, and fruit. Then, it's off to Český Krumlov, a UNESCO World Heritage Site located about 2 hours south of Prague Castle. This charming town is set on the banks of the Vltava River and is known for its well-preserved medieval architecture. Take a walking tour of the old town and see the 13th-century castle, then enjoy some free time to explore independently. In the afternoon, take a scenic boat ride on the Vltava River. Return to Prague in the evening.
Read my complete visitor's guide of Český Krumlov here (Best Things to Do, Travel Tips, and Best Tours):
EXPLORE ČESKÝ KRUMLOV ON A DAY TRIP FROM VIENNA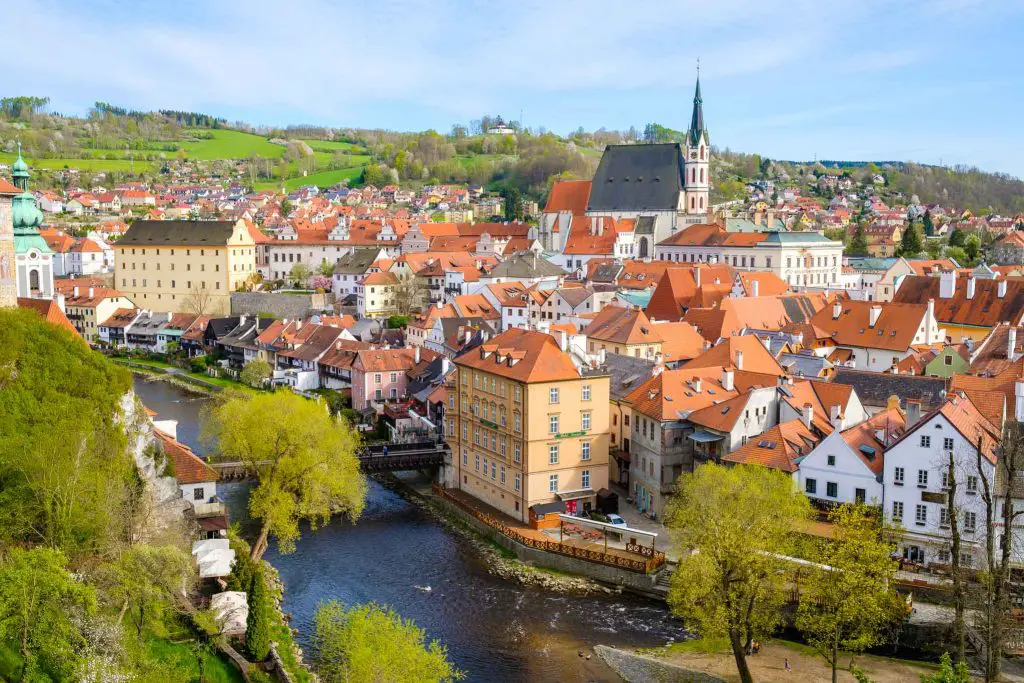 Day 3: Head to Vienna and explore the city's museums and palaces.
There are so many things to see and do in Vienna that it can be hard to know where to start. A good way to get your bearings is to head to the city center and explore some of the most famous sights. Start with a visit to the Hofburg Palace, the former imperial residence, then explore the museums and art galleries of the Museums Quartier. If you're feeling hungry, stop for a bite to eat at one of the many great restaurants in the city. In the afternoon, take a leisurely stroll through the gardens of the Belvedere Palace or visit the Vienna Zoo. If you're up for it, end your day with a concert at the Vienna State Opera House.
More about Vienna: PRACTICAL TIPS FOR VISITING VIENNA
HOW MANY DAYS DO YOU NEED TO VISIT VIENNA?
ONE DAY IN VIENNA I THE PERFECT 1 DAY ITINERARY
TWO DAYS IN VIENNA I THE PERFECT 2 DAY ITINERARY
Day 4: Visit the Hofburg Palace and the Belvedere Palace in Vienna.
Begin your day with a visit to the Hofburg Palace, the former imperial palace of the Habsburg dynasty. Take a guided tour of the palace to see the opulent imperial apartments, the impressive State Rooms, and the beautiful Spanish Riding School. Then, head to the Belvedere Palace, one of Vienna's most popular tourist attractions. Built in the 18th century, the palace is home to a world-renowned art collection, including works by Gustav Klimt. Spend the afternoon exploring the grounds of the palace, including the stunning Orangery Garden. In the evening, enjoy a traditional Austrian dinner at a local restaurant.
Hofburg Palace
The Hofburg Palace was once a royal residence and seat of government but is now a large palace complex that contains museums (such as the Sisi Museum and The Imperial Treasury), the Spanish Riding School, and other well-known landmarks in Vienna. How long you spend here will depend on your interests. You can explore the complex for free, or visit one or more museums.
If you do plan to visit some museums, you can skip the lines by purchasing your tickets to the Imperial Treasury.
The Vienna City Card offers a 7% discount on tickets to the Sisi Museum and Imperial Treasury. The Vienna Pass allows you to visit them for free.
Read my complete visitor's guide of the Hofburg Palace here (Best Things to Do, Travel Tips, and Best Tours):
THE HOFBURG IMPERIAL PALACE COMPLEX IN VIENNA, AUSTRIA
THE EMPRESS SISI MUSEUM IN THE HOFBURG IN VIENNA
The Spanish Riding School
You will absolutely adore the chance to see the breathtaking performances and stunning horses of the Spanish Riding School.
Top Tip: However, it's one of the most popular destinations in Vienna and can book up exceptionally quickly, so it's definitely something you will want to book in advance.
Address: Michaelerplatz 1, 1010 Wien, Austria
The school opens at 10 am, and can even watch teen boys take on rides, and on Sunday there is a service as well.
Book your tickets here: Performance Of The Lipizzans At Spanish Riding School
Another option is to book the Vienna Spanish Riding School Guided Tour. You will enjoy a look behind the scenes of the Spanish Riding School on this guided tour. Admire the stunning architecture of the centuries-old institution.
SPANISH RIDING SCHOOL IN VIENNA – SIGHTSEEING INFO AND TIPS
Schönbrunn Palace and the Schönbrunn Gardens
The Schönbrunn Palace is a beautiful baroque royal residence and a UNESCO World Heritage Site. It has a long history dating back to the Middle Ages. It was not only a residence of emperors and empresses, but also hosted important events and conferences. Famous people like six-year-old Mozart and Napoleon have been its guests.
The palace is one of Vienna's most visited attractions, so if you want to take a tour inside it, you can book a guided tour in advance and skip the lines.
Touring the Schönbrunn Gardens is free of charge, and you can easily spend a couple of hours wandering around the gardens.
There are also several other attractions that you can visit (for which there is an admission fee):
The historic Cafe Gloriette: Located on top of a hill, facing the beautiful gardens.
The Imperial Carriage Museum (you can get your ticket in advance here).
The Orangery Garden.
The Maze Garden.
The Palm House.
The Privy Garden.
The Vienna City Card offers a 7%-20% discount on tickets to the palace, maze garden, Cafe Gloriette, Imperial Carriage Museum, and Palm House.
The Vienna Pass offers free entrance to the palace, maze garden, and Imperial Carriage Museum.
More about Schönbrunn Palace: A QUICK TRAVEL GUIDE TO VIENNA'S SCHÖNBRUNN PALACE, VIENNA AUSTRIA
Coffee & Cake – Viennese Café Houses
One of the best things to do in Vienna is to drink a cup of coffee and eat cake.
There are many Viennese coffee houses to choose from, making it difficult to decide which ones to visit (even if you have 4 days in Vienna and can go to multiple places).
I would, however, make sure to visit Cafe Central (Herrengasse 14) and K & K Hofzuckerbäkerei Demel (Kohlmarkt 14). It's not just the amazing coffee and cakes but it's the entire atmosphere that feels elegant, sophisticated, and inviting all at the same time.
For the Viennese cakes and pastries, I would advise the famous Sacher Cake at Café Central and the Kaiserschmarrn (Austrian shredded pancake) at the Demel.
17 BEST DESSERTS IN VIENNA YOU MUST KNOW
Vienna State Opera
One of the finest operas in Europe, the Vienna Opera House is known for its first-class ballet and opera performances. Along with stunning Renaissance architecture that builds the perfect mood as you walk past some of the greatest artistic works in the world. 
If you want to see a concert, you can purchase your tickets on the opera's official website.
You can also take a guided tour and get to know the building's history and how the opera house works behind the scenes.
Address: Wiener Staatsoper GmbH, Opernring 2, 1010 Wien
T +43 1 514 44-2250
How to reach the Vienna State Opera by public transport?
Underground: U1, U2, U4 – Stop at KARLSPLATZ
Book your Ticket here: Vienna State Opera Skip The Line Tour Ticket
I do have a full Visitors Guide about the Vienna State Opera so if you head over to my article you will get to know all the essentials, like Opening Hours, How to buy Tickets, and the Vienna Opera Ball which takes place once a year.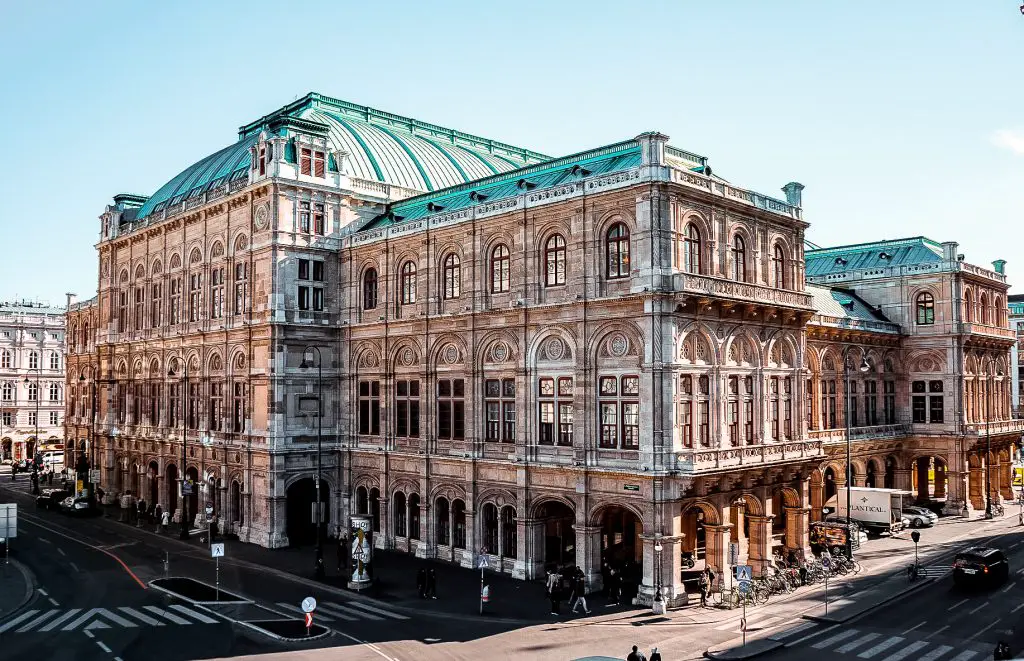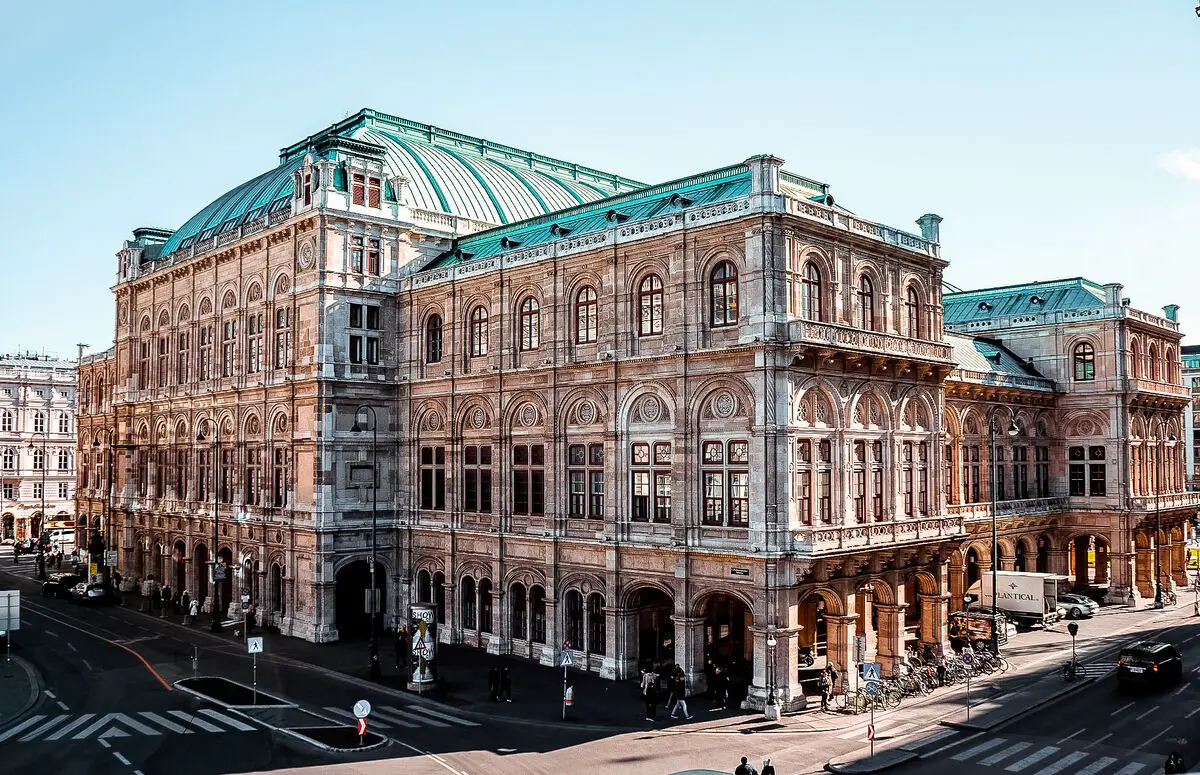 Day 5: Travel to Salzburg and explore the city's baroque architecture.
Depart for Salzburg, Austria. This baroque city is located on the Salzach River and is known for its picturesque setting and musical history. Spend the day exploring the city's many sights, including the Hohensalzburg Fortress, the DOM Cathedral, and Mirabell Palace. Be sure to sample some local cuisine, including the city's famous Mozartkugeln chocolates. In the evening, enjoy a performance of classical music or opera in one of Salzburg's historic venues.
Read more: ONE DAY IN SALZBURG ITINERARY, WHAT TO DO IN SALZBURG, AUSTRIA – A PERFECT DAY AND TOP SIGHTS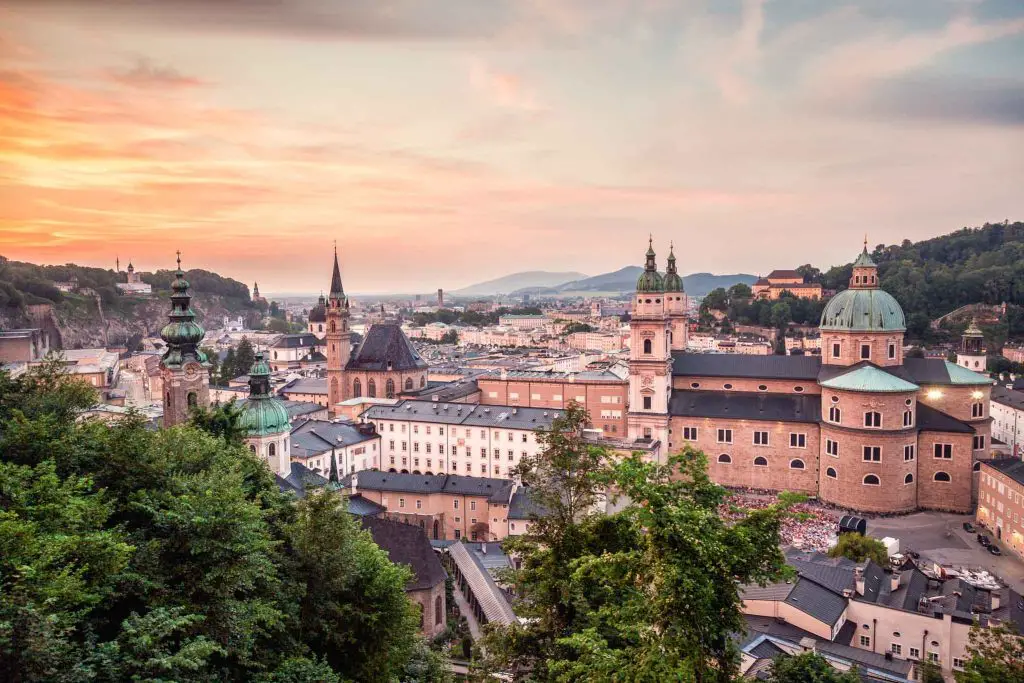 Day 6: Take a day road trip to the Hallstatt
On the sixth day of your Central European vacation, take a day trip to Hallstatt, the most beautiful village in the world. The Hallstatt village is located in the Austrian Alps,
To get to Hallstatt Village, you will take a 60-minute ride from Salzburg.
More Information: TOP 10 THINGS TO SEE AND DO IN HALLSTATT IN 2022, AUSTRIA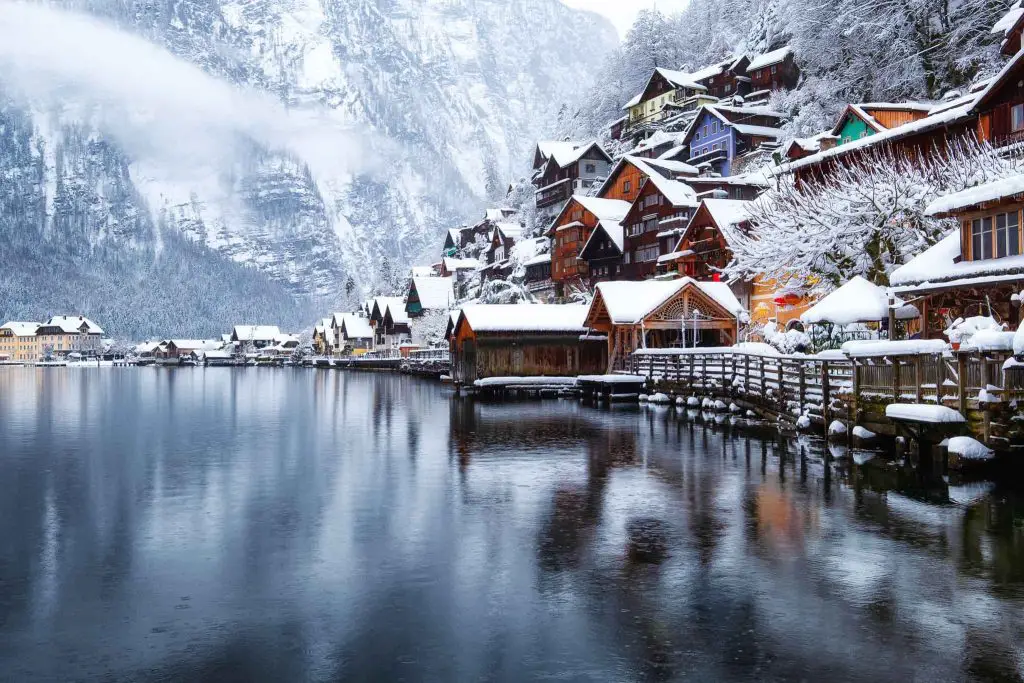 Day 7: Explore Innsbruck in Tyrol
After breakfast at the hotel, check out and board your private transfer for the approximately 2-hour journey to Innsbruck. 
Innsbruck is the capital city of the Austrian state of Tyrol and is located in the Inn Valley at the junction of the Wipptal (which it shares with the Italian province of South Tyrol) and the Stubai Valley. The city is an internationally renowned winter sports center and hosted the 1964 and 1976 Winter Olympics, as well as the 1984 and 1988 Winter Paralympics.
Upon arrival in Innsbruck, meet your local guide and begin your walking tour of the city center. Admire the baroque architecture of the Golden Roof, the symbol of Innsbruck and one of the city's most popular tourist attractions. Continue to the Imperial Palace, a former residence of the Habsburg Dynasty, before heading to the Maria-Theresien Strasse, the main shopping street in Innsbruck.
Later, enjoy some free time to explore Innsbruck at your own pace before returning to your hotel for the night.
Read my complete visitor's guide of the Innsbruck here (Best Things to Do, Travel Tips, and Best Tours):
16 BEST THINGS TO DO IN INNSBRUCK, AUSTRIA – TOP INNSBRUCK ATTRACTIONS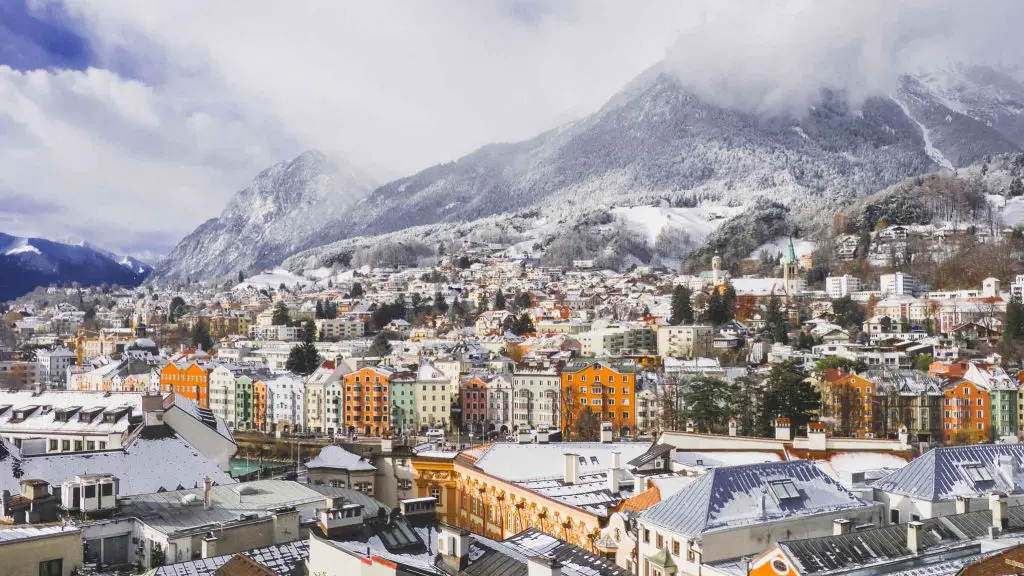 Day 8: Explore Munich, including the city's Hofbräuhaus brewery.
Munich is a city rich in culture and history, with plenty to explore. Start your day at the Hofbräuhaus, one of the city's most famous breweries. Afterward, wander around the city and explore some of the many historical landmarks. Be sure to visit the Marienplatz, the city's main square, and see the Glockenspiel, a large clock with figures that perform a dance. You can also visit the Frauenkirche, a large Gothic church, and the Residenz, a former royal palace. If you're interested in art, be sure to check out the Alte Pinakothek, one of the oldest art museums in the world. In the evening, grab a bite to eat at one of the city's many restaurants, or enjoy a beer or glass of wine at a local bar.
More Info: Official Munich Tourism Portal
3 DAYS IN MUNICH – BEST MUNICH ITINERARY
Day 9: Drive to Budapest and explore the city
After breakfast, depart for Budapest, the capital of Hungary. Upon arrival, explore the city with a local guide. Visit the Parliament Building, St. Stephen's Basilica, and the Fisherman's Bastion. In the afternoon, enjoy a cruise on the Danube River. The evening is free to explore the city at your own pace. Overnight in Budapest.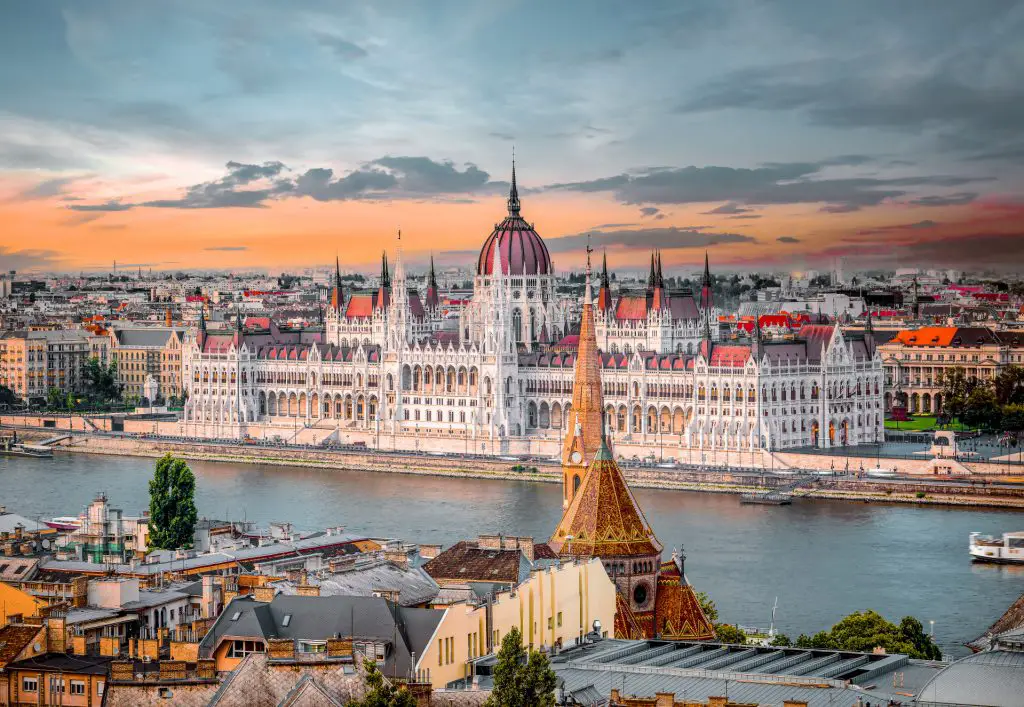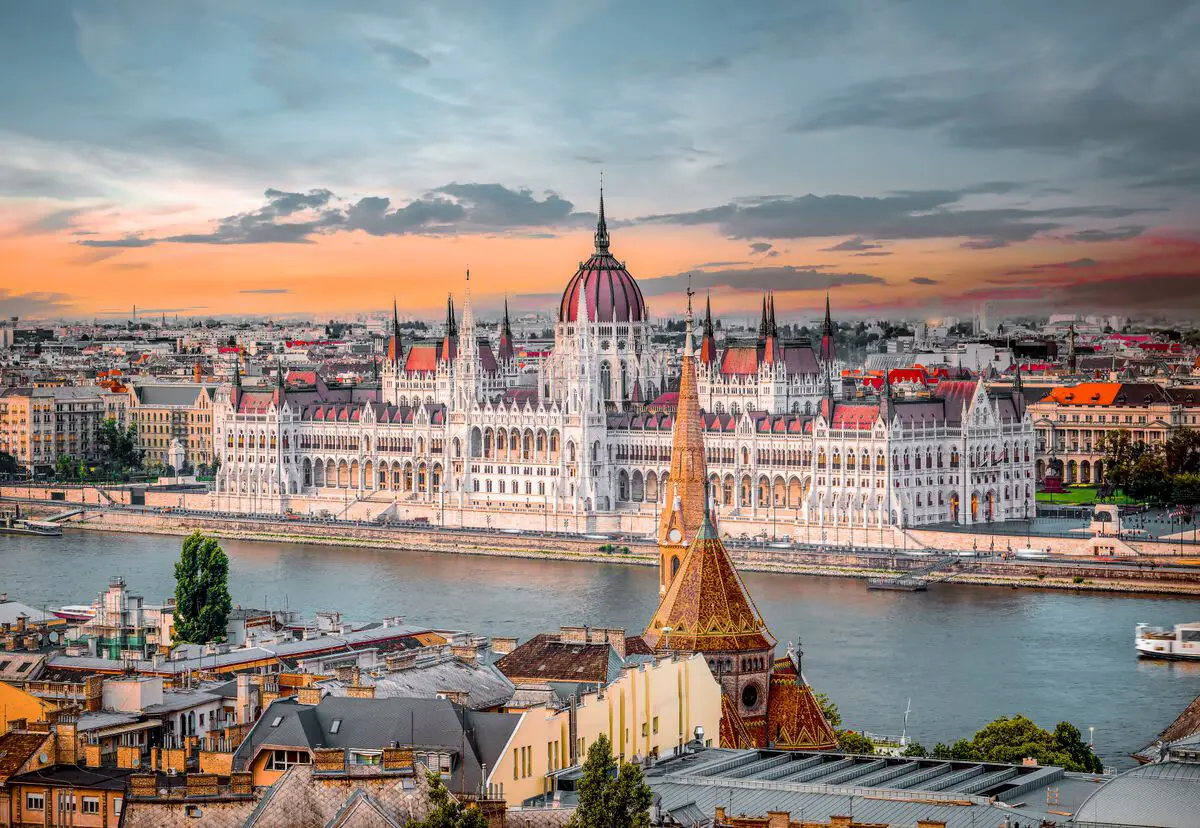 Did you know Budapest is actually a blend of two cities – Buda (hilly side) and Pest (flat side)?
Buda and Pest were two separate cities until 1873 when they were united to form the city of Budapest. Although they are now one city, they still maintain their own distinct personalities. Buda is on the hilly side of the city and is home to many of the city's historic landmarks. Pest is the flat side of the city and is the more modern and cosmopolitan side.
More on Budapest Travel Information:
BUDAPEST – TOP THINGS TO DO AND SEE FOR A MAGNIFICENT CITY TRIP TO HUNGARY (VIDEO GUIDES)
3 DAYS IN BUDAPEST – COMPLETE BUDAPEST ITINERARY
15 BEST PHOTOGRAPHY SPOTS IN BUDAPEST, 50+ PHOTOS! HIDDEN GEMS! VIDEO!
Enjoy a Sightseeing City Tour in Budapest
Budapest Tuk Tuk Sightseeing City Tour. Budapest Tuk Tuk is unique because it offers a totally private experience, only two people can ride the Tuk Tuk. You can choose where to go or you can change the planned route according to your individual taste. During the ride, the driver (who is also a professional tour guide)  tells all about the city including beautiful hidden spots.
More Information: BUDAPEST PRIVATE SIGHTSEEING CITY TOUR, TRAVEL GUIDE TUK TUK, HUNGARY
Day 10: Depart Central Europe.
After a final breakfast in Central Europe, it's time to say goodbye and begin your journey home. If you're departing from Prague, be sure to leave plenty of time to catch your flight. We hope you've enjoyed your time in this beautiful and historic part of the world!
How Long to Spend in Central Europe?
Assuming you would like to stick to the more central countries of Europe, we recommend spending at least 10 days in the region. This gives you enough time to explore the major cities and some of the smaller towns without feeling rushed. A suggested itinerary could include spending a few days in Prague to see the Old Town Square and other attractions, followed by stops in Vienna, Budapest, and Kraków. You could also add on other destinations such as Dresden or Munich if you have the time.
What cities should I visit in Central Europe?
If you're planning a trip to Central Europe, there are a few cities you definitely won't want to miss. Vienna, Austria is a great place to start – it's full of culture and history, and there's plenty to see and do. A day trip to Prague in the Czech Republic is also a must-see – be sure to check out the astronomical clock in the city center and the old town hall. And of course, no trip to Central Europe would be complete without a stop in Budapest, Hungary. The town hall is a must-see, and there are plenty of other sights and attractions to keep you busy.
DAY TRIP TO PRAGUE FROM VIENNA – ONE-DAY ITINERARY
When to visit Central Europe?
Central Europe is a region that is best visited during the shoulder seasons of spring and fall. This is when the weather is mild and there are fewer crowds. However, if you are interested in winter sports, then the best time to visit would be during the winter months.
Getting Around Central Europe
There are many ways to get around Central Europe. You can rent a car and drive from country to country, or take trains or buses between cities. If you're planning a trip to multiple European countries, you may want to consider a Europe-wide itinerary. Vienna, Budapest, and Prague are all popular destinations in Central Europe, and there are many other European countries nearby to explore as well. 🚘 Rent a car on Rentalcars
Plan your Road Trip?
Have you considered a road trip through Europe to experience European Christmas markets?
If you're looking for a unique Christmas experience, why not try a road trip through Europe to visit some of the continent's famous Christmas markets? With their festive atmosphere and abundance of holiday cheer, these markets are a great way to get into the Christmas spirit.
There are Christmas markets all over Europe, so you'll have plenty of options to choose from. Some of the most popular markets are located in Germany, France, and Austria. But no matter where you go, you're sure to find plenty of festive stalls selling everything from traditional Christmas decorations to tasty holiday treats.
So if you're looking for a festive and fun-filled Christmas adventure, be sure to consider a road trip through Europe to experience some of the continent's best Christmas markets.
More Information: TOP 10 CHRISTMAS MARKETS IN EUROPE YOU NEED TO VISIT IN 2022
Conclusion
If you're looking to explore some of the best that Central Europe has to offer, then this 10-day Central Europe itinerary is a great place to start. From the stunning scenery of the Swiss Alps to the historic city of Prague, there's something for everyone to enjoy. So, what are you waiting for? Pack your bags and get ready for an unforgettable adventure.