Last Updated on September 2, 2023 by gregor
In today's bustling world, hidden havens of tranquility and luxury are few and far between. Yet, nestled in Bulgaria's scenic Melnik region lies one such paradise – the Zornitza Family Estate. Over a thrilling two days, I embarked on a journey that unraveled the estate's manifold wonders.
Immerse yourself in the authentic luxury of the Zornitza Family Estate Relais Châteaux in Bulgaria
The Majestic Location – Château
 Bulgaria, with its diverse landscapes and rich heritage, has always been a beacon for seasoned travelers.
Upon arriving at Zornitza, the estate's topographical splendor was instantly arresting. Enveloped by the magnificent Melnik hills and endless vineyards, the Zornitza Family Estate seemed like a painter's dream brought to life. Nature here plays the dual role of artist and muse.
Morning welcomes a gentle mist, glistening over vine leaves, while evenings are aglow with sunsets that paint the skies in hues of orange and gold. Everywhere you look, there are panoramic views – a visual banquet for the senses. But beyond the aesthetics, it's the feeling of serenity that takes center stage. 
Villa & Boutique Hotel
Stepping into my suite, I felt like royalty. The Estate's philosophy of harmonizing tradition with modernity was evident in every nook. Handcrafted furniture, artworks echoing Bulgarian culture, and panoramic windows seamlessly converged to create a sanctuary of luxury.
 Every aspect of the room, from the plush bedding to the ambient lighting, was meticulously curated. The bathroom, with its freestanding tub and high-end toiletries, begged for a long, leisurely soak.
I was particularly impressed with the room's tech features. Automated curtains, climate control, and a state-of-the-art entertainment system added layers of convenience to the opulence.
Gourmet Delights at Zornitza Family Estate
Bistro 55: A Culinary Adventure 
I ventured to the Bistro 55 at the Zornitza Family Estate Relais & Châteaux. This place is a dream – stylish, eclectic, and oh-so-inviting!
The menu is a flavorful fusion of Bulgaria, Asia, and America. Special shoutout to their unique Shopska salad and the original-style Caesar salad with pancetta. Don't miss their curated wine list and off-the-menu specials on their blackboard!
Tucked above the tranquil ZOMA body & soul, it's not just about great food, but the experience. Open daily from 8:30 to 23:00. 
aEstivum: A Haven of Luxury and Flavor
Let me whisk you away to a place that's quickly become my little haven of delight: the aEstivum restaurant. From the moment I stepped in, I was immersed in a realm of serenity and pure luxury.
With chic interiors and tranquil background tunes, this restaurant effortlessly melds style with comfort. And those tall windows? They serve up the most breathtaking views of nature – it's like being wrapped in a canvas of beauty.
Now, for the foodie in me (and all of you), the menu is truly divine. The name aEstivum, hinting at summer truffles (yes, that luxurious treat!), is a nod to the experience you can expect. I savored truffle-infused dishes, from refreshing salads to decadent desserts. And for my wine lovers, prepare to be spoiled with a selection of almost 300 wines from both local and international vineyards.
Although the indoors is captivating with its 34-seat arrangement, the vast terrace is just as tempting for those who love al fresco dining. As a touch of class and consideration, they've kept the ambiance refined by encouraging visits from guests with children over 12.
If you're looking for an exquisite dining escape at the Zornitza Estate, aEstivum is it!

The Vineyards and Wine Tasting
Bulgaria's wine heritage dates back millennia, and Zornitza's vineyards are a testament to this legacy. Over an expansive 50 hectares, the winery vineyards are a haven for several indigenous and international grape varieties.
The wine cellar, with its barrels lined meticulously, bore the aroma of aging wines. I was treated to a tasting session where each glass told a unique tale. From the robust Mavrud to the delicate Sandanski Misket, Zornitza's wines are a liquid anthology of Bulgaria's viticulture brilliance.
The Melnik Earth Houses
Melnik, Bulgaria's smallest town, is famed for its earth houses. These architectural marvels, characterized by their quaint appearances and subterranean designs, have stood the test of time. 
At Zornitza, the estate pays tribute to this heritage. Several earth houses, restored to perfection, offer guests a taste of historical luxury. I spent an afternoon in one such house, marveling at the craftsmanship of yesteryear and relishing the cool comfort provided by the thick walls.
ZOMA Spa and Relaxation
The design, drawing inspiration from nature, featured stones, woods, and water elements, instilling a sense of calm.
Over three hours, I indulged in treatments that combined age-old Bulgarian wellness rituals with contemporary spa techniques. A herbal sauna, using aromatic herbs from the estate's gardens, detoxified and refreshed. This was followed by a massage, where expert hands kneaded away the knots of stress, transporting me to realms of bliss.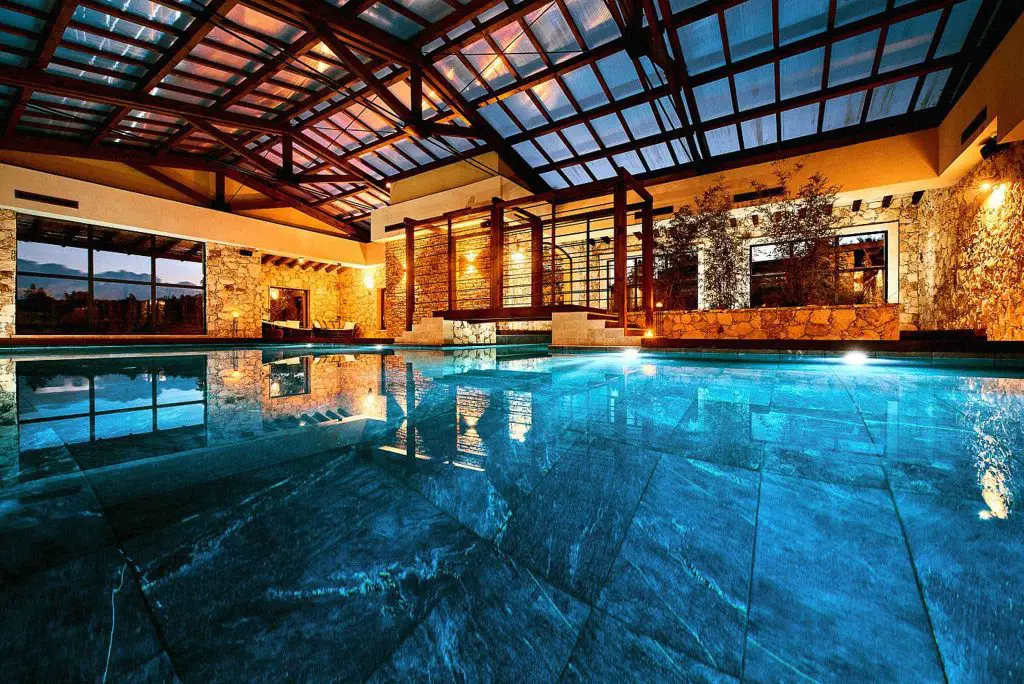 Sustainable Eco-farm and Eco-friendly Practices
Sustainability is the estate's silent mantra. From rainwater harvesting systems to energy-efficient designs, Zornitza's eco-consciousness shines through.
The farm-to-table approach at aEstivum & Bistro55 ensures fresh produce while reducing carbon footprints. The estate's beekeeping traditions not only produce exquisite honey but also play a pivotal role in local biodiversity conservation. The commitment to eco-friendliness is not a mere tick-box exercise here; it's a deeply ingrained ethos.
Activities and Excursions
While relaxation is a major draw, Zornitza is brimming with activities for the adventurous soul. I started my day with a horseback ride, exploring trails that meandered through vineyards and forests. The estate also offers pottery classes, where I tried my hand at crafting traditional Bulgarian ceramic ware.
Melnik's proximity means historical excursions are just a short drive away. I visited the Rozhen Monastery, an architectural masterpiece from the 13th century, and the Kordopulova House, an iconic example of Bulgarian National Revival architecture.
The Conclusion of my Stay at Zornitza Family Estate
Zornitza Family Estate transcends the conventional definitions of a luxury resort. It's a confluence of nature, heritage, gastronomy, and wellness. My two days, filled with myriad experiences, were a journey of revelations. As I departed, the estate left me with memories, and more importantly, a promise of return.
In an ever-globalizing world, where authentic experiences are sought after, Zornitza stands tall as a beacon of genuine luxury, beckoning travelers from across the globe.
Deals for Zornitza Family Estate Contact  – Details & Bookings
Want to book your slice of paradise? Dive into the resort's offerings and make your reservations here
Zornitza Family Estate
2821 Zornitza Village, Melnik Area, Bulgaria
T +359 877 762 217
Online Bookings: https://zornitzaestate.reserve-online.net/
Frequently Asked Questions
Q: What is the Zornitza Family Estate Relais Châteaux?
A: The Zornitza Family Estate is a luxury hotel located in Melnik, Bulgaria. It is part of the Relais & Châteaux group, known for its exceptional hospitality and unique properties.
Q: Where is the Zornitza Family Estate located?
A: The Zornitza Family Estate is located in Melnik, a town in southern Bulgaria.
Q: What amenities does the Zornitza Family Estate offer?
A: The Zornitza Family Estate offers a range of amenities, including an outdoor pool, terrace, tastings at the Villa Melnik winery, on-site parking, and a 24-hour front desk.
Q: Is parking available at the Zornitza Family Estate?
A: Yes, the Zornitza Family Estate offers free parking for guests.
Q: Are there family rooms available at the Zornitza Family Estate?
A: Yes, the Zornitza Family Estate has family rooms available for guests.
Q: Does the Zornitza Family Estate provide an airport shuttle service?
A: Yes, the Zornitza Family Estate offers airport shuttle service for guests.
Q: Does the Zornitza Family Estate have an indoor pool?
A: Yes, the Zornitza Family Estate has an indoor pool for guests to enjoy.
Q: Can I request an extra bed in my room?
A: Yes, you can request an extra bed in your room. Please note that additional charges may apply.
Q: Does the Zornitza Family Estate have a restaurant?
A: Yes, the Zornitza Family Estate has a gourmet restaurant called aEstivum, as well as Bistro 55 for a more casual dining experience.
Q: Are there wine tastings available at the Zornitza Family Estate?
A: Yes, guests can enjoy wine tastings at the Villa Melnik winery, located on the property.
Q: Is there an airport shuttle service available?
A: Yes, the Zornitza Family Estate offers an airport shuttle service for the convenience of their guests.
Q: Are there any family rooms available at the Zornitza Family Estate?
A: Yes, the Zornitza Family Estate offers family rooms, providing ample space for families to enjoy their stay in Bulgaria.
Q: What are the check-in and check-out times?
A: Guests can check in at the Zornitza Family Estate from 2023 onwards. Check-out time is at the hotel's 24-hour front desk.
Q: What is the policy for special requests?
A: Special requests are subject to availability upon check-in and may apply additional charges.
Q: Are there any amenities provided in the rooms?
A: The rooms at the Zornitza Family Estate include amenities such as mineral water, a minibar, and views of the mountain.