Last Updated on September 2, 2023 by gregor
Nestled on the sun-drenched coasts of Chalkidiki, Greece, a region known for its trident-like peninsulas and an inviting Mediterranean climate, is a destination that embodies luxury and tranquility – the Miraggio Thermal Spa Resort. 
As a travel journalist, I've meandered through numerous resorts, but my 5-day sojourn at Miraggio was nothing short of spellbinding. Let me take you on this immersive journey if you're contemplating a Grecian getaway.
Miraggio Thermal Spa Resort
Situated conveniently in Kanistro, Paliouri, its location provides the perfect escape from the usual tourist hustle while still being accessible. This corner of Chalkidiki, with the Aegean Sea as its backdrop, guarantees that the beach lover, the nature enthusiast, and the luxury seeker in you will all be equally satiated.
Every trip starts with the anticipation of the destination, and the approach to Miraggio does not disappoint. Hugging the crystal-clear shores, the resort promises serene sea views, beautiful sunrises, and a secluded oasis feeling. 
The Grand Entrance – a blend of modern luxury with Grecian charm
Imagine a blend of modern luxury with Grecian charm, that's what the Miraggio entrance evokes. As you pull into the property, you're greeted with a blend of earthy tones, elegant design, and the scent of the surrounding flora. From the grand archways to the intricate detailing, every aspect is designed to give guests a taste of the opulence within.
Accommodations: Rooms & Club Rooms
Rooms
Each room in the Miraggio is a blend of comfort and style. Think plush bedding, expansive views of the sea or the resort gardens, and state-of-the-art amenities. Every morning, I found myself sipping my coffee on the balcony, soaking in the sunrise.
Club Rooms & Suites
Elevate that experience, and you get the Club Rooms. With larger spaces, bespoke interior design, and priority services, staying here feels like owning a piece of Grecian paradise.
Miraggio & Miraggio Club
At its core, Miraggio is about unparalleled luxury. But for those seeking that extra touch, there's the Miraggio Club. While both offer premium experiences, the Club adds layers of exclusivity. Think of it as having a VIP pass to the best of Chalkidiki's luxuries.
 Miraggio Club Benefits and amenity
Membership to the Miraggio Club isn't just about a room upgrade. It's about an experience upgrade. From the moment you step in, the perks make their presence felt:
A heartwarming welcome compliment.
Exclusive access to the "Thalasso Circuit Experience".
Sumptuous breakfast at Eliá Restaurant.
Handpicked luxury gifts, including a beach tote and cap.
A turn-down service that feels right out of a fairy tale.
Coco-Mat's Pillow and Mattress Menu ensures a dreamy sleep.
A private beach segment with unparalleled VIP Service.
Abahna bathroom amenities add an extra touch of luxury.
Dedicated concierge for personalized services.
And for those indulging in a longer stay (5 nights or more), there's the added luxury of complimentary shuttle transfers to and from the Thessaloniki airport.
Myrthia Thermal Spa: An Oasis of Wellness at Miraggio Thermal Spa Resort
In the heart of Miraggio Thermal Spa Resort, nestled amidst the pristine beauty of Chalkidiki, is Myrthia Thermal Spa – an emblem of rejuvenation and serenity. This sanctuary, fueled by the therapeutic wonders of thermal waters, offers a holistic approach to wellness, marrying ancient Greek spa traditions with contemporary treatments. Join me as I dive deep into the healing embrace of Myrthia.
The Essence of Myrthia
The name 'Myrthia' draws inspiration from the rich water source – a combination of the sea ('Myrtoon') and thermal springs. This harmonious blend promises a unique wellness experience, tapping into the curative properties of nature.
The Power of Thermal Waters
Myrthia isn't just any spa; it's rooted in the ancient Greek belief in the therapeutic powers of water. The spa's thermal waters are rich in minerals, providing a range of health benefits:
1. Skin Rejuvenation: The minerals present in the water can cleanse, purify, and revitalize the skin, giving it a youthful glow.
2. Muscular Relief: Warm thermal waters are known to soothe aching muscles, making it perfect for those seeking relief from physical stress or pain.
3. Enhanced Circulation: Immersion in these waters can stimulate blood flow, enhancing overall circulation.
4. Mental Relaxation: Beyond the physical, the serene ambiance and therapeutic waters offer mental relaxation and rejuvenation.
Signature Treatments and Services
Myrthia goes beyond traditional spa treatments to offer a spectrum of services, tailored to individual needs:
1. Thalassotherapy: A treatment that harnesses the rejuvenating properties of seawater, rich in minerals and trace elements. It's known for detoxifying and revitalizing the body.
2. Rasul Bath: An Oriental purifying ritual, where mineral-rich mud, heat, and steam work in tandem to provide deep skin cleansing.
3. Private Thermal Suites: For those seeking an exclusive wellness experience, the private suites with personalized treatments offer the perfect escape.
4. Face and Body Treatments: Using premium skincare brands like Valmont and Cinq Mondes, the spa offers a plethora of treatments aimed at revitalizing and rejuvenating the skin.
5. Fitness and Rehabilitation: Beyond relaxation, the spa houses a state-of-the-art fitness center and offers specialized rehabilitation treatments.
Design and Ambiance
Myrthia Thermal Spa has been meticulously designed to embody tranquility. Spanning a vast 3,000 sq.m., its interiors are inspired by nature – from the use of natural materials to the soothing color palette. The spa consists of:
– 7 contemporary treatment rooms
– 4 private thermal suites
– A VIP suite for couples
– Separate thermal areas for men and women
The serene ambiance, combined with panoramic views of the Toroneos Gulf, ensures that guests are enveloped in peace from the moment they step in.
Wellness Workshops and Retreats
Recognizing that wellness is an ongoing journey, Myrthia organizes regular workshops, retreats, and programs. These range from yoga sessions overlooking the sea to meditation workshops, nutrition consultations, and more. It's all about equipping guests with the tools to lead a balanced life, even beyond their stay.
In Conclusion
Myrthia Thermal Spa isn't just a destination; it's an experience. It's where the age-old wisdom of Greek wellness traditions meets the luxury of modern treatments. Whether you're looking to escape the stresses of daily life, rejuvenate your skin, or embark on a holistic wellness journey, Myrthia promises to be your sanctuary. As you step out, revitalized and refreshed, you'll carry a piece of this Grecian oasis with you, making it a memory worth cherishing.
A Culinary Journey at Miraggio Thermal Spa Resort: Savor the Flavors of Greece and Beyond
Miraggio Thermal Spa Resort doesn't just serve meals; it offers an exquisite culinary journey. Situated amidst the picturesque beauty of Halkidiki, the resort's dining experiences seamlessly blend the rich flavors of Greece with international gastronomy. Let me guide you through the dining establishments at this luxurious haven, where each bite tells a story.
Kritamo Buffet Restaurant
Setting: Kritamo captures the essence of a seaside Greek taverna, with a stunning view of the Toroneos Gulf serving as its backdrop. 
Cuisine: Authentic, with a focus on fresh, locally sourced ingredients. Seafood lovers, in particular, are in for a treat. Each dish celebrates the region's traditional flavors while embracing modern culinary techniques.
Experience: Picture yourself savoring a plate of freshly grilled fish, a glass of white wine in hand, with the Aegean breeze gently ruffling your hair. That's Kritamo for you!
Sommelier's 8
At Sommeliers' 8 Meat & Wine Bar, our chef sets our expectations at the highest level. Authentic steakhouse with an abundance of meat selections, all masterfully grilled and highly flavorful as befits the identity of this restaurant. Mastering the art of haute meat cuisine with excellent quality meats, our Chef cooks simply, and frugally, and always combines with quality raw materials.
Portofino Restaurant – Italian
Setting: Portofino transports you to Italy's charming coasts, where the spirit of the Riviera comes alive.
Cuisine: True to its name, the restaurant offers the best of Italian cuisine. From wood-fired pizzas to handmade pasta and risottos, each dish is a testament to the rich culinary heritage of Italy.
Experience: As you bite into a slice of Margherita, with its rich tomato sauce, melted mozzarella, and fragrant basil, it's easy to imagine yourself in a quaint Italian village, with the serenades of amore playing in the background.
Oasis Pool Restaurant
Setting: As the name suggests, Oasis sits by the pool, offering a refreshing, laid-back ambiance perfect for a midday meal or a relaxed evening.
Cuisine: A blend of Mediterranean and international flavors. Whether you're in the mood for a light salad, a juicy burger, or a classic Greek gyro, Oasis caters to diverse palates.
Experience: After a rejuvenating swim, there's nothing quite like settling down with a cool drink and a plate of delectable snacks, with the water's shimmer and the sun's glow keeping you company.
Toroneo Seafood Restaurant
Setting: Overlooking the serene marina, Toroneo champions the sea's bounty.
Cuisine: Seafood at its finest. Fresh catches of the day are transformed into gourmet dishes, where traditional Greek seafood preparations meet contemporary flair.
Experience: Indulge in a plate of tender calamari or succulent prawns, paired with a crisp white wine, as you watch yachts gently bobbing in the marina.
Elia Restaurant Breakfast – Only for Club Members
Setting: Elia exudes elegance and warmth, with its chic interiors and a welcoming ambiance.
Cuisine: A sumptuous buffet that covers the globe. From Greek specialties to Asian, European, and American delights, Elia's spread is truly international.
Experience: Begin your day with a hearty breakfast, choosing from a wide array of options
Horizons Roof Garden & Bar
Setting: Perched on the resort's roof, Horizons offers panoramic views of the sea and the skies.
Cuisine: A curated menu of snacks and light bites, complemented by an extensive beverage menu. From cocktails to wines and spirits, there's something for every mood.
Experience: As the sun sets, painting the sky in hues of gold and crimson, sip on a cocktail, and let the evening's magic envelop you.
My Conclusion
Miraggio Thermal Spa Resort offers more than just meals; it offers memories. Each restaurant and bar is carefully curated, ensuring that guests experience the finest flavors while soaking in the resort's beauty. Whether you're a gourmand, a casual diner, or someone in between, Miraggio promises a culinary journey that tantalizes the taste buds and warms the soul.
Diving into Serenity: My Personal Experience at Miraggio Thermal Spa Resort's Beaches and Pools
The very essence of a luxurious escape is encapsulated by the Miraggio Thermal Spa Resort, set against the breathtaking backdrop of Halkidiki. On my recent visit, I was particularly drawn to its diverse aquatic offerings, ranging from the sun-kissed private beaches to the enticing, opulent pools. Here's a deep dive into my personal escapade amidst these serene waterscapes.
My Day at the Private Beach
A Hidden Haven: As I meandered down to the resort's private beach, I was met with a vision of gold and blue. Nestled in a sheltered cove, this stretch of sand and sea felt like my own secret slice of paradise.
Waves and Whims: The gentle waves of the Toroneos Gulf lapped at my feet, while the beach's gradual incline made me feel at ease, especially when I saw families with young kids frolicking nearby.
Served in Style: Lounging on the plush sunbed, with an umbrella shading me just right, I took advantage of the impeccable beachside service. The chilled mocktail served was the cherry on top of my beach day!
Floating in the Lagoon-style Main Pool
Picturesque Pooling: The resort's main pool, sprawling in a beautiful lagoon design, quickly became my favorite spot. I found a tranquil nook under a palm tree, perfect for reading and occasional dips.
Gastronomic Delights: The proximity of the Oasis Pool Restaurant was a boon. I indulged in some crispy snacks and couldn't resist the allure of a minty mojito while dangling my feet in the cool pool waters.
The Unique Seawater Pool Experience
A Salty Sojourn: Next to the beach, I discovered the seawater pool, a sanctuary filled with the Aegean's essence. Floating in it, I felt a rejuvenating difference, a gentle embrace of wellness.
Frolic at the Kid's Pool
Childlike Joys: Though I didn't travel with children, I spent a few moments watching the giggles and splashes at the dedicated kid's pool. It warmed my heart to see the tiny tots enjoying their safe haven under the watchful eyes of lifeguards.
The Luxury of Private Pools
A Peek into Privacy: While I didn't stay in a suite with a private pool, I managed a sneak peek. The sheer elegance and privacy they offered were undeniably tempting for my next visit.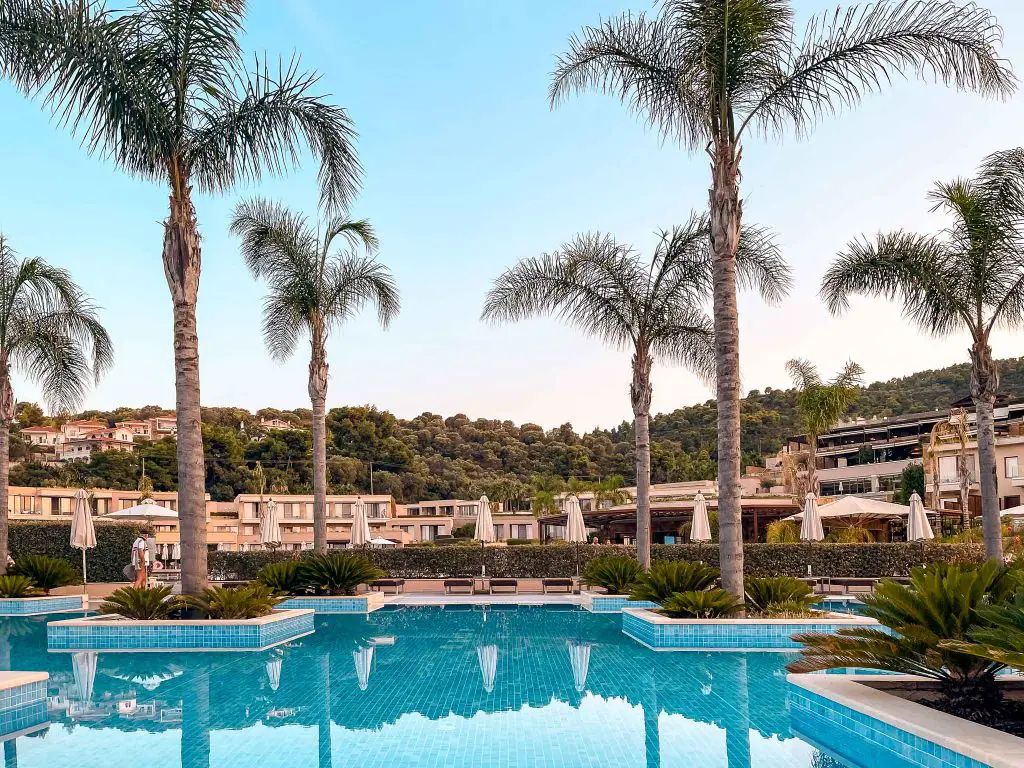 In Retrospect:
My aquatic adventures at the Miraggio Thermal Spa Resort were more than just dips and dives; they were memories etched in water. From the golden sands of the private beach to the lagoon's inviting blues, each moment was a serene embrace I wish to relive. If you're planning a trip, do ensure your swimsuit is the first thing you pack! You'll thank me later.
Experiences
Miraggio believes in curating memories. Whether it's a yacht trip into the sunset, a diving expedition, or a trek into Halkidiki's untouched corners, every experience is carefully crafted. Each day of my stay brought with it a new adventure, a new story.
The Marina
The resort's marina is a nod to the region's maritime heritage. Here, luxury yachts find their home, and guests can indulge in chartering services, ensuring that the Aegean is explored in style.
Exclusive Offers of the Miraggio Thermal Spa Resort
For those looking to elevate their stay, the resort constantly curates special packages and promotions, ensuring that luxury is accessible.
Kids & Family
This haven isn't just for adults. Kids can indulge in tailored activities, from craft sessions to kid-friendly treks, ensuring that every member of the family finds their slice of joy.
My Conclusion
As I packed my bags on the fifth day, Miraggio wasn't just a resort I stayed in. It was an experience, a story, a memory etched in the sands of Halkidiki's shores. If Greece is on your bucket list, let Miraggio be your host. You won't just discover a resort; you'll discover a piece of yourself.
Miraggio Thermal Spa Resort Contact Details
Want to book your slice of paradise? Dive into the resort's offerings and make your reservations here
MIRAGGIO THERMAL SPA RESORT
Kanistro, Paliouri, Halkidiki 63085, Greece
T. (+30) 2374 440000 | F. (+30) 2374 440001
Website: https://www.miraggio.gr/en/
For reservations: [email protected]
Considering a trip to the Miraggio? Here are a few pointers:
Best Time: Spring and early summer offer the perfect balance of pleasant weather and fewer crowds.
Special Packages: The resort often has wellness packages. They're perfect for a rejuvenating vacation.
Packing: While the resort provides most amenities, good sunblock, beachwear, and comfortable shoes for exploration are must-haves.