Last Updated on March 16, 2023 by gregor
Austria was once at the center of the Habsburg Empire, which covered everything from Russia to France. This is why Austria has embraced many ethnic dishes when it comes to cuisines. The range of dishes from all across Europe showcases Vienna's multicultural influence. For instance, the coffee-drinking tradition was brought to Vienna by the Turkish Army. Similarly, there are a number of other dishes that have been brought in from all around Europe that is today a huge part of the Viennese food culture. The Viennese dishes are packed with local flavors, yet offer a great twist when it comes to taste.
The next time you are in Vienna, we suggest you try out some of the ultimate top ten Viennese Foods we have listed down, otherwise, you will be missing out on a complete experience. These dishes are what make the city all the more special.
Sachertorte
The Sachertorte is an iconic cake that was invented in 1832, by Franz Sacher. Working as an apprentice cook at the tender age of 16, and after the head chef got ill, Sacher had to take over baking special desserts for Prince Klemens von Metternich, and his guests. The famous desert consists of a dense chocolate cake with a thin layer of apricot jam in the middle and coated in dark chocolate icing. The cake is originally served with a twirl of whipped cream. Sacher passed on his legacy to his son, who was really responsible for bringing out the cake to the level of prestige it enjoys nowadays. The cake is so famous, that there is even a National Sachertorte Day on December 5th dedicated to it.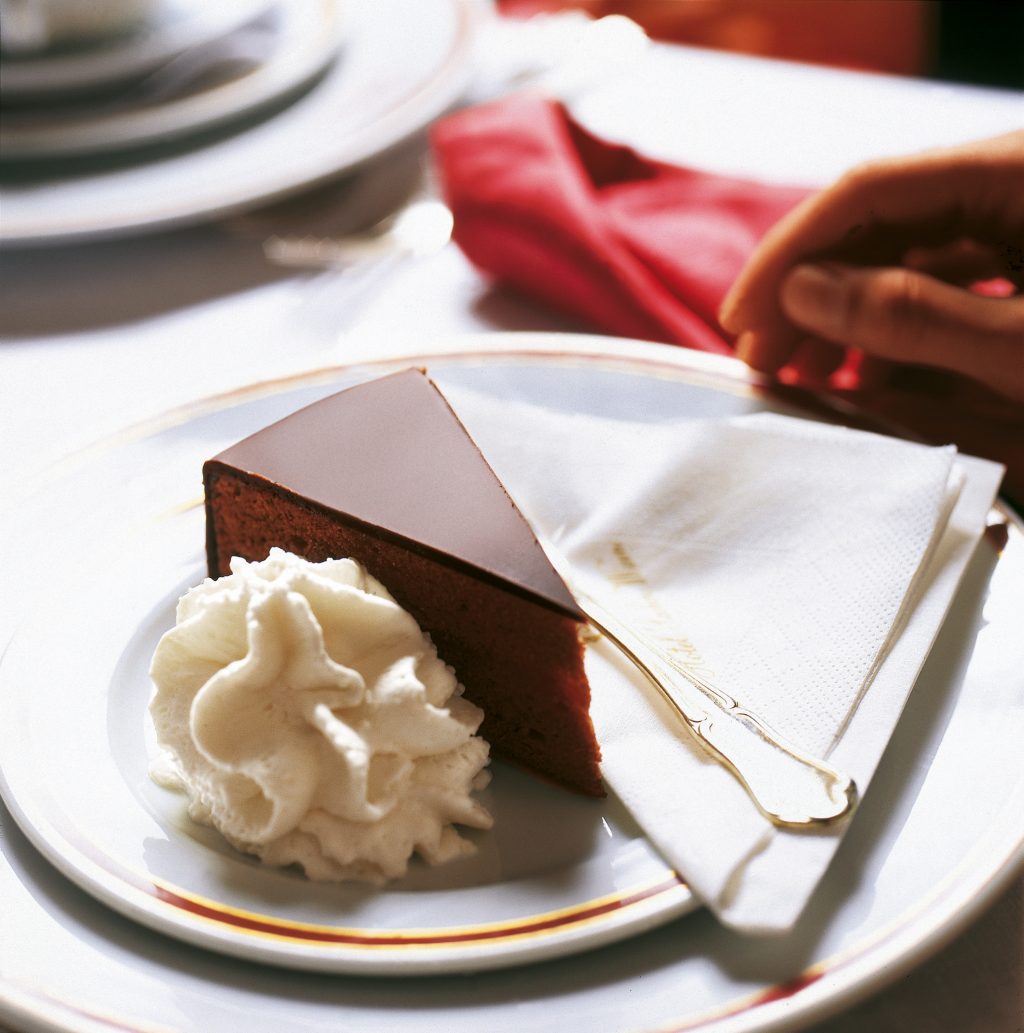 Apfelstrudel
The Apfelstrudel is a classic and one of the best-known pastries in the country. The Apfelstrudel features a super thin and crisp pastry, which is much like filo. The filling is rolled inside, and the dish is traditionally served with the swirls showing off using the pastry, along with apples. The filling inside the Apfelstrudel is made using sugar, cooking apples, raisins, cinnamon, and bread crumbs. The final result is a perfect mixture of a flaky and crumbles topping, and a stodgy filling. With each bite, you can taste the sweetness of the fresh apples and the flaky pastry. Vienna is known for the little cafes found on almost every street, as they are a huge part of the culture.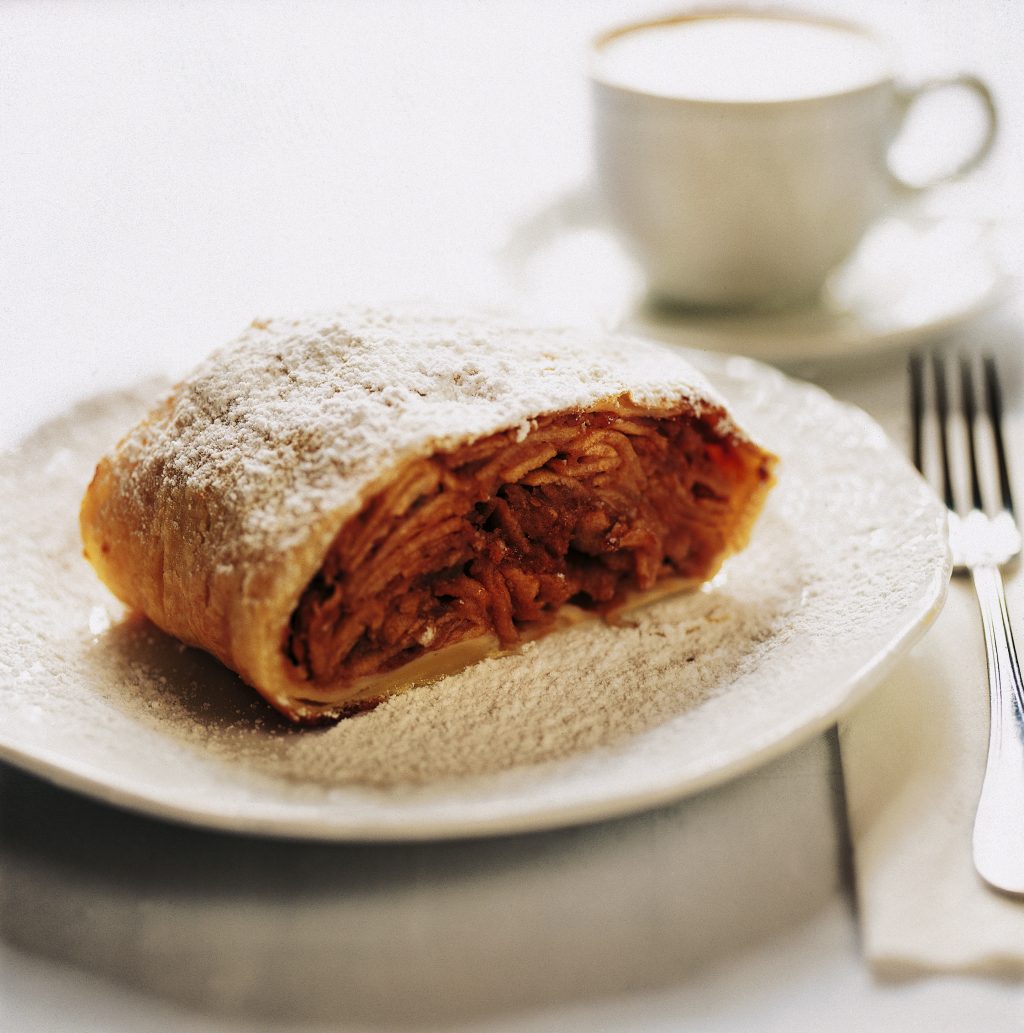 Wiener Schnitzel
The Wiener Schnitzel is one of the most famous dishes in Vienna and was traditionally made using veal. However, the Schnitzel is made today using chicken, pork, and even turkey meat. Moreover, if you are looking for an all-authentic experience, then you should try the one made with veal and serve, together with some redcurrant jelly, and a potato salad. The Wiener Schnitzel can be found on the menu of all leading restaurants in the country. However, we suggest you try it in Vienna, as they offer the perfect flavors and setting for the dish.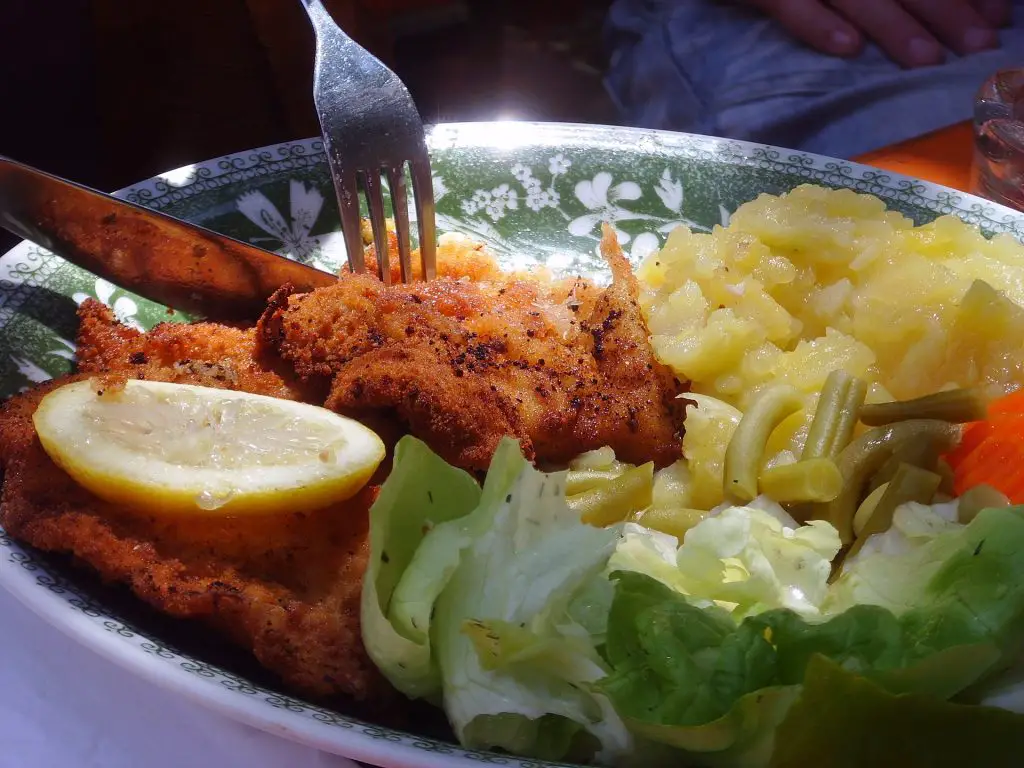 Tafelspitz
Is a national dish consisting of a whole tailpiece of beef cooked in a broth with root vegetables, sliced and usually served with apple or breadcrumbs, baked potatoes or potato marrows as well as a dill-cream sauce. Simmering in that broth is what renders the meat soft and tender and gives it such an earthy flavor. Furthermore, the tasty broth can be eaten as soup afterward. This local dish has been cooked in private homes throughout history. It is a classic because it is the dish Vienna is known for and is still a huge favorite. The Tafelspitz was a favorite of Franz Joseph I, the Emperor of Austria.
Goulash
If you are in Vienna, you simply cannot leave without trying the local stew. This dish today is made using a range of meats, but was originally made using beef. This is another Austrian classic, that has made its way from homes to restaurants. The dish helps you celebrate the Austrian culture in all its glory and can be sided with a number of things. The dish features a buttery taste, that follows through the meat of your choice. The dish can easily be found on most restaurant menus in Vienna, so we suggest you give it a go before you head out.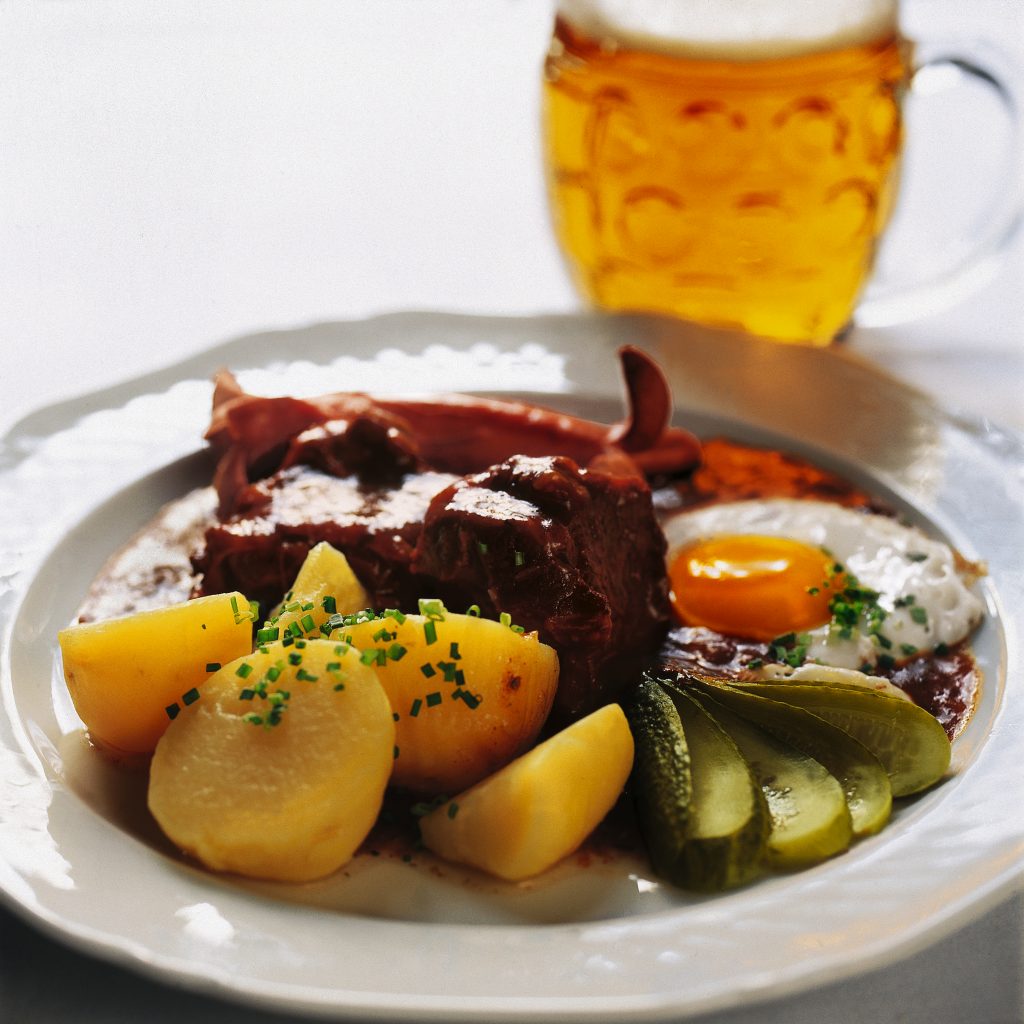 Wiener Würstel
Is a Viennese sausage, which was traditionally from Germany. Back then the sausage was made using pork or beef, but now you can even find a chicken option. These huge sausages are a well-known dish in Vienna and play a huge part in the everyday life of many people. The sausages can be found in various sizes all around Vienna, but each one of them offers great flavor and are paired with just some bread, ketchup, mustard, horseradish, pepperoni and other sides. These are typical street food, where you can grab a quick bite to eat and still enjoy a delicious Würstel.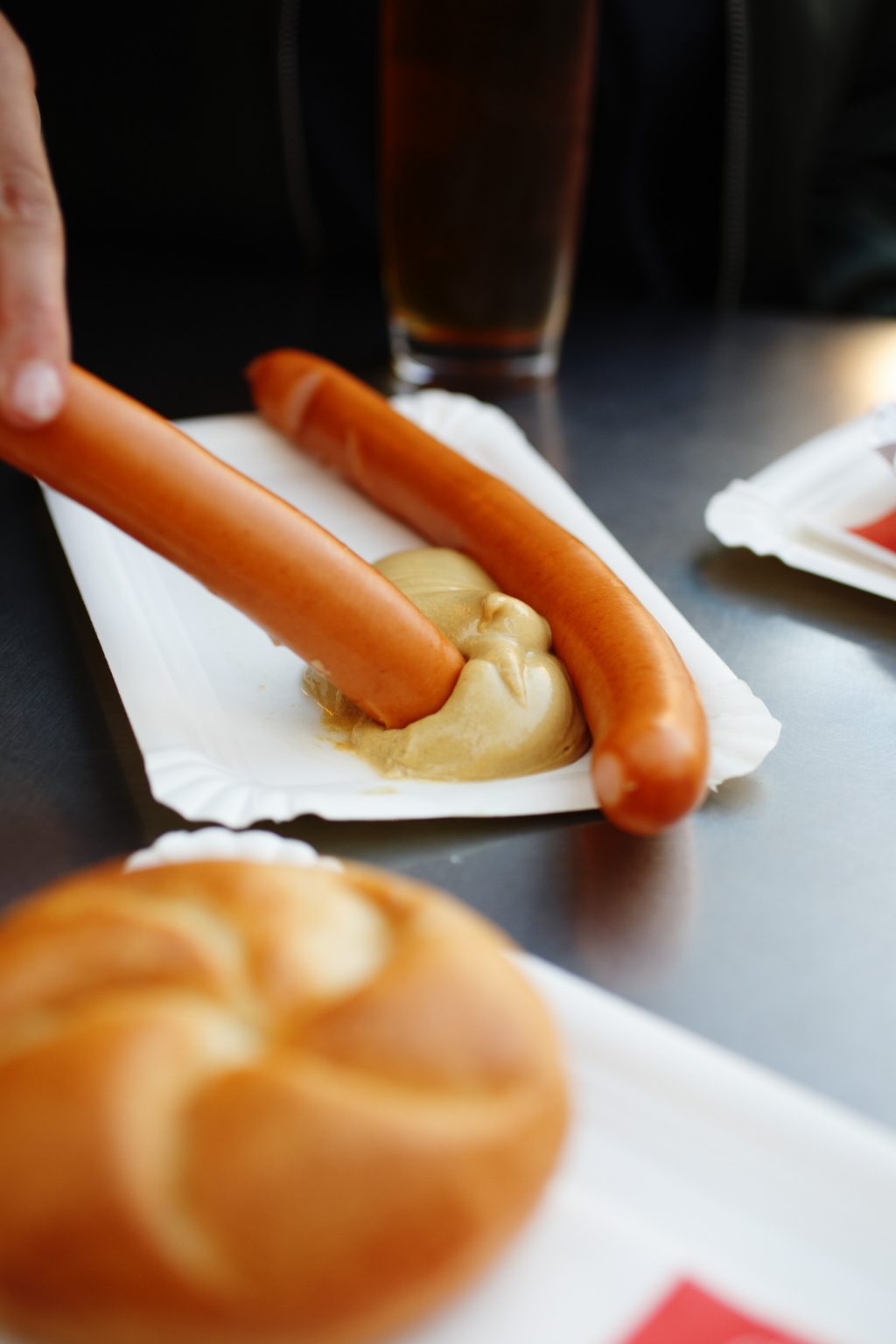 Kaiserschmarrn
If you are looking for the perfect dessert, then you simply cannot leave Vienna without trying a Kaiserschmarrn. This dish is widely known as a desert out of heaven, that was designed to satisfy your sweet tooth. This is the perfect way to end your evening in Vienna after you have had a lovely meal. The Kaiserschmarrn features chopped-up fluffy pancakes, which are served with icing sugar and applesauce. The dish might not be as appealing as others, but once you take a bit you will be transported to paradise. As there is nothing better than a Kaiserschmarrn to end a magical evening. This is one of the dishes that appear simple, but packs tons of flavor.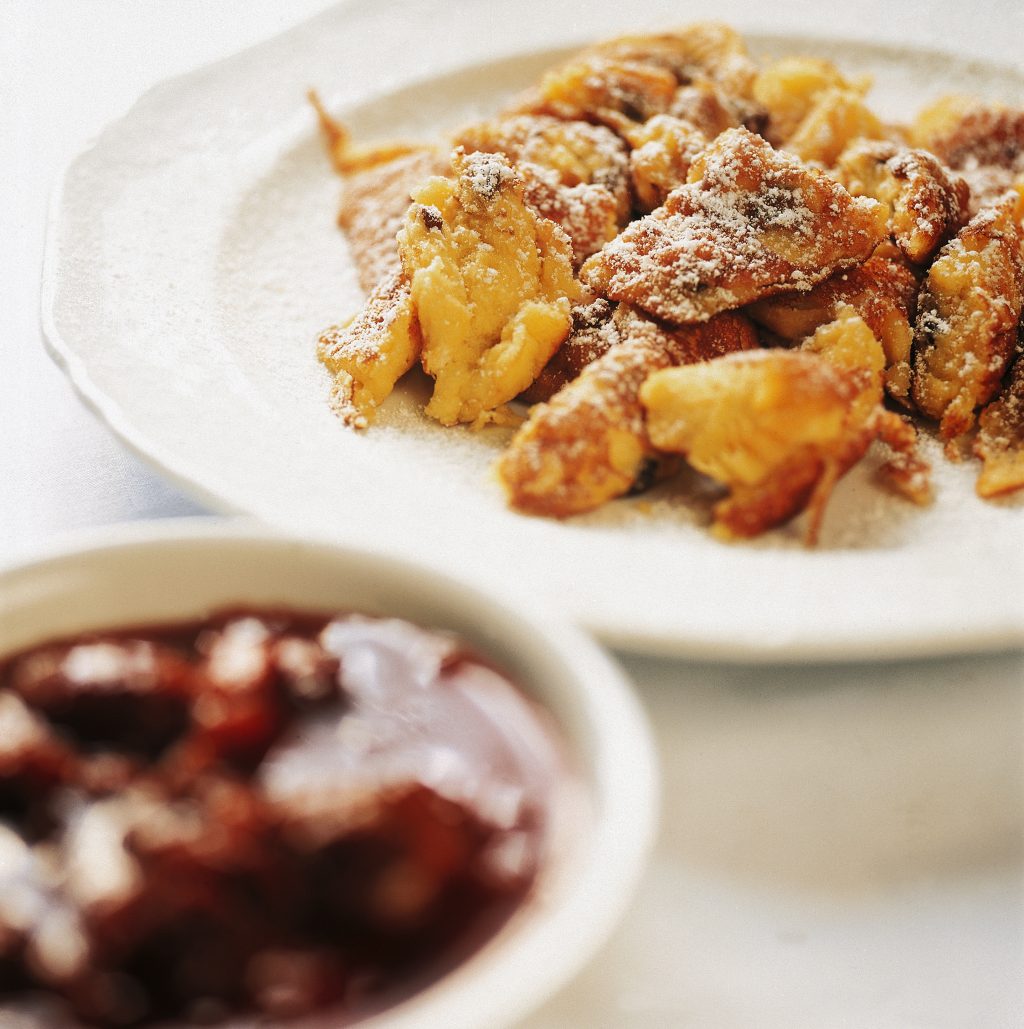 Palatschinken
Was traditionally a Hungarian dish, which was adopted by Austrians under the Empire. Today, the dish is served as a classic Austrian dessert, where you can enjoy thin layers of crepes, which are filled with apricot jam. Then you can roll them or eat them with a side of vanilla ice cream. The dish offers a delicious experience and can be topped with any ingredient of your choice. This way you can modify the flavors according to your taste.
Buchteln
Are sweet yeast rolls packed with a hidden treasure? Some people fill them with the local jam called Powidl, which is a prune jam and some others baked them with no filling but serve them with a succulent vanilla sauce. No matter how you want to try them out, they are best savored with a cup of Viennese coffee in any of the many cafes and bakeries.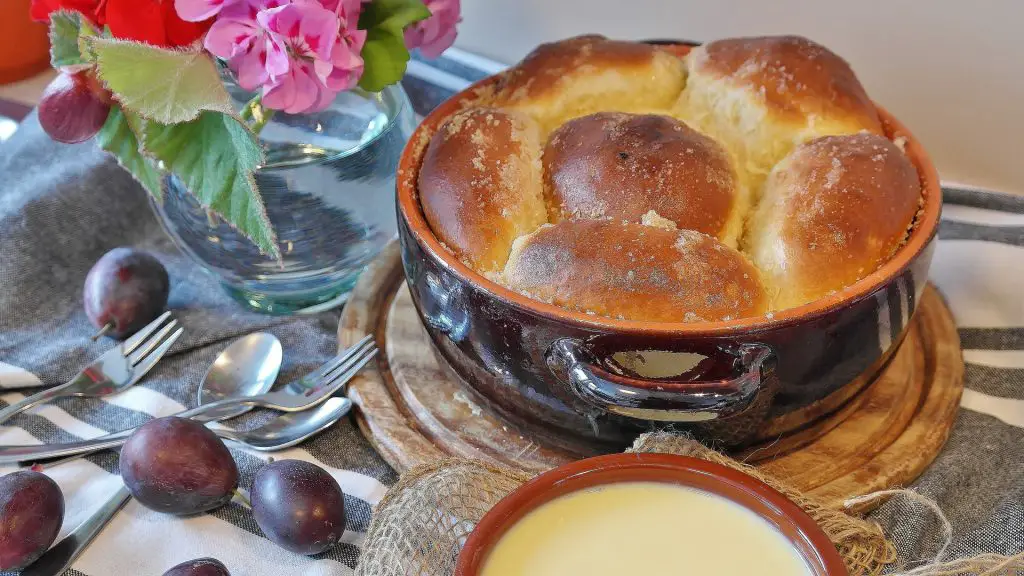 Punschkrapfen
Is a punch cake, that features a gorgeous hot pink crumb cake filled with, apricot jam, and nougat chocolate, and soaked in rum. This is an iconic dessert in Vienna and is known to appease your sweet craving. This is a treat not only for your eyes but also for your tummy.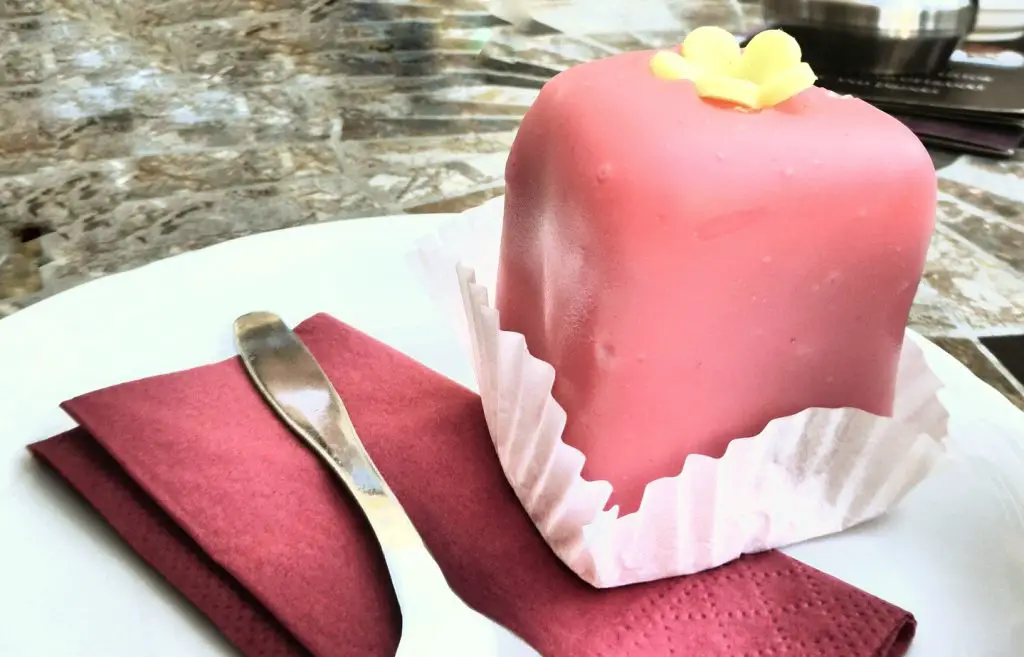 These are some of the top Viennese foods that you must try before leaving the City, as they will make your trip more special than ever. Trying out the local dishes makes the trip to Vienna worthwhile and is a very pleasurable experience.
What to eat in Vienna?
When it comes to food, Vienna has no shortage of delicious options to choose from. Whether you're looking for traditional Austrian cuisine or modern fusion dishes, you're sure to find something that tickles your taste buds. Some must-try dishes include the iconic Wiener Schnitzel, savory Tafelspitz, and the delectable Sachertorte. And no visit to Vienna would be complete without sampling some of the city's world-famous pastries, like the apple strudel and Kaiserschmarrn. To wash it all down, be sure to enjoy a cup of rich, aromatic Viennese coffee. So, come hungry and get ready to indulge in the culinary delights of Vienna
What are famous foods in Vienna?
Vienna is famous for its delicious and diverse culinary offerings. Some of the most well-known Viennese dishes include the mouth-watering Wiener Schnitzel, Tafelspitz and Apfelstrudel. Wiener Schnitzel is a crispy and juicy breaded veal cutlet usually served with a side of potato salad and lingonberry jam. Tafelspitz is a hearty boiled beef dish typically served with root vegetables, creamed spinach, and horseradish. And the sweet, flaky Apfelstrudel is a must-try dessert, filled with apples, raisins and cinnamon.
What is typical Viennese food?
Typical Viennese cuisine includes a variety of delicious dishes such as Wiener Schnitzel, Tafelspitz, Gulasch and Kaiserschmarrn. Wiener Schnitzel is a crispy and golden-breaded veal cutlet while Tafelspitz is a savory boiled beef dish served with creamy horseradish and root vegetables. Gulasch is a hearty meat stew made with paprika and served with bread or dumplings. And Kaiserschmarrn is a delightful shredded pancake dessert served with fruit compote.
What time is dinner in Vienna?
As the sun begins to set over the charming streets of Vienna, locals and visitors alike start to feel the pangs of hunger. The aroma of delicious Austrian cuisine fills the air, and it's time for dinner.
In Vienna, dinner time typically falls between 6:00 pm and 8:00 pm. Austrians take their meals seriously, and dinner is no exception. It's a time to gather with friends and family, indulge in hearty dishes like schnitzel or goulash, and enjoy a glass of local wine.
Restaurants and cafes throughout the city begin to fill up around this time, with people chatting and laughing as they savor each bite. Whether you're looking for a cozy neighborhood spot or a fine dining experience, Vienna has something to offer for every taste and budget.
So if you find yourself in Vienna, be sure to make dinner plans and experience the city's culinary delights. Prost!
Does Vienna have good food?
Yes, Vienna has some of the best food in Europe! With its wide range of local and international restaurants, cafes, and bakeries there is something for every palate in Vienna. You can indulge in traditional Viennese fare or try out international cuisines but one thing is for sure – you won't leave Vienna hungry!
What is the local drink of Vienna?
One of the most popular drinks in Vienna is the Wiener Melange, a rich and creamy coffee beverage made with espresso, steamed milk, and foam. Additionally, Vienna is famous for its beer and wine, with numerous local breweries and vineyards producing some of the best brews and wines in the world.
Is Vienna known for chocolate?
Yes, Vienna is famous for its delectable chocolate! The city boasts several artisanal chocolate shops and cafes that offer a wide range of sweet treats. From creamy truffles to delicious pralines, Vienna's chocolate scene is truly outstanding. Some of the best chocolate shops in Vienna include Demel, Xocolat and Zotter.
Is food expensive in Vienna?
While Vienna can be a bit pricey, especially in touristy areas there are plenty of affordable food options available. You can enjoy a delicious meal at a traditional Viennese cafe, grab a tasty snack from a street vendor or try out some of the city's many food markets. Whatever your budget you can find something delicious to eat in Vienna.
What is the national food of Vienna?
Vienna is a city in Austria and does not have a specific national food. However there are many dishes that are associated with Austrian cuisine and are popular in Vienna such as Wiener Schnitzel, Tafelspitz, and Apfelstrudel. Wiener Schnitzel is a breaded and fried veal cutlet while Tafelspitz is a boiled beef dish typically served with root vegetables and horseradish. Apfelstrudel is a sweet pastry filled with apples, raisins and cinnamon. These dishes are often considered iconic Austrian dishes and are enjoyed by locals and visitors alike.
Read more about Vienna Food!
Where to go in Vienna?
TheViennaBlog has thoroughly studied all the wonderful attractions but also hidden secrets to uncover in Vienna. Click the Links below to get to the information:
Here is the Vienna Ultimate Top 50 Bucket List
Here is the Best of Vienna in 4 hours
Here is the Best of Vienna in 4 hours (Summer Edition)
Here are the Best 5 things to do in Vienna the most liveable city in the world
Here are the Vienna Old Streets in Historic Center
Here is the Spittelberg Village in Vienna
Save
Save
Save