Last Updated on September 7, 2022 by gregor
Christmas is a special time of year when we get to spend time with those we love and make memories that will last a lifetime. Christmas is a magical time of year, and there are many ways to make it even more magical.
The Vienna Blog is pleased to make some suggestions to ensure some ideas for a wonderful Christmas in Vienna
How to Celebrate Christmas in Vienna at Home
1. Traditional Viennese Christmas Dinner served on Christmas Eve
A menu inspired by traditional Austrian dishes served on Christmas.
In Vienna, it is customary to serve carp filleted or in a soup on Christmas Eve (recipe in German here), while in other parts of Austria, you can expect families to have on their table roasted pork, varieties of Wurst, and Sauerkraut, or roasted goose with potato dumplings.
Most supermarkets offer cold cuts and cheese platters for very reasonable prices or you can create your own, adding anything from your favorite cheeses to smoked salmon, game cold cuts, or even vegan options.
Naturally, no feast is complete without the sweet desserts that top it off and beverages that compliment it. You can always partake in the baking mania that surrounds the festive season or you can find the best assortment of cookies for your taste in almost all supermarkets, bakeries, and specialty stores if you're in a bid for time. You can enjoy lovely chocolates wrapped in Santa Claus or angel foils, enjoy your favorite pralines from gift-wrapped boxes, or the classic panettone.
As for drinks, you can wind down with a mug of punch, mulled wine, or hot chocolate. If you would like to go the extra mile and try your hand at a few cocktails, check out our top 10 Chivas Regal whiskey cocktails.
Tips for preparing the Christmas Dinner in Vienna
In Austria, all revels and parties associated with the holiday usually take place on Christmas Eve (24 December), so the next two days, that is Christmas Day and St. Stephen's Day (Stefanitag) are usually reserved for visitations or simply enjoying the time at home with family.
Keep in mind that stores will be closed during these days and on the 24th, they usually operate with a reduced schedule, closing earlier. For that reason, be sure that you have everything ready because you are in for a long weekend of celebrations and little chance for a restock.
This is an extra incentive to plan your feast menu well so that there is plenty of food left for the entire period and so that you have an idea of what to prepare from the leftovers.
Keep your freezer stocked just in case and have some ready-to-bake bread rolls in the event you run out of bread. Planning here is key and while it may seem daunting to have all details in mind, it actually pays off and you will be free of inconveniences during the holidays.
Consider everything you would like to see on your table for Christmas, all the dishes, desserts, and beverages. Then go deeper, ask yourself what the ingredients are that you need, draw up the list and see what you can get and possibly even make in advance and store until Christmas.
Considering your work schedule on the two days before Christmas Eve, it would be ideal to make sure you have enough time for everything you wish to prepare or at the very least to shop for the last items, whatever you need fresh.
And of course, when getting started on the preparations and cooking, make sure you cut the meat, clean and peel your veggies, then cluster and dose all ingredients in accordance with the dish they're supposed to go into.
We hope our organizing tips will help you save time so that you can truly enjoy yourself and unwind during the Christmas weekend.
Table Setting for Christmas Dinner
No feast would be complete without the appropriate table setting. Even if you celebrate by yourself, your partner, or your immediate family, you can create immediately a more festive atmosphere by setting the table and plating everything beautifully.
If you have candles or an Advent wreath to grace your table, even better. Any more decorations and you will earn yourself special bragging rights on your social media platform of choice if you share a pic.
2. Christmas Atmosphere in Vienna
We cannot stress enough the importance of the minimum of decorative items when it comes to creating a Christmas atmosphere in your home. From the traditional fresh Christmas tree to simple pinecones in bowls, there is a host of minor and, for the most part, inexpensive additions that could hint at a festive vibe.
Place a few baubles here and there, make a tinsel star, create winter-inspired centerpieces, and hang Christmas stockings, mistletoe, or ornate bows.
If you have a wilder sense of humor and a particular preference for beer, you can create a tree-shaped centerpiece from your green bottles (make sure to boil the labels off aforehand).
If you feel nostalgic and want to think outside the box, take your Christmas cards from previous years and arrange them on your wall or fridge in the shape of a tree. Bonus points to you if you get lights in there.
Speaking of lights, you can take short cables of fairy lights and tape them to a wall in the shape of a tree or stars. If you have cold-tone lights or lights with copper wiring, you can shape them as trees by twisting them in an upward spiral (using something cone-shaped for the prop would help, even an improvised piece from cardboard would do).
Hopefully, we have inspired you by this stage to have your own Christmas feast, now we can share:
Tips for a truly Instagramable Christmas table
If you plan to have a traditional Christmas meal, you can add some rustic charm to your table – you can forego the table cover and have some clean kitchen towels in the same patterns as placeholders. Around their edges, you can add short fir branches and pine cones, in the middle of the table small carved candleholders can be added for a beautiful effect and atmospheric lighting. You can use wooden boards as serving dishes and you can tie a normal string with a fir branch around your napkins.
If you have white plates and serving dishes, you can create a winter wonderland atmosphere, with white napkins, table covers,s, and candles. What will turn it into a winter wonderland would be adding a gingerbread house, a few snowmen, and carved snowflakes.
For a more classic setting, you can create a centerpiece from pinecones, baubles, candles, tree branches, or mistletoe and intersperse baubles around the table and either candles or fairy lights, all atop a red table cover.
For more complex ideas that would dazzle your guests and your Facebook feed, here are some more suggestions for your table and centerpiece.
3. Christmas presents in Vienna
What is Christmas without presents? Culturally, we are told since childhood that Santa Claus (well, in Austria the Christkind) will bring us gifts on Christmas Eve if we are good.
Regardless of the reasons we perpetuated this practice well into adulthood, it is a lovely way to make family and friends feel appreciated and loved, especially if we manage to get something they've had their hearts set on for a while.
Put in some extra effort to wrap the gifts beautifully and make it a point to exchange gifts with your loved ones this year.
If you are celebrating alone, be sure to have a gift to yourself to create a truly special and festive moment (no, it is not ridiculous and nobody will laugh at you, promise).
If you are celebrating with friends or your budget for gifts is reduced this year, you can try to do Secret Santa, which is a means of exchanging gifts with a group of friends, family members, and workmates. You draw random names to become someone's Secret Santa, who then receives the wish list of ideal gifts from the person whose name was drawn. After receiving their presents, people can play a game to guess their Santa, or they can leave it at that and simply enjoy the gifts. The premise is that there is only one gift to be given and one gift to be received per person, hence the budget-friendliness. You and your group can use public Amazon wish list for this or you can go the old-fashioned way and write down a list – you can even use this Secret Santa generator for a perfectly socially-distant means of organizing yourselves for the holiday. Last year, I spotted a group of students in a hipster café in the 7th district engaging in this practice and their gifts included books, chocolates, and… a can of kidney beans. So, whatever is an inexpensive priority, put it on that list and enjoy this fun practice.
Lastly, don't forget to put all those presents under the Christmas tree, all nicely packed, or hang them up in stockings and rock an incredibly ugly Christmas sweater (if you are fortunate to own one) as you dig in and start unwrapping. Make this moment as memorable as possible and take pictures or film the occasion even.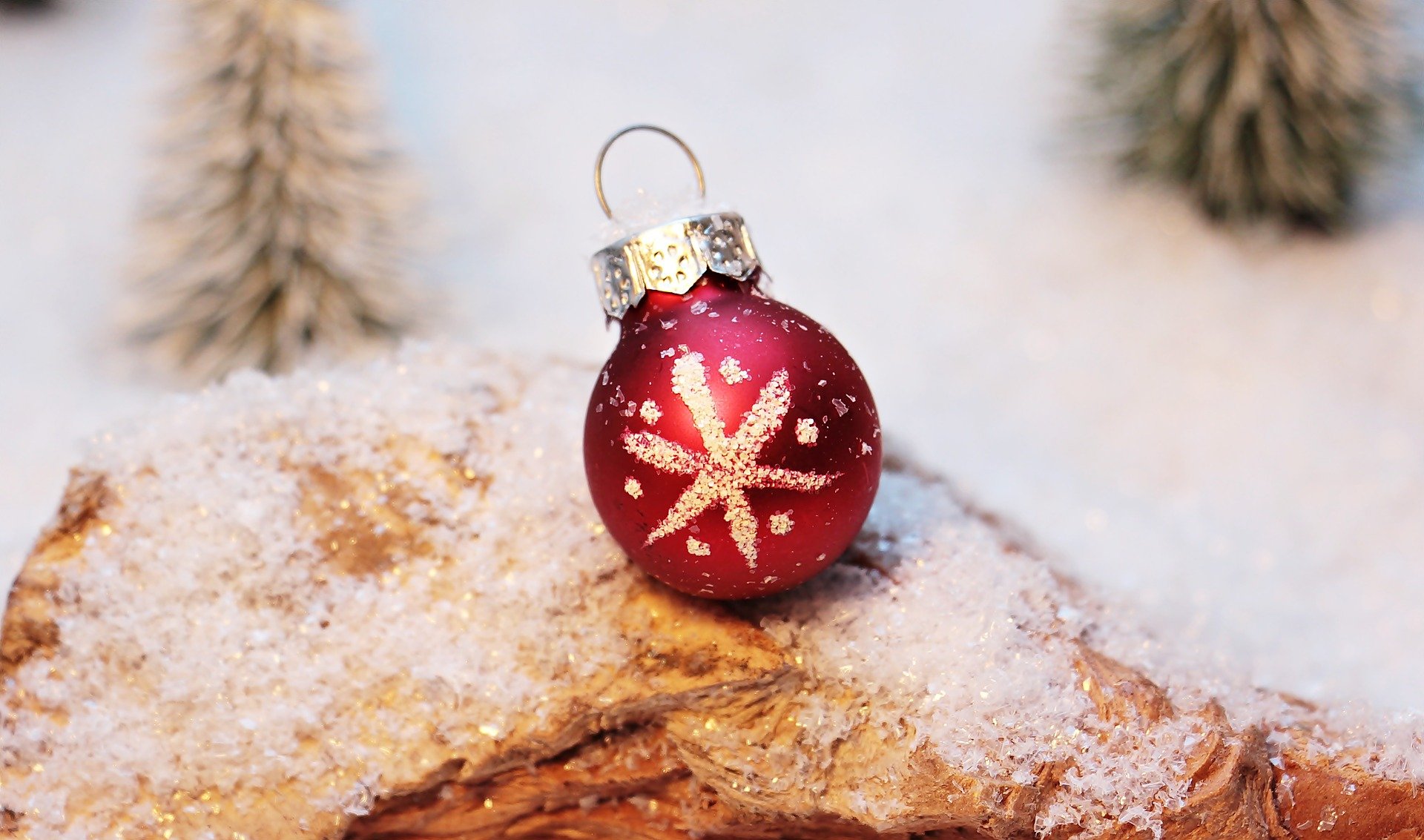 4. Celebrating Christmas alone in Vienna
If you will be spending Christmas all by yourself and you intend to keep your socializing either to texts, phone, or video calls, then you might think to yourself: what to do to enjoy the Christmas spirit, but also relax without feeling guilty for not actually doing anything concrete?
For one, step out of that need to be productive and just be. You have a long weekend ahead of yourself, so if you wish to infuse it with a Christmassy vibe, there are a few things you can do by yourself in addition to the above-mentioned virtual courtesy calls:
Do get yourself a present and open it on Christmas day.
Stay in your most comfortable pajamas all day.
Have an ample supply of your favorite comfort foods and forget about the numbers on the scale for a few days.
Do a proper movie marathon: it can be Christmas-themed movies on your favorite streaming platform(s), long film series, like Harry Potter or Star Wars, or if you want to be a bit extra, all Christmas specials and episodes from the TV shows you enjoyed most through the years.
Get creative and allow yourself to dream of your next vacation, to think up that creative project you have been putting off, that journal you have been meaning to start, or just write down the things you are grateful for. Want to amuse yourself? Write your own Christmas-themed story, fictional or not, and share it with your friends or with the world (for example, on writing.com).
Start with those books piling on your nightstand and finish them. Consider donating books you have read to the open bookshelves of Vienna.
Volunteer to help those in need in the means available in your community or affiliated group but be considerate of the social distancing practices and keep yourself and those you interact with safe.
5. Spending Christmas in Vienna with your family or friends
If you will be spending Christmas with your family or friends, but did not have time to consider yet how to while away the holiday in a fun and entertaining manner, we have prepared a list of Christmassy activities you can enjoy in small groups:
Karaoke – Christmas songs and carols edition. If you and your friends enjoy karaoke parties, then you will love the idea of singing to the tune of a fun Christmas song with your group or you can sing carols such as 'Silent Night' acapella. You can have even a friendly competition to crown the best karaoke singer, or you can film yourselves singing and share the clip with loved ones – or keep it as an embarrassing memento from 2020, depending on how you look upon your singing abilities.
Christmas drama club. In the same spirit of fun and creativity, but without incurring the wrath of your neighbors over your cacophonous caroling, you can try to put on a show or bit from a play. Act out your favorite scenes from a play cherished in your group or act out scenes from a Christmas film with your own twist, or rather make improvisations. Alternatively, you can do a spoof choreography or a goofy dance to a modern Christmas song you enjoy. The important thing is to have fun – there is no wrong way to go about it.
Story-telling by the fire. Well, even in the absence of a fireplace, you can gather around the tree and tell stories to your friends. Write the story in advance or write a funny poem inspired by Christmas. If you have children, read out loud to them some Christmas classics, such as Dr. Seuss's 'How the Grinch Stole Christmas'.
Game night – Christmas edition. You can play a round of 'Who am I?' with the holiday theme (such as characters from Christmas movies, singers ubiquitous during the festive season, or religious or mythical figures associated with the holiday), or a game of Pictionary in the same lines. Or enjoy any board game of your liking. Make the stakes interesting. Bake a delicious Christmas pudding and offer it as a prize to the winner(s) – or a box of chocolates or a glass of bubbly, whatever works.
Anything we may have missed? If you celebrate Christmas with your friends or family this year, what do you plan to do to make it memorable?
Remember that all these recommendations are made in the hope of adding to your sense of enjoyment and peace. If you don't feel like doing anything on this list or worse, you start stressing out because the plans you are laying out are not perfect, please stop whatever it is that you are doing, take a deep breath and remember that this holiday is all about peace, love and family – whatever you do is enough, your joy will be the main ingredient for a magical holiday.
Merry Christmas!
We hope our list of suggestions further inspired you to get into the holiday spirit and make Christmas 2022 stand out in your memory for all the right reasons. Let us know which of our 'magical' recommendations you will try, we are confident it will add a special touch to this holiday season.
With this, we take the opportunity to wish you and your loved ones a merry Christmas and a wonderful holiday season, full of love, peace, and joy!