Last Updated on November 7, 2017 by gregor
Hallstatt, a small village in the state of Upper Austria and part of the Salzkammergut region  is often called the most photographed village in Europe and the world. Lake and mountain views charm tourists all around the year but there are also many other things to see and do. As a UNESCO World Heritage Site, Hallstatt knows how to treat travelers of all kind. You can book romantic winter holidays or photography trips to the roots of this beautiful European cultural village. Under 1000 citizens and a few additional tourists make sure that you can truly enjoy the peaceful remote village.
During the recent years more and more group tours have visited Hallstatt so peak seasons are often busy. You have to book accommodation early because there aren't many places to stay in the small village. If you are late and there is no accommodation left, consider staying in close-by resorts. Hallstatt is a town you can see just in one day or alternatively you can use several days to discover all the beautiful streets and attractions. This UNESCO World Heritage town doesn't have many attractions, but the village and locals make it worthy of visiting. There is nothing like fresh alpine air and nature.
The UNESCO World Heritage Site – Hallstatt

Hallstatt has gotten its place on UNESCO World Heritage list because of the important cultural scenery.  The Alps, the lake and the tiny village make this place look like a scene from a fairytale. Officially Hallstatt is on UNESCO's list because of two reasons: first, its unique local traditions and secondly, due to the outstanding scenery. Austria has a total of nine UNESCO World Heritage Sites and Hallstatt is one of the most popular ones.
List of Austria's UNESCO World Heritage Sites (CLICK)
When you travel to this World Heritage Site, the important thing is, of course, to walk around and see what all the hype is about. On this list of things to see and do in Hallstatt, we have many items to ensure that you enjoy everything as much as possible. So, keep reading and enjoy one of the most beautiful places in Austria!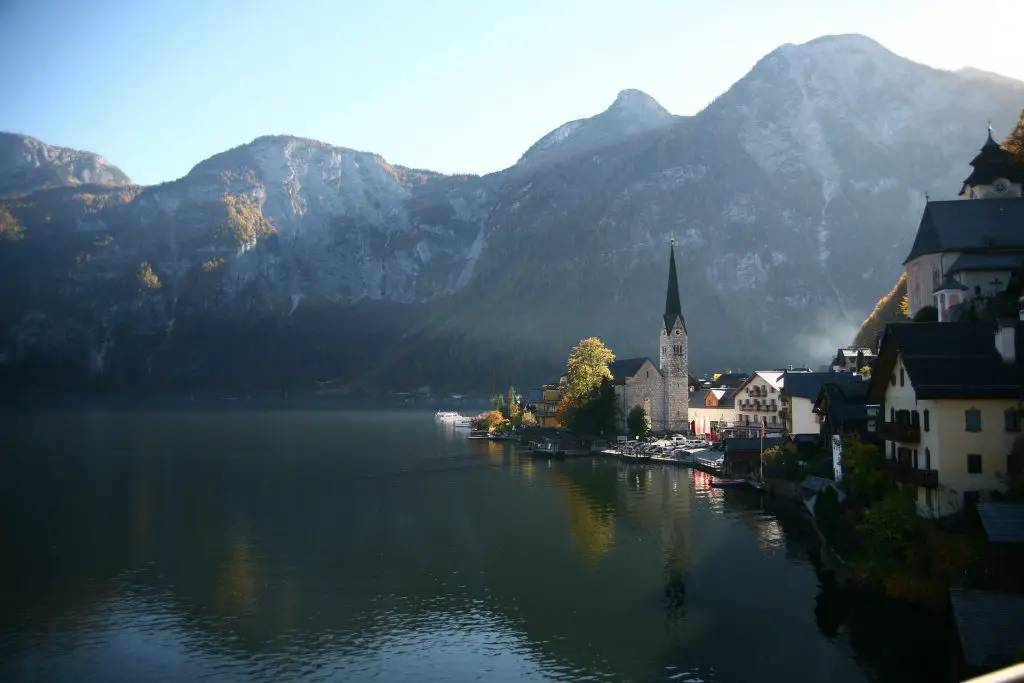 Hallstatt Salt Mines
Hallstatt is mainly known for its salt mines dating back to prehistoric times. Nowadays this salt mine is the main attraction of the city. Locals are proud of their world's oldest salt mine and it's a must-see. The funicular ride takes you up to the mines, where you can visit the caves and see the oldest wooden staircase ever found in Europe.
The train ride will take you through a 2 kilometers long tunnel enabling you to discover the insides of a real salt mine. The salt content of the mine is about 60% and so lights lit it up beautifully. I suggest for you to buy a package including the salt mine and the funicular ride as this becomes cheaper than obtaining them separately. For adventurers, book in advance your "prehistoric expedition tour that will take you to special places not accessible to the normal tourist.
more Info and opening hours (CLICK)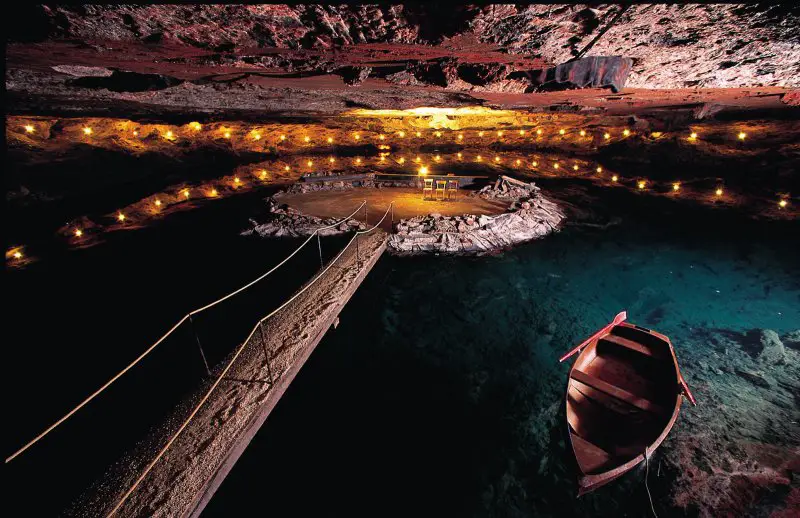 Photo Credit Hallstatt Tourism

Skywalk Viewing Platform
While up there, from the free-floating Skywalk, 360 meters above the ground, the unforgettable alpine scenery will take your breath away. This World Heritage Skywalk gives you s 360-degrees view to the Alpine town and the nature around it.
more Info and opening hours  (CLICK)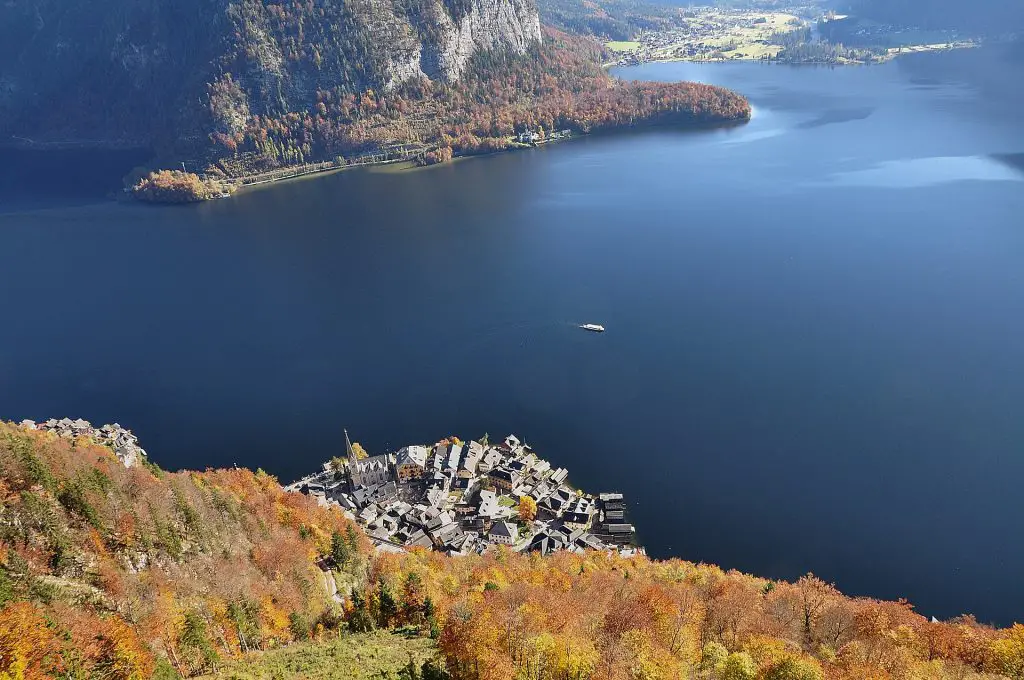 Ride around the lake
The Austrian Alps are known for their majestic lakes. Hallstatt isn't an exception and there are many different ways to enjoy this beautiful lake. You can hire pedaling boats or go for the ferry or you might try kayaking and surfing. You will see couples enjoying a pick nick in small boats or children playing and having fun in the sunbathing area. If you prefer, you can also rent bicycles and explore the special hiking and bike path surrounding the lake.  Hallstatt is one of the most romantic destinations in Austria.
Ferries operate every day of the year. You just have to hop in and enjoy the views. A cruise is the unique way to see the village from the lake and the scenery is amazing. Taking the ferry is also a good way to go from one place to another. Some ferries operate between the town center and the train station. When deciding to go for a cruise keep in mind that in the winter the sun goes down very early, as compare to the summer.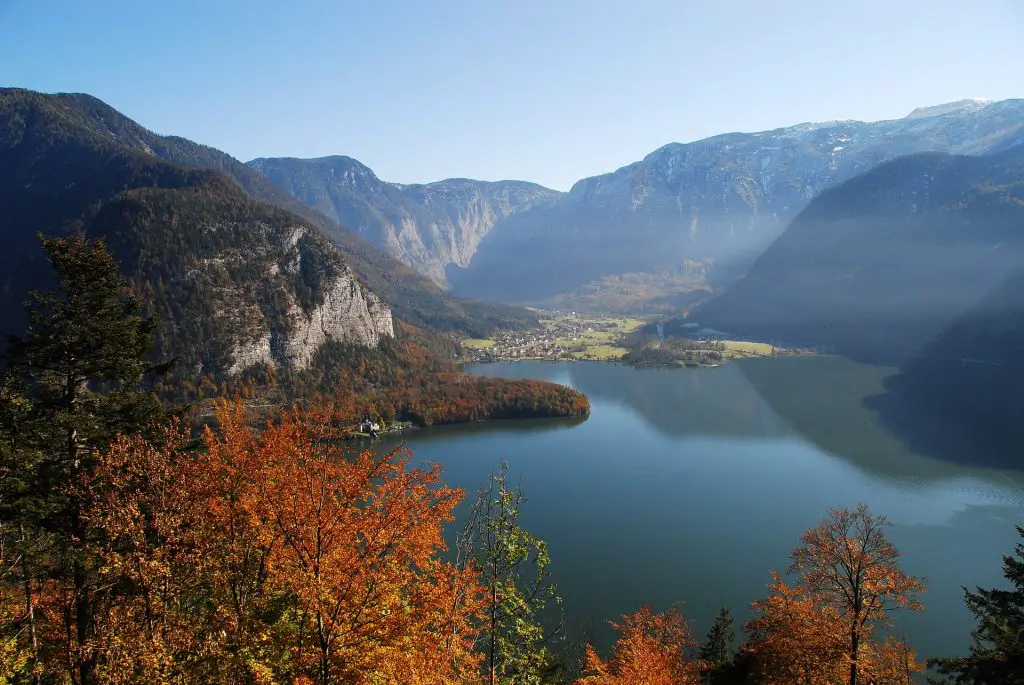 Walk around the village
As already mentioned, Hallstatt is a UNESCO World Heritage Site due to its scenery. This is a wonderful reason to just walk around this town without doing anything else. In addition, you can find many photogenic places. Many tourists take amazing social media shots here. The village-like atmosphere and small shops, restaurants and cafes make your promenade even more enjoyable. You can also find online audio and written guides about the city while strolling along.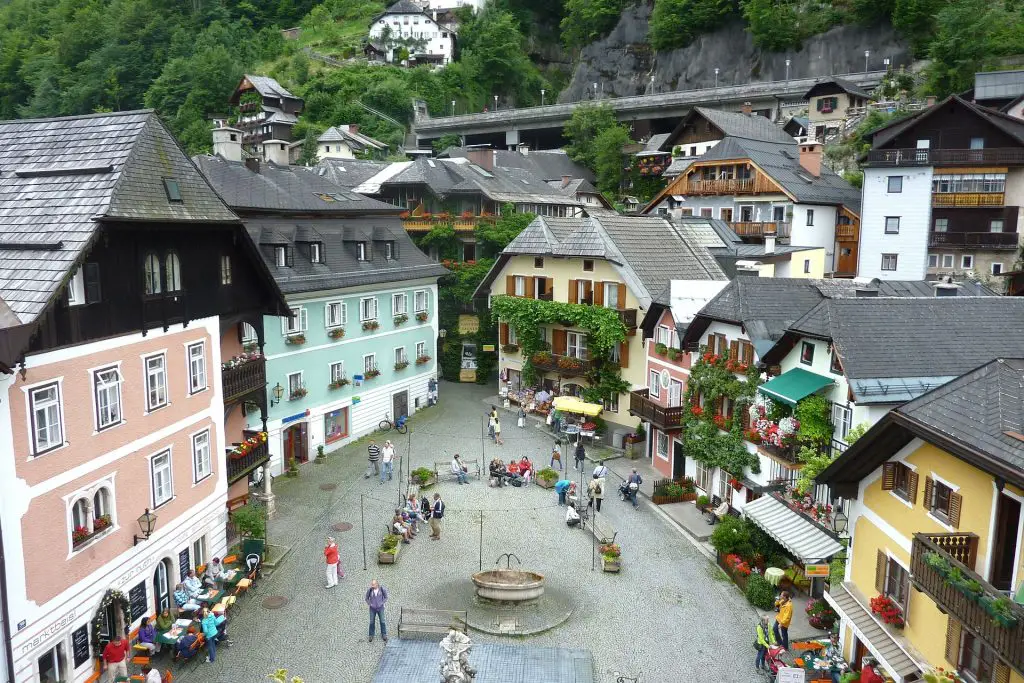 If walking in the village isn't enough, there are many hiking trails around Hallstatt. Whatever you were professional hiker or just someone wanting small breaks from the town, there will be suitable tracks for you. The lake views and luscious nature make hiking one of the top activities to undertake. Sometimes going alone may feel scary but fortunately there are many guided tours that start from the city and may last for a day or even for a few nights.
Hallstatt Museum
The Hallstatt Museum or the World Heritage Museum has been open since 1884. If you want to get to know more of the history of Hallstatt and Austria, it will be the right place for you. Hallstatt Museum is purely historical as there are no paintings and arts. They introduce you to the old culture of Hallstatt by showing findings from salt mines and old cemeteries. Some of these dating even back to the iron age. One of the main attractions in the museum is the collection of Roman artifacts.
more info including opening hours (CLICK)
Catacombs & Cemetery
If you are easily spooked, keep away from these sights in Hallstatt. The city has one of the smallest catacombs in the world. Behind Hallstatt's Catholic Church near St. Michael's chapel, you can find the cemetery and the Charnel House. Charnel House is small place full of skulls and bones, which were gathered there by the church to make space for the newly dead by digging out the older bones, bleaching them in the sun and carefully stacking them there. 1200 skulls can be found each skull is beautifully painted and most of them have names and dates. As small-town Hallstatt didn't have enough space for cemeteries and, so locals used to take care of deceased like this. It's creepy but at the same time oddly peaceful.
While visiting the catacombs you can also visit the cemetery. There are many interesting graves and people buried there. Just remember to be considerate as a cemetery is a place of grief for locals who still go there to remember their friends and relatives.
Main Square
The Main square or market square is the central part of any city. In Hallstatt this busy part of town is the place to have coffee or try local delicacies. The old houses are colorful and in the summer there is always something happening. Events vary from live music to Christmas markets and many tourists start their sightseeing tour around Hallstatt from this point. The real eye-catching attraction in market square is the statue of the Holy Trinity. It's also one of the most photographed places in the city excluding lake and mountain sceneries.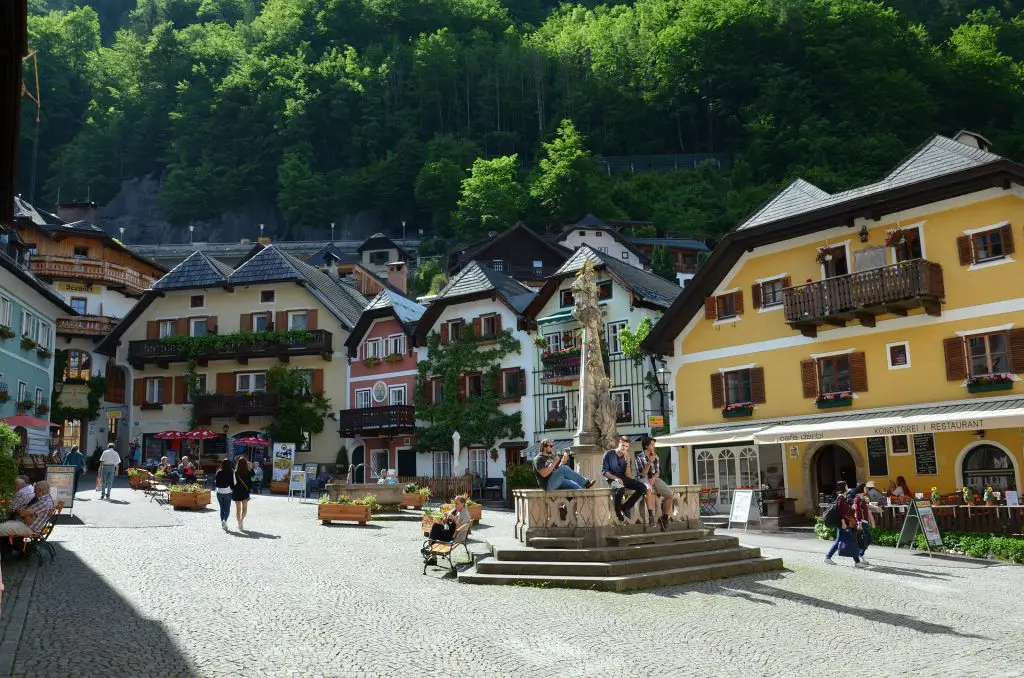 Archeology under sports shop
You can find the Janu sports shop right in front of the World Heritage Museum. However, this store isn't just any normal shop. The owner of this store found old artifacts and remains while doing construction work in the undergrounds of his sop. Now you can visit the cellar and see these findings during the opening hours. Paintings, artifacts, and remains make this interesting site worth visiting.
Kalvarienberg Church
Hallstatt has a few churches, but the Kalvarienberg Church is known as the most romantic one and many couples take romantic walks to the edge of the village to see this church. This is true piece of art from the time of baroque architecture. Originally built in 1711, the church is located on the Kalvarienberg Mountain close to the town. The view is amazing but you have to first walk up there. Remember to walk around the church because it truly looks amazing from every possible angle.
Church of Christ
The Church of Christ is one of the best-known landmarks in Hallstatt. You can often see photos of it standing elegantly in the center of the city. You will notice it right away when looking towards Hallstatt from the lake. In the 18th-century, protestants decided to build a prayer house and later on it was transformed into a church after adding a tower and bells. Now this building is known as the Church of Christ.
Parish of the Assumption
This parish was built for Roman Catholics. It has been changing a lot during the years and was fully renovated at the beginning of the 21st century. The attraction of this parish is its double winged altar that is also well-known amongst Catholics in Austria.
Winter fun
When you are staying in an alpine village, winter can be a magical time. You can take free ski bus from the city to the close-by ski centers. Renting equipment is easy and you can snowboard, ski or sled down hills for a whole day. In addition, there are many activities around the freezing lake. You can try skating or even dive into the underwater world. Afterwards you can visit a spa to relax. Don't forget that winter time in Hallstatt can be really cold. If you are not used to it, planning a summer visit is usually a better idea. On the other hand, a snow covered village is one of the top things to experience in Europe.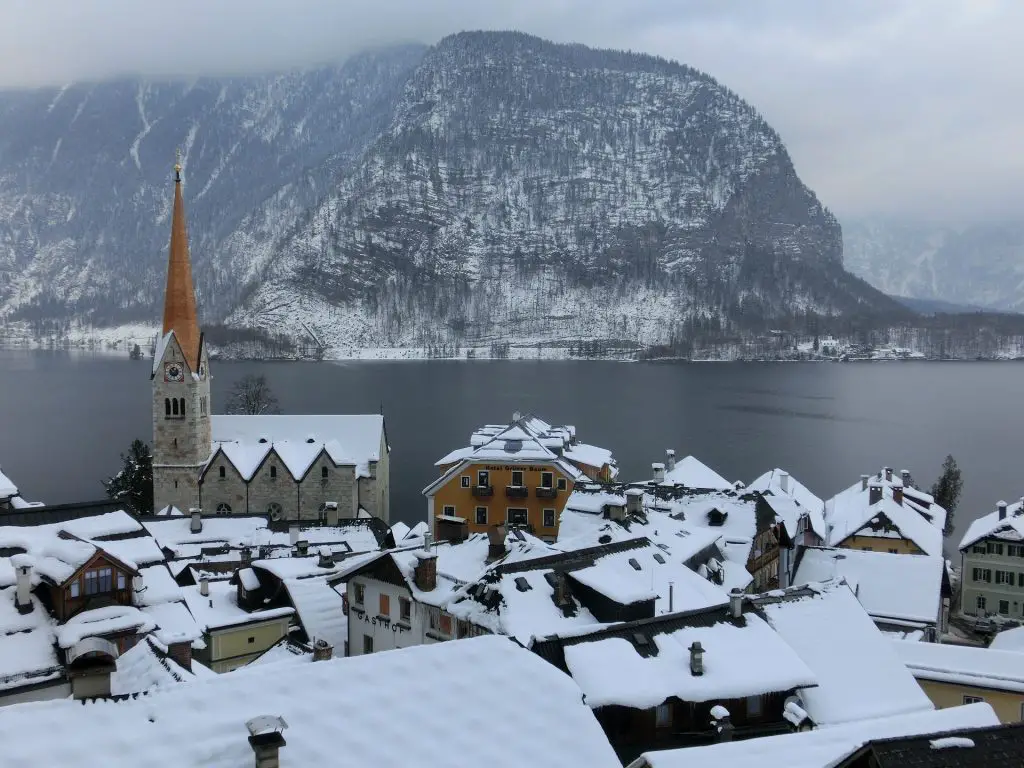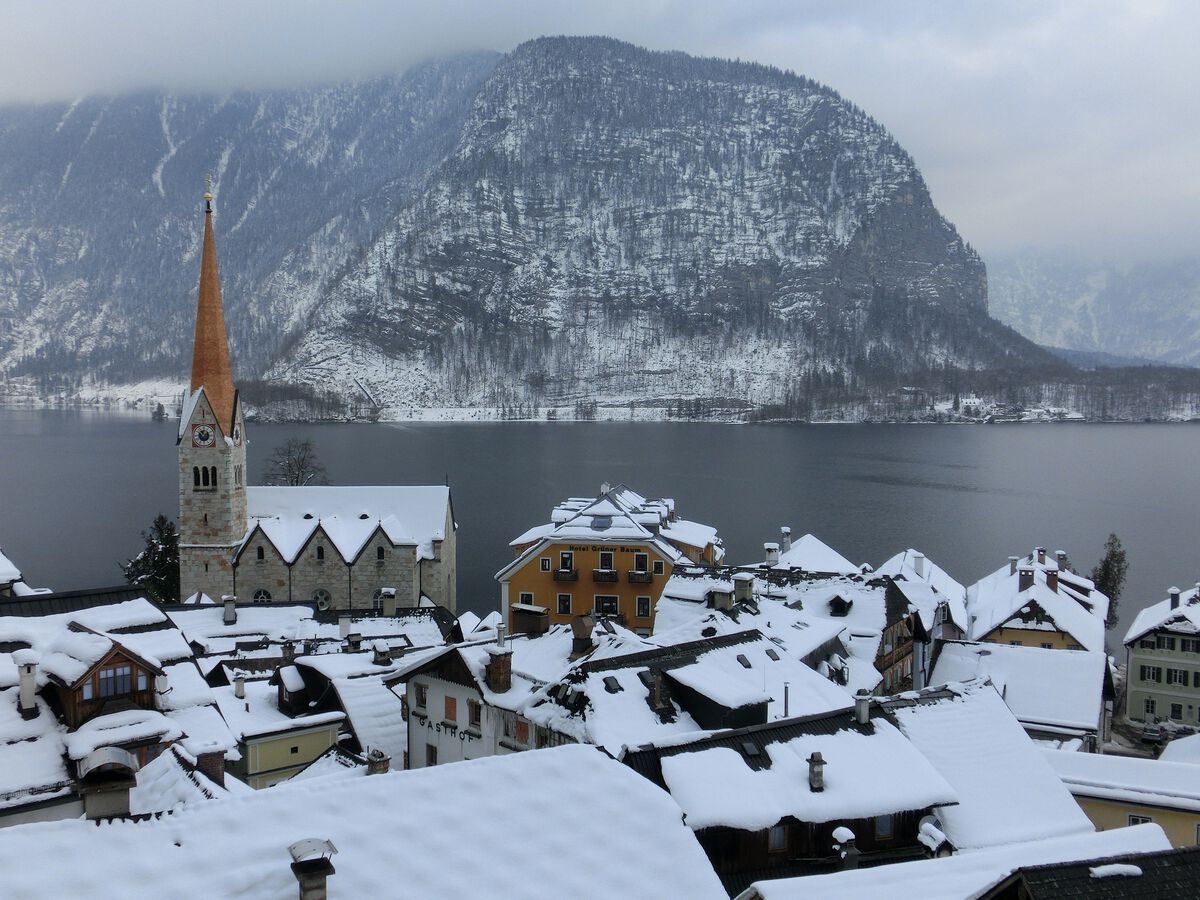 Austrian food
Gastronomy is an important part of any holiday and you should also treat yourself in Hallstatt. Despite the small size of the town, you can still find a variety of restaurants, mostly European cuisine. Follow the locals or your nose to find the perfect restaurant. You can either visit one of the more touristic places near market square, restaurant next to the Skywalk Viewing Platform or be a little more adventurous and walk around to find smaller local restaurants.
Being next to a lake, fish is a dish which I would strongly recommend to try as one can find many different variations of fish and their preparations in every restaurant. Austrian sweets are a dream so ensure that you leave enough tummy space for more treats after your main meal. Try out local pies, strudel, cakes and other delicacies and of course the traditional Austrian apricots jam with crepes!
Now you can start planning your own trip to Hallstatt! This fairytale village welcomes travelers all year around and you can easily access it from any part of Austria. The easiest way to get to Hallstatt is by car but you can also use public transportation or go for a group tour. Even short day visit will be enough to see the top things in Hallstatt.
How to get to Hallstatt by car or public transportation?
Here is everything you need to know how to get to Hallstatt (CLICK)
More about Hallstatt (Hallstatt Tourism Office Official Website)
More about Hallstatt holidays (CLICK)
Watch the Video of the most beautiful village in Europe!
Pin it on PINTEREST!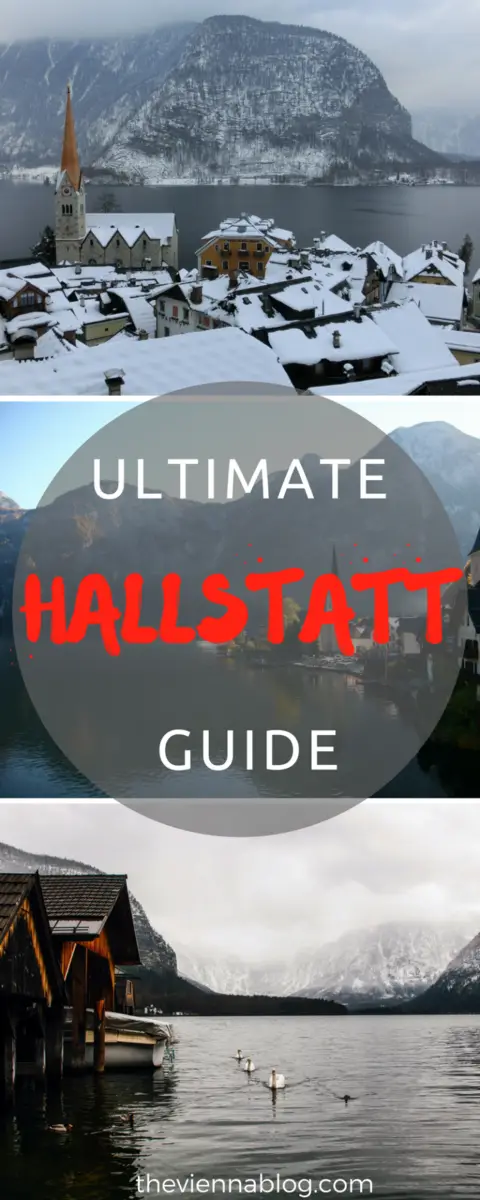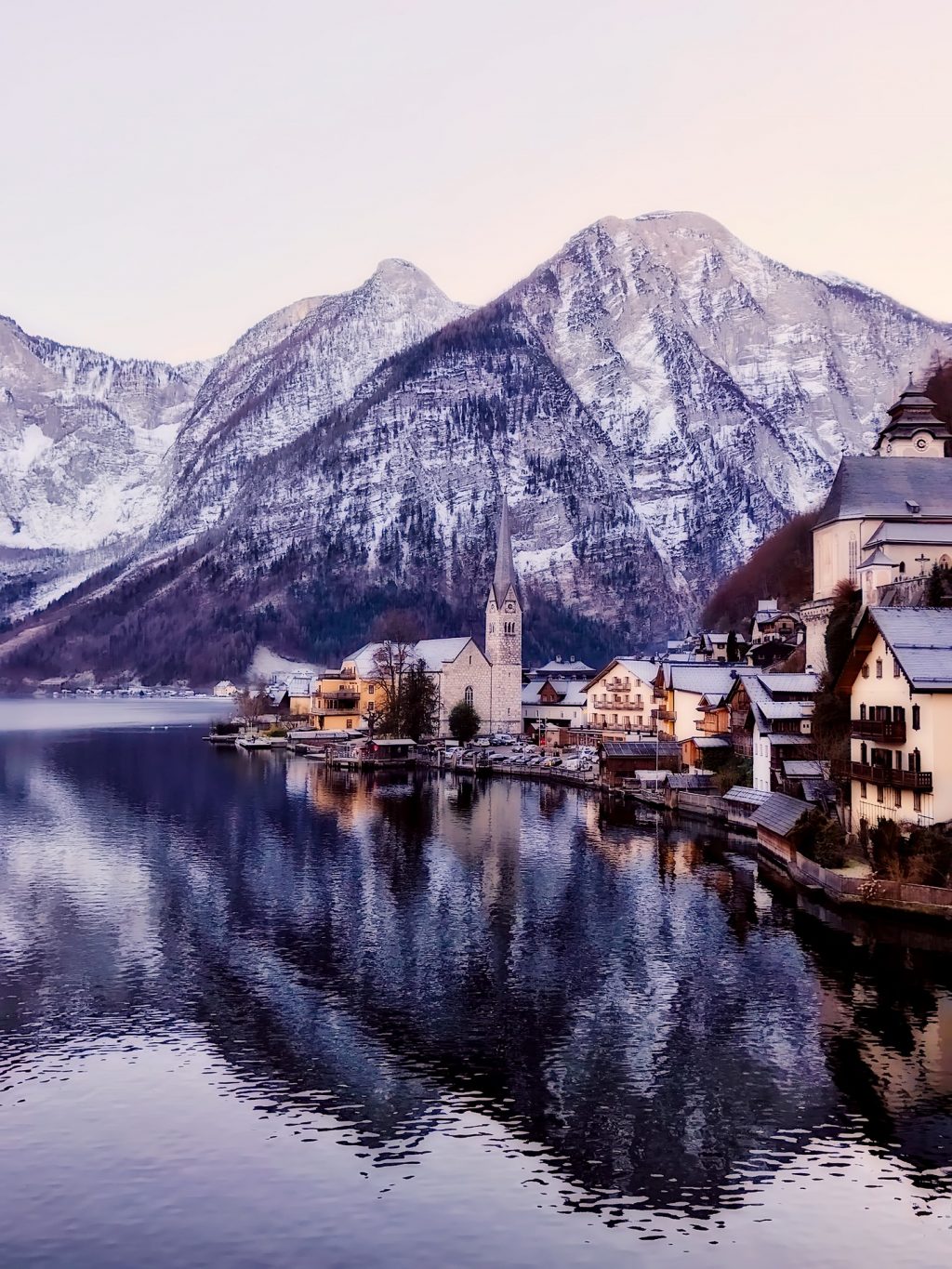 Save
Save
Save
Save
Save
Save
Save
Save
Save