Last Updated on April 10, 2018 by gregor
Can a furniture enlighten your life? Definitely yes – since the Swiss company USM recently introduced a seamless addition to the USM Haller's iconic modular furniture system, where lighting elements are built discreetly into the frame.
Tradition, family business and the brand – the USM story
1855 – 1960: A family business is born
USM was founded in 1885 as a metalworking and locksmith's business by Ulrich Schaerer in Munsingen, Switzerland, where they still remain the production today.
After being specialized in window fittings, ornamental hinges and precision-machined sheet steel the concept changed in the 1960s when Paul Schaerer, the 3rd generation, joined the company. He had studied engineering and planned to update the business.  Fritz Haller, an architect designed a new office and factory utilizing a steel modular construction system – a flexible system that allows easy adaption in times of ncessary changes.
In 1963, Haller and Schaerer developed a furniture to match the new buildings' modularity and versatility. The furnitures, like the buildings, were built not around individual pieces but a system of steel modules that could be adapted and reconfigured to meet the diverse needs of the company's factory and offices. The cornerstone of the system was the elegant and ingenious ball joint, for which they sought a patent for in 1965.
The furniture was intended to be used in USM's own offices, but as it immediately gathered attention for its versatility, durability and style.  The commercial production and sale of the USM Haller system began in 1969 with an order of 600 workstations for the famous Rothschild Bank in Paris, France – a world-class furniture business was born!
Welcome the new USM Haller E – Design meets technical surprises
The latest addition – one that features zeitgeist and development – the USM Haller E was presented on design and furniture exhibitions worldwide.
What is new? This version of the iconic classic HALLER E modular system offers lightening elements directly built into the frame. Different lightening temperatures and additional USB ports are part of it – highlighting elements or object or simply creating a special room atmosphere – anything is possible!
Cables are often disturbing and may destroy a designed room concept – with the HALLER E no cables are needed, the frame itself is designed to let the power safely flow through it!
Have a detailed look:
An office furniture? A design piece? Or more?
Yes of course the USM HALLER System is designed as an office furniture – yet its variability and clean and modern design makes it to a desired object for private homes more and more …. the wide range of colors and variations makes it fit to almost all living purposes….
So, what could be the best purpose to use the newly invented lightened version – USM HALLER E – in your private life!
Let us find out together……
The Bloggers home office
 Bloggers like me do mainly work in their home office – this would be the closest way of using the USM HALLER like primarily intended – as an office furniture. Still it is not only used to store and hide, but to present and show – cameras, accessories, writing material…. Finally – the preferred coffee machine!
The Lady's paradise
As we all are aware of – women never have enough space to store their accessories like shoes, bags, cosmetics, jewels and whatever more…. Now they can also let their precious little things shine in light – yes there will be the need for countless USM Haller modules once women discover this stylish way of storing things that are – no doubt – needed for their daily life!
The Bar
In these days it is part of trendy and stylish lifestyle to be an expert for Whiskey, Gin, Vodka and many other spirits – the perfect glasses for every drink is of course mandatory …. a bar tender equipment a must… again, the USM HALLER E not only displays all the bottles and accessories perfectly but now also lets them shine in light – and make them even more stylish!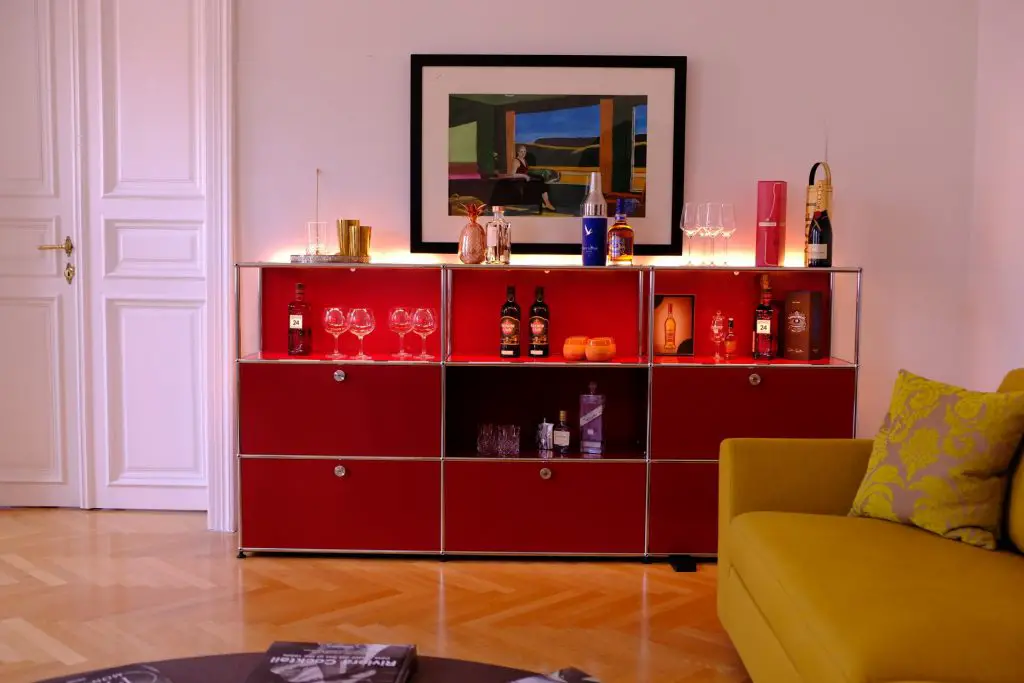 Check out the Video here for more inspirations
Did you already make up your mind –  how will you use the USM HALLER E System – maybe not always effective – but definitely always the most attractive way…….. 😉
In wonderful cooperation with USM
For more Information about the USM Haller E and find your local USM dealer. (CLICK)
Für mehr Informationen über das USM Haller E Möbelbausystem und Vertriebspartner in Deutsch (CLICK)
Finden sie Ihren USM Showroom und Vertriebspartner in Österreich (CLICK)