Last Updated on February 7, 2018 by gregor
During the 1st Chivas Bartenders Chapter Bartour in Vienna, we had the chance to interview Andrea Hörzer owner of the Josef-Cocktail Bar in Vienna and Chivas Regal Whisky Brand Ambassador.
Read more about The Chivas Regal Bartenders Bar Tour in Vienna. (CLICK)
Q: Andrea Hörzer, you are owner in the Josef Cocktail Bar in Vienna- what should we know about your bar?
Discover innovative cocktail culture in the heart of Vienna – in the middle of the historical old town center, the "Josef-Bar", named after the grandfathers of the owners. Let yourself be inspired by contemporary and innovative cocktails, fine spirits and a small, exquisite wine selection. The ambiance of the bar is a mixture of Baroque and details of the 80s. Modern kitchen techniques and classics with a "twist" determine the signature cocktails. My Boyfriend Philipp and I realized a dream with the "Josef" and we are looking forward to opening the doors as hosts and bartenders for cocktail enthusiasts & aficionados.
Q: Chivas Regal selected 4 bartenders from Vienna to become Chivas Regal Whisky Brand Ambassadors this year – you are one of them, what does this mean to you?
It was really a pleasure for me to travel to Scotland and get to know Chivas Regal Whisky better. Because with this inspirations I can tell our guests more about Chivas.
Q: At the beginning of the project, you made a joint trip to Scotland to the origins of Chivas Regal Whisky what impressions and experiences did you gain there?
It was the first time for me in Scotland and it was a great experience, to meet the people behind Chivas. Scotland is such a beautiful country and I am very happy to visit this part of the world. The Chivas Regal Whisky Trip changed my mind about blended Scotch. It was a pleasure to taste a lot of Specials, which are not available in Austria.
Read more about the visit to the Strathisla Distillery in Scotland here (CLICK)
Q: What is so special about the Chivas Regal Whisky for you? Why is it your favorite Whisky?
Chivas was for me the first Whisky which inspired me to try more kinds of whisky and get to know interesting tasting notes. Otherwise Chivas pushed me to create new Cocktails with blended Scotch.
Q: What is the ideal glass for Chivas Regal and what is the reason for it?
For me the perfect serve for Chivas Regal is a nosing glass. Because in this glass you can taste the flavors of the different blends.
Want to find out more about "How to taste Whisky". (CLICK)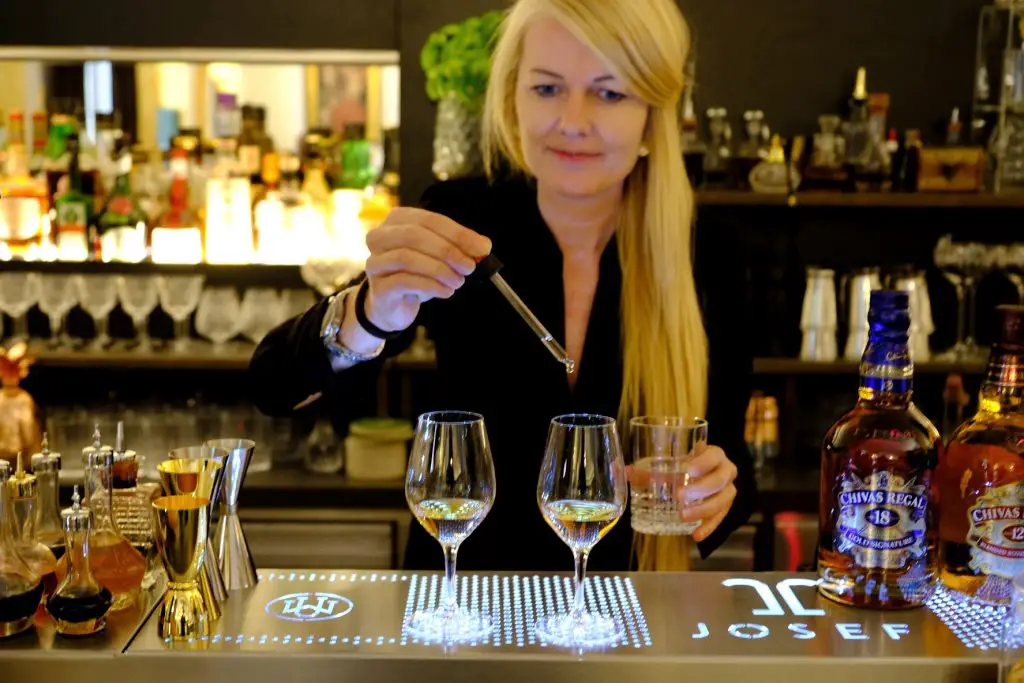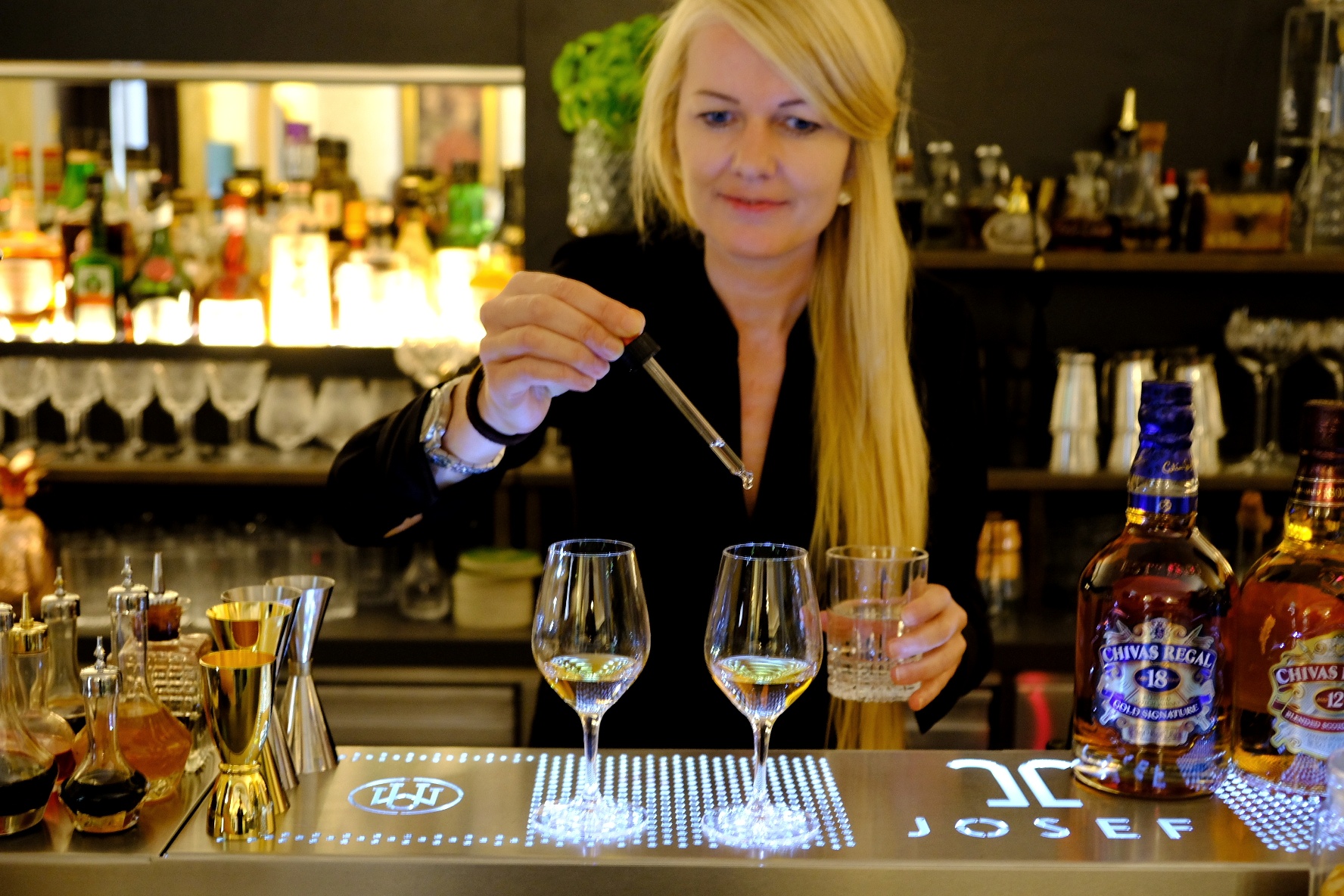 Q: You have created 2x signature cocktails with Chivas Regal 12yo and Chivas Regal 18yo, what was your idea behind these 2 cocktails?
My first drink is the "MARTHA KAISER". I did a fat wash with Walker-Butter-Cookies. We saw this Company when we travelled to Speyside Cooperage and I like these Cookies. When you do a fat-wash, Chivas gets smoother and you taste the cookies. On top I did an Apple Calvados Espuma, because this Ingredients harmonize really good with Chivas 12y.
My second drink is called "WALD & WIESE". I got the inspiration from the nice area and woods from Scotland. I took all ingredients for this drink from the wood. Homemade rose-hip-juice, hazelnut-sirup and a wood floor Essence. This Ingredients harmonize good with Chivas 18y.
Q: Please prepare your Chivas Regal signature cocktails for us and explain the preparation ……
What are the components of the cocktail?
Martha Kaiser:
50ml Chivas 12y fat wash with Butter-Cookies
5ml Simple Syrup
3 dash Sexy Bitters
stir in a mixing Glass with Ice and fill it in an coupette-glass
ON TOP: Apple-Calvados-Espuma
(10ml fresh Lemon Juice, Juices from three Apples, 10ml Calvados, 2 Spoons of Sugar, 20ml Yoghurt – cook it, fill it in an ISI and charge it)
Wald & Wiese
35ml Chivas 18y
1 Barspoon Woodfloor-Essenz
5 ml Hazelnut-Syrup
20ml Rosehip-Juice
-shake it and fill it in a Coupette-glass
Q: Every year, new Chivas Brand Ambassadors will join the Chivas Bartenders' Chapter. Is there any recommendation you would like to give to the following bartenders?
…open your mind and enjoy this fabulous journey…
Q: Finally – what is your personal favorite Chivas Regal Whisky and what do you like about it?
Chivas 12y is the perfect match, because you can drink it pure and it´s a delicious mixing whisky.
TOP TIP!
Chivas Regal whisky connaisseurs have the opportunity in the following selected bars to collect Chiva's shelf points and exchange these in exclusive Chivas Regal gifts.
The Cocktails and Chivas Exclusive Cards are available in the Josef-Bar
Josef Cocktail Bar, Sterngasse 1, 1010 Vienna, Austria
Andrea Hörzer, Josef  Cocktail Bar, Vienna
How to taste Whisky like a PRO?
Want to find out more about "How to taste Whiskey". (CLICK)
In cooperation with Pernod Ricard Austria