Last Updated on November 9, 2023 by gregor
Christmas time is coming! Vienna is always a fascinating city – the weeks before Christmas you could have the impression that the city itself dresses up and presents itself glamourous and breathtaking – and welcoming for everyone!
A sparkling winter wonderland……
Sparkling city lights, the smell of mulled wine or 'Punsch' as well as the scent of cinnamon and vanilla all over the city …. Welcome to the Christmas season in Vienna! Christmas markets can be found in countless romantic and atmospheric places in Vienna like the Rathausplatz`, the `Freyung`, 'Spittelberg' and many more…. just take a walk through the city and find your favorite one.
Christmas in Vienna at The Ritz-Carlton: A Perfect Holiday Experience
Opulent Festive Ambiance: Immerse yourself in the luxurious and enchanting Christmas atmosphere of The Ritz-Carlton Vienna, adorned with exquisite decorations and festive cheer.
Elegant Accommodations: Experience the ultimate in luxury with lavish accommodations, offering comfort and sophistication during your stay in Vienna.
Special Holiday Packages: Explore exclusive holiday packages tailored for Christmas, featuring special perks, such as spa treatments, fine dining experiences, or city tours.
Fine Dining Delights: Indulge in exquisite culinary experiences with gourmet holiday menus and traditional Viennese delicacies crafted by skilled chefs at the hotel's restaurants.
Christmas Events and Activities: Engage in a range of holiday-themed events, including gingerbread house decorating, ornament crafting, and live performances to embrace the spirit of the season.
Magical Vienna Tours: Take advantage of guided tours to witness the city's magical Christmas markets, historic landmarks, and iconic attractions, all steeped in seasonal charm.
Pampering Spa Services: Rejuvenate and relax with special spa treatments designed to help guests unwind amidst the holiday hustle and bustle.
Family-Friendly Offerings: Enjoy family-oriented activities and entertainment, ensuring a memorable and joyful experience for all ages.
Exclusive Shopping Experiences: Benefit from privileged access to boutique shopping or exclusive deals in collaboration with local businesses and artisans.
Personalized Concierge Services: Count on the expert concierge team to assist in planning your personalized Christmas itinerary, offering recommendations and ensuring a seamless, delightful stay.
The Ritz-Carlton Urban Chalet
If you are looking for a very special surrounding you should not miss the Christkindlmarkt on the rooftop terrace of Vienna's Ritz Carlton Hotel! Located directly on the beautiful Ring Boulevard the luxurious hotel offers a spectacular view to many historic and impressive buildings…. all of this in a welcoming atmosphere that makes you feel like being invited to an urban chalet…. A place to relax and enjoy the Christmas moods all around and feel like in a winter holiday … in the heart of the city!
All about the The Ritz-Carlton Urban Chalet (Click)
A secret SPA retreat in the heart of the city
The weeks before Christmas are somehow magical … still they may be stressful with everyone hectic and trying to get everything done in time – couldn`t this be the ideal time to spend some time to relax, let yourself be pampered … have a perfect dinner ….  and let the evening end with a glass of mulled wine….?
A day in the Ritz Carlton Hotel in Vienna offers you everything you need – a day spa pass will let you enjoy the huge indoor pool, steam bath or sauna…. A team of smiling spa employees will be more than happy to offer you massages or beauty treatments…. they also will assist in reserving a table for you at the Dstrikt Steakhouse … many special offers are waiting there …like the Advent Brunch…during Christmas time the menu is extended and Austrian specialties are served … as well as free flow Champagne and various steaks that you can choose directly in the kitchen…. take a ride with the elevator and explore the rooftop Christkindlmarkt …. The urban yet rustic atmosphere and the magic view around the decorated and sparkling city of Vienna…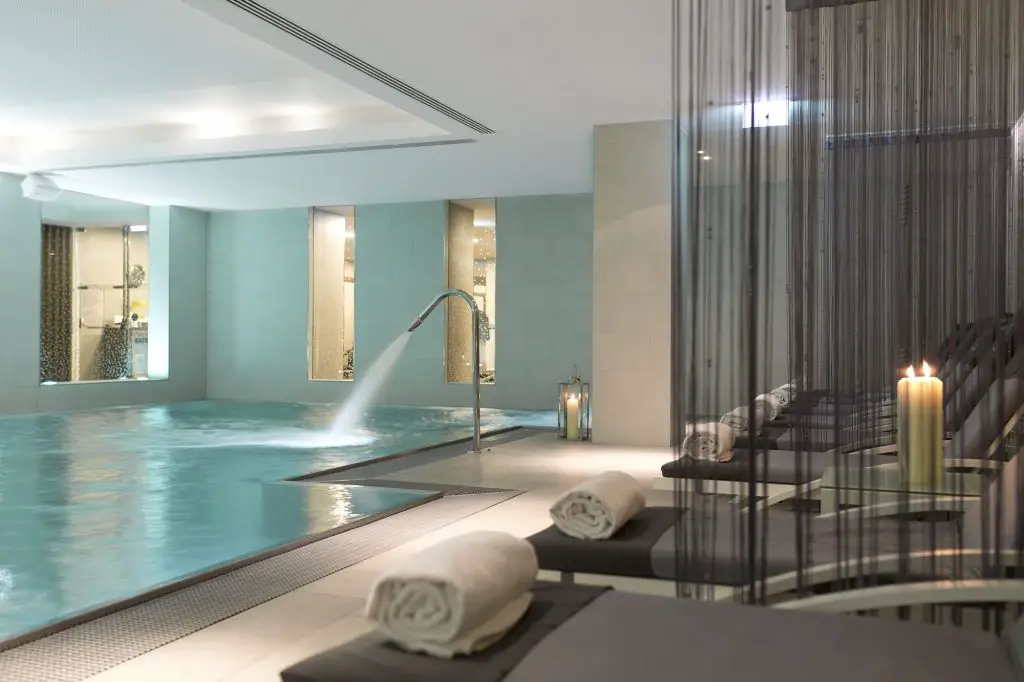 Do you need inspiration for Christmas presents?
The most precious gift one can make is time …. Time to spend with family and friends, relaxing and enjoying…… Why don't you spend a day in the cozy Ritz Carlton Spa together with your loved ones …? Vouchers can be bought directly there…. There is also a special offer – a voucher for ten days at special times, mornings or after work…. Couldn't this be a perfect gift for stressed friends or family members? Any treatment in the spa can be booked as a gift…. massages, beauty treatments like peelings and many more…. you will easily find the ideal gift for everyone …..or you simply choose one of the purely organic Susanne Kaufmann beauty products like the luxurious body oils – yes – choosing a present can be a pleasure!
More about Susanne Kaufmann Organic Treats (Click)
In wonderful cooperation with The Ritz-Carlton Vienna & Susanne Kaufmann
Save
Save
Save
Save
Save
Save