Last Updated on June 18, 2018 by gregor
When it comes to rooftops patios and mesmerizing viewpoints, then Vienna has a great selection to offer. No matter if you are viewing Vienna from the top of a hotel, or an open patio of a restaurant, you will be able to take breathtaking views. If you are new in Vienna, or just here for a few days, then you must witness these amazing views. It will be cruel to leave without at least trying one of these best rooftops, patios, and viewpoints that Vienna has to offer. Keep on reading, as this post contains all the viewpoints I have enjoyed myself and feel free to share with others.
Vienna Best Rooftop Patios and Viewpoints
Stephansdom North & South Towers
The most beautiful and breathtaking views you can enjoy in Vienna. The south tower is higher than the north tower and offers a complete 360-degree view. However, they don't have a lift, and you will have to climb 343 steps to make your way to the top. They offer a reasonable ticket price for the north and south tower. They both offer a stunning view that you simply cannot miss out.
Address: St. Stephan's Cathedral, Stephansplatz 3, 1011
North Tower : Stephansdom North Tower (Click)
South Tower: Stephansdom South Tower (Click)
The Ritz Carlton Hotel, Vienna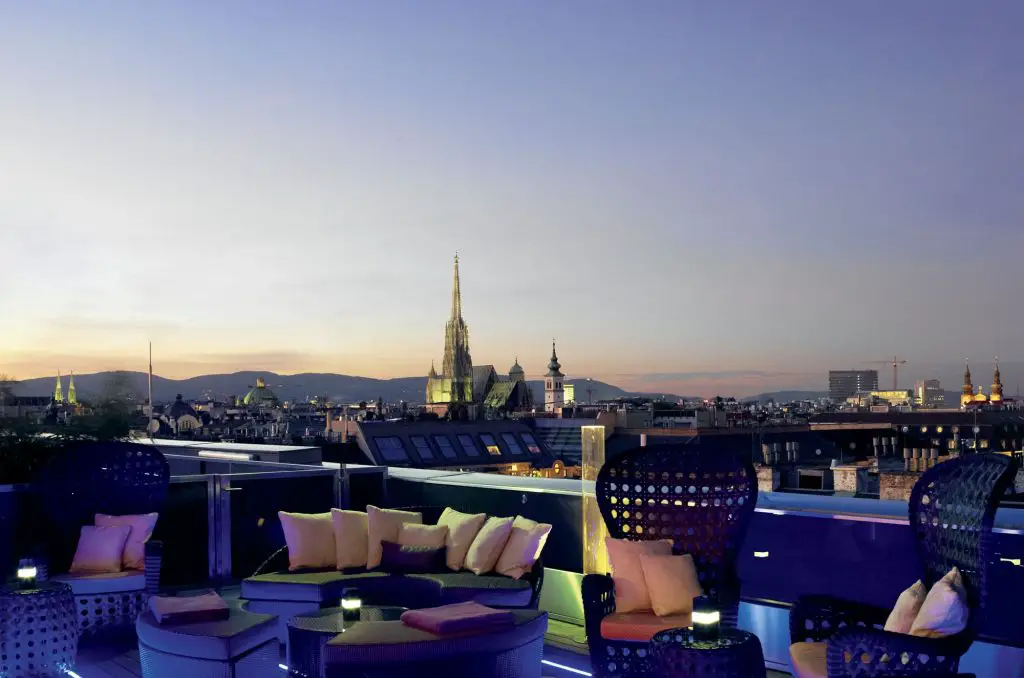 A luxury hotel, that offers something extra. The Ritz Carlton in Vienna has a gorgeous rooftop patio, that offers a great view of the city. When you look north you will be able to see the tips of Stephansdom & Rathaus. When you look in the southeast direction you will see the beautiful Karlskirche and the Belvedere. If you get a chance to visit during the winters, then you will be able to enjoy the city's highest Christmas market. Either way, the place offers an experience you should not miss out.
Address: Schubertring 5- 7 Vienna, 1010
More Information: http://www.ritzcarlton.com (Click)
Palace of Justice
Justizpalast –  The palace is situated near the Vienna Ringstrasse, and the Austrian parliament. When you walk in, you will see a gorgeous foyer, from here you can make your way to the top cafe. You will be able to enjoy a range of refreshments as you take in the stunning view. The palace has great deal of history and is an iconic landmark that you should definitely check out if you have the time.
Address: Schmerlingplatz 10-11, 1010
More Information: Justiz Cafe Vienna (Click)
Twenty-Five Hours Hotel
The 25 Hours Hotel is situated near the Ringstrasse and offers a fully stocked rooftop terrace. The place has a perfect ambiance and will add to the gorgeous view of the city. As you sip on your favorite drink, you will take some of the most gorgeous sights the city has to offer. The terrace is facing the Rathaus, Stephansdom, and other well known architectures in Vienna. Grab a chair, and order your favorite drink, and you will never want to leave.
Addres: Lerchenfelder Straße 1-3
More Information: 25hours Hotel Vienna (Click)
Cafe Bar Bloom
The Cafe Bar Bloom is just a short walk from Stephansplatz and is a beautiful bar that offers delicious drinks and snacks. You can easily enjoy the amazing view, as you eat hot food, and sip on a refreshing drinks. There are a few occasions when you are able to catch a glimpse of the sun setting behind one of Vienna's most iconic landmarks. The Stephansdom is a gorgeous piece of architecture, that is brought to life during the sunset.
Address: Rotentrumstraße 15, Lichtensteg 3, 1010
More Information: Vienna Cafe Bloom Bar (Click)
Gerngross, Mariahilferstrasse
This mall is located along Vienna's Mariahilferstrasse. The place is packed with shops on the lower level, and the top there is a restaurant. The shops are closed on Sundays, but the restaurant is open 7 days a week, so you can enjoy a delicious meal with a beautiful view of the city of Vienna.
Address: Mariahilfer Str. 42-48, 1070
Official Website: Vienna Gerngross Kaufhaus (Click)
Donau Tower
The Donau tower rises from the Donaupark, that is located on the north side of the city. With a 150-meter high viewing point, it's hard to miss anything. The platform offers a complete 360 degrees view of Vienna, so you can take in all the beautiful sights and charm the city has to offer. In addition, if you love a good adrenaline rush, the tower offers a bungee jumping site. Or you can grab a quick bite at the restaurant.
Address: Donauturmstraße 4, 1220
More Information: Vienna Donauturm (Click)
Sofitel Hotel
You can get to the Sofitel by crossing the Danube canal located near Schwedenplatz. This stunning hotel offers an even more stunning rooftop restaurant and bar. You can enjoy anything from food to cocktails watching the mesmerizing sunset. If you wish to visit the place alone you can grab a chair at the bar, where you will get both food and a variety of delicious drinks.
Address: Praterstraße 1, 1020
More Information:  Sofitel Vienna Stephansdom das Loft Bar (Click)
Haus Des Meeres
The place is actually an aquarium that offers a huge range of tropical fish and exotic animals from all over the world. However, the 9th and 11th floor have been transformed into a viewing room. From here you can take in gorgeous views of the city, and if you visit the 11th floor you can grab food and drinks at the Ocean's Sky Cafe while enjoying a panoramic view.
Address: Fritz-Grunbaum-Platz 1, 1060
More Information: Vienna Haus des Meeres (Click)
Schönbrunn Palace and Gardens
One of the most popular attractions in the city, the Schönbrunn gardens are free to enter from the rear of the palace. When you reach the top of the garden, you will be able to see as far as Kahlenberg. If you wish to enjoy a higher view, then you will have to pay a small fee to get to the Gloriette. The view just gets a even better, and you can rest for a while.
Address: Schloß Schönbrunn, 1130
More Information: Vienna Schönbrunn Palace and Gardens (Click)
Kahlenberg
If you head towards the north, you will find yourself in Kahlenberg and Viennese Wineries that offer a spectacular view of the city. If you don't have a car, you can easily take the 38A bus, that will take you all the way to the top. If you are a hiker, then you can follow the hiking trails, keep in mind that hike 1 and 1a can help you reach the viewpoints, and you can find more information by clicking on the link provided below.
More Information: https://www.wien.gv.at/english/leisure/hiking/ (Click)
Jubiläumswarte
If you head towards the west side of the city you will end up in Jubiläumswarte. You can reach the top using a bus, car, or by following the hike 4 route. The thin tower is tall and offers chilled air. As you are at a great deal of height and will be able to take in the lush green trees filled hills, a rural scene, and a touch of the city. The place does not offer the same view as the other places do, but it is a must have experience.
Address: Johann-Staud-Straße 80, 1160
Skybar at Steffl Department Store
The Skybar is more of a restaurant and cafe, then just a bar. You can take in a beautiful view of the city, as you try many international and local dishes and drinks. The place is surrounded with landmarks, so you can walk around and take in the city from a different viewpoint from a single location. In addition, the place offers a different perspective and allows you to take in some of the most iconic landmarks and architectures.
Address: Steffl Department Store Karntner Straße 19, 1010
More Information: www.skybox.at (Click)
These are some of the best places that offer amazing views around Vienna. What is amazing is that each place offers a different perspective of the city and allows you to take in a great deal of beauty and atmosphere. As you enjoy a cool drink or have so tasty food you can simply look around and wonder the great history the city has to offer. Vienna has been through a great deal over the years and is finally making its way to the top. Just by standing on top of our first recommendation, you will realize why Vienna is regarded as a tourist hotspot. Yet, even with a great range of tourists hustling and bustling around the city, you will be able to enjoy the company of friendly locals, simply taking  the beautiful views of the city as you are.
Get started on these best rooftop patios and viewpoints in Vienna and will keep soon add more locations to the list. However, if you feel that we have missed an important viewpoint in Vienna, then do not hesitate to get in touch. As we would love to add your recommendation to the list and visit the space ourselves.
More Travel Guides of Vienna
Where to go in Vienna?
TheViennaBlog has thoroughly studied all the attractions but also hidden secrets to uncover in Vienna. (Click Links below to get to the information)
Here is the Vienna Ultimate Top 50 Bucket List
Here is the Best of Vienna in 4 hours
Here is the Best of Vienna in 4 hours (Summer Edition)
Here are the Best 5 things to do in Vienna the most liveable city in the world
Here are the Vienna Old Streets in Historic Center
Here is the Spittelberg Village in Vienna
Save
Save
Save