Last Updated on January 10, 2023 by gregor
Are you looking for the Best Vegan food & Vegan Restaurants in Vienna? Here is the Ultimate List of the Best Vegan restaurants in Vienna. If you need a healthy dinner or just a fast snack here you find the right restaurant in Vienna. We show you our favorites when it comes to vegan burgers, breakfast, ice cream, or cakes.
Each Vegan Restaurant is categorized in Description, Food and Drink Culinary Highlights, and Contact Details and Reservation. Whether you're looking for the Best vegan restaurant in Vienna for brunch and dinner, or maybe a Vegan Burger or Vegan Ice Cream, you'll find all that and more in this post!
The Best Vegan Restaurants & Food in Vienna
MAP of the BEST VEGAN Restaurants in Vienna
Top Tip: When you find the place you like, simply click the link to google maps (Below) and get walking!
Tian Restaurant Vienna, 1010 + 1070 Vienna
Description
Tian is Vienna's Michelin-starred vegetarian restaurant in the 1st district. 'Tian' means 'heaven',  in Chinese, and in French, it's the name of a vegetarian stew. These words describe Tian restaurant perfectly.
Vegan Food & Drink Culinary Highlights
All the meals are carefully prepared and are an experience for the taste buds and eyes.
Guests are able to choose between four, six, or eight-course menus, which utilize ingredients from the restaurant's own garden. The great selection of wines is perfect for wine lovers.
The wine menu has 150 items, and Austrian natural wines are the main items on the menu.
Tasting Menu by Paul Ivic.
Contact details and Reservation
Opening hours: Tue-Fri 6pm-12pm; Sat 12am–4pm and 6pm–12pm
Himmelpfortgasse 23, 1010 Vienna
Website: www.tian-vienna.com
eMail:

[email protected]

phone: 01/890 46 65
I highly recommend booking a table in advance
Tian Bistro am Spittelberg
Tian has also opened up the 'Tian Bistro' in the more laid-back 7th district, where you can enjoy the same quality of food in a relaxed atmosphere amongst the cobblestones.
Schrankgasse 4, 1070 Vienna
www.tian-bistro.com
Veggiezz, 1010 Vienna
Description
Vegan fast-food restaurant. This is a fantastic lunch option, with outlets all over the city.
Vegan Food & Drink Culinary Highlights
On the menu are burgers with homemade fries, healthy bowls, wraps, and even vegan steaks.
Everything here is 100% vegan, so you don't need to worry about making changes to any dishes, and the service is always quick.
Homemade lemonade
mouth-watering sweet potato fries
Vegan Cake (Sacher Cake)
Contact details and Reservation
The website with opening hours:  veggiezz.at
There are currently 5 outlets of these 'vegan dining room' restaurants at the following locations:
Veggiezz 1010 Wien, Salzgries 9
Veggiezz 1010 Wien, Opernring 6
Veggiezz 1090 Wien,
Alserbachstraße 30
Veggiezz 1100 Wien, Keplerplatz 11,
Veggiezz 8605 Kapfenberg, Wiener Straße 35a
Swing Kitchen
Description
The Swing Kitchen is another one of the best vegan restaurants. Swing Kitchen's industrial-chic design and background music take you back to the swing era of the 1920s. It is a fast-food restaurant where you find excellent vegetarian burgers accompanied by different side dishes, on a menu or solo.
Vegan Food & Drink Culinary Highlights
The burger buns are made of soy and wheat
the vegetables and salads are from regional farmers.
The schnitzel burger is very popular!
Great sweet potato waffle fries, imaginative dips, and vegan tiramisu.
An extraordinary selection of drinks, like homemade cola, are made from Austrian products
Contact details and Opening hours
Opening hours: Mon-Sun 11am-10pm
Several Locations in Vienna (Location Details please see the below)
Website: www.swingkitchen.com
Schottenfeldgasse 3, 1070 Wien
Operngasse 24, 1040 Wien
Josefstädterstraße 73, 1080 Wien
Währinger Straße 47, 1090 Wien
Schwedenplatz 3-4, Top 4-5, 1010 Wien
Superfood Deli
Description
Superfood Deli serves some of the best organic bowls in the city.
Vegan Food & Drink Culinary Highlights
Best Acai Bowl in Vienna
serves delicious açaí, poké & porridge bowls.
Packed with superfoods & made from plants.
Contact details & Restaurants
📍Wipplingerstr. 3
📍Maria Theresien Str. 5
📍Lerchenfelder Str. 63
📍Operng. 34
📍Mariahilfer Str. 45
Website: https://www.superfooddeli.at/contact
Veganista, Best Vegan Ice Cream
Description
Vegan ice cream is in demand.  The queues outside the door let you know that this is ice cream worth waiting for!  Fresh, Minimalist, Retro Tiles Atmosphere
Vegan Food & Drink Culinary Highlights
The Ice Sandwich Inbetweeners!
an exciting array of flavors,
made fresh every day
quality, natural ingredients.
The Ice varieties are changing regularly.
Price: €€  the best vegan ice cream in the world
Contact details
There are many many Veganista sites in the city
Website: www.veganista.at
Neustiftgasse 23, 1070 Wien
Margaretenstraße 51, 1050 Wien
Alserbachstraße 5, 1090 Wien
Taborstraße 15, 1020 Wien
Operngasse 34, 1040 Wien
Ungargasse 55, 1030 Wien
Amerlingstraße 19, 1060 Wien
Döblinger Hauptstraße 57, 1190 Wien
Harvest Bistrot, 1020 Vienna
Description
A vegetarian bistro, offers 'slow food served quickly'. A coffee house with a living room atmosphere! You can meet up with friends, work with your laptop or just chill to the extreme. Cafe Harvest is one of the best vegan restaurants Vienna has when it comes to healthy, invigorating brunches.
Vegan Food & Drink Culinary Highlights
The focus is on vegan meals, which are served at a buffet.
Guests can also choose from a tasty breakfast menu until midday
great à la carte dishes throughout the afternoon.
Guests can enjoy their meal outside,
most beautiful view of the Karmelitermarkt and its church.
Contact details and Opening hours
Opening hours: Mon-Fri 14am-11pm; Sat-Sun 10am-11pm
Karmeliterplatz 1, 1020 Vienna
Simply Raw Bakery Bistro, 1010 Vienna
Description
The simply raw bakery is a sugar-sweet, small café right in Vienna's city center. The bakery has specialized in raw food nutrition and treats guests to cakes, breakfast, and brunch as well as catering.
The café is located right near Stephansplatz and is therefore perfect for a short break in between when you are out and about in Vienna's city center. Due to its location, it is also very popular with tourists and sometimes it is not that easy to get a seat.
Vegan Food & Drink Culinary Highlights
Raw and vegan are the sweet delights of the Simply Raw Bakery. Brownies, chocolates, cupcakes, and co. Not only look great but also taste really good. All ingredients are organic.
Contact details and Opening hours
Drahtgasse 2, 1010 Vienna
Phone +43 677 624 691 24
https://www.simplyrawbakery.at/
Naturkost St. Josef, 1070 Vienna
Description
Guests will find a new and varied (vegan or vegetarian) lunch, and soup menu that is updated daily. In addition to this, you can select from a lot of salads, freshly squeezed juices, homemade ice teas, and desserts.
Vegan Food & Drink Culinary Highlights
The food shop leaves nothing to be desired, offering everything from fresh vegetables, cheese, bread, and chocolate, to basic products such as rice and noodles.
Contact details and Opening hours
Opening hours: Mon-Fri 8am-6:30pm; Sat 8am-5pm
Zollergasse 26, 1070 Vienna
Homepage: n/a
YAMM!, 1010 Vienna
Description
International and local vegetarian & vegan dishes – contemporary setting with outdoor seats.
Food & Drink Culinary Highlights
delicious vegetarian buffet
a wide variety of vegetarian dishes
salads, breakfast dishes, and smoothies
Our favorite one is the veggie burger
Contact details and Opening hours
Universitätsring 10, 1010 Wien
www.yamm.at
Venuss,
1010 + 1190 Vienna
Description
Austrian classics with an all-vegan twist.
Food & Drink Culinary Highlights
plant-based and still preserve tradition.
 evening buffet
 a takeaway menu
Contact details and Opening hours
Website: venuss.com
Address:
Herrengasse 6-8, Vienna, Austria, 1010
Leopold-Ungar Platz 2
Hollerei, 1150 Vienna
Description
The restaurant Hollerei is situated just outside of the city center but is easily reachable by public transport. It provides a relaxed ambiance, with a cozy wooden interior and a garden for beautiful summer days outside.
Food & Drink Culinary Highlights
Meals are influenced by Asian and Mediterranean cuisine
food is presented in a very creative manner
Technically it is a vegetarian restaurant
Contact details and Opening hours
Opening hours: Mon-Sat 11.30am-11pm; Sun 11.30am-3pm
Hollergasse 9, 1150 Vienna
The Vegetasia, 1030 Vienna
Description
Vegetasia has been offering vegan cuisine since 1988, making it the first vegan restaurant in Austria.
Food & Drink Culinary Highlights
Lunch and dinner are all-you-can-eat buffets
large selection of vegetarian & vegan dishes.
Soups, salads, starters, and main courses
sweet treats, and desserts from the in-house patisserie
refine the dishes with Asian herbs and cook according to the 5 elements
Contact details
Ungargasse 57. 1030 Vienna
www.vegetasia.at
Maran Vegan Bistro, 1060 Vienna
Description
The vegan restaurant is part of the vegan supermarket Maran. Maran is more than just one of the top vegan restaurants Vienna has to offer – it's also the best place to get your plant-based groceries!
Food & Drink Culinary Highlights
offers daily breakfast, lunch, salads, and flour dishes
Contact details
Stumpergasse 57, 1060 Vienna
www.maranvegan.at/
Lebenbauer Vollwert Restaurant, 
Description
Offer to cook all dishes vegan, great selection of dishes
Contact details
Teinfaltstraße 3, 1010 Wien
www.lebenbauer.eu
Frequently asked questions about Vegan Restaurants in Vienna
Is Vienna good for vegans and vegetarians?
Yes. In the last years, many vegan and vegetarian restaurants opened in the city.  There is a great choice from the Tian Michelin Star restaurant to the Veggiezz Fast Food/Burger.
Can you be a vegetarian in Austria?
Yes, many restaurants offer vegan food in Vienna and all over Austria
If you have any additional restaurants to mention please let me know in the comments below or send us an email ([email protected])  and we will add you to that article.  Many thanks!
PIN IT if you like to share it with your friends on Pinterest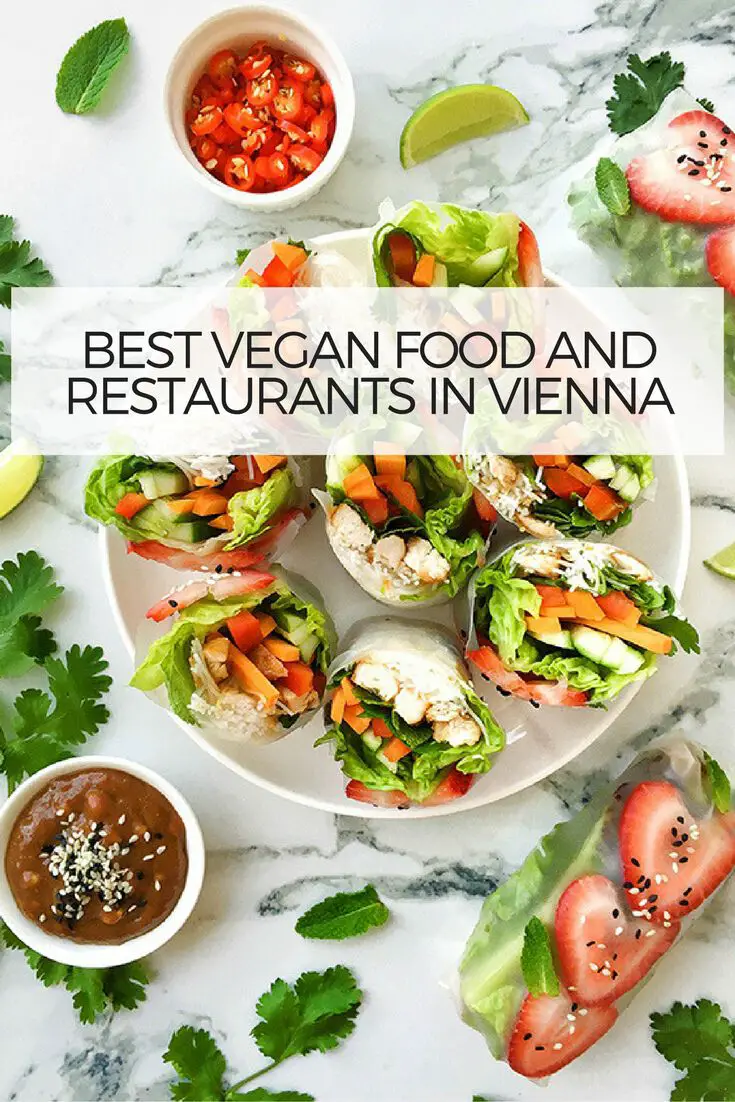 Photo Credits: Karen McLaren
Save
Save
Save
Save
Save
Save
Save
Save
Save
Save
Save