Last Updated on September 28, 2022 by gregor
If you're looking for a festive Christmas experience like no other, then you have to spend Christmas in Europe. It's all about elaborate celebrations, singing carols, and scrumptious pigs in blankets. There are tonnes of European Christmas markets that start to pop up around November, and some run right through to January. Some are famous and well known, and then others are a little more off the beaten track. You're spoiled for choice. And to help you with your decision and give you a little bit of festive inspiration, we've put together a list of the top 10 Christmas markets in Europe. Let's begin. 
When Do Christmas Markets In Europe Start?
Every European city's Christmas market starting time is different. Some may begin in mid-November, while others mightn't start until the beginning of December. It all depends on the city.
The List Of The Best Christmas Markets In Europe For 2022
So start from the top, and make your way to the bottom for a completely magical escapade.
VIENNA, Austria
If you love Christmas, then Vienna is the ultimate place to be around during the holiday season, as there are many markets that you can explore right until Christmas day, meaning you will be breathing in the Holiday cheer for more than a month even before Christmas.
If you are planning to visit Vienna then you can use our guide to find the Best Christmas Markets in Vienna, to enable you to experience the holiday season at its best.
Ultimate Christmas Market Guide in Vienna (CLICK)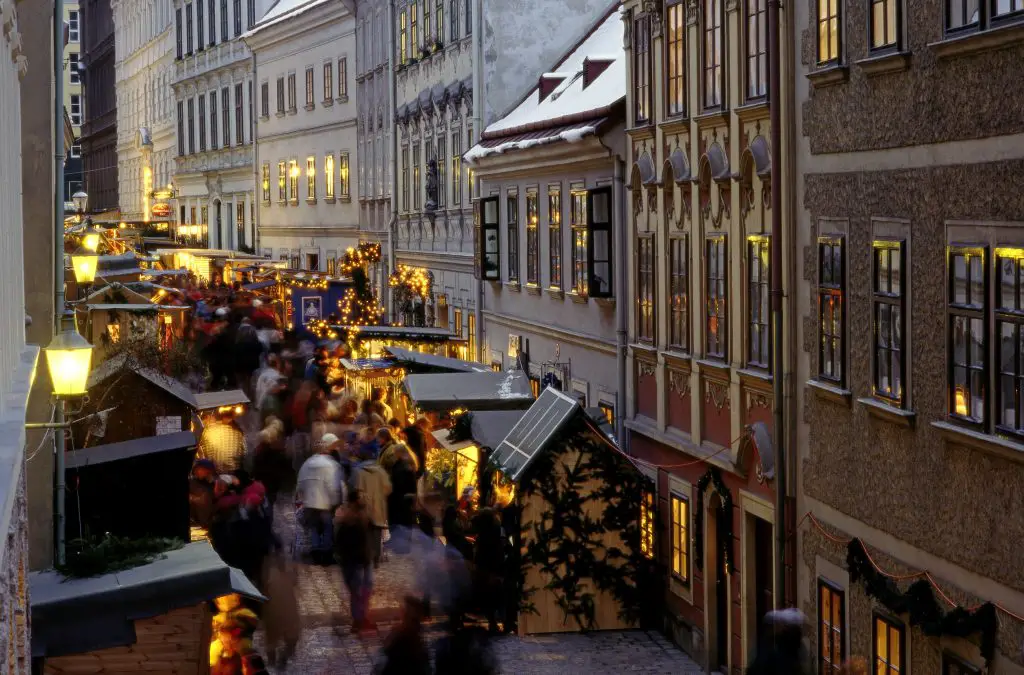 Brussels, Belgium
An amazing city to visit when winter comes is Brussels. The first Christmas market began back in 2002 and has evolved into the Winter Wonders festival that's known for its mesmerizing sound and light show at the Grand Place and the sky-scraping Ferris wheel, as well as 200 artisans from all over Europe selling handmade Christmas crafts, gifts, and souvenirs from their market stalls. That's not to suggest that Belgian goods aren't sold, you'll find plenty offering local crafts too.
After you've finished your gift shopping at the magical Christmas markets, you need to indulge in some Belgian chocolate waffles. If you haven't already tried them, you're in for a treat.
The market starts on the 25th of November and ends on the 1st of January.
More Infos & Opening hours (CLICK)
Copenhagen, Denmark
Copenhagen has some of the best Christmas markets in Europe to visit in 2022, filled with extravagant Christmas decorations and huge Christmas trees. One of them even takes place in the historic park. That's the one where you'll be able to catch a glimpse of approximately four miles of lights, which are hung in various shapes and patterns. These lights were created by Tiffany's head designer, so they aren't cheap. In addition, you can head over to the hundreds of stands along the Lakeside Willows to get some festive goodies. You can beat the cold with hot mulled red wine with almonds, raisins, cloves, cinnamon sticks, and iced doughnuts with blackcurrant jam are served there either.
The amazing Christmas markets in Copenhagen are open from the 18th of November until the 31st of December.
More Infos & Opening hours (CLICK)
London, England
London is known as one of the best cities in the world for picking up Christmas gifts. People fly into the British capital from all over the world to visit the Christmas markets around the city. You'll see Regent Street filled with Christmas lights, getting ready for the parade that happens every year.
There is no exact area where most people visit in London over Christmas, as they spread the several Christmas markets throughout the city from Trafalgar Square to Somerset House. This allows people to enjoy their time as there aren't as many crowds then. In the city, you will be able to see trees filled with fairy lights and enjoy a complete winter wonderland Christmas fair at Hyde Park. The park features a large ice rink for outdoor skating, a Ferris wheel, a toboggan slide, a traditional German Christmas village, and carolers singing their hearts out. You can even manage to find some smaller markets on the outskirts of the city. 
The London Christmas markets take place from the 18th of November to the 1st of January.
More Infos & Opening hours (CLICK)
More Infos of the HydePark Winter Wonderland (CLICK)
Dresden, Germany
We all know, to discover the best Christmas markets, you need to make your way to Germany. Dresden's Striezelmarkt is a one-of-a-kind event in central Europe that has happened for a whopping 587 years. It offers over 230 craft stalls and a 46-foot Christmas pyramid. The Striezelmarkt celebrates each of the Advent weekends with a local tradition from the city. It's by no means the only Christmas market in the city, as you can find the likes of the Striezelmarkt and the Augustusmarkt, both equally as good and worth a look at.
The Dresden Christmas markets take place from the 23rd of November to the 24th of December.
More Infos & Opening hours (CLICK)
Munich, Germany
Munich is one of the best European Christmas locations and has one of the busiest Christmas markets in Germany. It dates back to the 14th century and is known for its main feature, the 85-foot tall Christmas tree that's surrounded by glittering craft stalls selling warm cups of cocoa and tasty sweet treats that continue on for a couple of kilometers. It's a perfect place if you're traveling with kids and the family, as there are lots of events tailored for the young, including a visit to Santa or learning how to make some festive crafts.
Munich's Christmas markets begin on the 20th of November to the 7th of January.
More Infos & Opening hours (CLICK)
Nuremberg, Germany
This is one of the oldest and biggest Christmas markets in Europe and caters to more than two million people each year. The market offers more than 180 booths that sell everything from ornaments to add to your collection to children's toys. Walking through the market, you'll take in the aroma of freshly baked Christmas cookies and warm mulled wine.
The Nuremberg Christmas markets begin on the 25th of November to the 24th of December.
More Infos & Opening hours (CLICK)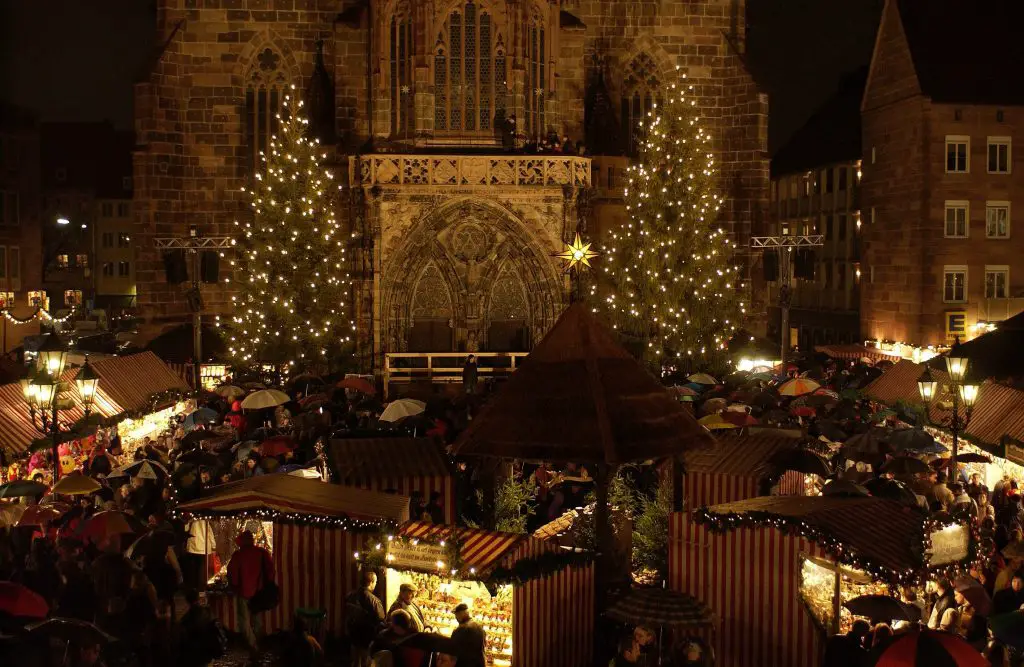 Prague, Czech Republic
One of the two main Christmas markets in Prague is located on the long slope of Wenceslas Square, while the other can be found at Old Town Square. The most popular is the one in the Old Town, where there is a huge Christmas tree in the bang centre decorated with the most beautiful crystal clear ice white lights. From a petting zoo for the kids to stalls selling some delightful pilsner, there's something for everybody to get them in the Christmas spirit.
The Prague Christmas markets are open from the 26th of November to the 6th of January.
More Infos & Opening hours (CLICK)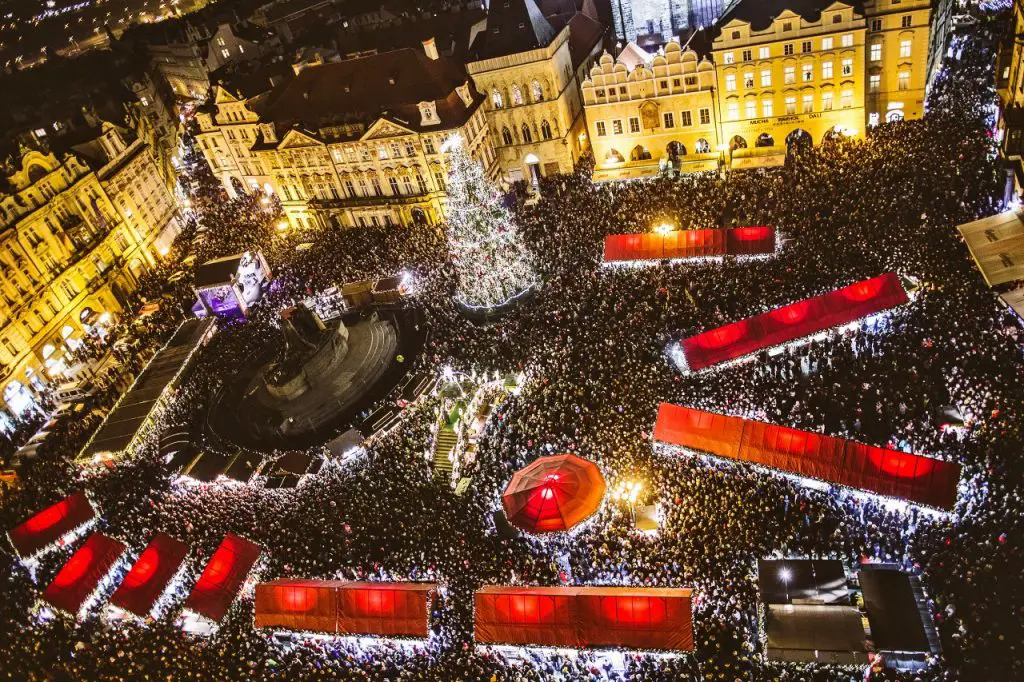 Rome, Italy
Rome is well known for its Christmas markets, including the main one at Piazza Navona. It's located beside the water fountains in the area, and believe me, this pocket of the city looks like a different place when it's done up for the holidays with the magical market booths selling mini gingerbread men and the merry-go-round blaring some good old Christmas tunes. Besides the festive side of things, you also get to see the historical side of the city, which adds to the experience.
The Christmas markets in Rome are open from the 19th of November to the 27th of December.
More Infos & Opening hours (CLICK)
Salzburg, Austria
In Salzburg, they have one of the many great Christmas markets in Austria, and it's a great example of how a city can go from a historic haven to a winter wonderland. However, compared to others in Europe, Salzburg presents a slightly smaller setting, with about 100 booths that offer everything that an amazing Christmas destination has to offer, including lovely little souvenirs such as festive balls to hang on the tree and decorated candles to place on your centerpiece on the big day. As you walk down the streets of Salzburg, you will be able to take in a great historical display that many around the world wish to see at least once in their lifetime, while also catching a glimpse of children chasing each other across the path, firing snowballs to get the last laugh.
Salzburg Christmas markets are open from the 17th of November to the 1st of January.
More Infos & Opening hours (CLICK)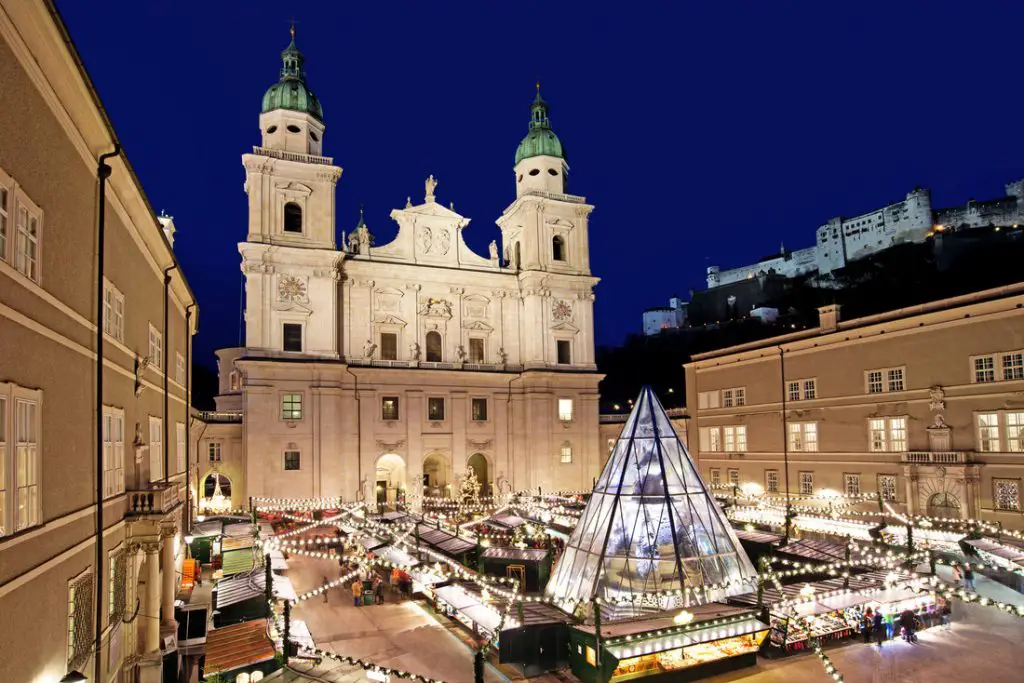 Strasbourg, France
As we know, France is seen as one of the more popular Christmas market destinations in Europe. Most people who want to see the Christmas markets in France will usually head to the likes of Paris, but Strasbourg is one that's equally as good and well worth a visit and doesn't have nearly the same number of people, so you can take your time strolling through the streets. Little did you know that Strasbourg has the oldest Christmas market in Europe which began in 1570. The markets in Strasbourg are referred to as the Marché de Noël and have over 300 stalls offering lots of festive delights. One market we'd recommend you check out is the one over at Place Kleber. It's home to the ginormous 30-foot Christmas tree that's uniquely decorated every year and photos really well. Because Strasbourg is on the French/German border, the region's cultural traditions are different compared to other parts of the country, and you can see this throughout the markets with the way vendors decorate their stalls and people dress. All in all, it makes the experience truly unique.
Strasbourg Christmas markets are open from the 24th of November to the 29th of December.
More Infos & Opening hours (CLICK)
Other Christmas Markets In Europe To Visit For 2022
We've given you our top ten, but there are lots more Christmas markets to visit across the continent that we haven't mentioned. Here are a few more you should take a look at and add to your Christmas Markets in Europe Bucket List.
The Gdansk Christmas market
The Manchester Christmas markets
The Christmas stalls in Cologne
The little markets of Vilnius
The authentic Christmas markets around the Seville Cathedral
The festive markets beside Market Square in Wroclaw
The Advent Christmas market in Zagreb
Christmas Markets Spread Across Austria
Now that we've given you a huge number of Christmas markets in Europe, we want to give you a list of our Top Christmas Markets in Austria that you should plan when visiting Austria in Wintertime.
The Christmas markets in Innsbruck
The beautiful Christmas markets in Linz
The traditional Christmas markets in Graz
Related Christmas Market Articles
TOP TIPS AND INSPIRATIONS FOR CHRISTMAS MARKET PHOTOGRAPHY AND INSTAGRAM
VIENNA – TOP 10 THINGS TO DO IN CHRISTMAS AND WINTERTIME
Best Christmas Quotes of All Time
50 Best Christmas Quote of all time (CLICK)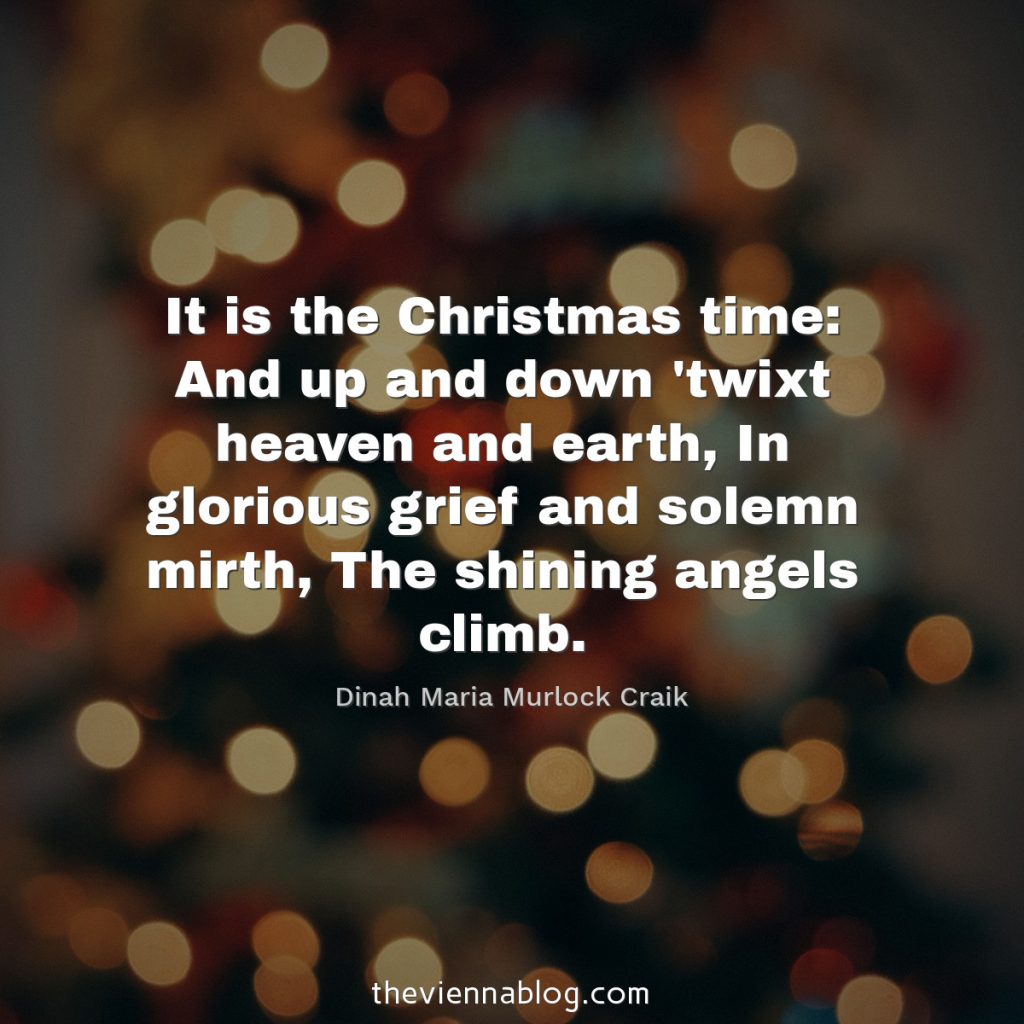 Top Tips and Ideas for Winter/Snow Photography
Top 10 Tips and Ideas for making amazing winter photos (CLICK)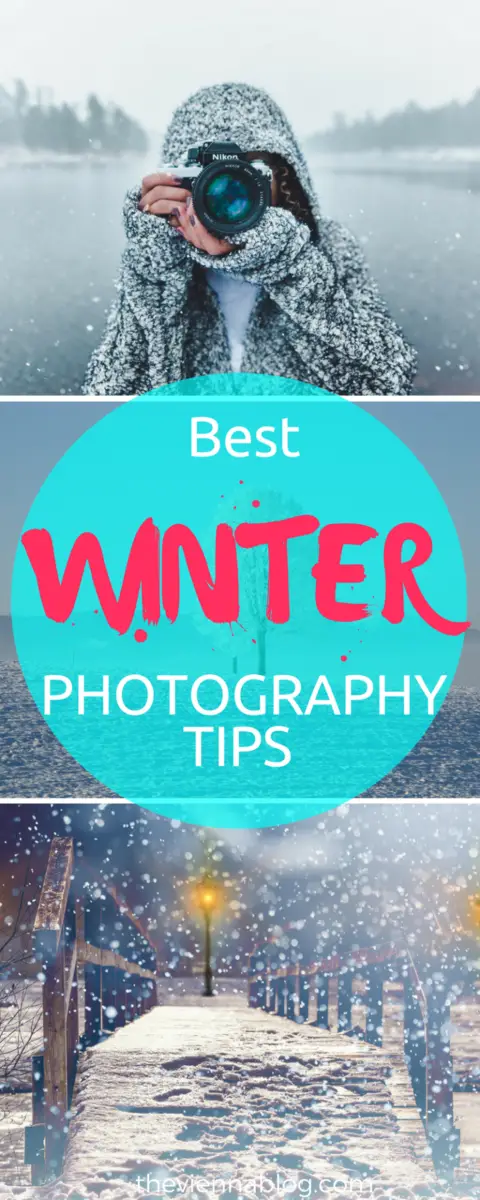 Hope you enjoy our fine collection of Christmas Markets in Europe. What is your favorite Christmas Market ?
Save
Save
Save
Save
Save
Save
Save
Save
Save
Save