Last Updated on July 5, 2017 by gregor
The Johnnie Walker Blue Label Vienna Limited Edition
Vienna, the city on the Danube is internationally known for its artistic, intellectual legacy and for its unique architecture. As diverse and unique as the taste note of the so-called blue-bean Johnnie
Walker Blue Label is also the city. It has a rich heritage, an incredible complexity like no other and is one of Europe's most beautiful cities. Johnnie Walker Blue Label reflects the flair of historic Vienna and dedicates to the city its own limited edition, the Johnnie Walker Blue Label Vienna Limited Edition.
The new Vienna edition was presented by Johnnie Walker in the off-location "THE VAULT" in Vienna under the moderation of newsspeaker Roman Rafreider and the prestigious, opera and cultural manager Daniel Serafin.
The chef Ysnait Bräuer enchanted the guests with a four-course menu coordinated with the Johnnie Walker Blue Label. World Class winner Marcus Philipp presented the right drink for every course. Furthermore, all guests had the possibility to create their own Whiskey Blend. Diageo Brand Ambassador Thomas Plaue chaired the blending session yesterday evening.
The luxury blend in exclusive Vienna design – Johnnie Walker Blue Label Vienna
The Johnnie Walker BlueLabel Vienna Limited Edition represents exactly the characteristics of Vienna with a strictly limited production of 2,000 bottles in Germany and Austria. It is a tribute to the city. In addition to Milan, London, Paris and Munich, Vienna now also receives a highly exclusive collector's item, a coveted rarity, which in its exclusive design emanates pure passion and rich history. The Viennese Hofburg, Stephansdom, the world-famous Riesenrad of the Viennese Prater, the Pallas Athene fountain or the modern DC Towers in the Donaucity are all landmarks, which are reflected in the unmistakable Blue Label bottles. The edition is the perfect balance between past, present and the essence of our experience in the art of dazzling.
Only one hand-picked barrel from 10,000 is selected by Jim Beveridge, one of the world's best master blenders, for Johnnie Walker Blue Label. This must have enough character to offer the remarkably mild and unmistakable taste. The "crown jewel" of the house John Walker is here in a unique blend system composed of 15 of the rarest, most expensive malt and grain whiskey stocks in the world.
The Vienna Limited Edition by Johnnie Walker Blue Label will be available from the end of May 2017 at an UVP of 199.- Euro, packaged in a luxurious gift box, available in German and Austrian selected retailers.
in wonderful cooperation with Johnnie Walker.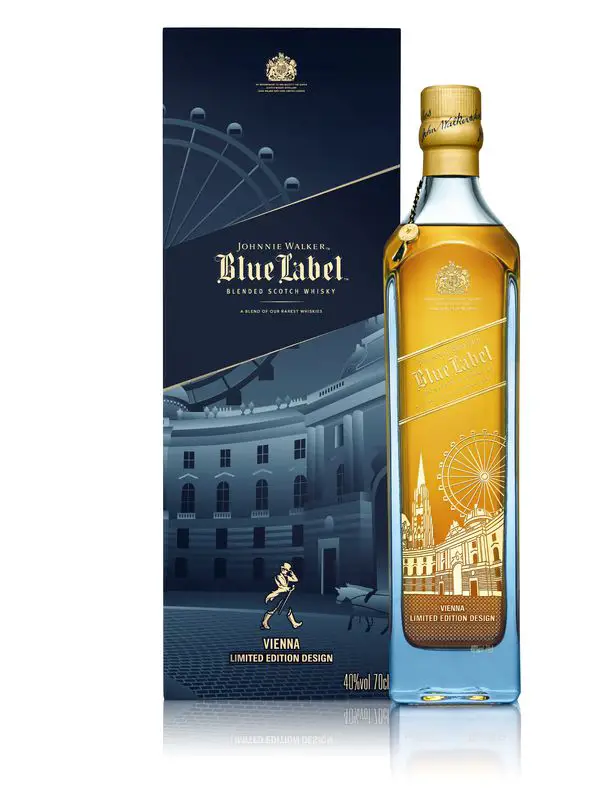 #johnniewalker #joyofgiving #gifttogive
#lovescotch
Save