Last Updated on July 17, 2023 by gregor
Samsung Galaxy Tab S6 Hands-on review
I spent several weeks testing the Samsung Galaxy S6 Tablet, and I was able to perform most of my professional tasks from the device. Daily tasks such as sorting communications, editing documents, surfing the web, and managing files were all easy to master.
And if all you need to do is stay in touch with your colleagues, friends, and family, then the Tab S6 excels at ways to connect you!
Here are the Top 10 reasons why Samsung Galaxy Tab S6 is the best for mobile content creators and creative travelers
The Samsung Super AMOLED Display
Samsung boasts the best tablet display in the business when it comes to creating and watching media.
The 10.5-inch 2560 x 1600-pixel Super AMOLED display gives you true blacks that are outstanding and impossible to replicate on an LED-based display. Add to this a wide range of color options to choose from, including "natural" settings for accurate photo editing and enhanced saturation modes that will get the most out of visually stunning movies and videos.
Integrated Fingerprint reader
That display now comes with a neat new trick on the Tab S6: an integrated fingerprint reader. This authentication and unlock method is new to this generation of devices and it replaces the iris/face scan as the only biometric unlock option from the Tab S4. It performed very well in my testing experience and it just comes with that added cool factor of being a piece of tech sorcery, an 'open sesame' with your fingertips, all the more mesmerizing if this is your first time using an in-built display fingerprint reader.
High Performing Processor
Powering the Samsung Tab S6 from the inside is a Snapdragon 855 processor and either 6GB or 8GB of RAM. I've been using the base level 6GB RAM / 128GB storage model and have not had any issues with performance, even while heavily multitasking and switching between apps frequently.
Expandable Memory – MicroSD Card
The Tab S6 has up to 256GB of storage, plus support for microSD cards for expansion. So that means you can technically add microSD cards up to 1 TB, resulting in a total of 1,25 TB of storage, which is more than plenty enough room for your creative content.
S-Pen Stylus
I mentioned editing above, so here is where the Samsung Galaxy Tab S6 has an added advantage over other tablets in this area: (queue the drum rolls) … the S-Pen. Samsung's stylus is updated in this version with Bluetooth connectivity that endows it with additional "superpowers" like the ability to act as a remote for the camera, presentations, and other software.
However, in my opinion, the S Pen still performs best in its capacity as an actual stylus. For pressure-sensitive applications, including sketching and painting, it's fantastic and fun, but where it really took center stage was in photo-editing software like Adobe's Lightroom. Stylus input means you can get super specific and accurate with your edits. This applies to editing video, too, where the stylus helps you make precise trims to video timelines.
Handwritten Notes with the S-Pen
You can easily create handwritten notes with the S-Pen (even if you, like yours truly, you are really averse to your handwriting), and if you do so using Samsung's own Notes application, you get automatic OCR (Optical Character Recognition) and search indexing. I was delighted and impressed at how seamlessly well it worked, considering how terrible my handwriting is.
For printed characters, the Samsung Notes app had no trouble at all identifying words accurately in my scribbles and retrieving the right results when searching by keyword.
Because this S-Pen uses Bluetooth, it now comes with an in-built rechargeable battery. Like Apple's Pencil, it charges wirelessly, attaching magnetically to the tablet to power up. Samsung has designed a groove in the back of the tablet to dock the S-Pen for charging, and while this isn't reliable enough to hold the stylus when you toss the tablet in your bag unprotected, you can invest in a trusted accessory,  the Tab S6 cover, which nicely wraps the S Pen with a fold-down flap for easy storage.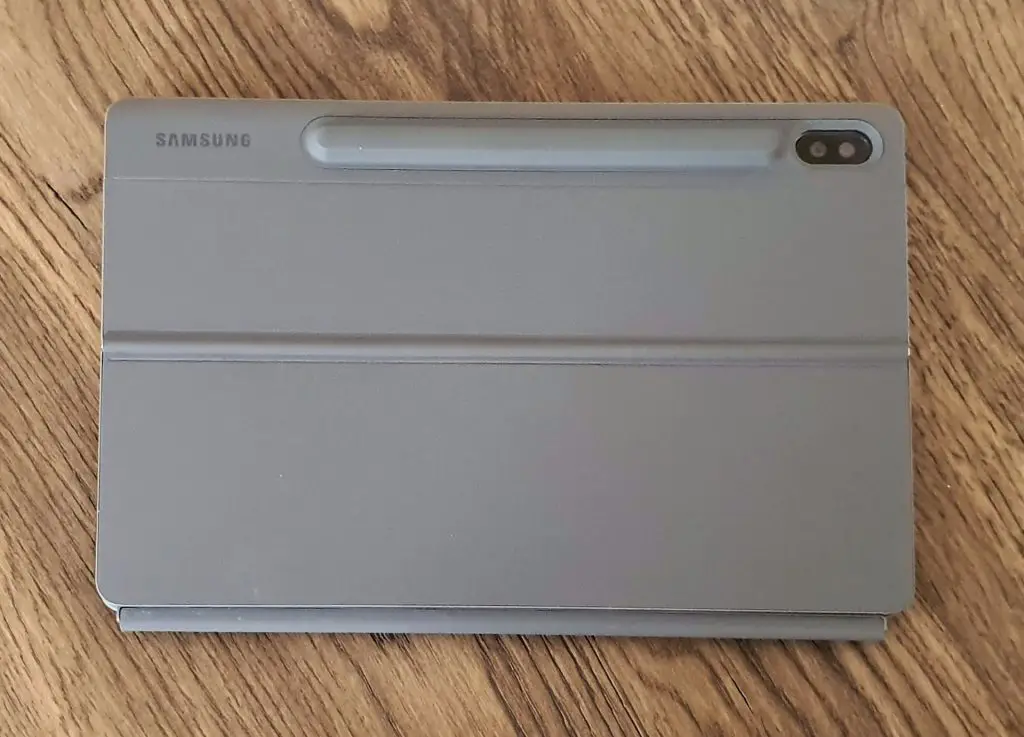 Dual Cameras of the Tab S6
Samsung went out of its way to upgrade the cameras on the Tab S6 — adding a dual camera feature. It's now equipped with a super-wide-angle lens in addition to the standard one, giving you a lot of creative options when it comes to both photography and videos.
They're fine cameras, augmented by Samsung's built-in software, but the super-wide-angle lens tends to have a fair bit of distortion and possibly not the best resolution. Generally, I think you should avoid shooting too much with tablet cameras, but it's still a nice option to have in case you're in a pinch.

Dolby Atmos for the Perfect Sound
Good videos need the right sound, which on the Galaxy Tab blares out from 4 speakers that have been optimized with AKG technology and can be added at the touch of a button to Dolby Atmos and smaller EQ adjustments.
You can hear the result quite well. When turned up to the maximum volume, the speakers produce a space that is quite remarkable for such a slim tablet and a neat frequency body. Sure, it's not high-end audio, but it is more than what I expect from a tablet and the sound quality is good enough to stream over the tablet.
DEX – The Best Way to Multitask– Laptop Replacement
If you want a bigger screen, plug an HDMI cable into a monitor or TV and the Tab S6 automatically goes into DeX mode.
The Galaxy Tab S6's ability to serve as a laptop boils down to the DeX, Samsung's desktop interface. However impressive, let's face it, a pure Android tablet just doesn't offer the productivity you get from a desktop operating system, so I would not recommend disposing of your laptop just yet.
DeX adds a desktop interface to Android that supports up to 20 windowed programs. The ability to open multiple programs and resize them onto a familiar desktop interface made me forget that the Galaxy Tab S6 runs on a mobile OS.
The main improvement Samsung made to DeX was to extend the taskbar and space out the icons, which made it much easier to navigate on the Galaxy Tab S6's small 10.5-inch display. I found myself working with DeX for everything other than simple tasks like watching videos, checking social media, or browsing the web. For instance, I wrote this article in DeX mode, because it was easier to manage my windows as I listened to music on Play Music, typed in Google Docs, and browsed the web in a Chrome tab.
Apart from downloading third-party programs, there are a few things I couldn't do on DeX that I can do on Windows or macOS. In fact, the DeX interface looks practically identical to those two OS', with a taskbar at the bottom, an app icon in one corner, and shortcuts pinned to a home screen.
DeX performs better on the Tab S6 than on any other Samsung tablet. One contributing factor is that you can now transition from Android to DeX via a dedicated DeX key that, switches you seamlessly between the two modes. It's a small, but welcome addition that makes Android and DeX feel more cohesive.
One final reason why the Galaxy Tab S6 makes for a decent laptop replacement is that the new Book Cover keyboard has a touchpad. There are several advantages to cursor support, but the most noteworthy is that you don't have to reach up to touch the Galaxy Tab S6's display when you're typing on the keyboard.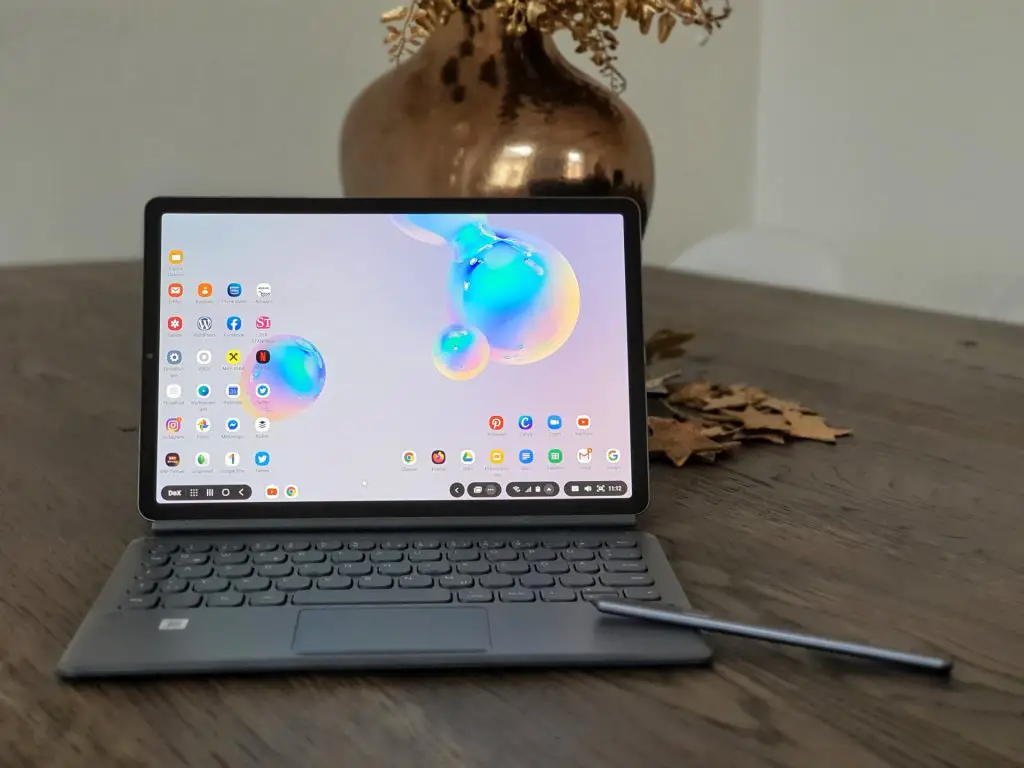 Samsung Tab S6 Keyboard-Cover (Optional)
The Tab S6 does not come with a keyboard in the box.
The keyboard attaches to the tablet via magnets and a pogo pin connector — no Bluetooth pairing here — and it's separate from the back cover and kickstand that sticks to the tablet.
It's surprisingly easy to adjust to typing on the keyboard, even though it has a smaller layout than a standard keyboard. There are function keys at the top, and the Tab S6 supports a variety of keyboard shortcuts, though I wish they were more universally supported across the Android ecosystem.
Overall, even if the keyboard is not quite full-sized, I found it offers a generally pleasant typing experience. One feature I would have loved to see on the keyboard is a backlight, as it would have made my work in a dimly lit airplane cabin much less challenging. However, it's not a major disadvantage, as it is not found on other tablet keyboards either.
Samsung also added a responsive and clicky touchpad, and there's also a dedicated DeX switch key now. This lets you hold down the Function key and press the DeX button once to switch back and forth from the DeX productivity interface.
Samsung Productivity & Creators Apps
These are the apps I use daily and are very convenient to use on the Galaxy S6 Tablet.
Productivity and Blogging
Microsoft Office Suite, Google G-Suite, Trello, Smart-Recorder, WordPress, PenUp
Photo Editing:
Adobe Lightroom, Google Snapseed, PicsArt, InShot, Lens Distortion, Magisto, JustSnow, VSCO
Layout:
Canva, Instagram Layout
Browser:
Chrome, Firefox
Chat-Communication:
Whats-app, Telegram, Slack, Facebook Messenger, Zoom, Webex
Fun/Relax
YouTube, Netflix, Amazon Prime Video
Samsung S-Pen – Apps
More interesting are the applications centered around the functionalities of the S-Pen. The most notable mention on this list is the friendly everyday app "Samsung Notes", which is just equally good for short notes, handwriting recognition, and your occasional doodle.
It's also great fun to use the app "PENUP", which presents works of art created with the tablet. The results are really cool, so I'm looking at all you talented artists out there. 😉
If you like to split your screen, it also works well with the Galaxy Tab and you can, for example, work concomitantly on the browser and the notes app. The S-Pen glides precisely, be it while writing, drawing, or controlling applications by pressing a button, gesture, or Bluetooth. The handwriting recognition works so smoothly that I was a little surprised.
A Full Day of Battery Life
The Galaxy Tab S6 can get you through a full day of work. I used it for five hours straight on a plane and the battery dipped to just 50 percent. Add a few more hours of use at the hotel, and the tablet had dropped to 25 percent right before I went to bed.
If you plan on using this tablet non-stop from 9 a.m. to 5 p.m., it will last the whole time if you're not gaming or using processor-intensive apps — but it won't be powered much longer after.
I think most people will be more than happy with the battery life on the Tab S6. Powering it back up isn't particularly fast though, taking a little more than 2 hours to go from zero to 100.
The Verdict
The Samsung Galaxy Tab S6 is, without a doubt, the best Android tablet available. It combines top-notch hardware with Samsung's evolving DeX approach to mobile productivity, and while DeX isn't perfect in all areas, you're better off having it available rather than not.
Meanwhile, the Tab S6 working in standard Android mode is an excellent, super-fast media consumption device and photo-editing powerhouse. If you're in the market for a tablet, the Tab S6 is an easy choice.
Who is the New Tab S6 Tablet from Samsung for?
The Samsung Galaxy Tab S6 is aimed at several target groups.
The primary audience would be the business sector, notably all those employed in creative fields or media. Think designers, graphic designers, architects, bloggers, writers, PR specialists – the list can go on. These professions involve a lot of handwriting, photo- and video-editing, note-taking, or recording. Even a fast Internet connection will help this category of users in their professional lives.
Another major target group is young people, such as high-school pupils and university students. In addition, not-so-hardcore gamers can be a target audience, as the Samsung Tab S6 is very powerful and scores high with its good graphics and sound system in terms of entertainment.
Is the Tab S6 Right for Mobile Pros?
The answer to this question is "It depends."
I spent several weeks with the tablet and I was indeed able to perform the majority of my professional tasks from the device. Managing communications and files, editing documents, and browsing the web for research were all easy to master. All the while, I was able to stay in touch easily with family, friends, and associates through all social media outlets.
Need to do some heavier lifting? I downloaded Microsoft Office, including Outlook, Word, Excel, and PowerPoint. All these apps ran well on the tablet, except for the obvious limitations that were due to screen size. You can use the trackpad, your finger, or the S-Pen to navigate the screen. The Snapdragon 855 had no trouble tackling PowerPoint. Nor did it run into any trouble with Adobe Lightroom Mobile, which can be RAM-intensive. Editing photos was easy.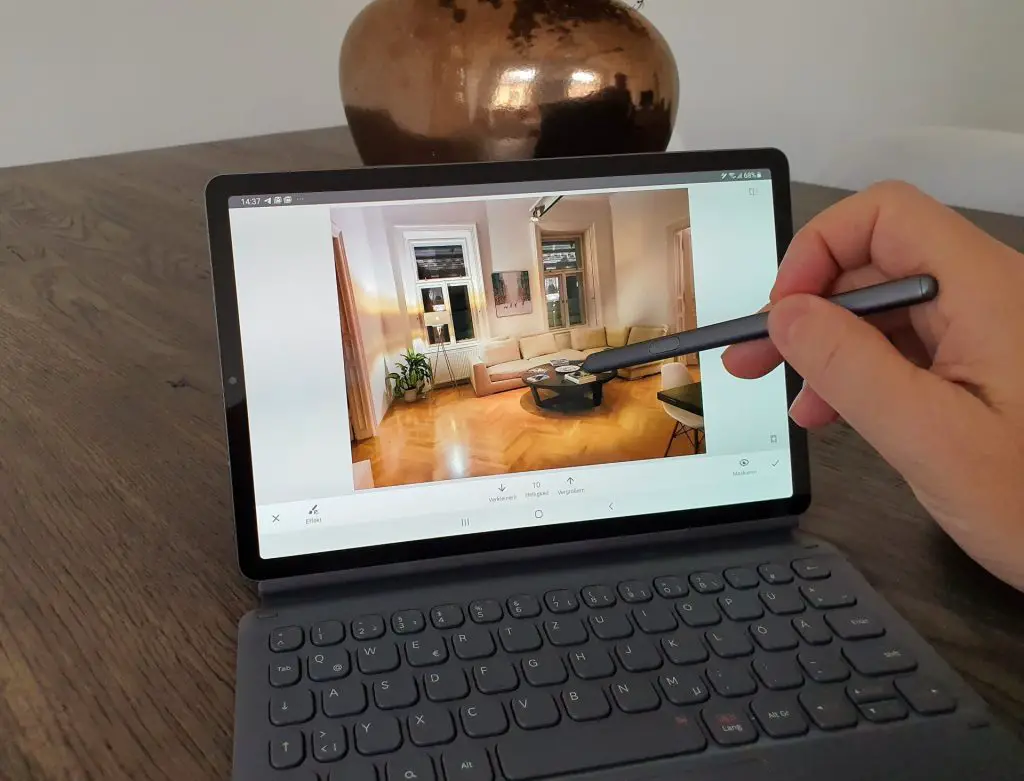 Samsung provided me the tablet with the Samsung Book Cover keyboard. In my view, this accessory is absolutely necessary for users to be properly productive. The keyboard comes in two pieces. One attaches to the rear of the Tab S6 and protects the S-Pen, while the other section consists of the keyboard and snaps to the pins magnetically.
You'll find a full keyboard complete with number keys, arrow keys, and other buttons for interacting with the UI, such as searching and toggling DeX on and off. I like the trackpad and especially that you can turn it off. I found it worked well enough for writing emails, keeping up with Slack, and, yes, contributing to this review.
As for battery life, the 7,040mAh lithium-ion battery crushes it. The Tab S6 easily coasted through 12 hours of productivity, which is well above a full work day. Moreover, it recharges relatively rapidly with the included 2A charger.
Is the Galaxy Tab S6 Good for Movies and Music?
Absolutely yes. The 2,560 x 1,600 screen is a fantastic canvas upon which to project your favorite video content. Movies and shows from Netflix, YouTube, and Amazon Prime Video all look fantastic on the screen, which delivers deep blacks and rich colors.
Not only do the speakers sound very good, but Dolby Atmos is also on board for enhancing and customizing sound. There is no headphone jack (nor is there an adapter), but the Bluetooth options are robust, and the tablet works very well with Samsung's own Galaxy Buds. Bottom line, I was pleased with the sound quality, both when blasting it through the tablet's speakers and when listening privately via Galaxy Buds.
Then there are the cameras. The tablet has three cameras, including a 13MP/5MP dual array on the back and an 8MP selfie sensor on the front. I appreciate that the Galaxy Tab S6 can capture 4K video and that the selfie camera has a 123-degree field of view for all-encompassing video calls.
The Galaxy Tab S6 is the best Android tablet I've used or reviewed. It matches superb hardware with plenty of horsepower and productivity features for people on the go. Similarly, the impressive display and tuned sound profile make the tablet a great multimedia device.
If you want a tablet for mobile content production and creative travelers, the Tab S6 is the only one to get.
Addendum
I wrote this review on the Galaxy Tab S6. I was unable to work as quickly as I would on a normal laptop, but I've successfully replaced my laptop with the Tab S6 for the past few weeks, and it's been an enjoyable and reliable experience.
I've used Google Snapseed and Adobe Lightroom on the Tab S6 to edit photos with the S-Pen.
More Info and Link to the official Samsung Web Shop:
https://www.samsung.com/at/tablets/galaxy-tab-s6-t865/SM-T865NZALATO/
In wonderful cooperation with Samsung Austria