Last Updated on November 1, 2019 by gregor
I love the city life, that's why I have chosen to live and work in the city center a long time ago. One of the things that has changed during the years is traffic. Cities especially Vienna got more and more crowded with cars so many years ago the city of Vienna decided to more and more "bring" more life quality and less cars into the city-center.
My preferred means of transportation in the city  is obviously cycling cause it's also good for my health too. Today I have three bikes: a road bike for the weekend trips outside of Vienna, a mountain bike and a city bike.
My life has felt complete in all things two wheels, so when I was asked to check out the latest offering from Shimano in the form of an e-bike I couldn't help but feel intrigued.
Surely an e-bike is pointless? Doesn't it take the passion out of cycling? I bet they're heavy. I could continue to mentally speculate, or I could agree and try one out. That's what I did over the summer.
Testing the Shimano Steps e-Bike System over the summer in Vienna – My experiences
But what is an e-bike, exactly?
An e-bike looks like a normal city bike, trekking bike or mountain bike. Contrary to what some people seem to think, an e-bike is not a bike that you don't need to pedal. An e-bike just supports you as you pedal. It gives you a little extra push, as it were. This makes cycling lighter and easier, in both the urban and the rural environment. This means you can cover greater distances with less effort and enjoy your trip even more.
The benefits
Are you considering getting an e-bike? Here are some strong reasons for buying an e-bike:
Cycling is very healthy. The e-bike is a healthier alternative to the car and adds an extra sporting dimension to your lifestyle. You get the exercise you need, and that's great for your body. The more you use your e-bike, the fitter and healthier you'll feel.
An e-bike makes it a lot easier to cover larger distances. Do you struggle to keep up with your friends during cycling trips? Or can't you cope with longer distances? Or maybe you're fed up with arriving at work all sweaty? Your new e-bike will help you cover larger distances with ease, so you arrive at your destination as fresh as a daisy.
Cycling with an e-bike feels like cycling with the wind in your sails. Thanks to the pedal support, it's much easier to attain higher speeds with less effort than with a normal bike or mountain bike. This means you arrive at your destination faster.
If you are already a keen cyclist, you know one thing for sure: cycling makes you happy. Research suggests that people who cycle regularly have less stress, sleep better at night and even enjoy a more upbeat mood.
Is the environment important to you? Then an e-bike is a great choice. Leave your car on the drive and you'll save not only money, but also CO2. Cycle to work from now on and you can wave goodbye to those miserable traffic jams. Contributing to the environment while enjoying nature's beauty – what more could you want?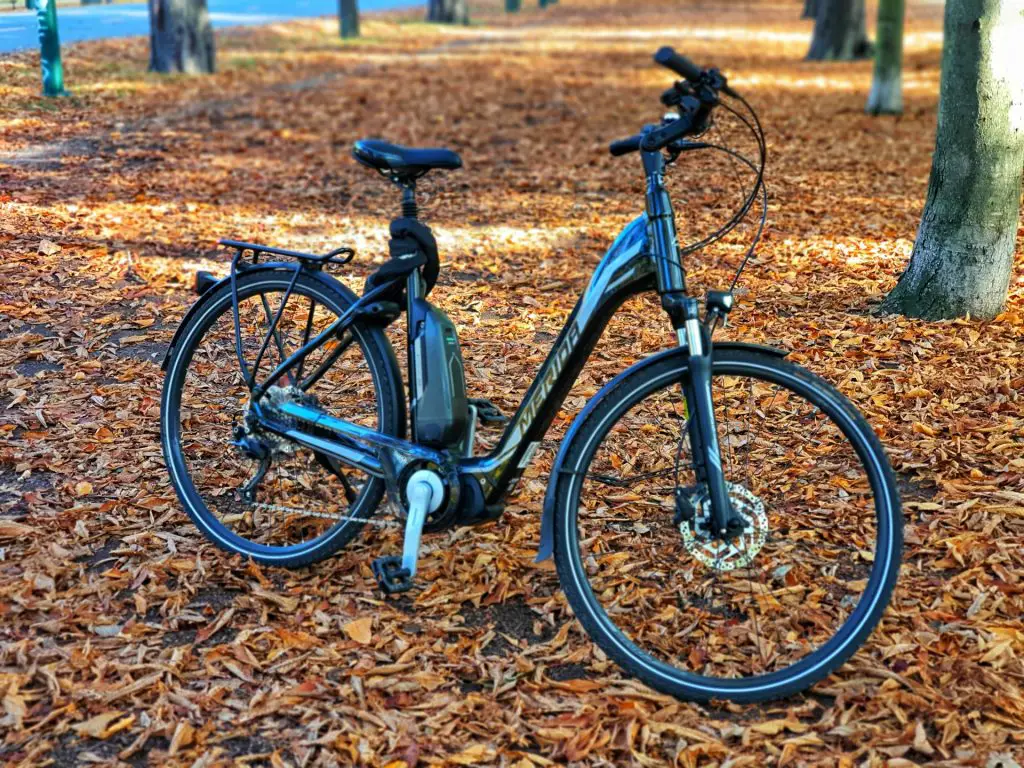 Why chose Shimano Steps over anything else?
Automatic gear shifting – so the bike will automatically reduce gears when you slow down or stop.
Easy to charge with 1,000 charge cycles with no power loss.
A super light drive unit in comparison to other models
Chain cover for that added bit of leg protection
Easy to use controls
Cycling computer to help navigate you around your e-bike i.e. battery life, gear and range
Charging port
8-11 speed variations
Low maintenance
Quick and stress free
Conquer hills and head winds with absolute ease!

My conclusion
Even though I love my road and mountain bikes I certainly felt the Shimano Steps e-bike to be a refreshing change. If you commute this is perfect for you, it's such a stress free and healthier option and to be honest I utterly loved every day riding the eBike!  I give it a big thumbs up!
More about Shimano Steps
SHIMANO STEPS is the most advanced e-bike system on the market. Bike dealers call Shimano 'the best manufacturer of e-drives'. With options like walk-assist, start mode and the possibility of automatic gear shifting, Shimano sets the standard in the bike branch.
SHIMANO STEPS is available in three different versions, with the motor tuned to your style of cycling. So every cyclist can enjoy the e-bike system. Read further information here about SHIMANO STEPS City, Shimano STEPS Trekking and Shimano STEPS MTB.
https://www.shimano-steps.com/e-bikes/europe/en/news/discover-the-new-generation-shimano-steps-e6100
In wonderful cooperation with Shimano Bikes.