Last Updated on April 24, 2023 by gregor
Visiting Vienna offers you a variety of the Best places to shop for luxury brands. Luxury Shopping stores are located throughout the City Center of Vienna.
I have collected the longest, most visited, and most exclusive luxury shopping miles in Vienna.
If you want to watch my Luxury Streets Shopping Tour Video on YouTube you get an authentic luxury shopping experience showing you the most luxury stores in Vienna City Center. The Luxury Shopping Tour starts at the Graben, Goldenes Quartier, Kohlmarkt and Ends at Herrengasse.
Luxury Shopping in Vienna City Center
The Graben
Location
The Graben leads from the Golden Quarter to the beginning of Kärntnerstraße at St. Stephen's Cathedral. The Viennese plague column (Pestsäule) on the Graben is famous, which was erected in 1679 during the last major plague epidemic on the orders of Emperor Leopold I.
Luxury Shops and Luxury Brands
Here visitors stroll between designer shops and shops offering international brands and luxury brands. For example, you can visit Gerry Weber, Paul & Shark, Marco Polo, Yves Roche, Timberland, Cartier, and Hermes
Restaurants, Cafes, and Bars
If you get hungry, just go to one of the many cafés or restaurants. Of course, in addition to international cuisine, Viennese cuisine is also offered. Numerous small historical alleys branch off from the Graben and are worth a visit.
Top Restaurant Tip near the Graben
Visit the traditional Hawelka coffee house located in Dorotheergasse 6. For me THE coffee house in Vienna. Wonderful melange, delicious buns, and still the spirit of Leopold Hawelka, a place for artists and bohemians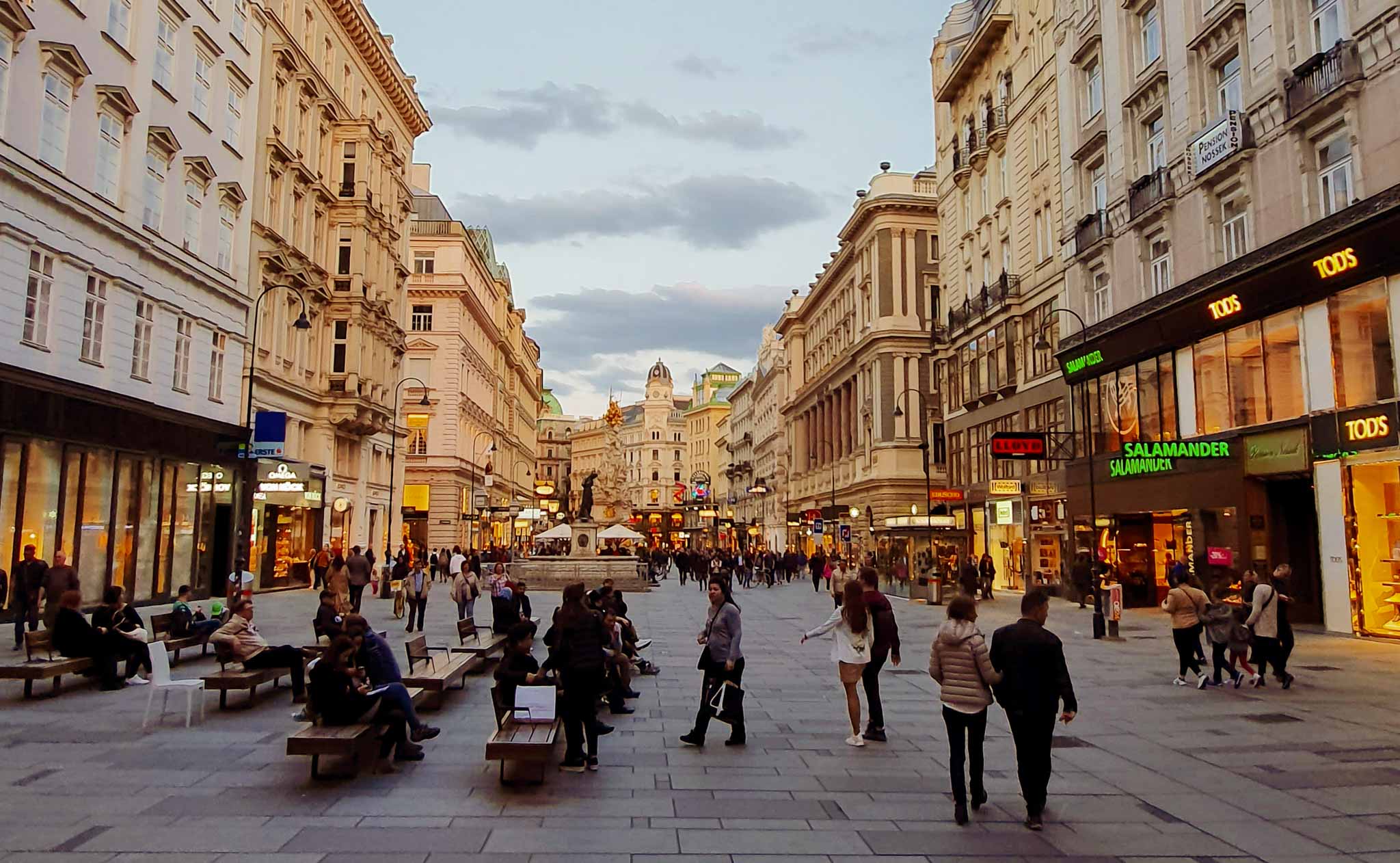 Goldenes Quartier (Golden Quarter)
Location
The Goldenes Quartier is the most exclusive shopping district in Vienna. It is located right in the city center. St. Stephen's Cathedral, the Hofburg, and the Albertina are very close by. Opened in 2014 in the old city of Vienna, it encompasses 8,500 sqm of Tuchlauben street and 3,000 sqm of Am Hof.
Luxury Shops and Luxury Brands
Flagship stores and boutiques of many international luxury labels are lined up, starting with Louis Vuitton, Rolex, Bambini, Chanel, and Prada via Etro, Vivienne Westwood, Brunello Cucinelli, Miu Miu, Alexander McQueen, and Saint Laurent. 
Juwelier Wagner: Fine watches and jewelry from numerous international luxury brands, such as Rolex to Hublot and Bulgari. IWC, Jaeger-LeCoultre, Longines, TAG Heuer, Cartier, and Breitling.
Restaurants, Cafes, and Bars
The restaurants in the immediate vicinity are just as exclusive as the shops in the Golden Quarter and mainly present international delicacies for gourmets. 
Schwazes Kameel Cafe & Restaurant
The Bank Brasserie & Bar at the Park Hyatt Hotel Vienna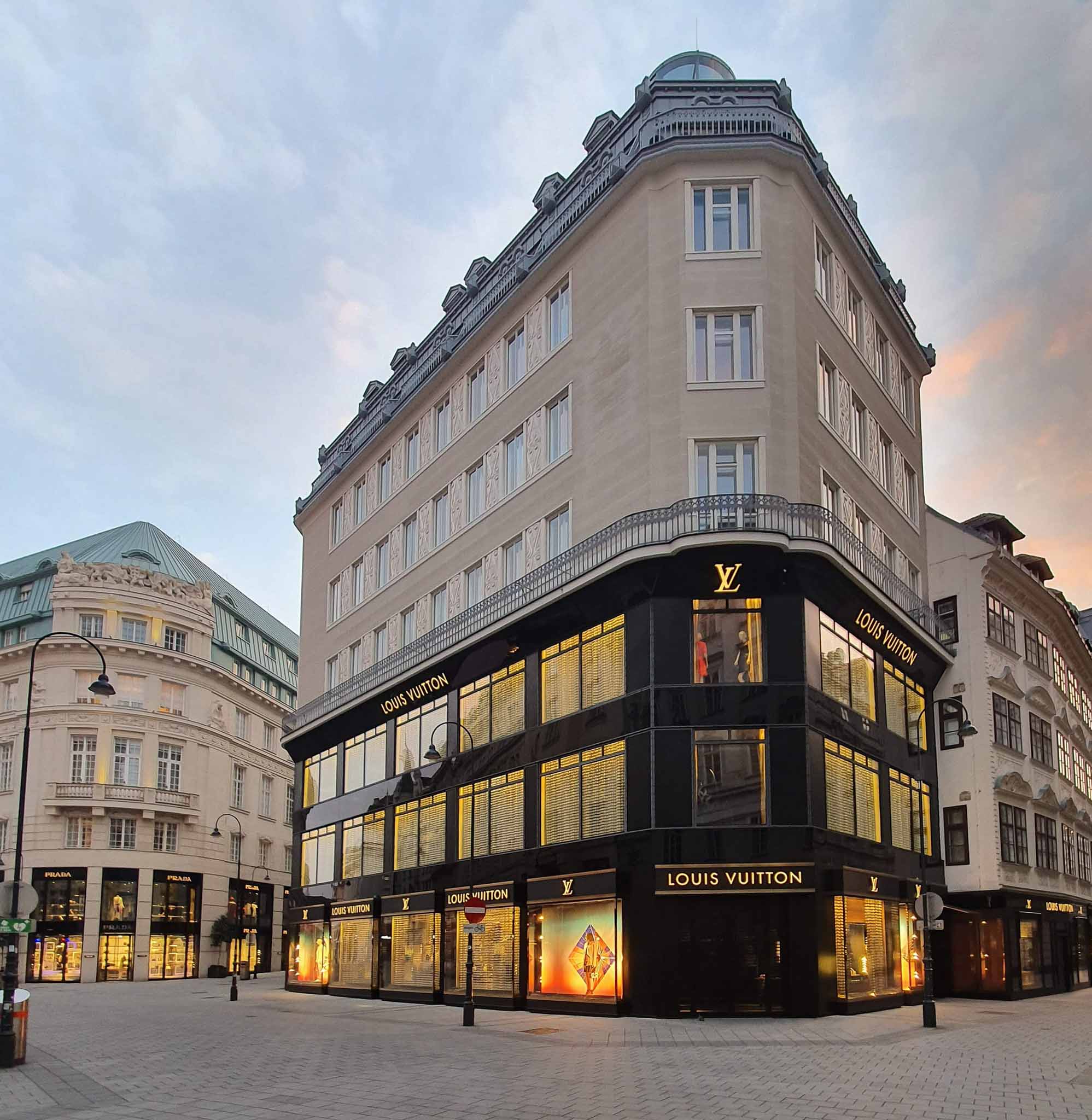 Louis Vuitton's 3-storeys flagship store displays fashion and jewelry pieces, as well as exclusive lines of perfume that are only available here.
Kohlmarkt
Location
The Kohlmarkt begins at Michaelerplatz in front of the entrance to the Hofburg and extends to the Graben. It can be reached via the Herrengasse underground station.
Luxury Shops and Luxury Brands
Luxury labels in particular have opened stores along the Kohlmarkt. The New York jeweler Tiffany & Co was once the purveyor to the imperial and royal court and now has a flagship store on Kohlmarkt. Shops by Dior, Cartier, Chopard, Diesel, Giorgio Armani, Dolce & Gabbana, Gucci, Prada, and Karl Lagerfeld, among others, can be found here.
Restaurants, Cafes, and Bars
At Kohlmarkt number 14, the K.u.K. Hofzuckerbäckerei Demel, one of the most well-known and traditional confectioneries in Vienna. The title "k.u.k. Hofzuckerbäcker", which means something like imperial and royal court confectioner, has run the company from 1874 to this day.
At the end of the Kohlmarkt am Graben is the famous delicatessen shop "Meinl am Graben". With 17,000 items, the Julius Meinl flagship store is the largest delicatessen in Austria.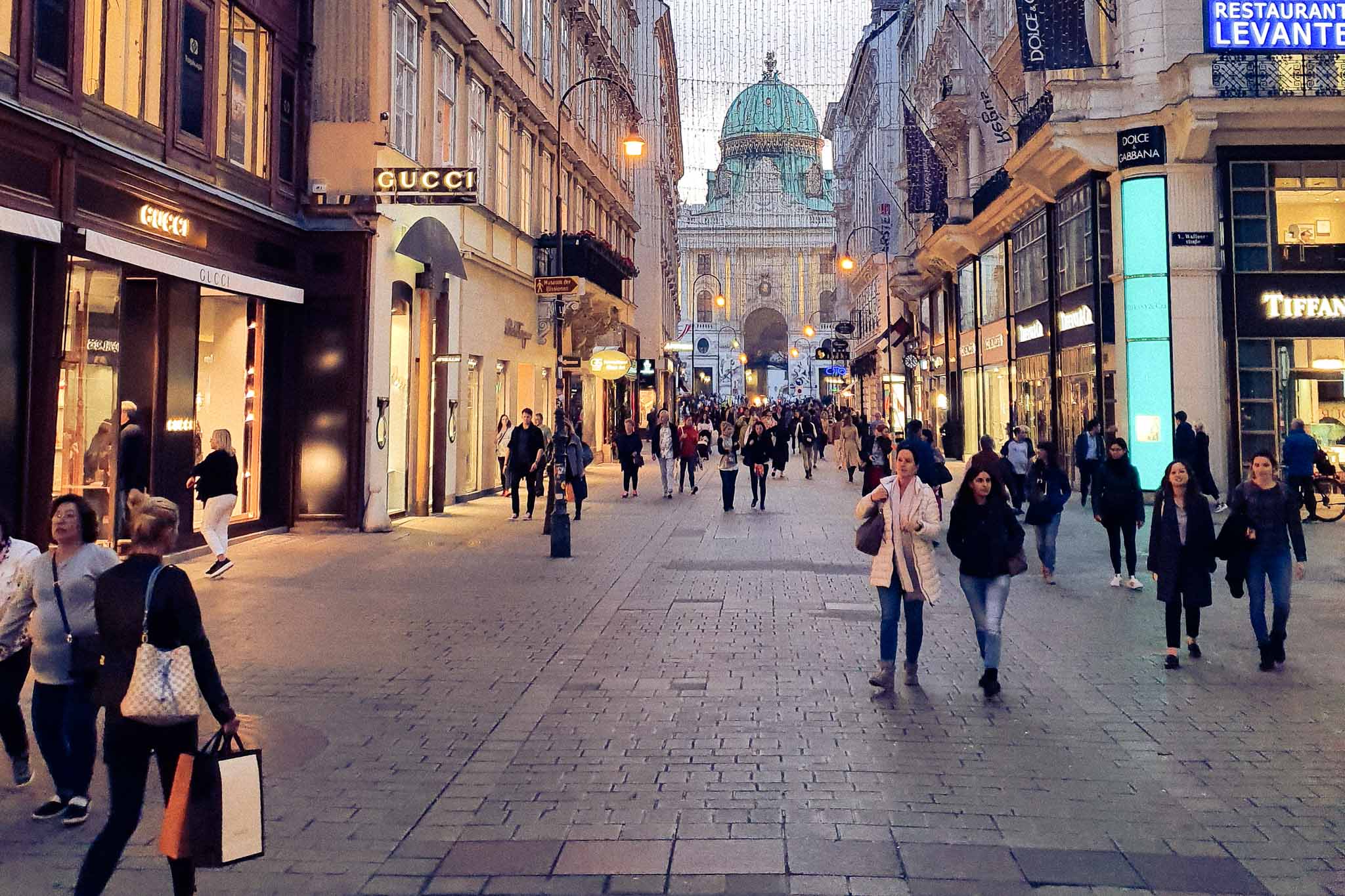 Kärntner Strasse
Location
Kärntnerstraße starts at Karlsplatz and stretches past the Vienna State Opera to the Stephansplatz in the center. It is the second most important shopping street in the city, but it is also one of the most expensive. It can be reached with the underground line U1, which runs under the Kärntnerstraße with the stations Karlsplatz and Stephansplatz.
Luxury Shops and Luxury Brands
The numerous shops offer a mix of international brands and luxury brands. For example, you can find Mango, Benetton, Rosenthal, Peek&Cloppenburg,  Marks & Spencer, and many more. The elaborately designed Swarovski Skistallwelten Store with art installations and prism shows is particularly impressive.
Restaurants, Cafes, and Bars
Numerous restaurants and cafés invite you to linger, with the colorful range on offer being a perfect composition of Viennese flair and cosmopolitan ambiance.
Coffe House & Restaurant Recommendation at the Kärntner Strasse
 Cafe Sacher Vienna, Philharmonikerstrasse 4 / Corner Kärnterstrasse/Opera
Gernstner K. & K Hofzuckerbäcker, Kärntner Strasse 51
In the vicinity of the street, there are sights such as the Vienna State Opera, the Hotel Sacher Vienna, the Mozart House Vienna, St. Stephen's Cathedral, the Imperial Crypt, Albertina Museum, Hofburg, the Maltese Church, and the Palais Esterházy.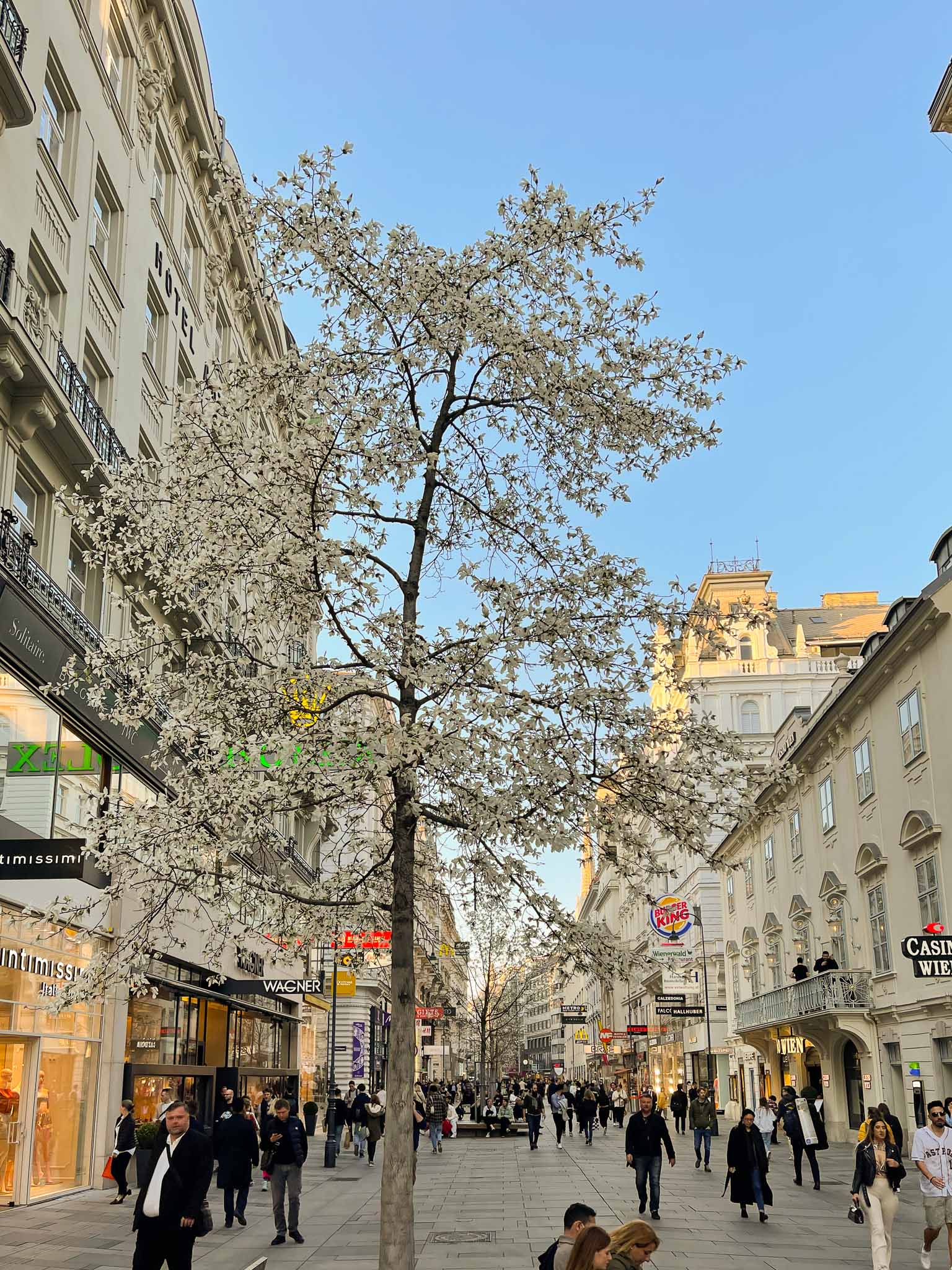 Tuchlauben
The Tuchlauben begins at Graben (Goldenes Quarter) and Ends at the Hoher Markt. It can be reached via the U1 (Underground Station) Stephansplatz
Luxury Shops and Luxury Brands
More and more Luxurious flagship stores are also settling on the Tuchlauben, the extension of the Kohlmarkt: Chanel, Louis Vuitton, Bottega Veneta, Valentino, Etro, Miu Miu, Alexander McQueen, and Emporio Armani reside next door here in the so-called Golden Quarter. Opposite are two fine shoe designers with their shops: Jimmy Choo and Christian Louboutin. In between, Akris presents feminine, reserved fashion from Switzerland.
A little further on the Tuchlauben, the London cult label Agent Provocateur presents its daringly extravagant designer lingerie and the Amicis luxury Brand store. 
Fashion-conscious men in particular will find what they are looking for at Dsquared2. The luxury brand Zilli is located around the corner in Seitzergasse, and Prada,Saint Laurent, and Brunello Cucinelli have their flagship stores in the neighboring Bognergasse.
Restaurants, Cafes, and Bars
Fabios Restaurant Bar – one of the Best Italian Restaurants, with an amazing bar. After you have done your luxury shopping head over for a glass of Champagne or enjoy a great Italian lunch or dinner
Side Streets – Luxury Stores
You can also find noble labels in the nearby side streets
Versace is in the Trattnerhof
Missoni is in the Rauhensteingasse
Philipp Plein in the Goldschmiedgasse.
Herrengasse
Location
Herrengasse starts at Michaelerplatz  and stretches Freyung. It can be reached with the underground line U3 Herrengasse
Luxury Shops and Luxury Brands
Hochhaus Herrengasse – Shops and Restaurants
Wiener Zuckerlwerkstatt
With great attention to detail, new sweets and many other sweets are produced daily in front of the customers in this candy factory according to centuries-old tradition and manufacturing technology.
Homepage:www.zuckerlwerkstatt.at
If you love Chocolate and Candy Stores I have done a Vienna Chocolate Shopping Food Tour (Click)
Restaurants, Cafes, and Bars
Steigenberger Hotel Herrenhof Wien
Cafe Central Wien the Most famous Coffe house in Vienna
Wollzeile
Location
Wollzeile is just a few minutes' walk from Stephansplatz. It can be reached via the Stubentor underground station (U3) or on foot from Stephansplatz (U1 or U4).
Luxury Shops and Luxury Brands
In the small street, there are numerous small shops, especially bookstores and stationery shops. There are also tea and natural products and of course fashion.
Restaurants, Cafes, and Bars
Recently, restaurants and cafes have opened in the street. Particularly worth mentioning is the traditional Viennese Restaurant "Figlmüller", which became famous for the Wiener Schnitzel and is often even celebrated as its birthplace. The menu is very clear with only a few dishes, but it tastes all the better.
Read more here Where to get the BEST Schnitzel in Vienna on the Blog
Rotenturmstrasse
Location
Rotenturmstraße is located between St. Stephen's Cathedral and Schwedenplatz and can be easily reached by subway (U1)  via the Schwedenplatz or Stephansplatz stops. The two-horse carriages (FIAKER), with which you can make a round trip, are particularly popular with visitors from all over the world.
Luxury Shops and Luxury Brands
In addition to some fashion chains such as Intimissimi and Blue Tomato, numerous smaller shops and boutiques, as well as numerous souvenir shops, invite you to stroll around.
Restaurants, Cafes, and Bars
Numerous restaurants allow you to take a break, and there are also ways to satisfy your hunger in the quieter side streets.
If you want, you can snack on wafers in the Manner flagship store at St. Stephen's Cathedral, if you're thirsty, you can take a break in the famous Hard Rock Café, which invites you to visit with its spacious outdoor terrace and a lively bar.
Special Recommendation (Rooftop Bar with great views over Vienna): Lamee Rooftop Bar
Vienna Luxury Shopping Map
Please see all the Vienna Luxury Shopping stores in this MAP  (=Google My Maps). You can save this MAP to your Google Maps and also download it. (in case you do not have WIFI)
View the Vienna Luxury Shopping streets & Stores on a larger map
Seasonal markets in Vienna
Depending on the time of year you're planning to visit Vienna, you might be lucky enough to be in the city at the same time as the popular Viennese Christmas markets, or Christkindlmarkt is open. Buy traditional handmade crafts and typical food items while enjoying a steaming cup of Gluhwein, local mulled wine, to warm you up.
Here is the VIENNA TOP 10 CHRISTMAS MARKET GUIDE + MAP (UPDATE 2022)
Naschmarkt – Famous Food Market in Vienna
At the city's most famous and oldest food market, you'll find all manner of fresh, local produce, as well as a variety of different typical products from the area that you might like to buy as a souvenir, like sweets, honey, and wine.
Here is a Full Travel Guide about the Naschmarkt in Vienna including a Full Naschmarkt Walking Tour Video.
Typical Viennese souvenir products
Mozartkugel
The most typical souvenirs to bring back from a trip to the Austrian capital are sweet treats such as the Mozartkugel, balls of pistachio, marzipan, nougat, and chocolate that have been made and wrapped in Mozart-themed packaging since the 1890s. Confections such as these are available in shops and markets all over Vienna.
Sacher Cake – Sachertorte
The Sachertorte, a chocolate tart created in 1832, is one of Vienna's most iconic products; while these are beautifully packaged, they may not be the easiest to travel home with as a gift or a reminder for yourself!
Snow-Globe
Vienna happens to be the place where the first snow globe was created. Many souvenir shops sell these throughout the year, and they make a great traditional gift.
What to buy in Vienna? Best 15 Souvenirs from Vienna
Vienna offers some of the finest goodies you can treat yourself to—from Viennese chocolate, Sacher cake, and Augarten porcelain to antiques, and everything in between.
Read more: WHAT TO BUY IN VIENNA: BEST 15 SOUVENIRS FROM VIENNA
Frequently Asked Questions
What are the Opening hours for shops in Vienna?
Generally from about 09:00 am to 21:00 pm, but the shops are closed on Sundays and Holidays
Are shops closed on Sundays in Vienna?
Yes, In Vienna the stores are closed on Sundays and Holidays. 
What time do shops close in Vienna?
In general, shops cannot open before 6am or after 9pm (weekdays) or after 6pm (Saturdays), or total more than 72 hours of operation per week. Shops must also close on Sundays and most public holidays.
Why everything in Austria is closed on Sundays 
Sunday is seen as a holy day by much of the population, and the Austrian Church for long has protected the day's status as a "rest day". But that is not all. The idea that Sundays are not for shopping and that keeping shops closed is a way to preserve the Austrian quality of life is treasured in the alpine country.
What to do in Vienna on Sundays?
On Sundays, in Vienna, you can visit Museums, stroll through the public parks, and have Viennese Coffee at the famous Coffee houses. 
See also my Blog Post: What to do in Vienna on Sundays
Hope you enjoyed my Vienna Luxury Shopping Guide. If you have any additional recommendations please let me have them in the comments below. 
More related Vienna Travel Blog Posts
WHAT TO BUY IN VIENNA: BEST 15 SOUVENIRS FROM VIENNA
WHEN IS THE BEST TIME TO VISIT VIENNA, AUSTRIA
HOW MANY DAYS DO YOU NEED TO VISIT VIENNA?
THE BEST THINGS TO DO IN VIENNA WITH KIDS – FAMILY HOLIDAYS IN AUSTRIA
VIENNA SOLO TRAVELER TIPS – SOLO TRAVEL GUIDE VIENNA, AUSTRIA
BEST WAYS TO GET FROM VIENNA AIRPORT TO THE CITY CENTER
THE TOP AUTHENTIC VIENNESE EXPERIENCES YOU MUST ENJOY WHEN IN VIENNA, AUSTRIA
VIENNA BUDGET TRAVEL GUIDE, FREE THINGS TO DO IN VIENNA, AUSTRIA IN 2022
15 BEST FOOD TOURS IN VIENNA, AUSTRIA – UPDATED 2022/23
BEST LUXURY BOUTIQUE HOTELS IN VIENNA