Last Updated on January 28, 2023 by gregor
Eilat, Israel's southernmost city, is renowned for its turquoise waters, unique desert landscapes, and vibrant nightlife. If you're looking to spend four days exploring this stunning location, then look no further – this Eilat itinerary has everything you need to make the most of your stay.
Why visit Eilat?
Whether you're into outdoor activities, culture, or nightlife, there is something for everyone in Eilat. From snorkeling in the Red Sea to climbing Masada or experiencing Bedouin culture in the nearby desert, this itinerary will provide an unforgettable experience. Get ready for a jam-packed schedule full of adventure and exploration of the Best things to see in Eilat
4 days in Eilat itinerary 
Day 1: Arrival, Relaxation, and beach
Upon arrival in Eilat, check into your hotel and take some time to relax and unwind. Eilat has a wide variety of hotels, from budget-friendly options to luxury resorts, so you're sure to find something that suits your needs.
Head to princess beach for some sunbathing and swimming
In the afternoon, head to the beach for some sunbathing and swimming. Eilat's beaches are known for their crystal-clear waters and pristine white sands. If you're feeling adventurous, you can also try your hand at water sports like snorkeling, windsurfing, or jet skiing.
In the evening, take a stroll along the promenade and enjoy the lively atmosphere of the city. Eilat's promenade is home to a variety of restaurants, cafés, and bars, so you're sure to find something to your taste.
Day 2: Nature and Adventure, snorkel & Dolphins
Visit the Coral Beach Nature Reserve
Start your second day in Eilat with a visit to the Coral Beach Nature Reserve. This reserve is home to a wide variety of marine life, including colorful coral reefs and a variety of fish species. You can take a snorkeling tour to explore the reserve and see the marine life up close.
Underwater Observatory Marine Park
In the afternoon, head to the Underwater Observatory Marine Park. This park is home to a large aquarium where you can see a variety of marine life, including sharks, rays, and tropical fish. You can also take a glass-bottom boat tour to see the marine life from above.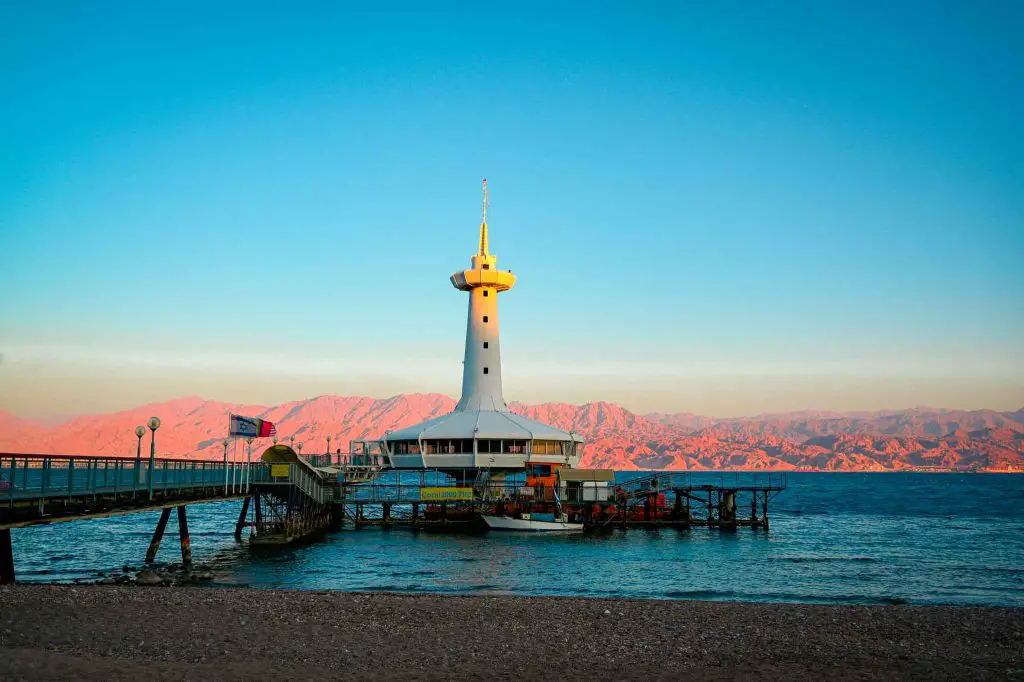 Day 3: Culture and History
Take a trip to Timna Park
On your third day in Eilat, take a trip to Timna Park to learn about the area's history and culture. This park is home to the remains of ancient copper mines and an open-air museum that tells the story of the area's mining history.
In the afternoon, head to the Eilat Museum of Art to see a variety of contemporary art exhibitions. The museum features works by local and international artists and is a great place to learn more about the city's cultural scene.
Day 4: Shopping and Departure
Head to the mall to do some shopping
On your final day in Eilat, head to the mall to do some shopping. The city has a variety of shops, from high-end boutiques to local artisanal crafts. You can also find a wide variety of souvenirs and local products to take home as a reminder of your trip.
In the afternoon, it's time to pack up and say goodbye to Eilat. If you're departing by air, you can take a bus or a taxi to the airport. If you're leaving by car, you can return your rental vehicle before heading home.
Eilat is a wonderful destination that offers a great variety of activities for visitors of all ages. Whether you're looking for adventure, culture, relaxation, or shopping, this 4-day itinerary offers a great way to explore the city and make the most of your time here.
Make sure to book your tickets and accommodations in advance to avoid disappointment and make the most of your trip."
Frequently Asked Questions
How long to spend in Eilat?
Eilat is a beautiful city in the south of Israel, located along the Red Sea. It's a popular tourist destination for its beaches, coral reefs, and warm weather. Depending on one's interests, the amount of time to spend in Eilat can vary. For those looking for an active holiday filled with sunbathing, snorkeling, and other beach activities, a week or two would be perfect. Those interested in exploring the city's shopping centers or nightlife can choose to stay for longer. The city also offers many attractions like aquariums, water parks, and museums that provide plenty of options for day trips. As there is no shortage of activities available in Eilat, visitors may choose to stay as long as they wish.
Do you need a car in Eilat?
Eilat is a bustling city on the Red Sea, with plenty of tourist attractions and a variety of outdoor activities to enjoy. It is also home to some of Israel's most beautiful beaches. While it is possible to get around Eilat without a car, having one can make you stay more convenient and comfortable. With a car, you can get to places faster, explore the area more easily and have the freedom to go wherever you want whenever you want. Additionally, many hotels in Eilat offer car rentals and there are several local companies that specialize in car hire. So if you are planning a trip to Eilat, it might be worth considering renting a car for your holiday as it will give you much more flexibility and freedom while exploring this stunning destination.
What is the weather in Eilat, Israel?
The weather in Eilat, Israel is generally warm and sunny throughout the year. The summer months are especially hot and dry with temperatures regularly reaching into the high 30's Celsius (95-105 Fahrenheit). Winter months are milder but still quite warm, with temperatures rarely dropping below 20 degrees Celsius (68 Fahrenheit). The city is located near the Red Sea which helps to moderate temperatures both in winter and summer. Rainfall is generally low, averaging around 15 mm per year. All in all, Eilat has an ideal climate for those seeking a warm, sunny destination in the Middle East.
Best Things to do in Eilat
Please read my Blog post about the Top 25 Things to do in Eilat, Israel
25 BEST THINGS TO DO IN EILAT, TOP ATTRACTIONS, ISRAEL
Where to Stay in Eilat
Eilat, Israel is an amazing holiday destination for travelers looking for a unique experience. If you are looking for accommodation options in Eilat, there is no shortage of great places to stay. Whether you're looking for a luxury hotel, family-friendly resort, or budget-friendly hostel, there's something to fit every traveler's needs. For those traveling on a budget, the Dan Eilat Hostel offers comfortable rooms and dormitories at affordable prices. If you are looking for more luxurious accommodation, the Isrotel Royal Beach Hotel boasts stunning sea views and top-notch amenities. For families traveling together, the Herods Palace Hotel has several kid-friendly activities and spacious family suites. No matter what kind of holiday you have planned, Eilat has something to offer everyone!