Last Updated on October 19, 2022 by gregor
Traveling back in time at ancient monuments, lounging on the waterfront, or feasting with the locals, here are the best things to do in Izmir, Turkey. Izmir is a laid-back and cool city on the West Coast of Turkey
With only three days in the city, my Izmir itinerary was packed so fully and I didn't get to see and do half of the things to do in Izmir. The city seems to be built for a slow & cool pace as I longed to spend more time relaxing in locations with a Turkish coffee or a glass of Turkish Raki in hand.
If you're heading to Izmir, leave yourself plenty of time not just to see the best places in Izmir but also to chill in the charming city center.
Best Things to do in Izmir – 3 Days Itinerary
Best Places to visit in Izmir, Turkey
Kemaraltı Market in Izmir
Kemaralti Market in Izmir is one of the most popular markets in the city. It is known for its fresh produce, meats, and seafood. The market is also a great place to find bargain prices on clothing and household items.
It's the welcoming central bazaar in Izmir. Marketeers shout and smile, inviting visitors and locals alike to inspect their products. Izmir's marketeers are happy to chat, even if it's obvious you won't be buying a pound of fruits or a traditional Turkish suit.
There's plenty on offer here for the curious foodie, too. Invest a few Lira (Turkish currency) and try out the delicious local food specialties. Salty sour olives range from deep black-purple to bright green.
A visit to Kemaraltı Market is one of the tastiest things to do in Izmir.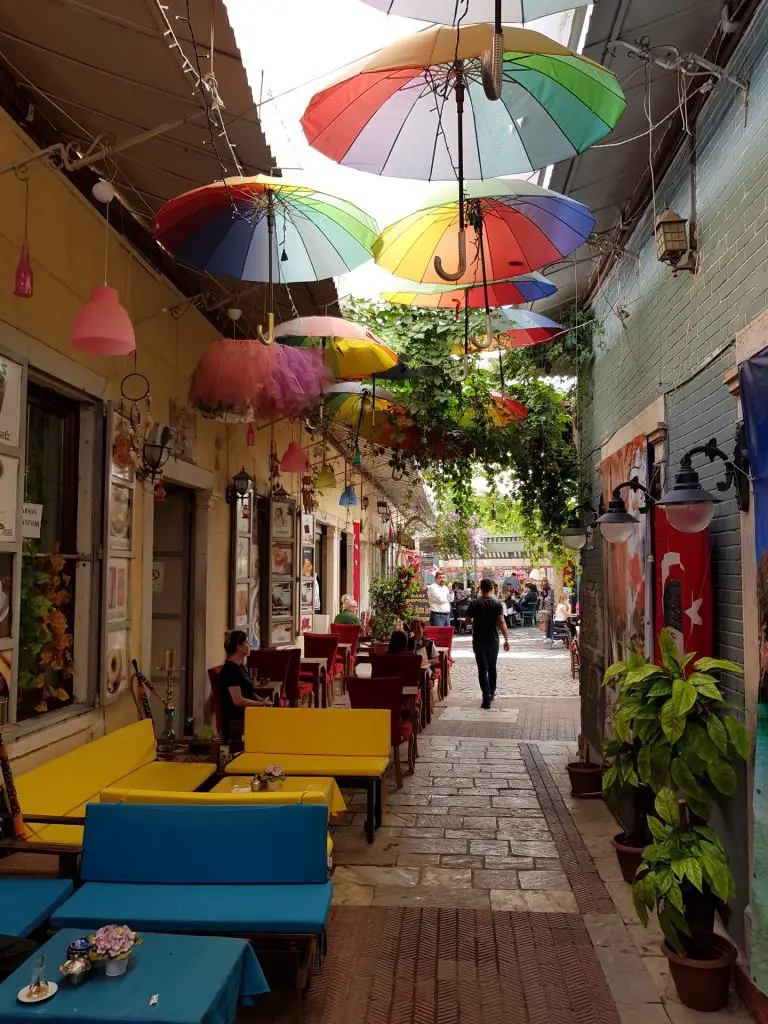 Food and Drink in Izmir
Enjoy a Turkish Feast
When you sit down to eat in Turkey, there's no such thing as a quick bite. The dishes start small, with shared plates of olives and crusty pieces of bread to snack on. Don't eat too much of this. At Turkish meals, there is plenty more to come! But that's just the warm-up.
Soon the table is filled with melt-in-your-mouth roasted eggplant, grilled whole fish, savory greens smothered in sour cream, potato and lamb stew, green salads with shredded cheese, fresh sweet peppers and radishes, smoked eggplant dip with creamy melted cheese… it's an endless exotic parade.
When you're sure you can't eat another bite, out comes another bottle of Raki, clear anise-based alcohol, served alongside an overabundance of tempting Turkish sweets. You'll never leave a dinner table in Turkey feeling less than achingly full
My Restaurant recommendations in Izmir:
Lunch in Aysa bosnak börekcisi
Lunch in Aysa bosnak börekcisi (Click)  and Turkish mocha break in the famous historical Kizlaragasi Han / Caravansary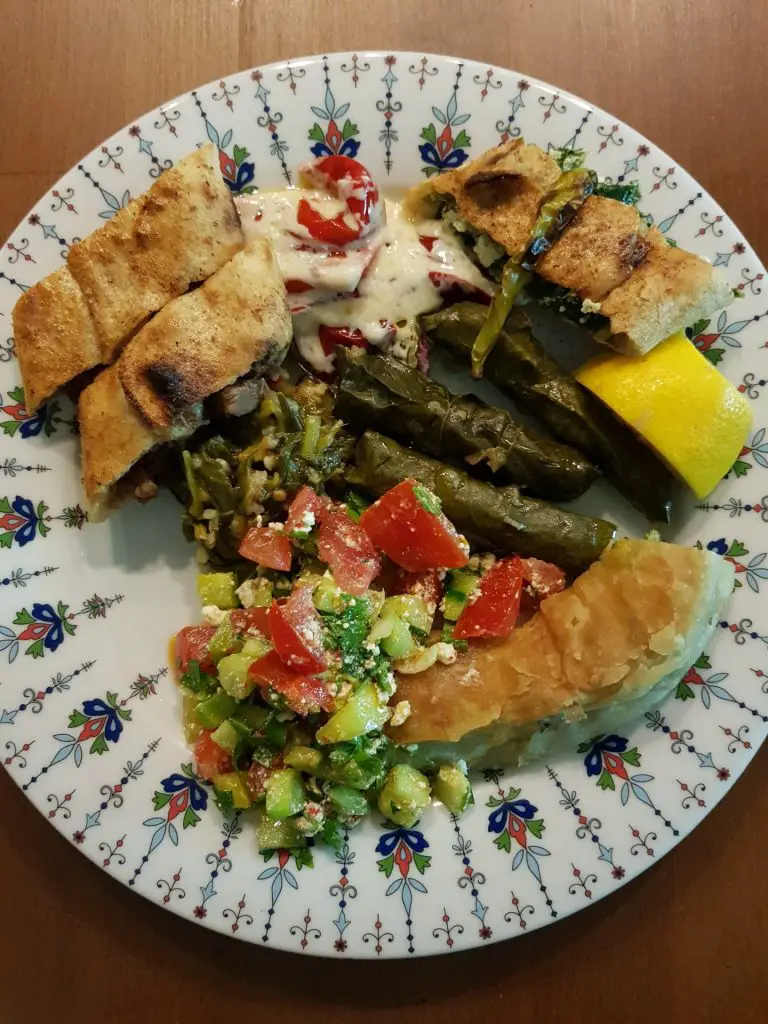 Dinner in Balmumu Lokanta
Dinner in Balmumu Lokanta (Click), one of the 10 best restaurants in the city, very close to the hotel Movenpick Izmir. The restaurant is known for its local, regional delicacies and is also the cooking studio of the gourmet Ahmet Güzelyağdöken.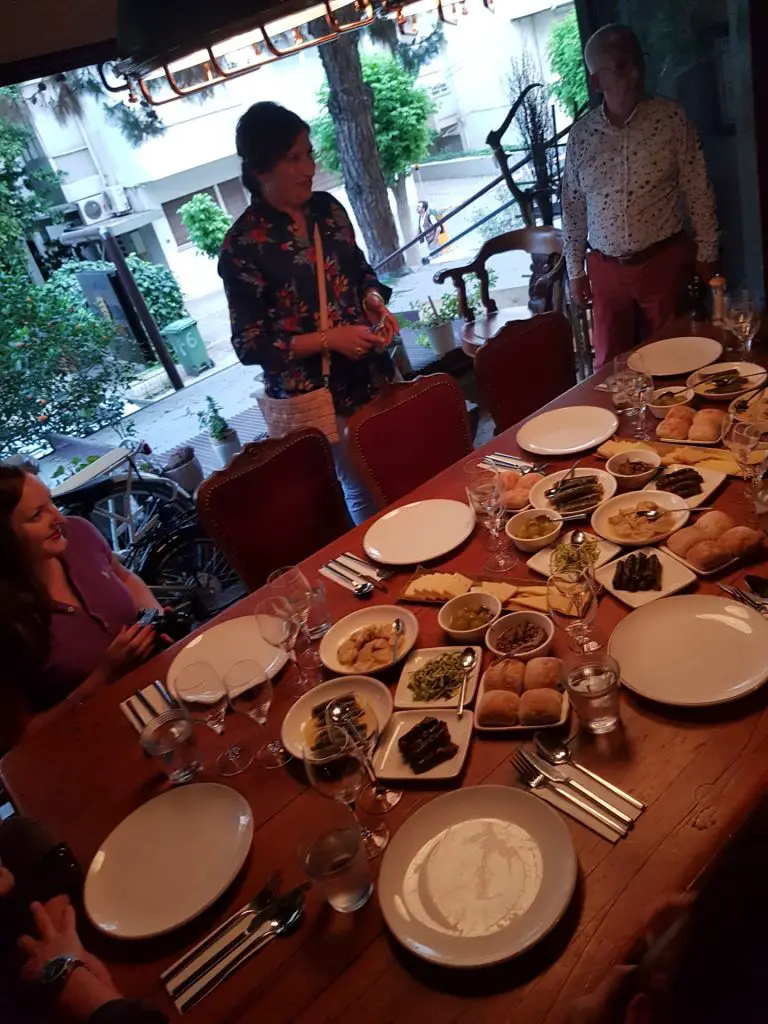 Wine Resort – Isabey Sevilen
The romantic setting of this old winery restaurant is enhanced by excellent dishes and wine as well as superb service. Meat dishes are their specialty and I recommend the fillet steak. You can buy wine on the premises in the cellar below the restaurant. Not to be missed!
Learn more Isabey Wine Resort (CLICK)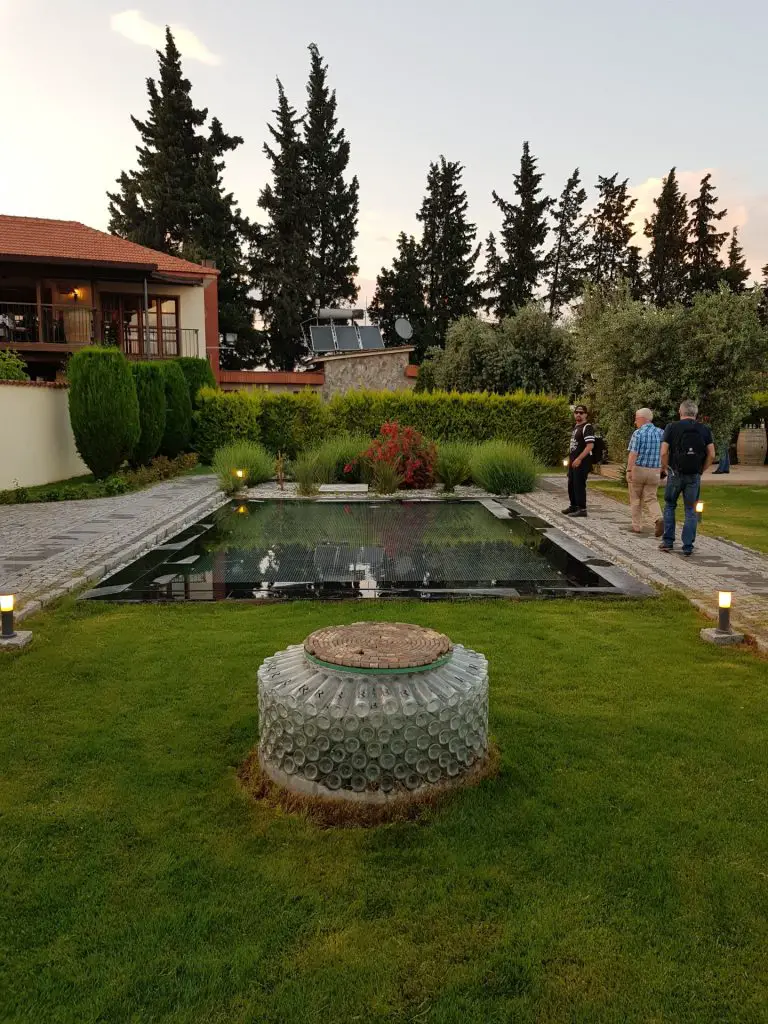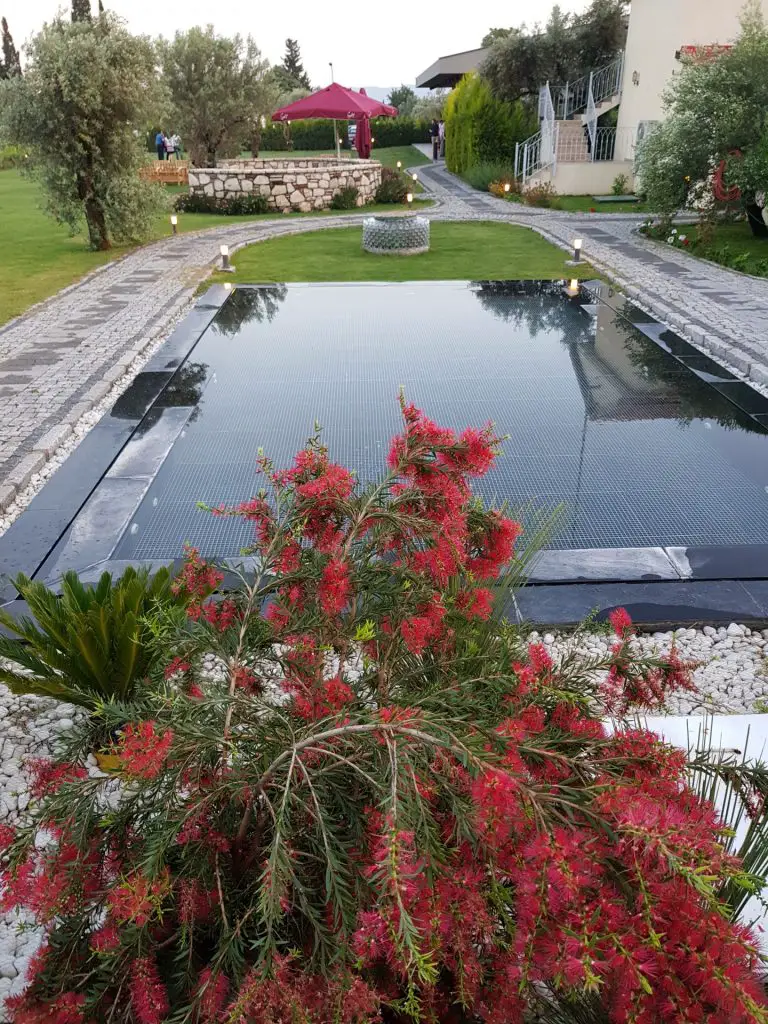 Savor the Turkish Coffee
In Turkey, coffee isn't a drink — it's a celebration event. The thick brew takes time to simmer and steep, so the wait is filled with conversation over tiny squares of Turkish delight and delicate pieces of dried fruit. Sip Turkish coffee cautious, there are grounds at the bottom!
Turkish coffee is made by adding coffee grounds and water to a small pot and then it's left to simmer for several minutes. Sugar is added during brewing, since the coffee is poured straight from the pot into a cup, with no straining or filter.
Never stir your coffee and be sure to leave a little in the bottom of the cup, or otherwise, you'll end up with a mouthful of bitter coffee grounds. ?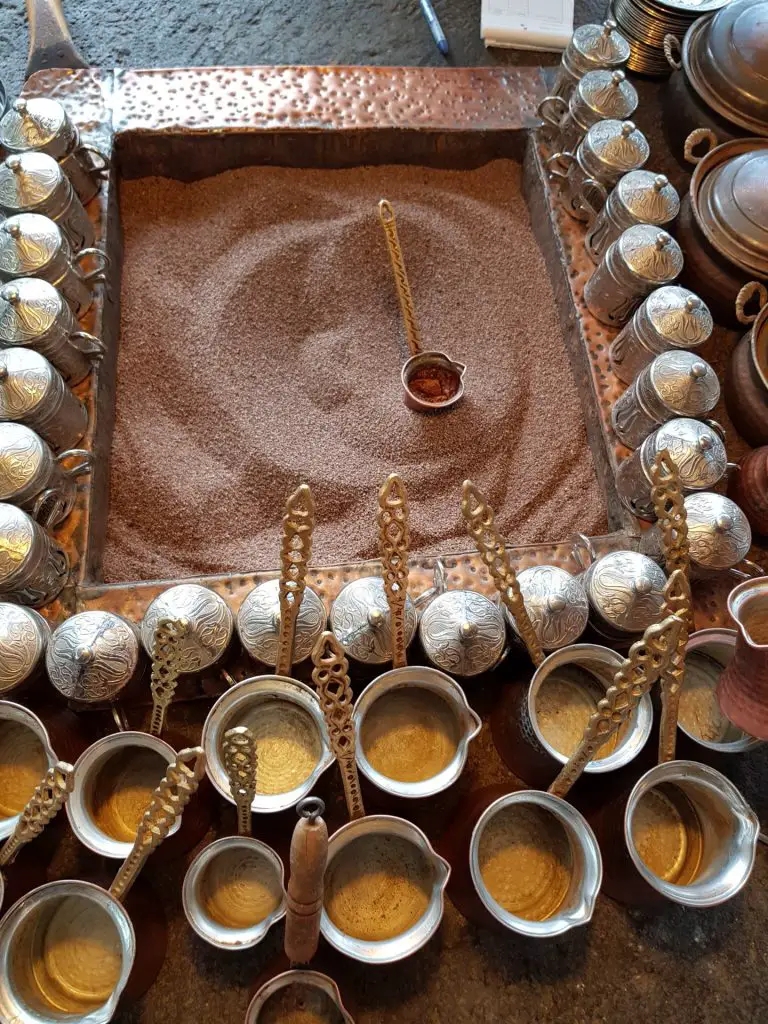 Ancient Monuments in Izmir
These are just some of the amazing ancient monuments in Izmir you should check out, as they really are amongst the best places to visit in Izmir.
Izmir Agora
Your list of things to do in Izmir has to start at the ancient monument right in the center of the city., Izmir Agora is just a part of the everyday landscape for most residents, surrounded by hillside residential neighborhoods, market streets, and big commercial buildings
Inside the Agora grounds, the ruins of a Roman-Greek marketplace transport you back to the historic days when Izmir was an important stop on the Silk Road.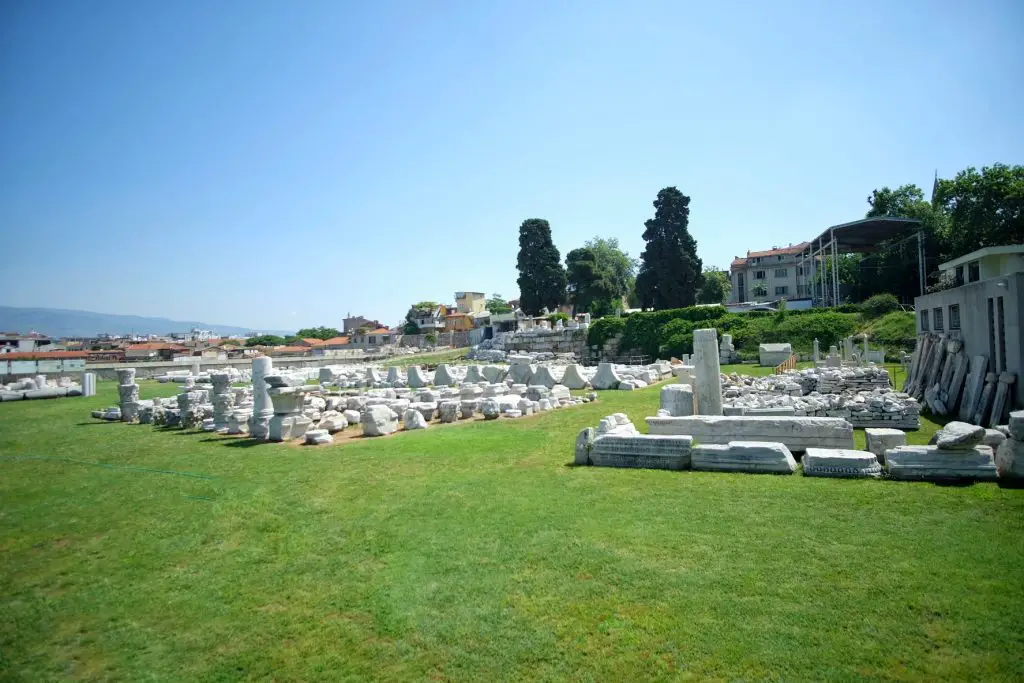 Visit Mosques and Churches
During our stay in Izmir, we were able to visit several mosques and churches. Here is a comprehensive list (CLICK)
Visitors to Izmir can find mosques and churches throughout the city.
There are a few things to keep in mind when visiting religious sites in Izmir.
First, dress modestly. Both men and women should wear clothing that covers their arms and legs. Second, be respectful of religious customs. If you're not sure what to do, ask a local for help.
Visiting mosques and churches is a great way to learn about the different religions practiced in Izmir. By doing so, you'll also get a better understanding of the city's history and culture.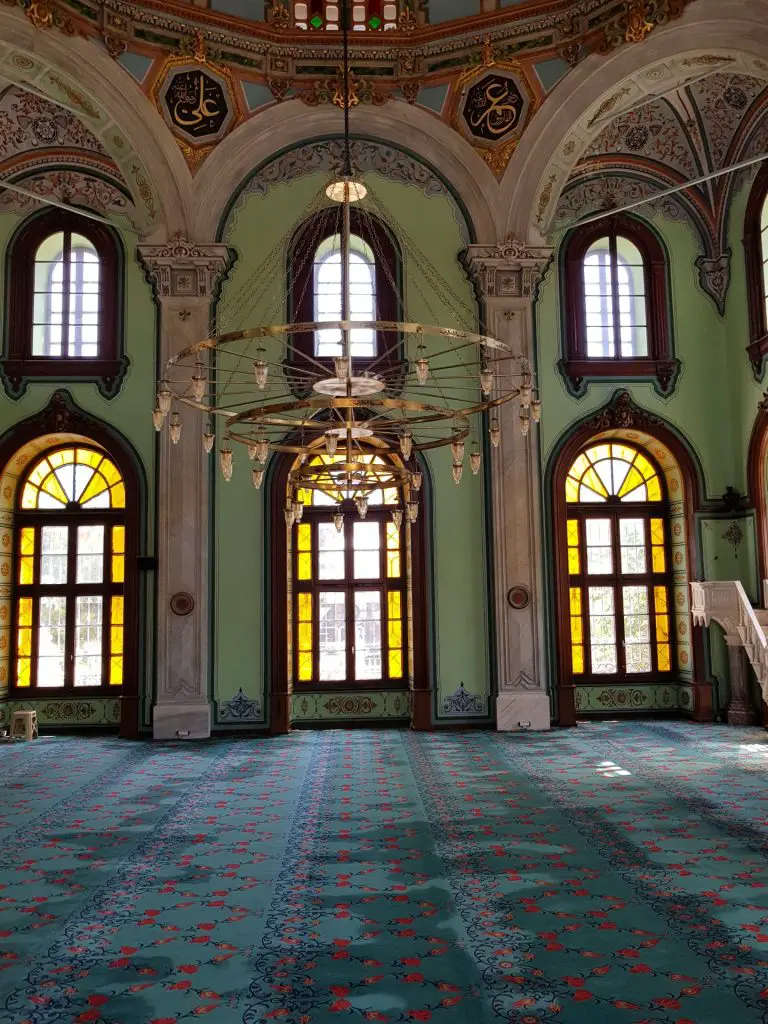 Walk on the Kordon waterfront to enjoy the glorious sunsets of Izmir, Turkey
One of the best ways to enjoy its natural beauty is to take a walk on the Kordon waterfront. The Kordon is a pedestrian promenade that stretches for almost four kilometers along the seafront. It's the perfect place to watch the sunset over the water.
As the focal point of Izmir, Kordon invites a large number of travelers during the day due to having numerous historical assets, developed culture, and lively urban life.
The Clock Tower and the Konak Square
The Historical Clock Tower, one of the most well-known landmarks of Izmir, is at Konak Square. The Clock Tower was built in 1901 as a tribute to the 25th anniversary of the succession of the throne of Sultan Abdul Hamid II. On the tower, the four clocks on the external surfaces were donated by the German Emperor Wilhelm II. Having pigeons flying around all the time, the architect of the Historical Clock Tower, one of the city's landmarks with its elegant marble fountains, is M. Raymond Pere.
One of the things that visitors of İzmir always do is to be photographed in front of the Clock Tower and to feed the birds flying around.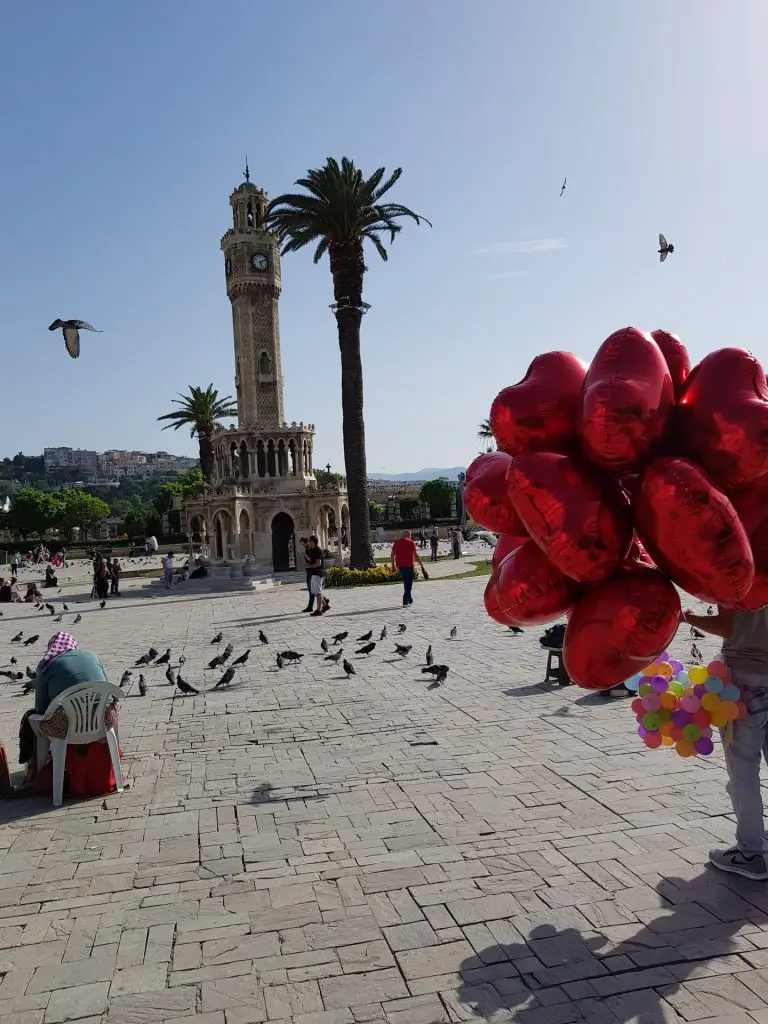 Asansör in Izmir
Asansör is an absolute must for every Izmir visitor.
You go up the elevator and are rewarded with a breathtaking view of the whole city.
This place is also very popular with newlywed couples for beautiful wedding photos.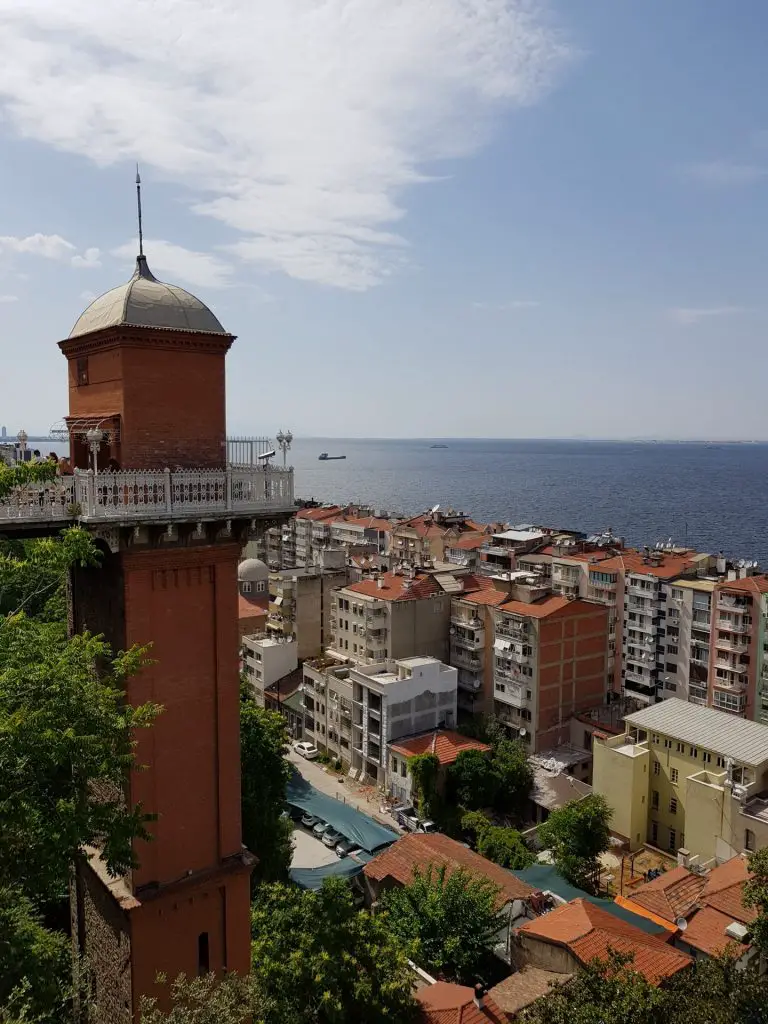 Ephesos – The ancient Roman City
The ancient Roman city of Ephesus is now one of the most popular things to do in Izmir, welcoming almost 2 million visitors a year. Ephesus was once a popular stop on the Silk Road.
In historic times, people from all over the world sailed to the port to stock up on exotic spices and fruits, visit the talented Turkish cloth-makers, or just soak up the flavor of the multicultural city.
Ephesos Guided Tour: A Must-See when in Turkey
When in Turkey, a visit to the ancient city of Ephesos is a must. The city was once one of the largest and most prosperous cities in the world. Today, it is a UNESCO World Heritage Site and an important archaeological site.
A guided tour of Ephesos is the best way to learn about the city's history and see its many well-preserved ruins. The tour will take you to the Library of Celsus, the Temple of Artemis, and the Great Theater, among other sites. You'll also get to see some of the city's unique mosaics and sculptures.
The Ephesos Guided Tour is an unforgettable experience that will give you a taste of Turkey's rich history and culture.
After you have done the Ephesos Guided Tour (make sure you bring enough water with you) my lunch/dinner recommendation
TIP: Visit the Agora Restaurant in Selcuk to enjoy local specialties (Click)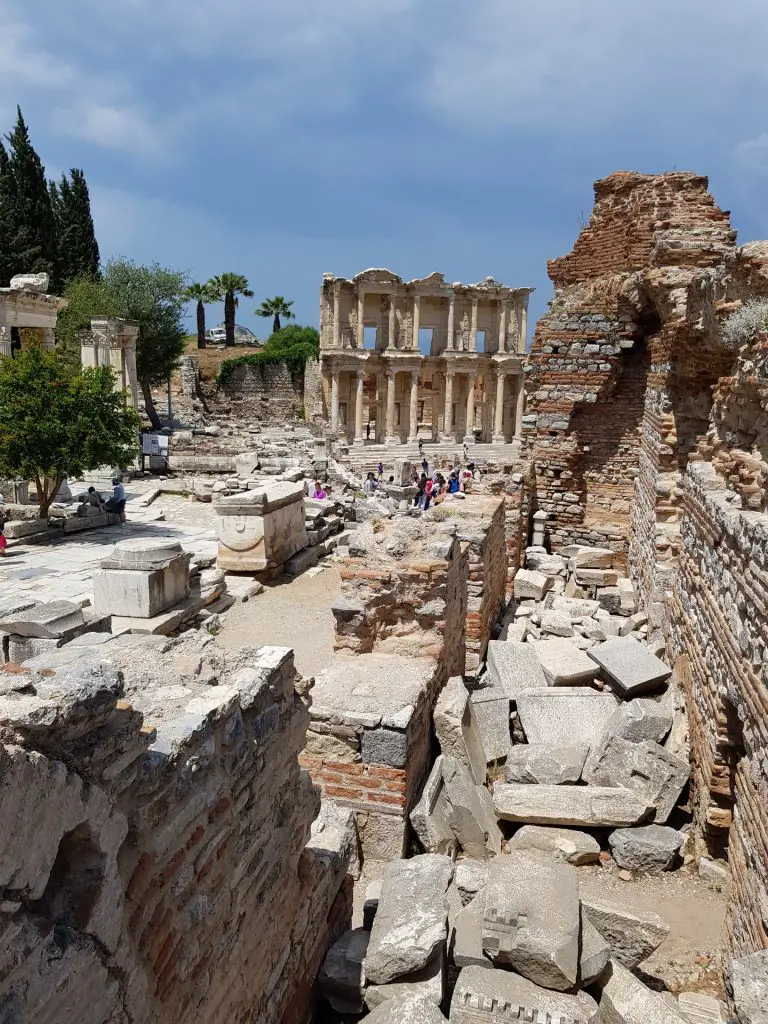 Small Village of Sirince
A must place to visit when you are visiting Izmir. The narrow streets of Şirince hide secrets behind every curve and the crumbling old houses are an architecture-obsessed photographer's dream.
In the old town center, friendly Turkish shopkeepers wave "Hi" and proudly show off their artisanal products.
Climbing up to the highest area of the village is like wandering back in time and history. Elderly men and women in traditional dress call to each other from open doorways, bread bakes in arcing stone ovens, and cats & dogs lounge on every available surface, soaking up the afternoon sun.
Top Tip: Leave enough time to wander the streets of Şirince.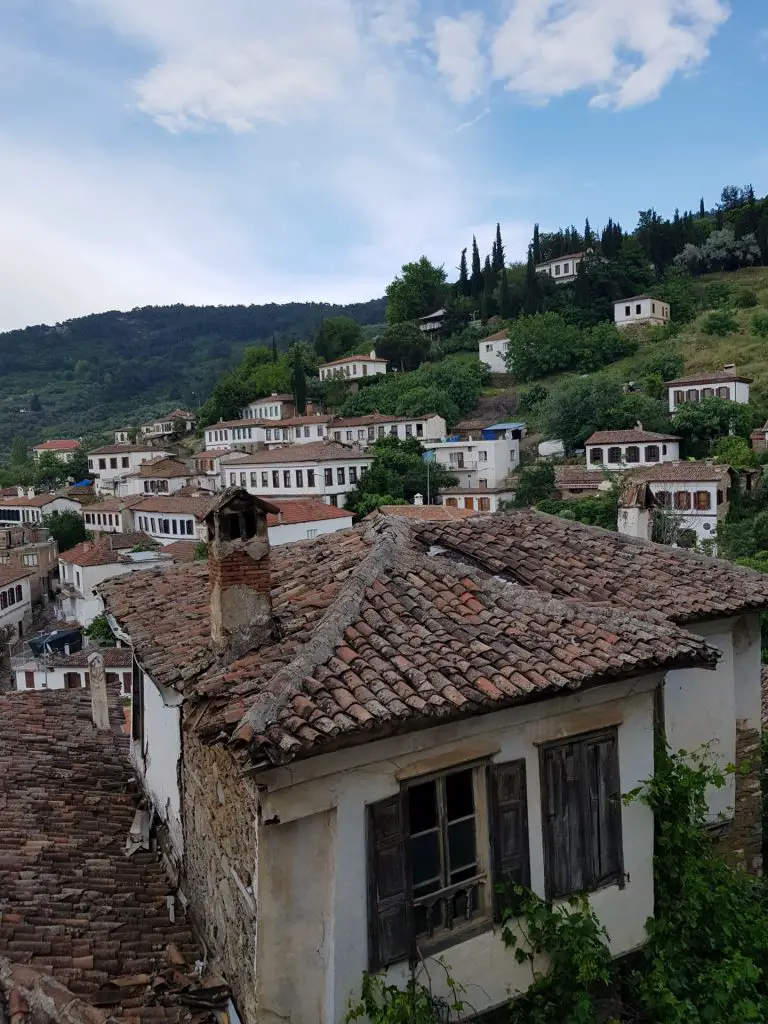 I was a guest of Movenpick Izmir and Turkish Airlines for this trip but all opinions are my very own and I truly loved this vibrant and cool Turkish city by the sea.
More Information and Tips here on the Izmir Tourism Board page (CLICK)
http://www.visitizmir.org/en/page/oegrenin/-518204
In wonderful cooperation with Mövenpick Izmir (Click for more Info) and Turkish Airlines (Click).
The Mövenpick Hotel in Izmir
The Rooms
The hotel offers 185 modern rooms, of which 36 are executive rooms and 17 are suites. During my stay, I was allowed to stay in a suite with a sea view. From there you had a fantastic view of the Aegean Sea.
Each room at the Mövenpick Hotel Izmir has free Wifi Internet access, a desk, LCD TV, and tea and coffee-making facilities. The suites also have a separate living room, a comfortable king-size bed, special anti-allergic pillows, a DVD player, and a Nespresso machine. In addition to body lotion, shampoo, and soap, the bathroom also provided a sisal sponge, shaving kit, toothbrush, and toothpaste.
The Culinary Highlights/ Margaux Restaurant
The breakfast buffet in the Margaux restaurant in Mövenpick Hotel Izmir was full of Turkish delicacies, such as simit (a ring-shaped yeast dough) or halva (a confectionery made from oilseeds, nuts, and honey), but also egg specialties, fresh fruit, cheese, sausage, and salmon, Especially the many different juicy fruits have me made very excited.
The Margaux Restaurant is also great for lunch and dinner. The dishes are a mix of international and Turkish specialties.
The wellness and pool area
Located in the attic, on the 11th floor, the hotel also features a heated indoor pool, a fitness center, a massage area, as well as a sauna, and a steam room.
Mövenpick Hotel Izmir
Cumhuriyet Boulevard 138
35210 Izmir, Turkey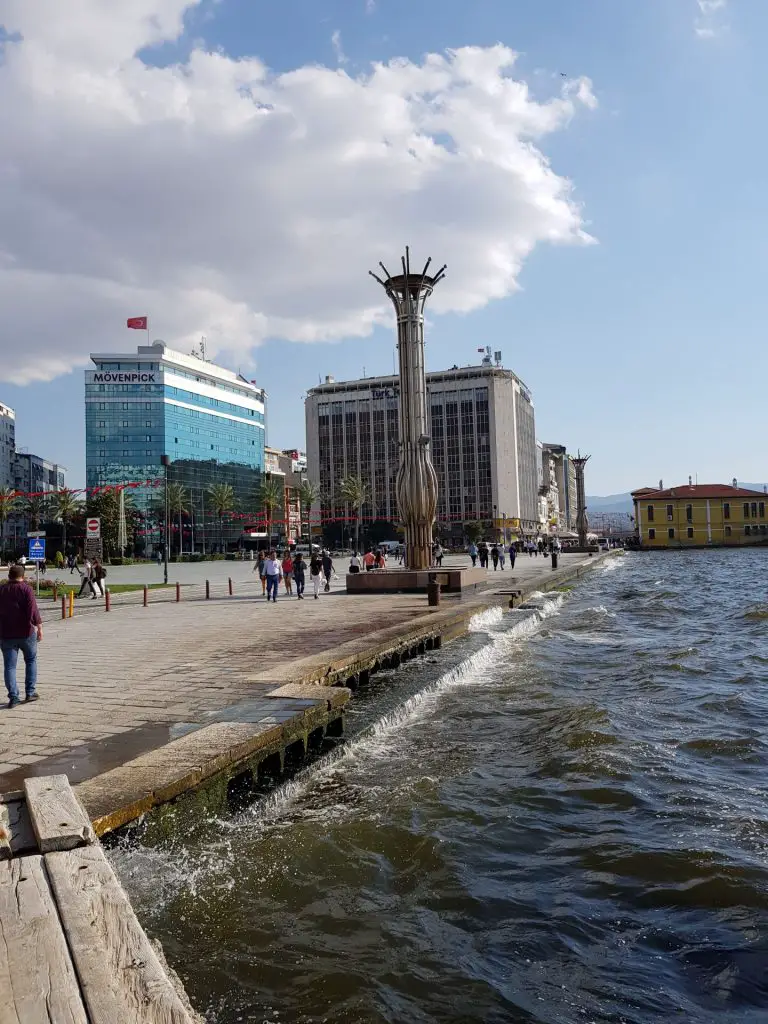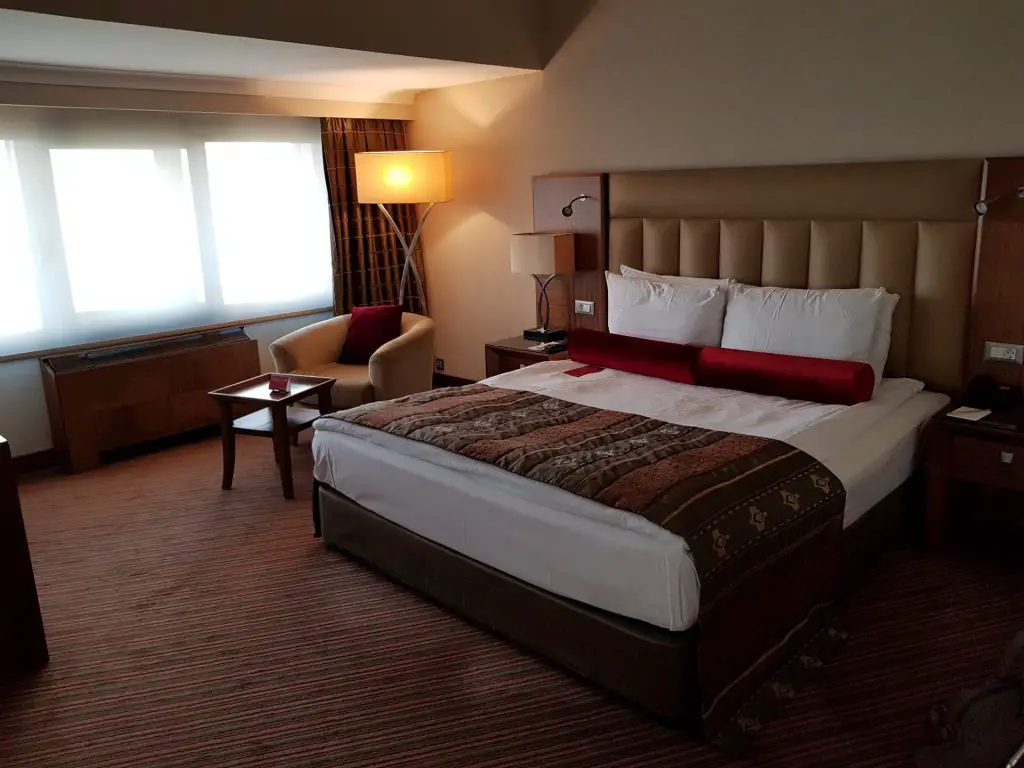 We traveled with Turkish Airlines Business Class from Vienna via Istanbul to Izmir
Turkish Airlines has been rated as the Best Airline in Southern Europe (Click) so when heading to Turkey I can personally recommend it.
The business class flight with Turkish Airlines with the Airbus A321
The outward journey from Vienna via Istanbul to Izmir and back was a very special experience for me because I was allowed to fly Business Class with Turkish Airlines. The first amenity was definitely the check-in as there was a separate business class counter. As a business passenger, you can also use the JET Lounge at Vienna International Airport. There you can enjoy a delicious breakfast with croissants, cappuccino, and orange juice
The Business Class
Very comfortable seats. Every business class guest receives a welcome drink (I chose a freshly Lemon drink), a bag of hazelnuts, and a pillow. Laterally integrated was the fold-out monitor, where you can watch many blockbusters or even play music (i.e. Falco or Barry White) and computer games. The in-flight entertainment system is perfect.
Here are some inspirations for the Flights and the stunning Business Lounge area in Istanbul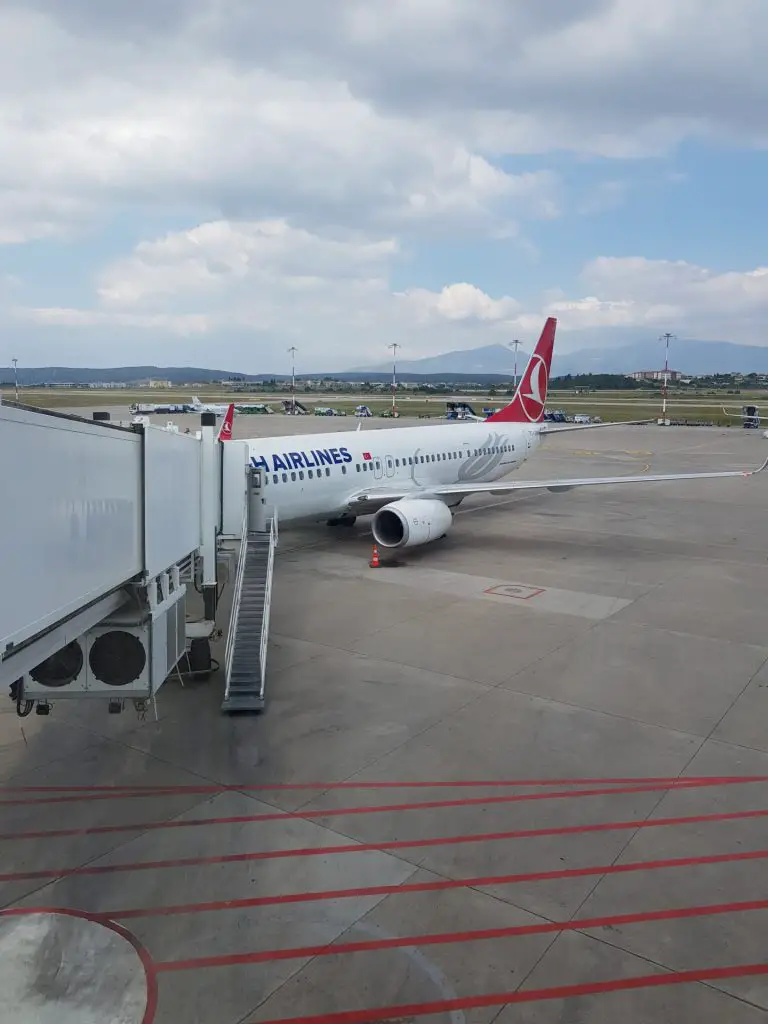 The Turkish Airlines CIP Business Lounge in Istanbul
The Turkish Airlines Business Lounge in Istanbul was also really impressive. In the CIP Lounge, there is time for entertainment and delicious highlights. You can practice the tee at the golf simulator which I did even though I have not played golf in a decade (HiHi), or play around on the Sony Playstation. For children, there are separate playrooms with toys and consoles.
Nobody will leave the Business Lounge in Istanbul hungry. Several live cooking stations are waiting for you and there is something for everyone. There is grilled, Turkish, or Indian / Thai food, as well as fresh pasta. As a dessert, expect as many sweet delicacies.
One last hint!
If you are looking for a fabulous Tour Guide: Serdar Celenk (Click)
Thank you Primo-PR (Click) for making this wonderful trip and experience possible.